Hotels in Croatia with a sandy beach
Croatia is an excellent country for families for many reasons. This is one of the most environmentally friendly countries not only in Europe but in the world with a clear transparent sea. Here the climate is mild, acclimatization is fast and the kids, and the elderly, and anyone who is sensitive to climatic changes.
The air is healthy – the whole Adriatic coast is covered with pine trees, children get sick less with seasonal illnesses after a trip here. There is beautiful nature with mountains, lush vegetation, lakes, waterfalls, beautiful bays – and beautiful ancient cities. Surprisingly delicious national cuisine does not leave even the gourmets indifferent.
The prices are moderate compared with the rest of Europe, and the service at the same time at the highest level. If you are already going to a Croatian trip you will be interested in hotels in Croatia with a sandy beach (there are relatively few – mostly pebble, but both are well-equipped).
Bluesun hotel Berulia 5*
This is an accommodation facility with a history (built in 1967), but in 2002 it was restored. There are 199 standard and superior rooms, just a minute you can walk from the building, standing among pine trees, to the beautiful beach with a pontoon for sunbathing. If you want to visit the resort village of Brela, you will have to walk no more than 5 minutes.
The guests eat in the main restaurant, which offers international, Mediterranean and Croatian cuisine. The Posejdon tavern (Mediterranean) and Puz grill-cafe (local specialties) serve à la carte.
There are 3 very popular swimming pools – infinity, swim-up and relaxation pools, with yoga sessions near them. There is a well-equipped fitness room with a landscape terrace. A trainer is available for all guests – he or she will give advice and conduct an individual training session. There is a comfortable wellness & spa area.
Entertainments: guided tours by electric bikes and buggies to local places of interest and natural beauties, rafting on river Cetinje near the ancient pirate town Omis, canyoning (climbing, jumping and swimming – no experience necessary!), diving in the Adriatic Sea, hiking in the Biokovo Nature Park (if you are a climber, take some equipment – there is room to gain!)
TUI BLUE Jadran 5*.
Design and the oldest holiday complex on the Croatian coast in the Riviera of Makarska is situated between the sea and the mountains of Biokovo. Behind its historic facade there are 161 stylish rooms and junior suites with views of the pine forest and the beautiful pebble beach (with stairs leading to it). There is another one nearby – a public one, 1 km long.
The main restaurant has a buffet of local and international cuisine. There are delicious choices for vegetarians, vegans and those who prefer low-carbohydrate meals. A la carte serves Oliva with innovative Mediterranean culinary masterpieces and the beachfront Pink Cricket with grilled meats. There's a lounge bar, a beach bar and a pool bar. Culinary Croatian master classes are conducted by the director of the complex!
Pools: garden, heated terrace, exclusive in Junior Suites Extra.
There are many activities: yoga, fitness, trampolines, beach volleyball, ping-pong, boccia. For a fee – mountain bike rentals and hikes and all water activities: windsurfing, wakeboarding, banana boat, kayaking, motorcycle, jet ski and catamaran rentals, water skiing, parasailing. You can play soccer, basketball and handball for free on the courts of the neighboring complex, and rent a court for lawn tennis.
The spa has a sauna, ice fountain, steam room, and relaxation area. Massages and beauty treatments are chargeable. There are beach parties with live music in the evenings, and you can learn Croatian in a group. There is a wide choice of excursions to the cities and the countryside.
10 Best Hotels in Croatia with Sandy Beach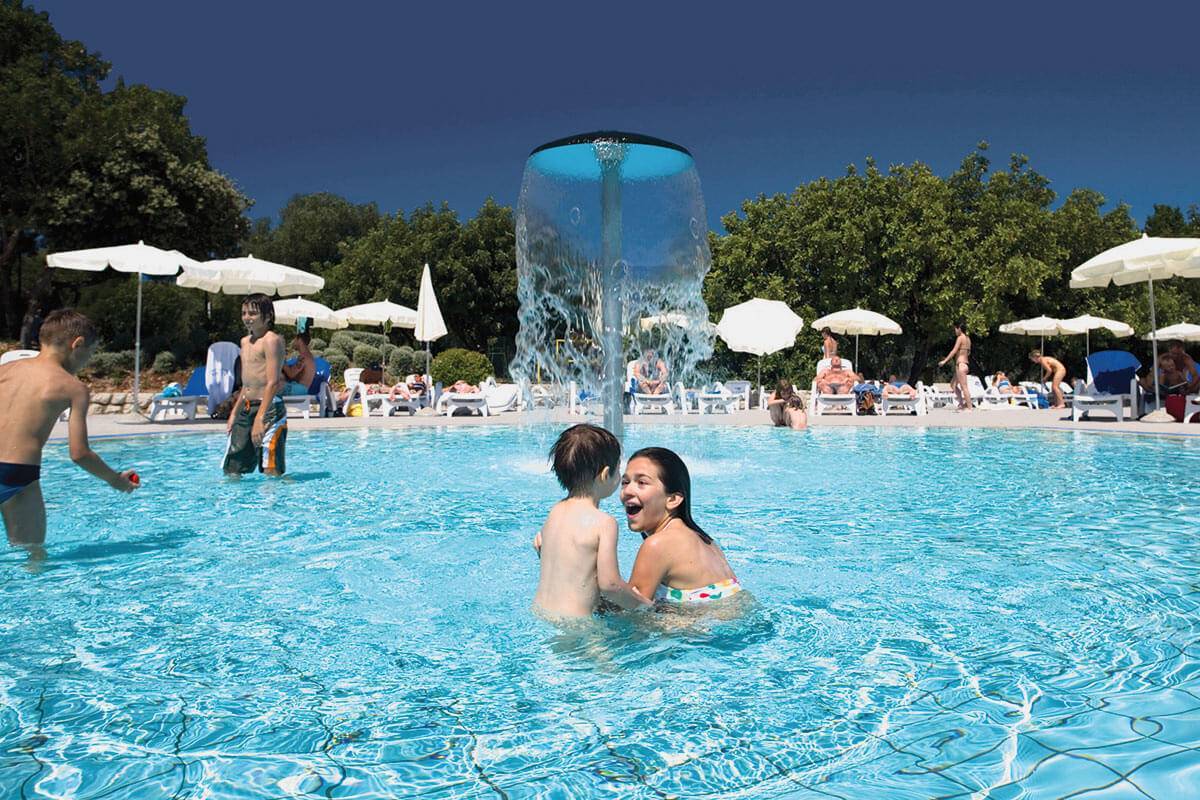 Dreaming of a vacation on the picturesque shores of the Adriatic Sea? In Croatia, almost all the coastline is pebbly and rocky. We present a rare find for this country – great hotels 3-5*, which are located next to the sandy beaches.
Valamar Club Dubrovnik 3*.
The best hotel for a budget holiday in Croatia is located 4 km from the center of Dubrovnik, on the green peninsula Babin Kuk. Appreciate the level – in a 3-star hotel tourists offer meals "all inclusive" light! Breakfast, lunch and dinner are served in buffet style and drinks are offered during meals. Ice cream, juices and sweet water are always available for children.
There is a large swimming pool and sports fields on site. The staff has daily entertainment programs for children. All rooms are air conditioned and have desks for computer work.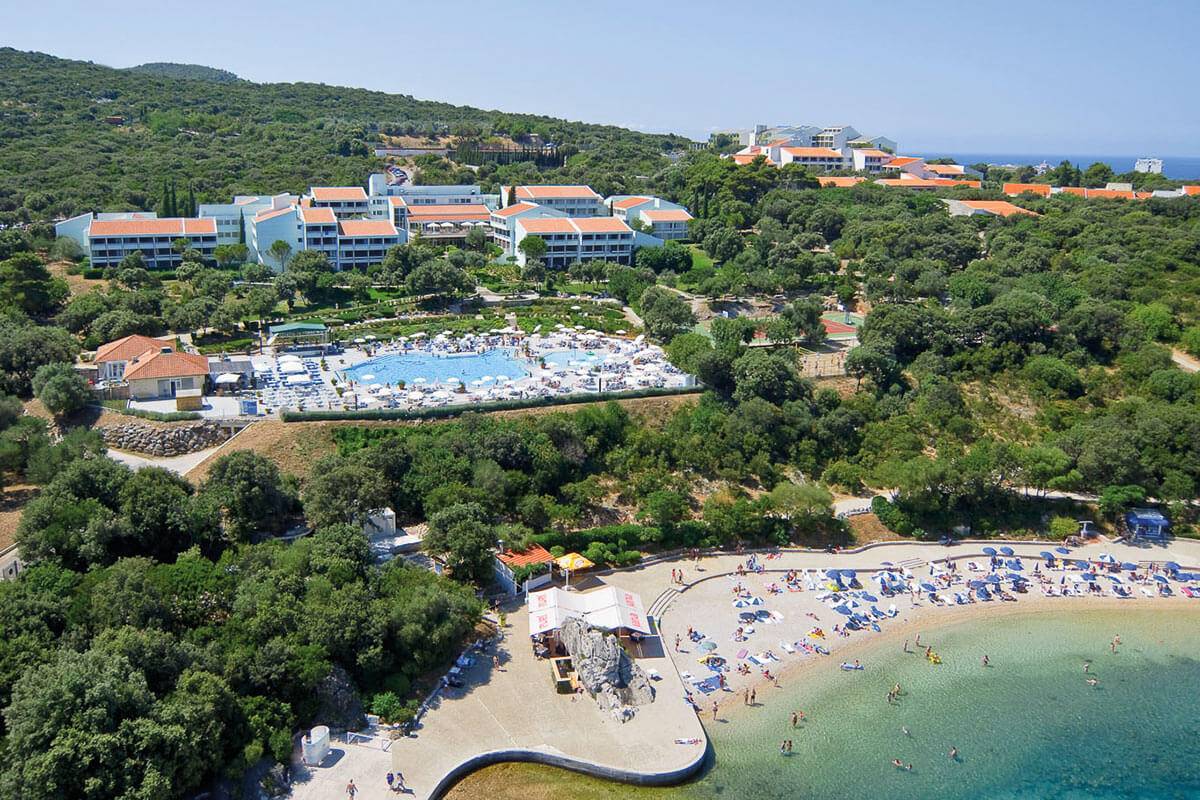 The grounds of the Valamar Club Dubrovnik Hotel. Photo: Valamar Club Dubrovnik.
Hotel Labineca 3*
Hotels with a sandy beach in Croatia are a rarity, so they are so appreciated by tourists. In Gradac town on Makarska Riviera resort parents with children, elderly tourists and young people like to relax. There is a beautiful sandy and pebble beach just 50 meters away from the hotel. Going into the sea is flat, but at the bottom there are sea urchins. Swim in beach slippers!
Donat 3*
In Northern Dalmatia, in the city of Zadar, there is another 3-star hotel that serves all-inclusive. Many people have been coming to Donat for years and consider it the best hotel in Croatia with a sandy beach. The picturesque Borik Beach is just 100 m away from the main building. The center of Zadar is 3 km away. You can visit Roman ruins, ancient streets and churches, mighty fortress walls and towers!
Holiday 3*
One of the best hotels in Croatia for holidays with children is located near the famous sandy-pebbly beach of Bijec in Medulin. The sea is only 220 meters away. The kids can swim in the sea and the children's pool, visit the children's club and have fun with the animators. The hotel also offers two seawater pools, bicycle rentals, water sports equipment, tennis courts and playgrounds for adults.
Park Plaza Histria & Marina Wing 4*
On the top list of the best hotels in Croatia for holidays at sea we included a large hotel complex, decorated in the Art Deco style. The original hotel is located 4 km from the historic center of Pula. Nearby there is a shopping center, boutiques, an oceanarium and a gallery of modern art.
There are 3 restaurants, a squash court, tennis, mini-golf, billiards and a large swimming pool. You'll pay for sun beds and umbrellas, and beach towels are free!
Aminess Grand Azur Hotel 4*
This hotel with a nice beach in Croatia is located 2 km from the spa town of Orebic. Nearby is the popular beach Bacva. The hotel rooms have an excellent view of the vast expanse of the Adriatic Sea. Resorts swim not only in the sea – there are 2 swimming pools with fresh water. Away from the hustle and bustle many tourists of retirement age from European countries have a rest.
Hotel Bellevue 4 *
There is a wonderful hotel with a view to the sea in a pine forest in Orebic. The beach is only 50 meters from it. The hotel has recently undergone a complete renovation, so guests are welcomed with comfortable rooms with new furniture and modern plumbing. The coastline near Orebic is popular with diving and windsurfing enthusiasts, while Mount St. Elias attracts hikers.
Valamar Club Tamaris 4*
Are you looking for an all-inclusive accommodation in Croatia with children? Consider a hotel in the seaside town of Vabriga, in the resort of Porec. A nice sandy beach is located 150 m from the buildings. For children there is a shallow pool, children's club, playground, and animators. You can not worry about anything and relax by the sea!
Park Plaza Belvedere Medulin 4 *
A nice hotel 1 line from the sea in Croatia is located in a quiet bay, a 10 minute walk from the town of Medulin. Here connoisseurs of beach entertainment, casinos, water sports, snorkeling and diving love to rest. The sandy and pebbly beach is 50 m away, and 500 m to the nudist beach.
Valamar Dubrovnik President Hotel 5*.
One of the best 5-star hotels in Croatia welcomes tourists on the Babin Kuk peninsula, 6 km from Dubrovnik center. Green terraces and balconies offer a wonderful view of the Elaphiti Islands. The hotel beach has been awarded with the prestigious Blue Flag for its cleanliness. Loungers, umbrellas and towels are free.
The staff speaks excellent English, and some employees speak Russian. There is a bus to Dubrovnik Old Town every 10 minutes. Rested on the beach, and you can go on an excursion!