Top 10 best boutique hotels in Tbilisi
A selection of the most unusual and interesting hotels in the capital of Georgia – Tbilisi.
There are so many reasons to visit Tbilisi that it is difficult to prioritize. One thing always remains unchanged – an amazing hospitality, a special emotional atmosphere, artistry, openness, sincere hospitality of this city, which make it a real paradise for travelers. Here they carefully preserve the old traditions and quickly learn the fashion trends. Ancient rarities peacefully coexist with experimental creations in high-tech style, and authentic Tbilisi hotels compete with international chain hotels and spa complexes in the European style.
Tbilisi is at the crossroads of European and Asian traditions. To discover the wonderful city, to understand its "soul" and live a few days the life of ordinary Tbilisians, you need to choose a place to stay, which most accurately reflects the life and manners of modern Georgia. The ideal format for this is a boutique hotel, where everything is done with love and care for the guests, and the beauty and authenticity is present in every detail. These can be hotels in Tbilisi in the center or out of town, each location has its own advantages, and cabs are inexpensive and allow you to quickly cover any distance.
The most interesting hotels in Tbilisi
The top 10 most interesting chamber hotels below are subject to change, because Tbilisi is a dynamic and creative city. This is another reason that makes us come back here again and again… Perhaps a short guide will help people who are in love with this beautiful place to book a hotel in Tbilisi that perfectly matches their tastes, ideas about comfort and travel goals. Just in case, I remind you that accommodation in Tbilisi is best searched through proven services: Booking.com, Agoda, Airbnb.
Rooms Hotel Tbilisi
The first room in the top ten hotels in Tbilisi deserves the most detailed description.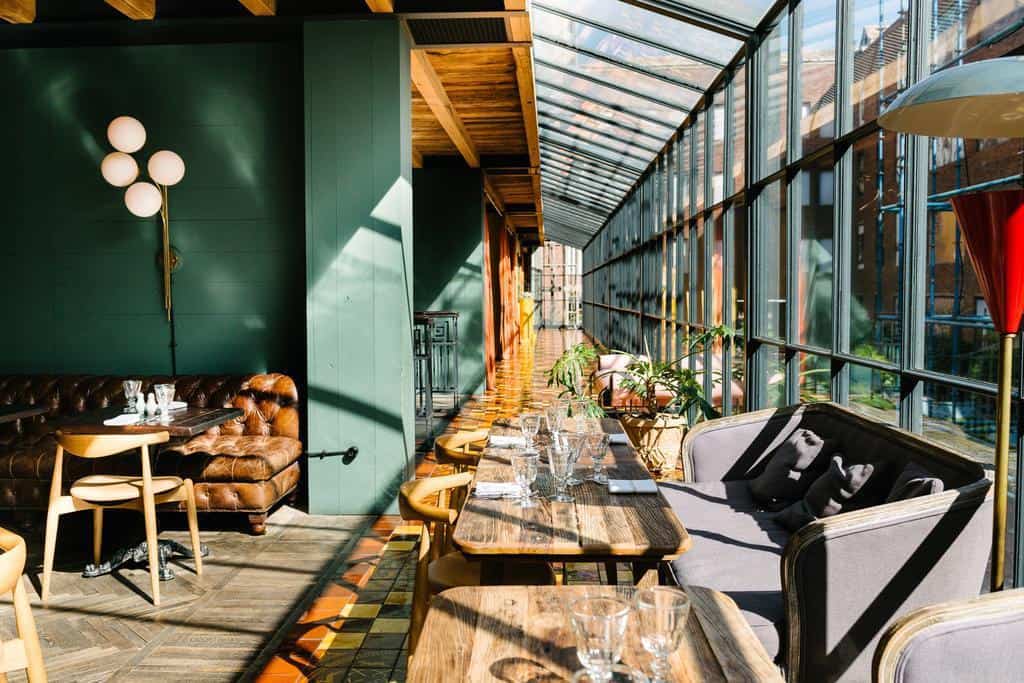 Rooms Hotel Tbilisi – one of the best hotels in Tbilisi
A stylish boutique hotel has earned top ratings "excellent and excellent" by tourists on leading travel websites. It belongs to a young hotel brand, which today has become a leader in Georgia's hospitality industry. The name Rooms Hotel Tbilisi or "Rooms" is a clear understatement, as it is an amazing and chic place that can be quite accessible to everyone.
The entire tourist bohemia stays here in the capital. In the lobby and corridors of the hotel you can meet celebrities and public figures known far beyond Georgia's borders. This is an iconic place where the city's bohemian crowd loves to gather and will be of interest to anyone who wants to feel the intertwining of tradition and modernity.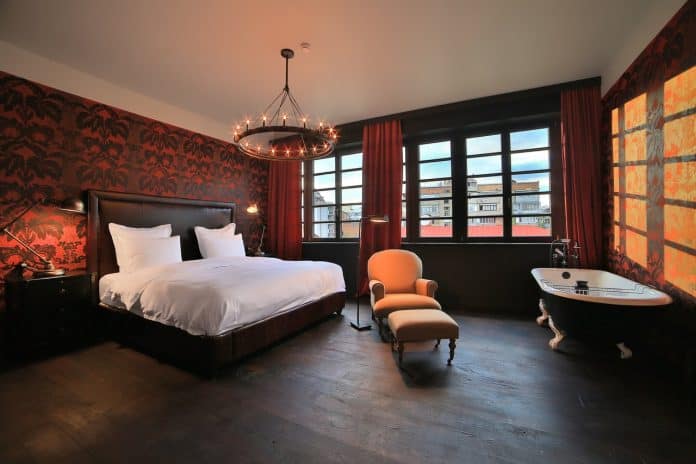 Excellent location, qualified staff, beautiful design – the obvious advantages of "The Rooms", which are noted by almost all guests. The modern 5-storey hotel is an original example of industrial architecture – a renovated in loft style building of a Soviet era publishing house. The authors of the idea gave the historical building an industrial chic, turned the industrial interior into an authentic space with ultra-fashionable design, which is a trademark of the place. Today this place offers a collection of excellent experiences and a high level of modern comfort.
The building has 110 rooms, free WiFi in public areas and rooms, free parking. Service is available in English, Russian languages. The hotel is located in the Vera district, close to the Tbilisi Opera House, Concert Hall, Mtatsminda Mountain, Rose Revolution Square. To get to the Old Town you have to walk about 20 minutes at a brisk pace. There are many stores, restaurants in walking distance, a great place for walking and shopping. The hotel is stylish, popular and expensive. Positions its services at 4 *, however, the level of service, a special exquisite atmosphere is ahead of many five-star hotels in Tbilisi, the price of which is much higher.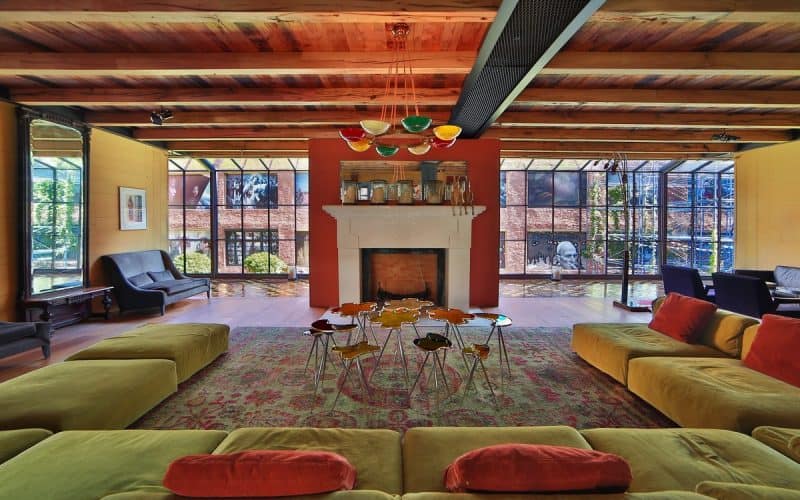 Separate praise should be given to the friendly client-oriented staff, which the management carefully selects from graduates of the university and local schools of art and design. The hotel has a wonderful restaurant "Cuisine" which offers European and Georgian menus, breakfast for an extra fee – buffet with a huge variety of appetizers, hot dishes, desserts, sweets. Cafe "Stamba" offers classic Georgian dishes in an avant-garde version. Garden Bar, designed as a living greenhouse, offers an original menu and cocktails with herbal ingredients.
Vinotel Boutique Hotel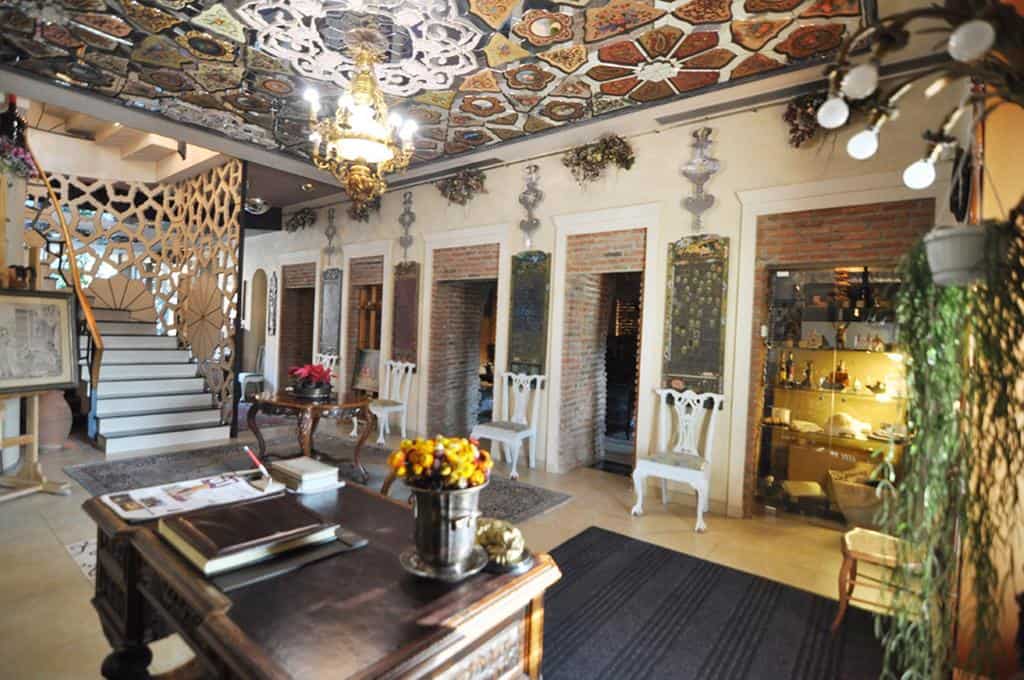 Members of the creative intelligentsia and beau monde, as well as sophisticated travelers who are bored with Rooms Tbilisi, choose this very place. The popular hotel is a legend and evokes love from the first minute. The historic 19th-century building delights with stained-glass windows, green terraces, and the splendor of the lounge area. It is worth stopping here to feel the unique flavor of Georgia, to relax with pleasure and comfort. Inside the hotel guests note the magnificent atmosphere, authentic design, chic wine cellar and a wide range of Georgian wines that are beyond praise here. A nice bonus for guests is wine tasting with a professional sommelier.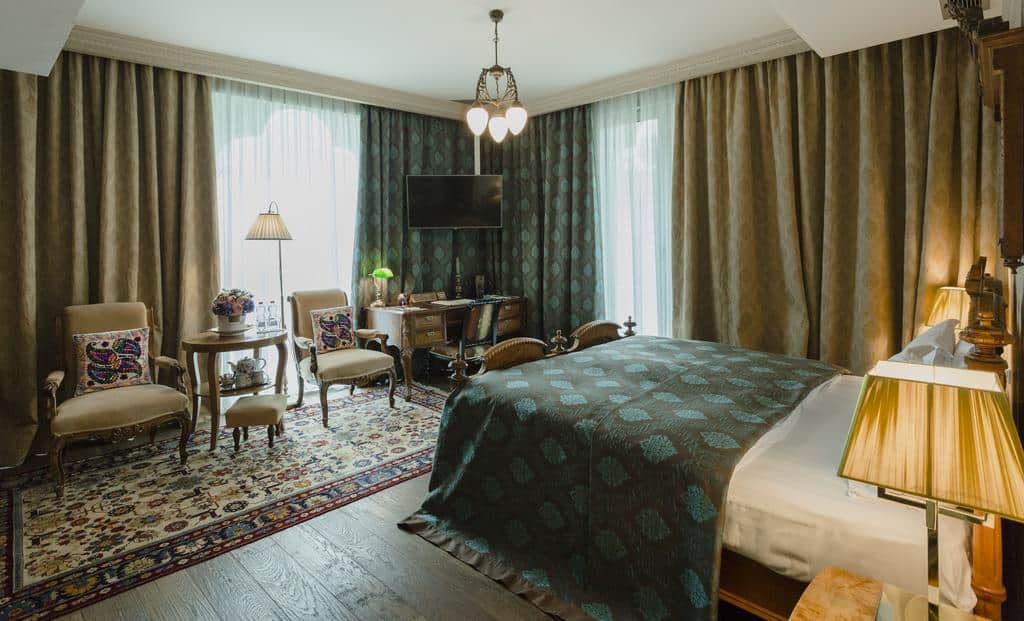 The boutique hotel won the 2017 nomination for best small luxury hotel in Eastern Europe, as well as among Tbilisi hotels of a similar format. There's free WiFi throughout, an excellent restaurant, chic breakfasts, and champagne as a treat.
Clients especially like the location – this is the best part of town, just 4 minutes walk to the Presidential Palace and the House of Justice, 7 minutes to the subway station Avlabari, near the Pushkin Park and Zioni Cathedral, the train station is 3 km away. Besides, here one of the episodes of Parthenon series was shot by TV journalist Leonid Parfyonov.
No12 Boutique Hotel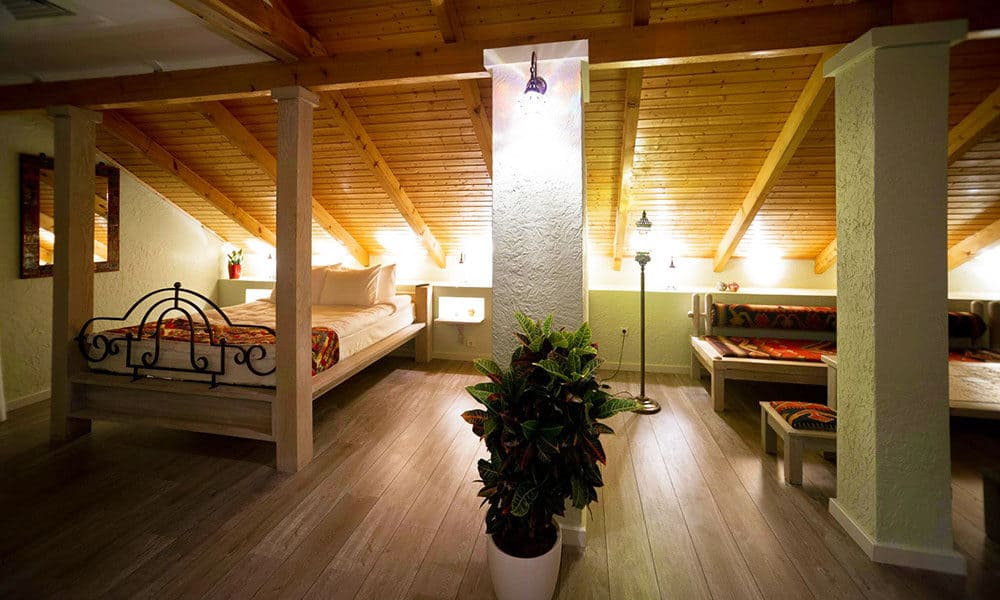 A small design cozy hotel, located in the heart of the old city, in the silence of the narrow streets of Tbilisi. There are 12 rooms, some have balconies and a splendid view to the historic center. Convenient location opens up unlimited possibilities for sightseeing, entertainment and shopping. A 5-minute walk away is Rustaveli Avenue with stores, restaurants and bars.
Customers note the clean comfortable rooms in the national style, soulful atmosphere, excellent cuisine, delicious homemade breakfasts. For those who prefer atmospheric hotels in Tbilisi, this is an ideal place for romantic trips for two.
Shota@Rustaveli Boutique Hotel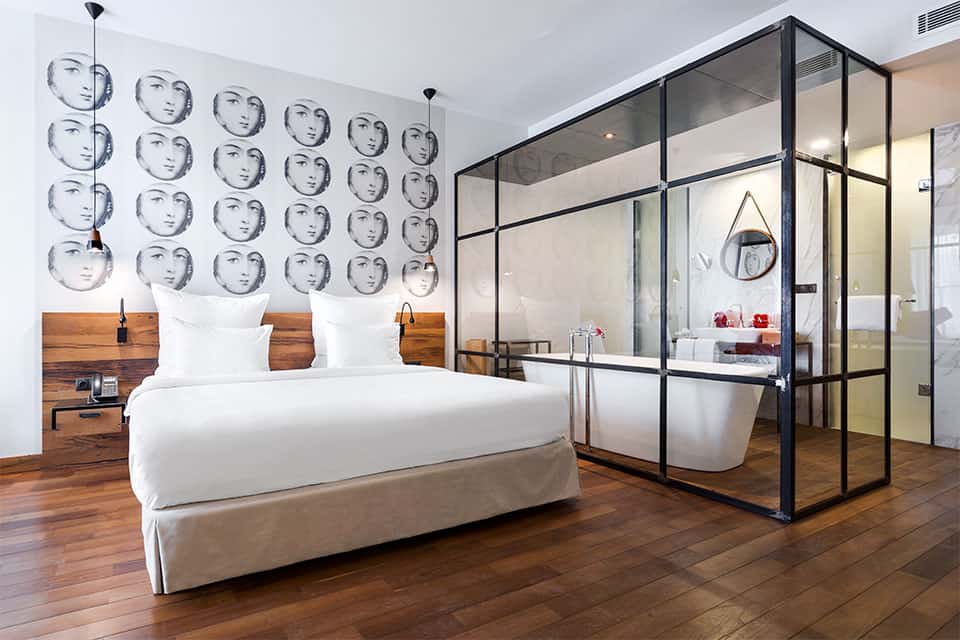 Shota Rustaveli Boutique Hotel is one of the best design hotels in downtown Tbilisi
Boutique hotel boasts an excellent location, unique style and a well-thought-out unified concept. The interior is decorated in eco-style with the predominance of natural wood, natural materials, pastel colors. Large rooms, fresh repairs, pillow service for demanding tourists, great beds – in terms of comfort, everything is thought out in detail and disposes to a good rest.
A nice restaurant with a terrace and a bar offers an excellent selection of fresh local products in an original menu inspired by Georgian and Italian cuisine. Next to the restaurant there is a wine room with hundreds of products from different parts of Georgia. Hotel guests receive special offers to try and buy wines from unique grape varieties.
The recreation area includes a swimming pool, sauna, and gym – a true slice of heaven to ensure a full dynamic day or a restful night's sleep. The business class hotel has a state-of-the-art conference room for business meetings with seating for 50.
6 soulful boutique hotels in Tbilisi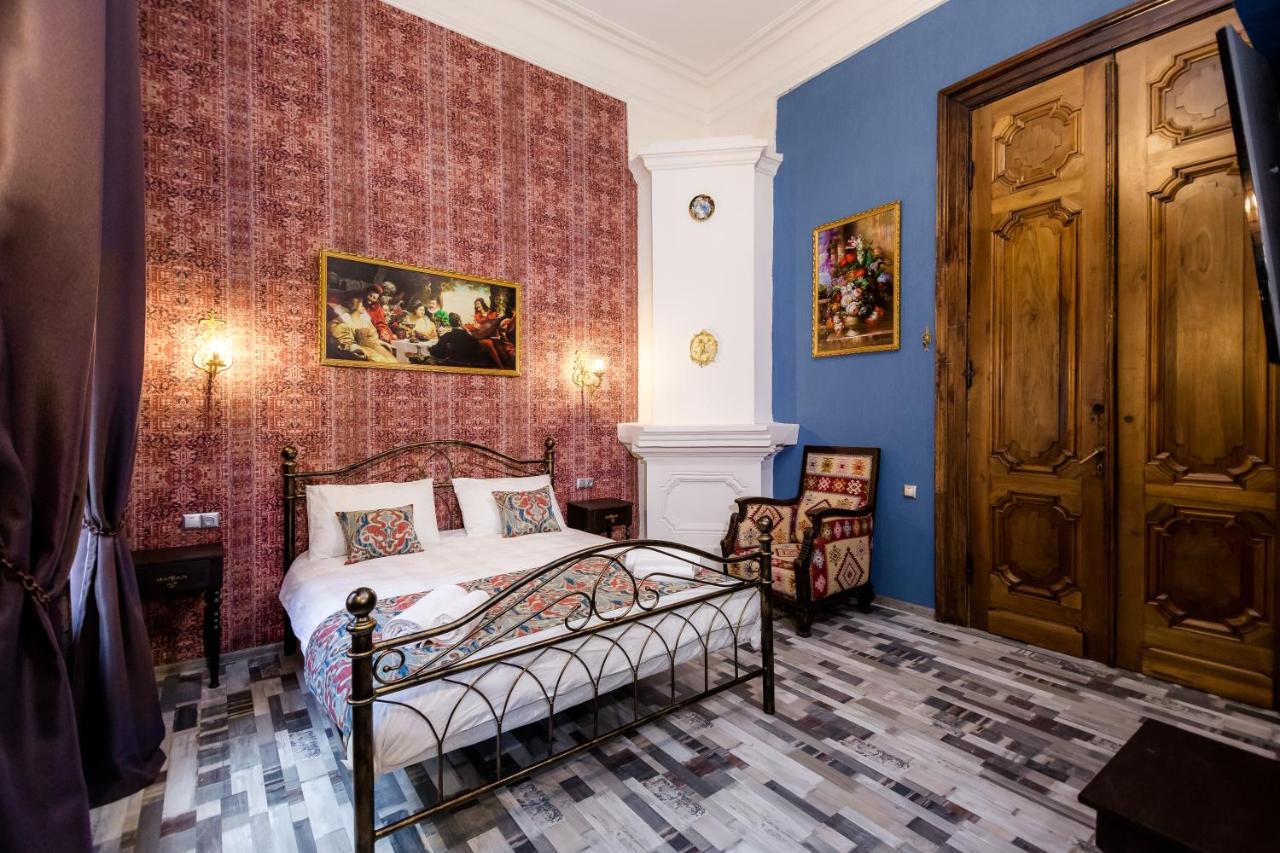 A selection of boutique hotels with soul in Tbilisi – from old castle and historic houses in national style to modern lofts.
This article is a selection of boutique hotels where the owners have put their soul into. All have great reviews and adequate prices. I deliberately chose options with heating in the center of Tbilisi – this is important if you go to vacation in low season. The city is dominated by old stock, so there may be problems with heating, hot water and sewage. Check these nuances with the owners and read the reviews.
The city is hilly and many of the hotels in Old Town have to be climbed. If this is difficult for you, study a map and choose lodging on a flat site. Also, there are no elevators in the old houses.
– Cashback hotels – car rentals in Georgia from $23
Content:
Hotel Castle
I have a soft spot for accommodations with terraces, patios, courtyards and views. This boutique Castle in Old Town hotel in Tbilisi is exactly in that category – and even more, it's also a real 16th-century castle. Each room is unique, with various artifacts and antiques brought in by the owner from around the world and curious design solutions. There is an open-air swimming pool with a cool view of the city, beautiful lounge areas and terraces where you can sit with a cup of coffee or a glass of wine. There's nothing to say about the staff – the hospitality is top-notch.
In general, this is a very romantic hotel for couples or an unforgettable adventure for a group of friends! But it is better not to stay here with children, because there are a lot of stairs and valuable exhibits.
Prices depend on the selected room – from $130 to $270 per night for two people.
Suites with a terrace. Photo: Castle in Old Town. Executive suites. Photo: Castle in Old Town. Outdoor Pool. Photo: Castle in Old Town.
Colorful hotel
Hotel Tiflis Inn 3* in Tbilisi strikes with an unimaginable amount of colors and details in the interior. It is for those who are tired of the monotonous everyday life! The hotel is located in a historical building and stylized as the XIX century. All rooms are two-story, with wooden frames, stained-glass windows and beautiful furniture. Double occupancy costs from $60 per night in any season.
Deluxe room. Photo: Tiflis Inn Boutique Hotel. Bathroom. Photo: Tiflis Inn Boutique Hotel. Dining room. Photo: Tiflis Inn Boutique Hotel.
Elegant hotel-museum
If you want to feel the atmosphere of old Tbilisi, book Vinotel Hotel 4* without hesitation! The interior of the halls and many rooms look like rooms in a museum apartment: rare furniture, paintings and photographs, antiques and books. The hotel is very aristocratic: it has its own wine cellar, where tastings are held, and live music is played at breakfasts and dinners. In reviews, hotel guests declare their love for the hotel and write that it has exceeded all expectations. Pricing for a double room in 2022 is from $130 a night in high season and from $110 in low season.
Junior Suite. Photo: Vinotel Boutique Hotel. Dining Room. Photo: Vinotel Boutique Hotel. Hall. Photo: Vinotel Boutique Hotel.
Stylish hotel in Sololaki
There is an incredibly beautiful and stylish hotel in Tbilisi, located in an old house – Communal Hotel Sololaki 4*. The rooms are tastefully decorated: lush colors, beautiful furniture, kilims on the floor, live plants, spot lighting, paintings and mirrors. There's a shared terrace overlooking the garden, and delicious breakfasts are served at a communal table, creating a homely atmosphere. The price at 2022 is from $100 per night in high season and from $80 in low season. In Tbilisi, by the way, there is another hotel of this network, no less stylish – Communal Hotel Plekhanovi 4*.
Suite with a balcony. Photo: Communal Hotel Sololaki. Room with a terrace. Photo: Communal Hotel Sololaki. Dining room. Photo: Communal Hotel Sololaki.
Hotel in the spirit of old Tbilisi.
A soulful hotel in the style of old Tbilisi with antique furniture, paintings, colorful curtains, old photographs and other nice details of the past. The hotel is in a restored house in the center of town, and the views are spectacular. Accommodations in summer 2022 cost from $54 a night, and in low season from $40.
Quad room. Photo: Doors Meidan Design Hotel 3*. Deluxe Room. Photo: Doors Meidan Design Hotel 3*. Photo: Doors Meidan Design Hotel 3*.
Loft and minimalism in a bottle
If you are tired of the bright colors and abundance of decorative elements in the interior, have a look at Pantomime Museum Hotel 3* in Avlabari – a very shabby but very interesting and underestimated part of Tbilisi. In some places it is a bit gloomy, but the hotel is so cozy that you want to pack your bags and immediately get off to Georgia. The view terrace and panoramic windows are a special treat, and the deluxe has a bathtub overlooking the city. The accommodation is priced very nicely from $60 per night in high season and from $45 per night in low season.
Deluxe suite with a bathtub and a view of the city. Photo: Pantomime Museum Hotel. Standard. Photo: Pantomime Museum Hotel. Lobby. Photo: Pantomime Museum Hotel.
Where we stayed in Tbilisi
We have been to Tbilisi twice. While on vacation in February 2019, we stayed in a very nice and spacious apartment that was furnished in the Georgian style. Innumerable fixtures, antique furniture, arched openings and high ceilings – we didn't want to leave it. Alas, this apartment is now impossible to book as it is no longer for rent.
The second time, in June 2021, we also chose an apartment in Old Town in the national style. Same high ceilings, vintage furniture, plenty of paintings. Very cozy! We paid $38 for two people a night. It can be booked on Hotelluk.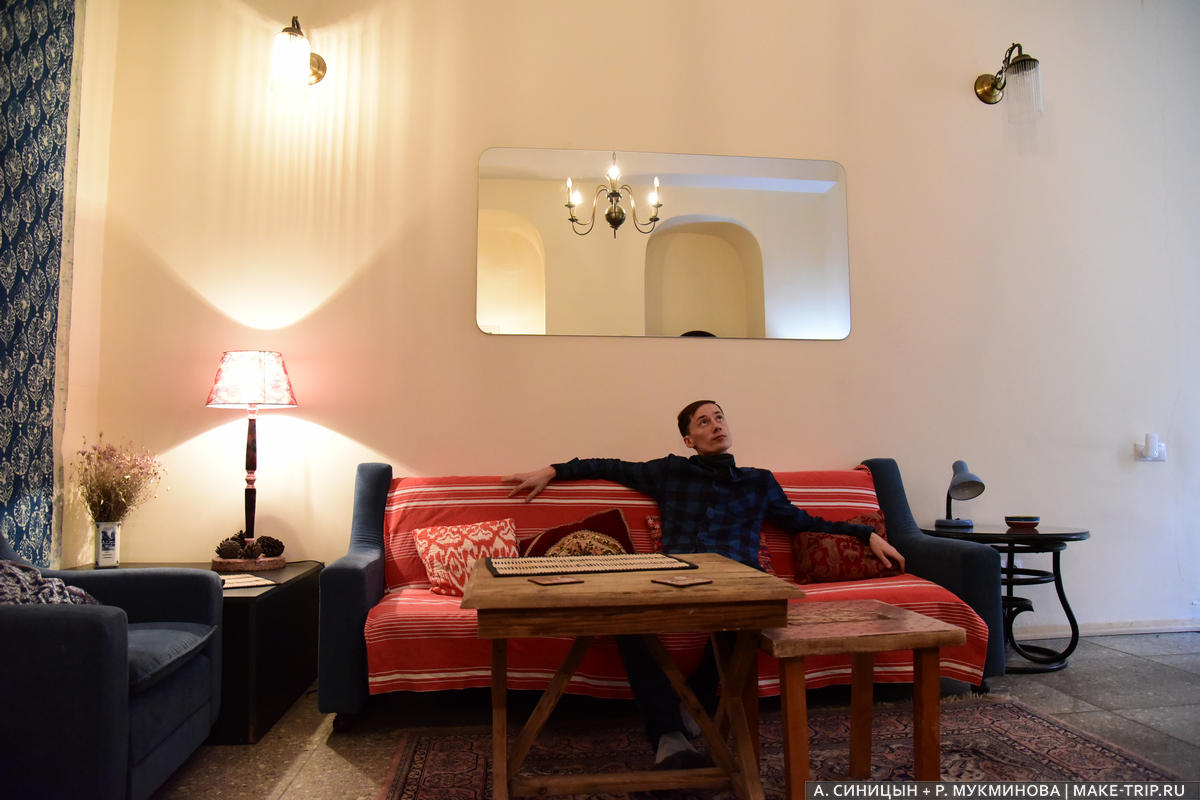 Our first apartment in Tbilisi.