7 best tours in Antalya
Picked 7 most interesting excursions in Antalya, which we and tourists love.
Where to buy tours
The most expensive and lowest quality excursions are offered by tour operators. So it is better not to get anything from the hotel guides. In general, it's better not to deal with them – you won't meet a bigger cheater anywhere. What nonsense they do not believe in to gullible tourists! Sightseeing and especially renting a car in Turkey is very dangerous, no one is responsible for you, and locals are just waiting for an opportunity to rob you. In the era of the pandemic, these scoundrels have invented another trick: allegedly, only buying an excursion from the hotel guide, you can get into a kind of police "base" and get the opportunity to freely walk around the resort and move around the country. And how can they not be ashamed of such a brazen lie? In general, it is better to stay away from these rascals. Learn the truth about the tours in Turkey.
All tours we buy only on our favorite service Tripster. There you can read real reviews of tourists, so it is easy to choose a good and interesting excursion. Prices are lower than the street vendors, and there is more reliability. In addition, there are unique author's tours that will show you the country from a new side. I heartily recommend it.
See our selection of the best tours in Alanya, Side, Kemer.
Useful articles about Antalya:
Dive into the history of Antalya
You might think, what's so interesting about a regular sightseeing tour of the resort? That's what we thought until we took a sightseeing tour of Kaleici with our guide Nikita. He took us to the most interesting places in the Old Town, showed us the best viewpoints, told us about life in Antalya, its past and present. It was not a dry history lesson, but a fascinating story about the life and development of the city with illustrative examples and vintage photographs.
We learned how Antalya grew from a village into a huge city and how the families of gardeners magically became dollar millionaires and coastal property owners. We learned how to distinguish newly built monuments, we visited mosques, heard interesting stories about the inhabitants of old houses.
Our walk lasted for 2.5 hours (flew over in an instant), and then Nikita and I spent another hour standing and chatting quietly about life and travel in Turkey, politics, mentality, strange and peculiar, interesting places. It was a very pleasant conversation and interesting walk. Nikita is an excellent guide, a good conversationalist and I especially liked that he is a thinking and critical thinker. We enjoyed this individual tour so much that Lyosha even wrote a separate great review about it.
Price . The tour of Antalya costs 113 € for a group of 1-6 people. This is a good price because similar programs in Antalya cost about 100€.
View from the observation deck on Mermerli beach. The old town consists of cozy hotels, cafes, bars and stores.
See the unique landscape of Cappadocia
During your vacation in Antalya, be sure to take a trip to Cappadocia – I guarantee that you will fall in love with these wonderful landscapes! Two days in the Land of the Beautiful Horses is not enough, but enough to see the main beauties and impress. By comparison, we spent almost a week there and went around all the valleys. Read our review of Cappadocia.
This super-rich two-day excursion to Cappadocia is very popular with tourists: the program is interesting, the views are stunning, and the guide is passionate. During the trip you will see many beautiful valleys, an underground city, cave churches with frescoes, rock fortress cities, and have the opportunity to fly in a hot air balloon! The flight is paid for separately. We can recommend this tour on a hot-air balloon (here cheaper, there are reviews). Book it in advance, because there are not always places in season.
Price. The 2022 tour from Anatolia to Cappadocia costs 60€ per person. It's almost all-inclusive: this price includes travel, entrance fees, lodging and meals (except lunches).
Tourist reviews . All holidaymakers are satisfied with this excursion. Many call the trip to Cappadocia the best trip of their lives. We bought other excursions from the organizer Anna and were completely satisfied.
Roman: "That was a real thrill, what a blast! I will not tell you about it not to spoil it, come and see for yourselves. The guide Bacha was a great soulful guy, with an incredible knowledge of Turkish history and top routes. The atmosphere on the way was high, chatting, listening to Turkish history, joking, chatting, etc."
This is me in Pashabag, the valley of the monks in Cappadocia. The Valley of Love in Cappadocia.
Going to picturesque Termessos
We drove ourselves to Termessos by rented car – the town is beautiful, secluded and picturesque, especially impressed by the amphitheater. We recommend to visit it! If you can not go on your own, take Nikita's tour. This is an exceptional guide, we know him from the sightseeing tour in Kaleici. We really liked the walk with him, so we recommend this tour as well – I'm sure all his excursions are good. You can tell by the rave reviews, though.
Price . An individual tour from Antalya costs 166 € for a group of 1-8 people.
Almaz : "One of our best trips of all time in Turkey! The place is amazing and Nikita is a tactful and interesting person with a broad outlook. Definitely recommend Termessos to visit and Nikita as a guide."
Lyosha in the amphitheater of Termessos.
Relaxing on an island paradise
Suluada Island is often referred to as the Turkish Maldives – not to be confused with Lake Salda, which is named exactly the same. In Turkey they like to call something Maldives, but to us these places around an uninhabited island reminded us more of Italy and Greece. The water is so clear and turquoise that you want to swim in it, and the photos come out very juicy.
The tour lasts more than 12 hours. During the boat trip you will visit several picturesque bays and swim in the most beautiful places!
Price . The 2022 tour to the Turkish Maldives from Antalya costs 32€ per person.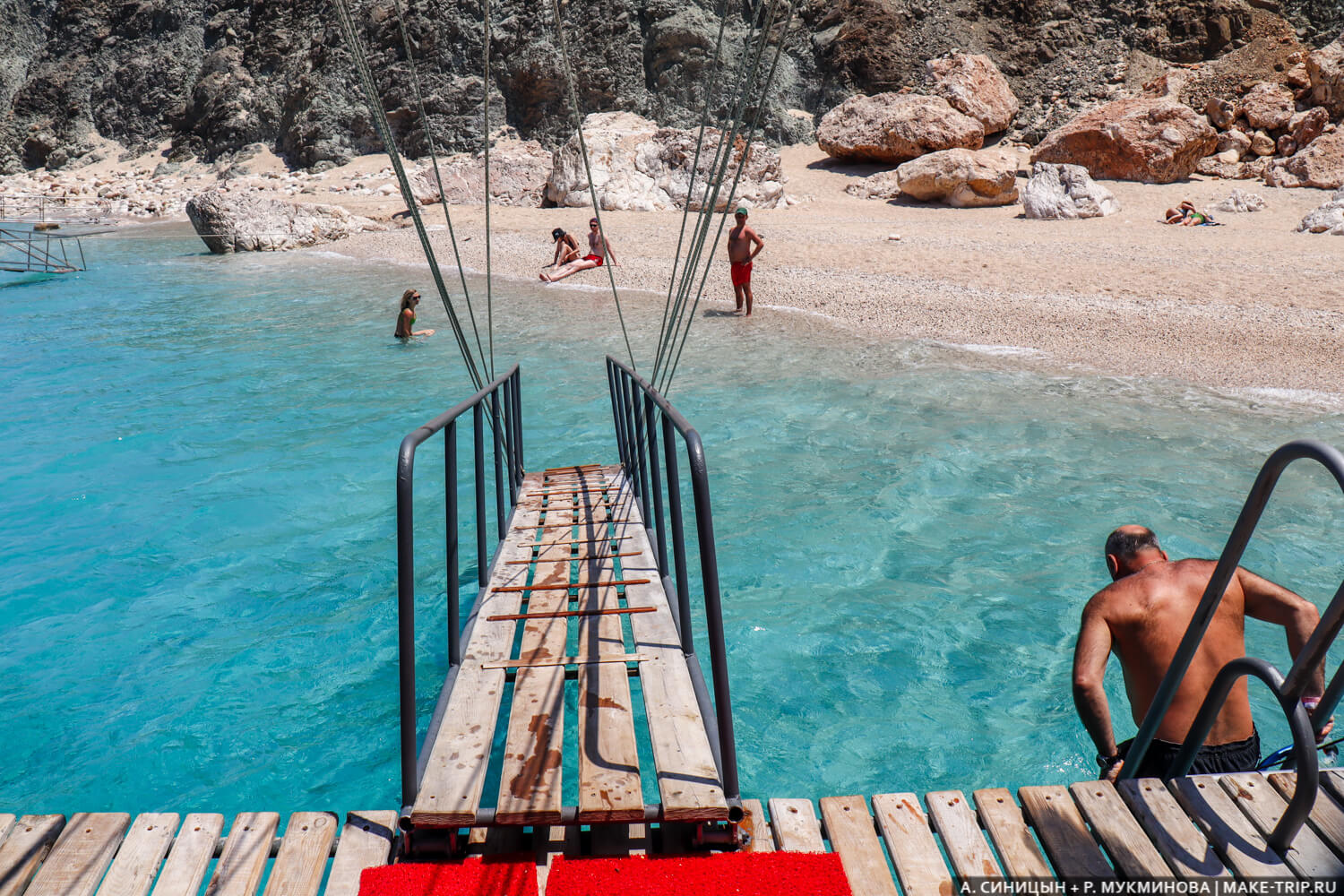 Just look at that spotless clear water off Suluada Island!
Go to Pamukkale and fly in a hot air balloon
Pamukkale is the second most popular natural wonder in Turkey. Just imagine – this is a spa resort with a 2200-year history! The place is wonderful: the snow-white travertine with blue water, the ancient ruins of the city, mentioned in the Bible, the famous "rejuvenating" Cleopatra pool. In general, it is beautiful, interesting and healthy.
So I advise to come here. The place, though untwisted, but we liked it. Learn about the best thermal springs in Turkey, and see our review of Pamukkale.
Note that on this tour no more time is spent on shopping and take only for wine tasting.
Price . A day trip from Antalya to Pamukkale in 2022 costs 50 € per person. Also recently they started launching balloons over Pamukkale, like in Cappadocia. The trip and flight in the balloon costs 100 € per person. Individual tour by car is very popular with tourists – it costs 275 €.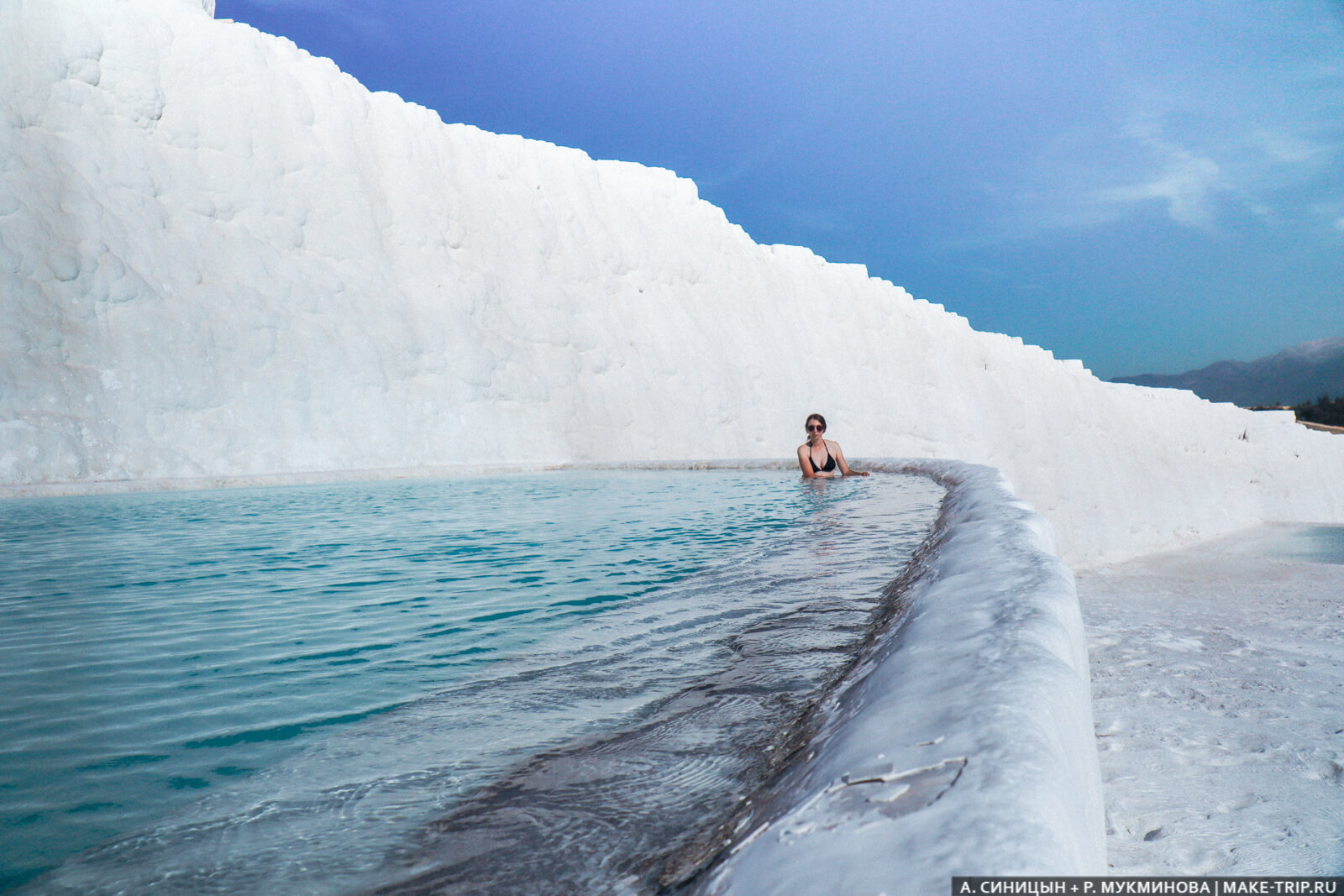 This is me cooling off in the mineral water pool in Pamukkale.
Sailing through the Turkish fjords
If you're bored with a beach vacation, take an excursion from Antalya to the picturesque Green Canyon – it's cool and peaceful. Quietly splashing emerald water, proudly towering cliffs, rustling leaves of trees.
We took this excursion from Side. First we were shown the Small Canyon, then we went fishing (only the captain caught fish – can not be excluded that it was worked out a scheme from "Diamond Hand"), then we were fed, and then the beauty began – a trip through the Grand Canyon. Glad that at this point we played epic instrumental music, so that we could imagine themselves as a Viking, sailing among the majestic fjords. And the local scenery really does look like fjords! The canyon is so narrow and the mountains so high that even a wide-angle lens can't capture all this grandiose scenery in one frame. It's a very beautiful place, very impressive. And other than from the water, these stunning views just can not be seen, so this excursion from Antalya definitely should not be missed.
Price . In 2022 the tour costs 35 € per person. Lunch, transfers, drinks and fishing gear are included.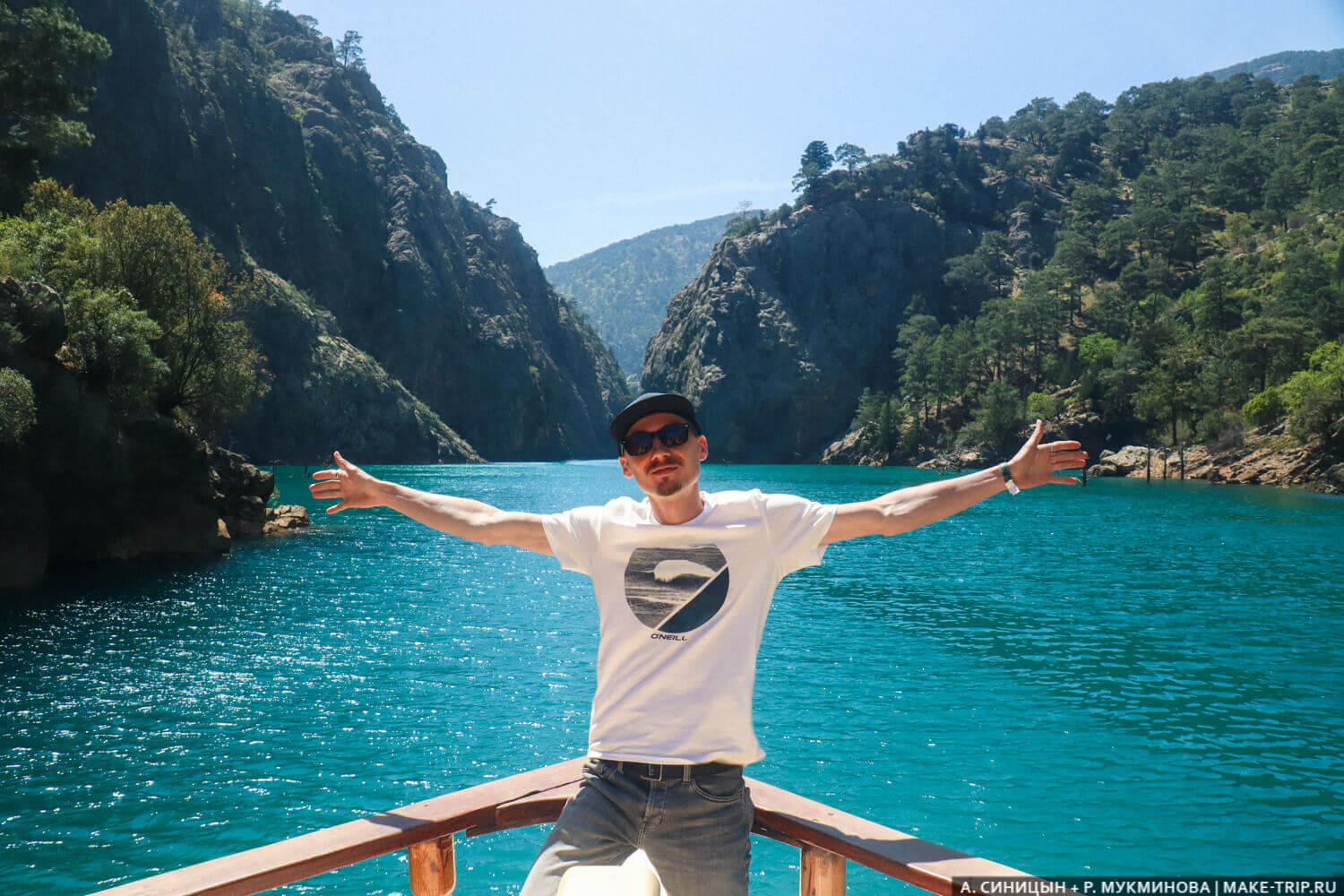 Lyosha in Green Canyon.
Feel the breath of antiquity in Mira
We went to Mira and Simena on our own by rented car and we advise to visit these ancient places at least with a tour. It is a wonderful opportunity to be transported for 2000 years back! You will visit the ancient amphitheater and the Lycian tombs of Myra. You will see the sarcophagus where the relics of Saint Nicholas were kept, you will learn about the life of the saint and his miracles. From the boat you will see the ruins of a sunken ancient city near the island of Kekova, and look at the other ancient cities of Simena and Teimussa. And, of course, you can swim in the clear turquoise water!
Price . This group bus excursion costs 35 € per person. There's also an individual tour by car for 250 € (for 1-4 people).
Julia : "Wonderful trip – a combination of ancient history and the spectacular beauty of this corner of Turkey.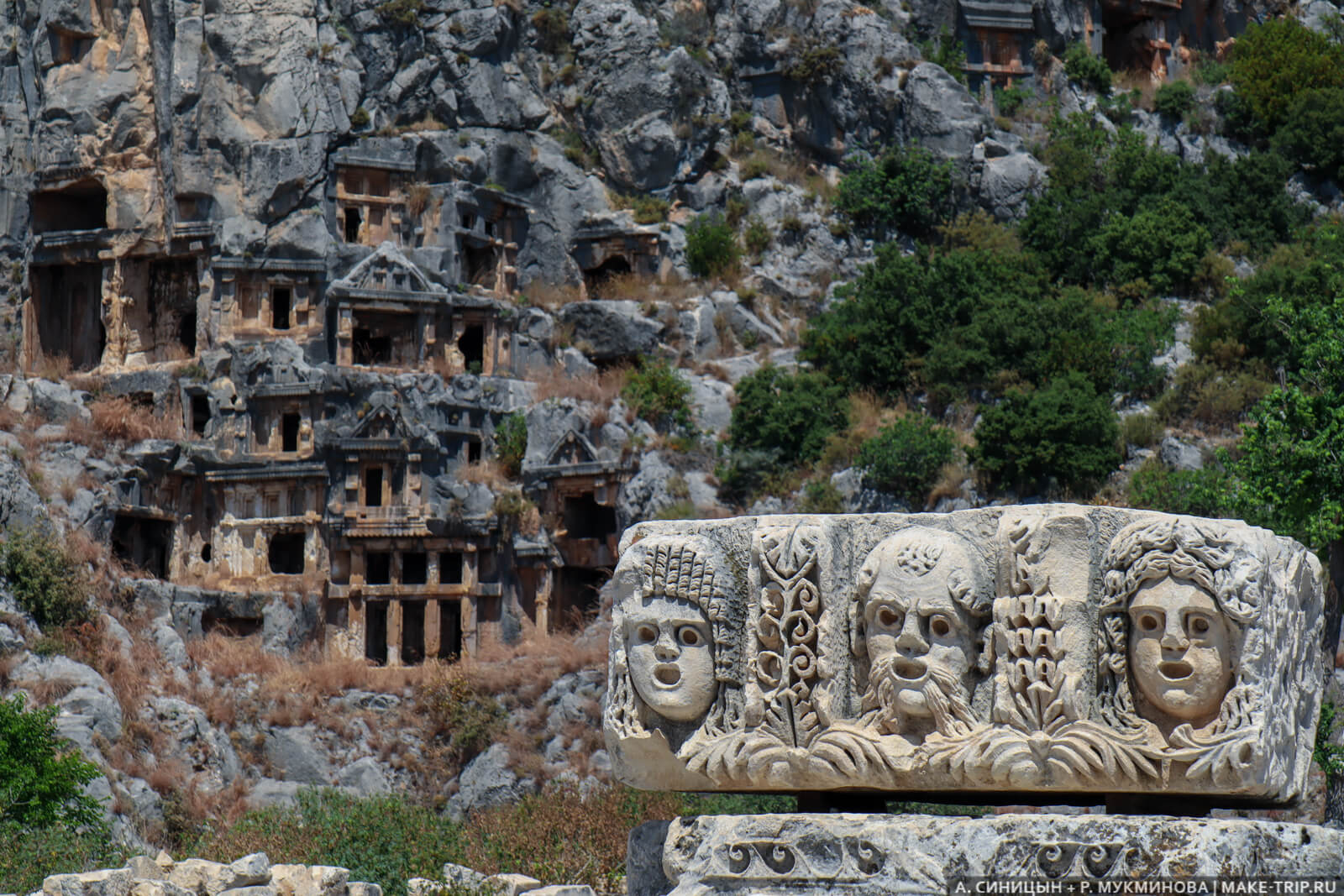 Antique City of Peace.
Excursions in Antalya 2022
If you still wonder where to buy tours in Antalya, then Marmaris Travel agency is your best choice! Marmaris Travel offers the best prices, convinient booking and quality service. Cooperation with the best tour organizers all over Turkey allows us to offer the best tours at affordable prices. We care about our tourists, so our managers are always ready to advise and answer all questions.
Prices for tours in Antalya 2022
The cost of tours in Antalya depends on many parameters. We offer you the best prices for the most popular tours and beyond the region. With prices for tours from Antalya you can find on our website.
Excursion to Cappadocia from Antalya
Excursion to Pamukkale from Antalya (Without shopping)
Antalya sightseeing tour
Demre – Mira – Kekova from Antalya
Turkish Hamam in Antalya
Diving in Antalya
Green Canyon from Antalya
Pirate ship in Antalya
The Aquarium in Antalya
Excursion to Israel from Antalya
Perge, Aspendos, Side from Antalya
The Lights of Anatolia in Antalya
Buggy safari and rafting in Antalya
Rafting in Antalya
Horse Safari in Antalya
Excursion to Istanbul from Antalya by plane
Jeep Safari in Antalya
Hot air balloon flight from Antalya
Aqualand Waterpark in Antalya
Excursion to Suluada island from Antalya
Waterpark "The Land of Legends" from Antalya
The best excursions in Antalya from Marmaris Travel!
Perhaps one of the most popular Turkish resorts is Antalya. Antalya is the administrative center of the province of the same name in Turkey. In the city, an area of about 1.5 thousand square kilometers, permanently just over 2 million people, and during the season, due to the popularity of tourists actually staying in the resort, the figure exceeds 2 million. Antalya is popular among Russian-speaking tourists, so almost everyone knows Russian and you can see signs and signs in Russian everywhere. The Mediterranean Sea washes the shores of Antalya, which pleases tourists with a comfortable temperature in the season.
Individual tours
We know that among our tourists there are those who enjoy excursions only in their company or even alone. Therefore we are ready to organize any tour according to an individual program especially for you.