7 Best Restaurants in Kemer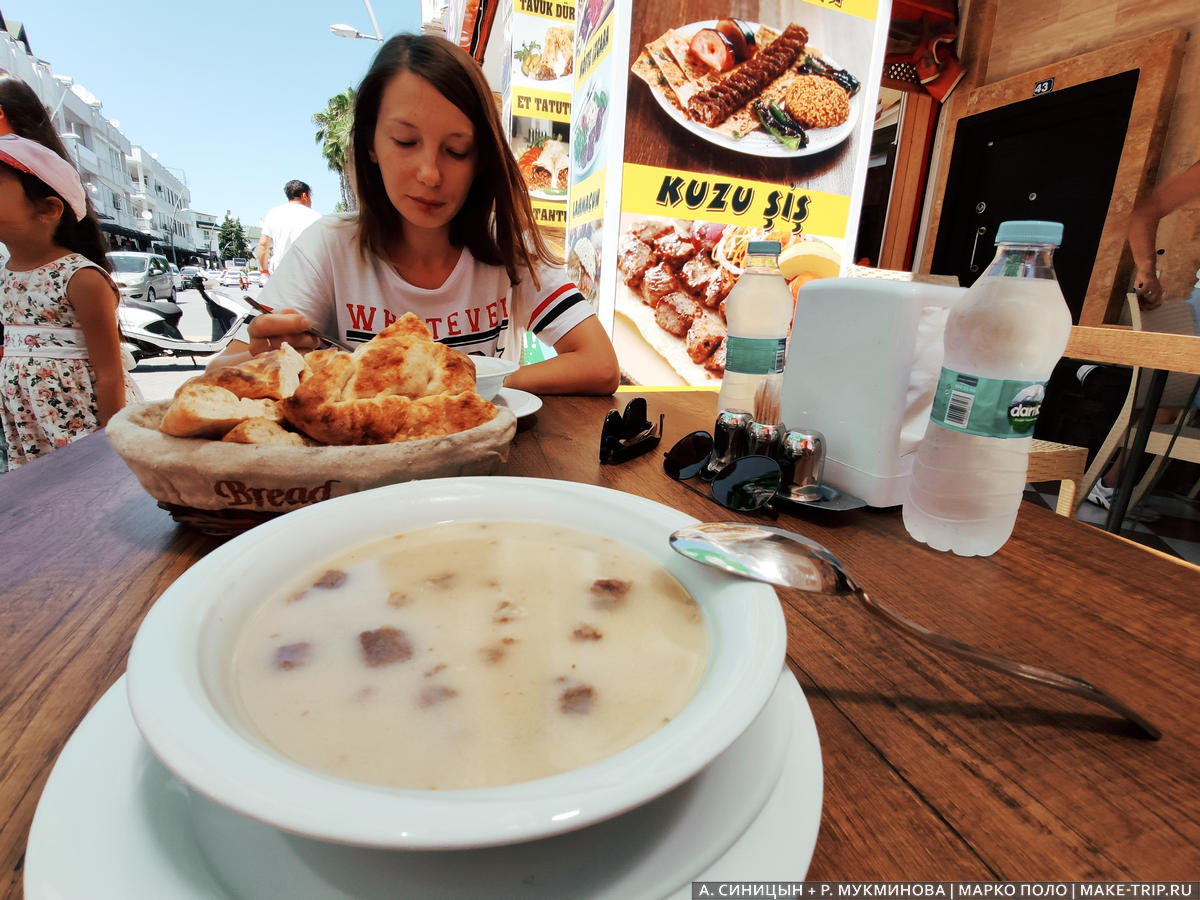 There are cafes and restaurants on every corner in the Turkish resort! Learn about the best Kemer restaurants that tourists love – with great fish cuisine and beautiful mountain and sea views.
Ulupinar Botanik
One of the best fish restaurants of Kemer is located on the territory of a trout farm, right on the mountainside. From the tables with wooden couches you can see the fish swimming in the mountain river. A wonderful place to stay for lovers of fish food and fishing!
Average check . Prices are high. Dinner for two will cost you $50-100.
Address : Ulupınar koyu Merkez Mah
From the tables with wooden couches you can see the fish swimming in the mountain river. Photo: Ulupinar Botanik. Tourists fish. Photo: Ulupinar Botanik.
Shakespeare Coffee & Bistro
Shakespeare Coffee & Bistro is an interesting restaurant on the Tahtali mountain in Kemer for everyone who is in line for the ride down the Olympus Teleferik cable car. The view from the top of the mountain, 2365 m above sea level, is breathtaking with spectacular views of the mountain valleys and the coast. Enjoy superb Mediterranean cuisine, light snacks and hearty Turkish fast food! Coffee and tea are $3, a glass of wine is $8, and an alcoholic cocktail is $45.
Average check . Lunch for two will cost $40-$60.
Address : Kumluca – Kemer Main Road | Tahtali Cable Car Road, No: 2
Tables at the top of the mountain. Photo: Ulupinar Botanik. Ulupinar Botanik. DTatiana/ Depositphotos.com.
Monte Kemer
According to tourist reviews, it is nice to spend an evening at the Italian restaurant in the center of Kemer, on Ataturk Boulevard. Guests like the homely atmosphere, delicious food, beautiful mountain views, large portions and live music. Order the kebab with yogurt sauce and Italian chicken with mushrooms!
Average Check . Lunch for two will cost $35-70.
Address : Merkez mah. 125 sok. No:58
Pushkin Sea Food
If you are looking for a seafood place to eat in Kemer, try the restaurant with a Russian name at the harbor. Its emblem bears the profile of Alexander Pushkin. Guests are greeted by a stylish maritime interior, a pleasant view of yachts and a romantic atmosphere. Greek salad costs 25 lira, grilled shrimp 98 lira, chicken with parmesan 44 lira, and lobster 47 lira.
The average check . Lunch for two will cost $25-$45.
Address : Merkez Mahallesi, Yali Caddesi
Qualista Restaurant Marina
Qualista is considered by many to be the best fish restaurant in Kemer. Grilled fish, tasty fish soups, lobsters, and octopus are cooked here and the local white wine is served. The wonderful view of the marina makes eating a real treat! Fried shrimp is 28 lira, fried calamari is 48 lira, and seafood soup is 24 lira.
The average check . Lunch for two will cost $30-$50.
Address : Merkez Mahallesi Yali Caddesi No 5/A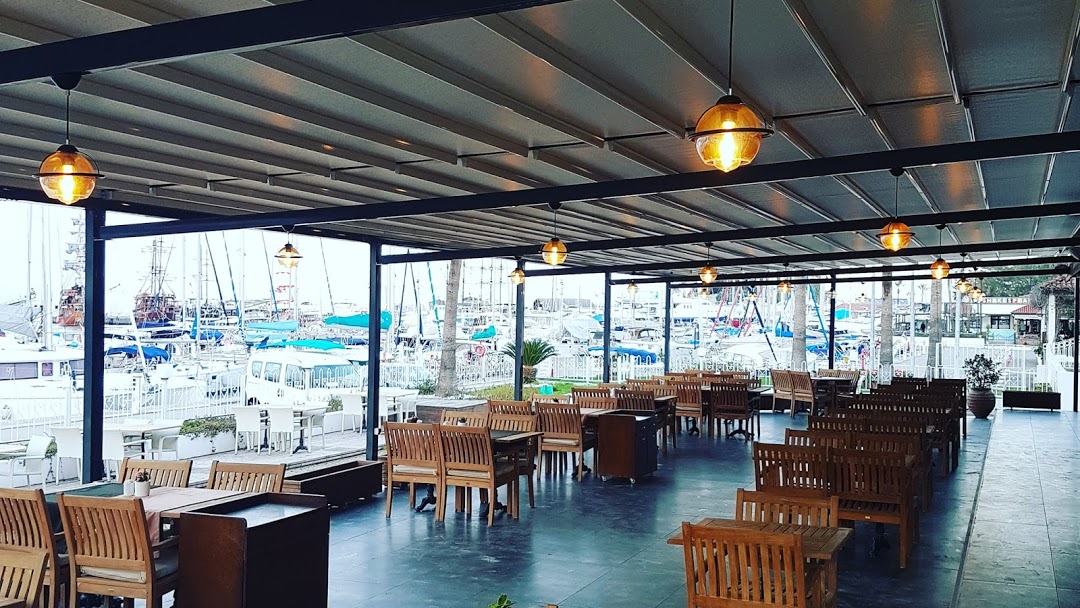 Restaurant tables. Photo: Qualista Restaurant Marina.
Selale Restaurant
It is a good idea to have dinner at a restaurant on a waterfall. Ulupinar entertainment complex is located near Kemer. People come here to see the waterfalls, catch fish, go through the rope mazes in the "Adventure Park", feed the zoo pets and try perfectly cooked food. The local restaurant is famous for baked trout, quail wings, shepherd's salad and fig desserts. Fish and enjoy stunning views at the scenic spring!
Average check . Prices are high. Lunch for two will cost $70-$100.
Address : Ulupinar Koyu No:30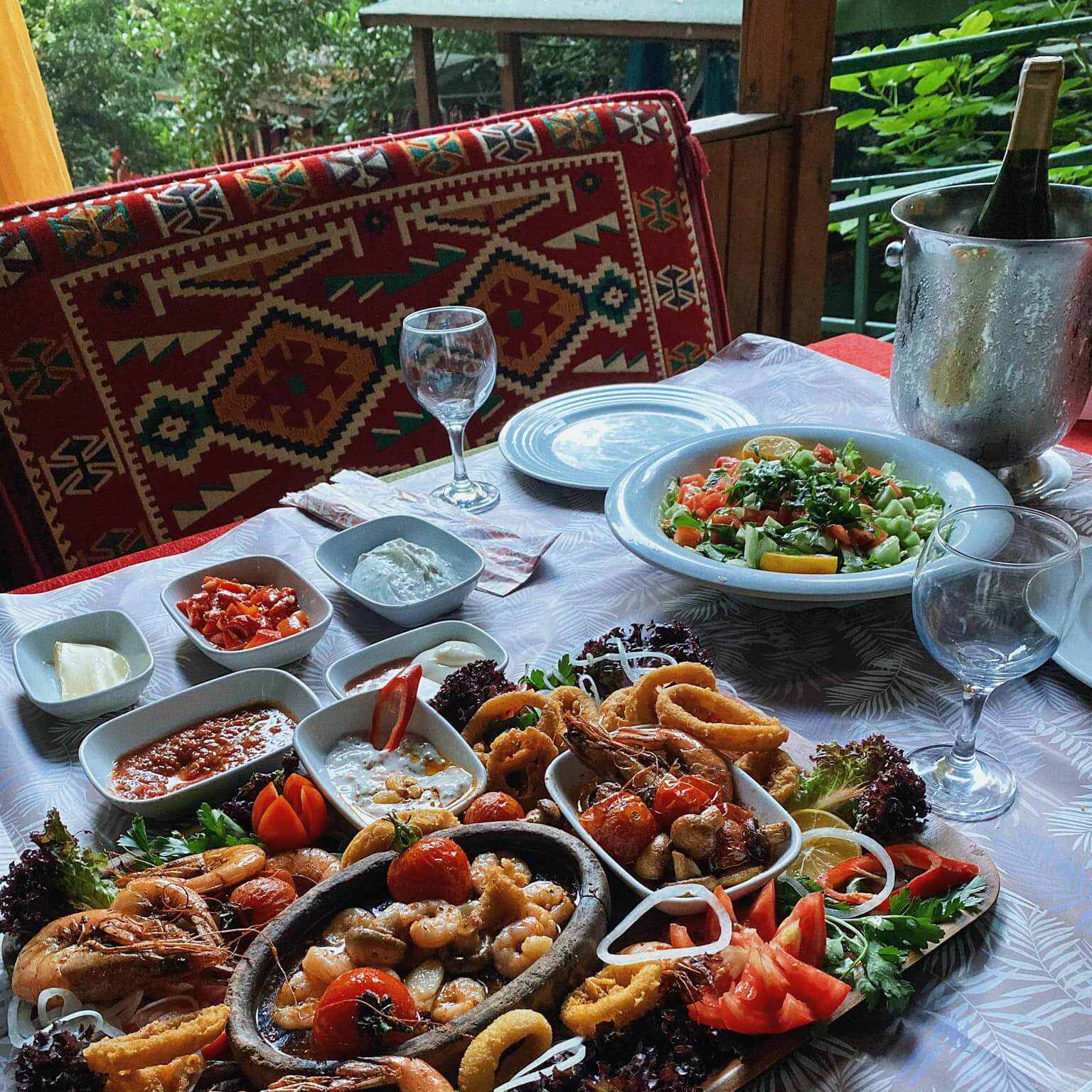 The local restaurant is famous for its baked trout, quail wings, shepherd's salad and fig desserts. Photo: Selale Restaurant.
Leon Restaurant
The best restaurant in downtown Kemer offers melt-in-your-mouth steaks, appetizing seafood pasta, tender tuna salad and excellent pizza. The Scandinavian-style serving and interiors are not particularly impressive, but the quality of the food is beyond praise. Each dish comes with a free hot flatbread, stewed vegetables and 3-4 sauces.
The best restaurants and cafes in Kemer, where you can eat well
We have studied all Kemer's establishments and selected the best in our opinion! Check out the reviews of each restaurant, cafe or bar + interesting menu items, photos, prices and reviews!
Between the Mediterranean Sea and the mountains Kemer buzzes with tourist life. The city is one of the most popular resorts among the Russians, so there are trying to dine in Russian. For example, almost every bar or tavern menu has a translation into our native language, and staff are not bad knows the basics of communication with the inhabitants of Russia. And some establishments, in order to attract attention, include in the list of dishes borsch and okroshka.
If you are looking for a tasty snack or a full meal, it is better to visit the main street of Liman – the center of all kinds and formats of catering facilities. However, there are also plenty of gastronomic spots on the outskirts.
You can easily find a cafe with children's menu, game pits and even indoor game rooms. But to eat inexpensive is unlikely . The resort is fully geared up for tourists, the prices here do not hesitate to raise. To even out the "frightening" bill, almost at every step there is a free pastry, sauces, snacks, tea attached to the order. And the portions are pretty decent sized.
Bars and cafes in Kemer are almost no different from each other in terms of menu content. You can rarely come across places with clear-cut non-Turkish concept. Mostly national cuisine is represented: traditional lamb with spices, tomato and lentil soup, fish and seafood. Baklava and lukum for dessert.
The average bill in establishments with more or less democratic prices reaches 40-50 TL. An evening in a nice atmosphere in a serious restaurant will empty the wallet for 200-250 TL, provided that the rest you will have a couple.
We have compiled a rating of the best culinary corners of Kemer, where not only tasty food, but also entertainment. There are among them quite unusual. So, if you rent a car, you can dine on… a tree.
Monte Kemer
A little further inland from the main promenade is a fish restaurant Monte Kemer.
It will appeal to those who feel uncomfortable dining in front of passers-by. Privacy is created by the lush greenery, hugging the building.
You can come with a young child – the little ones are gathered by the playground. An additional bonus is the waiters' decent command of Russian, and the list of dishes is also translated into Russian.
Seafood lovers will appreciate its rich menu: here are mussels, squids, and noble fish, as well as rare delicacies that are difficult to find in other establishments of the city. Especially popular are huge royal shrimps originally cooked in clay pots.
However, the menu is enriched with dishes of national cuisine; Balkan motifs are also present.
You can try pleskavitsa, cevapchi with potatoes and onions, cabbage with sour cream sauce. The soups are a real delight: mushroom, tomato, chicken, lentil – just right for an excellent lunch. Children can order pasta and chicken in breaded form.
Prices: shrimp in a pot 42 TL, grilled seafood mix 59 TL, soup 7-8 TL. Portions are large. A good Turkish coffee costs only 3 TL. The total bill will be around 100 TL. The order will look something like this: pleskavica, mixed grill, salad, juices and beer.