Is it worthwhile to go to Prague?


Adan
Various Opinions
Talking to various acquaintances, I often heard the following opinion: "Ew, Prague is the territory of former Czechoslovakia. They're all obsessed with fighting the Soviets there and they're all gloomy. You don't get any joy out of traveling, resting in a city with such unhappy people who have a disgusting attitude to Russians.
In fact, I do not quite understand where this opinion comes from. If everything is more or less clear with the Baltic states like Latvia and Lithuania: politicians share something there and generously supply the media with low-grade stories about their sharing. And people, based on these stories, imagine special "tomato-killing" squads that meet every tourist from Russia right at the train station. But nothing of the kind has been said about the Czech Republic and Prague in particular for a long time!
Perhaps I'm thinking too much, so back to the original topic.
During my travels I made sure that the inhabitants of Prague for the most part are very friendly and nice people, at least in relation to tourists. I remember, when I got out of the tourist bus for the first time, I, shifting the suitcase, bumped into a passerby, and I bumped him hard. What do you think what happened next? I have not even had time to turn to him to say something like "Sorry", when he has already apologized to me. For what? For hurting him! In fact, this is the atmosphere of mutual understanding and respect with the locals that I experience on every trip to Prague.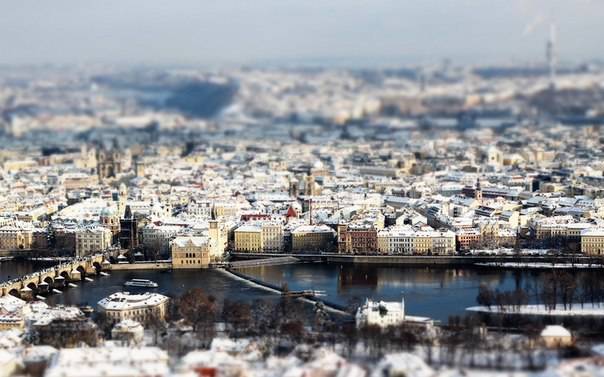 "And what's the sea like there?"
I don't want to offend anyone with the following sentence, but it's not uncommon to be asked, "Prague? What's the sea like there?" =) At first it made me angry, but then I just chuckled quietly and answered: "What kind – Czech, of course! It consists entirely of beer – that's where the famous Czech foamy drink is pumped from. People are offended by this answer for some reason … So! There is no sea in Prague, as well as in the whole Czech Republic!
Let's move on. Prague is an ancient city, half of which are architectural monuments. It so happened that during World War II it was not bombed into splinters (or rather rubble) by ours or the enemy, and it is almost undamaged (at least relative to many other cities) has remained as it was. Its historical part spreads over two banks of the Vltava River, and you can wander there for a very, very long time. With my standard walking speed of 5 – 7 km/hour it took me 3 days just to walk around everything, looking right and left.
The main tourist hangout is located in Prague 1, on the right bank of the Vltava. It is, in general, understandable. The whole city stands on huge hills, which are sometimes very difficult to climb, the only area of the old part of town where the streets do not have brutal drops in altitude is exactly the same Prague-1. Most of the shops and taverns, cafes and stores are concentrated there, it is always very crowded, so that at times it is impossible to push through.
You can walk around Prague endlessly. The whole atmosphere of this city charges for a positive, calm mood. And during the walk you can always find a cozy place to stop for a standard coffee or a tasty Czech beer.
Soaking up the beauty
Another reason to go to Prague is the Laterna Magica theater. The theater troupe gives many magical performances on the New Stage of the People's Theatre, and the actors communicate with the audience not with words, but with body language and gestures, throwing language barriers to the scrapheap.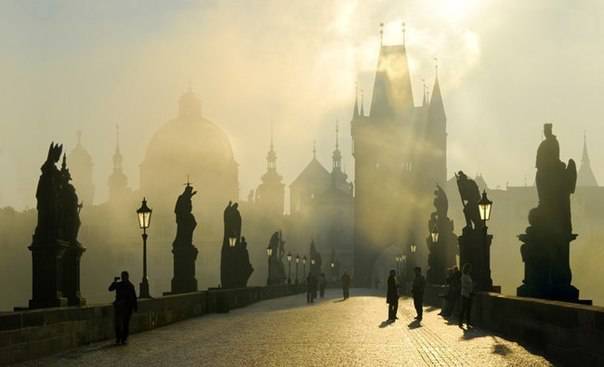 Neither "ba" nor "me".
Speaking of language barriers. I have communicated with everyone and everywhere in my feeble "pidgin English" and I was quite well understood. Sometimes I met some places (cafes, stores) where people understood me in Russian, but the knowledge of Russian in Prague is not widespread. And also, as our languages (Czech and Russian) are very similar, sometimes I could say something in Czech and I could answer in Russian – and we understood each other perfectly.
Bored in Prague?
Finally, I'd like to mention that from Prague they take you to various excursions to other cities. And it's not only Czech, but also German and Austrian, I've seen even a 2-day tour of Paris. Given the "middle" position of the Czech Republic between Germany and Austria, I can recommend to go first to Prague, and then devote a few days to visit other countries.
To summarize:
Prague is good for:
– lovers of urban romance;
– lovers of leisurely relaxation with a glass of beer;
Prague is not suitable for:
– parents with small children;
– for lovers of beach holidays =)
When we were going to visit Europe for the first time, we started from Prague. And we did not regret it. Now I am convinced that this is the right city to start acquaintance with Europe for several reasons. Firstly, Prague has a fairly measured way of life without any fuss. It really helps to feel the atmosphere of the city. Secondly, on a small area you can see the main development periods of all European states. Here and age-old churches, and tiled roofs of houses, and castles of aristocrats, and modern parks. Having visited Prague, you can have a general idea of Europe in general. But do not forget that each city in its own unique and beautiful.
Given that the Czech Republic has no access to the sea, respectively, a trip to the capital will remain a purely excursion trip. For those who like to walk around new beautiful places, like us, this city is ideal. But I would not recommend future tourists to load all the days of the vacation excursions. It is definitely worth leaving at least a couple of days for leisurely walks and enjoying the views and architecture. We did not plan it that way, but it worked out that way. And it was great! When you walk around the city slowly, without looking back to the time, returning to favorite places, it is a lot of good impressions.
Travel to Prague with small children, I would not. For them it is not of great value, but they will get tired quickly enough. To carry a baby in a baby carriage on the sidewalk is very uncomfortable and not every stroller can take it. It is better to take your children with you when they are middle or high school age. Although it is possible that they would be bored.

AnastasiaZ
Prague is a small and very cozy European capital of the Czech Republic. I think that Russian tourists are its most frequent guests. It is enough to get on the Internet, as there are always rave reviews, bright pictures and loud phrases: "We will come back here for sure!
Of course, to understand what Prague is, not enough the opinion of those who visited, you must dive into the magic of this city. All the more it has huge opportunities for tourist recreation.
Those who like a passive type of vacation, consider other countries, such as the Maldives. You have to walk around Prague, a lot, constantly taking pictures: houses, sculptures, streets, sights, from which by the end of the evening you will have a sore index finger on the hand. But you will not be upset about it.
The greatest pleasure is a very short flight. Two hours and a little over and the plane is about to land. Two of the oldest airlines fly there: Aeroflot and Czech Airlines. For me, I would choose between them two, choose our Aeroflot, in some ways it is better. In service, in novelty of planes. Or maybe I was so lucky.
As for where to stay in Prague, then you have no problem with the choice. Hotels are for all tastes and pockets. There are quite luxurious: Palace Prague, Savoy, Kings Court and others, there are a lot of them in the city. What's nice, even budget tourists can stay very comfortably. From my own experience, I would mention such hotels as: Congress and Sport Hotel Olsanka (former Olsanka), Prague Centre Plaza, Hotel Amadeus (the most budget one).
Anyway, whatever hotel you choose you will not spend much time in it. In fact, you will just spend the night and take a shower. So I would advise to take a budget option, but with a good location, preferably closer to the center. Otherwise you will take a lot of time to move. And the same tours start in the city center, there is usually a guide waiting for their tourists with a sign. So those who are in the center will have a chance to sleep, and guests from hotels on the outskirts will have to wind up the alarm clock. But we are on vacation, what an alarm clock!
So, what else catches your eye in Prague is the hospitality of locals. I've been accidentally bumping into someone and before I have time to apologize they say "Sorry" and smile widely. People are very open and willing to help in any way they can. Of course, this is very reassuring and encourages trust in them. Many, by the way, speak excellent Russian. But mostly it is people of older age, not young people. In some ways, it seems to me that our languages are similar. So, it will not be difficult for a Russian to learn Czech.
Prague is a safe city, even a young unaccompanied girl can easily go here. Theft in the streets, hotels is rare and most of the time, such offenses are committed by tourists themselves. Czechs themselves are very decent. Here's an example: there are no turnstiles in the Prague subway. Everything is based on the decency of citizens. In the trains there are controllers, but they are very rare.
Prague is a city of sights. The most impressive is St. Vitus Cathedral. Its power is shocking and fascinating. There is even a joke about it among tourists. That because of its enormous size, the cathedral does not fit completely into any lens. St. Vitus Cathedral is considered the most important cathedral in Prague, all the coronations of kings took place inside it. A whole dynasty of kings is buried there. Inside the Cathedral is just as stunning and impressive. There's something terrifying about it. In those days it was done on purpose to control people with their own faith.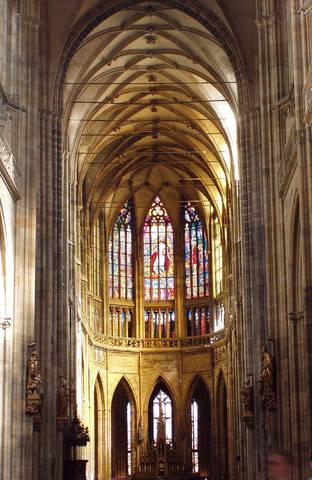 St. Vitus Cathedral
For hiking, walk around the Old Town Square. In the daytime it is very beautiful. The old houses look like pictures, there are lanterns everywhere, and street musicians play famous songs. Only it is worth to wear comfortable shoes, it will be difficult to walk on the paving stones in heels.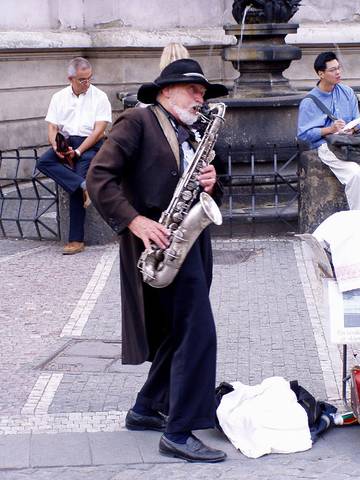 In Prague, in addition to the classic attractions from the guidebooks, there are mysterious and mystical places. The guides usually do not talk about them. For example, Zlata Alley, which is legendary for being home to alchemists who were able to turn simple metals into gold. They say that even now the same thing happens in those tiny houses that are located there. For those who like to tickle their nerves, near the historical clock every night comes a man dressed up in a suit of skeleton and leads a tour of the mysterious places of Prague.
And of course, what is most famous for Prague – its heady beer. It is really good quality and delicious. Each restaurant has its own small brewery. And in the Czech culture is considered the norm to pour even children beer. But it is really different from the beer they sell in Russia.
In conclusion, I would like to say that in Prague you can do some good shopping. Be sure to bring beer. And the special attribute will be the puppets. Each family in Czech Republic has its own small home theater and tells tales to children not from books, but with the help of these "live" puppets. For the Czech Republic it is a real art. True, they are expensive. From 50 euros and above.
7 Reasons not to go to Prague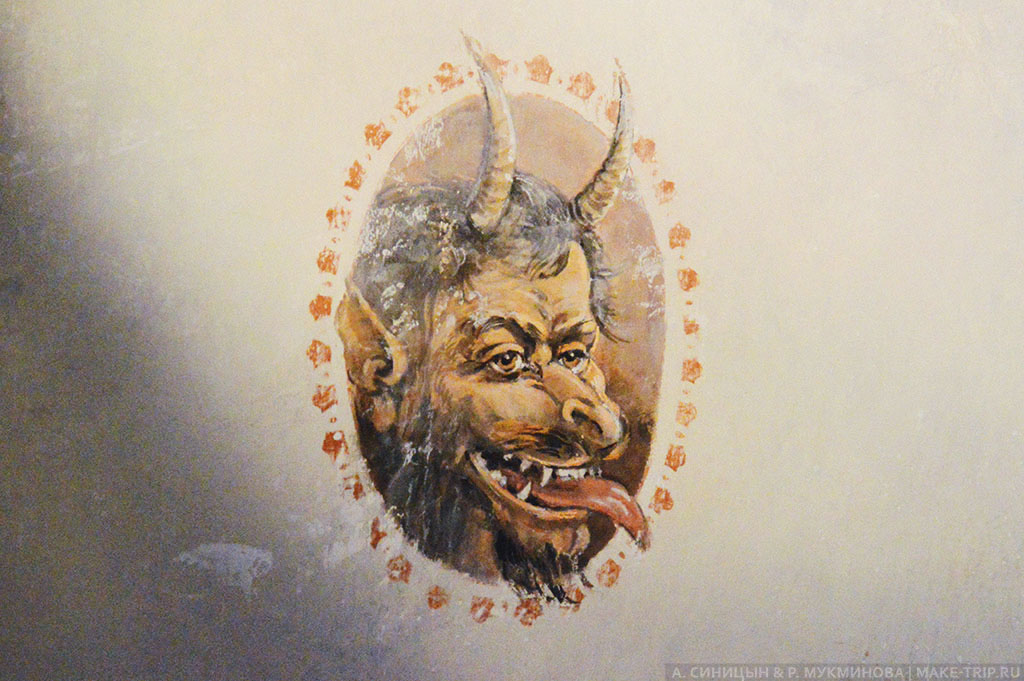 Magic Prague! The mystical Prague! All are delighted with the city and shouting about their love for the Czech capital. But we didn't like it – we have 7 serious accusations against it. Learn from our review what Prague is really like.
I have long dreamed of a trip to Prague, especially before Christmas. In blogs and online magazines I read about how beautiful and wonderful the city is, how everyone falls in love with it and repeatedly returns. I read as if Prague has an atmosphere of fairy tale, mysticism and magic. I met a lot of beautiful and loud words, and even more – gorgeous photos. But in reality the city was disappointing.
So, our 7 reasons not to go to Prague. Please do not throw stones in the comments, these reasons are subjective – we are not discouraging you from going to the Czech capital, and tell you what we did not like. Moreover, we also have 7 reasons to go to Prague. Read both notes and decide for yourself what is more – good or bad.
Content:
1. the architecture is unimpressive.
We expected to see a lot of old medieval buildings, especially Gothic ones. However, the Old Town and Mala Strana are dominated by Baroque, and the residential areas are built like St. Petersburg. Sometimes it seemed that we went back to St. Petersburg – Žižkov and Prague 2 do not differ from it at all. And in the descriptions of Prague you can often find lines about the atmosphere of the Middle Ages and other pathos. Where is the medieval atmosphere? We have not found it.
And how funny it is to read guidebooks, stuffed with pompous phrases about the splendor of the Prague sights and compare with the reality. It seems that they were written by exalted people (or at least idealizing everything around).
We can't say we weren't impressed. We liked Prague Castle, Žižkov, Old Town Square with the Týn Church and some other sights, but it was not enough! Absolutely disappointed with the Old Town.
2. a VERY LARGE number of tourists
Crowding, noise and commotion. You can't look at the buildings without bumping into someone. If you want to stop, you have to wiggle your head to make sure no one bumps into you, because everyone is walking around with their mouths open. You want a nice shot that doesn't have any Chinese posing? You will have to sweat, choosing the angle, or wait a long time until all the numerous crowds rephotographed. Want to see a panoramic view? You have to wait in line. And we purposely came in November, in the low season. What happens here in the summer?
Where to find cheap tickets? Use the search engines Aviasales and Skyscanner – they compare prices of all airlines. Learn the secrets of finding cheap airfare.
3. The center of Prague – a civilized bazaar
This concentration of souvenir shops we have not seen in any European capital. Costume jewellery, scarves, souvenirs, mugs, nesting dolls, a sea of magnets and all kinds of junk. The terrible Bohemian glass vases alone, with their gaudy tigers, muzzled wolves, and other beasts are worth a visit. The tents in the covered galleries are no different from those in Russia-it was as if we were in an underpass passage. In general, by the end of the trip we were pretty tired of it.
Look for hotels with discounts on Skyscanner Hotels. Here are the main rules of the hotel search.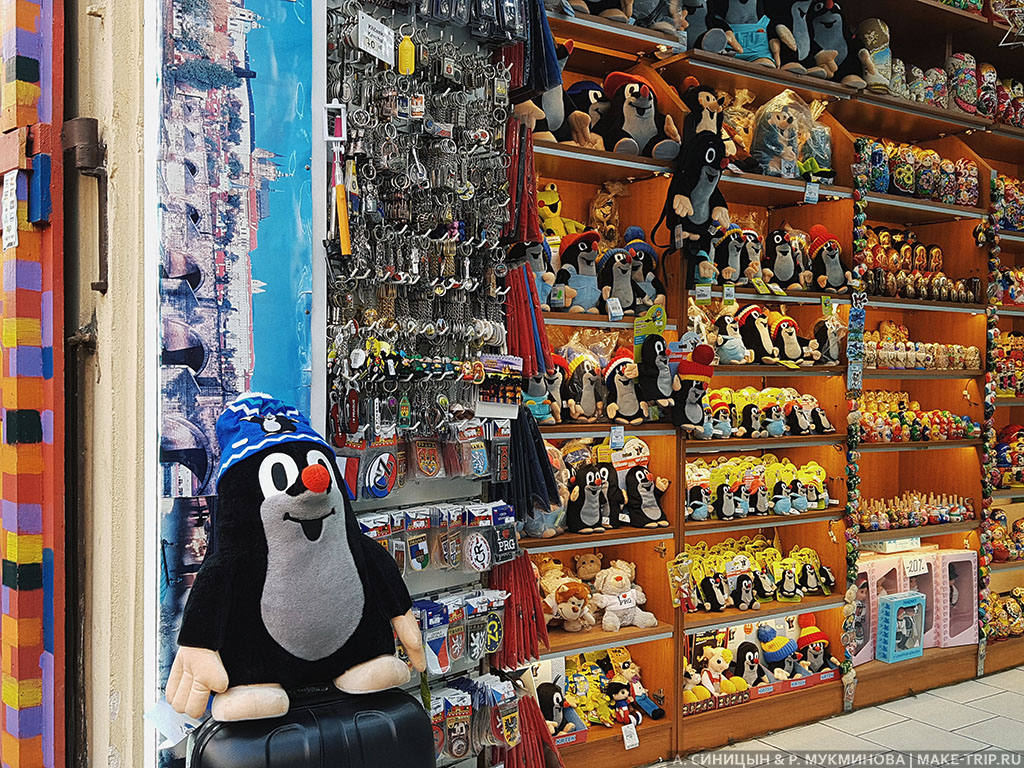 4. Homeless people, beggars, living statues, levitating yogis
Bums and beggars in large numbers, we were unpleasantly surprised – it seems, even in Moscow and St. Petersburg so much will not meet. On the train to Kutna Hora we shared a compartment with a drunkard. Thank God he got off at Kolin.
A lot of beggars: some harassing tourists, some in not very decent poses asking for alms. The latter are mostly young guys or middle-aged men in the prime of life.
A separate category – live statues, levitating yoga and other street (we do not even know how to call it) entertainment. Walking through the European capital and feel like a promenade in the Russian south. To the credit of tourists, they do not attract much attention.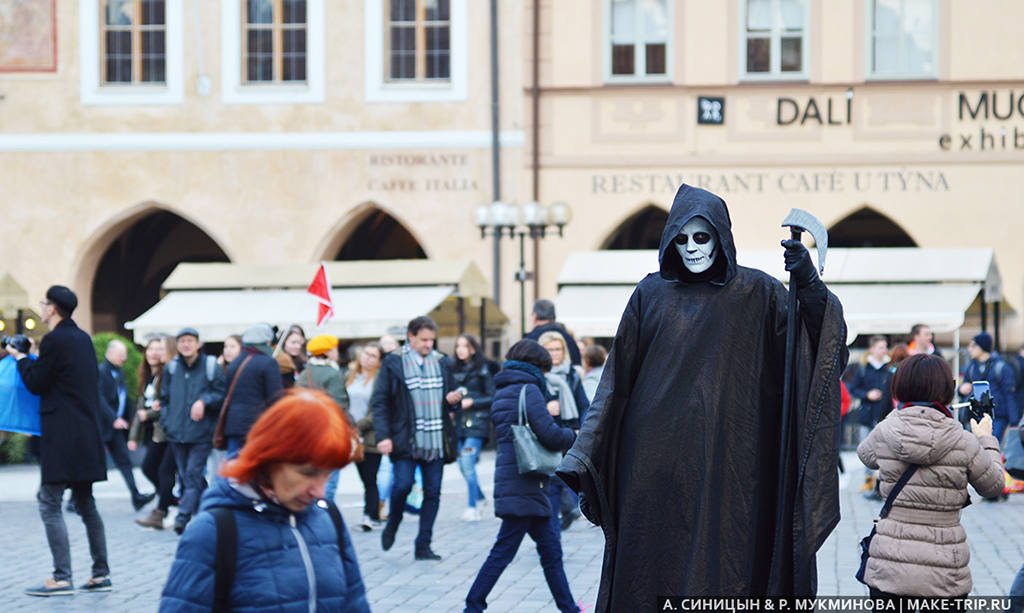 5. Do you like animals?
It is not very pleasant to see piglets roasted whole on a spit with their eyes gouged out. It caused disgust, although we are not vegetarians. We understand that this is a national food and peculiarities, but it is hard to see, like fried dogs in the north of Vietnam.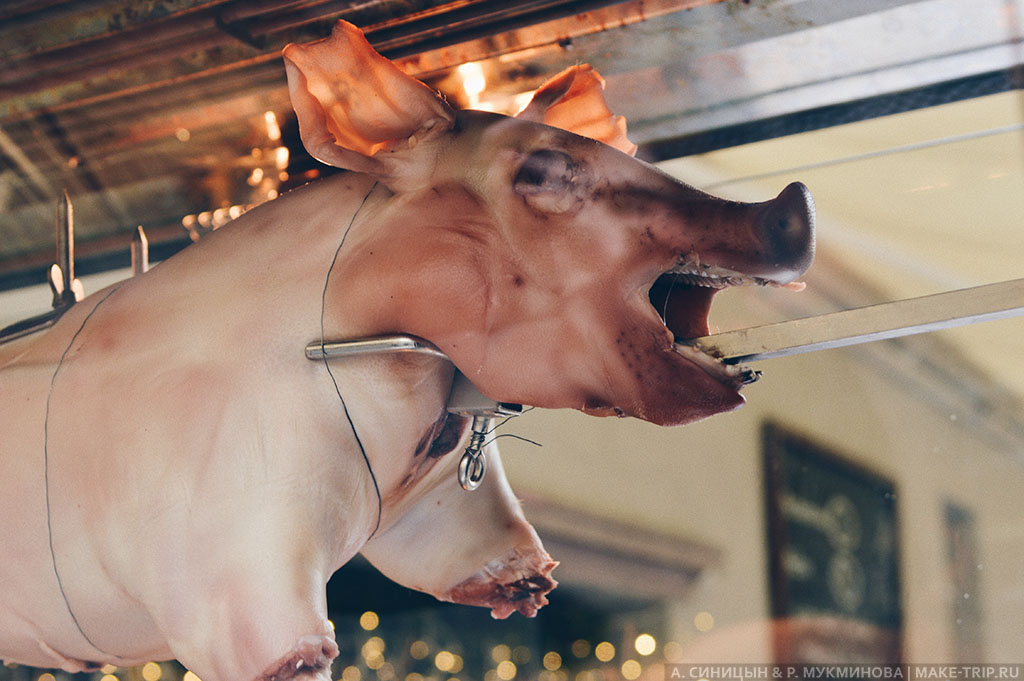 6. People and service in the establishments.
Frowning faces, sour unhappy faces of passersby. The waiters in the cafes look and voice as if the tourists are fed up with them mortally. Curiously, other foreigners think so too – we met a lot of similar reviews about the staff of bars and pubs. In our opinion, the service in Russia is much better!
Useful selection: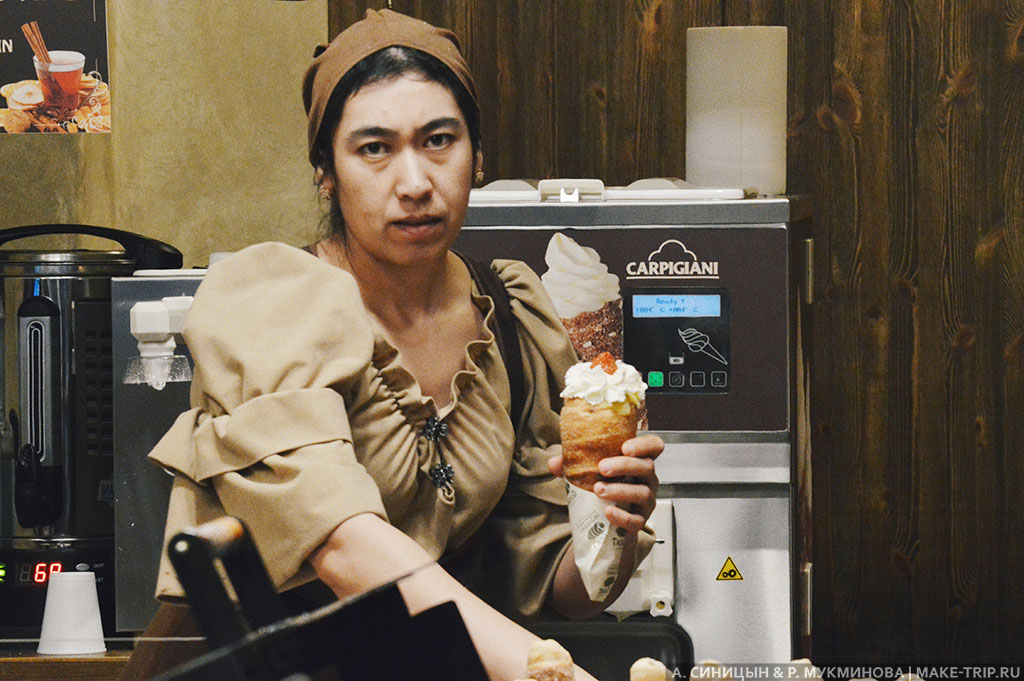 7. No notorious atmosphere of a fairy tale.
As a consequence of all of the above, there is no authenticity and the very "atmosphere of the Middle Ages" in the city. Unlike Kutna Hora, where we went for a day! We concluded that the capital should be bypassed, and the next time you arrange a tour to small Czech cities – and preferably in late spring or early fall.
Useful selection: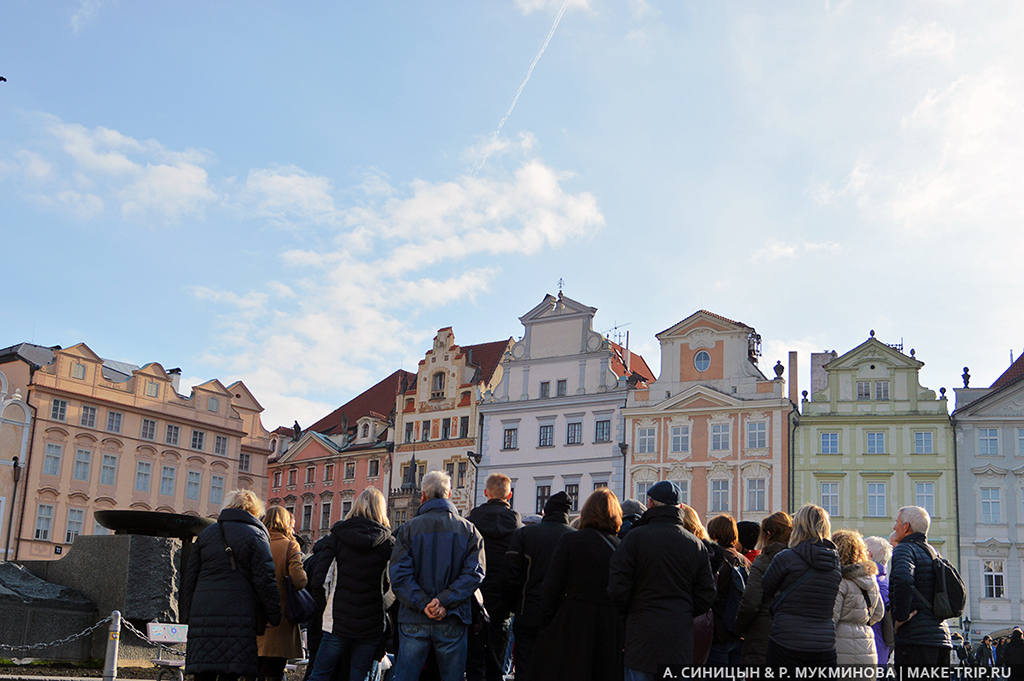 Conclusions and tips
For authenticity and that-sama-atmosphere you need to go to small old European cities. We recommend Tallinn! If it's the Czech Republic that interests you, go to the provinces – Kutna Hora, for example.
If entertainment, a cultural program, an abundance of bars and restaurants are important – then of course, Prague is right for you. Just do not come with inflated expectations: Prague is the capital, so don't think of it as a chamber town frozen in time.