How to go to the sea by car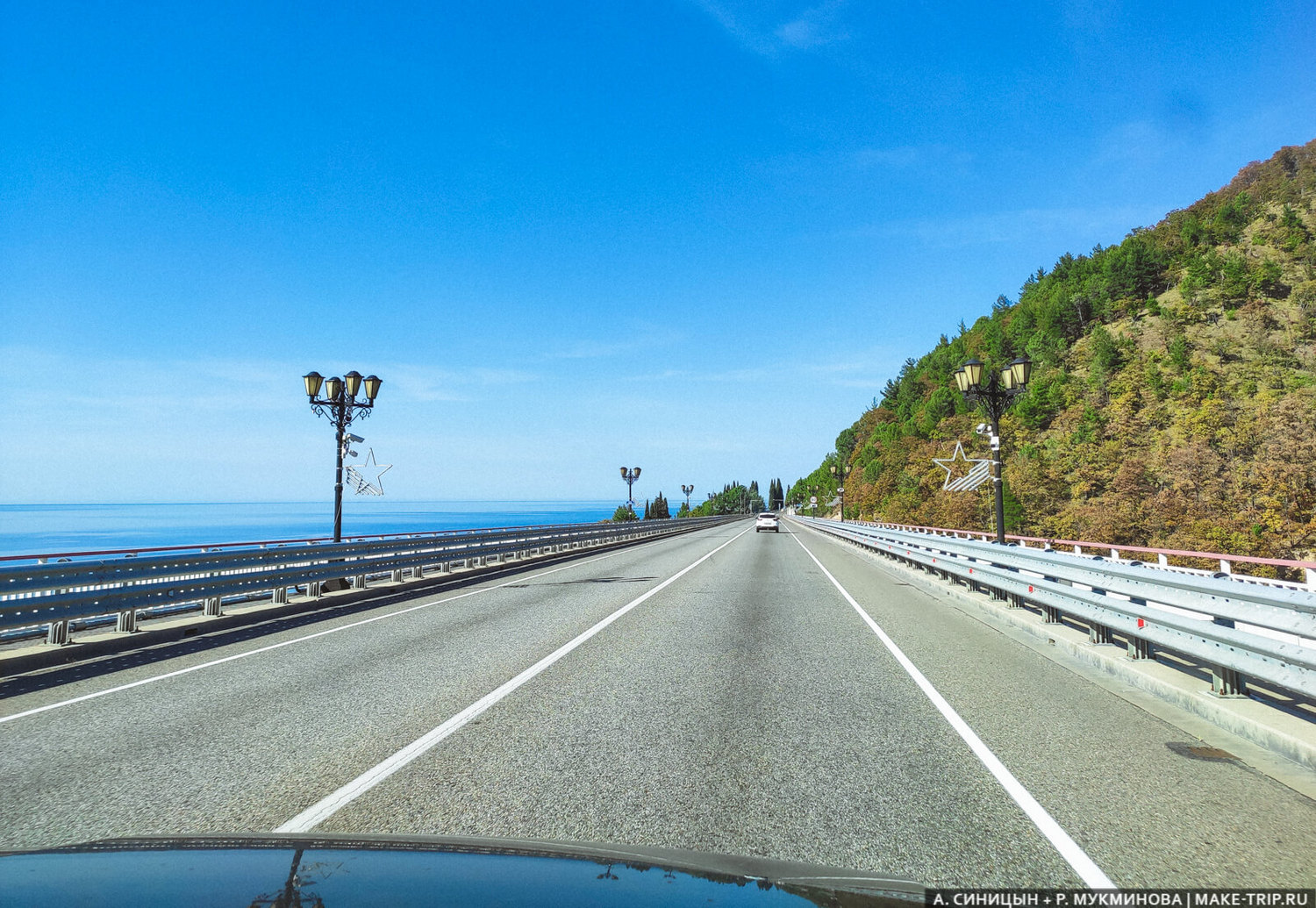 Is it worth to go to the sea by car? It's worth it! Learn how to plan a great trip to the south of Russia. Read my review and tips. Learn how and how much to drive to the Black Sea, what roads there are, what resort to choose, what to take on a trip, where to live and what to see.
In recent years, I am not tired of promoting car touring and traveling in Russia. These two things go together perfectly, and this summer it is a must to try this format, as you need your own transport to be more reliable than all this uncertainty in the airsphere.
Almost every year I take my own car to resorts in southern Russia. I love it! Go anywhere you want, choose any resort, and if you don't like it, change it. And such a trip is even cheaper than flying or traveling by train. It seems to me that for active tourists here is one plus. And even the need to spend a total of six days behind the wheel on the way there and back doesn't bother me. Recently, we just spent two months traveling around the south and visited 35 resorts and all the most beautiful places of the Black Sea. In this review I will share with you my knowledge and experience how to organize a trip to the south of Russia on your car. Let's go!
Content:
The road to the south by car: how and how much to drive
Time in the road to the south depends on the point of departure. The most lafa – for residents of Rostov, Volgograd, Krasnodar and other southern cities – you can get to the sea in a day or even less. Go from Moscow and the region, Nizhny Novgorod, Yaroslavl, Vladimir is also easy – many tourists get to resorts in just a day and a half or two days. People from St. Petersburg and the Northwest, as well as Kazan, Chelyabinsk, and Yekaterinburg, spend two or three days traveling to the south. I myself travel to the sea from Perm in a Patriot in one driver, so it always takes me three days each way.
The travel time also depends on the end point of your trip. The quickest way to the resorts of the Azov Sea, Anapa and Gelendzhik. A little longer will go to Tuapse and Arkhipo-Osipovka. And it will take you the most time to get to Sochi and Adler – and it's not just because of the distance, but because of the specifics of the road to these resorts (serpentine and traffic jams).
Distances to southern resorts of Russia, in km:
| | | | |
| --- | --- | --- | --- |
| Departure city | Sochi | Anapa | Gelendzhik |
| Moscow | 1625 | 1490 | 1522 |
| Saint-Petersburg | 2341 | 2209 | 2241 |
| Rostov-on-Don | 553 | 420 | 453 |
| Nizhny Novgorod | 1852 | 1719 | 1752 |
| Samara | 1864 | 1732 | 1764 |
| Kazan | 2055 | 1928 | 1955 |
| Yekaterinburg | 2778 | 2645 | 2678 |
Most tourists travel south along the M4 "Don" freeway. This is a four-lane highway, which in some sections is reduced to two lanes. In some places it is allowed to drive at a speed of 110 km/h. There is a good infrastructure on the highway: there are places for stops with toilets, showers and cafes. Many gas stations have service centers, tire service and car washes.
There are a lot of toll plots on M4 freeway. If you want, you can bypass them – that will save money, but noticeably increase the travel time. I spend about 1,000 ₽ one way on toll roads.
Attention . If you're coming from the Urals, Samara or Saratov, I want to warn you about Volgograd. The city has no bypass road, and you have to go through the whole city. If you get there during the day or in the evening, you'll be stuck in traffic for half a day. So either skip town at 5 or 6 a.m., or from Saratov take a route through the Voronezh region to the M4 via Boguchar, but then you have to drive in the middle of nowhere.
If you are not attracted by the prospect of a long and tedious pilgrimage to the south by your car, then there is an alternative – rent a car on the spot. It's not expensive – only from 1000₽ per day. And if you want, you can take a luxury car for 3000₽ per day and drive around in comfort for a few days for an interesting new experience. Check out my tips for safe car rentals.
Road to Anapa, Gelendzhik and Sochi – route on the map
Driving on the road to Sochi. M4 Don highway.
Lodging and food on the road.
While driving I figure out where we will be at the end of the day. While I'm driving, my travel companions are looking for hotels in the right place, choosing the best price-quality ratio and booking them on Yandex.Travel or Sudokrug.ru. On the way there are a lot of hotels, but not all of them are good. So we do not check into the first option we see, but read the reviews of other tourists and book only a decent hotel.
On his first trip to the south by car, we slept right in the car – so we saved not only money but also time. Check in, check out, move things out of the car and back – it takes a lot of time. And when you sleep in the car, it's easy – wake up, have a coffee and go. But don't forget about safety! If you plan to sleep in the car, only stay in secure parking lots. We slept overnight at the motel and gas station by arrangement with security. That way we had a restroom, washroom, and store on hand.
We find cafes and canteens wherever hunger strikes. We choose a place either with a good score on Yandex.Maps or MAPS.me, or where there are a lot of truckers. We memorize the good places, mark them on our maps, and try to eat there on the way back. Almost all the places along the Russian route are usually good, with good food and reasonable prices. Although, there are very few bad places along M4 in Rostov and Krasnodar, so don't just take the first café you find, but read the reviews on Yandex. But pay attention, the owners of the cafe now have grasped the value of online reviews and actively buy good ones, so pay special attention to the negative reviews – they will show you the whole truth. To be honest, the catering in the south of the M4 highway is terrible, so I advise you to take your snack from home or a store.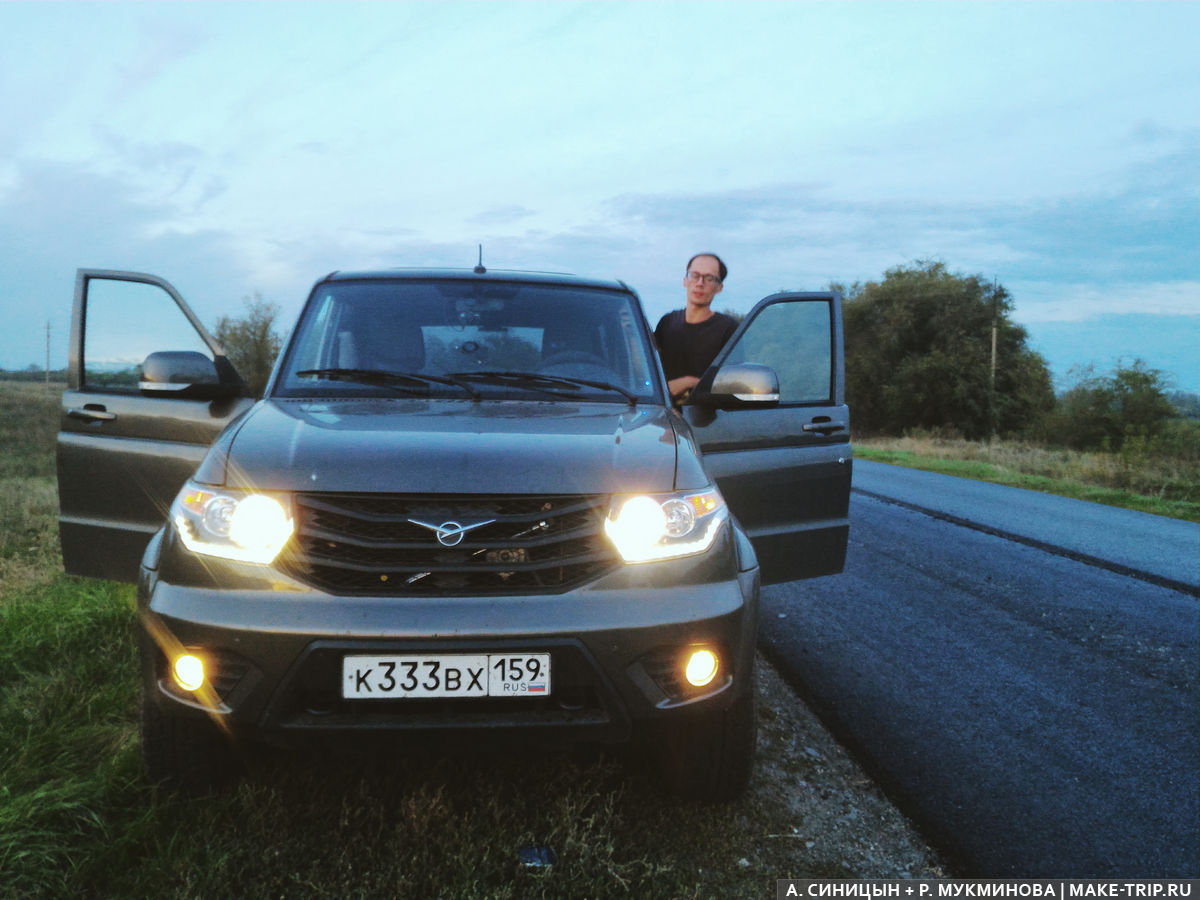 My first trip south in my newly bought car. Going through the Voronezh region.
What to take on a trip
Before any auto-trip you need to carefully pack your things and documents. Let's see what you need to take with you on vacation.
The most important . Passport, MHI policy, driver's license, vehicle registration certificate and MTPL policy. On the way useful navigator, video recorder, radar and a set of tools in case of sudden breakdown.
First aid kit. It can contain pills for digestive problems, allergies, motion sickness, and insect repellent. See what kind of first aid kit we pack for the trip.
Personal hygiene items. Take the bare minimum – shampoo, toothpaste, comb, etc. Many things you can buy on the spot. On the road a great demand are wet wipes, well, a couple of rolls of toilet paper, too, should always be in the car.
For leisure. In order not to be bored, prepare audiobooks and a playlist for your trip to the sea. On vacation by the sea board games, books, a ball, badminton rackets and shuttlecocks are useful.
Bivac equipment. If you plan a wild vacation, put in the trunk of the tent, sleeping bags, foam mats or inflatable mattresses, a gas stove and cylinders, campfire dishes, as well as an axe for cooking firewood. During bad weather a large waterproof awning will come in handy. Don't forget about camping furniture – folding table and chairs. Read about camping in the Black Sea.
Clothing and shoes. For a trip by car to the sea in the summer is worth taking a few sets of clothes – casual, hiking, beautiful to go out, swimsuit, as well as warm clothes for the evening. Raincoats and an umbrella also grab. Choose comfortable shoes for hiking and walking.
Food – We prefer to eat hot food at roadside cafes, but many take food from home – in this case a cooler bag and a thermos will come in handy. Do not forget to wash fruits and vegetables beforehand, take disposable dishes and garbage bags. Always have and replenish plenty of drinking water.
Advice for drivers . If you start to peck your nose while driving, eat some natural bitter chocolate (such as Babaevsky), and the drowsiness will pass. I also have an inverter and a gas burner in my car, so I can always grind and brew fresh, delicious coffee on the road, which I can't live without. You can't make me drink what they sell at gas stations under the guise of coffee, not even at gunpoint.
Our trunk on our first road trip looked like a dump, then I made a shelf and put in order. The Black Sea coast is quite picturesque – the eye pleases, especially after the monotonous steppes on the way from Moscow to Krasnodar.
Roads in Krasnodar Krai
The roads in the Krasnodar region are quite bearable, although most of them are two-lane. But the drivers in Kuban drive badly: they often break the law and behave unpredictably. There are a lot of traffic police on the roads. And also be prepared for traffic jams. The worst time is from Friday evening till the end of Sunday when locals themselves head for the weekend to the sea, and then back. Traffic is also hampered by repair work.
The road to the Azov Sea resorts passes through villages, which replace each other one by one, so there is not much speed, but heavy traffic jams usually do not happen.
Road to Anapa from Krasnodar (163 km) runs through Abinsk, Krymsk and Natuhaevskaya and takes three hours, and even more if there are traffic jams. Keep in mind that in Anapa many streets have one-way traffic, and private cars are not allowed to drive on Pioneer Avenue. Read how best to get to Anapa.
The road to Gelendzhik. By car from Krasnodar you can go through Dzhubga (188 km), Abinsk and Krymsk (185 km), and Slavyansk-on-Kuban and Krymsk (208 km). In any case the trip to Gelendzhik by car will take you three or four hours. On the way, after Novorossiysk, there are lookouts with views of the city and the sea. Read how best to get to Gelendzhik.
The road to Sochi. From Krasnodar by car – 300 km, or about 5 hours drive. Most tourists choose the road to Sochi through Goryachi Klyuch and Dzhubga, but some get to the coast through the Shaumyan pass.
The highway that runs along the Black Sea coast is winding in places, so the speed limit is mostly 70 km/h. This road is notorious for traffic jams. Especially many cars accumulate near Dzhubga and Tuapse. Sometimes unpleasant waiting in line can last for hours. However, the inconvenience is more than compensated by the beautiful views of the sea coast and the green spurs of the Caucasus Mountains.
Serpentine roads on the way to Sochi. Serpentine roads on the way to Sochi. A view from Skybridge on the road from Sochi to Krasnaya Polyana. (Photo: unsplash.com / @tulen)
Which resort to choose
There are many resorts in southern Russia. Below I will briefly tell you about them, and you will find more information in our travel guides at the links.
The Azov Sea resorts are chosen for their mild climate and cheapness. There are not as many tourists as on the Black Sea coast, and the beaches are sandy, so many families with children come here. Popular resorts are Yeisk, Dolzhanskaya, Kuchugury and Golubitskaya.
On vacation in Anapa come lovers of sandy beaches, family tourists and those who find it difficult to endure the hot and humid subtropical climate. Infrastructure is excellent and there is a lot of entertainment for every taste.
Resort area of Greater Gelendzhik is located between Novorossiysk and Tuapse. Many tourists who come to the south by car, prefer to stay not in the Gelendzhik itself, and in the settlements Divnomorskoye, Kabardinka, Betta or Dzhankhot. Driving on the outskirts of Gelendzhik will allow you to see the ancient dolmens, waterfalls and the most magnificent views of the sea and white cliffs. Especially recommend to visit the beach Sosnovka, the Blue Abyss and the Blue Bay.
Those who want to be in the thick of resort life choose vacation in Sochi. They come here to have a good time at the water parks, aquariums and entertainment centers, to see the Olympic facilities and to go on excursions in the mountains.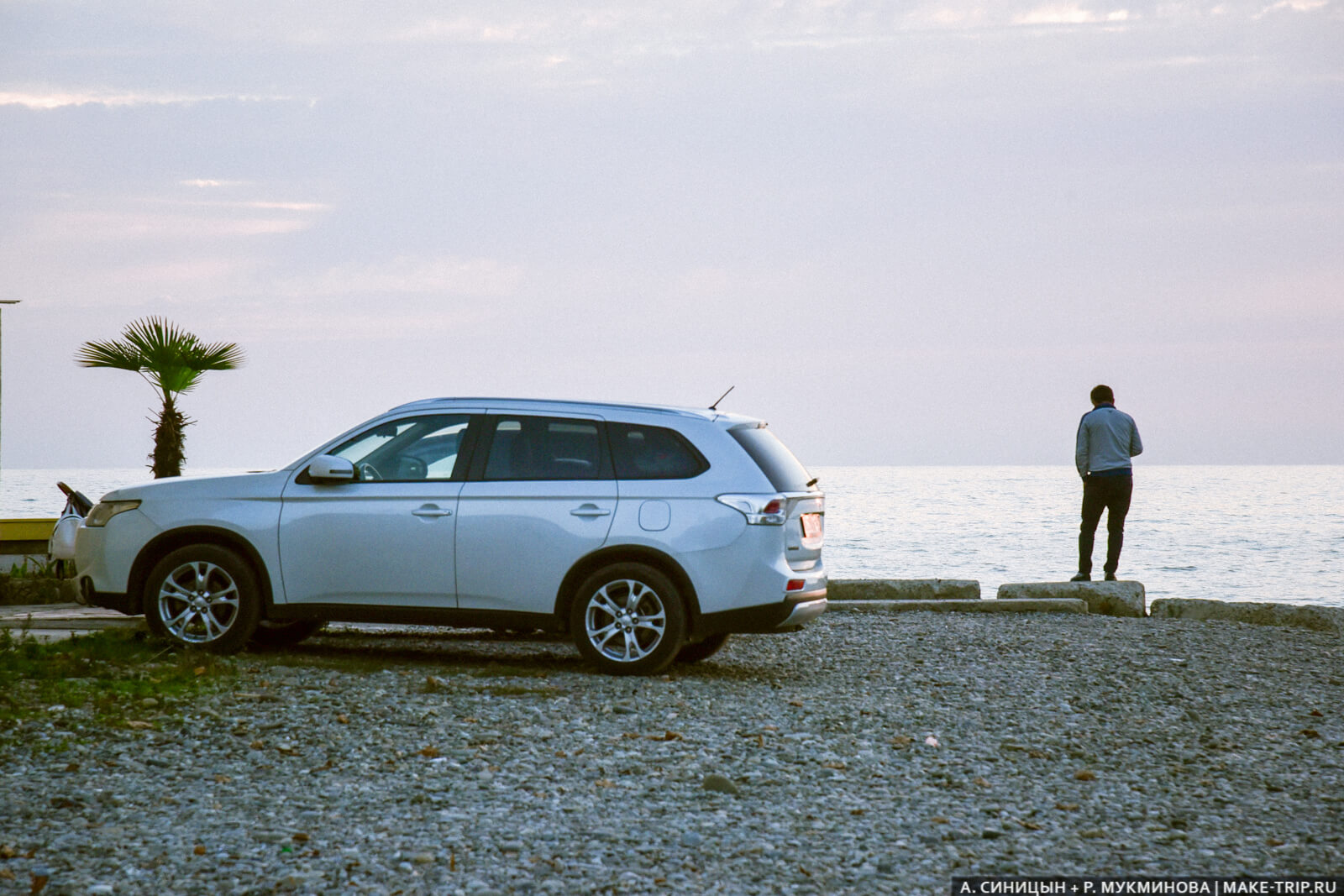 A happy tourist, who got by car to the very coast of the Black Sea.
Lodging in the South
Looking for accommodation on the spot, I do not advise: it's long, uncomfortable and, most likely, you will overpay. It is much easier to book lodging in advance on reliable sites. We use these:
– hotels with a cashback. – hotel price comparison. – Renting houses and apartments from private individuals.
I advise to book an accommodation in the south as early as possible, because in summer there is a large influx of tourists and the best options are sold out immediately. Simple but comfortable accommodation is usually rented for 2000-3000 ₽ per room, the price varies depending on the season and the resort. Learn 10 ways to book hotels cheaper and read about the private sector in the south. When booking, don't forget to check for parking. And also see the ways of cheating tourists by southern hoteliers.
Rest of the savage
The Black Sea coast of the Caucasus is a very popular region, so it's not that easy to find a convenient beach for a holiday by the sea, especially if you come by car. In many places there is no access to the beach and no drinking water. In some places, overnight stays in tents are prohibited because of fire safety measures.
But in the south, there are coastal campsites. You can pitch your tent in these guarded areas, have access to parking, clean water, toilets, showers, electricity, and wi-fi. Some campsites have kitchenettes and cafeterias. The prices in 2022: 150-500 rubles from the car or from 100 rubles from the person.
There are quite a lot of camping sites at the Black Sea. I can recommend an excellent camping "Coon" near Arkhipo-Osipovka – we rested there and had a great time.
We came to rest in a beautiful pine forest. Our tent in the pine forest at the Coon campground.
What to see
Traveling in the south by car, you can visit places where public transportation doesn't go, and you don't have to spend extra money on excursions. Check out our guides to the main coastal beauties.
By car to the sea in 2022. Going on holiday to the Black Sea by car
Are you also going to go to the sea by car in 2022? It seems that this season it will be the most popular type of vacation. Well, after all these quarantines, better this way than none at all. We are writing from our experience last year, sharing tips about what to take with you and what the budget will be for a car trip to the seaside in 2022.
C 25.08-10.09 action lasts with a cashback of 20% for tours of Russia. You need to register your MIR card and book a tour at Level.Travel (promotional code for 1500 ₽ when buying from 70,000 ₽ – LT-SEPT-RU1) or Travelata (promotional code for 1000 ₽ when buying from 60,000 ₽ – AF1000travelinka). In a tour is more profitable, because this way you get a cashback for everything – flight, hotel, transfer.
Going to the Sea by Car: Documents
Compulsory documents for a trip to the sea by car in 2022.
Driver's license
Vehicle registration certificate
MTPL insurance (if your policy expires soon, you can extend it online and compare prices at Compare.ru )
Download Travelinka maps of the Crimea or Krasnodar region , they work fully autonomously, no Internet needed
If you want to save money on petrol, you can hitchhike on a trusted service. Here yourself can find a hitchhiker.
By Car to the Sea
Before traveling to the Black Sea by car, you need to find out information about the route, find out what cities you need to go through, and how much time and money it will take to travel.
The first part of the trip to the sea by car in 2022 is the same for everyone – it begins in Moscow and ends in Krasnodar. The second route runs through Krasnodar, with the Black Sea as the final destination. Travelers from St. Petersburg must first get to Moscow, and then follow the planned route.
The M-4 Don highway is very good, and it is easy to travel by car to the Black Sea. But it's still a long way to go. The highway is divided into many sections, some of which are paid. M-4 "Don" Moscow – Voronezh – 531 km. Here you encounter a freeway with 4 lanes, a lot of settlements on the way, increased traffic is possible. The road section to the Black Sea by car from 48 to 71 km is toll road.
After that we go through Voronezh – Rostov-on-Don. The distance – 560 km, traffic in 4 lanes. In the area of Pavlovsk and point Tarasovsky traffic is reduced by two lanes.
Then go through Rostov-on-Don – Krasnodar, the distance – 240 km, travel time – 4 hours. It is worth bearing in mind that the sections of the road may be undergoing repair work. The number of lanes – four. The first part of the journey is over.
After Timashevsk, a large flow of cars turns towards the Crimea. You can go there, and the opening of the Crimean bridge can get from Timashevsk to Kerch in 4 hours.
Approximately the same time is needed to get to Gelendzhik. The closest way to Anapa and Novorossiysk.
To Novorossiysk, the distance from Krasnodar 228 km. Route runs along the coast. Despite the bad and broken road, you can enjoy the picturesque nature here.
The longest route to the sea by car from Krasnodar to Sochi. This is also the most difficult part of the road. A lot of steep passes, a large accumulation of cars. You will need to overcome a distance of 290 km, travel time from 5 to 12 hours.
Advice: In order not to get into a traffic jam before arriving in Krasnodar, we recommend to set the GPS – navigator to the next destination – Goryachi Klyuch.
On vacation at the Black Sea by car: route and overnight stay
Route "Don" has a well-developed infrastructure. On the way to the sea by car you can make stops, go to the toilet, take a shower, and if necessary, use the car service or fill and wash your car. To avoid traffic jams in front of the toll plazas on the Don highway, you should not drive to the Black Sea from Moscow early on Saturday morning. Otherwise you risk getting stuck there for four hours, waiting in line. The receipt you get will have information on the kilometers you've paid for. So when you arrive at the next checkpoint, just show it so you don't have to pay twice. Such traffic jams are common, even if you leave Moscow at 3-4 in the morning, it is likely that you will reach the suburbs of Rostov-on-Don – the city of Aksai by 2 am. And the way from Aksai to Krasnodar may take you 10 hours instead of 4.
You can book accommodation with the owners on the website Sutochno. They have a large database of apartments in Crimea, Sochi and Krasnodar region starting from 500 ₽. There are rooms, apartments, guest houses, hotels, boathouses, individual houses at the sea.
The best variant of the trip is as follows. Departure to the Black Sea by car from Moscow early in the morning at 5-6 am. At about 6:00 p.m. we get to Millerovo and make our final stop there. Here it is possible to spend the night and with new energy to move further. At 5-6 in the morning we are driving to Krasnodar. We arrive there at about 14:00. Depending on the direction of the Crimea you will be at 18:00, in Anapa and Novorossiysk at 17:00, Gelendzhik 18:00, in Sochi later (depending on the time of the serpentine).
Be careful: there are video-cameras on the way to Voronezh, so drive about 80 km/h. In Rostov region there are many routes with sections of roads under repair, as well as many kilometers of traffic jams, where you can get stuck.
Do not try to overtake passing trucks in oncoming two-lane traffic. Buy fuel only from the manufacturers you know. For instance, in Adygeya we encountered a very low-quality fuel. Do not forget that almost all the parking lots in Sochi are paid, so try to stick to the rules.
It is possible at all without stopping to make a march-throw and get to the Black Sea by car for 1 day. This option is suitable for those who go to Anapa, Novorossiysk or Kerch. In Sochi is not the best option, because you will come to the serpentines tired and exhausted.
How much does it cost to go to the Black Sea by car
In advance, calculate all the necessary expenses on a trip to the Black Sea by car for gasoline and food, as well as consider the cost of overnight stays. Gasoline consumption can be calculated with the help of services on the Internet. It will cost about 5000 ₽ one way from Moscow. From St. Petersburg – 7000 ₽ one way. For overnight stays, choose economy rooms, with an extra bed for a third person or a child. Staying in rooms costs from 2000 ₽ . On average you will spend two days on the trip and an overnight stay. Meals for one person will cost from 800 to 1000 ₽ , if there is a cafe. And 400-500 ₽ if you take food with you (you can save a little money on that). Total: 12800-17000 ₽ for the road (the company to go more profitable!), plus money with itself (at the rate of 1000-3000 ₽ per day along with accommodation). The minimum amount per day is based on the fact that you will be staying in a campsite and not in a hotel.
By comparison, you can buy Moscow-Sochi airline tickets for the same 5000-7500 ₽ one way (if you track in advance). But by car there will be more opportunities and freedom of choice in terms of spending time on the Black Sea.
On the train tickets can be taken from 3500 ₽ , but the trip is long and tedious.
To the Black Sea by car: what you need for a trip to the Black Sea
Medical kit. Take as many necessary medications with you as possible, in addition to the car first aid kit. Travelers with a weak vestibular apparatus should take medication in advance and take the right medicine to avoid motion sickness. While driving on mountain serpentines, there are almost no curbs, so if someone feels ill, you will have to wait until the next stop.
Spray, cream or ointment for bug bites. This is especially important on the road and on vacation.
Do not forget to take plenty of drinking water. It is better to take water in bottles, not canisters.
DVR, a navigator and an anti-radar for recording everything that happens on the roads – important components of the trip, which are sure to be needed on the road.
Not to be bored on the road, take with you audio books, music or concerts of comedians.
Choose appropriate footwear . Take into account that the beaches of the Black Sea are as stony and sandy. On vacation sun beds and umbrellas are paid, so these things can be brought with you.
Some tips for travelers to the sea by car in 2022
1. On an unfamiliar road in the mountainous area behave carefully, do not exceed the speed, otherwise you risk falling off a cliff. Also don't drive too slowly, you may annoy the people behind you.
2. 2. If you come to the Crimea with children or elderly parents, buy travel insurance Cherehapa. It does not have lines, as in the MHI, treatment is offered at good fee-based clinics and pay for drugs. And all from 15 ₽ a day.
3. In the Crimea is still paid mobile Internet (except MTS), so the card Travelinka come in handy . Also there are no ATMs familiar to us banks, so it is better to take a card VTB (withdrawal in the Crimea at ATMs of other banks without a fee) or Alfa Travel (withdrawal worldwide, no fee, cashback up to 9% miles).
If you want to see the real blue sea, you will have to overcome dozens of traffic jams on the M-27 federal highway from Dzhubga to Sochi, which is the main road leading to all seaside towns.
5. Do not forget that the biggest and longest traffic jams are formed on Friday after 12 noon, when residents of Kuban, Rostov region and Adygea rush to the sea for the weekend. The same happens on Sunday evening, when vacationers go home.
6. If your way goes through the town of Tuapse, there is a chance that you can get stuck in a traffic jam for three hours. All because the federal highway passes through the only road, on which locals go from one part of the city to another.
7. It is best to drive at night . However, you need to be an experienced driver, because at night you can find heavy trucks and long vehicles on the highway.
8. If it's a subtropical downpour, you'd better stop and wait for some time. Stop in an open area, away from mountain slopes and rivers. If you can not stop yet, you must reduce speed to reasonable limits, and try not to make any sudden maneuvers. Under no circumstances do not camp, do not make a stop near the bank of mountain rivers. You may be carried away into the sea by a strong current. So, wait out the rain in the open space, away from the rivers.
9. It is better to buy food and water in large chain stores. The roadside kiosks are not always fresh products, but they are rather expensive. Ask the locals where they buy quality and delicious food.
10. Do you want fresh fruits and vegetables? Do not buy them from the vendors along the road. Often they deceive customers, passing off products from Turkey for products of local origin. It is not uncommon for the traders to take travelers' clothes off in the hope that they will never come back here again.
As you can see, it is not difficult to get to the Black Sea. With the opening of the Crimean bridge it became easier to go on vacation in the Crimea. And if you do not want to loop through the mountain serpentines in front of Sochi, you can go to Anapa, Novorossiysk or Gelendzhik. Have a good trip to the Black Sea by car in 2022!