AIRBNB.RU reviews
Airbnb is an online marketplace where you can find an apartment to rent around the world!
The interface of the site is simple, you enter the desired dates, the city and start searching. You can sort the apartments by price. But I suggest sorting by "superhost". "Superhost" is a landlord, about whom a lot of positive comments left by tenants. Just like that, a person from the outside can't leave a comment. Only those who have rented an apartment from this landlord through the site can leave comments. Therefore, the reviews on Airbnb can be trusted. If you sort by price, and choose a landlord with no reviews, you may end up with an unscrupulous performer. Agree that it is not very pleasant to stand in front of a closed door of the apartment in a foreign city, when no one answers the phone.
The description of the apartment describes in detail the number of rooms, additional services, and the rules of conduct in the rent apartment. For example, not all apartments can be noisy in the evening, or smoking. Also, not all are welcome children or pets.
screenshot from the site Airbnb.ru
The site shows which dates are available for this apartment, and which are booked, which is very convenient when planning a trip.
My experience on AIRBNB.RU
I became familiar with the Airbnb site through advertising from bloggers. I have heard a lot about Airbnb, and when the time came to travel to St. Petersburg, I remembered the site I had heard about. For my trip, I sorted the apartments by "superhost". I chose the apartment I liked and sent a request on the website. After that the landlord approved it, I paid and then we communicated via WhatsApp.
The plus is that the landlord gets your money after the trip, so there is no chance to cheat. But you have to be careful! And there is fraud on this site. There are unscrupulous people who offer you an apartment under the guise of a landlord. After your response, they offer you in your personal message to pay them a lower amount to get around the Airbnb commission. And, as you have probably already guessed, after receiving the money these "landlords" disappear. This is why you should only pay through the website! This is the only way to get rid of scammers.
Back to our trip. I chose an apartment in the heart of St. Petersburg. The apartment was in an old building, but for me it was on the plus side. The house was in the Mosaic Courtyard across from the Summer Garden. The house was from the old fund, the courtyard-museum gave me more of a sense of the special atmosphere of St. Petersburg. The owner of the apartment met us at a clearly agreed time, gave us directions to the nearest stores, and gave us the wifi password. The apartment was clean, with new bed linens, towels. There was tea and coffee and cookies in the kitchen.
Photos used from the site Airbnb.ru.
The only downside to the apartment was the cold. It was very cold in the apartment, despite the summer. There were no heaters. After the trip I wrote about this to the owner of the apartment, and I hope that she corrected this minus.
The prices on the site are varied. You can always find an apartment for your pocket. But it is definitely cheaper to stay in an apartment than in a hotel. Also, Airbnb takes a commission for its services. The commission depends on various factors, such as country and number of guests, and is about 15%.
Also, many hosts charge some fixed amount for cleaning, but not all. At the time of booking, you see the entire amount for the rental, including commission and fees. If you register on the site through a referral program, as I did, you get a discount on the first booking. I got a discount of about 2,000. You have to agree, not bad. The whole trip cost about 11,800 rubles. Three of us with a child for 4 days. For a spacious apartment in the center of St. Petersburg in the high season, I think excellent. A hotel would have cost more.
I definitely recommend Airbnb.ru and will use it myself. I can always find the right apartment for the right price and the right location.
How to book accommodation on Airbnb
My review of the travel website Airbnb.ru, where I often rent apartments when I travel. Learn about booking accommodation, getting discounts, and safety precautions.
I travel 10-15 times a year, and I often book on Airbnb.ru. I love the service. In this review, I will tell you how to use it safely and profitably. And through the link below, any new user can get a discount on their first booking.
What is Airbnb?
Airbnb is the world's largest private travel rental service. Service statistics: 800,000 accommodation options, 190 countries, 34,000 cities, and over 17,000,000 guests who have booked accommodation through the service.
The service works in many countries, and there is a version in Russian: Airbnb.ru.
Through Airbnb you can rent apartments, houses, villas, rooms in guest houses, residential boats and bungalows, castles, treehouses, and camper vans.

Our apartment in an old half-timbered house in Rouen, France. It was all 28€ a night.
My Airbnb review: pros and cons
I have been using Airbnb for 7 years now and have rented dozens of different places around the world. I have houses in the Azores, apartments in Prague, St. Petersburg, Tbilisi, The Hague, Paris, Rouen, Caen, and rooms and guest houses in Barcelona, Malaysia, Vietnam, and Thailand.
Why I like Airbnb:
Interesting . Huge selection of accommodations, more interesting than simple hotels. I try to book authentic apartments with cool design and preferably in houses with a history.
Inexpensive . Renting an apartment with Airbnb.ru is often less expensive than booking a hotel room. For example, we saved a lot of money in France by staying in apartments for €28-50 instead of a hotel for €100. Families and companies of at least 3-4 people are almost always better to book an apartment, not a hotel room.
Practical . It's very convenient to live in an apartment with a kitchen, because you can save money on food.
Privacy. I am an introvert, so I like privacy: there is more privacy in an apartment and a house that are completely at your disposal than in hotels.
The support service in Russian is excellent: they work quickly and always help.
Convenient system of reviews, ratings and filters allow you to choose the best accommodation.
Simple and clear website design.
Safety . You pay by card on the site of the service, you do not need to bring cash and solve financial matters with the owner.
Suitable for visas. All the consulates accepted my Airbnb reservations with no problem; I have been issued four or five Schengen visas.
I have never had a bad booking experience with Airbnb. I am completely satisfied with the service, and the only problems are minor ones.
What I do not like:
The commission rate for renting an apartment – 10-15%. However, everything is fair, they have to make money.
There is a risk of bumping into a bad owner. But this is a human error, and the service is not to blame. But there is a system of reviews of accommodation on Airbnb, and a support service. Below I will tell you how to choose a trustworthy host and a good accommodation.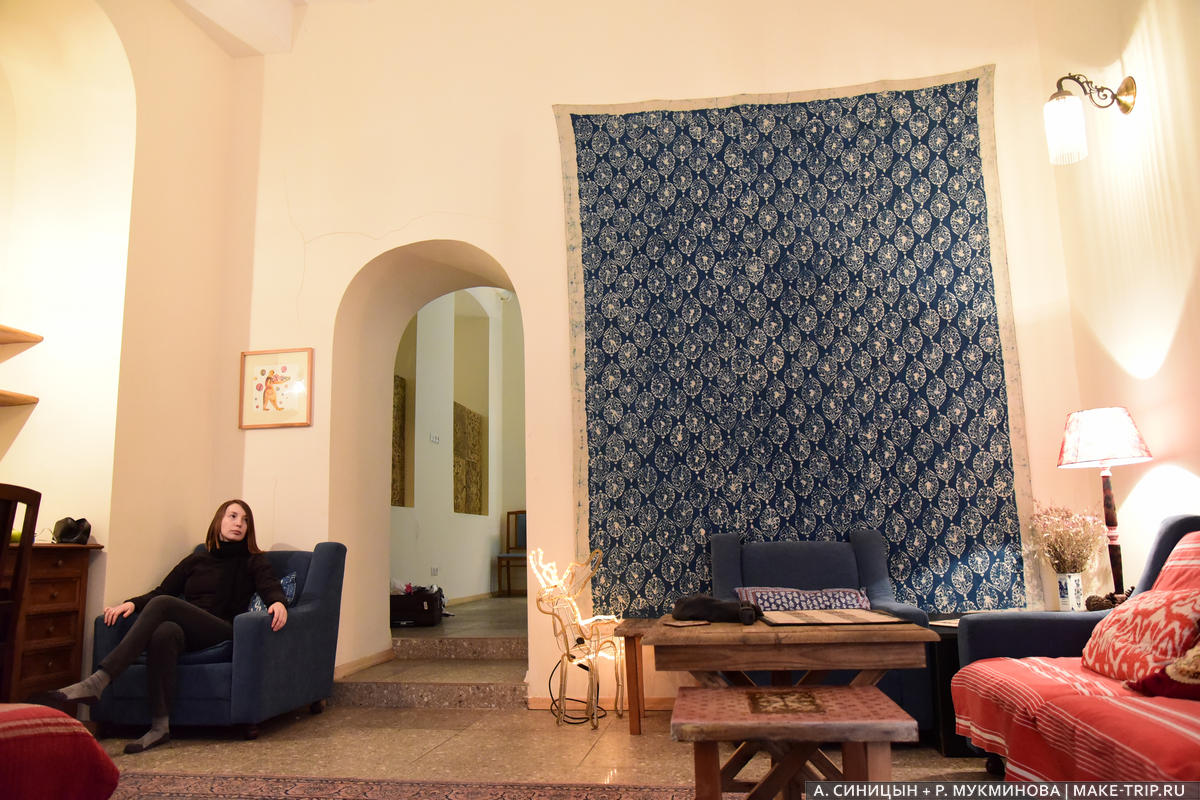 Our authentic apartment in an old house in the center of Tbilisi is only 1700 rubles per night.
Tips for security
Choose apartments with reviews and a high rating (4-5) – it is a guarantee that everything will be fine with the accommodation. Airbnb reviews can't be faked, so all normal hosts try to please their guests to get good ratings.
Read reviews – people can report important things: like bad internet or heating, disturbing noise from the street at night, and so on.
Has a verified profile,
a lot of positive feedback,
has long registered on the service.
In case of problems always write or call the support service. Once we had a badly cleaned apartment in France, and we had to sweep the floor ourselves, I felt it was fair to ask Airbnb to refund us for cleaning – they returned the money on the same day. If the lodging does not match the description, complain and the service will either give you coupons for a discount of $50-100, or provide a better and more expensive accommodation in the same city.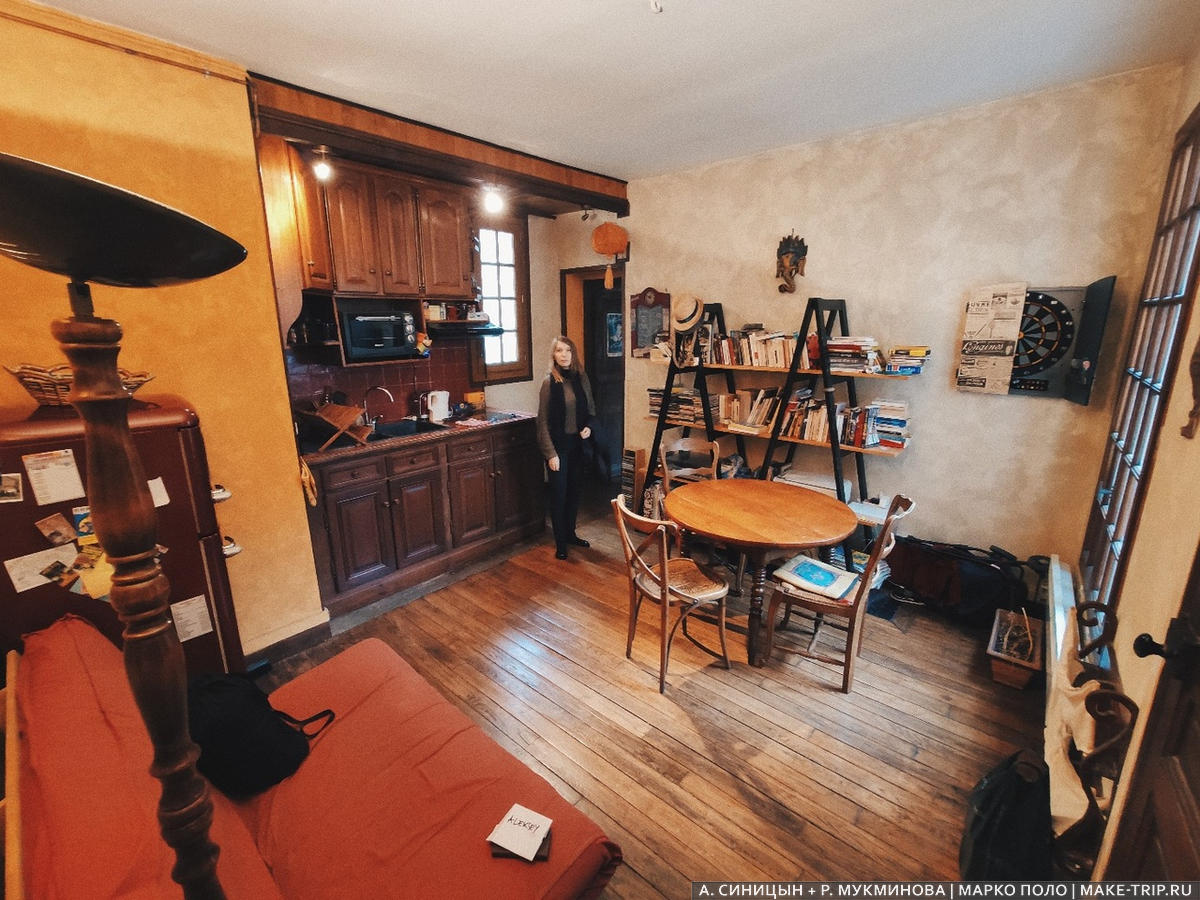 Our cozy apartment in Paris for 50 euros a night.
About the prices
The cost of housing almost always depends on the season: in high season – high demand and prices are higher by 2-3 times. I try to travel in low season not to overpay.
Airbnb charges a service fee, the amount depending on the amount of booking – usually about 10-15%.
Hosts will often add a cleaning fee, which you'll see before you book.
Sometimes the bill includes the municipality taxes from tourists (in Italy, for example).
In rare cases, the host may take a deposit for the safety of the property – it's typical for solid suites and apartments, where there is something to damage, destroy and break. In my practice there was only one such example.
The amount you pay when booking is final. When you meet the landlord, you will not have to pay anything else.
An oceanfront home is beautiful! My best accommodation rented through Airbnb.ru. Lived with friends and paid 1700 rubles per person. Florish Island, Azores, Portugal.
How to book on Airbnb
It's very simple. Briefly, it looks like this: you go to the Airbnb website, look for an accommodation in the right city for the right dates, choose the place, contact the host, book it, arrive, stay, and enjoy. Now more details.
Step 1: Registration.
Sign up for the service. You can look at the site and without registration, but to book it will need.
Fill out your profile: add a photo, link your Facebook page and phone number, write a few lines about yourself – it's all necessary to confirm that you are a real person, and give future renters the opportunity to get to know you. It is advisable to upload a scan of your document to confirm your account and make it secure. This is done for security purposes.
It used to be possible to get a bonus of up to 4,000 ₽ on your first booking when you signed up, and then still get bonuses for your invited friends. Alas, since October 2020, this shop was shut down.
Step 2: Choosing a place to stay
Now you can look for accommodation.
Airbnb is a convenient and simple service, you can easily figure it out. Enter the information you need in the search box: destination, dates, and number of guests. A page will open with available options and their location on the map. There are search filters at the top. You can limit the price range, choose a neighborhood, accommodation type, and more.
Open the pages of accommodations you like. Read descriptions, reviews, and see photos. Compare and choose the best option.
You can book your place now, or you can contact the host first to ask questions. Whatever works best for you.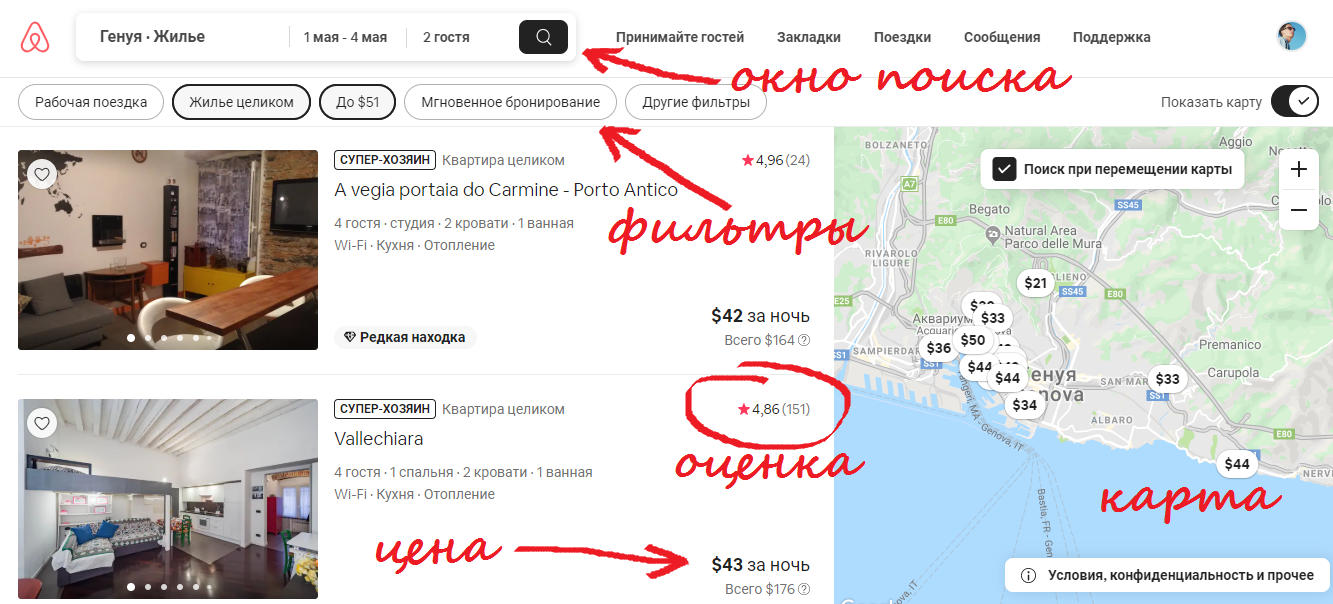 This is what the Airbnb.com site looks like.
Step 3: Paying.
You'll need a credit card or PayPal to book your accommodation. Payments are made through a secure protocol. Recently there is an option to pay half the amount and the rest later, about a week before check-in. Double check the dates and number of guests before you pay.
After you book an apartment on Airbnb, the host has 24 hours to approve your request. If they don't, the money will go right back on your card. I have had that happen to me once.
There are places marked "instant bookings" on the service – the reservation is made automatically, no confirmation of the owner is required.
Step 4: Documents
After paying for your reservation, the service will give you access to all the information about the accommodation: the exact address, contact information of the owner, instructions on how to arrive. Now you can travel! All visa consulates accept Airbnb reservations.
The host will get their money for the rental one day after you check in, as long as you have no complaints.
I hope my advice and review of Airbnb has helped you find a great place to stay. Travel, rent apartments or houses – it's so much better than hotels!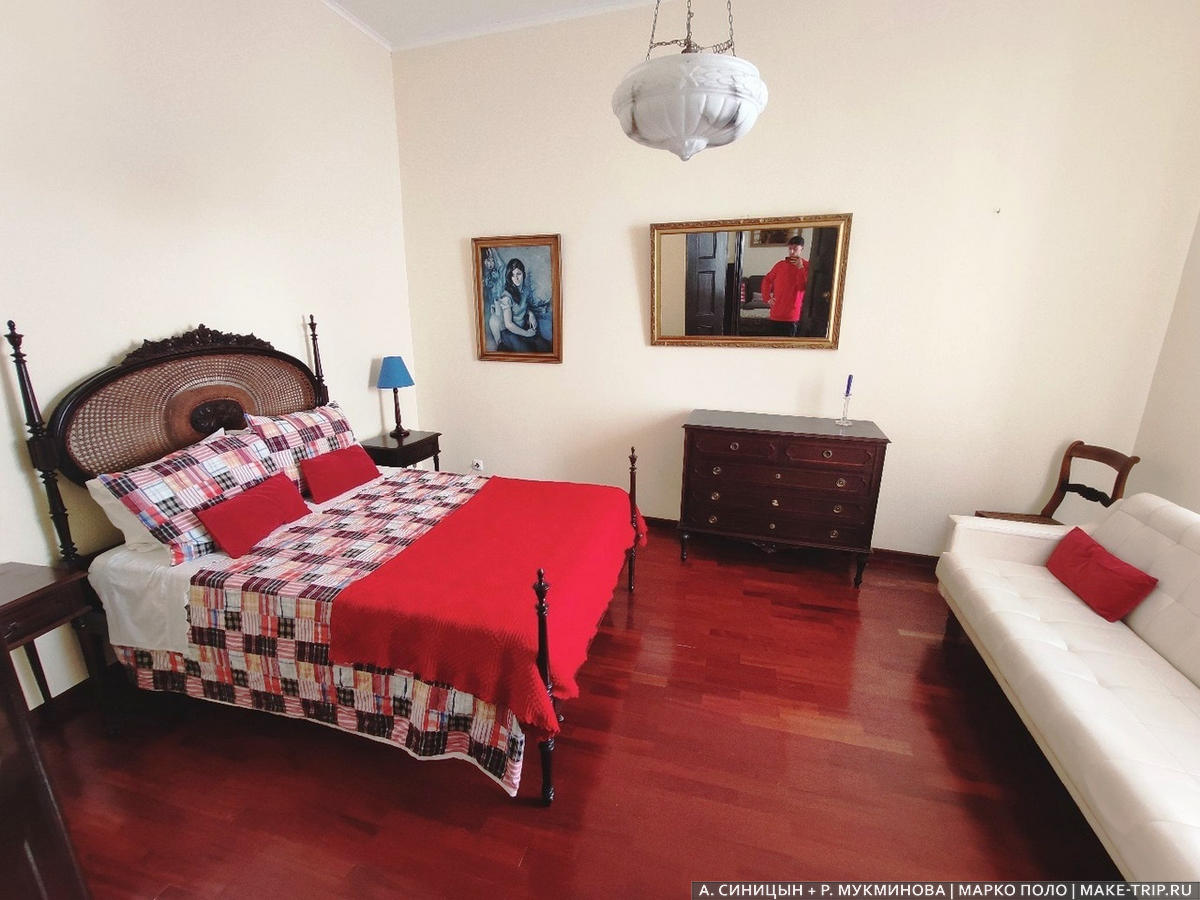 On the island of San Miguel we rented on Airbnb a huge house with five bedrooms and a beautiful interior for 5,000 rubles per day. Azores.
Comments Off on
"Lyosha Sinitsyn 30.11.2014 13:27 . Read in detail the rules of the service . " Rules? The "Rules" link at the bottom of the page takes you to the help page with the philosophy that we need to be mutually courteous. But the fact that rentals are charged BEFORE confirmation by the hosts is the rule. Or the penalty for cancellation by the renter is also the rule. And is this penalty paid to the host, or stays with the service? Is it in the rules? Hosts can cancel reservations whenever they want, and there's no guarantee that you won't be left without lodging at the last moment. Those are also the rules. We have made two reservations, and two times the hosts canceled them without any clear explanation. The third time we decided to get confirmation from the host before booking. So he raised the price on the website, and then said that we can book, he confirms. As a result, we wasted a lot of time, were left without accommodation, and also gave the service a lot of money, which he returned far from as quickly as he withdrew.
I agree! The conditions are very unequal for hosts and customers. The customer, aka the patient, is always wrong, is the slogan of Airbnb. There is no way to cancel a reservation, even six months in advance, without deductions. The author writes that lodging is cheaper than hotels, which is also far from always true. Hotels are often cheaper than lodging in the same area of the city. Just looked at Chicago. That's not the service.
Eugene, yes conversion is always frustrating. To avoid such situations, you need to know exactly what currency will be charged in advance – each service has its own policy.
Booked via airbnb a house in Rhodes for 29 nights. The house and the host are OK.
Here's the thing. As we knew that we were going to Greece, we opened an account in Euro to avoid losses due to currency conversion. I got a Mastercard. I paid through Airbnb from that account. As a result, I had double conversion and minus 84 Euro. I called to the support service. They said all payments are in rubles. I suggested: "Let's at least do it from a ruble account. Let's avoid at least one conversion". The girl Svetlana said that she would immediately contact her boss and they would work something out. Since then I have not received a call or a letter. A big disappointment and a fat minus.
In October 2015 we booked apartment from my sister's account who registered at my invitation. Two weeks later I booked from my account. Both received their discounts. There was the following situation: in the mobile app booked a night, but in the message that came to the mail the date was different. Customer service worked on 5 +. Despite the fact that the cancellation of booking that particular apartment was not possible, everything was solved in my favor, the money was returned within three days. But it was recommended not to use the mobile app.)
Can you advise whether I can make a booking from different accounts to get a discount? My husband and I have different accounts and each has a bonus. So for example, I book for three days and he for the next three days to get these discounts? Only we have the same card.
I found a suitable object, the price is 10 euros lower than on biking, and another 15 euros more on the affiliate program. That's 25 euros off, right? No, everything is not so, – having paid with a euro card price in euros (the object is in Portugal, and therefore chosen in euros, so that there was no conversion) at the output was even more expensive at 4 euros than on bokings. That is, this wonderful office has cheated me on nothing by 29 euros. This is the beginning, what to expect next, I am afraid to guess. I do not advise anyone. p/s/In reply to the request to return 29 euros (the amount of booking about 600), got the standard piece of paper.
Renting through this site, apartments by the sea, in Egypt. It seems everything turned out well. But this year, Egypt is closed and I decided to look, that something Crimea, Yalta or Sevastopol. NONE of the proposals. Although I know there are many worthy offers on the market. For politics – the site is crossed out from my notebook.
It seems that this AIRBNB has less clients. That is why they enthusiastically describe the alleged benefits of this service. I have never heard of it from friends or acquaintances. I do not think that I and my friends should jump to the services of a site with a highly dubious reputation (judging by all the negative reviews). I have been using Booking.com for a long time and for over 10 years I do not remember any negative experiences with the services of this site and their services.Besides, they do not charge any interest from customers for their services.
Again, a review from a parallel universe. We, apparently, live in different worlds because, according to my data, the reviews on Airbnb are very positive (98-99%). In fact, I would even say that people are almost pissed at how great Airbnb is. Seriously, travelers love it.
Most of the time, once a traveler has booked a place through Airbnb, they forget about Booking or another accommodation booking service ever existed.
Your own apartment/home is much more convenient and cheaper. In addition, the level of safety when booking on Airbnb is higher – if you choose the right accommodation, the chance to get a bad host is reduced to zero. Whereas on Booking it is easy to get caught up with a dishonest hotel that will cheat with the room, giving wrong description and different photos.
And if Booking does not charge you a percentage, then you have a special, very personal relationship with it, because all other users are charged a commission. It is just done implicitly, it is included into the total amount of the reservation, and Airbnb honestly announces it before the payment is made.
I am not saying that Airbnb is great. It's just as big and greedy as Booking, Google, Gazprom, or, say, Pyaterochka, all looking to make more money. That's normal, that's the way the world works. I just want to point out that all your criticism is completely unconstructive and far-fetched, and I would not want readers to be deceived by reading your review. Airbnb has disadvantages – I have listed them all in the article, and they are the ones to keep in mind.