How to get from Burgas airport to the city center, Sozopol, Nessebar and Sunny Beach
Burgas Airport Sarafovo (Letishte Bourgas) is the second airport in Bulgaria in terms of passenger traffic after Sofia Airport in the capital. International Airport Burgas is situated 11 km northeast of downtown Burgas, in a suburb called Sarafovo. The average number of passengers served by the airport each year is 3 million.
The airport code, which can be seen on your ticket ( IATA: BOJ, ICAO: LBBG).
The main load of the airport is in summer when most of the charters come from the following countries: Russia, Ukraine, Poland, Czech Republic, Germany and United Kingdom,
The airport takes flights from many airlines, over 50 in all: Ryanair, S7, Bulgaria Air, SmartWings, Red Wings, Russia, TUI, Wizz Air. Most flights are from Moscow (about 7 airlines).
Terminals at Burgas Airport
Originally Burgas Airport was served by Terminal 1, built in the communist 50s, but in 2013 opened a more modern Terminal 2.
In the airport terminal you will not find any fancy services, everything is usual here: free WiFi with Internet (very poorly working and at peak hours can not cope), check-in desks, waiting room, cafe with a terrace, McDonald's, luggage packing, ATMs, newsstand, currency exchange, car rental, children's area. In fact, to pay for travel and services you will need Bulgarian levs . The current exchange rate is 1 Euro = 2 BGN.
As for the duty-free stores, they are in the departure area. True, the prices are sometimes 2-3 times higher than in the stores. But if you forgot to buy something like Mavrud wine, local brandy Pliska, sweets or gifts, you can do it there.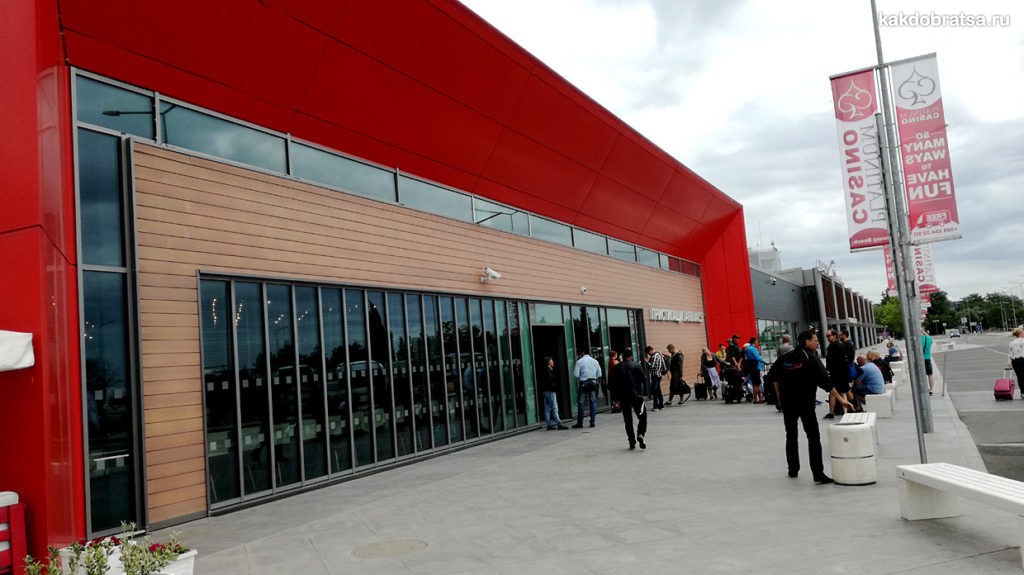 There are several ways to get from Burgas airport to the city center, Sozopol, Nesebar, to the resorts and Sunny Beach:
Bus
Rent a car
Cab or Transfer
Please note that there are no direct buses from the airport to many resorts, so you have to change planes, plus in the peak season buses are disastrously short of seats.
Bus from Burgas Airport
Most tourists who come to vacation in Bulgaria on a tour go to a place of rest on a paid transfer from the tour operator: a minivan or bus.
If you have a holiday as a couch potato, or rent an apartment, you have to choose what to get to Burgas by, and the only means of public transport are a bus.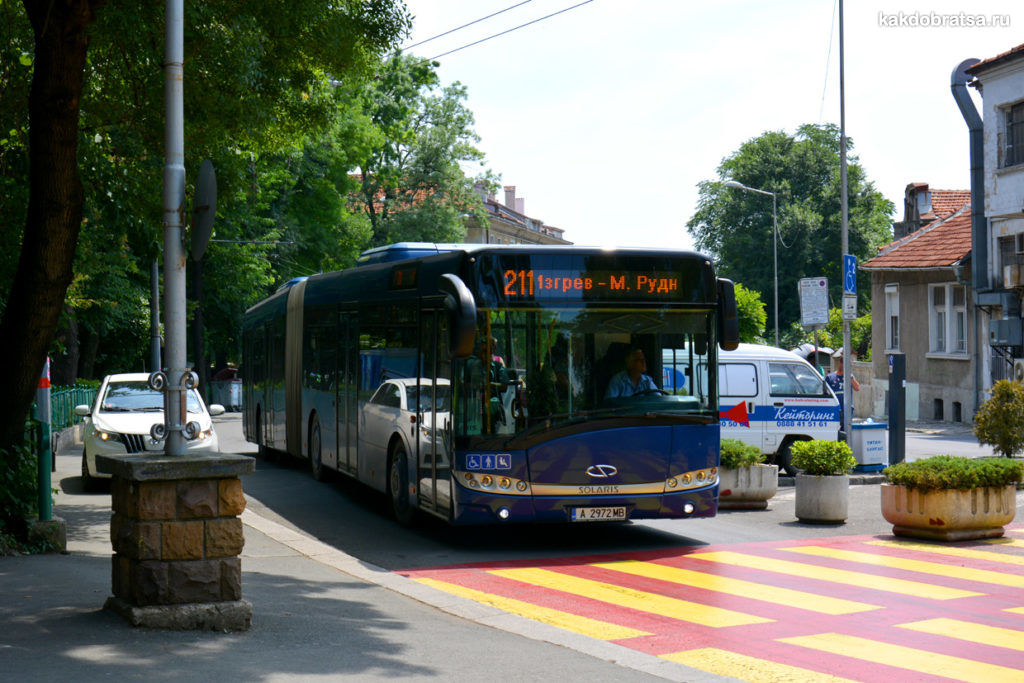 The bus from Burgas airport leaves from the bus stop in front of the Departures area. It's a bit illogical, but that's the way it is. There is only one bus route to the city, which goes from the suburbs Sarafovo, comes to the airport and goes to the city to the bus station UG, which is in the center. The travel time is 40 minutes.
The timetable of bus No. 15
Buses from the bus station Burgas YUG run from 5:30 till 23:00.
From the airport buses run from about 5:00 to 22:50.
The intervals for bus 15 runs from 10 minutes on weekdays to 30 minutes on weekends and holidays.
You can buy a fare ticket from the driver. The fare for 2022 is 1.5 leva (0.7 euro). You can buy a ticket only for levs, which must be changed at the airport.
Buses don't run at night, so the only way to get into town is by cab or by renting a car.
To make you understand where the bus number 15 goes, I'll show you its route:
Avtogara Yug – "Bulair" street – "Democracy" boulevard – "Stefan Stambolov" boulevard – "Transportna" street – Letisce Burgas – Sarafovo square, "Oktomvri" street – "Angel Dimitrov" street – "Bratsigovo" street.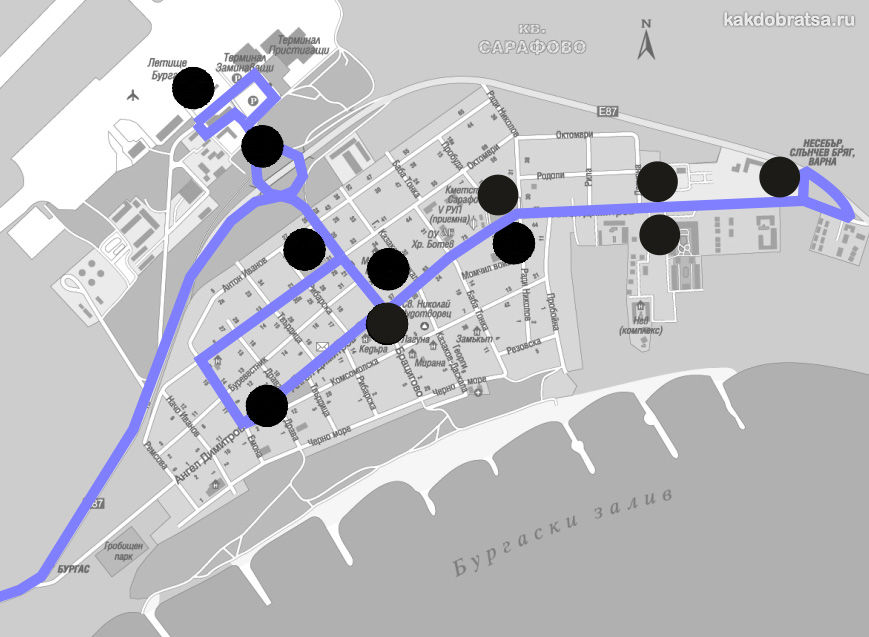 From Burgas airport to the resorts of Bulgaria
As you know to get to most of the resorts in Bulgaria: first you need to take bus #15 to bus station YUG, and then take a bus or shuttle bus to these towns. By the way, the bus station YUG many call the Central Bus Station of Burgas or the Main Bus Station of Burgas. But, this is just a bus station, serving mostly local destinations. If you need international buses, there is the Bus Station West for these destinations.
From the bus station Burgas YUG (Autogara YUG) you can get to the following resorts in Bulgaria: Sunny Beach, Elenite, Lozenets, Pomorie, Primorsko, Overview, Kiten, Varna, Sozopol, Chernomorets, Tsarevo, Byala, Sveti Vlas.
You can find the bus schedule on the Burgasbus website in advance.
If you take this trip, be prepared for the fact that in the bus or minibus for a certain time you will not have enough seats. Many Bulgarians buy a ticket for a certain time and date in advance, especially on weekends and holidays. And you have to wait for the next bus, and agree that after the flight it's not very pleasant, and if it's hot outside, it's not very pleasant at all.
The second point – intercity buses and minibuses are often very old, smelly, they are uncomfortable, there is little room for your feet, so get ready for not a very comfortable ride.
The fare to Sunny Beach or Nessebar is 6 lev (3 euros). Travel time is 20-30 minutes, depending on traffic. The schedule during the summer season is from about 6 am to 11:00 pm.

Bus from Burgas Airport to Sunny Beach and Nessebar
Nessebar and Sunny Beach are only 35 km north of Burgas Airport and you can get there by direct bus from Burgas Airport. Only for this you will need some strength and wit.
Actually there is a direct bus from Burgas airport to Sunny Beach. Only it does not leave from the bus stop next to the terminal, but from the stop 300 meters away from the airport.
To get to this stop you need to cross the parking lot and the area near the airport, turn left and walk to the barrier. Then turn right from the barriers and walk to the roundabout. And then on the left you will see a stop signposted "Sarafovo Quarter".
To get to the resort, you will need the bus number 10, which runs from 06:50 to 00:10 at intervals of 40-50 minutes. The fare is about 6 lev (3 Euro). You can buy a ticket from the bus driver. Payment is made only with Bulgarian lev.
Cab from Burgas Airport
A cab is naturally the most comfortable, easy and fastest way to get to your hotel. Especially during the hot summer months and when traveling with children.
Near the arrivals area you can most often take a cab to any resort town. But Bulgaria is famous for its mafia structures, cabs are no exception. So get ready for the fact that even official cabs, not to mention private cab drivers will want to take advantage of you and will not want to take you at the official rate: 1 lev for boarding, 1 lev for a kilometer. Such drivers are not going to turn on the meters, and none of the neighboring drivers will take you at a lower price. And if you can still persuade the driver to go by the meter, prepare for the extra charges for night time, for luggage and for idle time in traffic jams.
I've heard of cases when Bulgarian cab drivers charged 200 Euros for 30km or said that the price would double because it was too far.
So if you don't want to get on your nerves, then pre-book a taxi-transfer in a reliable company at a fixed price through the Internet. The order is simple and fast, and at the appointed time the driver will meet you at the arrival area, will help to carry the luggage and take right to the door of your hotel or apartment.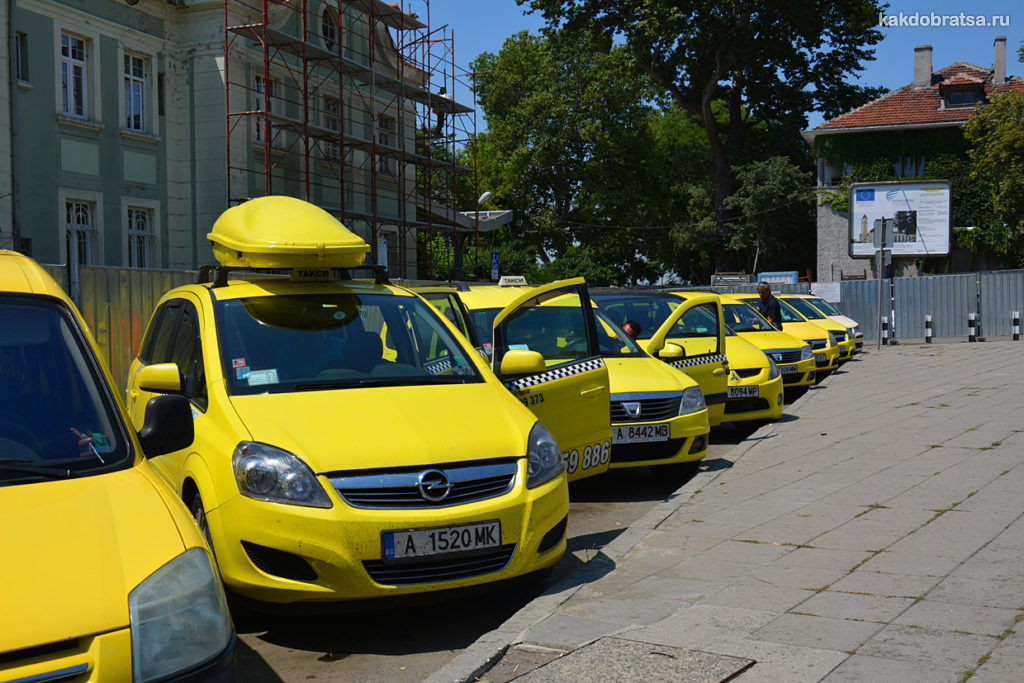 Rent a car at Burgas Airport
A rental car is a great way to see Bulgaria and it will help you during your vacation. When I recommend to rent a car in Bulgaria:
You know how to drive well and you can easily navigate in a new area.
You are going as a large family to an apartment and will have to drive to the stores. Keep in mind that many resorts have disgusting stores and it is better and much cheaper to go to more chain supermarkets for groceries.
You like to explore the natural sights and explore new cities and countries. And on public transport in Bulgaria, which is disgustingly developed – it is very difficult to do this and you will lose a lot of time.
You do not like to go on group tours. Moreover, the level of education of local guides is very low.
What you should know when traveling by rented car in Bulgaria.
The roads in Bulgaria are not very busy, and the traffic jams happen only in the major cities.
Think about where you will leave the car at the hotel or apartment. In large cities there are paid parking.
The maximum allowed speed in built-up areas is 50 km/h; outside built-up areas – 90 km/h; on highways – 120 km/h; on freeways – 140 km/h.
Fuel is not cheap. Gasoline A 95 – BGN 2.28 leva (€ 1.16); Gasoline A 98 – 2.56 leva (€ 1.36); diesel – 2.31 leva (€ 1.18).
Drivers are not fined for minor violations, there are almost no cameras. But you still need to drive according to PDD.
For car rental in Bulgaria, I can also recommend the site Myrentacar where you can find a car only from the reliable local rental companies and there is an opportunity to rent a car without a credit card and a high deposit. Rental prices start from 8 euros a day for a simple Opel Corsa to 220 euros for some high-end Mercedes Gelendwagen that everyone will be afraid of you .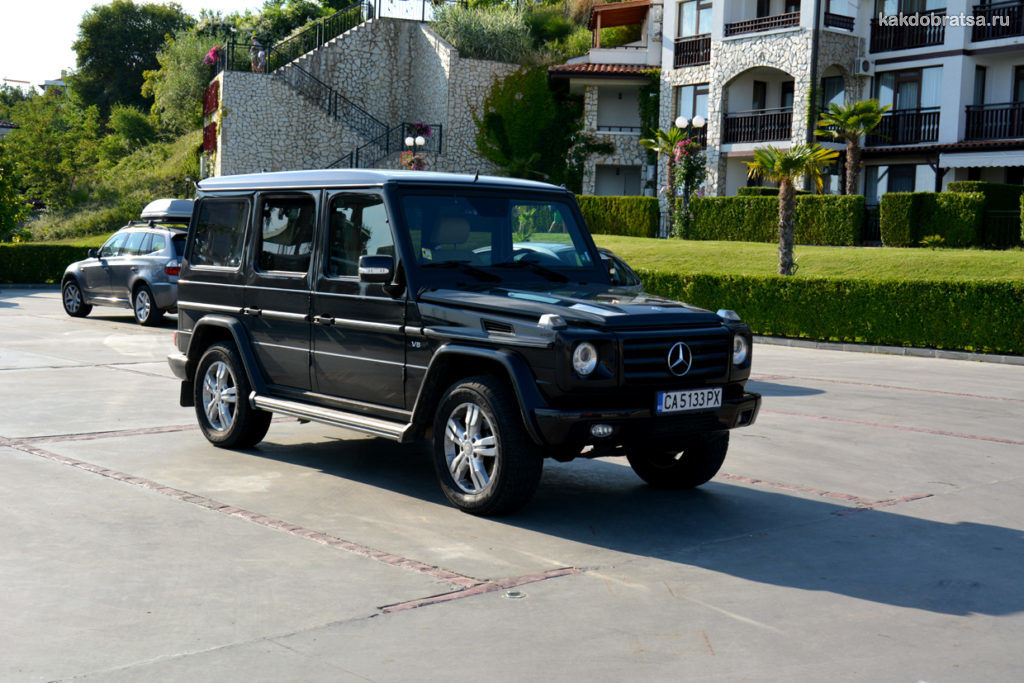 You could use this!
Hotellook is a hotel finder that checks discounts and prices on 60 booking sites (Bucking, Island, Agoda, Hotels.com, etc.). Save up to 50%!
Book comfortable cab transfers from any airport in the world at a fixed price on a reliable website.
How to get from Burgas airport to Sunny Beach
We tell you how to get from Burgas airport to Sunny Beach in Bulgaria. Bus schedule, cab prices "Burgas airport – Sunny Beach", travel time, tips for choosing transportation.
You can take a cab, a rented car or a bus from Burgas airport to Sunny Beach.
Briefly about the route:
Distance from Burgas to Sunny Beach: 30 kilometers.
Speed of driving: from 20 minutes
price: from 6 BGN (3 EUR)
The payment in Bulgaria is made in national currency. You can get a small amount to pay the fare in ATMs at the airport or change it in exchange offices.
Cab and Transfer
The most convenient way to get from Burgas airport to the resorts of Bulgaria is to take a cab or to pre-book a transfer.
This option is suitable for the following categories of tourists:
families with children
large companies
Those arriving with lots of luggage
Nighttime tourists (when there is no public transportation)
Cab to Sunny Beach
The official carrier at Burgas airport is "Ecotaxi. The prices for a trip to Sunny Beach they start at 25 euros. There are also private drivers, but they often overcharge you by several times.
It is rather risky to get in touch with the local cab drivers – there are a lot of cases of fraud from their side (from "non-functional" counter to driving roundabout with the aim of scaling extra kilometers).
When ordering a cab on the spot the driver can ask for a price up to 200 euros. This is while from the Burgas airport to Sunny Beach is only 20-25 minutes by car.
Transfer Burgas – Sunny Beach
An alternative option is to pre-book a transfer from Burgas Airport to your hotel in Sunny Beach.
The driver will meet you at the arrivals hall with a nameplate, will help you get your things in the car, and the price will be known at the moment of booking a transfer, and guaranteed not to change. In addition, the driver will know the final destination of your trip in advance – he will not have to look for the necessary hotel.
The prices for transfer from Burgas airport to Sunny Beach start from 27 euros, depending on the class of the car. The traveling time is about 20 minutes.
If you want you can book a transfer to other resorts in Bulgaria:
– from 84€ – from 72€ – from 27€ – from 20€
You can book a transfer in Russian with Kivitaxi. We have used it several times and we were always pleased with the service. Read more in our review.
Bus
How to go from Burgas airport to Sunny Beach by public transport? The only way is to take a bus.
There are two bus routes:
Bus #10 – direct to Sunny Beach, but the stop is 250-300 meters from the airport
Bus number 15 – with a change in the bus station in Burgas, but directly from the airport
The direct bus ¹ 10.
If you are able to walk 250-300 meters with your things, you can get to the highway where the buses go to Sunny Beach.
After leaving the airport you need to cross the square, turn left and reach the barriers. Then turn right from them and walk along the footpath under the ring road.
On your left you will see the stop, located behind the road sign "Sarafovo quarter".
The bus number 10 runs from 06:50 to 00:10 with an interval of 40-50 minutes. The trip to Sunny Beach will cost about 6 levs (3 euros); you can buy a ticket from the conductor.
The location of the bus stop on the map:
Bus No. 15 with a change in Burgas
The second way is to take bus number 15 to the Southern Bus Station in Burgas (another name is the central bus station). Buses run from 05:30 to 22:25 every 17-20 minutes; the departure is at the airport – from the bus stop "Koltsevaya" behind the terminal Departures.
The trip to the bus station Burgas will take about half an hour. You can buy a ticket from the driver for 1 lev (0,5 euro).
At the Burgas bus station you need to buy a ticket to Sunny Beach for about 5 lev (2.5 euro). Buses run from 06:20 to 21:30 with an interval of 1-2 hours.
Please note: There are many buses of different companies running between Burgas and Sunny Beach. You can see the current schedule on the official website – burgasbus.info.
Photo: coast of Bulgaria © webografica / pixabay.com
Shuttle
The Bourgas Sunny Beach Transfer Shuttle also runs from Burgas Airport to Sunny Beach. The trip time is 40 minutes and the cost is 8 Euro per person.
There is no exact schedule of shuttles to Sunny Beach – the departure time depends on the arrival of airplanes. To find out the schedule, you need to make a request on the official website of the company with all your details and information about the flight.
The main disadvantage of the shuttle is the long wait at the airport – sometimes you have to wait up to 1 hour until the bus is full of passengers and goes on the road.
Rent a car
If you plan to travel around Bulgaria by car, it is more convenient to rent one right at the airport and drive yourself to Sunny Beach or any other resort.
There are many big international rental companies at the airport – for example, SIXT, Budget, Europcar, Enterprise, AVIS. It's easy to choose the best option through the EconomyBookings website – it compares prices for rental cars among all renters, allowing you to find the cheapest options.
The cost depends on the class of the car and the duration of the rental (the longer the cheaper).