Kobuleti: vacation tips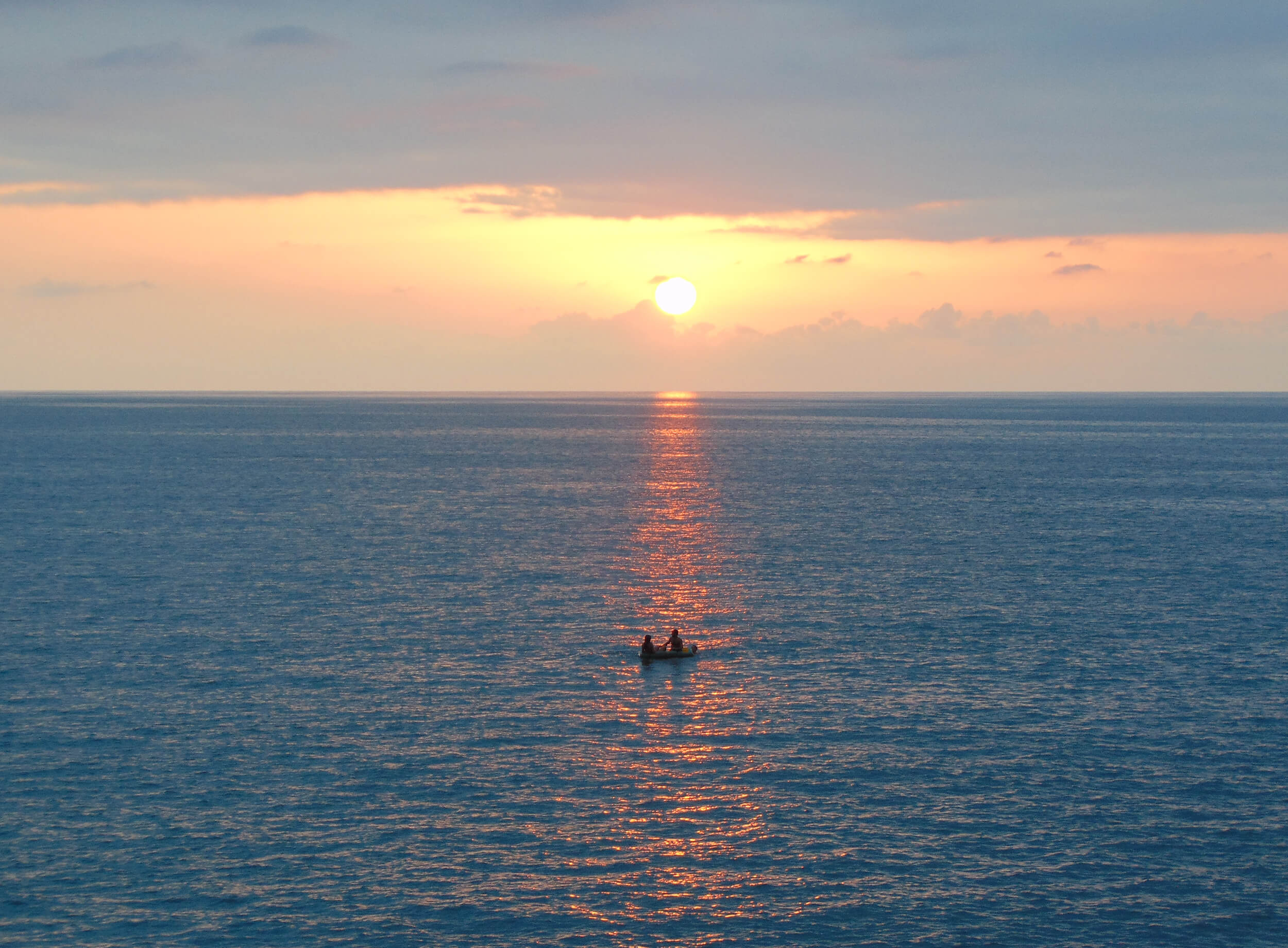 We fell in love with Kobuleti at first sight! Pines on the shore, clean pebble beaches and a huge selection of nice hotels. What more do you need for a pleasant holiday by the sea? We share our impressions and reviews of tourists.
Contents:
Impression of the resort
The second most popular seaside resort in Georgia is located 30 km north of Batumi. Cute little town without high houses and entertainment centers like fans of quiet beach relaxation. According to tourist reviews, Kobuleti is good for vacations with children. In our opinion, the Georgian resort is also suitable for those who like active tourism and independent excursions – from Kobuleti it is convenient to go to national parks, beaches with magnetic sands and old fortresses.
In 2 km from the city there are mineral springs, which are used for treating obesity, diabetes, diseases of the gastrointestinal tract, the nervous and circulatory systems. The mineral water from Kobuleti is actively used in all Adjara sanatoriums.
Azat: "The city of Kobuleti is the best! There are many different cafes and hotels. Everyone knows how to speak Russian. The lemonade there is so delicious, like duchesse in my childhood. Once we met a Georgian family on the street. They realized we were tourists, invited us into their house and treated us to baklava. And what a beach – super! The water is clean, there is no trash.
July_27: "I like Kobuleti more than any other resort in Georgia. It's in the middle where everyone will be quite comfortable. Plus it has a good location, just between Batumi and Ureki.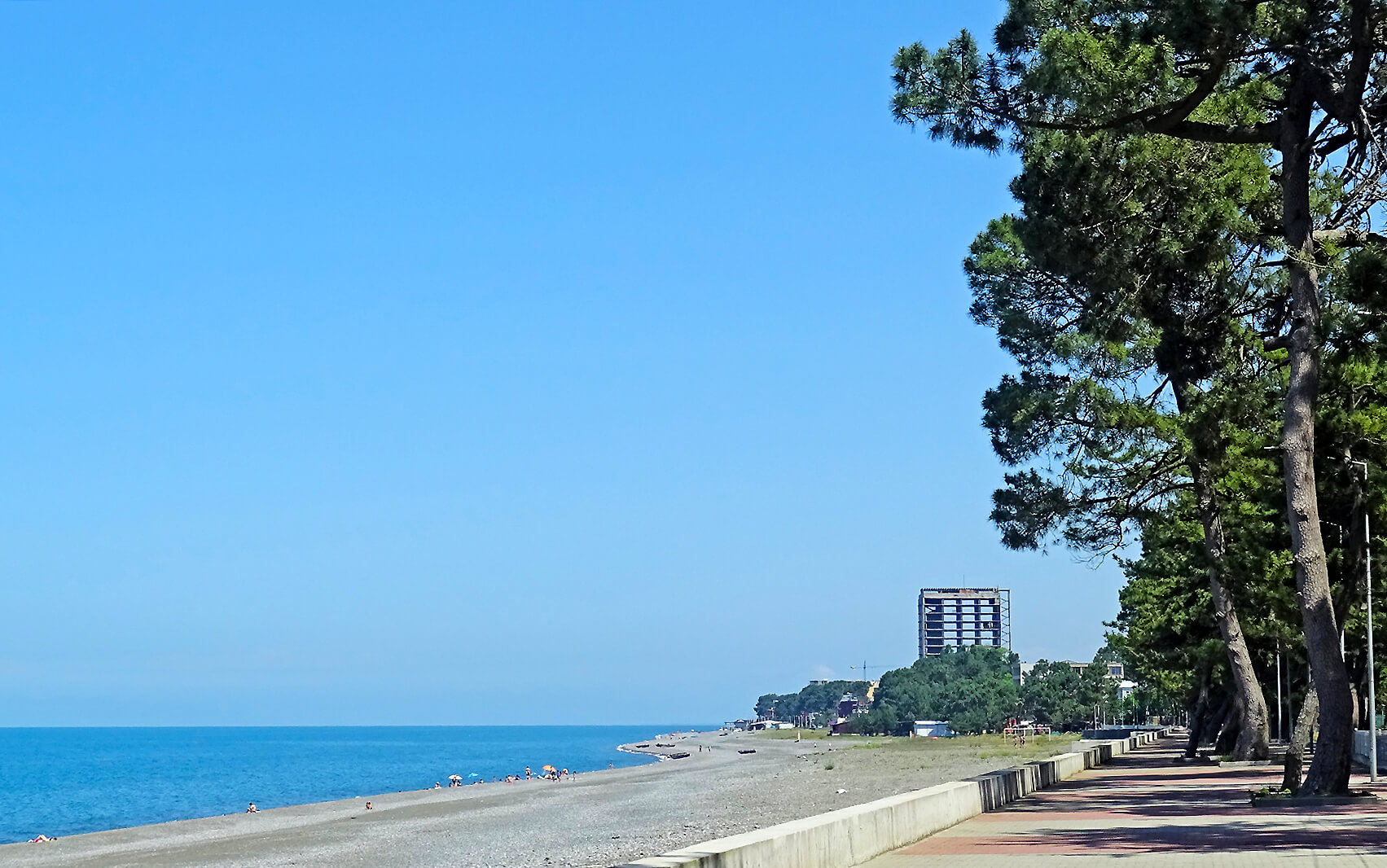 The promenade in Kobuleti. Author's photo.
The sea and the beaches
Quiet rest at the sea is the main reason why people come to Kobuleti. Spacious pebble beaches of the resort stretch for almost 10 km. There is enough room for everyone! The sea water is cleaner than in Batumi. You can rent deck chairs, sunbathe on a towel, have a ride on a "banana" or a jet ski.
If you miss the sand, go to the sandy beaches in neighboring villages – Ureki or Shekvetili. A minibus ride costs 1 GEL and the way doesn't take more than 15-20 minutes.
SWET LANKA 174: "The town itself is small, but stretched along the beach. The beaches are coarse pebbles, so rubber slippers from 7-10 GEL to help you. The sea is fabulous – clean and warm. The entrance is not very gentle, but enough for children. Very beautiful sunsets – the sun is hiding here."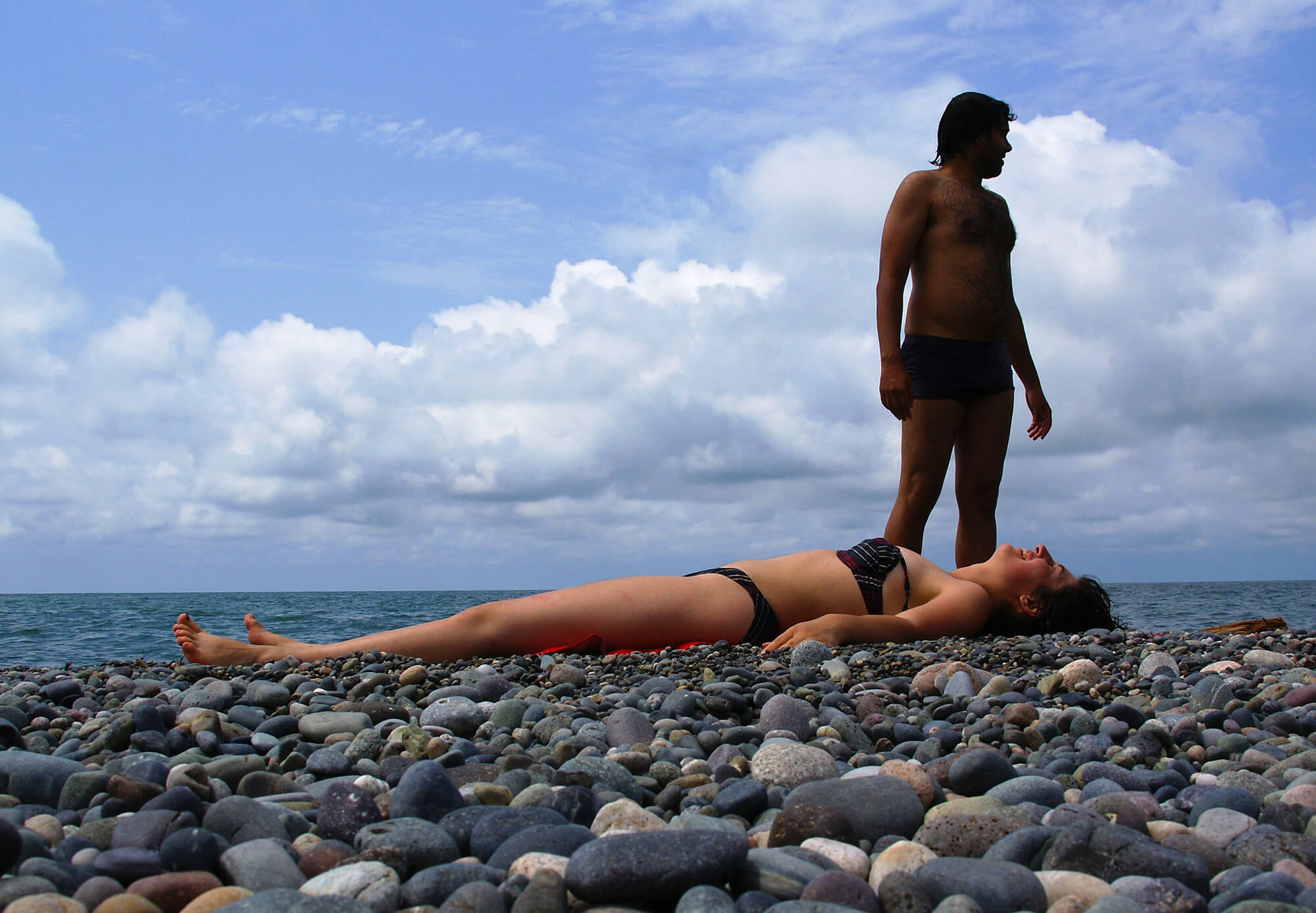 Pebble beach in Kobuleti. Photo: cosh_to_jest / flickr.com / CC BY-NC-SA 2.0.
Hotels in Kobuleti
The resort stretches along the coast for 7 km and has only three parallel streets. Wherever you rent your lodging, the beaches are a short walk away! The choice of hotels and guest houses in Kobuleti is huge. There are especially many options along the street Agmashenebeli, former Lenin Street, which is closest to the sea. Walking along the long street, we were amazed by the number of hotels and guest houses. Most of them are quite modern buildings with beautiful decoration and amenities.
The pine forest and beaches to the north of town are ideal for camping. There is a convenient camping site for car campers.
It is considered that the prices at this Georgian resort are higher than in Batumi, but still vacation in Kobuleti is cheap. In 2022 a double room in a guest house costs 500-600 rubles per day, and in a 3* hotel with a swimming pool – 1700-2000 rubles. A spacious apartment of 55 square meters for 5-6 people with a kitchen, swimming pool and spa can be rented for Br4,800. Look for hotels in Kobuleti on Hotelluk. The best hotels with a beach according to the reviews of tourists:
There are all-inclusive tours in Kobuleti, but they are not too popular. In Georgia, it's cheaper and easier to eat in town than in a hotel. If you want, the hosts of any guest house in Kobuleti will cook for you for a fee.
Olga: "We took full board, we thought it wouldn't be very good, so we set ourselves up for breakfast, lunch at the hotel, and for dinner we would go into town. But we never left hungry, unsatisfied, or wanting to go out for dinner. The food was above all praise, you could feel that our soul was put into its preparation, very tasty and fresh. In the evening we went to the restaurant to watch the food, sit and dance, drink wine.
Food Prices in 2022
Food in Georgia is cheap and delicious. Prices in Kobuleti and Batumi are almost the same. The average check in a restaurant for two is 20-25 lari. Adjarian khachapuri costs 7-12 lari, khinkali – 0,5-1 lari apiece. Draught wine at the market is sold for 5 lari per 1 liter. We liked the food and service in the restaurant "Admiral" and in the khinkali house "Shua Kalakshi".
Rama: "There are restaurants around the hotel where my husband and I had lunch and dinner. The average bill was 34 lari. That's with beer and with drinks. We came in low season, so a lot of restaurants were closed."
Niko: "Food in Kobuleti is inexpensive. Bread costs 1 GEL, at the market you can buy fruits, watermelon and other products for pennies. If you buy food in a store or at the market and cook it yourself it costs 5-7 GEL per person.
Anastasia: "The prices are affordable, lunch and drinks cost about 25 GEL, dinner – 35 GEL. The hospitality and friendliness of the locals impressed us so much, that we still warmly remember Kobuleti.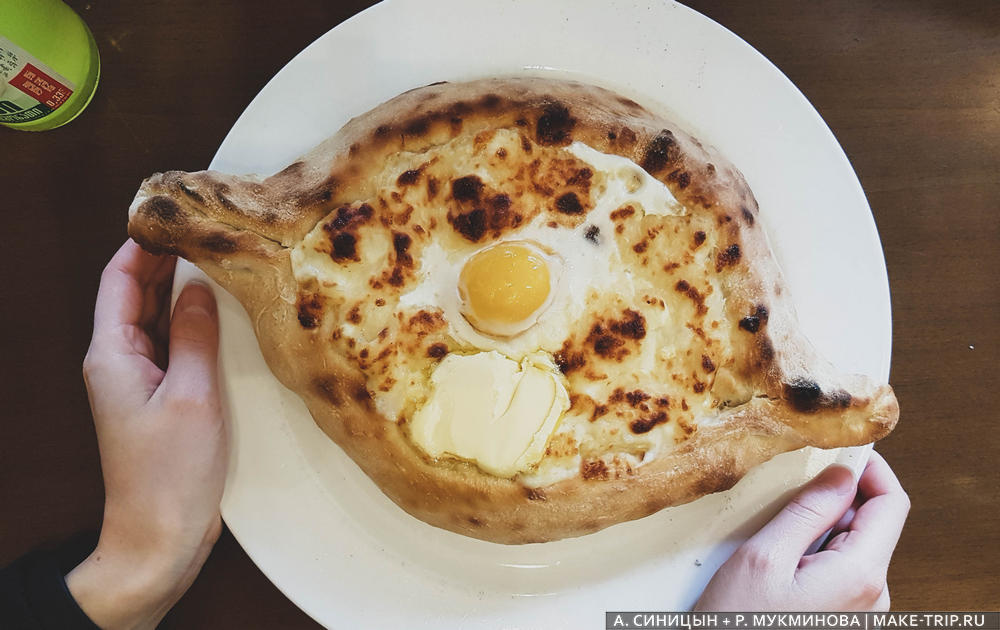 Khachapuri in Oajarian style.
What to see and do
It is nice to walk along the long promenade and go to the local museum of local history. We advise to visit the picturesque nature reserve "The marshes of Ispani", which is located in the north of the resort. From Kobuleti take tours to Batumi, Kintrishi Reserve, Sataplia Cave, Okatse and Martvili Canyons. One-day tours cost from $30.
Popular tours in Kobuleti:
– €150 for 1-6 people. – €90 for 1-3 people. – € 30 for 1 person.
Many attractions in Adjara are easily accessible by public transport. While vacationing in Kobuleti, go to magnetic sand beaches in Ureki and Shekvetili, to the Byzantine fortress of Petra, to the National Park "Kolkheti", the port city of Poti and the Botanical Garden of Batumi. It takes only 40 minutes by minibus to get to Batumi's attractions.
Ivan Vladimirov: "We went to Tsitsinatela Park. It was fun and interesting for us and the kids. There are a lot of different attractions, and they don't cost that much. The most expensive is GEL 5. We went to the natural reserve "Ispani". Here you can admire the nature and take a lot of beautiful photos as a memento".
Viewpoint in Batumi Botanical Garden. Photo of the author.
Rest with children
We saw many parents with children in the streets of the resort and did not find a single review where tourists would have scolded the holiday with a child in Kobuleti. So come to the resort with children without fear! We advise to stay in a hotel or guest house with a pool. This is convenient if there is a storm at sea.
The Seaside Park has rides and small pools with mosaic sculptures in the form of sea animals. 4 km north of the city there is an amusement park "Tsitsinatela", which means "firefly" in Georgian. There is an interesting park "Georgia in Miniature" next to it. The entrance costs 4 GEL.
RolemLV: "We vacationed with a 5 year old child. The water at the end of June and beginning of July is warm, you go in calmly, the entrance is three meters and – deep. There are playgrounds for children, a park with attractions near Kobuleti and in Kobuleti itself near the bus station, there are also fountains and bandstands.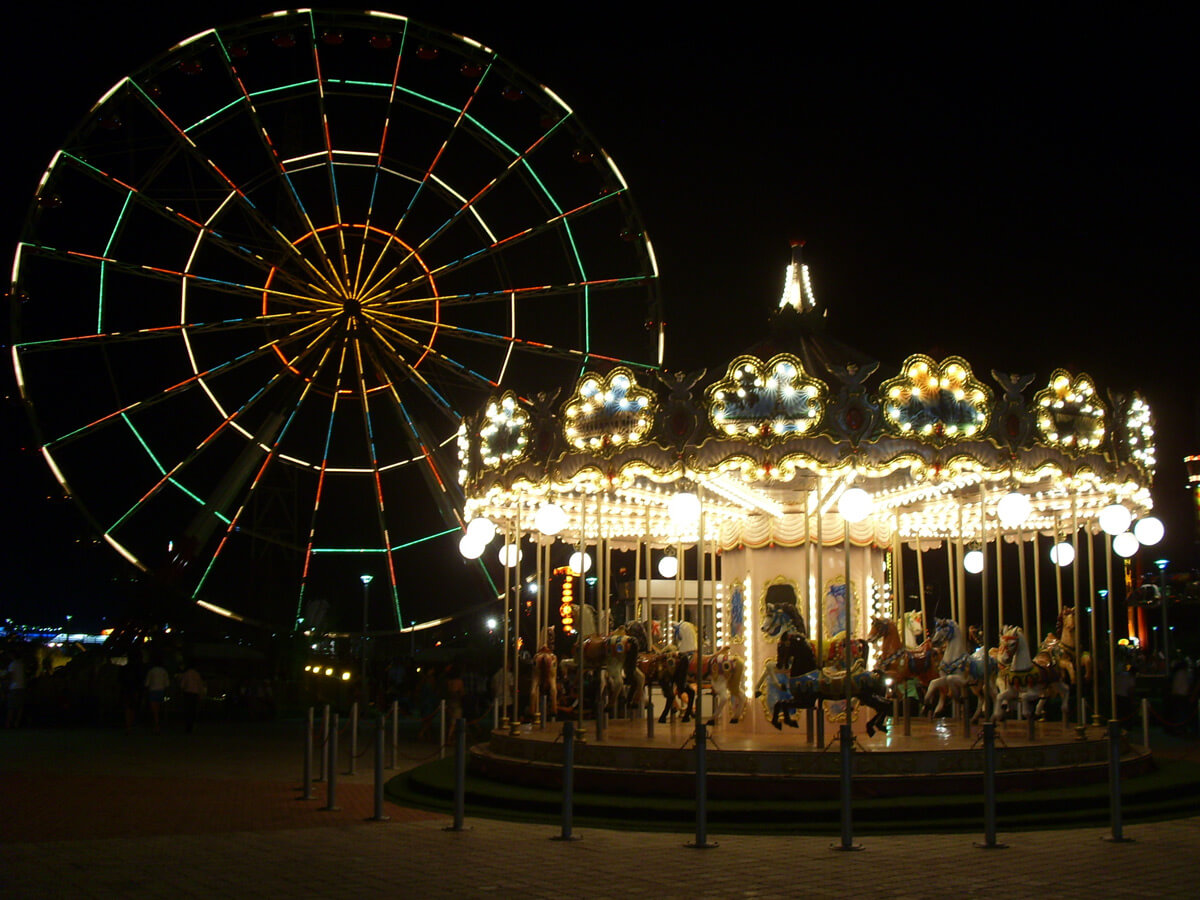 Tsitsinatela amusement park. Photo: Arpik / flickr.com / License CC BY-NC-ND 2.0.
When it's best to go
Thanks to the subtropical climate and the Black Sea, the climate in Kobuleti is mild and comfortable. Snowfall is rare in winter and fresh sea breezes soften the heat in summer. On the coast, the smell of pine trees mixes with the air from the sea. We were surprised at the scents here and how easy it is to breathe in Kobuleti! For a beach vacation come from late May to late October.
For a beach vacation come from the end of May to the end of October. Photo: cosh_to_jest / flickr.com / CC BY-NC-SA 2.0.
Worth the trip.
In our opinion, Kobuleti is almost an ideal place to relax by the sea. The beaches in the city are clean and wide. The resort has all the necessary infrastructure. In Kobuleti it is easy to find a market, grocery and grocery stores, pharmacies, restaurants and cafes. There is practically no nightlife. For entertainment you need to go to Batumi.
Keep in mind that the humidity in all Georgian resorts is high. If you have problems with your heart or respiratory system, come to Kobuleti in June or during the velvet season.
Georgia. Kobuleti – reviews
Good day everyone Today I would like to tell you about my vacation in such a beautiful country as Georgia. For me it was the first vacation abroad, so the experience is doubly bright!
Today I want to tell you about the second most popular city in Georgia Kobuleti. I vacationed in this city in 2018. Also in three years I sold a large number of trips there (when I worked in a travel agency).

In recent years, a relatively new tourist destination Georgia has been gaining quite rapidly in popularity among Russian tourists. Among the strengths of the country's guests were marked by hospitality and cordiality of the Georgian people, lack of language barrier, good climate, sun and sea, and…
Hello, friends! Today we will talk about Kobuleti, a small resort town located 21 km from Batumi, Georgia. Initially our goal was to visit Batumi. But staying in hotels in Batumi is expensive. So we decided to rent a house on the beach in Kobuleti.
Good time everyone. I want to tell you about our trip to the beautiful city of Kobuleti. We had a holiday there with all my family – me, my spouse and my daughter (2 years old) from 15.06.16 to 05.07.16.
From Russia to Georgia with love! How exciting waiting for the vacation … and now finally it happened, so I want to share with you my impressions about this trip and give you some tips. From Nizhny Novgorod to Georgia by car with two kids (time of trip is from 15.08 to 28.08).
For the first time in the past few years on vacation we went to the East, not to the West, which I do not regret. Georgia was in the plans for a long time, and plane tickets were bought already in January. Then there was the search for lodging, which by the way, we cost $340 for 16 nights for 5 people.
Kobuleti differs from most seaside towns by the fact that it is never crowded on the beach (there is absolutely enough space for everyone), for the reason that it stretches for 7 km along the sea and has only 3 parallel streets. By the way, all these 7 km. cyclist pass without a single intersection.

My warm feelings toward this small resort town in Adjara are connected with my childhood memories. It was my first trip to the sea, I was only 5 years old at the time. I returned there in September 2016, more than thirty years later…
There will be a lot of letters, excuse me In Kobuleti I rested all my childhood. In its northern part there were sanatoriums and children's pioneer camps. I spent my best vacations in those camps. Then somehow the sea was not my scene. As a result, I could go only this summer.
Hello! I want to tell you about my wonderful vacation in Kobuleti. Last year (2013) I came to Georgia for the first time and was in Kobuleti. I am Ukrainian, and my husband is Georgian, he lives in Tbilisi and he visited Kobuleti many times.
Kobuleti is a small resort town, which is located in western Georgia, near Batumi.This summer I decided to go to the sea and chose the Black Sea.I visited Batumi, Ureki and of course Kobuleti.It's a beautiful town with beautiful sunny weather, people here love tourists and always …
In Georgia we visited two cities – Kvariatty and Kobuleti. Both are very impressive. Kobuleti is suitable for those who like different restaurants and entertainment, everything is nearby there. Comfortable hotels with good service, food prices are cheaper than in Russia.
Have you ever stayed in a hotel without a CLOSET? If not, you're in luck! The first impression was not the most pleasant, but then I even managed to love this house ♥
Good time everyone, this summer was not the hottest, so few people were able to enjoy the good weather, mostly only those who went to the sea or live in those warm countries.
Good day to you all! Now, on the eve of the new season in Georgia, the season of tangerines, I decided to nostalgia about my vacation in Georgia, in Kobuleti, and share my impressions about the place where we spent most of the time – guest house Anna.
This summer we absolutely spontaneously decided with my girlfriend to have a rest in Georgia, we gathered literally a couple of weeks beforehand. We flew on a tour, we were in different places. We rested directly in Kobuleti. It's a small resort on the Black Sea. We were settled in Kobuleti Inn hotel. Previously it was called Oleg.
Continuing our trip to beloved Georgia, we stayed in the apartment of Rita and Roman. It is a large apartment with a fresh renovation. The apartment has two bedrooms, a spacious living room, and a huge kitchen. Oh, this kitchen is the dream of every housewife. Just look at its functionality.
The house is eight floors freshly built, and even the apartments are not all sold out. Great apartment with everything you need.The apartment is on the 3rd floor and is a small studio, conditionally two rooms.

I have heard many rave reviews about Georgia, and it was firmly in my travel plans. But, having been to this undeniably colorful country, I was rather disappointed.
Hello friends! This year we traveled by car, visiting Turkey and Georgia. The road itself is very interesting, emotional, challenging in places, and deserves a separate review.
I should say at once: I have never been to Georgia and have dreamed of doing so for a long time. One more remark: I have been to many other countries, so I can afford to compare. So, Batumi.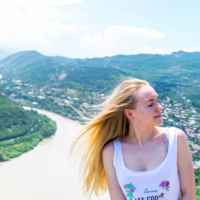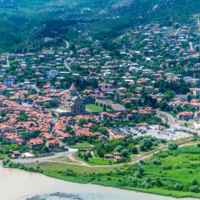 Mtskheta is the ancient capital of Georgia. One of the most visited attractions from Tbilisi. Amazing confluence of two rivers – Lermontov wrote about these places.
Greetings to you! Upon arrival to Tbilisi we "galloped through Europe" began to make a plan, but what exactly we need to visit. There were many variations. But after consulting with our guest, from whom we rented accommodation, we decided that it will be necessary to look at the first capital of Georgia – the town of …