#YearnNorth-2022. Part 5. Karelia. Onega lake and neighborhood.

So, as a result of the fourth day, we finally got to Karelia, and stopped for the night in Pudozha. From here we will continue.
Days 5 and 6. The total distance covered from home – 3 083 km, specifically for 5-6 days – 465 km.
Route: Pudozh – Pjalma – Chelmuzhi – Povenets (Belomorkanal) – Medvezhegorsk – Girvas Paleovolcano – reserve Kivach – Petrozavodsk.
Having suffered a long drive on the bad road from Onega to Plesetsk and having got to the hotel in Pudozha we almost immediately fell asleep. As it is usual with us, we had a lot of plans for the next day, so it was necessary to have a good sleep. We coped with this item of the program on a hurray, so in the early morning we got up as fresh as a daisy!)
Ahead we were going to get acquainted with Onega lake and visit tourist attractions. First thing we decided to go see the local petroglyphs. We left Pudozh in the direction of Medvezhegorsk, and soon a road sign told us, that if we turn left, in 27 kilometers we'll come across these very petroglyphs.
The sign we were completely taken in by it. The sign says, that Onega petroglyphs are 27 kilometers to the left from the road.
In general we decided to drive in vain. The road, first asphalted, and then unpaved with huge holes, brought us to the pier Shala in Shalsk village. Naturally no petroglyphs were found there. Having talked to one of the locals, we've found out – to get to the petroglyphs we should hire a boat to take us to the cape of Besov Nos, where there are lots of those petroglyphs. But in view of the fact that the lake is not completely free of ice, no one can take us there now. And in general the best way is to get by car to the village Karshevo in Pudozhsky area, and then to take a boat, it's the shortest way. And navigation usually opens only in the second half of May…
All right, let's forget about it. Luck happens in life, we discover new destinations and travel around the country to learn something new. Maybe some of my readers will find this experience and information about how to get to these petroglyphs useful. But we are not discouraged and continue our way moreover we are already familiar with these petroglyphs from our last year trip to Altai, there are a lot of these petroglyphs – Kalbak-Tash and Adar-Kaya petroglyphs.
Let's move on. The next interesting place on our way was the historical village of Pälma, and after a ride and a walk around it, we were able to fully appreciate the local non-tourist flavor. It's cool that there are places where life is measured and unhurried, and the locals are very hospitable and ready for random tourists to make a real tour of their village and show how they live here. I recommend this place – a cool relaxation and a break from civilization. And the bridge to get into the village, deserves a separate story – before I drove over it, not only that I first walked back and forth on it, and was not too lazy to ask the local, whether it will hold our car. One local man to this replied – we ride, and you will pass!)) There is no other road anyway.
Rather ugly-looking, but still a strong bridge, you can get to the historic village of Pälma. Driving on it – it's a separate adventure for the driver!
By the way, here in Pälma, we practically found those very elusive petroglyphs. In any case the features of some drawings seemed to me vaguely on some of the coastal stones. May be it was a deception, but it was nice to amuse myself with the discovery).
Onego lake near Pjalma, not yet released from ice shackles. Some pictures, remotely resembling petroglyphs, are seen here and there on these coastal rocks.
In Chelmuzhi we tried to get to the sand spit of the same name. Either we reached the wrong place, or our navigator led us wrongly, but as a result instead of the sand spit we landed on the local churchyard, where people were cleaning the graves of their relatives at full speed – it turned out that we had found ourselves here exactly on the day of Radonitsa. So, instead of a natural sightseeing we visited the ancient Church of the First Apostles Peter and Paul. The date of building of the temple is impressive – 1605.
In Chelmuzhi, instead of the sand spit we were able to see the ancient church of Peter and Paul. The date of construction of the temple is 1605.
Do you remember the famous phrase that the driver can get to any place without navigator, using a packet of Belomorkanal cigarettes as a map? Now they kind of already don't sell them, but this blue-and-white picture vividly flashes before your eyes.
So, near settlement Povenets we crossed famous "Belomor-Baltic" or "Belomorkanal" by small bridge with reversing traffic. Unfortunately, during our visit the canal was almost completely shallowed. However, in principle, it is quite usable, and they are even going to launch tourist itineraries on pleasure boats, not to mention the current 165 days a year trade and industrial navigation. The idea is good, the main thing is to implement it, not just leave it on paper. After all, the channel itself is a unique hydraulic engineering structure, 227 kilometers long, which connects the White Sea with Onega Lake and further to the Baltic Sea and the Volga-Baltic waterway.
By the lunch time we had arrived in Medvezhegorsk – the sixth city in Karelia by its population. In general, frankly speaking – there is not much to see here. The only exception – beautiful historical building of the local train station at Medvezhja Gora station (where the name of the city was formed from) with a small railway transport museum, located here at the station. We were just lucky to get to the beginning of the excursion to the museum and the steam locomotive – very positive impressions. I recommend you to visit it, especially since it's absolutely free!
An interesting railroad history museum in Karelia is located right in the carriage, attached to the rare Er series steam locomotive. You can visit the museum and the locomotive for free. The guide says that if you do a little bit of engineering, then this locomotive will be quite in motion.
The second and the last (in my subjective opinion) interesting object in Medvezhegorsk is a complex of Finnish fortifications on the Lysukha or Bald Hill. There I crawled with great pleasure through the pillboxes and loopholes, you know, I love this theme! I can imagine how difficult it was to knock out the Finnish soldiers from those bunkers.
Medvezhegorsk was the northernmost point of our trip in Karelia. Because of time constraints and seasonality (or rather the lack of shipping), we did not go further north towards Bolomorsk, Kemi and the Solovetsky Islands, leaving them for the next expedition in conjunction with a visit to the Kola Peninsula and the famous Teriberka. That it will be I have no doubts, the only question is when) Well, never mind, not about that now. So, from Medvezhegorsk we went in the direction of the regional capital Petrozavodsk, stopping on the way at the most interesting places.
One of such places is paleovolcano Girvas, where we certainly stopped. It's very interesting place, I didn't even know that episodes of many famous movies and TV series were shot there. Let's count our fingers – the Soviet classics "The White Sun of the Desert", "The Dawns Here Are Quiet", "The Village Duck", and of contemporary films – "The Native American", "The Hunt for Piranha", "The Seventh Rune".
For information, the cost of the entrance ticket – 100 rubles, but you can pass for free, through the woods.
In contrast to the Girvas waterfall, the Kivachsky waterfall in the Reserve of the same name did not produce a WOW effect. It is just a more popular place, for the entrance to the territory of which you should pay 250 rubles per person. From more or less interesting here except the waterfall is worth except that the arboretum, which grows about 50 different species of plants. This topic is not very interesting to me, but my wife was pleased to learn the entire collection. Now we know how a real Karelian birch looks like!)
Now we know how to look a real Karelian birch – not the most beautiful tree in the world. Our Ural birches are much prettier!)
Closer to the evening we arrived in the capital of Karelia – Petrozavodsk. By tradition we did not book lodging in advance, hoping to find something suitable for the place. In fact the problem turned out to be a star!) Because of the May holidays and the influx of tourists, most hotels were occupied, and those that were free did not fit into the budget. In the end we managed to find a decent hotel at a comparable price – White Nights, the price per night for a double room with breakfast and parking for the car – 3 250 rubles.
In Petrozavodsk we stayed for two whole days, not counting the day of arrival. It was a beautiful city, somewhat reminiscent of St. Petersburg. The architecture of the central streets is very similar.
A funny thing – for the whole 280-thousand city operates one travel agency ONEGOTUR, all the other firms are, in fact, its agents or intermediaries, and in any case, buy excursions through this company. We were no exception and also took advantage of their excursions. The cost of a 4-hour sightseeing tour of Petrozavodsk on the guide's car was 3 000 rubles. I consider it quite reasonable price for an excellent informative tour of the city and its surroundings. If anyone will take a similar tour, ask Raisa – a wonderful storyteller and interesting conversationalist – to be your guide. You will not be disappointed!
At last, at the local Museum of Local Lore (address – Lenin's square, 1) we saw those damn petroglyphs, we hunted for so long yesterday!)
Autoexpedition №5 #NashNorth: Karelia and Kola Peninsula
The results of our Northern auto-expedition in Karelia and Kola. I`m telling you how many bears we saw, we picked berries and mussels, we covered kilometers.
We left home to see the ocean. The main objective of our fifth expedition to Russia was the ocean and Kola Peninsula with its mountains, tundra and places, remote from civilization. Karelia seemed to us less interesting, but still we included it in the program, because it was on the way.
Three adventurers went to see the beauties of the Russian North:
Komi-Permiak Alexei (me) – driver, ideologist of the expedition and commander of the ship,
the Circassian Renata – expert on local beauties and route planner,
Tatar Azat – negotiator to bring down prices for accommodation and the main bear hunter.
Our classical interethnic team, with which we have traveled half of Russia.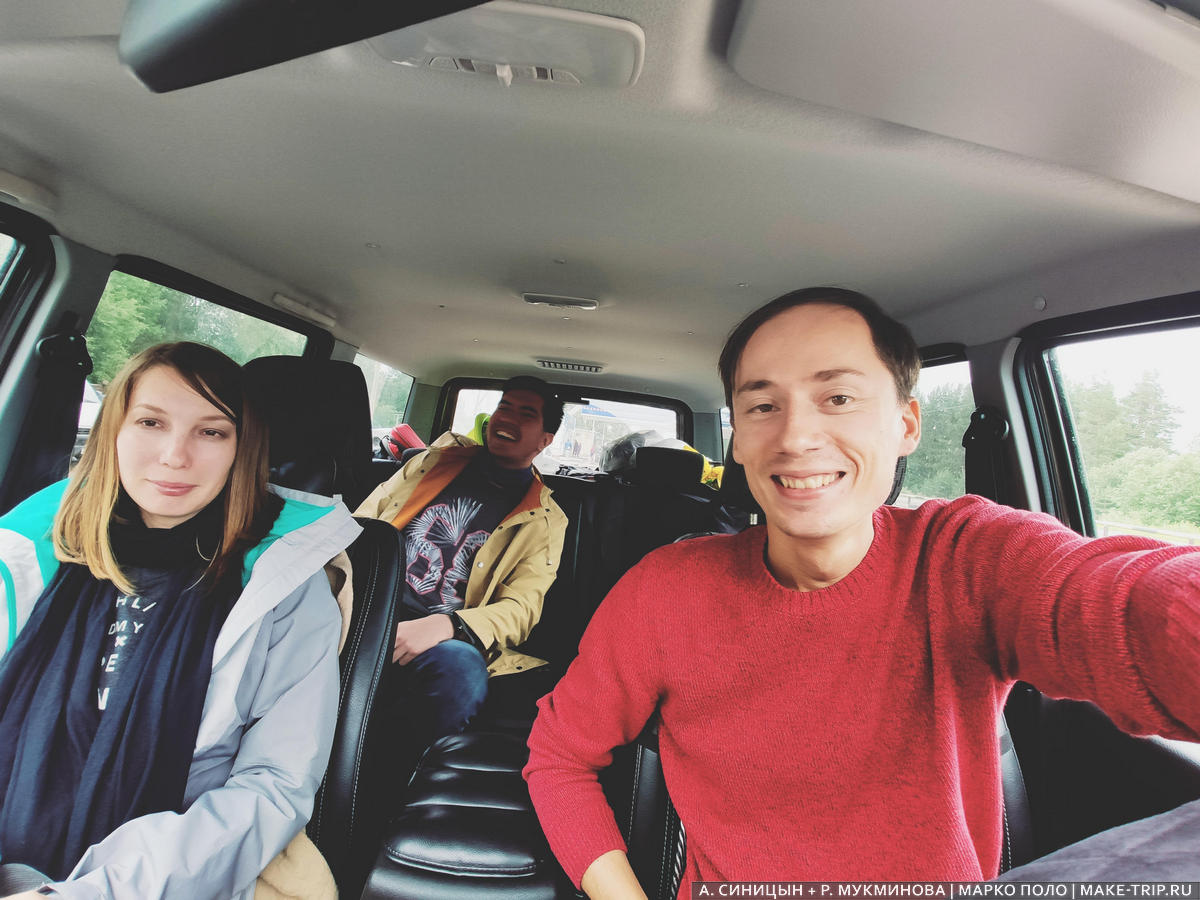 Our team
How the expedition goes.
It was a very difficult trip – there was no time to rest at all.
Every day of the expedition was as follows: early rise → mandatory coffee ritual → breakfast → check out → immediately behind the wheel and drive 100-500 km → snack of bananas, chocolate and baby food on the way → sightseeing until dark → driving again and a few hours of zombie drive to the next overnight destination → check in → shower → failure to sleep. And in the morning again up, coffee and everything in a circle. And so for 25 days. Rest here and does not smell. Expedition is a hard work.
At an altitude of 1000 meters. Geologists' pass, Lovozero tundras, Kola peninsula. On the shore of the White Sea, the Kola Peninsula.
Figures
Trip dates : August 10 – September 3, 2019.
We spent 25 days on the trip, 7 of which were spent only on the road from Perm and back.
9300 km of the trip, including several hundred kilometers of bad roads, where we had to stretch many-many hours over the potholes, pulling along at the speed of 10-15 km per hour, 500 km – bad roads, the rest – the excellent asphalt.
Zero car damages.
Zero fines.
17 kg of bananas eaten.
Money
How much did our trip cost (calculation for three people):
| | |
| --- | --- |
| MOT, oil, parts, balancing | 10 000 ₽ |
| Gasoline for the round trip | 26 700 ₽ |
| Petrol in Karelia | 10 500 ₽ |
| Gasoline in the Kola Peninsula | 15 200 ₽ |
| Cafes and canteens | 28 000 ₽ |
| Groceries | 9 500 ₽ |
| Sightseeing | 1 400 ₽ |
| Housing | 38 000 ₽ |
| Total | 139 300 ₽ |
Yes, a road trip across Russia is not cheap! 140,000 rubles for 25 days. With this money you can relax in Italy or Spain, in the Maldives or Bali, go on a cruise across the ocean on a huge liner – a lot of beautiful and pleasant things to think of! But car tours are a unique thing, they give a lot of emotions and impressions, and they are definitely worth it.
Almost half of the money was spent on gasoline and car maintenance – 62400 rubles. But for excursions, buses, trains, planes, of course, we did not spend.
Accommodation for three people cost on average 1600 rubles per day. In 90% of cases they were miserable hotels and apartments. We were looking for the cheapest options and tried to haggle, but then housing in Karelia was expensive.
Meals per person – 12500 rubles, that is 500 rubles per day. To find a fast food in Karelia, the Murmansk area and on the highway Kola is difficult, sometimes you have to drive 100-300 kilometers to the nearest cafe. Upon getting to any eatery we loaded up to the fullest.
Typical rented apartment in the north. Grandma's repairs, carpets on the walls and other artifacts. It was as if we were back in the USSR. Kirovsk, Khibiny. Apartment in Teriberka for 2500 rubles.
Successes
The expedition was a success – our adventures, impressions and new experiences filled us like an ocean wave in a storm:
We discovered an entirely new region in spirit – the Russian North. This is my main discovery in this auto-trip.
We got to the Arctic Ocean, swam in its cold waters.
We visited the northernmost point of European part of Russia – Nemetsky Cape, Rybachy Peninsula.
We spent a night in a tent on the ocean shore.
We ate plenty of forest berries.
We enjoyed the beauty of fabulous forests, lakes and skerries.
We got acquainted with the excellent samples of northern wooden architecture.
We have seen the petroglyphs.
We got to ancient and distant settlements of the Russian North.
We fed wild horses on the Kola Peninsula.
We discovered the severe beauty of the Khibiny and Lovozersky tundras. We crossed a couple of passes.
We explored several difficult roads, around of which there are a lot of myths: to Nemetsky cape on Rybachie, to Geologists pass in Lovozero tundras, to Krasivy waterfall in Khibiny, to Vottovaara mountain in Karelia. We found out what time and by what car it is possible to pass on them.
We reached the Arctic Ocean. Teriberka. We bathed in the ocean. Peninsula Rybachy. In the mountains. Lovozero tundras, Geologists pass. Enraptured mosses, jagel and other lichens of all colors in tundras of the Kola Peninsula. Khibiny. We were fascinated by the beauty and calmness of the White Sea. Loved the mossy forests of Karelia.
Failures and plans for the future.
We met bears – 0 . It seemed, that everybody could see a bear, but not us! Our team followed the bear all the way through Karelia and Murmansk region. We found their tracks and feces, met tourists and locals who saw them, but we never saw a bear. The funniest thing is that we went so far away in pursuit of a bear, while at the same time in our region of Perm there was an influx of bears escaping from Siberian forests, engulfed in fires. So that's how lucky we were.
Didn't have time to see the Arkhangelsk region. One day we will.
We did not visit Kizhi, Solovki and Valaam – the prices for these places are exorbitant. For three people we would have to spend at least 30, or even 40 thousand rubles. Also there are unreal crowds of tourists and the atmosphere of calmness and harmony is impossible to find. And we did not have enough time for those trips – the ocean and the Kola Mountains were more important. Someday we will visit these islands, and by all means we will try to get there at the most non-tourist time.
We didn't visit Kizhi, but we found a lot of other ancient wooden churches, which are usually left untouched by tourists. Virma, Karelia.
Never had a rest in the camping house in Karelia. All normal people go to the republic just for such a rest, and we have not learned it. For a quiet rest in a cozy house near some picturesque lake we had no time at all. This is an unfortunate omission! However, to relax in a cabin in nature is possible anywhere in Russia, so it is logical that we devoted all our time to other things.
The timing of the trip was tight, in many places we wanted to spend more time.
Well, there was not enough time to do everything. But it was a cool and eventful trip all the same! I am very pleased with the trip and I heartily recommend that you must get acquainted with this harsh, beautiful and majestic land.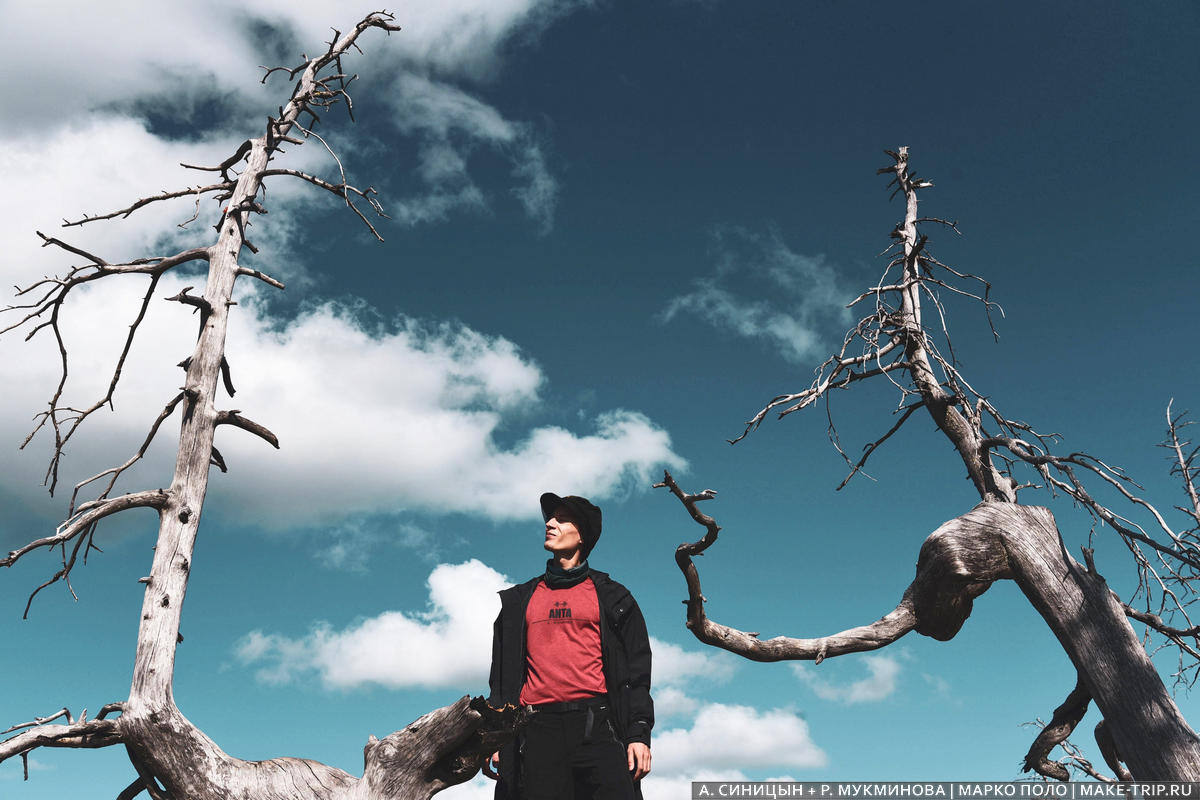 The mystical mountain Vottovaara in Karelia.