15 reasons to go on vacation to Vietnam
What to choose: vacation in Vietnam or in Thailand? When planning a vacation in Asia, there is often some hesitation and doubt about which country to choose for the long-awaited vacation or travel. Each of the countries of Southeast Asia is interesting and unique in its own way, but for some reason most often compare Thailand and Vietnam and choose between these countries. I judge by my own experience: first I traveled to Thailand several times in the distant 2005-2006, and then in 2007 I went on vacation to Vietnam. Today I will tell you 15 reasons to vacation in Vietnam and fall in love with this colorful and so different country.
1. Nature
Vietnam has not just beautiful, but very beautiful nature. The country stretches from north to south for more than 2,500 km and its nature is very diverse: there are tropical forests and mangroves, and age-old conifers, and rice paddies, rivers and swamps. More than two-thirds of Vietnam's territory is occupied by mountains. The highest point of Vietnam, Mount Phansipan (3143) is located in northern Vietnam near Sapa near the border with China.
Nature of Vietnam will impress fans of mountains, flowers and pines Pine Forest in central Vietnam
You can see Vietnam's colorful vegetation. What a lot of flowers!
A riot of colors. Central Vietnam I love these brightly colored flower trees! Flowery rooftops
Don't think that Vietnam's nature is mostly tropical jungle. The closer you get to the north of the country, the nature looks more and more like our nature. Sometimes it felt like we weren't driving through Vietnam, but somewhere in the mountains of the Carpathians or Crimea.
Vietnam can be beautiful like this … … and like this
2. Beaches
One of the main reasons to spend a vacation in Vietnam is the gorgeous sparsely populated beaches of the South China Sea:
And we liked the deserted beaches of Hoi An and the beaches of Da Nang the most. That's where the real paradise Too bad that the sea warms up here only by late May – early June and the bathing season is short, does not last all year round, but until late fall.
Hoi An beach Beach in Da Nang
For "island" quiet beach rest I advise to go to the island Phu Quoc. It is not the South China Sea, but the Gulf of Thailand.
Long time ago on Fukuok.
3. therapeutic mud and mineral springs
Vacation in Vietnam can be spent not only fun and educational, but also with health benefits. Near the popular resort of Nha Trang there are several mud baths (read our review of mineral springs and mud baths Nha Trang), which offer a course of healing mud baths and forget about some ailments. Well, or just have a good time bathing in warm mineral pools.
Mineral Water Pools Healing Mud Baths near Nha Trang
4. Local Folk
Going on vacation in Vietnam do not miss the opportunity to visit local villages and see how the indigenous peoples live, learn their habits and customs. For example, near the park Yang Bay live raglai, which even put on musical performances for tourists, and near Sapa several villages of local nationalities – the colored Hmong.
Ragla people shows Color Hmong attack tourists in Sapa Little Hmong
5. Halong Bay
To visit the famous Halong Bay – the most beautiful but very touristy place in Vietnam, a UNESCO World Heritage Site. We got lazy and did not go to Halong, and they say that Halong Bay is something like El Nido in the Philippines. Who has been there and there, is this true?
6. Ninh Binh.
See the beauty of Ninh Binh province from both land and water Ninh Binh is called Halong on land. Take a boat ride through Tam Coc and/or Trangan Nature Reserve. The beauty is indescribable!
Ninh Binh – Halong on land The beauties of Ninh Binh province Boating in Tam Coc Reserve
7. The largest caves in the world
Spend your vacation in Vietnam and visit the largest caves in the world! The caves are located in Phong Nha Kebang Park, 500 km from the Vietnamese capital.
Shondong Cave is the largest cave not only in Vietnam, but in the world! A tour to this cave will cost about $3,000 and will last 6 days! Reservations for this tour should be made very early.
Phong Nha Cave – the most famous cave in Phong Nha National Park, it is this cave that attracts all tourists who come to this wonderful place. Through the cave flows underground river, the cave can be viewed by boat and only a small part of the bypass on foot.
Paradise Cave is a huge dry cave in Phongnya Park (very huge!).
Phongnya Kebang National Park is a must see in Vietnam!
Underground river in Phong Nha Cave Phong Nha Cave Huge Paradise Cave in Phong Nha Kebang National Park
8. Rice Terraces in Sapa
Enjoy the views of the beautiful rice terraces in Sapa. You can go trekking in the mountains past the rice fields, or like us you can rent a bike and explore the area by bike or enjoy the nature while sipping coffee at a coffee shop with a great view.
Walking in the rice fields in Sapa Enjoying the rice fields and mountains in a cafe Rice fields in Sapa
9. Dalat – the city of spring, flowers and love
Be sure to visit the mountain town of Dalat – the city of eternal spring, the city where the Vietnamese tend to come for their honeymoon, the city of waterfalls, parks, flowers, delicious coffee and strawberries. I fell in love with this city at first sight, I hope you like it as much as I do!
Dalat is my love at first sight Dalat is the city of flowers and love A romantic evening in Dalat
10. Hue – the capital of the last emperors
Hue is not only the capital of the last emperors with the preserved imperial palace and imperial tombs, but also just a very cozy and atmospheric city on the river bank with numerous coffee houses, restaurants and bars. A city where you wanted to stay for more than a couple of days.
Hue city – the imperial capital On the grounds of the imperial palace One of the imperial tombs. More like a palace 11.
11. Fruits and vegetables
Speaking of the daily bread , it is worth spending a vacation in Vietnam not only because of its natural and historical sights, but also because of the delicious food. The most – the most delicious fruits and vegetables we ate in Vietnam (and let me tell you, we have been to many places in Asia). But it was in Vietnam, the fruits and vegetables are natural! The tomatoes taste like our Kherson tomatoes, which grannies sell in August for 10 USD per kg, but not the plastic taste, like tomatoes in Moscow or Samui.
It was in Vietnam that I appreciated the taste of mango, dragon fruit and the first time I tasted the sugar apple – annona. Yum, yum In Thailand, unfortunately, there are no such delicious fruits and vegetables…
This is how you can eat in Vietnam for pennies And most importantly, all the fruit is delicious, juicy and natural! Annona is my favorite fruit.
Strawberries and mulberries are still delicious in Dalat, and plums and apples in Sapa.
There are strawberries growing in Dalat. It even tastes very nice, it's delicious! Usually it is impossible to eat Asian strawberries in the vicinity of Sapa, you can buy different varieties of plums, apples, pears and even peaches. Tried plums – sweet and juicy. I liked them, even though I'm not a fan of plums.
12. seafood and meat
Seafood lovers and meat lovers in Vietnam is just heaven. Just like the fruits and vegetables, the seafood in Vietnam is natural. Perhaps they grow shrimp and squid on an industrial scale, but we only came across juicy and fresh seafood.
We bought the most delicious calamari in Vietnam. In Thailand, squids are harder, more rubbery, and Vietnamese calamari just melt in your mouth. And what a variety of shells there!
Shrimp stewed in beer with onions, and with white Dalat wine – what could be better? The calamari in Vietnam have a special taste
For those who want to taste the exotic, tourist spots offer a large selection of dishes made from ostrich meat, snake, cobra, crocodile, etc. In a cafe in Nha Trang, we even saw a dish made of porcupine in the menu! Well, you can still try dog in Hanoi…
And for lovers of the standard meat (for us) there are many beef dishes in Vietnam. I still remember barbecue with beef in a cafe in Dalat and my mouth is watering. Eh, I'm going to go eat some pork
Remembering Vietnamese beef. How delicious it is!
13. Coffee and Tea
To all coffee drinkers, I suggest a vacation to Vietnam! The most delicious coffee is Vietnamese coffee Fatty drink with an unusual flavor is the best start (and continuation) of any day! And the most important thing is that coffee is sold on every corner and it is very cheap. In any, the most beautiful restaurant, a glass (and coffee in Vietnam are usually served in glasses) of Vietnamese coffee will not cost more than 2-3 dollars. And in general, the normal price for a glass of Vietnamese coffee 10 000 – 20 000 VND (0.5 – $ 1).
In the right places bring a teapot with green tea to the ordered coffee. This is how they do it: drink coffee with tea.
Coffee drinkers all over Vietnam! Drink delicious and inexpensive Vietnamese coffee 14.
14. Alcohol
Alcohol is cheap and not bad in Vietnam. Tourists praise the local rum with a tart-sweet taste (haven't tried it), and we liked the Dalat wine. I like the semi-dry red. The average cost of a bottle of wine in the store is $3-4.
Cheap bottled beer is 10,000 VND ($0.5) for a bottle of Saigon or Hanoi beer. But I liked the draft beer better, in Hoi An a small glass of draft beer will cost 3,000 -5,000 VND ($0.25) ! Our five evenings in the romantic city of Hoi An were spent in the bars tasting the local beer
Beer and wine are cheap in Vietnam. It's not a bad beer Huda we tried in Hue.
15. Prices
Well, the most important reason to spend a vacation in Vietnam is the low prices, which now, in times of crisis, is very relevant for most vacationers. Travel in Vietnam can be much cheaper than in Thailand.
Traveling in Vietnam
Cheap and comfortable buses within the country. For example, a slip-on bass ticket from Ho Chi Minh City to Nha Trang only cost 160,000 VND ($8) per person. And the trip takes 10 hours! For the rest of the bus tickets between cities, too, more than 10 dollars per person we did not pay. In the cities it is convenient to travel by inexpensive cab with a meter.
Hotels in Vietnam
Standard double room with air conditioning in a hotel in Vietnam can be rented for $ 10-15 dollars a day (sometimes even breakfast included)! A hotel room in Nha Trang, if you look hard, you can find it for $8 a day.
Check the prices for hotels in Vietnam:
Eh, where in Thailand to find a hotel room for 250-300 baht …, even in the north of Thailand (once, not so long ago, there was cheap everything …), the cheapest room during our motorcycle trip, we rented for 400 baht, and the average price of a hotel room at 600-800 baht (20-25 dollars).
But a room in a good hotel in Vietnam will cost only 20-30 dollars a day!
For example, we lived in a great hotel in the center of the tourist town of Hoi An. Hotel with a swimming pool and an extensive breakfast (buffet).
And this super hotel in Hanoi, I will never get tired to recommend to everyone: the city center, great room, great WiFi, awesome breakfast (even in Turkey at the all inclusive hotel breakfast was worse) and very at very friendly staff!
And on Phu Quoc we had a very inexpensive stay at a premium hotel with its own water park, VinOasis Phu Quoc Resort.
Food prices in Vietnam
Food in Vietnam is cheap. You can eat cheaply as in cafes, and cook on their own, buying products at markets and in stores (although still more profitable to buy everything in Vietnam at markets than in supermarkets). We ate in tourist cafes (not in macashnitchesah, not in cafes with low tables in the middle of the street, and in normal nice and cozy cafes) and a dinner for two with alcohol rarely paid more than 10 – 15 dollars. (Not counting the Louisiana in Nha Trang and dinner at a restaurant for my birthday).
Vegetables and fruits in the markets are very cheap. Prices for meat, fish and seafood are reasonable. For cookies, chips and other snacks are high. About the prices here:
Watch this video of a cheap cafe in Hanoi
How to get to Vietnam
You can get to Vietnam by direct flights from Moscow by Aeroflot or Vietnam Airlines. Planes arrive at Hanoi and Ho Chi Minh Airport. If you are planning a vacation in the southern part of Vietnam, you should fly to Ho Chi Minh City, and if in the north, to Hanoi.
It's cheap and convenient to travel around the country by night buses (slipinh busses), and more comfortably – by plane. If you buy plane tickets in advance, you can get very tempting deals and fly around Vietnam for pennies.
You can easily find cheap airline tickets to Vietnam by using the low price map: choose your departure and arrival cities, the length of your vacation. Click on the month you want, click on the desired dates and you'll get to the site to find and book airline tickets. The price is for a two-way flight .
Aeroflot often has promotions on flights to Vietnam. If you are planning a vacation in Vietnam, so you do not miss the next action on airline tickets just sign up for a newsletter offers for the chosen direction.
I wish you a good vacation in Vietnam and I hope that Vietnam will not disappoint you either! And in this article I sum up the results of our 3 months stay in Vietnam, telling about the pros and cons of Vietnam. And how, with all the pros and there are cons in Vietnam And where there are none! Many bloggers, for some reason, are silent about the disadvantages of visiting places and countries, and talk about Asia only in a "rosy light" talking only about the pros …
Subscribe to Olgatravel.com blog updates not to get lost in the vastness of the Internet!
Beautiful Vietnam – 8 Reasons to Go on Vacation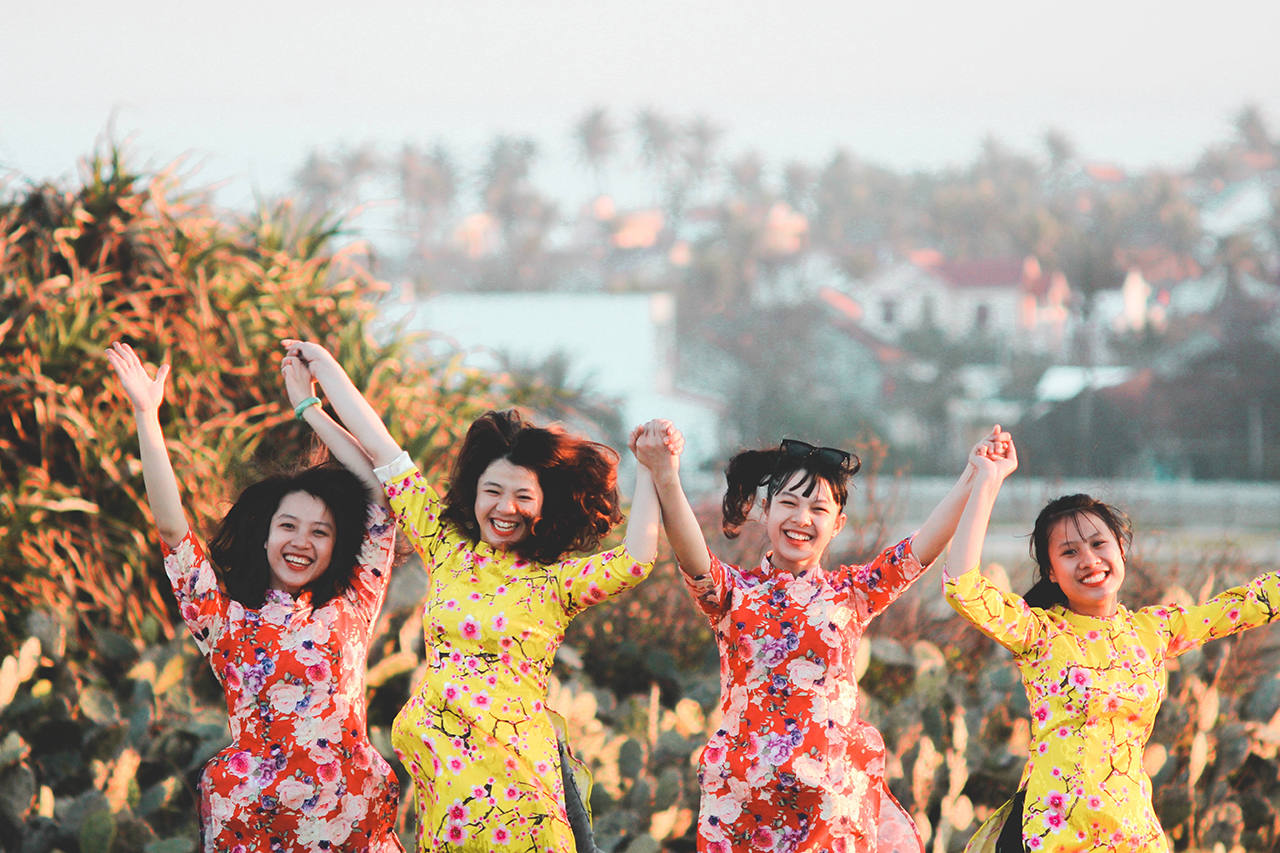 Vietnam is an amazing country, full of contrasts and all sorts of curiosities. We have vacationed and lived here many times, we love this country and would love to come back again and again. Find out why Vietnam is so good!
Look for last minute tours on Level.Travel and Travelate – they will find the best deals among different tour operators. Want to save your money? Check out our 7 rules for buying tours online.
Content:
1. Stunning nature.
Stunning – to put it mildly. There are so many beauties in a small area: the unique Halong Bay, protected caves in the north, marble mountains in Da Nang, rice terraces in Sap, misty mountains and beautiful waterfalls in Dalat, beaches, jungles and mountains around Nha Trang, sands and canyons of Mui Ne, the great Mekong River in Can Tho, underwater world and beaches of Phu Quoc and An Thoi Archipelago – and these are just the most famous!
What is not Bora Bora? This turquoise water is on Rush Vem beach on Phu Quoc Island. On the mountain road to Dalat – quiet, cool and foggy. From the Mountain of Poets is a beautiful view of Halong Bay – you can not buy expensive tour
Architecture and Cultural Monuments
For lovers of architecture and culture, the point of attraction – Hue and Hoi An, open-air museum cities. There are a lot of tourists there, but that does not detract from their charm. We lived there in low season, and the rains and fog are so good for these cities! Of course, crowded with temples, pagodas, palaces, tombs and museums in Ho Chi Minh City and Hanoi.
The mysterious Forbidden City in Hue. Bohemian Hoi An. The Cathedral of Our Lady of Saigon in Ho Chi Minh City. Cham towers in Nha Trang.
3. Authenticity and Color
Photos from Vietnam are almost as juicy as those from Africa. Tradition and modernity are intricately intertwined in the country: women in US flag jackets and tapered Nón lá hats; laughing pioneers in red ties; floating villages in Halong Bay next to high-rise hotels and luxury shopping malls. Contrasts are everywhere, just time to notice. Folk handicrafts are still alive, and many live by subsistence farming.
Floating village in Halong Bay. The Vietnamese believe that with gifts, flowers, food, drink and incense, they will make the lives of ancestors in the afterlife more pleasant. Markets in Vietnam are very colorful! Before the Chinese New Year we advise to look at the flower market. The famous railroad between the houses in Hanoi.
4. Everything is cheap!
In Vietnam, everything is really cheap: hotels, food, tours, clothes. It's shocking, especially if you fly in from, for example, Europe: fruit for pennies, cheap seafood, transport rental almost for nothing! After getting used to saving on everything in Europe, my head explodes from such prices, and unrestrained spending begins. Only tours and air tickets are expensive – it upsets.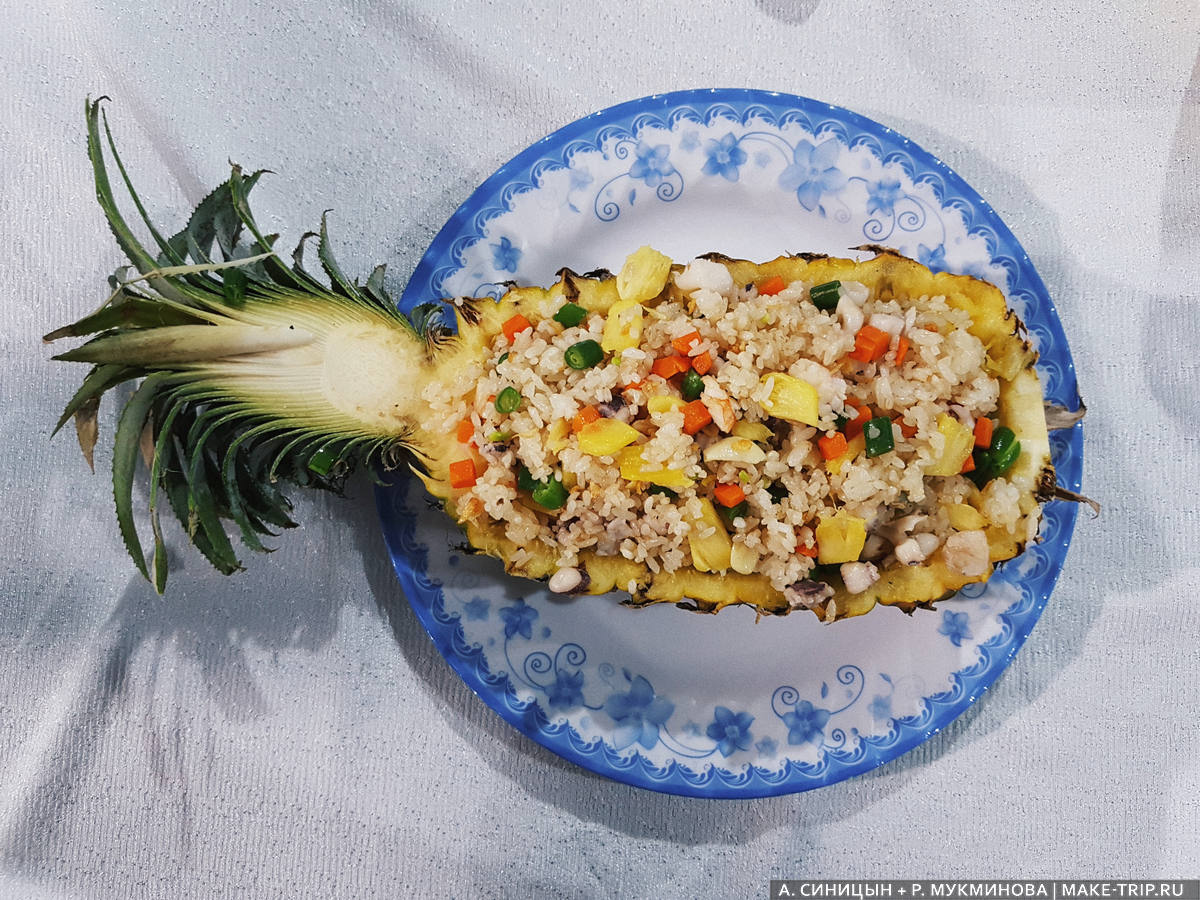 Rice with seafood in pineapple.
5. You do not need to know the language
Yes, if you go exclusively to places of Russian tourists (Mui Ne, Nha Trang), you can do with native Russian. Some Vietnamese know the language so well that you can't believe your ears. And in the study of Russian they go phenomenally fast – like Arabs or Turks.
: prices, tips, excursions : beaches, hotel prices, food and entertainment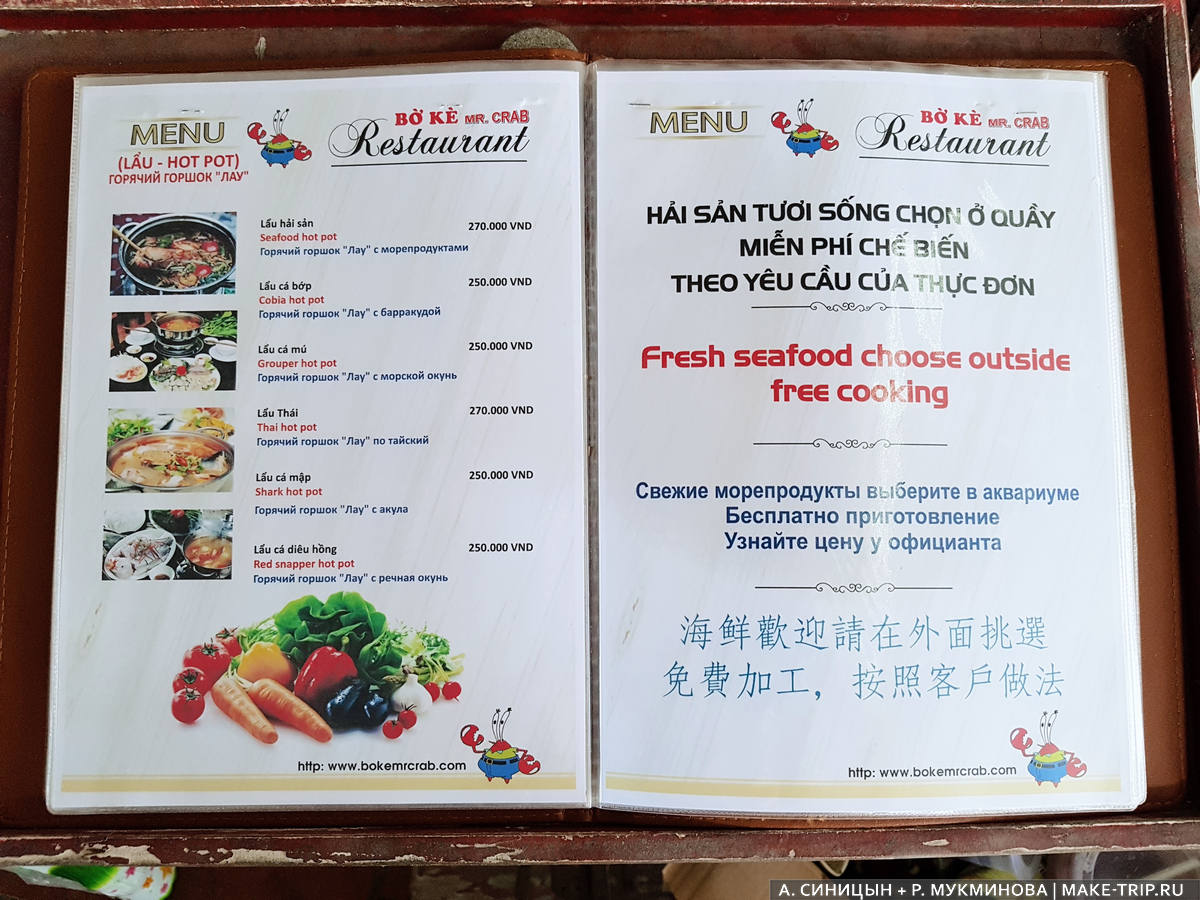 Many places have menus in Russian.
6. Extraordinary Coffee.
Fabulously delicious, thick and oily, aromatic Vietnamese coffee is our weakness. You can sell your soul for it! Advice: don't get addicted to it and drink it no more than once a day. Vietnamese coffee is Robusta, and it has more caffeine than Arabica. That's why even a habitual person may feel bad: palpitations are increased, anxiety and restlessness, sweating, and sometimes nausea appear.
We found a delicious egg coffee (Egg coffee) in Hanoi. We tasted the best coffee at a cafe near Ba Ho waterfalls.
7) Exotic food
In Vietnam we ate turtle, shark, sea urchin, lobster, snails, frog, crocodile, oysters, various clams and shrimp, and tree beetle larvae. You can also find goose blood soup, fried dog and bat, snake blood, cobra heart, fetal balut egg, fried scorpions, and sea worms there. It all sounds and looks unappetizing, but someone wants the exotic! We prefer the standard rice, noodles, soups and seafood.
There are maggots in the tray above. Frogs at Hoi An market. Live squid in the bokeh in Mui Ne.
8. Kind and open-minded people
Vietnamese people are friendly and welcoming. Some are very nice shy and giggle when talking. Many don't mind being photographed, especially children.
Our Vietnamese grandmother, as we dubbed her, stayed in Nha Trang. We lived in her guest house for two months and parted with tears in our eyes. She treated us to fruit, beer, food, and even accompanied us to the bus. We promised to go back to her.
: top 10 : souvenirs, jewelry, tea, cosmetics : best hotels and resorts
A seamstress in Fukuoka. The boys are photo lovers. An Thoi, Phu Quoc.