My review of holiday in Becici: beach, sea, prices and photos of the resort.
Among all resorts in Montenegro, the village of Becici stands out with a wide and long beach, with good infrastructure for recreation, and hotels with the option "all inclusive". In this article I will show you what the resort of Becici looks like, why you should choose it for a vacation, what sea and what beach in the village and what else to do in Becici besides the beach vacation.
7 reasons to spend a vacation in the resort Becici in Montenegro
What does the Becici resort look like: photos, descriptions and reviews by tourists
What beach in Becici: the blue flag for the purity of the sea
4 disadvantages of vacationing in Becici
How much is a holiday in Becici in 2022? Prices for accommodation, food and entertainment
How to get to Becici from the airport Tivat or Podgorica
Accommodation in Becici. Hotel or apartment?
Transportation in Becici. Is it worth renting a car?
3 must-see excursions in Becici
7 reasons to spend a vacation in the resort Becici in Montenegro
In Becici a wide and long beach with good infrastructure for recreation. Beaches of Becici is one of the beaches of Montenegro, which received the blue flag for the purity of the sea! What other beaches are near Becici (Budva and Riviera) →
There are good hotels in the first line and all-inclusive tours to the resort.
Lots of accommodation and relatively low prices when compared to Budva.
The resort of Becici is conveniently located for trips to Montenegro, both independently and with excursions.
Fewer people than in Budva. It is quieter, there is more space on the beach. And you can walk to Budva along the beach through a tunnel in the rock or take a minibus for 1 euro.
Becici or Rafailovichi – the best choice for a vacation by the sea in Montenegro.
The promenade along the sea is excellent. It is wide and comfortable to walk along it with a stroller.
What does the Becici resort look like: photos, descriptions and reviews by tourists
Becici is a resort village 5 minutes from Budva. It features a long and wide sandy and pebbly beach. Becici flows smoothly into the next holiday village Rafailovichi, and there is no clear border between them.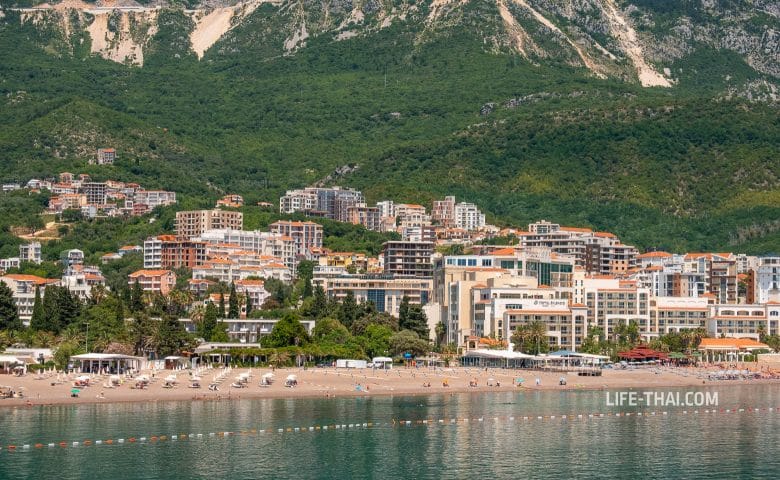 This is what the resort of Becici looks like
Best reviews Becici gets for a beach holiday and vacation with kids. It really has everything for this. Beach bars, well-developed beach infrastructure. Toilets, changing cabins, showers, playgrounds for children, water park in the hotel Mediteran, a casino.
Why tourists praise recreation in Becici in reviews? Here is quieter than in Budva, but if you want entertainment, the noisy Budva is always nearby.
Negative reviews of Becici leave people who prefer active recreation to lying on the beach. And it is justified: the resort Becici is not particularly rich in attractions. But it has a convenient location for traveling around Montenegro by car. But about everything in order.
What beach in Becici: the blue flag for the purity of the sea
The main beach of Becici is sand and pebble. Pebbles are fine, more sand. The whole beach is divided into zones. In the area where the hotels, the beach has special decking, on which it is convenient to walk. Here are a few photos of the beach, which I took during a trip to the village Becici: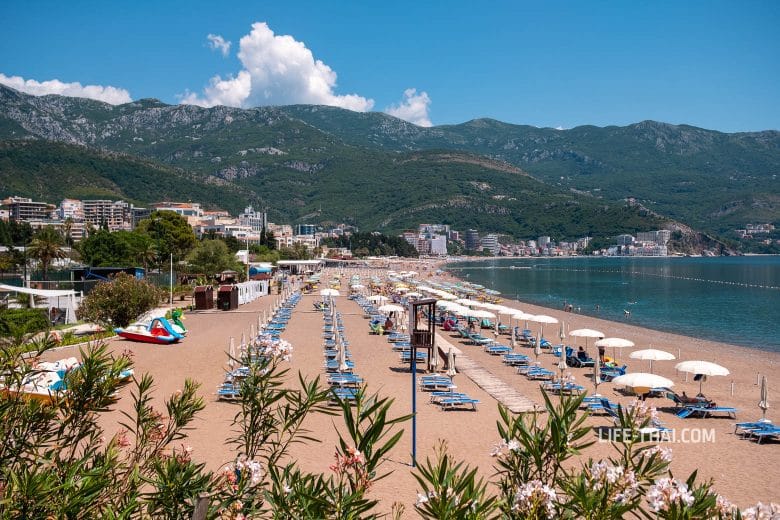 Becici beach in the photo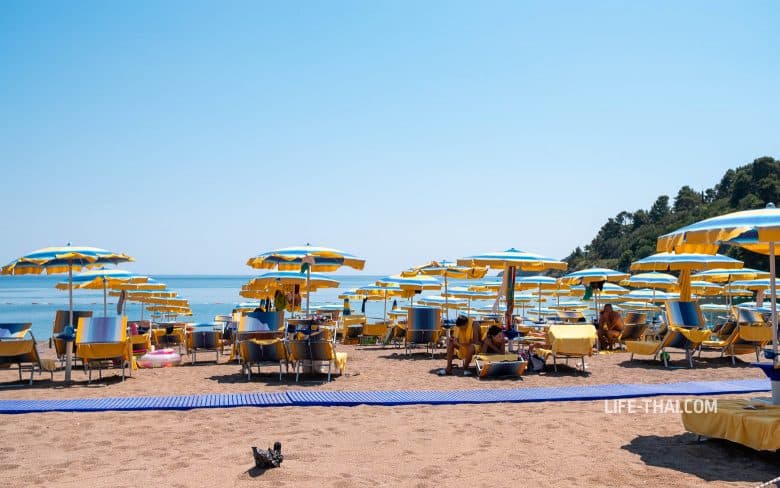 The beach of Becici has indeed a blue flag for the cleanliness of the sea. There are several 4* hotels in the village that benefit from having the best and cleanest beach as a trump card for tourists.
The water temperature in the sea in June, July and August is +23+26C. The entrance to the sea in Becici resort is gentle and suitable for recreation with children. It can be seen even on the photo: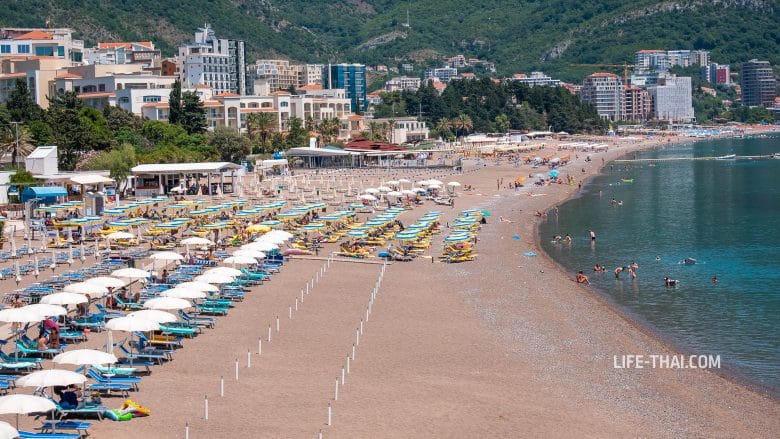 The entrance to the sea is shallow. First, shallow water, where children can swim, and then the depth.
The beach infrastructure is well developed. Throughout the beach there are changing rooms and showers. Toilets are available, but not everywhere. Along the beach there are a few cafes and restaurants and beach bars on the beach itself in the summer months.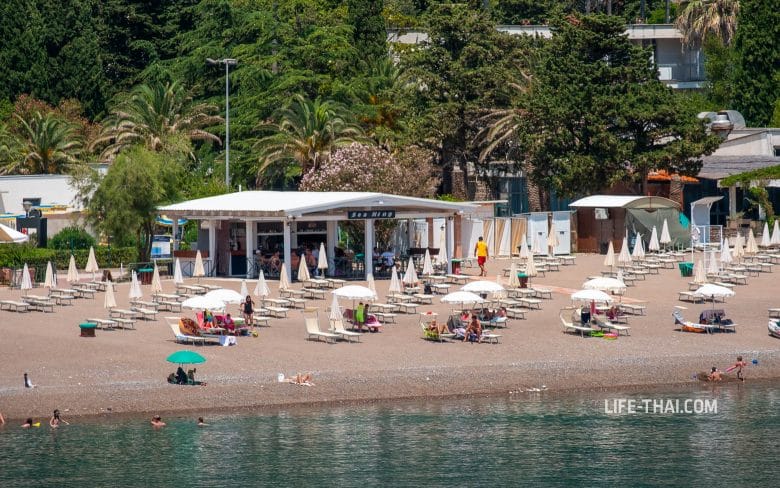 Sea King beach cafe in Becici resort
From beach entertainments there is a rent of hydro scooters, catamarans, water attractions and even here such sun beds: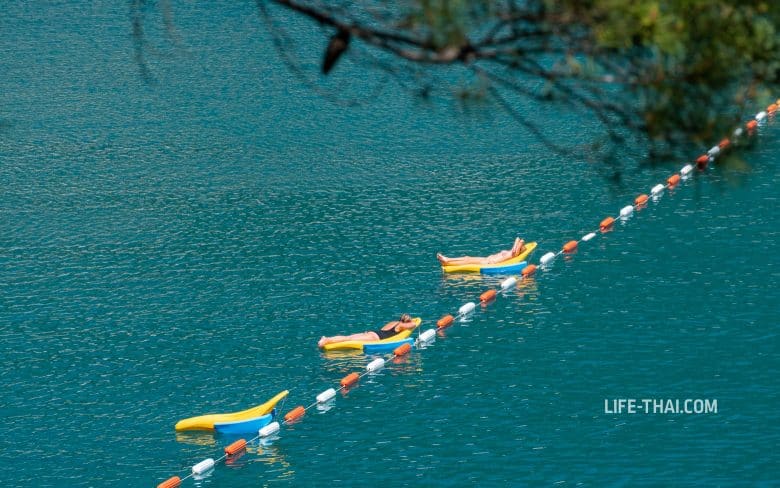 The first time I saw such sun loungers in Becici. People purposely sail away from the beach to the depths to sunbathe in silence in the middle of the sea.
What is there for children on the beach Becici? Playgrounds (playgrounds), water park in the hotel Mediteran. Along the promenade, children enjoy racing scooters and bicycles.
4 disadvantages of vacationing in Becici
Becici is a resort only for beach holidays. In fact, Becici has only beach entertainment, cafes along the sea and a few grocery stores. No big shopping malls, cinemas or cultural program. But this is compensated by the proximity to Budva.
There are practically no sights. Unless you count the old olive tree and the church of St. Tom, there are no more sights in Becici.
There is no zest. There is no old town in Becici. Almost all buildings are modern and do not convey the Montenegrin color.
From November to March Becici dies out. Some institutions on the coast work, but there is no point to go here in winter.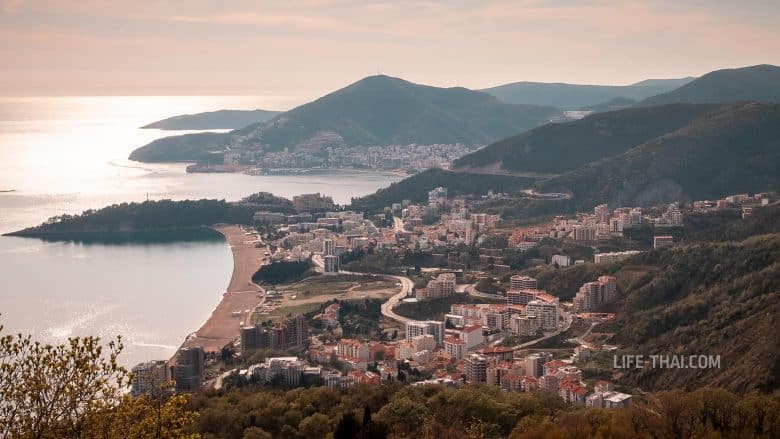 That's how depressing Becici looks in November, December, January, February and March. Definitely in these months is better to choose Budva.
How much is a holiday in Becici in 2022? Prices for accommodation, food and entertainment
The price for a holiday in Becici depends on whether you are going to go on your own or take a ready-made tour.
If you go on your own, there are more options to save money (for those who care).
If you take a ready-made tour, the headache with the organization of the trip is times less. Everything is thought out for you – transfers, flights, lodging, meals.
The cost of recreation also depends on the month. For example, in May, September and October to relax is about 30% cheaper than in June, July or August. If we take the summer months, the price will be as follows:
Hotel 3* without food from 3200 rubles per night (40€/night).
The apartment with a kitchen 4000-5500 rubles per night (50-70 €/night) – depends on the number of bedrooms, can be up to 120 €/night.
Cab from the airport – 2000 rubles (25 €).
Bus fare to Budva – 80 rubles (1 euro).
Cab to Budva 240-400 rubles (3-5 euros).
Car rent from 2500 rubles/day (30 €/day) – if you take it on the site myrentacar. On the spot to rent a car was more expensive.
Petrol from 88 rubles / liter (1.1 € / l) – in Becici no gas stations, the nearest in Budva.
Sun beds on the beach 800-1200 rubles (10-15 €).
Dish at a restaurant from 480 rubles (8 €).
How much money to bring on vacation in Montenegro and about food prices I told in a separate article. In Becici plus/minus the same prices, I haven't noticed a big difference with Budva.
How to get to Becici from the airport Tivat or Podgorica
The nearest airport to Becici is in Tivat. In most cases, tourists fly exactly to the airport of Tivat.
The airport of Golubartsi (Podgorica) is most often visited by those who are flying with a change in Istanbul (for example, vacationers from Krasnodar). Or those who arrive in the dark – Tivat airport does not work after sunset.
The distance from Tivat airport to Becici is 25 km, which is about 30 minutes by cab.
Podgorica Airport is 60 km from Becici. The journey there takes from one hour.
A cab from Tivat airport to Becici will cost approximately 25 euros, from the Podgorica airport – twice as expensive from 50 euros.
There are several easy ways to get from the airport to Becici:
By cab – you can catch a car right at the airport, but believe me, the price tag will be overpriced. I advise you to order in advance a transfer from the airport at your hotel/apartment, if there is such a service, or on the site Kiwi-taxi. On this site you can order not only a taxi-transfer, but also a transfer by bus (minibus), if you arrive in a large group or family. Even if the plane is delayed, the driver will wait for you at the airport for some time.
By renting a car – you can book a car in advance with delivery at the airport on the website myrentacar. I did so, very convenient. In details, what and how, I told in this article. At the airport there are also a few international rentals Avis, Hertz, Surprise. I have very bad reviews about Avis and Hertz, I would not recommend them. I have rented a car from Avis several times, it was ok, but again, I advise to book a car in advance. I have had more than one situation when on arrival I found that the cars suitable for my budget are already taken
Accommodation in Becici. Hotel or apartment?
The resort of Becici has no less choice than Budva. There are hotels, and villas, and apartments / apartments. When choosing accommodation, keep in mind the following points:
Apartments and apartments are mostly in the second line. New complexes with apartments on the first line have recently been completed, but they are closer to the village of Rafailovici or in Rafailovici.
Villas with excellent views are on the mountain, and there are no stores nearby. Choosing such accommodation, it is better to immediately rent a car or scooter, you will not find on foot in the heat (especially with children).
Hotels in Becici are, perhaps, the most convenient location. Near them there are ATMs, stores and pharmacies.
All accommodation should be booked through Booking.com or Hotellook, because these sites protect vacationers from fraud. There are a lot of options on Bookings without prepayment and with free cancellation.
I can recommend a few options for accommodation in Becici:
– A small apartment with a kitchenette for a vacation without kids. – One of the best hotels in Becici. The first line, everything at hand. – A good hotel across the road from the sea. Not bad location, close to a large grocery store. Walk to the sea, take a cab or a shuttle bus to Budva. – My friends lived in this apartment. First floor, no view, but everything is good inside, there is a kitchen. Parking in front of the apartment. Good price. – Adults only hotel. Modern interior, everything is top notch. Great reviews about the stay at this hotel. – The best choice for a holiday with children. There are three pools, suitable for all ages. Children's playground, children's room and even a children's disco with an animator in the evenings.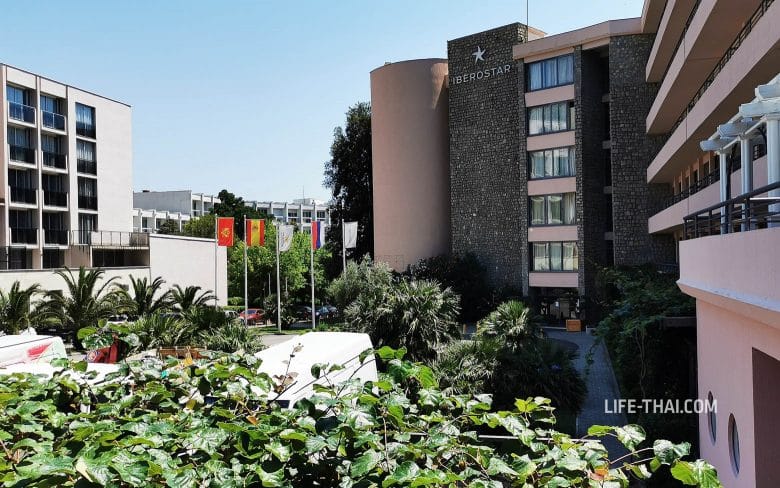 Hotel Iberostar Bevelue 4* is probably the best choice for a holiday with children in Becici
Transportation in Becici. Is it worth renting a car?
Becici is a small resort for summer holidays by the sea. There is no bus station, only a stop for the passing buses.
Is it worth to rent a car in Becici?
If you're going to spend most of your time on the beach, you probably shouldn't.
But if you want to see something other than Becici beach, Rafailovichi and Kamenovo, you should.
I definitely recommend renting a car. With a car at least you can discover such great beaches as Jaz, Ploce, Perazici Do, Buljarica, Žanica and many other little known, but beautiful beaches. As a maximum, you will see the beauty of Montenegro, where there are no excursions. What's more, the Saddle Pass, where tour buses are not allowed to go.
If you need transport between beaches, and you plan to see Montenegro on excursions, choose a scooter (moped). It's easy to drive, doesn't eat a lot of gasoline, allows you to avoid traffic jams and get where you need to go quickly. A list of available models of scooters and motorcycles with prices is on this page.
Prices for machines start at 30€/day. In my experience, the most adequate prices for car rentals in Becici are on the Lokalrent website. In the kiosks prices are 5-10 euros higher at least. About the features and nuances of renting a car in Montenegro I told in this article →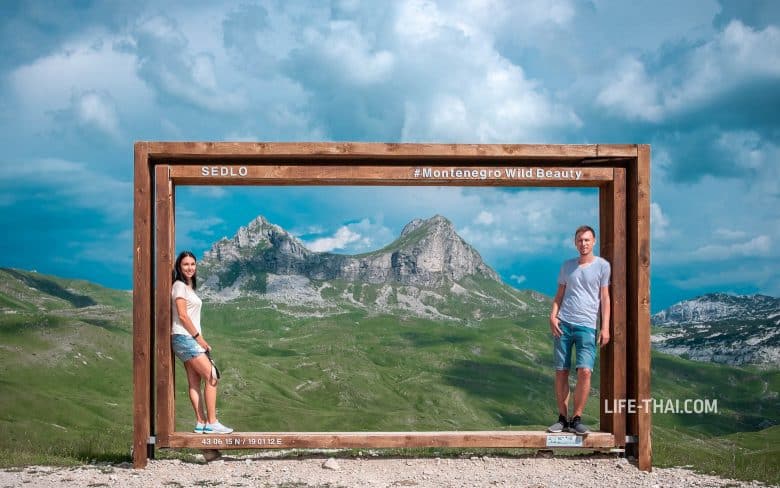 The Sedlo Pass. If you dare to go, take a small car, because the road is narrow. Another tip – take an engine from 1.5 liters, because a lot of climbs. Toyota Yaris can handle it, but it will not be the most comfortable ride.
3 must-see excursions in Becici
Among the variety of excursions offered by local travel agencies, I chose 3 that are definitely worth visiting. All of these excursions can be either taken on the spot, on the spot in a kiosk, or ordered in advance. I'll leave links to sites where you can book an excursion in advance, and where there will be a 100% Russian-speaking guide.
An excursion to the north of Montenegro, during which you will see the National Park Durmitor, the Black Lake, canyons of rivers and the Djurdjevic bridge. All places from the postcards. This full day excursion is quite heavy, plan for the next day after it only a rest. You can go with a one-day group excursion to the north of Montenegro (price 40 euros per person) or with a private guide by car (excursion "Great journey to the north of Montenegro", the price is better to specify on the given link).
Boko Kotorska excursion . Boko Kotor Bay is one of the most beautiful fjords of Europe, included in the UNESCO list as a unique historical, natural and cultural monument. It is a crime not to see Boko. A group tour of the Boca includes a cruise on a large ship, where even the children do not get carsick. Detailed description and price on this site.
Excursion to Skadar Lake , the largest lake in the Balkans. It is best to take this excursion in May and June, when the lake is in bloom, but in other months it will be beautiful and interesting as well. The group tour is for half a day and is held in two versions: in the morning (detailed tour description) and in the evening (detailed tour description). The individual excursion is carried out by a Russian-speaking Montenegrin by his unique itinerary, so the trip will take the whole day. More information about the route and the price can be found on this page →
If you think that's not enough, you can see the list of the most interesting excursions in Montenegro, which are also held from Becici. There are trips to neighboring countries – Albania, Croatia (Dubrovnik) and Bosnia and Herzegovina.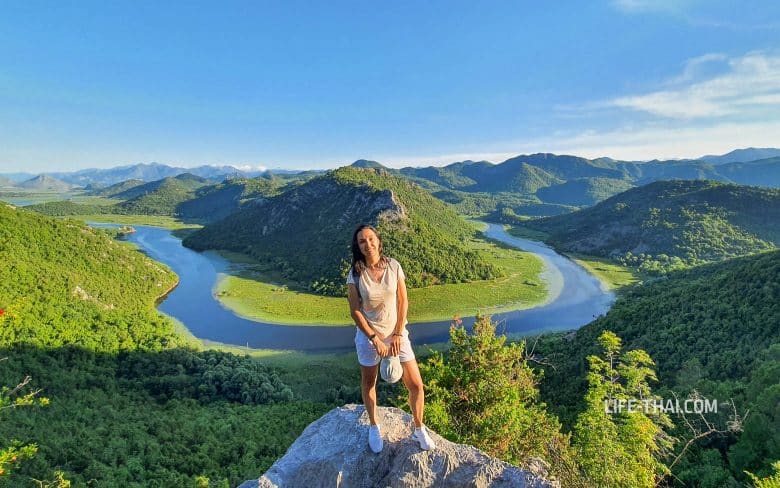 Viewpoint Pavlova side – one of the attractions during a tour of Lake Skadar
About what sights there are in Becici and what you can see there on your own, I tell you in a separate article.
That's all about the Montenegrin resort of Becici. Ask in the comments if you missed anything.
Hi! My name is Tatiana, and I'm glad to see you on the blog "Life is unpredictable!" I love to travel, and on the blog I share my experiences, tips and other useful notes.
A guide to Becici


Svitlana Suk
Going on vacation, we all have different expectations and preferences. Some of us need to rest calmly and comfortably, to be recharged by beautiful scenery and see the sights of a new interesting country. Well, someone enough peace and quiet at home, and the rest needed drive, active entertainment, new friends, disco till morning (the same sleep can be at home).
Who can have a good holiday in Becici? For families and couples with children, for whom a good beach, clean sea, good location in relation to main attractions, and for whom crowded beaches, abundance of noisy attractions on the seafront and continuous until morning music are important.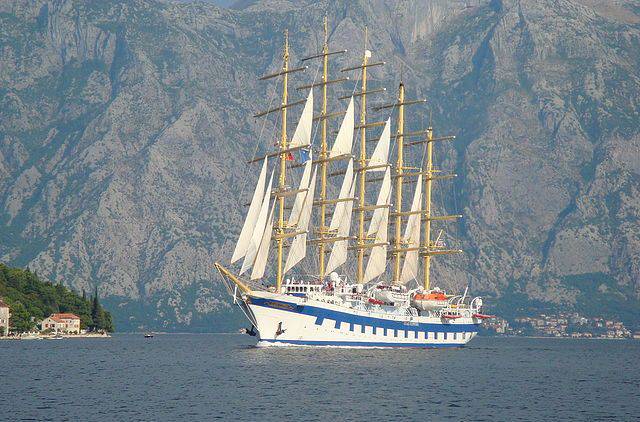 Becici is famous for its beautiful wide sandy (which is a rarity for Montenegro, as most beaches here – pebbly, and on most beaches the pebbles are quite large). The beach of Becici was awarded in 1938 as the best beach in Europe, and today you can see the blue flag – the sign of ecologically clean beaches.
How much does a vacation cost?

Elena
In principle, throughout Montenegro the prices, and the village of Becici is no exception, are quite pleasant. Of course, we can not say that all quite cheap, but still for a wonderful holiday here is quite possible to spend less money than, for example, to travel to some central or southern Europe.
The local currency is of course the euro, and plenty of exchange offices at the resort, but not all of them willingly accept rubles. The only nuance on rest can be only that in some stores for a purchase amount less than 5-10 euros they accept payment only in cash.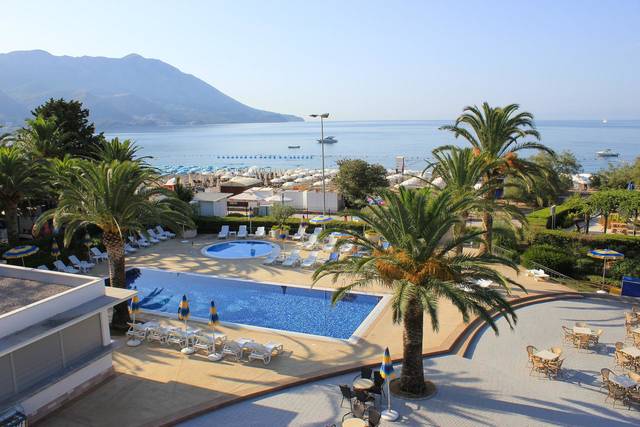 It's more profitable to rent apartments in Becici, because the accommodation will cost you about 35 euros a day, and that's if you choose an apartment at a distance from the sea, and about 70 euros if it's right on the beach. Accommodation in three-star hotels starts at 60 euros, and in four-star from 80 euros, well, of course, the most luxurious have to shell out 250 euros.
Eating in Becici is possible almost at every step, and it will cost relatively not very expensive. Then do not forget that here everywhere give very large portions, so you can safely take for two one dish. For a full dinner for 2 people with wine you'll have to pay about 40 euros, and if you want… read in full.
When is the best time to relax in Becici?

Elvira
A quiet, peaceful and very picturesque Montenegrin resort Becici is attractive primarily because of its magnificent two-kilometer beach of fine pebbles and coarse sand. Once it was once recognized as the best beach in Europe, as Montenegrins do not get tired of mentioning.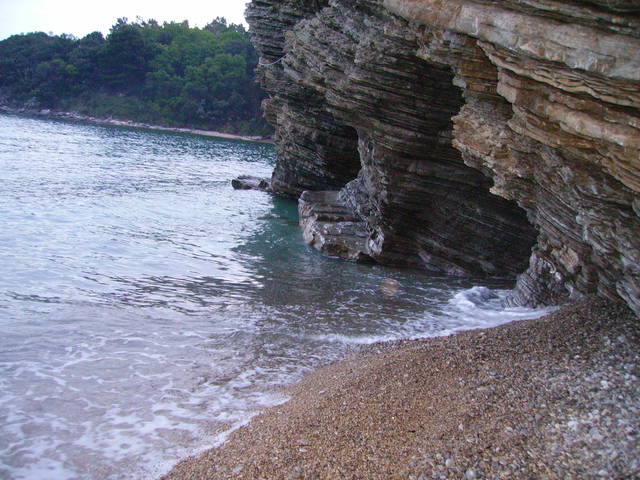 Rest in Becici is purely beach-related: there are no major attractions in the city, as for entertainment: beach soccer, basketball and a rest in the local water park, the only one on the coast. Accordingly, it is worth to go here only during the beach season: the rest of the time Becici are empty, cafes and restaurants close and the city turns into an ordinary fishing village.
Usually in Becici there are warm, even hot summers and rainy, windy winters. Bathing season starts in May and ends in early October. But this is for the brave ones, who often are Russian tourists. In general, it is best to go to Becici from mid-June to early September. And given that Becici – a resort for families, and most vacationers here with small children, the best time to go here – July and August, when the water gets warm to the temperature.
Where to stay in Becici?

AnastasiaZ
Becici is the region of Montenegro with the most hotels. The rest of the cities, though have a hotel base, but most of them offer apartments or very simple 2*-3*. Becici is different from them. Here demanding tourists can choose where to stay and what kind of food to choose. So, now tell about the hotel base Becici in more detail.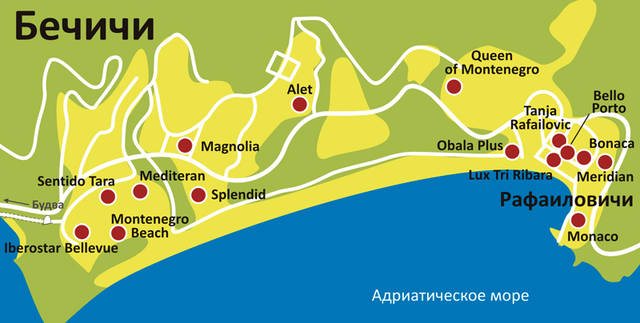 Which hotel to stay in Becici.
Splendid Resort 5* – On the Budvan coast this hotel is considered the best, by the way and the only one proudly bearing 5*. An excellent option for demanding people. The high level of service and a large number of services will make the guests forget about all their worries and concerns. It is focused on all categories of tourists. For business tourism, the hotel has luxurious conference rooms with all the necessary equipment for business meetings. Tourists with small children will also feel comfortable here, as the hotel has children's clubs for toddlers as well as for older children. There is also an excellent children's playground and a movie theater where you can watch cartoons. Those who choose Splendid Resort as their preferred choice for quiet and relaxing vacation will not be mistaken, for total relaxation is one of the best wellness centers in the Adriatic, with an area of 3000 square meters.
How to get there?

Elvira
Becici is one of the most beautiful resorts of Montenegro on the Adriatic Sea and is located just a couple of kilometers from the famous Budva. The distance from the international airport of Tivat to Becici – 20 kilometers, from the Podgorica airport to Becici – 60 kilometers.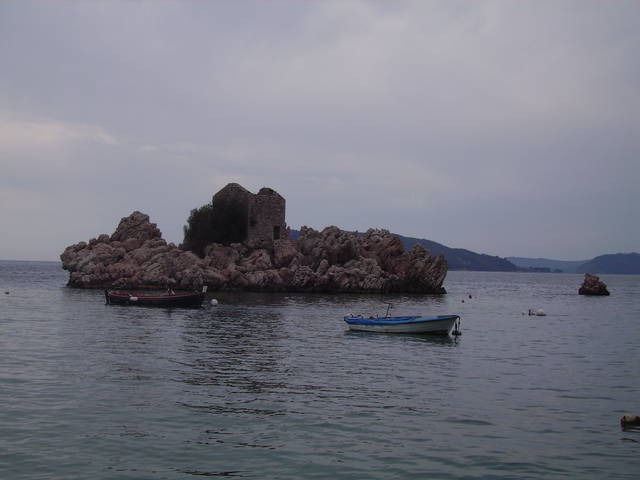 Becici from Tivat
The most convenient way to fly to Tivat, during the tourist season charter flights Aeroflot, S7, Montenegro Airlines, Yamal Airlines, Ural Airlines from both Russian capitals, as well as from the regions (I do not indicate particular cities, because the new tourist season has not yet begun, and it is impossible to guess how the situation with flights may change). Also you can get to Tivat from Moscow by a regular flight of Air Serbia with a connection in Belgrade – not very comfortable, but the ticket price is about 5 thousand rubles per one way.
Food and drinks

Elena
During the holiday at the resort Becici, of course, you must first try the national Montenegrin cuisine. This is first of all Prsut, which is made in the village with the same name. Also popular here are various meat appetizers meze, for example, pork vrat, liverwurst and shunka.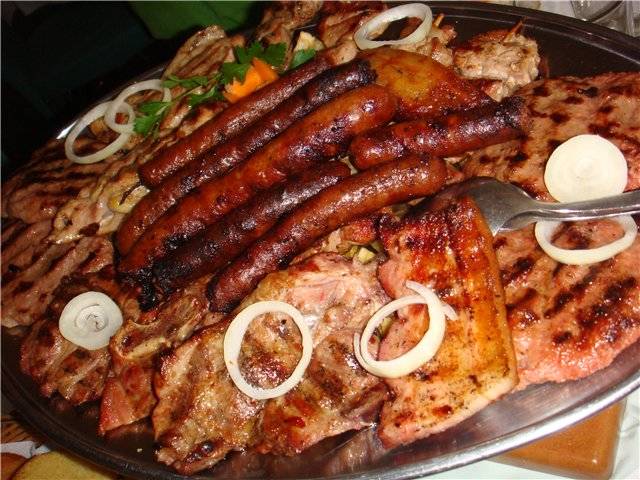 Such a dish as "mesano meso" is a kind of meat plate, which will certainly include long cutlets cevapi or cevapcici, then small kebabs "razhnici" and more chops, and then grilled "veshalitsa".
You must also try the very tasty little cabbage rolls, which here are called "sarma" – they are usually wrapped in cabbage or grapevine leaves. Fish and seafood can be tasted in any form. The soups in Becici are of two kinds – clear broths, called "soup", and rich and thick soups, called "chorba".
Incredibly popular in Becici are also salads, especially the "shopska salata". It would seem to be ordinary vegetables with homemade cheese, but it's all so delicious that when you come, you always order this salad. The "prebranatz" and "podvarok" dishes are also worth trying. They are both made from hot vegetables, but they are very different in taste.
Among the pastries, the most popular are pita, which is made from puff pastry, as well as "gribanica", a pie with homemade cheese, and then the buns… read in full.
What to see in Becici?

Elena
Becici for the most part is a resort village, which naturally abounds sea, fine golden sand and of course hospitality. However, there are a few interesting sights. They can be easily explored, as there are few of them, between sunbathing and a nice swim.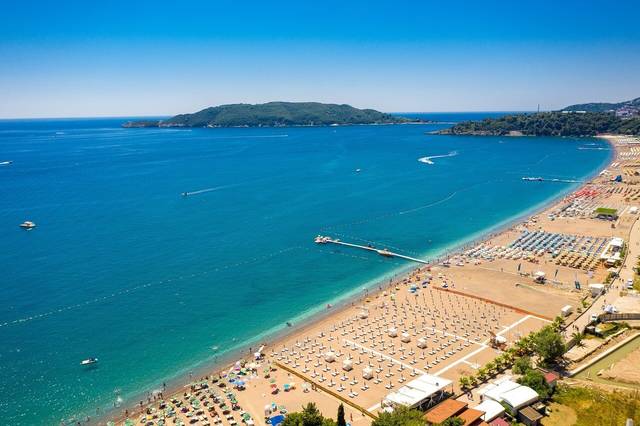 Of course, the main calling card of the resort of Becici is the beach, and you will immediately notice it during your vacation there. The beach is at the very top of the hit list of the most deserving places to visit. In fact, many tourists who holiday in neighboring, sometimes even larger resorts, nevertheless come here to get acquainted with this golden beauty.
Well, if you are placed here in a cozy nest with a beautiful view of the emerald sea, you can admire it from sunrise to sunset. The beach in Becici is almost 2 kilometers long, and its width is about 40 meters. By the way, Becici was even twice awarded in the last century as the most beautiful European beach.
Behind the beach on a small hill is a remarkable church of St. Thomas, which has a long history, which dates back to the fourteenth century. It was built of course in honor of the famous Christian apostle.
The temple is surrounded on almost all sides by pine trees, so you can enjoy the coolness and the… read completely.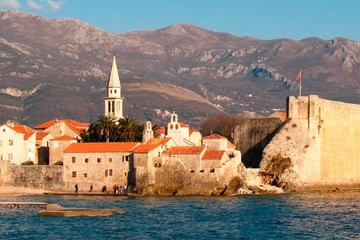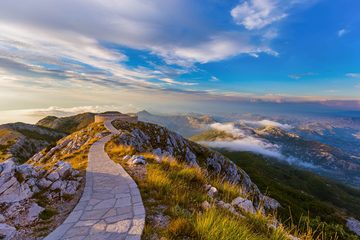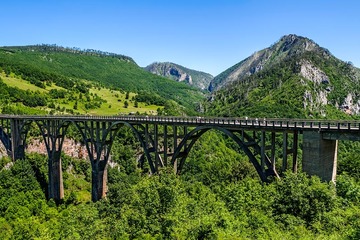 Weather in Becici by month:
Montenegro and the Adriatic Sea – a masterpiece of nature!
We just returned from Montenegro! I can still see this wonderful nature!
Rocky mountains covered with greenery combined with the turquoise sea. A fabulously beautiful terrain. Quite interesting population – tall lean Montenegrins with close-set eyes. The Montenegrin language is understandable to the Russian-speaking population, you can relax with the fact that you will not be able to explain yourself to the locals. The official language in the country is Montenegrin, similar to Serbian, the only difference is the pronunciation. The resort country is inhabited by tourists, most of whom are Russian speakers. So for a long time of communication with tourists, the local population learned to understand the newcomers by heart. Many Montenegrins find it necessary to know English. So, for example, the owners of villas and shopkeepers quite confidently understand "our brother. The life at the expense of tourists obliges the local population to please the newcomers, not to cross them and in every way to improve the stay in this wonderful country. They cook delicious, good quality products in stores. The current currency is the euro. Becici resort, located 15 minutes walk from Budva. A walk along the seafront is a pleasure for any tourist. Staying in Becici you can get to any beach you want. There are sandy beaches, stony and mixed species. Beaches are equipped with sun beds and umbrellas. There is definitely a place to lie just on a towel. This is also a nuance, which is made for the benefit of tourists. According to the laws of Montenegro at 17.00 h. all beach chairs and umbrellas.
Hospitable and crowded Becici

Lady
At the end of June 2016 we discovered a new seaside resort – the Montenegrin coast of the Adriatic Sea, namely the village of Becici. The trip was spontaneous, so we did not have time, as usual, to study the minimum necessary information about the resort to which we were going, and we had to navigate the area on our own without the help of tourists vacationing here earlier.
Beach strip Becici is varied. In front of some hotels the beach – a coarse pebble, to go in and out of the sea is extremely uncomfortable. Opposite others have smaller pebbles. There is also a small section of sandy beach with a gentle sandy entrance to the sea. This nice beach is quite small and densely populated by both locals and visitors with children.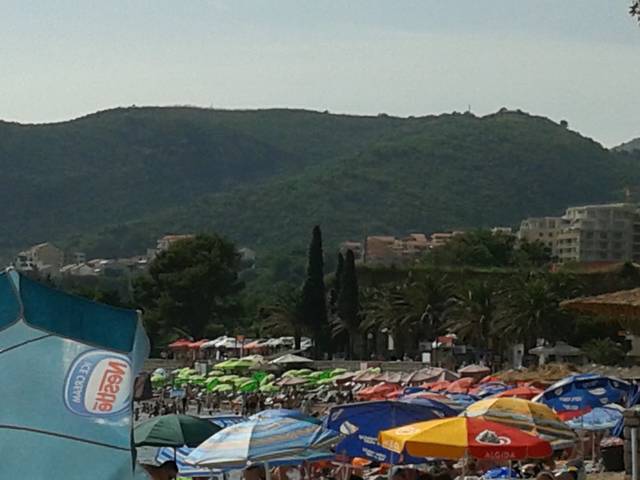 The water in Becici at the end of June was refreshing, in some places cool. Only after three or four warm days, we were free to go into the sea quickly, before that came smoothly, gradually getting used to the water.
You can eat everywhere in Becici. Along the beach there is a promenade with a mass of cafes, which, in addition to local dishes, also offer a view of the sea. Prices in such institutions are not very democratic, so if you want to eat a little more budget, go a couple of blocks deep into the village. There you are sure to find more than one local cafe that offers its visitors a complex dinner of the first, second and compote for 4.5 – 5 euros per person. Well, if you want to save even more money on food, you can buy in local supermarkets.
Becici is a Montenegrin fairy tale!
In July 2016 my husband and I were lucky enough to visit Montenegro. For our vacation we chose not the cheerful and noisy Budva, but the cozy Becici. The town is small, but with a good infrastructure and disposing atmosphere. There are no high-rise buildings and luxurious hotels, mostly in the form of villas, but there are also apartment buildings. Bechichi beaches are clean, there are paid options, and there are free. Also, tourists can choose a sandy beach, or can choose a pebble beach. Separately, I want to mention the sea – the Adriatic Sea, so salty, with the clearest water and an amazing aquatic world. If you decide to master diving here, you certainly will not regret it. Also a lot of beach activities will not let you get bored.
Montenegro is a country where there is a cult of food. The locals are great cooks, they have a lot of unique local recipes. You can eat well in Becici, either in a restaurant or in a simple cafe. And what a street fast food they have. Typically, when we come to the sea, we try the seafood, but in Montenegro, try the meat first – it's divine. The country is also famous for its wine, cheese and cured meats. Service is acceptable, the waiters are polite and courteous, and portions of dishes are huge, so they can safely be divided in half.
Well, what a holiday without a colorful shopping. In Montenegro we bought souvenirs with local symbols, excellent textiles, a variety of delicious food (meat, cheese, wine, olives).
Montenegro's nature is wonderful and beautiful. And to see it, you do not need to buy.