Best Guest Houses in Sukko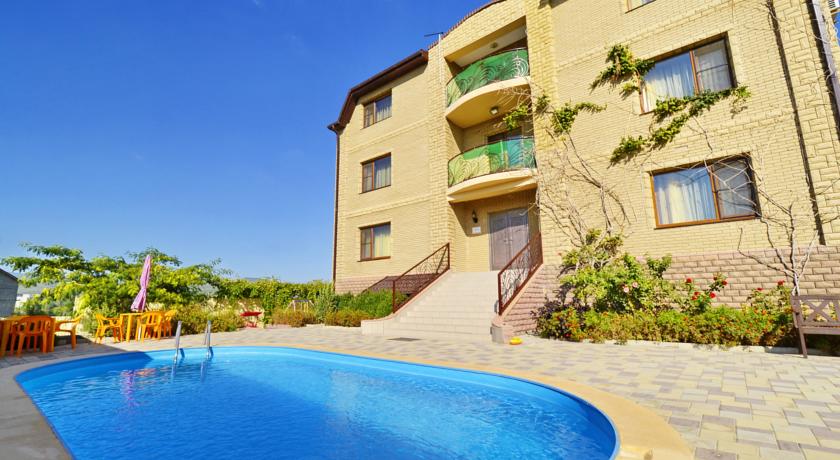 How to rent inexpensive holiday accommodation in Sukko without intermediaries? What do I need to consider when booking? What guest houses gathered the best reviews of tourists in the season 2022? Our selection and tips.
Contents:
Tips for those who want to have a rest in Sukko
Private sector in the resort village of Sukko is represented by a large number of guest houses. This segment of housing here in the lead. Owners due to high competition periodically offer various discounts and try to maintain the overall quality of services at a decent level to make you choose in favor of their gesthouse.
Having analyzed the accommodation market in Sukko on the website Hotelluk and carefully studied the reviews of guesthouses, we identified a number of issues that should be discussed with the hosts when booking in advance.
Find out if there are water outages in this or that house. In some cases, people complain about the lack of hot water or low pressure.
Sukko is in the mountains, so ask in advance where exactly the house is located. If it is a hill, then you are dealing with an ambiguous option. On the one hand, you will discover the magnificent views, on the other hand, there may be problems with going to the beach, as in the heat constantly climb up and down is not always convenient.
Ask the hosts, whether it is allowed to register children. If you have a child, some guest houses in Sukko allow free places for kids. If you do not have a child, you can find hostels where children are not allowed. Thus, you can protect yourself and your vacation from the crying and crying baby. The same applies to pets.
Clarify in advance the peculiarities of the equipment. Do the air conditioner and refrigerator work well, how well does the TV work, and how many channels it broadcasts. Are the kettles, washing machines, stoves and other appliances working properly? Now it seems insignificant, but, judging by the reviews, such little things can damage the impression both about the guest house and about rest in general.
If you are interested in accommodation in the private sector of Anapa, you can read about the best options and prices in a separate article.
Look for cheap tickets on Aviasales. To find the best price, look for tickets for different dates. Read also the instruction on how to search for cheap airline tickets correctly.
Nuances of accommodation in Sukko guesthouses
We also want to draw your attention to a couple of things that will be useful to you already during your stay.
In some guest houses, in order for the owners to do the cleaning in the room, you must necessarily hang a sign. The owners of the house do not want to once again disturb the idyll of rest of their guests, so expect common in the hospitality industry signs, rather than hasty conclusions and scandals of the guests.
If you live in a guesthouse and have a question or wish, do not hesitate to contact the hosts. Your requests should be heard and ways to resolve problems should be found, ranging from requests for transfers to cooking.
Where and how to rent an apartment in Sukko
We draw your attention to the fact that to settle in a guest house Sukko by the sea closer than 500 meters will not work. All the first line occupied by the camps and resorts, so if you want to live in an apartment, guest or private house, you will have to make a walking distance from housing to the coast, which will take at least 7-10 minutes.
It is more convenient to choose guest houses not on the spot, but on the service Hotelluk. There you can see a lot of photos of each option, a detailed description of the facilities and services offered, as well as ratings and reviews of guest houses in Sukko. And most importantly, track fresh promotions and book an inexpensive option without intermediaries.
The best guest houses in Sukko. Tourist reviews
We have studied in detail a large number of guest houses in Sukko, offered in 2022, and selected the most, in our opinion, successful options of accommodation. The selection was carried out with the following criteria:
good location;
good living conditions;
reasonable price;
excellent reviews.
All prices for guest houses in the village of Sukko are listed for double occupancy per night and are current at the time of publication.
Did you know that sometimes a tour is cheaper than a flight, and it is possible to buy it instead of a ticket on a regular flight? In this case the price of the tour includes a flight, accommodation, transfers, insurance and meals of your choice. You can search for the best price package tours on Travelate and Level.Travel services – they compare the offers of 120 tour operators, and therefore are able to find the best option. Buy a ticket can be online, which is very convenient.
Guest House "Foothill Sukko".
Budget option of the guest house for a leisurely vacation with a view of the mountains. The rooms have a private bathroom. The front desk is open 24 hours a day. The Piedmont Sukko has a restaurant, as well as everything you need for a game of billiards. The downside is that this accommodation option is 1.5 kilometers from the coast. Twice a day there is a free bus to the beach. However, this inconvenience is compensated by the presence of a clean heated pool and sun terrace in the guest house. The price of accommodation in the summer of 2022 is from 1000 rubles.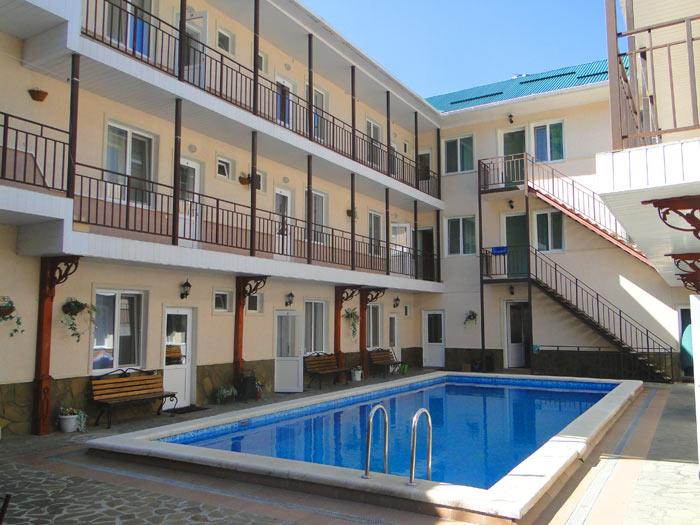 (Photo: booking.com / Guest House Piedmont Sukko)
Guest House Alyonushka
This inexpensive guest house is well suited for holidays with children in Sukko. On the territory there is a playground and a large children's pool. Parents, in turn, can visit the Russian bath, use the barbecue and play table tennis. Alenushka guests can park their car for free. It takes 15 minutes to walk to the sea. Staying at a guesthouse costs from 1600 rubles.
Guest House "Sherwood"
A beautiful brick gesthouse with a well-kept and equipped yard area. In the yard outdoor pool with a terrace and playground for children. The guesthouse has a good cafe, which, according to guest reviews, cooks very tasty food and serves large portions at a low price. The rooms, with carved wooden furniture, have a private bathroom with shower, air conditioning and TV. A meeting room and a shared lounge area are also available. The rooms have views of the sea or mountains. The front desk is open 24 hours a day. "Sherwood" is located in a quiet location: the mountains and juniper forest begin 100 metres from the guesthouse. Distance to the sea is 1.8 kilometers, 5 minutes by bus. The price ranges from 2100 rubles.
(Photo: booking.com / Guest House Sherwood)
Guest House "On Central"
Cozy guesthouse with a view of the mountains. To the Black Sea coast 15 minutes walk. Modern and stylish interior. The rooms have a private bathroom, air conditioning and a flat-screen TV. It features a shared kitchen. Free Wi-Fi and private parking on site are provided. Vacationers often mention the hospitality and responsiveness of the hosts in their reviews. Accommodation in the guest house in the summer of 2022 is relatively inexpensive – from 2200 rubles.
Guest House "Panorama"
The guesthouse got its name for the panoramic view of the village and the mountains. It is a 15-minute walk from the sea, but the guests in the reviews note that this accommodation is more suitable for car owners, as the house is located on the mountain. Rooms have a flat-screen TV, air conditioning, and a private bathroom with a hairdryer and free toiletries. It features a garden, barbecue facilities and a kids' club. There is a café on site. In their reviews, guests pay special attention to the delicious and hearty breakfasts. Holidaymakers also note the hospitality of the hosts and their kind attitude to animals. The price of accommodation starts from 2800 rubles.
Guest house "Mirabella".
This option will suit those who are looking for accommodation near the sea. The distance to the beach is 300 meters. From the windows of the gesthouse there is a view of the mountains. The air-conditioned rooms are equipped with a TV and a refrigerator. Facilities include a private bathroom. There is a shared kitchen, a shared lounge, a sunbathing terrace and barbecue facilities. There is a small pool on site for children. In reviews as a minus guests note problems with the water supply and weak water pressure, so we recommend you to clarify this issue with the owners of the guesthouse, who, according to the guests, very hospitable and instantly respond to requests. Accommodation in the Mirabella guesthouse costs from 3000 rubles.
In addition to the options described above, the following guest houses Sukko are very popular with tourists: "Parsu", "Sunny", "Angelina", "Utes", "Natella", "Valley", "Family", "Medovik", "Victoria", "Summer", "Dolphin" and "Cossack". Remember to book your rooms in advance, as there are few free variants during the high season.
Guest houses in Sukko
We always welcome guests – the best guest houses for your chosen destinations.
You cannot currently make reservations in this region through Booking.com.
Check information about travel restrictions. Only travel for a specific purpose may be permitted, particularly travel for tourism purposes may be prohibited. Learn more
All Filters
Rating by Reviews
Select dates to see current prices and special offers. Select dates
Julia
Pension Julia is situated in the village of Sukko, 1.3 km from Sukko Beach. Express check-in and check-out service is available. The hotel owners were the best, very welcome and pleasant. Helped with all questions we had at location.
Guest House "LEVRUS
Pension LEVRUS with a terrace is located in Sukko, 1.4 km from Sukko Beach. It features a garden and free private parking. Accommodation from 31.08 to 07.09. The room is very clean. Please note the fridge in the room. Attitude of staff on the 5-point system at 10. Yard buzukoriznen. If we rest in Sukko, the choice is obvious, is LEWRUS. THANK YOU FOR YOUR HOSPITALITY!
Guest House Fregat
Fregat guest house is located in the village of Sukko, 750 meters from Sukko Beach. The territory has a garden with barbecue facilities and free private parking. Location, cozy, comfortable, stylish, clean, well-maintained, the huge area of the house is equipped with all possible options for decor. The room is clean, the bed is crisp with cleanliness and ironing. Great bathroom, lots of closets.
Carolina Guest House
Karolina Guest House is located in the village of Sukko, Krasnodar Territory, less than 1 km from Sukko Beach. Guests can make use of barbecue facilities. Great guest house, I recommend to connoisseurs of comfort at a nice price!
Viktoriya ONE
Featuring a seasonal outdoor pool, a shared lounge and pool views, Viktoriya ONE is located in the village of Sukko, 1.2 km from Sukko Beach. We had a great holiday. How many years we come to this guest house, everything was fine, but this year the pool was a pleasure. Thanks for cleanliness, atmosphere of good rest. The sea is clean and azure … We walked to the sea with pleasure in 15-20 minutes … Many thanks to Nina Egorovna, Roman, and a wonderful maid Nadezhda. Wait we will come again and more than once….
Guest house "Utes" with a common lounge, terrace and barbecue facilities is located in the village of Sukko, 750 meters from the beach Sukko. Free private parking is available on site. Great hosts, any requests were immediately responsive. The hotel is located on a cliff, two buildings. The first with a children's playground and det. basseynom,. the second with an adult basseynom. Standard rooms (bathroom, refrigerator, bed, tubochki). Spacious kitchen. Stores within walking distance. All very nice and one of the places I want to go back to.
Yug Guest House
Yug Guest House is located in the village of Sukko, Krasnodar Region, 1.1 km from Sukko Beach. Facilities include a shared kitchen and a terrace. Responsive staff, a large kitchen with everything you need, not bad rooms, always hot and cold water, there are stores nearby, t.ch.magnet and pyatyorochka,
Guest house Nirvana
Guest House Nirvana is located in the village of Sukko, 1.2 km from Sukko Beach. It offers free Wi-Fi and free private parking. Facilities include a shared kitchen and a children's playground. Everything is thought out and arranged for relaxation and comfortable stay. White linens, great mattress and pillows. The hair dryer. Slippers. Utensils for snacks. Kettle, cups, glasses, plates, knife, spoons and forks. Asked and we were given a teapot. There is a separate barbecue area and a kitchenette with a microwave. The pool is covered with heating, the second pool is larger, but did not use, the water is still cool, although some vacationers dived in. On the floors coolers with drinking water and ironing board with iron. Housekeeping and change of linen on the 5th day. On the territory of the playground, a pool for children and a sports corner. The place is very convenient, next stop 109 bus. To the stores 500m, there are cafes and a mini market. Excellent mini-hotel. The room was overlooking the pool and the grounds. The lilacs were in full bloom and the scent was delicious with juniper and the sea.
Marlene
Guest House Marlen is located in Sukko, 750 m from Sukko Beach. It offers a shared lounge, free private parking and a terrace. The reception desk is open 24 hours a day. Marlen was a pleasant hotel with comfortable rooms and good value. What makes it more special is its owner Tatyana who goes above and beyond for her guests. She is such an awesome host, makes great breakfasts, helps to give you good tips on local area and has a wisdom on Russian business. You will not be disappointed in staying at Tatyana's place.
Pa&Spa guest house
Pension Pa&Spa is located in the village of Sukko. It offers free Wi-Fi, a shared lounge, barbecue facilities, a shared kitchen and free private parking. Very cozy apartment, very nice warm-hearted hosts.
Looking for a guest house?
The cozy and friendly atmosphere of guest houses will suit travelers who are looking for a no-frills option, but with a personalized guest experience. Guest houses are usually family-run, and your host will likely be able to share recommendations about local attractions and discuss dining options. Guest house accommodations are often less expensive than a hotel, and include amenities such as a common sitting area and an on-site garden.
Frequently Asked Questions about Guest Houses in Sukko
Which guest houses in Sukko have beautiful views?
Excellent ratings for the views from the rooms received these guest houses in Sukko: Guest House Mountain Air, Utes and Hotel Charmel.