Bodrum Best Beaches and Surroundings
Bodrum is a unique resort town in western Turkey, washed by the waters of the Aegean Sea, today ready to offer a highly developed infrastructure, providing all the amenities for a quality holiday. The resort is famous for its numerous bays surrounded by gardens and pine groves, on the territory of which are spread the most beautiful beaches. Many of them are approved by the Blue Flag, which indicates a high level of ecological environment.
Which beaches of Bodrum in Turkey are more suitable for a leisurely holiday, and which will suit the taste of lovers of active activities, we tell in detail in our article.
Bitez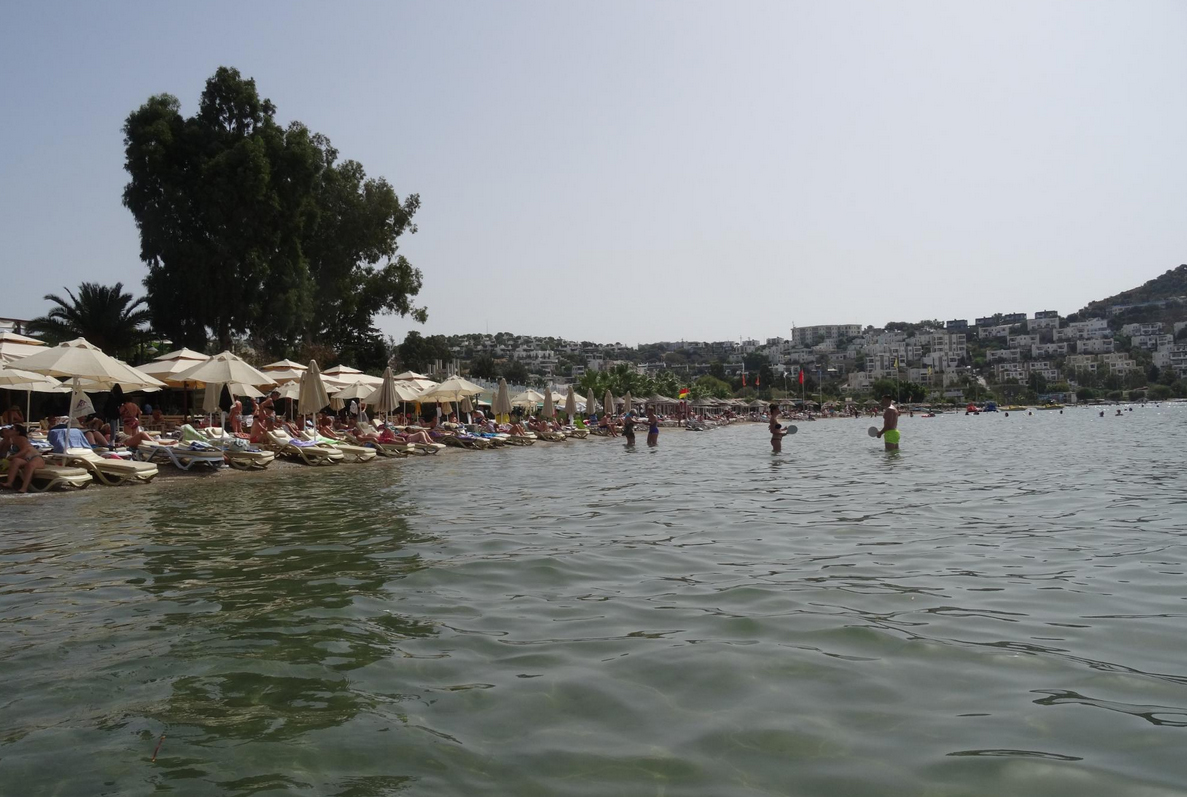 On the southwest coast 7 km from the center of Bodrum lurks picturesque bay Bitez, attracting travelers with its clean and well-maintained beach. The coast here stretches for a distance of just over a kilometer, and although most beaches of the resort is characterized by a pebbly surface, in Bitez tourists enjoy the soft light sand. When entering the water there are small pebbles, but they do not bring discomfort. The bottom has a flat surface, the water is waist-deep: only after a couple of meters you will find the first deep spot. So the rest with children here is definitely safe. The area is dotted with orange trees and pine groves, in the shade of which it is nice to hide in the midday heat.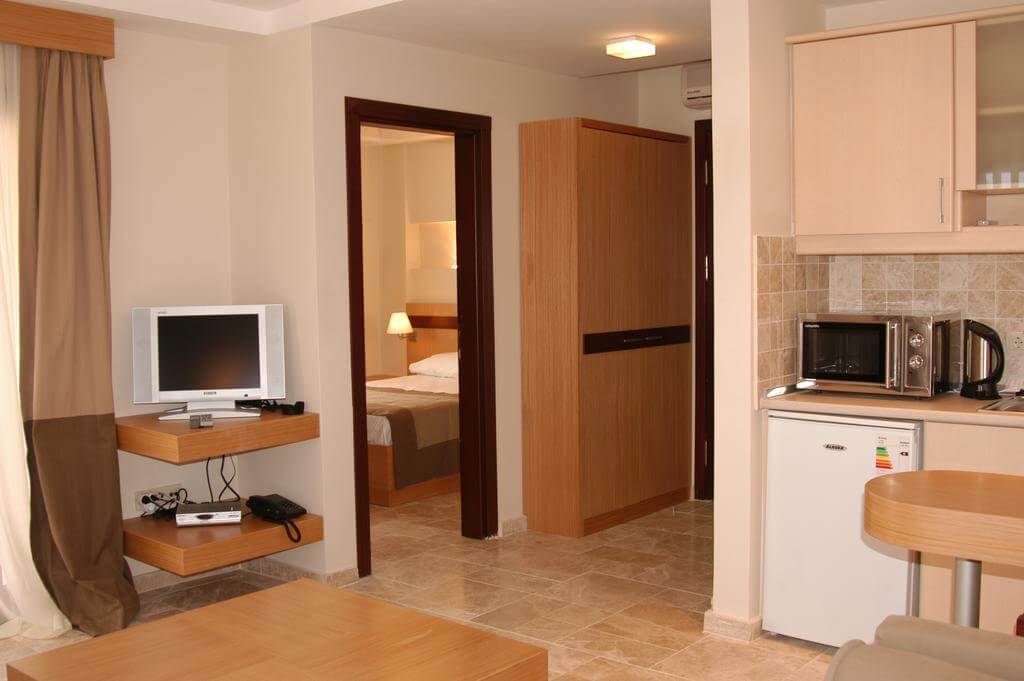 Villanaz Apart Hotel
Bitez is undoubtedly one of the best beaches in Bodrum. It is not in vain here along the coast lined with numerous hotels. If you are going to spend your vacation in this area, we advise you to pay attention to the Villanaz Apart Hotel and Yali Han Hotel, which have high ratings on the booking. It is important to note that the coast is equipped with everything you need – restrooms, changing rooms and showers.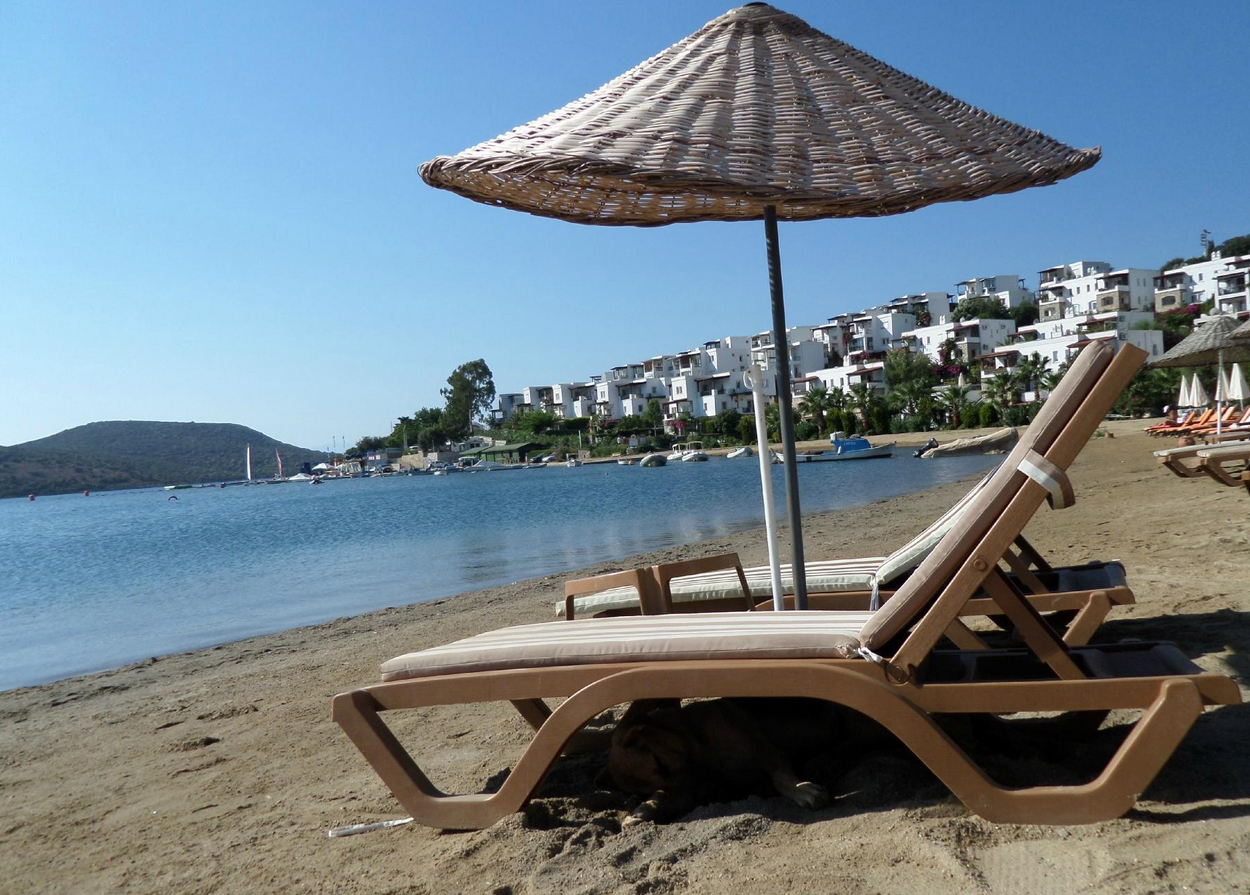 In the recreation area you can also use sun loungers with umbrellas, which are provided by local cafes and restaurants for free (of course, assuming that you make a reservation with them). There are also private paid beach clubs in Bitez, which offer entertainment and sports activities in addition to convenient infrastructure.
Central City Beach
Bodrum's city beach is a public beach, so you do not have to pay to enter. But this is also the reason why the beach is crowded. To take a place on a chaise longue (also free) you should come from the morning or in the middle of the day, when all disperse for lunch and hide from the heat. There are many cafes and restaurants, hotels and apartments nearby.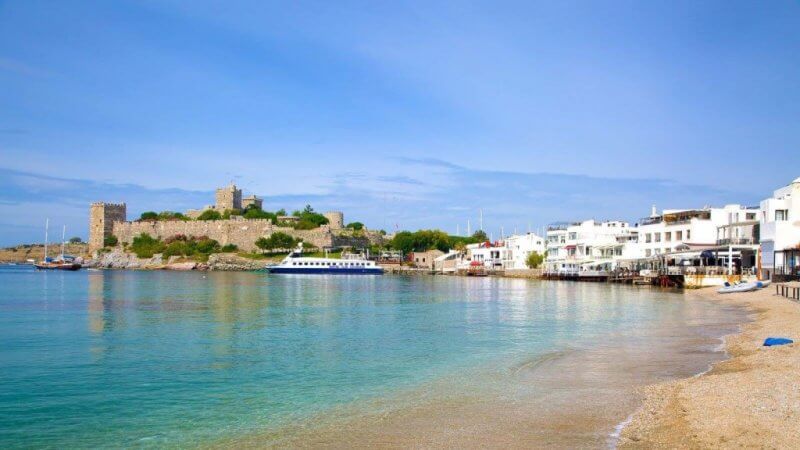 Photo: Bodrum beach
The beach is covered with fine pebbles, pell-mell with coarse sand in some places. The path to the water is quite smooth. The sea here is clean, despite the fact that the port is located next to the large cruise ships.
Torba
If you are looking for hotels in Bodrum with a sandy beach on the first line, we recommend looking at options in the resort village of Torba. Although this place is little-known and can not boast a wide selection of hotels, it attracts with its peaceful atmosphere surrounded by pristine nature. Torba is located 7,5 km to the north-east of the resort and offers a long beach that runs along the whole length of the village. There are also several secluded but picturesque coves. In Torba in Bodrum, the beach areas are made of sand or pebbles, and some of them are covered with wooden platforms and platforms with bulk sand.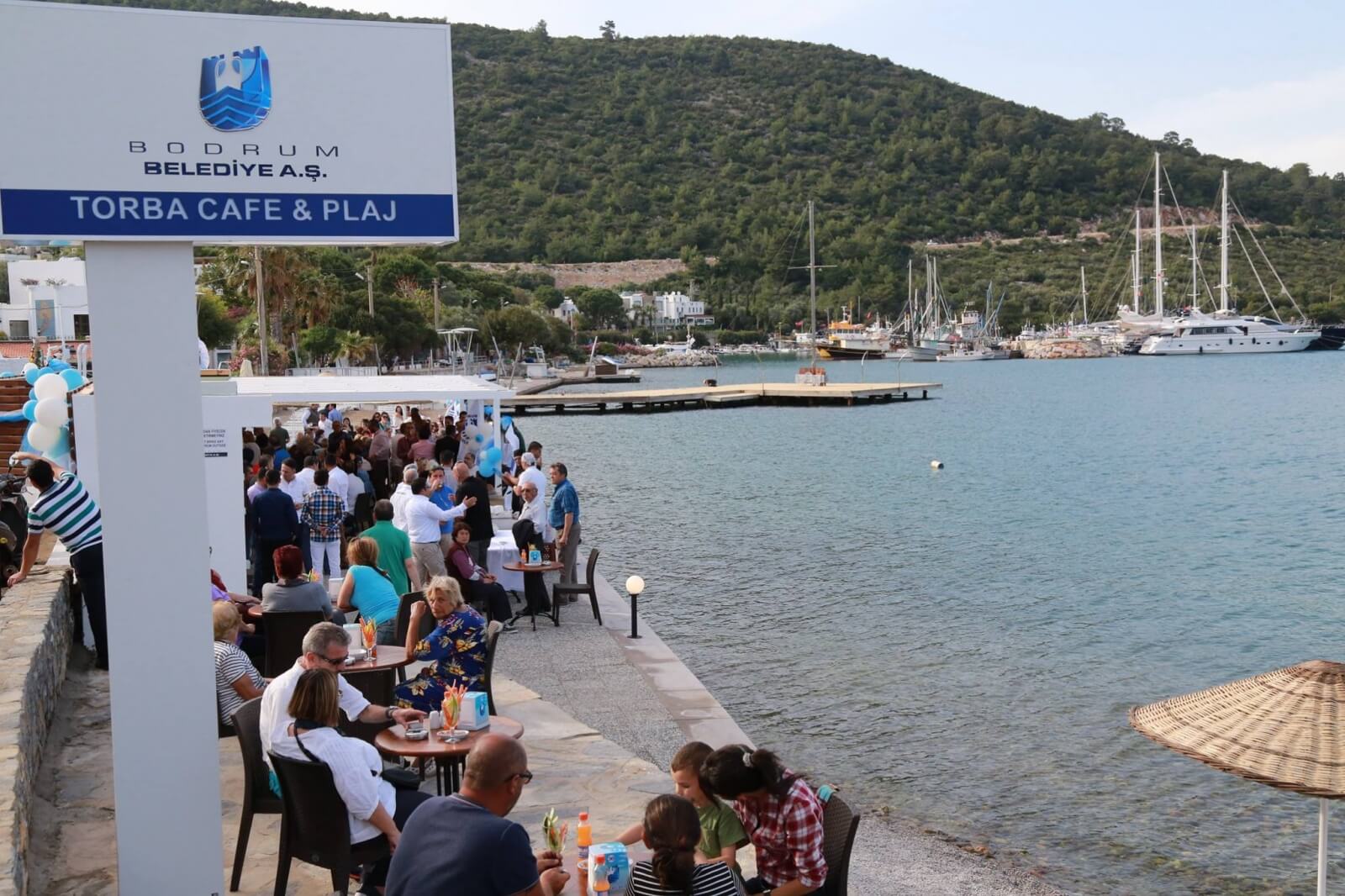 Going into the sea is quite uniform, which is appreciated by families with children. Another plus of the area is its sparseness: in fact the noisy crowds of tourists are considered a big rarity here. Certainly, on coast you will not meet smart restaurants under condition of a Bodrum, but you will find pair cosy institutions with good kitchen. In general, the beach of Torba is ideal for those who want to escape from the bustle of the city and immerse themselves in serenity.
Yahsi
Photo beaches of Bodrum in Turkey will not leave anyone indifferent, and especially memorable among them is a place Yahsi. This pure coast, which has in its track record of awarding the Blue Flag, stretches 12 km to the south-west of the city. The beach is covered with a mixture of sand, pebbles and small stones. The entrance to the sea is comfortable and shallow, which is especially suitable for children. The water is clean and clear, and there is a special wide zone for swimming. In the high season here come not only foreign tourists, but also people from Turkey, so the beach is quite crowded.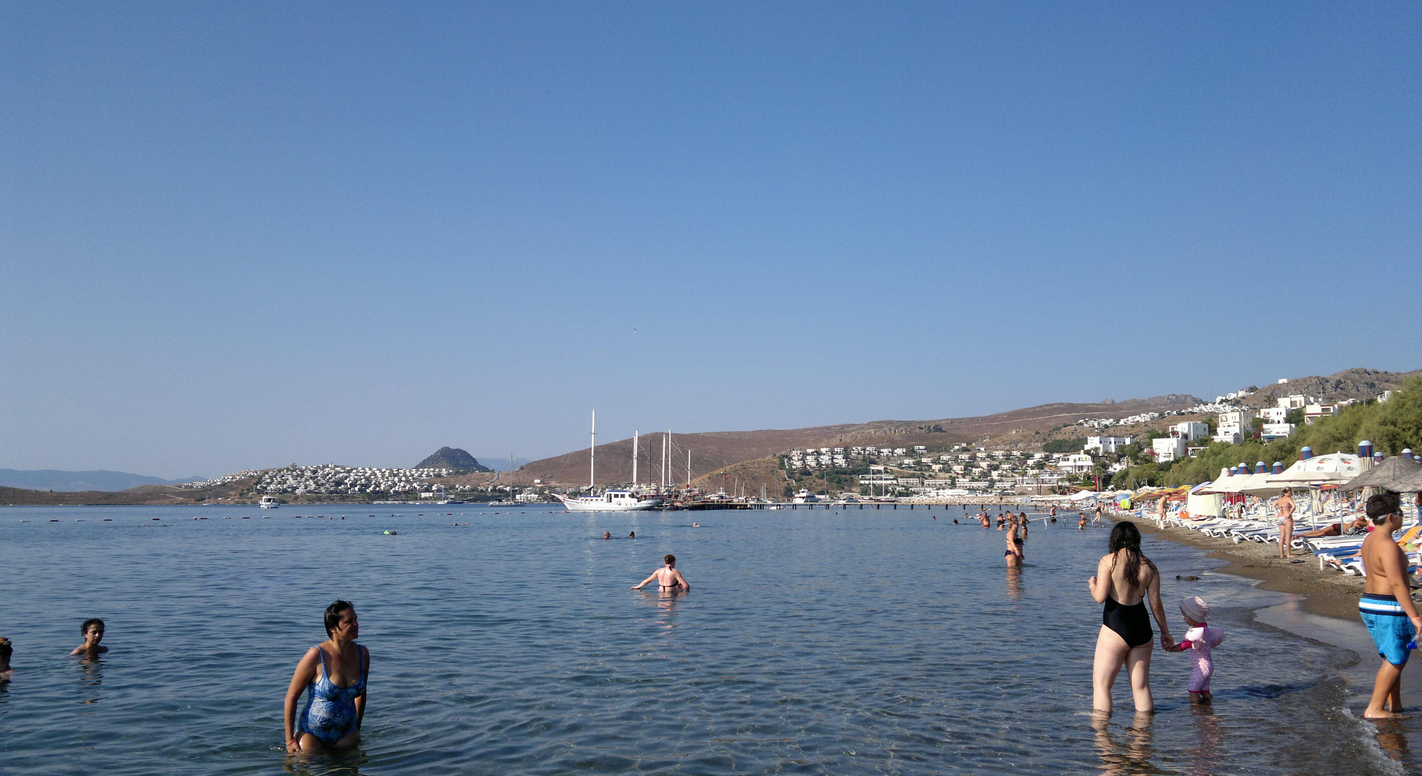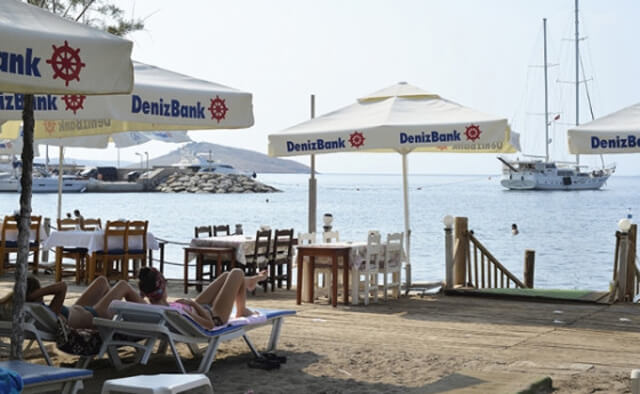 The whole beach area is divided between hotels, cafes and restaurants. There is also a public area with free sunbeds from DenizBank. Local institutions are ready to make their beach infrastructure at your complete disposal under one condition – you must order from them. In this case, order food and drinks at once is not necessary. If you choose this option, you have free showers, changing rooms, toilets and sun loungers with umbrellas.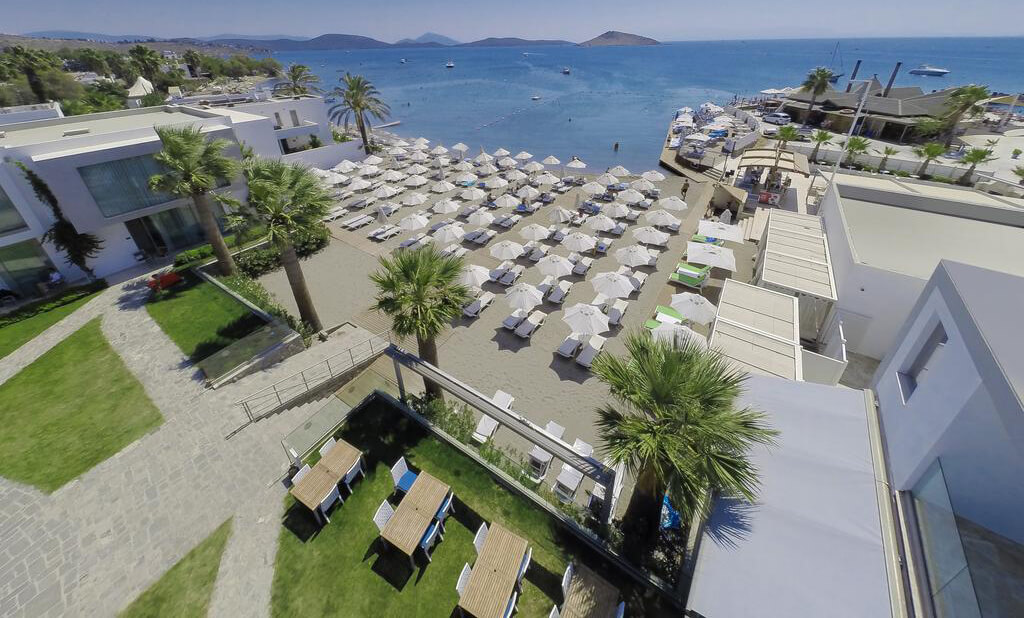 Lugga Boutique Hotel & Beach
And if you are planning to check into a hotel near Yahshi, we advise you to pay attention to the following hotels in Turkey: Lugga Boutique Hotel & Beach and Zest Exclusive Hotel, which have a high rating and good reviews on bookings.
Camel Beach
Camel Beach in Turkey got its name thanks to the camels which anyone can ride for a fee. Camel Beach is located 13 km southwest of the resort and stretches for not more than 500 meters. The coast here is covered with coarse sand, so if you are looking for hotels in Bodrum with a sandy beach, you should look options near the Camel Beach.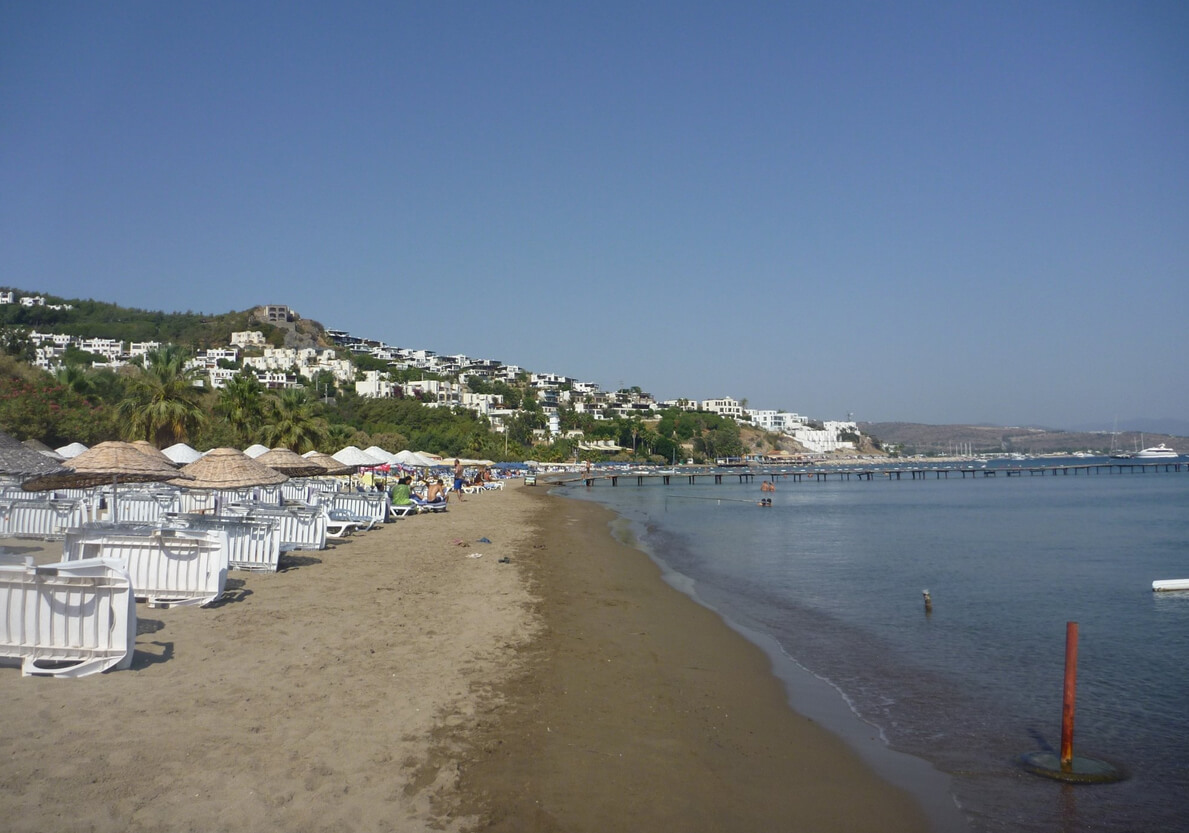 Going into the sea is very comfortable, meeting the shallow, which is suitable for safe bathing with children. Local waters will delight you with transparency and purity. The beach is often approached by tourists on yachts, so it can be called quite crowded.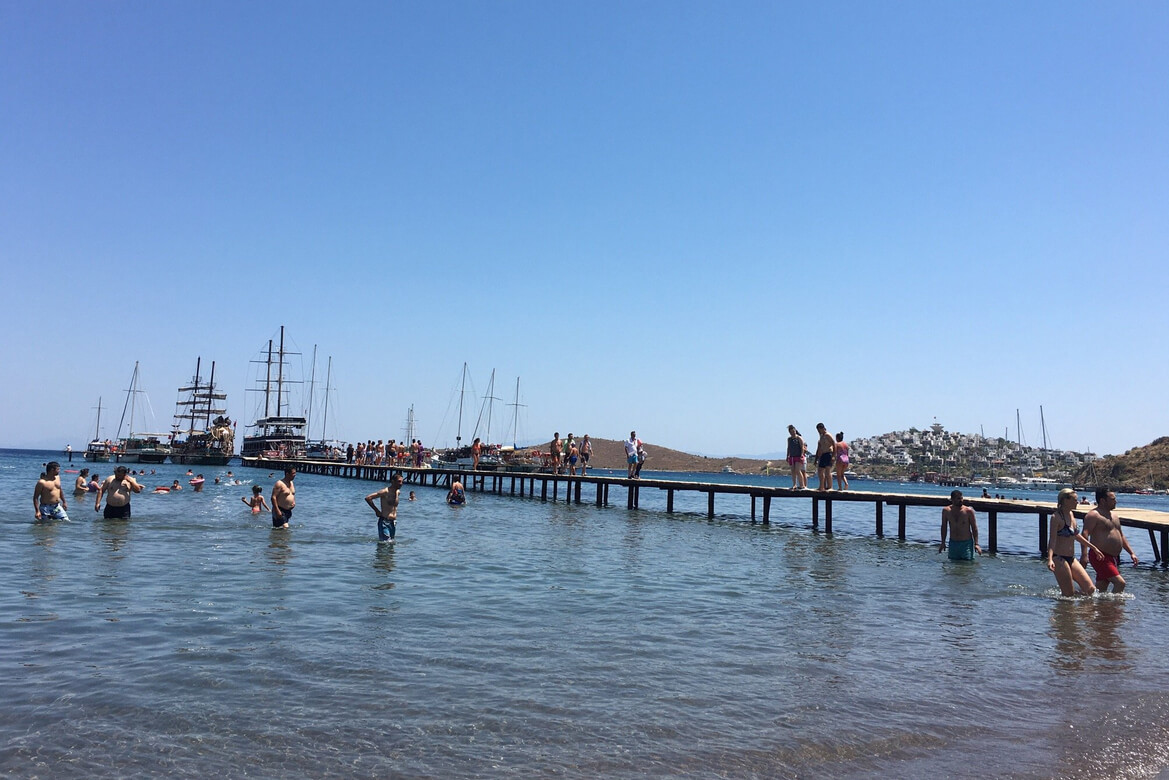 It is worth noting that Camel Beach has a fee: the entrance to its territory is 75 TL. There are sun loungers with umbrellas, showers, changing rooms and restrooms. There is also a small restaurant where you can have lunch and drinks. Here tourists have the opportunity to rent a motorboat. In general, Camel Beach in Turkey is a recreationally equipped picturesque area with beautiful views of the Aegean Sea.
Akyarlar Beach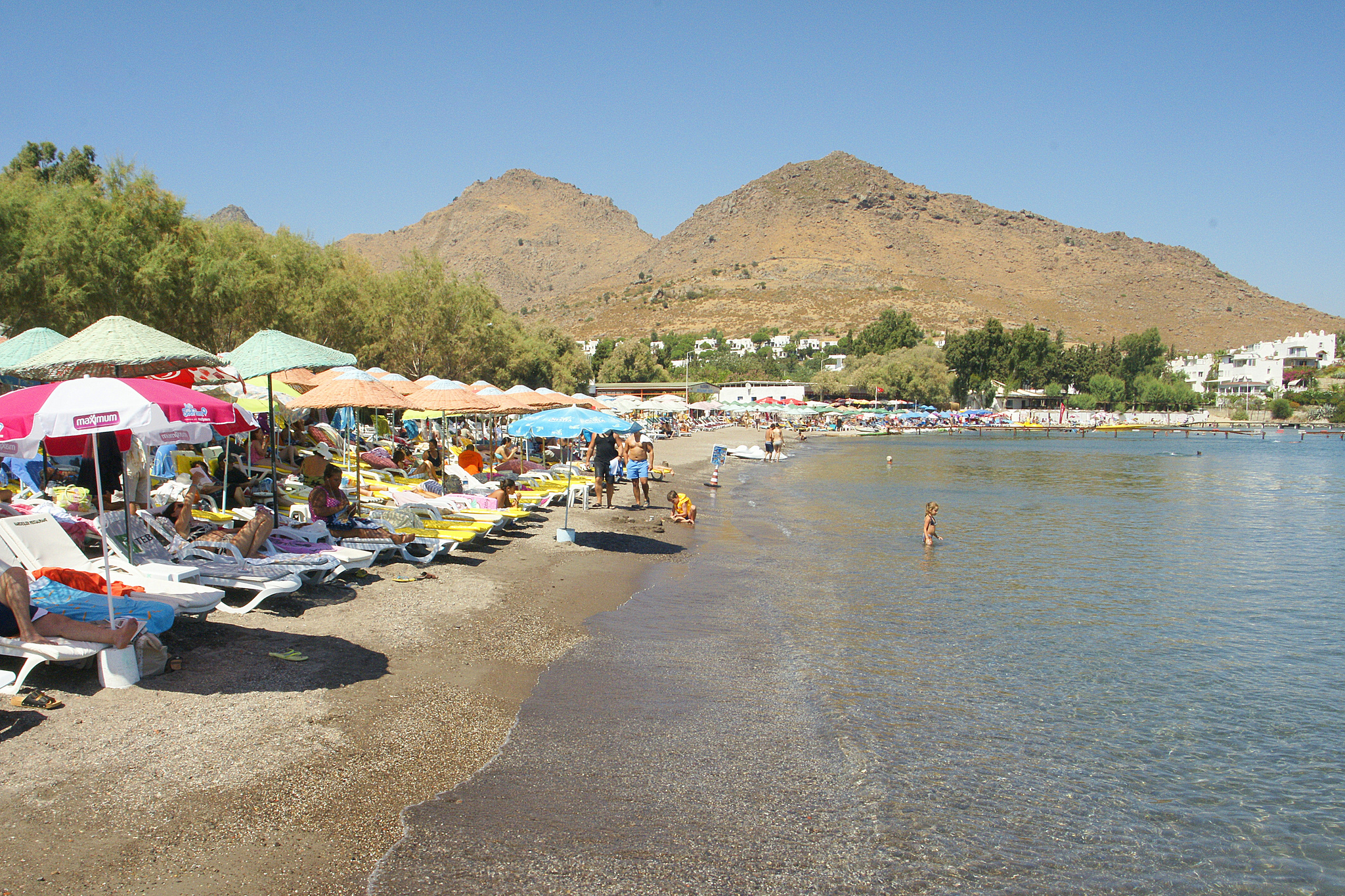 Just a fleeting glance at the photos of the beaches and promenade of Bodrum in Turkey, you realize how uniquely beautiful this place is. Even though Akyarlar is located 20 km southwest of the resort, it has repeatedly been voted the best beach in the area. The coast stretches for 1.5 km and is covered with fine white sand and surrounded by green gardens and groves. The entrance to the sea is very comfortable: there are no stones and the depth increases gradually. This is why many families with children choose to rest on Akjarlar. In high season, the beach is always crowded, but there is enough room for everyone.
Akyarlar is equipped with sun loungers, showers, toilets and changing rooms, so it is comfortable to rest on it. On the coast you can find a cozy cafe, where vacationers order lunch and drinks. The eastern part of the coast, known for its strong winds, has long been fond of fans of surfing and windsurfing, and if you belong to their number, this beach will be the perfect place for you to vacation. But other attractions are not provided here, and in general, Akyarlar is suitable for a quiet holiday in Turkey on the shores of the Aegean Sea.
Gümbet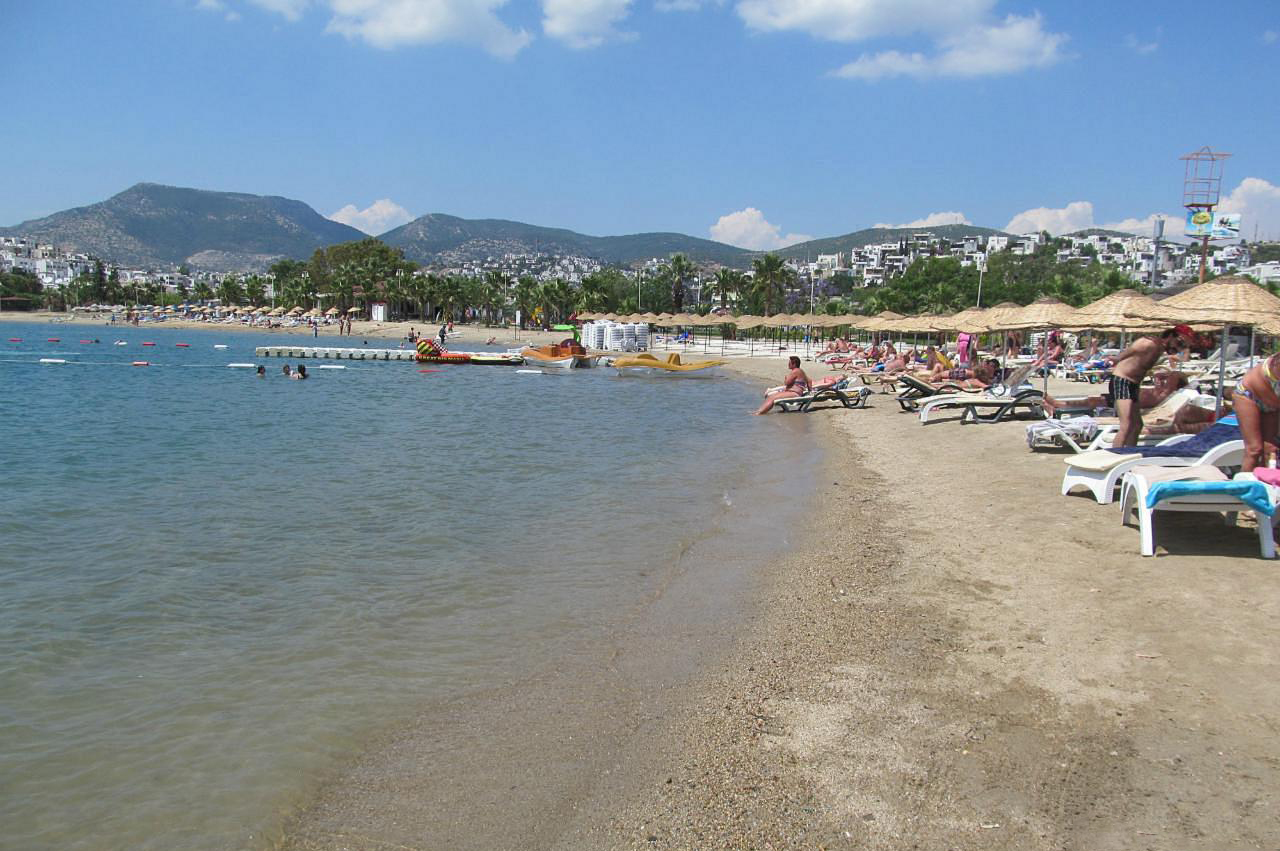 4 km to the west of Bodrum in Turkey, stretches another picturesque town called Gumbet, hidden from the resort behind a low hill. All its beaches are covered with fine golden sand, and a flat entrance to the sea makes for safe swimming. The water is only 6-8m deep, so families with young children will definitely appreciate this place. Gumbet has a well-developed tourist infrastructure, offering a mass of hotels, restaurants, nightclubs and bars. Most of the holidaymakers here are young people from Europe, and at the height of summer, the beach is always crowded.
Gumbet has all the facilities for water sports including surfing, parasailing, windsurfing, etc. Its area is equipped with sun beds and umbrellas, toilets, showers and changing rooms, so the relaxation is at the highest level of comfort. More recently Gumbet was considered the center of European youth hangout, but in recent years, and our tourists took a fancy to this place. In general, this beach of Turkey is ideal for both active and passive recreation.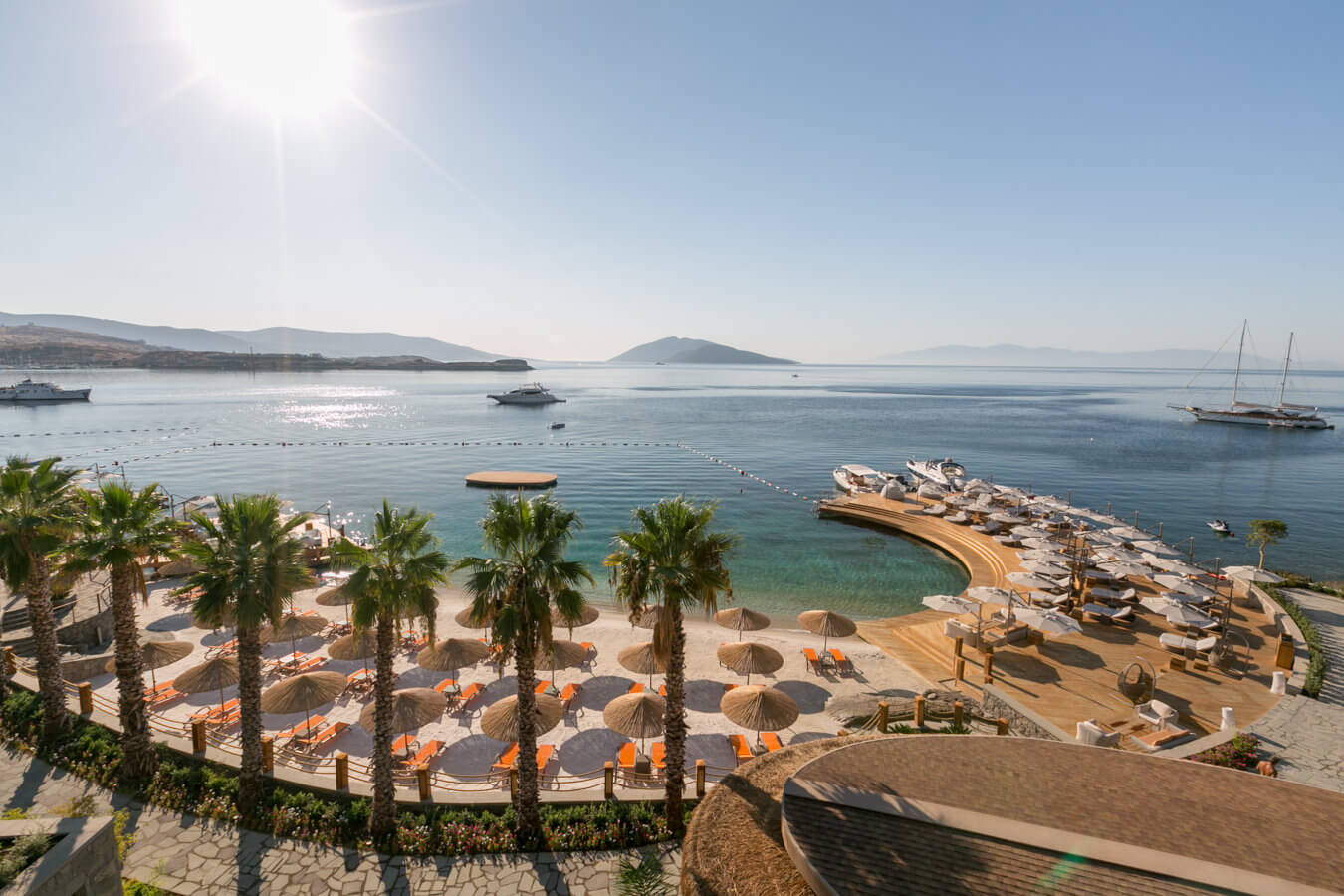 Caresse a Luxury Collection Resort & Spa
If you are planning to arrange your vacation on the Aegean coast in Gyumbet, we recommend you to consider as an option hotels with high ratings – Caresse a Luxury Collection Resort & Spa and Parkim Ayaz Hotel.
Conclusion
Now you know what Bodrum is, what sea it is washed by and what beaches are spread out on the territory of the resort. All you need to do is to decide where to spend your holidays most comfortably. Be sure to look the information on our recommended hotels and when choosing a hotel pay special attention to its location. In general, the beaches of Bodrum in Turkey are quite diverse and every traveler can find a paradise for his taste at the resort.
All the beaches and attractions of Bodrum are marked on the map in Russian.
Video: overview of Bodrum resort, its beaches, entertainment and attractions, views of the city and surroundings from the air and useful information for travelers. Take a look at it for sure!
Author: Catherine Unal
Updated: 19 Apr, 2022 The resort of Marmaris, located on the Aegean Sea coast in…
Turkey is a huge country, on its elongated coastline a large selection of resorts and…
Updated: 23 October, 2019 Spain is famous for its architecture and jamon, but also travelers…
Updated: 13 Oct, 2021 Oludeniz is a tiny resort village in southwestern Turkey,…
I love to travel in Turkey and have visited many times. I have been to Antalya, Alanya, Adrassan, Kemer, Cesme, Alacati, but I fell in love with Bodrum. Bodrum's best beaches are just divine beauty. Was surprised what beaches there are for recreation….
The author of the article #yajamat classic. All seven beaches are good only that "you can with kids". You should stay away from such a woman.
Hello, Roman! Apparently, some woman has hurt you in the past. We wish you to get rid of this trauma.
Thank you. Very informative article. Just going to Bodrum. Thanks to your article, now I have an idea about this place.
Hello Valentina! We are glad that the information was useful to you. Have a nice holiday in Bodrum!
Best Bodrum Beaches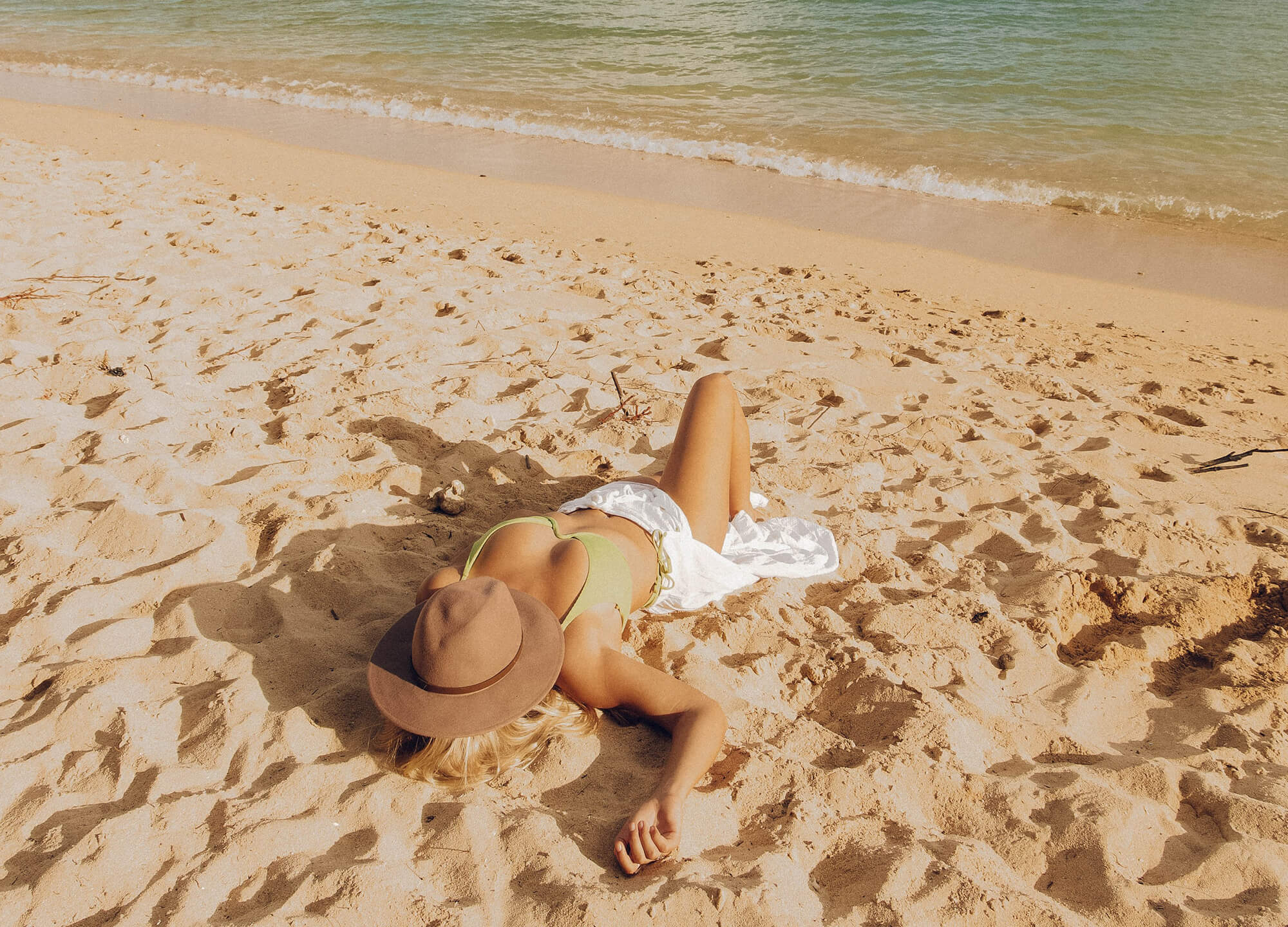 Which sandy beaches in Bodrum should I choose for my summer holidays? What are the water and air temperatures at the resort? What leisure and entertainment is there for tourists? Which all-inclusive hotels have their own sandy beaches? All answers in our material!
Search for last minute tours on Level.Travel and Travellata services – they will find the best deals among different tour operators. Want to save your money? Check out our 7 rules for buying tours online.
Content:
Beach holidays in Bodrum
Bodrum is a popular Turkish resort city on the Aegean Sea with a good selection of beachfront hotels. This city has become a favorite holiday destination among Greeks, British, Ukrainians and Russians. Every year, hundreds of thousands of discerning tourists come here for the sunbathing and swimming in the warm turquoise waters. Many travelers are attracted to the beaches of Bodrum with free sun beds, umbrellas and mattresses (issued by the hotels). Tourists have a choice of municipal and small sandy beaches, beaches at boarding houses and five-star hotels, as well as private lounges. A total of 40 beaches in the resort have been awarded the Blue Flag and are considered the cleanest on the coast.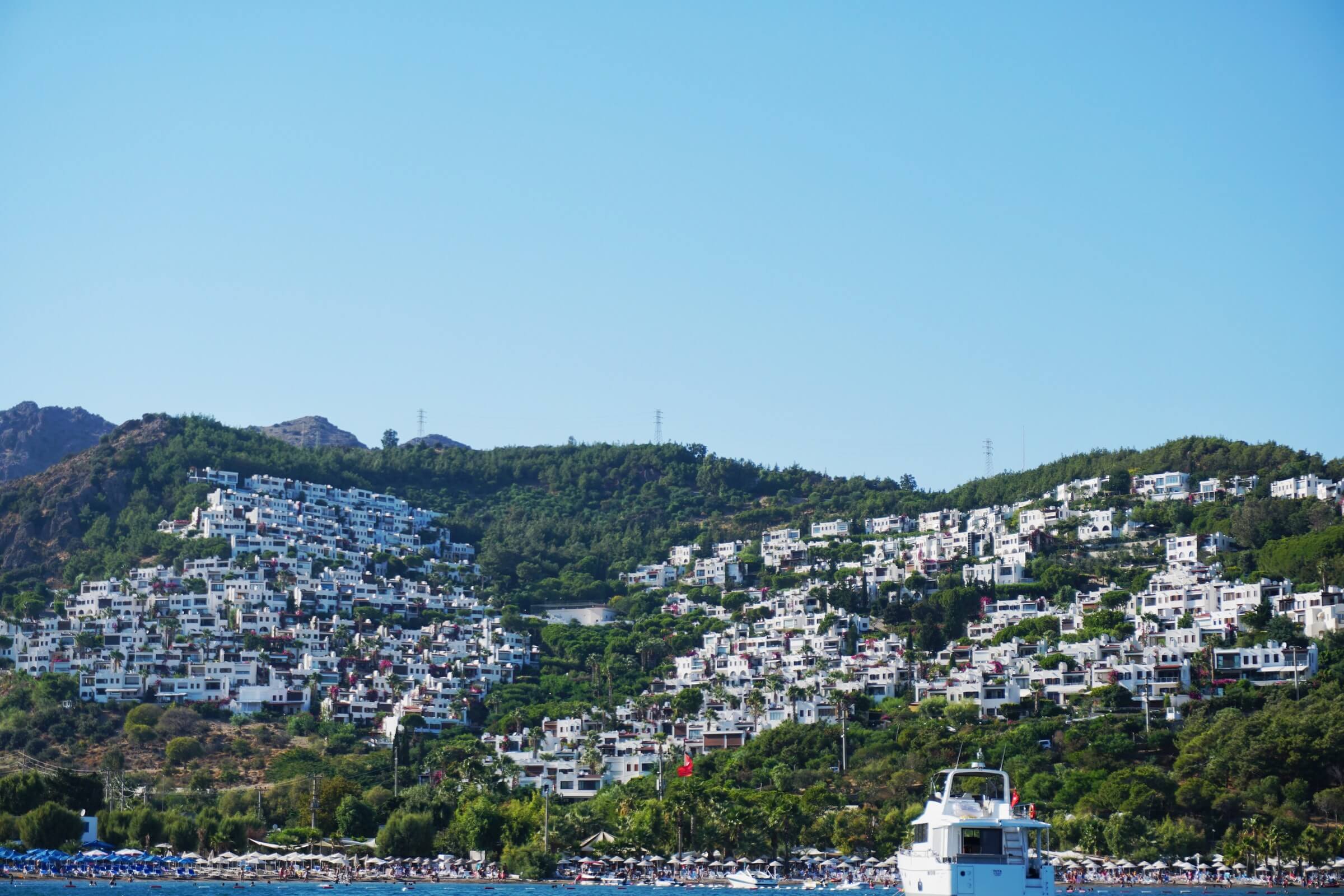 Bodrum is a popular Turkish resort city on the Aegean Sea with a good selection of hotels on the coastline. Photo: keooran / unsplash.com.
Beach season in Bodrum
Bodrum's beach season starts in early May. In the last month of spring, the water in the sea warms up to +19°C. At this time of year tourists prefer to take water procedures in the heated pools at the hotels. The end of the season is the last days of October. In mid-autumn, the water temperature (average) in the Aegean Sea is +22 ° C. +23°C. Velvet season with mild sunny weather at the resort is in mid-September. At this time of year, the number of tourists decreases markedly – the beginning of the school year.
Akyarlar Beach
Akjarlar beach with fine and clean sand stretches on the southern coast of the resort. It is especially popular among tourists with young children. Thanks to the smooth entrance to the water, young travelers can splash in the warm water to their heart's content. There is a strong wind here only in the eastern part of the bay. That is why this part of the coast has become attractive for active windsurfers. The bay is surrounded by beautiful nature – mandarin groves, olive orchards and granges. On your way back from the beach, be sure to stop by a local restaurant to sample some delicious fish and seafood dishes. Find out where the best restaurants are in Bodrum.
How to get there? You can get to Akyarlar Beach from Bodrum by dolmusha for 3 to 5 liras. You can also get there from Milas Airport, which is about 50 kilometers from the resort. Flights from Russia land at the nearest airport in Dalaman, 190 kilometers from Akyarlar. The travel time from there takes about 3 hours. Many tourists prefer to get to the hotel by cab.
Best Hotels. One of the best local hotels is considered Kefaluka Resort with a private sandy beach, a beautiful green garden and an excellent choice of rooms. The hotel offers its guests rooms 5 meters from the private beach. As an alternative, consider the 4-star complex Mio Bianco Resort, which is 50 meters from the beach. The private beach is across the street from the sea. Free sun loungers and umbrellas.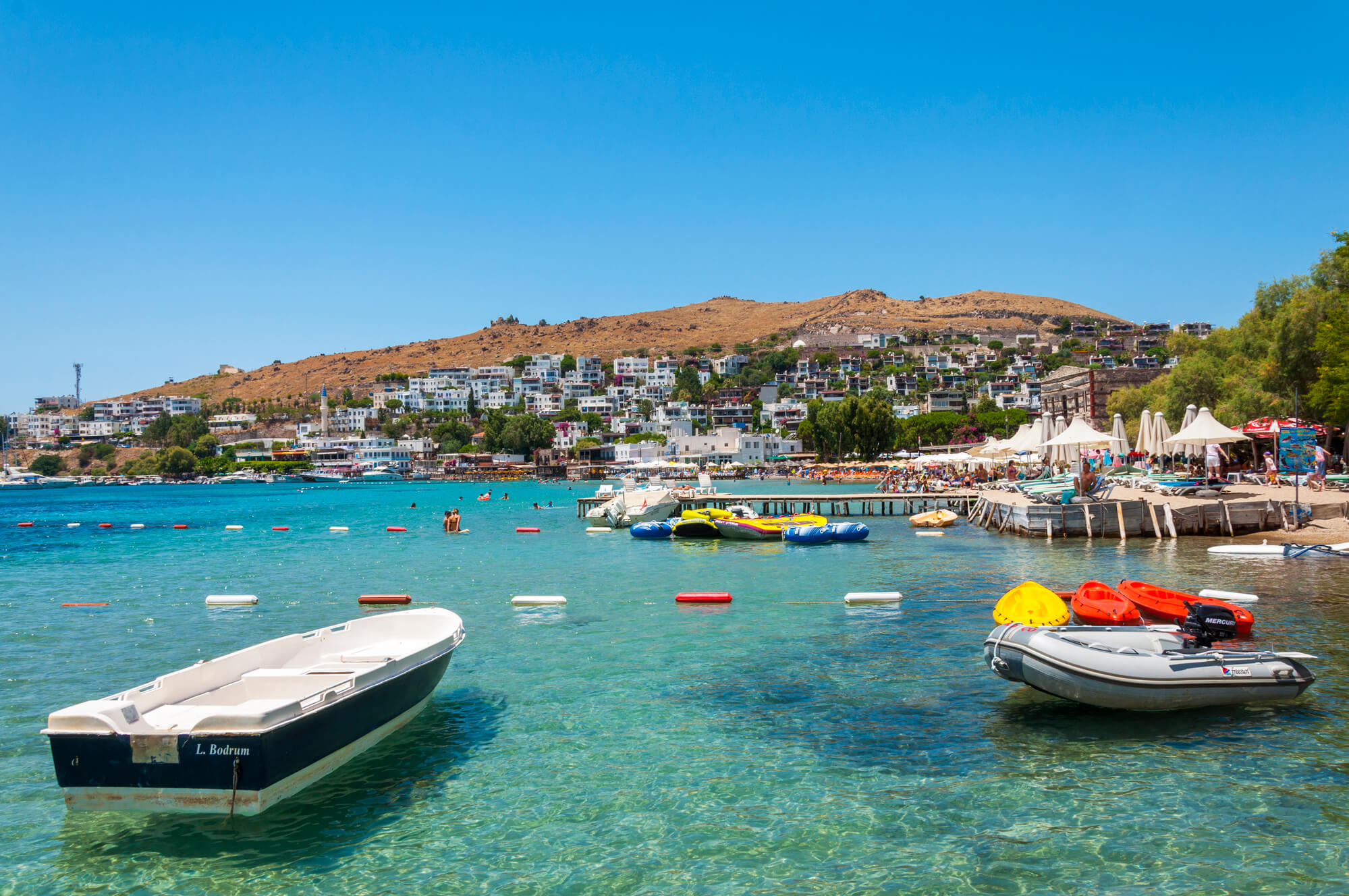 Akyarlar beach. Photo: Resulmuslu / Depositphotos.com.
Torba Beach.
In Bodrum, the sandy beaches will allow you to spend your vacation in complete solitude. The quiet Torba, 5 kilometers away from the city center, is the right place for it. It is a long sandy strip of coast with an excellent set of five-star hotels. The coast is near picturesque hills, fragrant groves and the azure sea.
How to get there? Tourists from Russia, Ukraine and Belarus fly to Dalaman International Airport. Then there is a transfer by bus for about 4 hours. Some travelers with several transfers get to Milas Airport, located 40 km from Torba. From there it takes about 20 minutes.
The best hotels. The tiring drive is worth it to visit the best beaches in Bodrum. For a vacation for the whole family, choose the five-star Hotel Voyage Torba Private, 250 meters from the guarded private beach (300 m long). It is oriented on holidays with young children and fans of active sports. For guests – water aerobics lessons, diving school, an excellent choice of spa treatments, tennis courts. Free umbrellas and sun loungers.
The Isil Club Bodrum 5* is 60 meters away from the private sandy-pebbly beach. The complex is surrounded by 4 hectares of fragrant groves and pine forest and is just 8 km from Bodrum. Isil Club Bodrum beach pool has dozens of free sun loungers.
The popular Sarpedor Boutique Hotel & Spa is 50 km from its own beach. The rooms have an unforgettable view to the sea. The private beach with umbrellas and sun loungers is 25 meters long. Nearby is one of the best paid beaches of Bodrum in Turkey – Gazebo.
Torba beach. Photo: mylasa / Depositphotos.com.
Gelturkbukyu Beach
Very often in the reviews about the beaches of Bodrum can be found a mention of one of the best places for recreation – Gelturkbukyu. This beach is considered elite – local stars and Hollywood stars rest here. Many Turkish oligarchs come to Geltürkbukyu with their families. The sandy beach is several kilometers long, and there is no road between the shore and the first-line hotels. Because of the strong winds it has become a favorite vacation spot for professional surfers. Many famous hotels in Bodrum with a sandy beach are located here.
How to get there? The beach is very easy to get to by dolmusha from Bodrum, a distance of only 15 km. The fare is about 5 Liras and the ride lasts no more than 30 minutes. The distance to Milas Airport is 48 km, and to Dalaman International Airport is 190 km. The most convenient means of transportation is a cab. Many hotels offer a free shuttle service.
Best Hotels. Voyage Turkbuku tops the list of the best hotels, which is located in the middle of a lush fragrant forest. The resort complex has its own private beach with a convenient entrance, sun loungers and umbrellas. Voyage Turkbuku offers seafood specialties and luxurious rooms with sea views.
Hilton Bodrum Turkbuku Resort & Spa is just as comfortable. A private sandy and pebble beach with a comfortable entrance to the water is just 100 meters away. Free of charge for hotel guests are issued (by card) beach towels, mattresses, umbrellas and sun loungers. You can admire the beauty of the underwater depths from the pier or the platform.