Borovoye is a balneological resort in Kazakhstan.
We tell you about the picturesque oasis among the steppes of Kazakhstan – Borovoe resort. Find out about prices in 2022 for hotels, recreation facilities and food. What to do in Borovoye? Tips and reviews of tourists.
Exchange rate: 100 Kazakhstan tenge (KZT) ≈ 17 RUB.
Contents:
Tourist reviews of recreation in Borovoe
The popular balneological resort of Burabay – Borovoe village – is located in Akmola region, in the north of Kazakhstan. Most tourists like the rest in Borovoe. In their reviews, they wrote that they were happy to spend time in nature, far from the noisy city. It is especially pleasant here in warm, sunny weather.
What is the cost of recreation in Borovoe in Kazakhstan in 2022? According to tourist reviews, the prices of lodging, food, entertainment and tours at the resort are average. Over the past few years, the cost of housing has increased, so in the peak season, accommodation in Borovoe is as expensive as on the Black Sea coast of the Caucasus.
The pluses of recreation in Borovoe:
Clean lakes.
Fresh air.
Not bad beaches.
Good conditions for recreation with children.
Excellent opportunities for trekking.
Cumysotherapy, mud and mineral water.
Pine forests.
Picturesque nature and mountain landscapes.
OlgaB: "The most beautiful lake, surrounded by mountains. The views are simply delightful."
Cons :
No architectural landmarks.
Some beaches are not well maintained and littered.
Even in summer, the water in the lakes is cool.
In the evenings get mosquitoes.
Underdeveloped infrastructure.
Hohodun 777: "I didn't like the resort village itself. An ordinary steppe village. Soviet still houses in five floors, garbage from a lot of people and a small number of garbage garbage cans, miserable attractions and entertainment".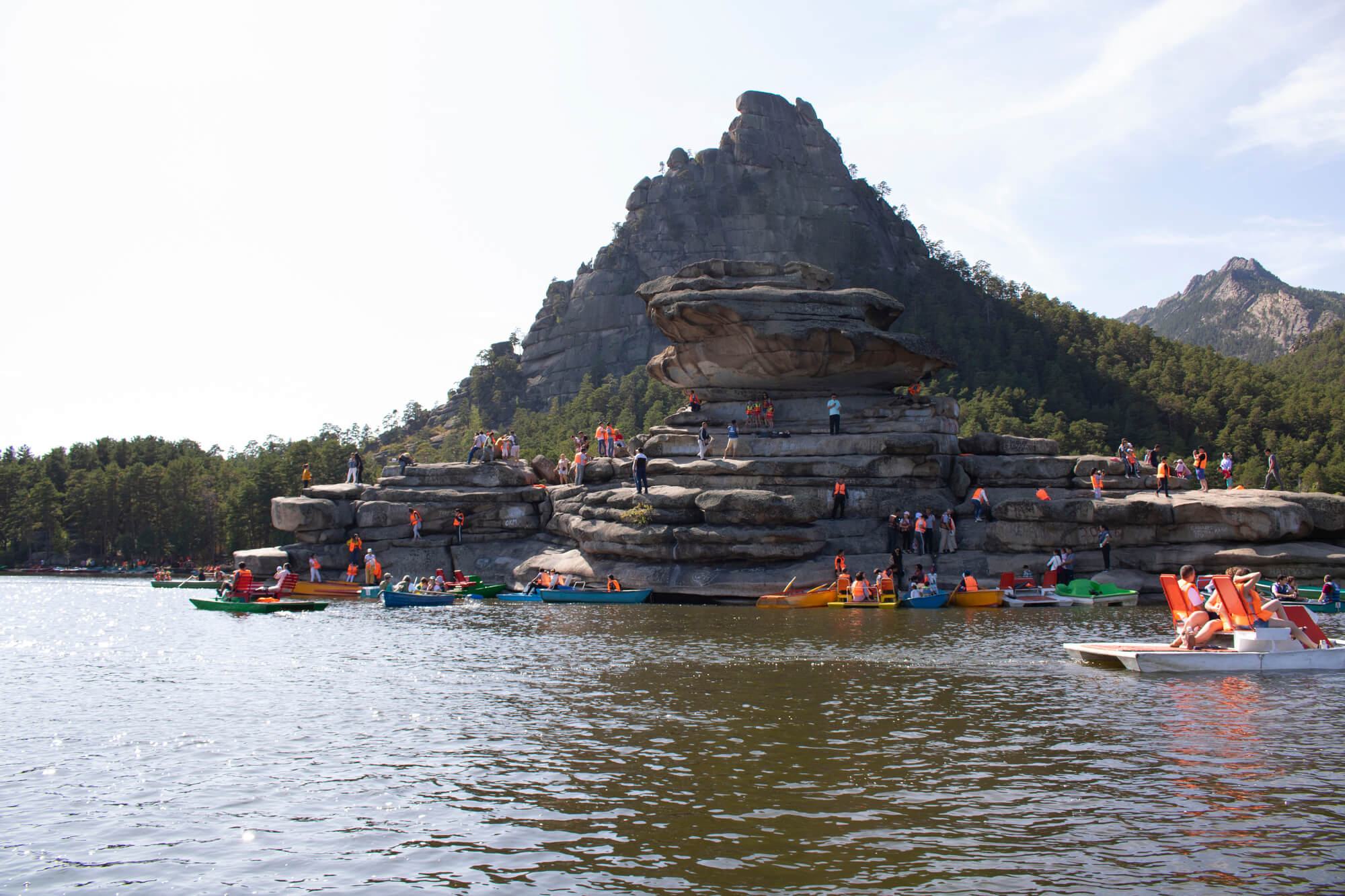 Most tourists like the rest in Borovoe. In their reviews, they wrote that they were happy to spend time in nature, far from the noisy city. Photo: aibekovdaniyar / Depositphotos.com.
Prices for hotels and recreation centers in Borovoy – 2022
Look for hotels with discounts on Ostrovok.ru and Yandex.Travel. Here are the main rules of hotel search.
The resort area of Burabay has a large number of hotels, guest houses, recreation centers, and sanatoriums that specialize in the treatment of respiratory diseases. There are very few comfortable 4-5* hotels. There is no all-inclusive catering service. Guests are offered only breakfasts or half board. From hotels of high level we can recommend those with excellent rating and reviews: Park Hotel Kokshetau 4* and Rixos Borovoe 5*.
The prices for holiday camps in Borovoe in Kazakhstan in 2022 are quite democratic. Tourists who come to Borovoe by camping can stay in tents or rent apartments and cottages from local residents. Also you can rent an apartment with a kitchen for a family vacation.
Prices per double room in hotels and recreation centers in Borovoe in 2022, in rubles:
| | |
| --- | --- |
| Type of housing | Price per day (rub) |
| Hotel 5* | 8500, with breakfast |
| Hotel 4* | 5500, with breakfast |
| Hotel 3* | 2500, with breakfast |
| Hotel 2* | 1400, with breakfast |
| Sanatorium | from 1500 |
| Guest house | 1000-1300 |
| Holiday home | 1200-1500 |
Important. Many private individuals rent accommodation only for two days or more. Some ask for 100% advance payment. The hotels charge extra for the pool – 1500 KZT for adults and 800 KZT for children. The spa facilities are also not free of charge. Parking for a day costs 500 KZT.
Hotel Complex Insar 2*.
One of the best hotels in Borovoe offers comfortable family rooms. It is clean, has an unusual design and hearty breakfasts. A studio room for two with breakfast costs from 3000 rubles.
Comfort Guest House
This stylish and clean guest house offers rooms for 2-6 people. The yard has an outdoor pool, barbecue facilities and a playground. Double room costs from 2000 rubles.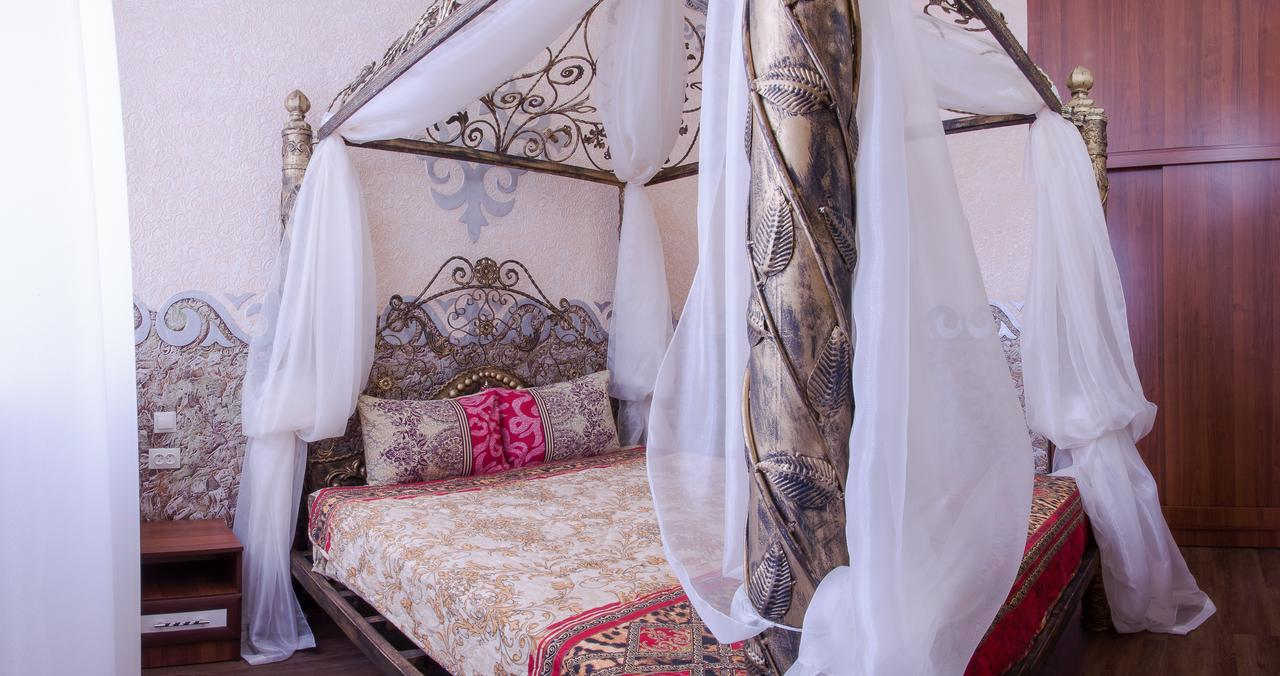 Room in Hotel Complex Insar (Photo: booking.com / Hotel Complex Insar)
Prices for food in Borovoe
Cafes and restaurants in Borovoe resort in Kazakhstan prepare delicious dishes of Kazakh and international cuisine. Many establishments offer take-away food and delivery to the hotel. For those who like to eat on the go – go to Mix Pizza pizzeria, bistro at the hotel "Zhumbaktas" and burger shop "Kokshetau".
The prices in hotel restaurants are higher, and the food in hostel restaurants and cafes is cheaper. The average bill at a restaurant for two, excluding alcohol – 8-10 thousand KZT. In a cafe in Borovoye you will be fed for 2-5 thousand KZT. To save money, try a two- or three-course set lunch for 2,000-2,500 KZT for two people. Some cafes offer breakfasts for 1,500 KZT.
Prices for food and drinks in the cafes and restaurants of the Borovoe resort in 2022:
poultry kebab – from 1000-1200 KZT;
lamb or pork shashlik – 1,300 KZT;
lagman – 900 KZT;
shurpa – 500 KZT;
manty – 800 KZT;
mashed potatoes – 300 KZT;
French fries – 600 KZT;
a cup of coffee – 900 KZT;
0.5 l bottle of water – 120 KZT;
a can of beer – from 120 KZT.
To save money, many tourists rent apartments with a kitchen and cook for themselves. There are several stores and a shopping center in Borovoe. At the market locals sell delicious smoked peledya and boiled crayfish for 300-600 KZT a piece.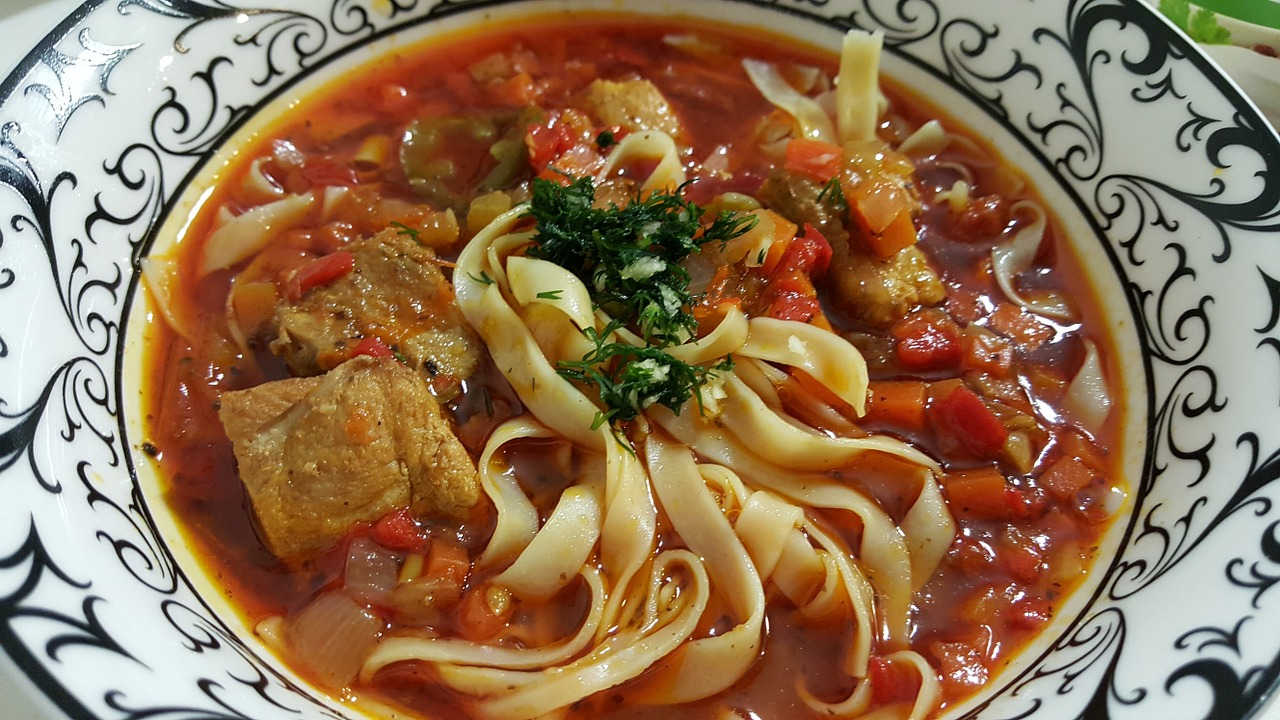 Laghman (Photo: isfara / pixabay.com)
Things to do in Borovoe
The Burabay resort area has the status of a nature park. Entrance to the protected area costs 241 KZT per day. Recreation in Borovoe is popular among Kazakhstanis and citizens of CIS countries. Tourists say that they come here to bathe in the clear lakes, breathe in the pine air, for the healing mud and hiking or horseback riding in the mountains.
In Borovom there are free and paid beaches. At the paid zones the entrance costs 1000 KZT for adults and 500 KZT for children. For this money you can use the deck chair, and the child can ride the inflatable slide and jump on the trampoline.
In the warm season at the resort there is a rental boat, speedboat and catamaran. Rent a boat for five people costs 2 thousand KZT for half an hour and 4 thousand KZT per hour. A half-hour tour with a boatman costs KZT 3,000.
Bicycles for rent cost 800 KZT per hour and ATVs cost 6,000 to 10,000 KZT per hour. In winter, tourists go skiing. Rental bases are available at the recreation centers and hotels.
Fans of excursions from Borovoye go to Astana and to the caves of Kenesary and to the medicinal mud of Maibalyk lake. Tourists go up to the rock of Okzhetpes and make ascents to the Chertova Katushka and Kokshetau mountains. Prices for excursions in Borovom in 2022 start from 300 rubles for adults and 260 rubles for children.
During a vacation in Borovoye with children take a walk in a pine forest near the settlement. There are squirrels who gladly accept treats from hands. To admire the lakes from a height, climb the paths to the rocky cliffs.
Visit an unusual grove "Dancing Birches", the local zoo, and the Museum of Nature, located at 38 Kenesary Street. In Shchuchinsk city there is an interesting museum of local history, and on Shchuch Lake there is a theme park "Kazakhstani Lapland".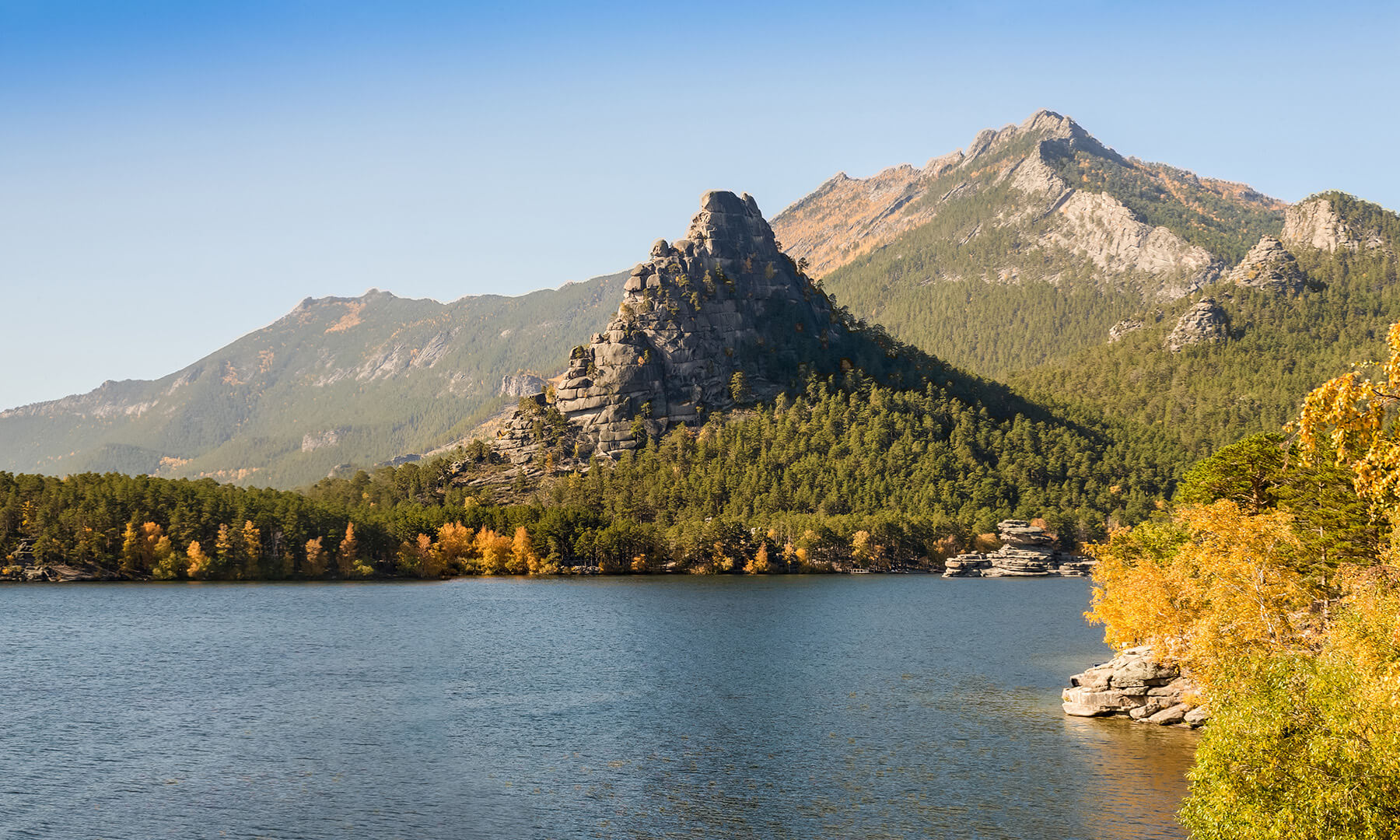 From left to right: Mount Okzhetpes, Mount Sinyukha and Three Sisters. Photo: Wassiliy / Depositphotos.com.
Tourist tips
Holidays in Borovoe in Kazakhstan will suit those who love hiking and sightseeing. If you don't expect much comfort and want to spend time in nature, a trip to Borovoye will leave a pleasant impression.
The nearest airport is in Koshketau. There are no direct flights from Moscow, so take tickets to Astana. The distance from the capital of Kazakhstan to Borovoye is 250 kilometers. A cab costs 38,000 KZT. Those who want to save money are advised to get to the resort by train, bus or shuttle-bus.
On weekends the townspeople from surrounding villages come to Borovoye, so the beaches become crowded. Plan a trip to the resort on weekdays or rest on paid beaches – there are usually fewer holidaymakers.
The weather around Borovoye is capricious. Heavy rains start unexpectedly and may last for several days. Even for a short vacation take some warm clothes, umbrellas, rain vests and waterproof shoes.
Holidays in Borovoye Lake, Kazakhstan, prices.
Travel planning
In this material let's look at rest in Burabay and prices for accommodation, food. We will find out what weather awaits tourists, when it is better to go and what types of treatment are available here. Self-travelers will be useful to know how to get to the lake on your car or what other types of transfer to use, will give tips and reveal the best places to relax in Borovoy in 2022.
Travelling to the Black Sea resorts many people are simply bored. And someone just does not have the opportunity to go so far away. Way out could be a trip to resorts in Kazakhstan. One of them and it is time to consider.
Prices for vacations at Borovoye Lake in 2022
Prices at recreation centers
The cost of recreation on the Borovoye Lake in Kazakhstan is made up of the cost of accommodation, food and entertainment. The costs vary according to the point of recreation you choose. While renting the lodging, you should consider the seasonality, the conditions of the lodging and what it includes.
Thus, the base "Fairy Tale" offers accommodation for one guest for 2500 tenge per day without meals. If you select the breakfast option, you will have to pay an additional 600 tenge.
In "Kolibri" the prices are higher – from 5 to 15 thousand tenge, at that the meals are not provided at standard pay rates.
It is cheaper to stay at the "Oasis" recreation center: from 5000 to 9900 tenge per day.
In the boarding house "Akbulak" you can spend a day for 6000 tenge without meals, and in "Maibalyk" for the same amount offer service with meals.
The prices at the rest centers at Lake Borovoye, as you can easily see, are very different. But all the accommodation offers described above are worthy and have good reviews from tourists.
Prices for food and products
Choosing to travel without providing food at the hotel, at the recreation center, a significant amount to save money will not work. Modest cafes far away from tourist centers and places of interest charge from 2500 tenge for a proper lunch. Products in stores have the same price in general. Savings on visits to the market compared to supermarkets will be 5 – 10%.
It should be remembered that in some catering establishments tips are initially included in the bill, while in others the tourists themselves pay at their discretion. It is worth clarifying this issue before you go to a particular place. Everywhere in Borovovoye, there is a positive attitude to extra tips, charged in excess of the standard official or provided by common courtesy taxa. You can buy 1 bird shish kebab, 2 portions of vegetable salad, or 2 portions of borscht, shurpa, or 1 plate of lagman (pilaf, manti), or 3 portions of mashed potatoes, or 5 ice-cream in a cafe within 1000 tenge. Everywhere food is tasty and according to traditional recipes.
Prices for excursions in Borovoe
The fee for excursions depends greatly on what place you decide to visit, and how far to get to it. To "Nastya tears" and "Devil's Stone" travelers can get for 250 tenge. A little bit more expensive is a trip to the Shchuchye Lake, about 300 tenge. Excursions to the peaks of the mountains are offered for 1,000 tenge. The same amount will allow you to visit the Kenesary cave. A major tour to Astana will cost 7,000 tenge for adults and 6,500 tenge for children.
Note also that the cost of sightseeing programs varies depending on the current season. A picnic is offered for 4,300 tenge. A 90-minute horseback ride costs 1,500 tenge, and a two-hour boat ride costs 2,700 tenge.
What does the lake look like?
Where to go to the recreation base?
Attractive reviews about recreation on Lake Borovoye is not uncommon, on many forums tourists write only positive points. But you need to know where exactly to go, so that the result justified expectations. Our tips will help you decide on the place and do not waste time looking for information.
Recreation center "Diana" offers accommodation for children under 5 years old at no extra charge (if not required to provide them with special seats).
Travellers are accommodated in the cottage or in wooden log cabins. The surrounding area is quiet and calm, but not far from the tourist infrastructure Priozerie. Right at the base of the recreation center there is a sauna. The staff is ready to assist in organizing excursions. Getting to the adjacent beach on foot is not difficult. Breakfast is included in the cost of living. Residents of "Diana" can additionally use the services of a summer cafe. Some tourists use the grill-house. In the double economy room the guests are accommodated for a day for 625 rubles. Junior suites are available for tourists for 750 rubles.
Address: Oboznaya street 17
The way to the beach (800 m) runs through the extremely graceful places. The small territory has not prevented the administration to equip comfortable, beautifully looking hotel rooms. Nearby are restaurants and clubs, billiard and souvenir shops. Available rentals of catamarans and boats. Meals are not provided, the food tourists prepare themselves in the kitchen or barbecue area. Zaselenie in unequipped room for a day will cost 350 rubles, in the comfortable is 550, and the ordinary two-room – 500 rubles.
Address: 15 Oboznaya St., tel: +7 (701) 418-67-11
The territory of the recreation center is landscaped. The road to the lake will take 600 m. The administration has organized bicycle rental. Tourists are accommodated in summer houses made of good quality pine wood. You will have to pay extra for the sauna. Guests can book rooms without meals. For three meals a day for 1 person will be added 300 rubles. Limited to breakfast, you will need to pay only 100 rubles extra each day. In the summertime visitors are brought by organized tourist buses.
Address: 29 Dzhambula St., tel: +7 (777) 286-16-01
The facility is located in a cozy corner, in the central part of the village. Sun beds for lovers of sunbathing are placed in the alleys of the base. Created children's play area, adults also find activities to their liking. Organized water and horseback riding, extreme sports.
Address: Shkolnaya str. (near cafe Taranci), tel. 8 (702) 560 87 99.
The road to the lake beach takes no more than 30 meters. The rooms have separate entrances. Comfortable parking is provided. Meals are not included in the standard room rate. Every night there is a disco in the cafe. Children under 5 years of age are free of charge, provided that the additional space is not required.
Address: 32 Kenesary Str., Tel: +7 (702) 520-41-99
Arasan
Rest in hotels on Borovoye Lake and prices
It is necessary to know about the hotels near the village and Lake Borovoye, which are no less attractive in terms of accommodation and for many tourists are just a salvation in terms of comfort. We have selected the most favorable accommodation options in terms of services, services and prices.
Hotel Arhidom provides a typical room with a couple of beds for 2455 rubles per day.
Double rooms with twin beds are available for 2780 rubles. The family rooms of advanced level will charge 4100 rubles. Guests with pets are not accommodated. Funds are accepted strictly in cash, no bank payments and transfers from cards, e-wallets are not provided. The hotel has its own restaurant. Rooms are equipped with personal bathrooms, televisions, and free wifi. Check-in is available 24/7. Guests can engage in horseback riding and hiking in the surrounding area. Book a room.
Rixos Borovoe offers deluxe double rooms with breakfast and free wi-fi for 12,000 rubles per day.
If you choose a variant with full board will have to pay already 15000 rubles. Private parking is available at no extra charge. Wi-Fi is also available free of charge. The hotel corresponds to the 5 stars category. The hotel restaurants please with a variety. Tourists can not limit themselves to dishes of Kazakh cuisine. Book a room.
In a superior double room to spend a night will turn out for 2800 rubles. Triple room will cost 4000 rubles. Guests use restaurant, barbecue accessories, 100% rooms are equipped with individual bathrooms with a set of hygiene products. Every day a continental breakfast is served. Hotel Rixos Borovoe 5.
Hotel Rixos Borovoe 5*.
How to get to Borovoe Lake?
Tourist buses go to the lake. We do not recommend driving a private car. The last part of the road leading from Russia is disgusting. In addition, for ordinary travelers, unlike those going by buses, they are checked particularly carefully at the customs and border crossing points. You will also have to pay for car insurance when crossing the Kazakh customs line.
Another variant is to go by train: go to Petropavlovsk, and then change to Moscow-Karaganda train, or Petropavlovsk-Almaty train, or Yekaterinburg-Tashkent train. All trains go through the Borovoe (Shchuchinsk) resort station.
Russian citizens can stay in Borovoe without a visa for up to 90 days. When travelling by private car you should remember that different checkpoints have different working hours.
How to get there by plane? First of all, you need to buy a ticket to Kokshetau or Astana. In the first case you will need to overcome 85 kilometers to the destination; from Astana you will need to drive 250 kilometers. From Kokshetau you take a bus or electric train. From Astana we take a bus.
Map of the route by car.
Weather in Borovoy (Burabay).
As already mentioned, recreation in the resort of Burabay and prices are based on the season, in fact, you can spend your vacation at any time, many institutions operate year-round, it all depends on your plans and desires.
Temperatures by day and night Number of days with precipitation by month
Life Hacks to Save Money
We recommend taking advantage of the tried-and-true tips that our readers use most often. In order to find great deals on accommodation, tickets and other items when planning a vacation:
Economically insure your health and life while traveling advise through Tripinsurance, the service works only with proven large insurance companies, which already causes trust. You only need to choose the most cost-effective option, but it is better not to save on your health.
Airline tickets? We advise you to use Aviasales.
We advise you to install on your smartphone app from RumGuru, so you can find any accommodation even when you arrive in town, it is very convenient to find a free apartment, hotel or hostel in real time on a business trip or on an unplanned vacation.
Perhaps you will also find our selection of useful applications for the tourist.
My name is Sergey and I work as a guide in various cities in Europe, Asia, Eastern Russia, also as a manager of a large travel agency. During my travels I have experienced a lot of emotions, learned useful information about rest and prices, saw unique places, which I hurry to share on the pages of my blog about tourism.