Bosphorus Sorgun 5* – stylish family hotel in Side
Our review of a vacation at the large and stylish family hotel Bosphorus Sorgun 5* in Side. See photos and find out about holiday prices.
Bosphorus Sorgun 5* is a huge hotel in Side, designed for a Russian-speaking audience. Almost all staff speaks Russian, which is very unusual for us – we habitually start a conversation in English, so the staff at first even get lost. They think, perhaps, what kind of aliens have come to us.
The hotel is stylish and quite trump. We have never been in such giants before. We stayed in such giants and we didn't have anything else at all: swimming pools, beach, spa, restaurants, stores, a bunch of entertainers, evening shows, a thousand places to sleep, bars and snack bars at every step. For children there are water slides, animation and a shallow pool.
We relax by the pool with a cocktail.
Beer, whiskey, cocktails flowing as a river, the pool is buzzing with an abundance of bathers, the restaurant buffet is bursting with food. Here he is, our brother's favorite vacation! Well, let us get acquainted, let us study – we are inquisitive people, everything is interesting to us, moreover for us such hotels and rest is a novelty.
Let's have a rest!
We got a room overlooking the river and mountains – a real bucolic place. It was nice to go out on the terrace in the morning and watch the sunrise!
The terrace overlooking the river, mountains and sunrise. Idyllic!
The room is spacious, cool, with a desk, large bed and terrace. The furniture is fairly new. Surprised that the room TV is built into the mirror – just a miracle of modern engineering. There is a nice variety of lighting. Wi-Fi was free throughout the hotel, including on the beach. Room cleaned every day, the minibar was also replenished daily.
Nice room. Nice lighting in the room.
Bathroom design is a bit lacklustre but the decor of the bathroom was a bit lacklustre.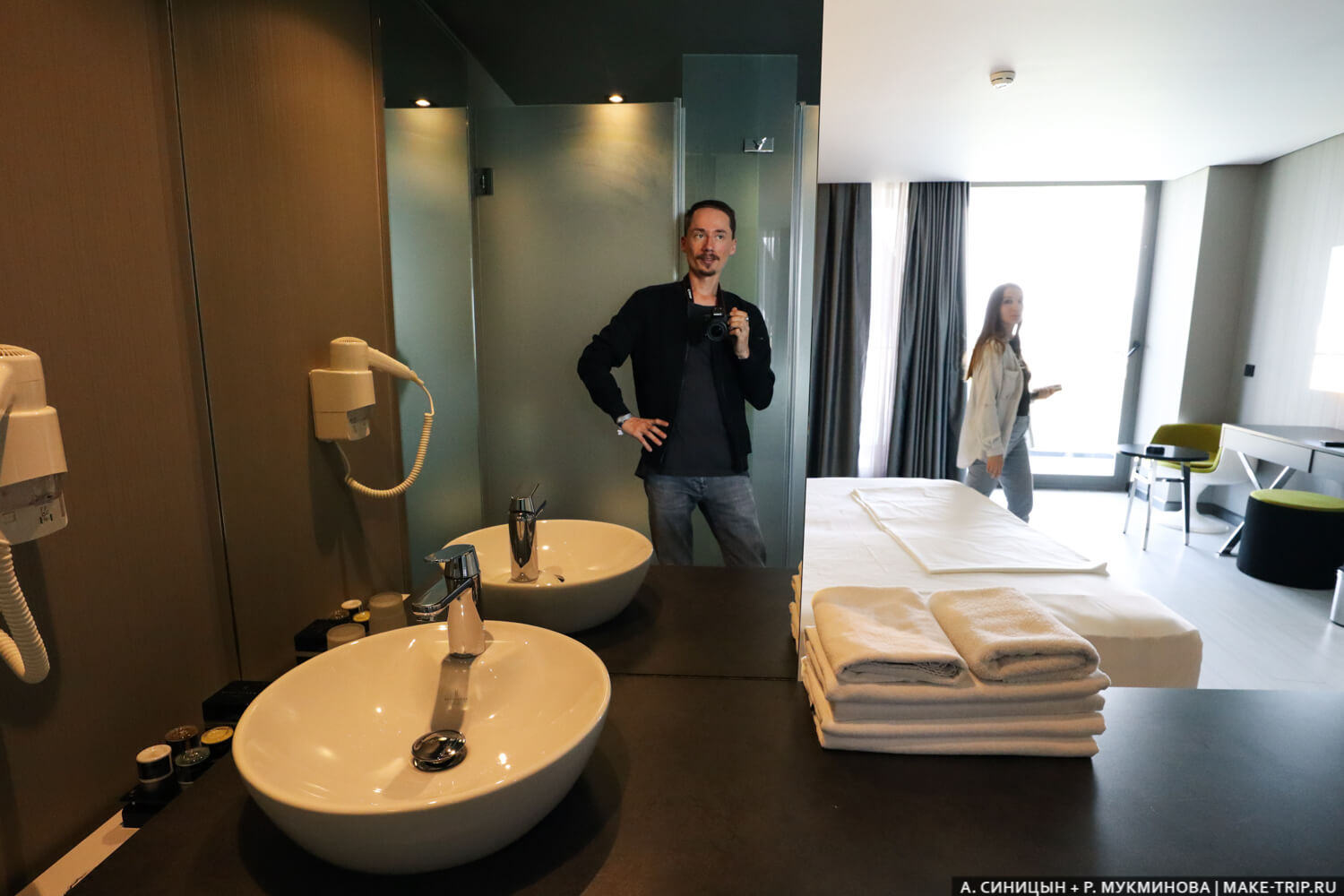 The bathroom is combined with a bedroom, and the walls do not reach the ceiling.
Take note:
The all-inclusive food is very decent. The choice is huge, especially at dinner: shrimp, kebabs, and various fish were served. What we especially liked, there was always a table with a lot of Turkish sweets – all kinds of baklava! Except that breakfasts are a little monotonous, and there were no meat products in the morning.
Lunch. Main restaurant.
The hotel has a good spa – we went there a couple of times for a massage, soaked in the hammam, sauna and steam room, tried different procedures. In general, the first time we tried the hammam, although it was our fifth trip to Turkey. It turned out that the hammam – a very pleasant thing. The temperature is not higher than +30, so it does not feel bad, like in the sauna. You lie on the warm stones, getting high and pouring cool water over yourself.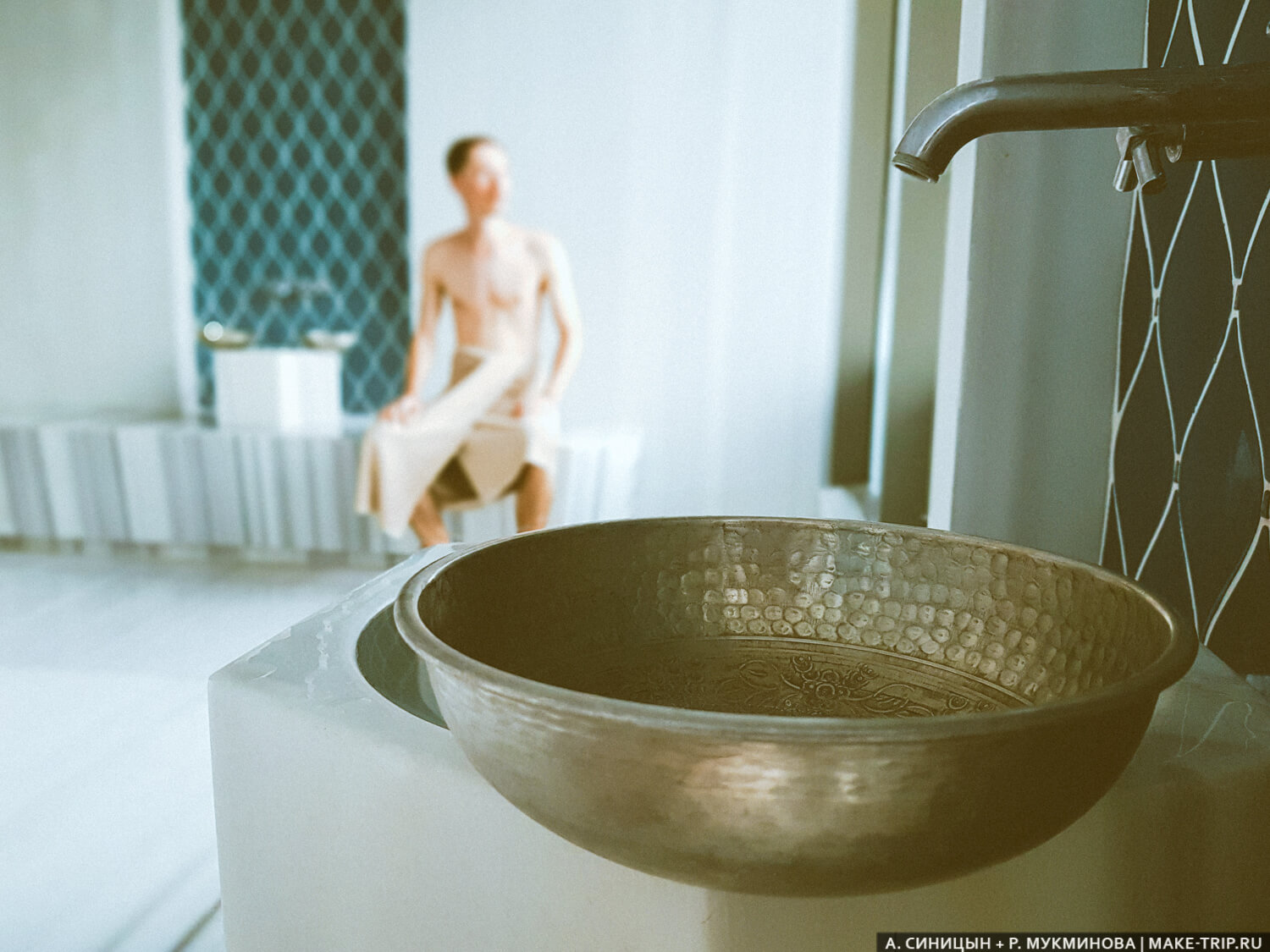 Lyosha is in the hammam of the Bosphorus Sorgun 5* hotel.
The hotel has its own beach. It is sandy and wide. On the beach a lot of sun beds, a bar, toilets, showers, changing rooms. To the sea you can walk for a couple of minutes, but very lazy go to the free electric car.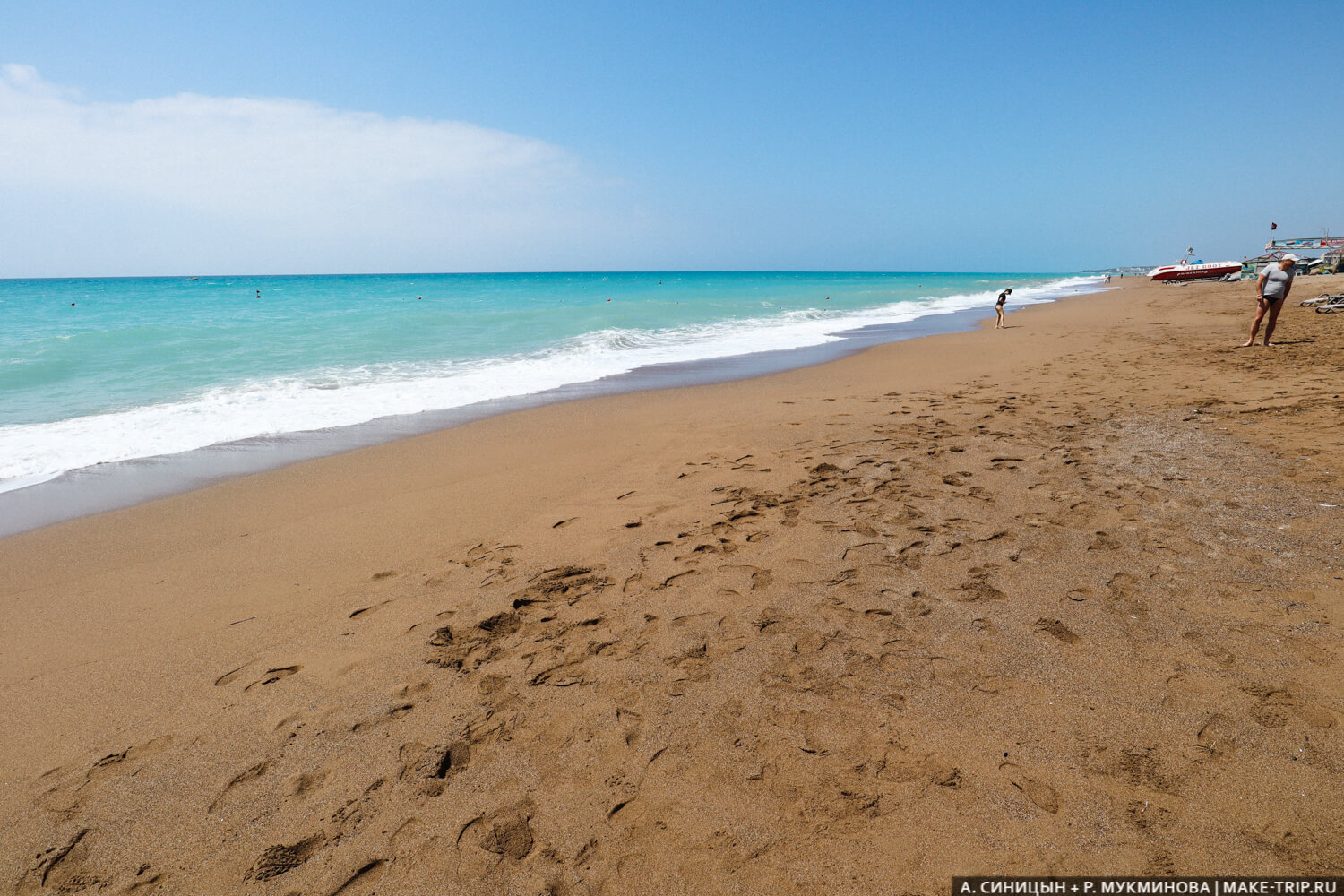 The beach is sandy.
It is interesting to know:
I liked that there is a jogging and biking trail right behind the hotel. We walked there in the evenings, listening to the croaking of frogs and the chirping of crickets.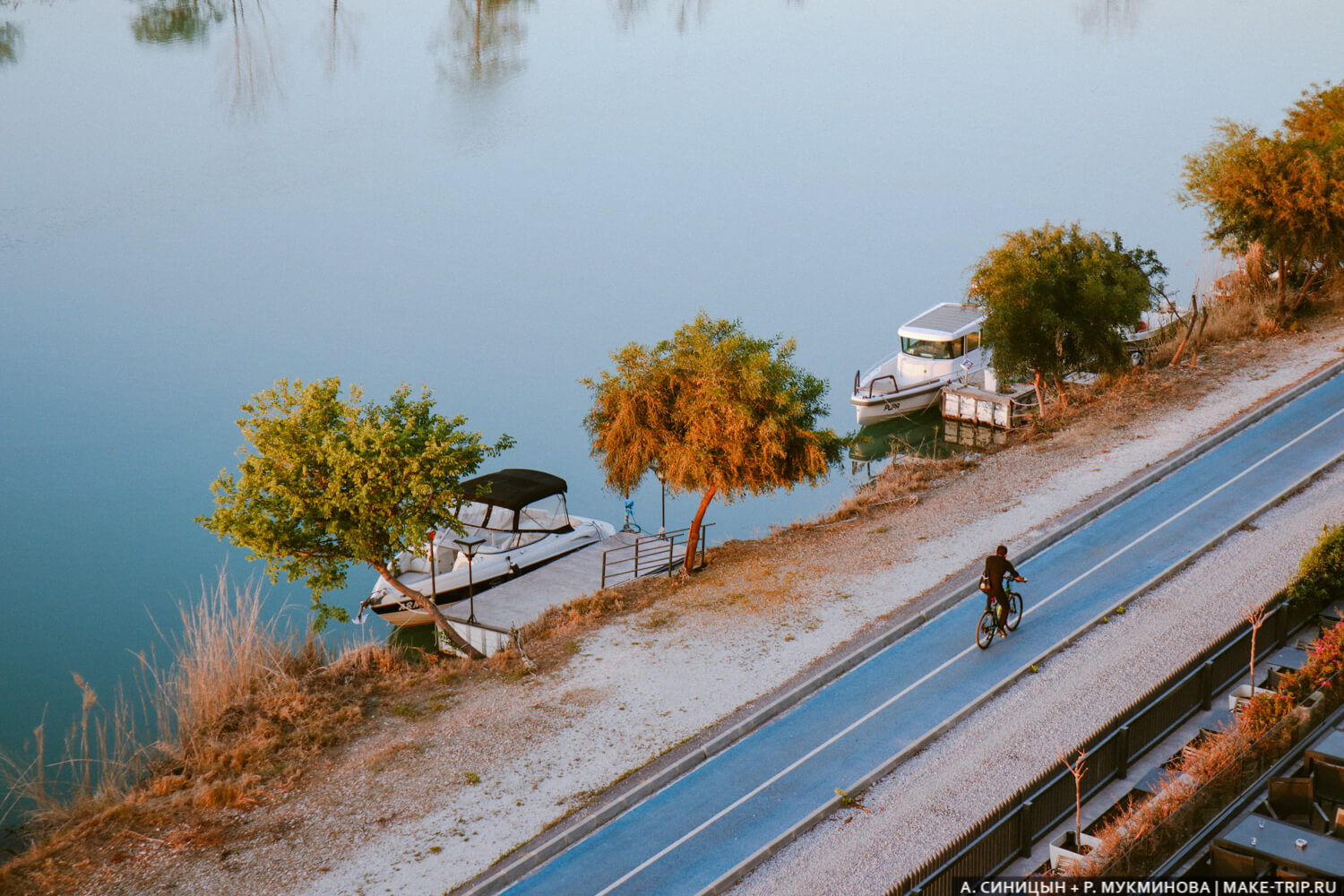 The bicycle path.
And there are also a lot of cats on the territory, which are fed. We were even offered to take one bandit, a particularly cheeky cat – they say, before the flight will be processed documents, and that some tourists take the cats with them. I don't know if this is a joke or not.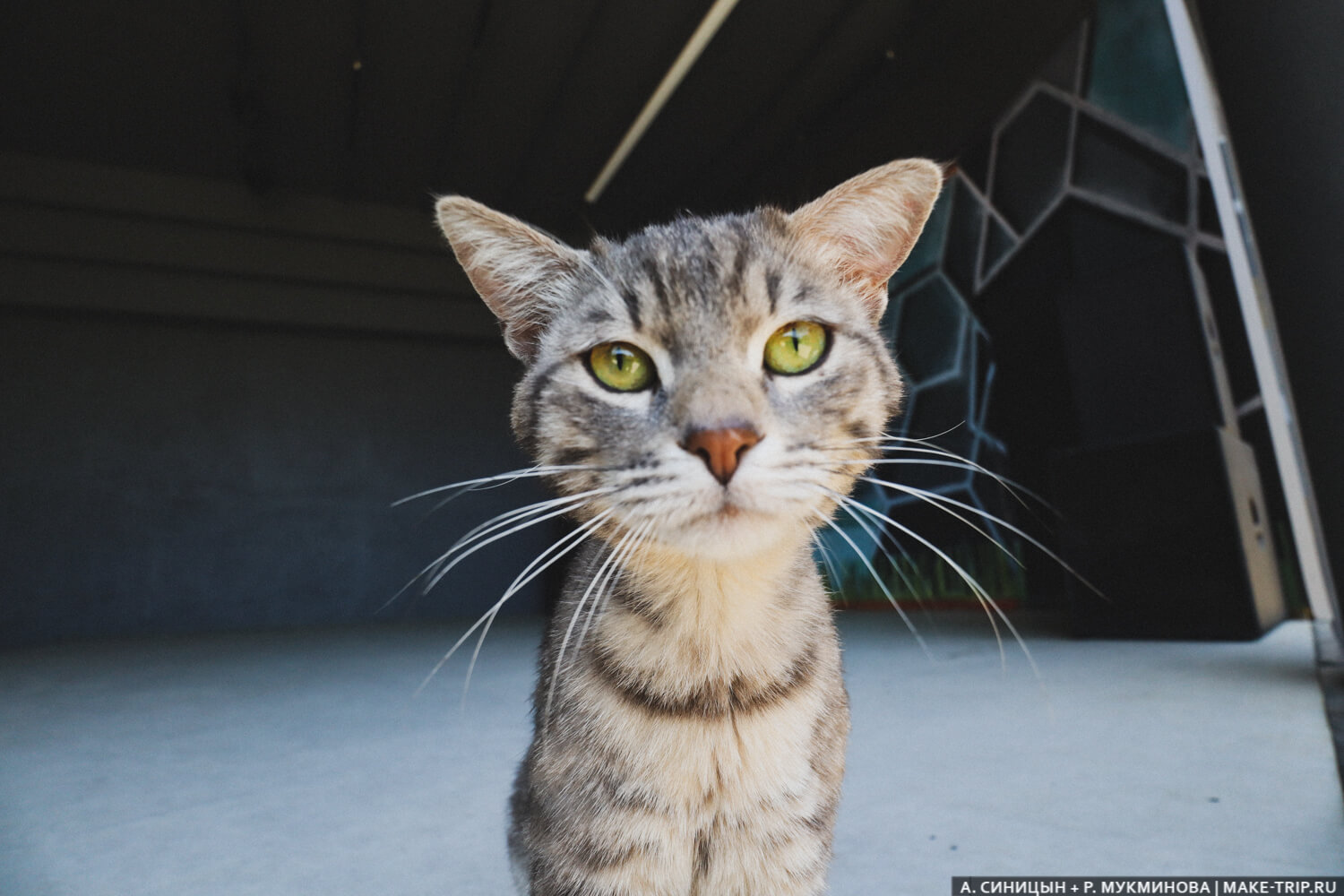 That's the cat bandit.
The only minus for us in this hotel is the noisy animation and loud music, which until 10:00 pm was heard even in the room. We like quieter, chamber and intelligent hotels like Sunprime C-Lounge 5* adults only in Alanya. But other tourists, on the contrary, like action and music until the night.
The evening animation is Argentine folk dances.
In general, excellent hotel in all parameters! The only thing if you like calm and quiet rest without children, you definitely not here.
Located Bosphorus Sorgun in Side, in a quiet and secluded area Titreengel. Near the same giant hotels, the sea, the beach, a huge park and a lake with ducks. To antique Side we traveled by bus number 11, which stops in front of the hotel. The fare is 5,25 lira. If a cab – $15.
Prices . In summer, AI tours for 10 days for two at Bosphorus Sorgun can be bought from 130 thousand ₽ with a flight from Moscow.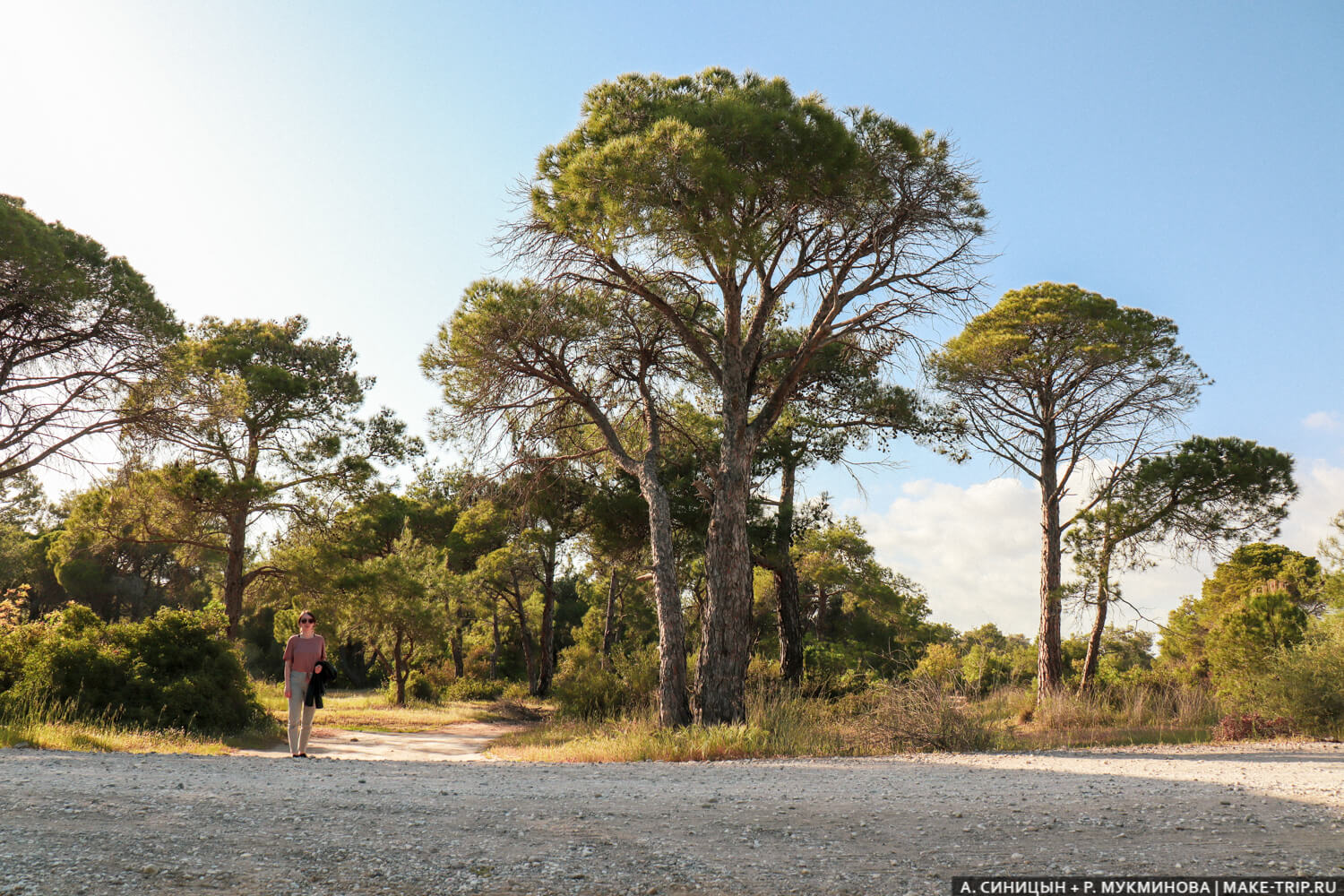 The hotel and beach are separated by a huge pine park. A nice place for walks!
Reviews for Bosphorus Sorgun Hotel 5
Bosphorus Sorgun Hotel was a very cheerful hotel, our room was clean and the staff was amazing the room was not clean and the staff helped us with everything. Read more
The hotel is great, everyone is attentive, housekeeping is every day, the bar is replenished every day. I would especially like to mention spa salon Sabina, Gulia and of course the masseur Irfan, it's top class. The man from the first time. Read more
The hotel itself is very beautiful and unusual! All made of glass. What we liked the view from the hotel is that anywhere in the hotel is impressive. River, mountains or pool, sea. I will start with the reception. Ludmila was a wonderful girl who was very attentive and the staff was very good. Read more
Hello travelers all. I will not describe my travel experiences, but I have not met such in 5*…The interior is beautiful of course but hands down the windows are dirty, mirrors, furniture is worn out as Read more
Good afternoon. Here is the end of my vacation at the hotel Bosforus. What are my impressions of the scandalous hotel, which made a lot of noise because of the corona party, which is what caught my attention in the past. Read more
I would like to address this review to Ludmila the receptionist. My name is Olga Dats. I stayed in Room 8016 from 21 to 26 May, 2022. Read more
Hello all, Just back from this hotel and while my head is fresh in my mind, I will tell you all the nuances) Check in quickly, in honor of my wife's birthday asked for a room overlooking the pool, no problem. Read more
I stayed in this hotel and it was a pleasure to stay here. I had a good stay at the hotel and the food was great, everything was great. I would definitely go back again if possible. I would definitely go back for an Easter party. Read more
I have been travelling to Turkey since 2010, 2 times a year, this is the first time I have come across this. I never went on a plane to Turkey for the first time. Read more
Went on vacation in September 2020. Decided to write a review as we did not have as good a vacation this year in another hotel. The hotel is new, very nice and the food was great. We got the room overlooking the pool. Read more
We stayed at Bosphorus Sorgun Hotel from June 22, 2021 to July 3, 2021 as a family.We arrived at the hotel around 3pm so we were checked in immediately. A hotel employee took our suitcases and showed us ours. Read more
We are now coming to the end of our week long vacation , a big thank you to Bosphorus – it was wonderful . We stayed in Belek and Kemer for the first time ever, not had high expectations of the hotel. Read more
We stayed at the hotel for two nights as part of our info tour. The hotel exceeded my expectations! I liked everything about the hotel, food, and the staff were very friendly, attentive, and fast paced. Read more at
We stayed from April 10th to 23rd in 21h. What a great hotel, excellent food, wonderful nature, unparalleled views. Pine forest Sorgun, an opportunity to walk, run along the river, heady air, bicycle paths, the lake. Read more
We arrived at 13h, checked in immediately, there was a Russian speaking staff. Our room was standard on the 7th floor with a sea view. The room was very comfortable, well appointed and very clean. It was unbelievable.
Yesterday we got back from vacation, and whilst the experience is very fresh, I will try to be as objective and point by point about the hotel.TRANSFERTRANSIT It took us around two hours to get to Antalya airport. The distance is not. Read more
We walked around the hotel without any problems and will not leave our room. Read more
I liked the design of the hotel, everything was hi-tech. The staff was extremely good and the food was impeccable. Our room was very well looked after and our room was very comfortable. The staff was very good. Read more
We stayed both summers in a row (18th and 19th year) at the hotel. I did not have a better price/quality hotel on my dates so I did it again. I did not have any problems with the information. Animation is the only weak point of the hotel. But the food was always fresh. Read more
I have never had such rude staff in my life in my 15 visits to Turkish Olives:1. The first day my spouse was swimming in the pool. Swam accidentally under the bridge between the two pools. Bottom line. read more
More hotels with reviews
Tourists
Company
Top destinations
Where to buy
Travel agency ® Saletur.ru (2005-2022) – the site is for information purposes only, and all information on it is not a public offer, as defined by the provisions of Article 437 (2) of the Civil Code of the Russian Federation. Up-to-date information including the cost of the tourist product can be obtained from the managers of the company on the telephone numbers indicated on the website. Any reprint or inclusion of advertising information is allowed only with a written permission of the site's editorial board. Privacy agreement