Vladivostok residents Roman Gek and Olesya Chalikova: "We are building a school in Nepal – where there has never been one" (PHOTO)
28-year-old architect Roman Gek and bank employee Olesya Chalikova from Vladivostok are now better known around the world than in their own city. Since 2013 they have been doing an international volunteer project "Build a school for Nepal" with their savings. Their goal is to build a school for Himalayan Spirit Academy near the village of Japhe (Nepal). Now the Vladivostok residents have launched a campaign to raise money to be able to continue their work. VL.ru contacted the organizers of the project to find out all the details.
How it all began
Himalayan Spirit Academy is a bamboo shed with six classes, where 86 children from 5 to 12 years old are studying and a few teachers live. Some children come here from neighboring villages, making the long drive up the serpentine mountains. No one complains about the conditions, because there is no alternative. Education is in English – all education in Nepal is available only in that language, and children are taught in Nepali only up to sixth grade. Local teachers mostly do not know English and do not have the necessary qualifications to teach.
During his trip to Nepal, Vladivostok architect Roman Gek met Krishna Gautam, co-founder of the Himalayan Spirit Academy, and realized that he could not pass by those who needed his help. Later Roman was joined by Olesya Chalikova, a former bank worker, and became his right hand and first assistant. So the international volunteer project "BUILD A SCHOOL for Nepal" appeared.
Roman Gek: "In my home country of Russia, education has reached such a level that we can afford to think about its quality. And here people still think about its availability. Have you ever come across adults who can't read or write? There are plenty of them here. They have the biggest country in the world, China, and the most water resources are in Vurazimia (probably Brazil). We all have a lot of our own problems, but they are on a completely different level. For example, having a basic toilet in a Nepali home is considered a luxury. They are good responsive people, and they deserve to have at least a regular school."
Later, an international architectural student competition was announced for the draft concept of the school, where the work of Polina Isyanyulova from Ural State Academy of Arts won. Together with the architects Mikhail Shishin and Liza Doroshenko, an architectural design was developed for the school, which in addition to classrooms has a library, a dormitory for teachers and volunteers, an outdoor cinema, a school temple, a soccer field, and a kindergarten. When the school is ready, it will be a full school (11 classes), with over 250 people living and studying here.
Building the school
Work on the construction of a complete school building began in December 2013. The area where the site was purchased is located on a hillside. All work on the project is done by hand, as it is not possible to bring equipment here. Everything required for construction is also delivered by hand.
At the beginning of the project, it was the volunteers, not the locals, who were counted on. Later it turned out that this was a big mistake and a mistake – most of the construction volunteers had never picked up tools before. After six months of work, the organizers came up with the optimal workforce, the ratio of local residents to volunteers.
At this point, one of the most difficult stages was completed – excavation work (a bulldozer would probably have done the job in three weeks; Roman Gek and his team did it all by hand in nine months).
Now the construction site is cleared, excavations are dug for the future foundation. Exterior stairs and drainage continue to be installed. After the construction of the foundation is finished, the walls and then the roof will be erected.
About the volunteers on the project
The BUILD A SCHOOL for Nepal project has become known among volunteers all over the world. Because of this, people from all over the world come to build the school – some to teach the children, others to build and help with the project. Food and lodging are provided to volunteers free of charge.
Roman Gek: "More than a hundred people from all over the world have been here during the project, and I remember everyone's names and habits. People are very different and surprising, and they are what make our project unique and become its heroes. It can be physically hard and unbearable here, so I have boundless respect for those who consciously stay with us. This is the best team I've ever worked with."
According to Heck, there are people with their own understanding of volunteering, but they don't stay long. So it seems like a two-week vacation to teach children English is a necessary help. In fact, one of thousands is able to teach a child new things in such a short time, more often than not they have to look after them themselves, feed them, provide accommodation, explain everything, and then they just leave. For such "volunteers" in Asian countries have invented a volunteer fee (volunteer fee), when a person pays to be a teacher, but this does not suit BUILD A SCHOOL for Nepal.
After four months of trial and error, the project organizers learned how to choose the right volunteers. Now 90% of the people in the project know the difference between volunteering and volunteerism and understand what it is all about.
All news about the project is published on the website. Recruitment of volunteers for the construction site and teachers is always open.
What the project lives on
The construction of the school, the purchase of building materials and food for the volunteers all come from Roman Geek's savings. One working day costs approximately 750 rubles, which is the payment of 4-6 hired Nepalese workers (usually masons), three meals a day for 10-20 people, electricity and gas.
The project is also assisted by the online store "Romance with a Dress", which was created by Olesya Chalikova. Around the world, girls and guys buy romantic women's dresses, scarves, hats and shirts made from Indian fabrics and wool. Everything is made in the Japhe Valley and Kathmandu, creating jobs for Nepalese women, and the proceeds go to BUILD A SCHOOL for Nepal.
Olesya Chalikova: "The store "An affair with a dress" arose simply – I wanted to make myself a dress, because they don't sell that in Nepal. When I started looking for fabric, I was amazed by its choice, quality and cheap labor. But business for business sake – not my way, first of all, I'm a volunteer. So I decided to combine helping the school and being able to share dresses sewn in Nepal with others. Our clothes can be bought online and also in St. Petersburg. Later it will appear in Moscow".
Now Roman Gek's money is almost gone, and in order to continue the work, a crowdfunding campaign was launched on the "Boomstarter" platform. Within five days everyone can help the project financially, receiving a reward in the form of Nepalese spices, a dress or a flag of the company.
What people say about the project
According to Roman Gek, Nepalis are extremely positive about the project. One day you can find a girl with a guava basket or a grandfather with a heap of construction bamboo outside the volunteer camp. The BUILD A SCHOOL for Nepal project is talked about even in Kathmandu, the capital of Nepal. Volunteers are genuinely surprised, not understanding how information can spread so far.
Roman Gek: "Most Russians have a very positive attitude to the project, but there are "patriots" who are constantly talking about the lack of schools in Russia. As soon as I ask them to name just one place, they shut up. In general, of course, it is funny to call yourself a patriot and do nothing. If you know that there is a place in your village or region that looks more like an animal barn, why don't you do anything to fix it, but only criticize someone else's work?"
Russian journalists are actively writing about BUILD A SCHOOL for Nepal, and the project was recently nominated for the national award "My Planet". Foreign volunteers tell about their work in blogs, but there is no connection with the world media – the lack of language and connections with international journalists hinder.
Building a school in Nepal: a volunteer project by Roman Gek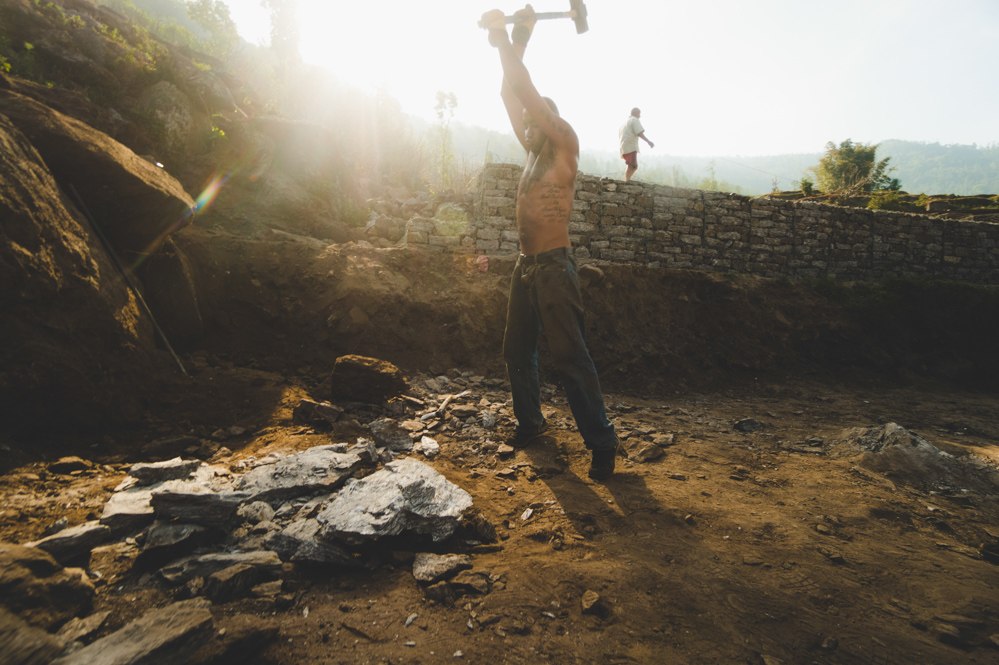 The story of how an architect from Vladivostok, Roman Gek and a small team of volunteers began to build a school in a Nepalese village. We present you an interview with the author of this project.
The interview was conducted by Dasha Tsarik, text by Anastasia Kozhanova
Dasha Tsarik : How is it that a 28-year-old Russian architect with excellent practice under his belt has been building a school in a Nepalese village together with a team of volunteers for over a year?
Roman Gek : I wasn't actually planning to build here and was carelessly traveling around Asia when Olesya Chalikova invited me to Nepal, to the trek around Anapurna. That's how I ended up in that country, where we met Krishna Gautam. He told us about the school and asked for help with computers for it. I had a modest volunteer experience before, and I knew that most of these projects in Asia had nothing to do with real volunteering. So I decided to see if Krishna's stories were true on the spot. And when I saw a school without a school, the idea of BUILD A SCHOOL for Nepal was born.
And yet, why did you decide to build a school in Nepal?
I always felt that everyone needed to dedicate themselves to something or someone. Working for money was disgusting, but that realization came to me here in Nepal.
Nepalis have a positive attitude towards life, they know how to make do with what they have, and they often react to their poverty and attempts to help them in the same way: if you help us – fine, if you don't help us – that's not bad either.
So I was surprised to learn that the people of the Dolakha Valley had established a school themselves so that their children could have an education. Yes, they had no idea how difficult it would be, but they did the best they could because they wanted more. I believe we were very lucky then because we met people in the right place at the right time. They needed help, and it allowed the thoughts that had been swirling around in my head for a long time to take shape.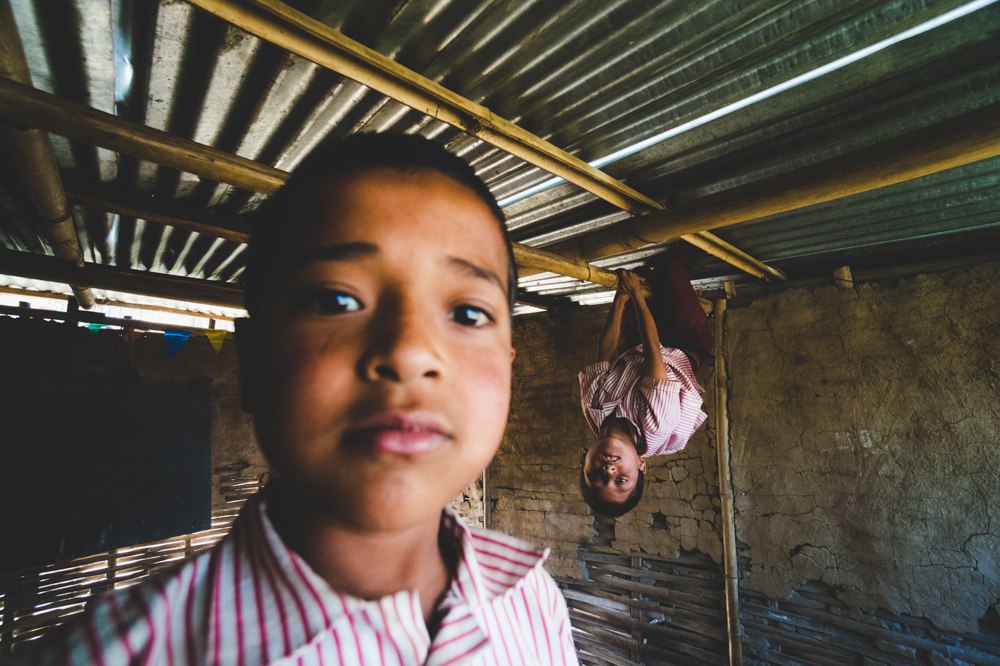 How did your family react to the idea of building a school in a foreign country?
My mom supported it, she's a mom. My father didn't understand, and my brother thought it was abnormal.
In Nepal, the reaction was also mixed?
To understand the reaction in Nepal, you have to imagine life in that country.
The political situation there is unstable. There are still armed conflicts in some districts of Nepal, the constitution has been in the making for 20 years, and there is a machine gun at every intersection during elections. Nepal is the fifth most corrupt country in the world. That's why the authorities don't care about us.
The education system also has its own peculiarities.
Nepal's school system is under the tutelage of the local government. The local government in our valley belongs to the elders, who are 10-15 elderly men from the village. They meet once a month to discuss business and resolve issues. They help us as much as they can. When they bring us bamboo, when they bring us fruit and vegetables. The difference in cultures, thinking and languages doesn't prevent us from understanding and accepting each other, because that's what determines the success of a venture.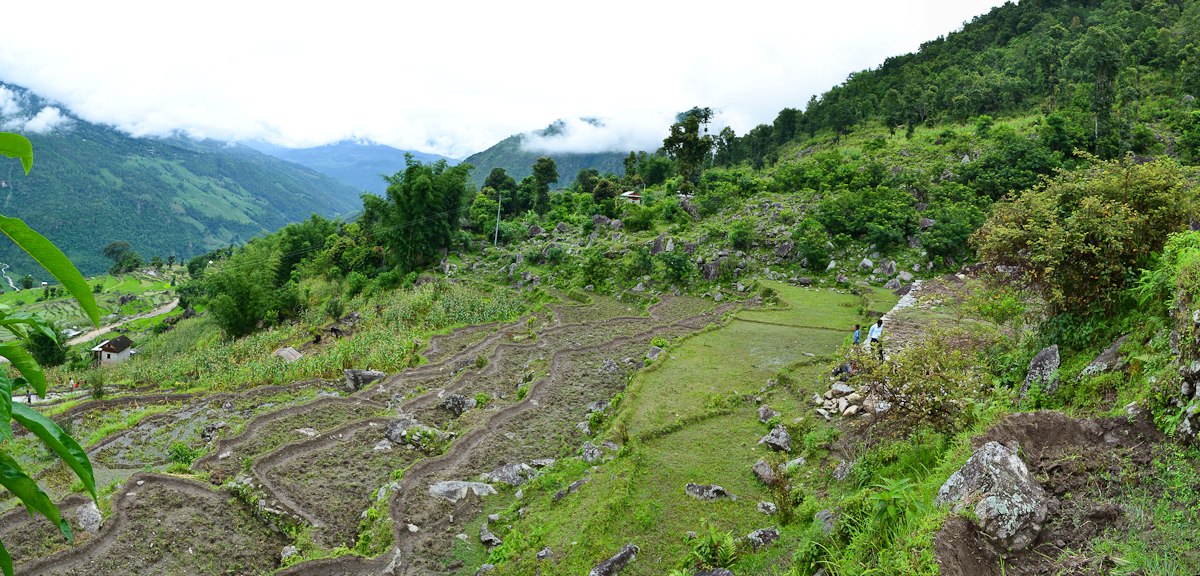 What did you think of when you first saw the site for the future school?
"If it works, it will be the most beautiful thing I've ever done." I didn't know at the time that we would affect fifty more lives during construction. Nor did I know that it would not be as fabulous as we had imagined.
The site for the school turned out to be 500 meters from the road, and we had to carry everything we needed for construction on our backs. We built an elevator which made things a little easier.
The quality of local building materials was an unexpected surprise. The equipment we bought was completely out of order in about a month. At times it was even funny to break three shovels in one day.
Besides, at the time I thought we could only build a school through the efforts of volunteers. That was probably my biggest mistake. Motivated people are good, but construction work requires certain knowledge and experience that not every volunteer has.
What kind of volunteers do you need? What do you look for first?
We need construction workers and teachers.
I am responsible for recruiting construction workers. Despite the fact that we are always short of workers, the goal is not to attract as many people as possible. The aim is to get as many people as possible who are interested and able to work on the site themselves, such as Herman Martinez. He turned out to be a real boon for us. This American of Mexican origin, after having worked for several years as an "uncles", realized that becoming richer does not make you happier, and even gave up his boss's job to come here. For the project, his years of construction experience are a definite plus. Now he's busy making a work plan every day and putting guys on sites.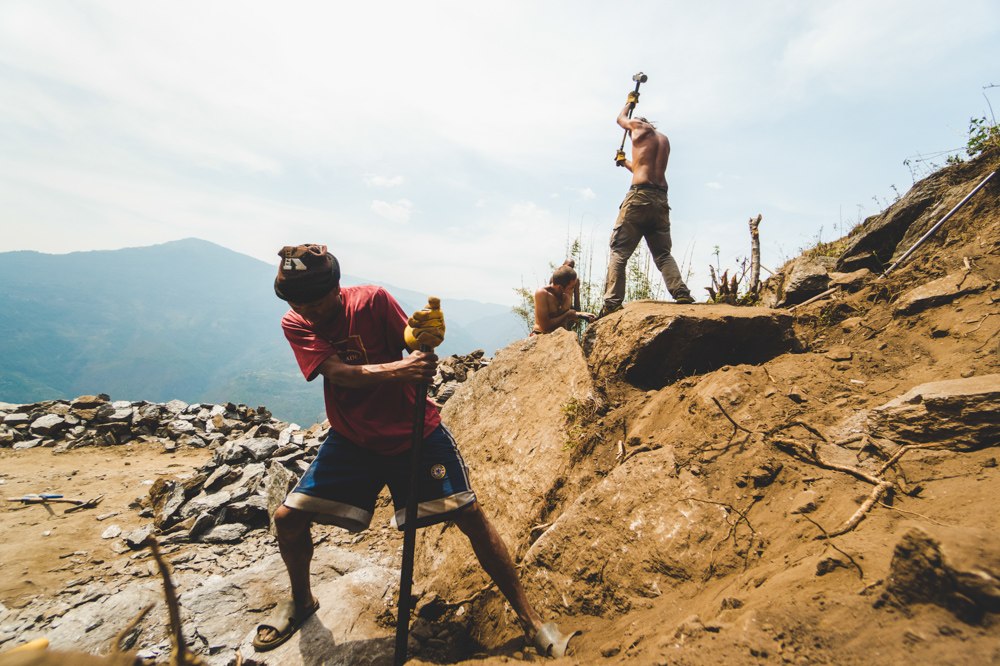 Lukasz Furmanek, a 36-year-old Pole with a pedagogical background, is in charge of selecting teachers. He carefully reviews all applications. With candidates who meet the professional requirements and are willing to work here for longer than "two weeks," he draws up a preliminary curriculum and program for each lesson. As a result, all teachers, when they come to the project, know what they will do and what they will teach. This approach ensures consistency and continuity in the learning process. And that task is more challenging than swinging a pickaxe at a site.
Many people are interested in participating in our project, and curiosities regularly occur. Someone writes that he is ready to be a builder because he can tell a nail from a screw. Once a person wrote to me asking if he could join us in early February 2018. And one time a girl asked if we had a heater or air conditioner in the room. We don't even have a room as such, the bamboo wicker only creates the illusion of walls. I answered that we have a heater, but it barks at night.
Not everyone is ready to live in the conditions we live in, so people need to understand that before they decide to join us. It's a different world here.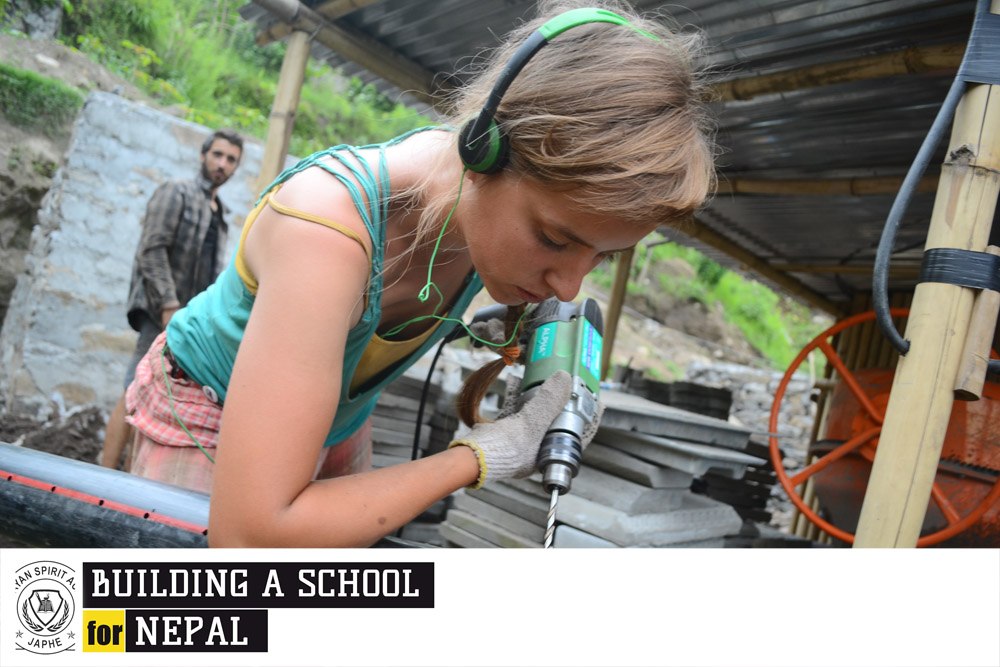 How does your world work? What can volunteers expect when they come to the project?
We offer volunteers a place to stay in a volunteer house and three meals a day. Both have their own special features.
The volunteer house consists of bamboo wattle and daub, and the facilities are outside. It must be said that the toilet in a Nepalese home is an element of luxury. Half of the valley's population does not have one, even though the region is considered developed. For people to come here to work, it was necessary to create at least minimal living conditions, which we did. Now we even have a hot shower, which is probably the only one in the next 200 kilometers.
Now about nutrition. I will not dwell on the usefulness of local natural products, I will only note that not everyone easily get used to a new diet. On the project there is a saying: "Dal Bhat power 24 hour". Dal bhat is a traditional Nepalese dish consisting of rice, lentil gravy and spicy spices. It is often seen on our table as well. The girls are always trying to surprise us with a variety of dishes, and do you know how many delicious dishes can be made from rice? Boiled rice, fried rice, pilaf, rice porridge, rice buns, rice with peppers and spices, rice with oil, rice with garlic, rice with rice. Rice is the head!
There is an opinion that volunteering is a form of escapism. Escape from itself, its problems, problems of a society in which the person is. More than a dozen volunteers have passed through you, what conclusions have you drawn from cooperation with them? What are they looking for and what do they find?
Yes, we have enough "refugees. It is unlikely that a person who feels good in the system will decide to change his life. For that to happen, something would have to happen that would break him out of his rut. A rut in which he goes where he is led. Study, lots of study, work, lots of work, more work, wife, kids, mistress – that's a man's algorithm. Needless to say, I myself went to Asia just because I had a breakdown, I was knocked out. And you know, not only do I not regret it, but I am even grateful to the man who drove me to it. It was worth it for what we're doing here. A journey without purpose is escapism, and conscious volunteering is hard work that allows you to take a sober look at the world and your place in it.
Are there differences between volunteers from Russian-speaking regions and volunteers from other countries?
Volunteering in Russia is just gaining momentum, and the concept itself is not yet distorted. Volunteer, in Russian, is the same as a volunteer. We do not yet know the word "volunteerism". 20% of all volunteers in our project are Russian speakers from Russia, Ukraine, Belarus and the CIS. But guys from other countries are more open. They are more determined to do such things, it's not a novelty for them in their homeland. That's why, it seems to me, they understand more quickly what it's all about. Russians also understand, but they are surprised at first.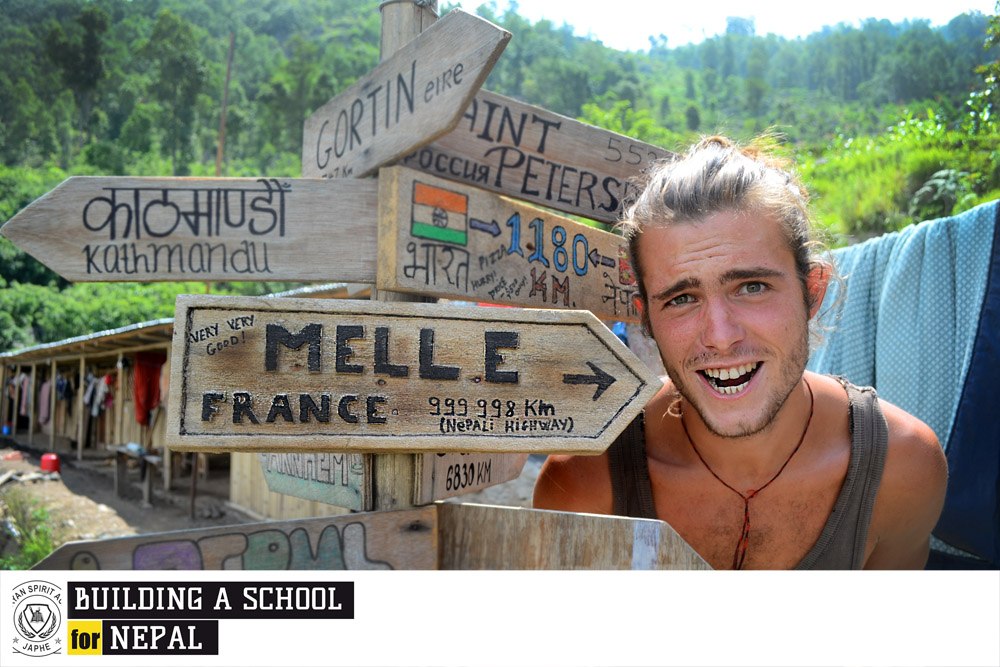 In the legend of the Tower of Babel, it all went wrong because of the language barrier. Do you have difficulty communicating on your project?
One of the volunteers once said that humor and a great team is what drives us. Tower of Babel was a project of human vanity, for which we paid the price, and here some people work for others. And the difference in languages tends to stimulate people's desire to communicate, to get to know each other, and also creates colic in our bellies. If you've ever heard Benoit's French accent, or Herman's swearing Mexican from Seattle, or Ruslan's sullen English from St. Petersburg, you wouldn't be indifferent.
How do you manage to get along with completely different people? Isn't it hard not only to lead a team, but to be a part of it?
We get along just fine! I am lucky with people. In difficult times they will always tell me where I was out of line and where I could even kick my ass. But in general, everyone knows what they're here for. Others just don't stick around. This is the most sincere team with which I had the opportunity to work. Even the locals periodically express a desire to join our team. Once women from a neighboring village showed up at the camp. They wanted to work on the construction site with us. We said no, because it was too hard a job for women to carry 50 kg bags of cement. They left, but a few hours later they came back with lunch for us.
What does the future school look like now?
We've already laid the foundations. Of course we didn't cut the ribbon, but when we saw kids playing on the playground we realised that we had created the only soccer field in the entire valley. It was a great feeling.
When you first started, a year ago, were you sure there would be at least a foundation?
When we started, I wasn't sure of anything. Several times there were even thoughts of quitting, but at such moments the right people and support showed up and it gave me strength.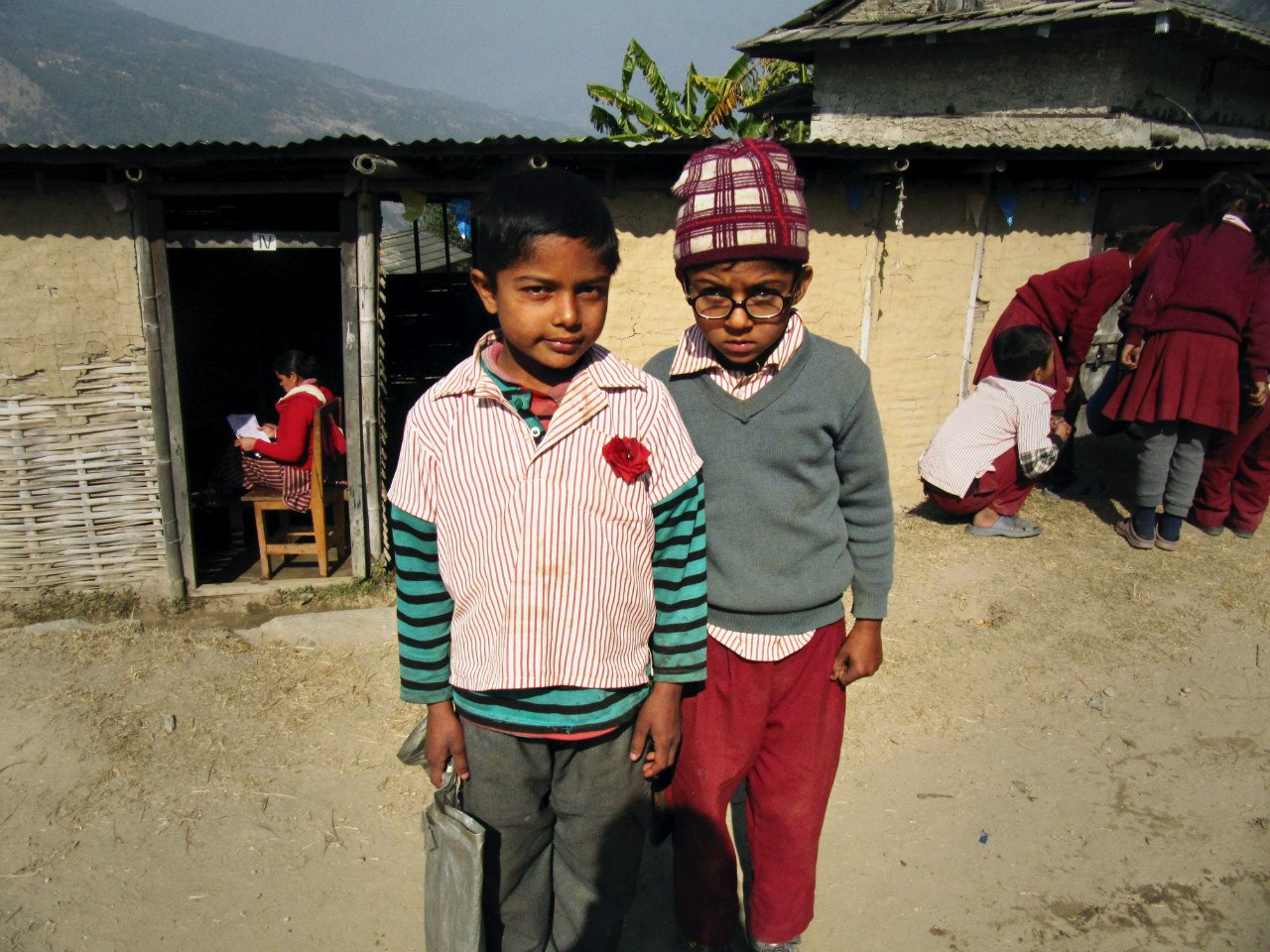 You invested your time and money in this, didn't you?
Yes, both then and now I invest in it the money I earned myself. In addition, Olesya Chalikova, with whom we failed the trek around Anapurna, but thought about creating a school, is now actively engaged in a project to produce clothes from Nepalese and Indian fabrics, attracting local seamstresses. The proceeds from sales also go to support the BUILD A SCHOOL for Nepal project.
What is your plan of action for the near future?
Initially, I did not set myself the goal of building a school on my own. But I also couldn't ask for material support when the project was taking its first steps.
I wanted to first prove the firmness of my intentions not by words, but by deeds. A year has passed. The earthworks are completed. Now we have reached the point where we can show what has already been done and open the fundraising. Therefore, task #1 for today is to raise the necessary amount (420,000 rubles) to complete the construction, and another 400,000 rubles. – for the equipment of the school itself.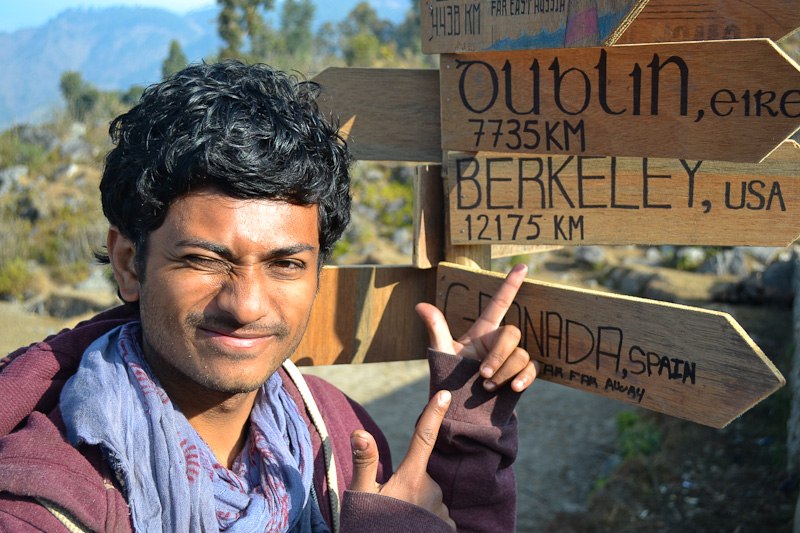 This must be an atypical project for you as an architect?
The architect, as the chief builder, works with professionals in his field. He should understand if not know, then understand all construction processes and those who are responsible for them. But this project is not so much architectural as it is social. It is a project where the workforce is motivated volunteers, where construction materials are not subject to any regulations and certification, where success depends not on drawings, equipment and budget, but on people. Imagine that tomorrow the school building is built. And what, the project could be called a success. Of course not. A real school is not walls and a roof, it is a whole structure of social schemes and other factors that need to be created. And a systematic long-term approach of people with pedagogical training is just necessary here.
For how long do volunteers come to the project now?
In the beginning, people came here for short periods: no more than a month. Now there are those who have spent more than six months on the project. There are also those who would like to see the school open.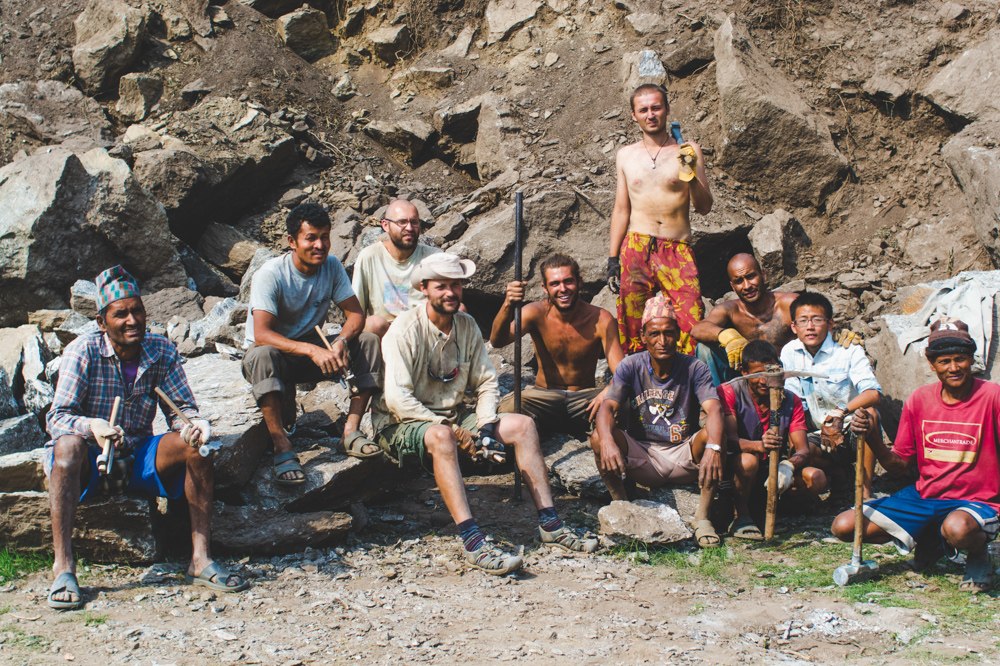 How have you personally changed during this year?
I have gained tremendous experience in managing project work and people. Despite the non-prestigiousness of the enterprise, it is the best school in the world. You have to think about twenty things at once. And if you don't know how to delegate properly, it tears you apart.
Can you recall the most striking event that happened to you during the entire existence of the project?
One day I realized that we have reached a point where we can't back out anymore. Too many people rely on us.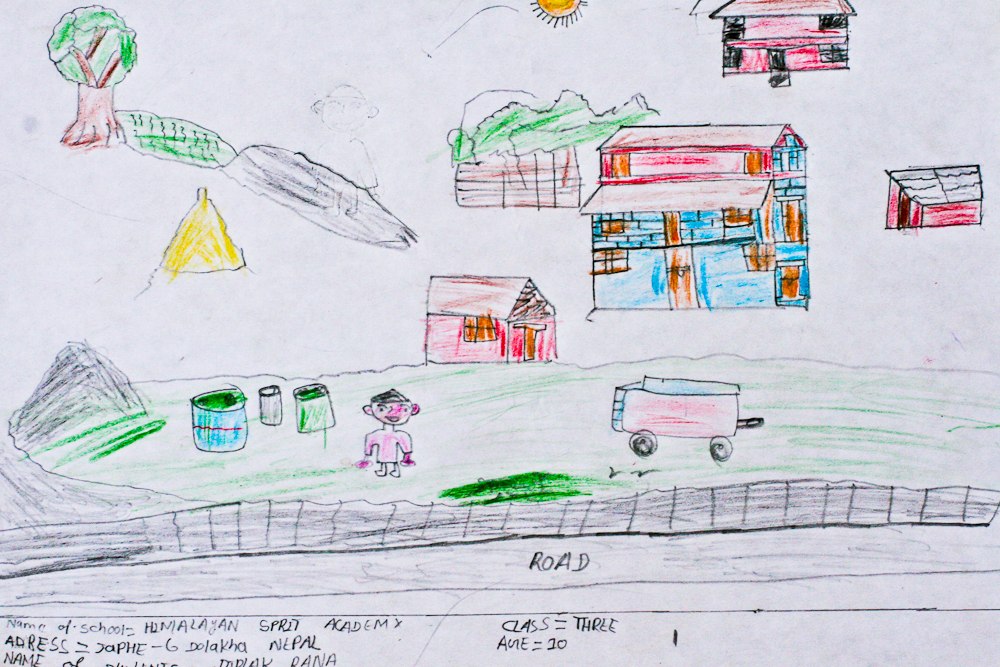 What are your thoughts as you go out to the construction site every morning?
"It's time to make this world a little better."
And finally, how can we help you?
We made a website about the school and the volunteer project, created groups on Facebook and VKontakte. My friend and travel companion Olesya Chalikova launched a website where you can order a postcard from Nepal for $1.
And three months ago, Olesya created her own solo project or, more correctly, a charity clothing brand called "A Romance with a Dress".
The collections mostly consist of dresses of classic and romantic designs of the past from carefully selected Nepalese and Indian fabrics. Each piece is created through the painstaking work of Nepalese artisans and is present in only one copy.
The proceeds from the sales go to support the project "Build a school for Nepal": buying the product, you can not only update your closet with something unique, but also financially help to build a school in the mountain village of Jaffa.
On September 8, 2014, we launched a fundraiser for the construction of the school building itself on BOOMSTARTERE. We hope for the support of everyone who cares, and for each sponsor we have prepared unusual gifts from Nepal.
100 seconds of video about life in this Nepalese village:
* Roman Gek: "School education consists of 10 grades, at the end of which there is a single exam – SLC. The results of this exam determine the fate of the child: either he goes to university or remains in the "rice field". In 2012, only 38% of all applicants who studied in public schools passed the exams, while the remaining 62% did not even have a completed secondary education. There are three types of schools in the country. The most common type is public. These schools have good (by Nepalese standards) buildings, equipment, and qualified teachers. But they don't teach! Once in government service, the teacher joins a political party and cannot be fired. He does not attend classes for months, but still gets a salary and has health insurance. The second type is private schools, where education is a business. Such schools have a rating system, teachers copy foreign educational programs, but the learning process is focused on mindless rote learning in order to pass the final exams. As a result, students pass their exams, but cannot work. Finally, the third type is the local community schools. Their budget comes from tuition and donations. In fact, it is these schools that care about the quality of education, but, due to underfunding, their doors may not always be open. Still, there are examples worth repeating, in which local schools have stood on their own feet, thanks to the combined efforts of local people and volunteers from other countries. BUILD A SCHOOL for Nepal is following just such a path.