How to have a rest on an "all-inclusive" in Abkhazia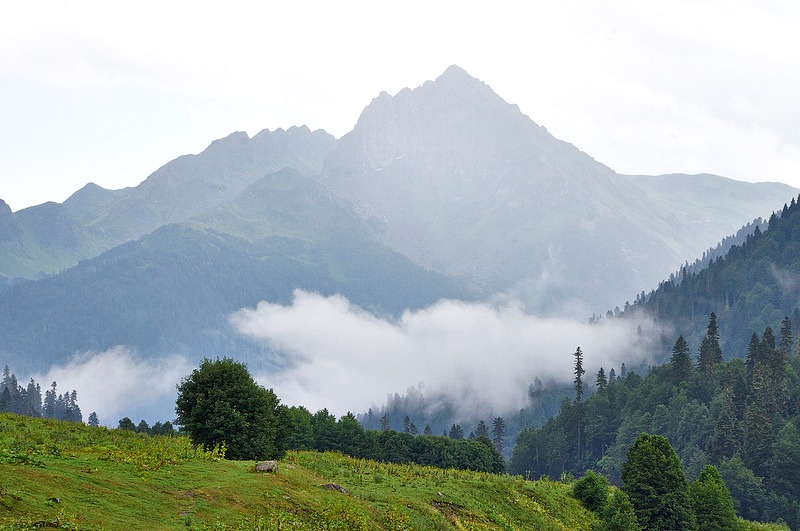 Planning a holiday at the resorts of Abkhazia in 2022? For anyone interested, we have written a review of prices for all-inclusive and full-board tours. Let's find out what we are offered and how much it costs.
Rest "all inclusive", so familiar to Egypt and Turkey, is not popular in Abkhazia – get ready for the fact that only some hotels accept holidaymakers on this system. However, there is no reason to be upset. You can fly to the Land of Soul on FB packages – the hotel will feed you breakfasts, lunches and dinners. As for alcohol, it is better to buy it on your own (which alone a wide range of Abkhazian wines). Prices are comparable to Russian, so that the wallet is not affected. At the same time you will choose drinks for your own taste, and not depend on what the hotel offers. So feel free to buy tours with full board – the rest will succeed!
How to find an inexpensive tour? Use Travelate and Level.Travel services – they look for the best price for 120 tour operators. That way you will surely find the best option! Want to save your money? Check out our 7 rules for buying tours online.
Tip: Consider buying a tour without meals or only with breakfasts instead of flying to Abkhazia on an all-inclusive or full-board vacation. It is better to spend your money on good hotel accommodation (you have a wider choice), and to have meals on your own. The advantages are obvious – you can plan your own schedule and menu, try all the national cuisine, and the service in the cafe is better than in the hotel. Read about the prices in cafes and restaurants in Abkhazia.
So, if you have decided to vacation in Abkhazia in 2022 exactly on the "all-inclusive" system, then let's move on to the prices of such tours.
The cost of tours are changing in real time. So once you have found a tour at a good price, without delaying purchase it! We give an example of the cost of tours for two adults (unless otherwise specified).
"All Inclusive / Full Board
From Moscow
Judging by the travel search engine Travelata, in 2022 in Abkhazia all-inclusive vacation is possible only in two hotels in Gagra, and the prices are very different. These are Bagripsh, which has no stars, and Wellness Park Hotel Gagra 4*.
Prices for an all-inclusive vacation in 2022 in Abkhazia at Bagripsh / Wellness Park Hotel Gagra:
7 nights
11 nights
14 nights
June
23000/54000
23000/54000
No seats/105000
July
32000/63000
50000/100000
64000/127000
August
30000/64000
50000/100000
63000/125000
With tours, including full board, everything is much better. Large selection of hotels of any price category (including by the sea), for recreation available to all resorts of Abkhazia.
Holidaying 7 nights in the most budget hotels can cost from 27 thousand rubles for two in the three-star – from 32 thousand, four-star hotel complexes – from 47 thousand. Travelling for 10 days costs from 37 thousand in budget hotels and from 47 thousand in 3* hotels.
Примеры цен на недельные туры в Абхазию летом 2022 (искать туры >>):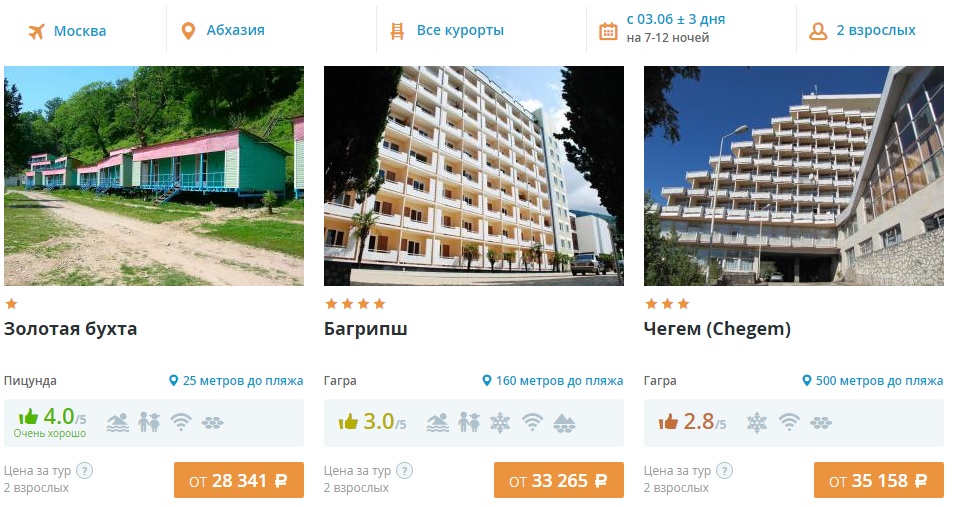 To go on vacation to Abkhazia in the summer of 2022 with a child can be from 30 thousand rubles – so much cost tours for five days for three people.
Read also more in detail about summer holidays in Abkhazia, and also about rest specifically in Gagra and Pitsunda.
From St. Petersburg
To fly to Abkhazia in 2022 on an all-inclusive tour is possible in the already mentioned hotels Bagripsh and Wellness Park Hotel in Gagra. Prices for a week-long holiday are higher than from Moscow – from 60 and 95 thousand respectively. Yes, the choice is not great, so it is better to take tours with full board.
Holidays with full board for 4 nights cost from 27 thousand rubles. Holidays last a week – from 33 thousand. These prices are at the end of June. Tours in July are more expensive – from 50 thousand rubles for a week of rest.
Пример дешевых путевок на 7 ночей на июнь 2022 (искать туры >>):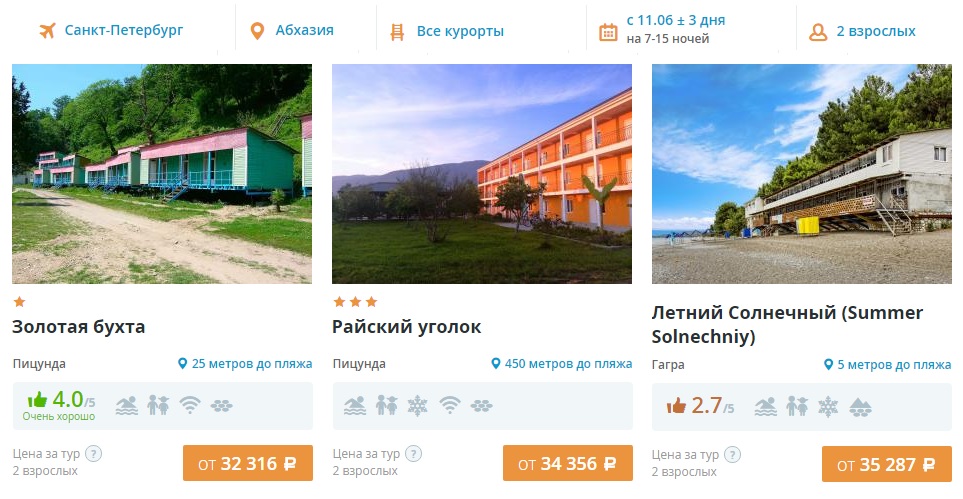 From other cities in Russia
Consider how much the holiday in Abkhazia in 2022 on tour (7 nights, two adults, full board) for departures from some Russian cities:
Not all inclusive
In order to better understand how much a holiday in Abkhazia costs, and to be able to compare, first of all, let's find out what the cost of tours without meals.
From Moscow. Tour operators offer holidays in Abkhazia in 2022 at a price of 26 thousand for 7 nights – cheaper than all-inclusive. These are tours with accommodation in budget hotels. Sometimes on sale appear even cheaper last minute tours – for example, for 5-10 thousand rubles for two!
Do not forget that you can also travel to Abkhazia on your own. To find airline tickets at a minimum price, use the search engine Aviasails. On how to get from Sochi to Abkhazian resorts, read here. Book inexpensive accommodation can be found on the popular service Hotellook, also we recommend studying our review of accommodation in the private sector in Abkhazia.
Abkhazia "all inclusive" boarding houses with its own beach prices in 2022
ParkHotel" District: Center (Gagra) Food: All Inclusive Pool: outdoor Checkout time: 12:00 Distance to the sea: 100m Children: from any age
Amra Park Hotel & Spa" Region: center (Gagra) Food: 3 dishes a day Buffet table Swimming pool: covered Settlement time: 12:00 till the sea: 50m Children: from any age
Pension "Bagripsh" Region: Bagripsh (Gagra) Food: All-inclusive Pool: 10х6 outdoor Check hour: 12:00 Distance to the sea: 150m Children: from any age
Pension "Azure Coast" Region: center (Gagra) Food: 3 times a day buffet Swimming pool: open 10х7 Check hour: 12:00 till the sea: 50m Children: from any age
Rest house "Psou" Region: Tsandrypsh (Gagra) Food: 3 times a day buffet Swimming pool: not available Estimation hour: 12:00 Distance to the sea: 100m Children: from any age
Pension with treatment "San-Marina" Region: center (Gagra) Food: 3 dishes a day Buffet table Swimming pool: no Check hour: 12:00 Distance to the sea: 200m Children: from any age
Rest house "Solnechny" Region: Bagripsh (Gagra) Food: 3 times a day buffet Swimming pool: no Check hour: 12:00 Distance to the sea: 300m Children: from any age
Holiday hotel "Sunny (summer) District: Bagripsh (Gagra) Food: 3 dishes buffet Pool: no Checkout time: 12:00 till the sea: 50m Children: from any age
Pension "Energetik" Region: center (Gagra) Food: 3 dishes buffet Pool: no Checkout time: 12:00 Distance to the sea: 50m Children: from any age
Pension "OC Resort Pitsunda" District: Pitsunda Food: 3 dishes buffet Pool: no Check hour: 12:00 Distance to the sea: 50m Children: from any age
Pension with the treatment "Litfond" District: Pitsunda Food: 3 times a day buffet/customary Swimming pool: outdoor 20×10 check hour: 12:00 Distance to the sea: 75m Children: from any age
Rest house "Pitius" District: Pitsunda Food: 3 meals a day buffet Swimming pool: covered 10×6 Checkout time: 12:00 To the sea: 50m Children: from 2 years old
Pension "Samshitovaya Grove" Region: Pitsunda Food: 3 meals a day buffet Swimming pool: outdoor 20×15, indoor 15×10 Check hour: 12:00 Distance to the sea: 150m Children: from any age
Pension "Sosnovaya Rosha" District: Pitsunda Food: 3 meals a day, buffet Swimming pool: outdoor, children's Check hour: 12:00 To the sea: 50m Children: from any age
Resort complex "Anakopia Club" District: New Athos Meals: 3 times daily buffet Swimming pool: no Check hour: 12:00 Distance to the sea: 50m Children: from any age
Pension "Myussera" District: Myussera Food: 3-course buffet Swimming pool: covered 20×15 Check hour: 12:00 Distance to the sea: 500m Children: from any age