Cinque Terre: a guide and our review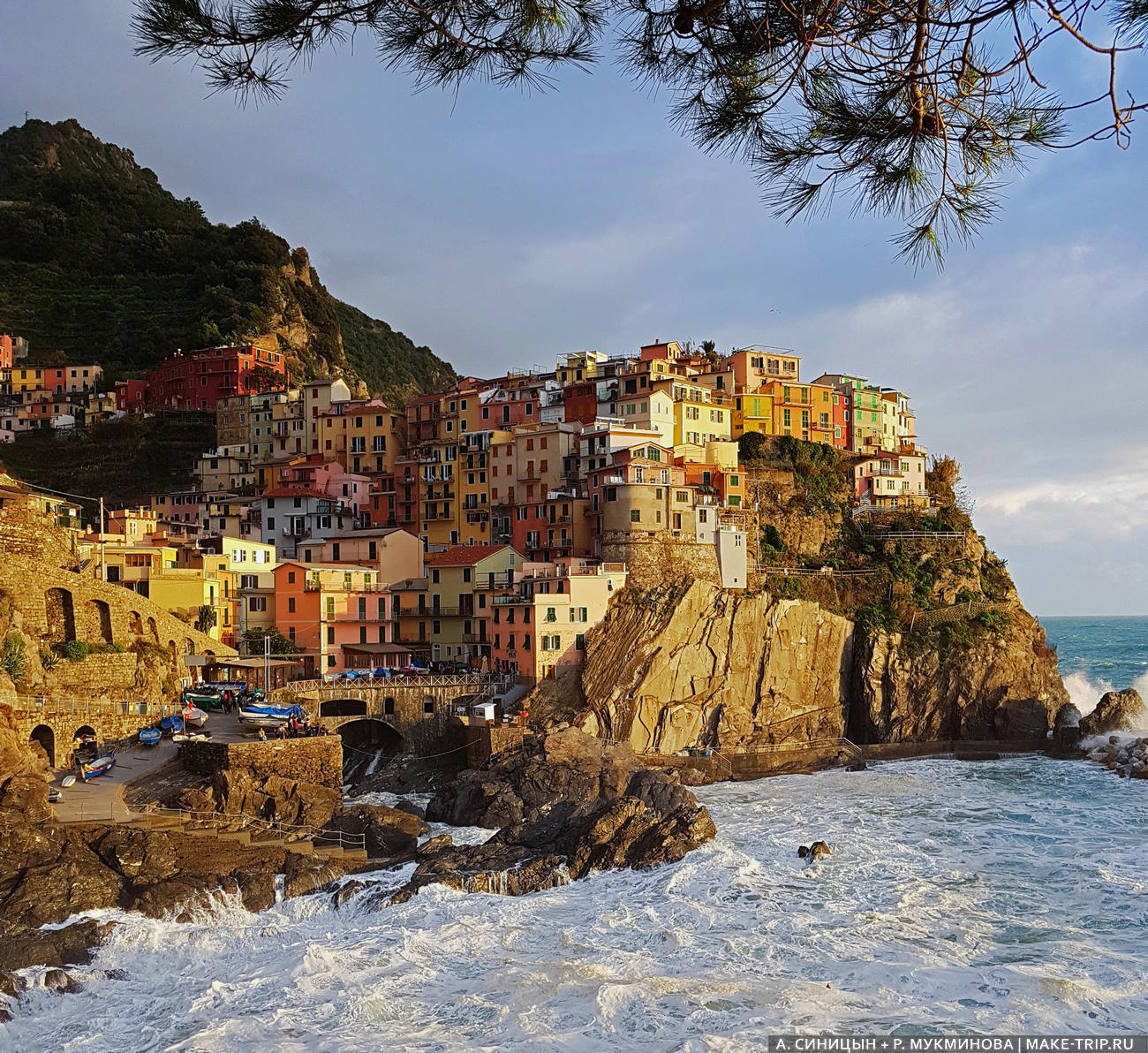 A small guide to the cities of Cinque Terre in Italy. Learn how to get there, where to stay inexpensively, and when it's best to go to enjoy the outing rather than jostling for elbows with other tourists. Check out our review and tips!
Why are the towns of Cinque Terre so popular? It's all due to the colorful Italian cottages nestled on a cliff and cascading down to the sea. Although there are many other picturesque villages and towns in Liguria, it is Cinque Terre that is in the limelight.
There is a legend that once in a guidebook someone glorified a new attraction, and crowds of tourists flocked here. Now it is a tourist hell, and you definitely will not like it if you do not know a few nuances – but about that below.
Of all the towns in Cinque Terre, I liked Manarola the best! Although Riomaggiore is also very nice! This was the first city we visited in Cinque Terre.
My impressions
You may ask, why follow everyone to Cinque Terre when there are no less picturesque fishing villages nearby? We first thought so, too, but then we looked at the photos and it happened. This place is without exaggeration beautiful! Just trust me. And check out the other places too – as a nice addition or on another trip.
So, what you will see in Cinque Terre. There are no iconic sights – famous cathedrals or palaces. Five lands – that's how Cinque Terre translates from Italian – are five vibrant seaside towns connected by railroads and hiking mountain trails: Riomaggiore, Manarola, Corniglia, Vernazza, Monterosso. The lodges, the narrow steep streets, the lookouts, the trails – these are the sights. It all looks lovely and can't help but captivate even seasoned tourists. We loved it in Cinque Terre – I'm sure you'll love the colorful, photogenic houses too!
Of all the towns in Cinque Terre, I liked Manarola the most – I do not know why. I just fell in love with it. Probably the great viewpoint, where we admired the huge waves that crashed with noise and splashing on the rocks and breakwaters. We spent a lot of time admiring the waves and the golden sunset.
Our editor-in-chief, Alexey Sinitsyn, is very pleased with Cinque Terre! I too am fascinated by the sleepy seaside towns of Cinque Terre.
When it's best to go
Remember – not in high season! We arrived in late November and were pleasantly surprised – the towns stand almost deserted. I thought Cinque Terre is so raped by tourists, that in any season towns are overcrowded. But no! Sometimes it's nice to be wrong.
If going in low season from another city like La Spezia, plan your trip carefully. Daylight hours are short and trains don't run every 5 minutes, so arrive as early as possible. Sometimes we even didn't have time to visit all the observation halls. You want to walk leisurely, enjoy the view and eat something delicious. But 2 hours for each small town is enough!
Tip: In the low season the weather is variable, so come in waterproof clothes and shoes. For example, the day before our trip there was a storm and heavy rain, but we were lucky – the next day the only reminders of bad weather were huge waves and strong wind. It was warm and sunny.
If you want to hike the trail (and if it's open at all), all the more necessary is a trekking trail. The official website says be sure to have a Vibram type sole. No slippers or sandals!
During our visit to Cinque Terre the weather was wonderful: a strong wind raised huge waves that crashed with noise and splashing on the rocks and breakwaters. We spent a lot of time at the Manarola observation deck admiring the waves and the golden sunset. While the wind is raging at the lookouts and on the shore, the narrow streets are quiet and peaceful. The photo is of Riomaggiore.
How to get to Cinque Terre
Since it is better to allocate a whole day to Cinque Terre, you need somewhere to stay overnight. The most convenient is in La Spezia, and that's where we stopped. It's only 15 minutes by train to the first town of Riomaggiore.
In principle, you can travel from other cities, but it will take a long time. Tickets for trains and buses between Italian cities we find and buy on Omio – a very handy site that compares tickets of many carriers.
In the train to Cinque Terre. The journey from La Spezia to the first city takes only 15 minutes. A good lookout point in Vernazza. Not a single tourist from our train went up here!
Tickets to Cinque Terre
Entrance to the towns themselves, of course, is free. Tourists pay only for the train and bus fare, as well as the 4 trails between the five towns. The rest are free – there are more than 30.
The shortest, most beautiful and popular Ligurian Trail, or Love Trail, is toll-free and is often closed due to landslides. Landslides are a big problem in the Five Earths, so check this site for the condition of the trails as well as prices and trails in general.
At the time of our visit the trails were closed, so we only bought an unlimited train ticket for 13€ per person called Treno Card. With this ticket you can travel between Levanto and La Spezia on the regionale trains as much as you want and get off anywhere during the day. Also included in the price is bus fare to Corniglia, because the station is a bit far from the city.
These tickets are sold at the train stations in Cinque Terre, La Spezia, and Levanto. Look for a kiosk labeled Cinque Terre Point. On the ticket you need to write your first and last name in the Latin alphabet. You don't need to validate it, unlike regular tickets.
In high season, it's best to buy tickets online – there are likely to be lines at the kiosk. On the website you can choose the type of ticket – only for train (Treno) or for trekking (Trekking Card).
This is how tickets only for the train look like. Ours cost 13 euros. The trains are comfortable, double-decker. In Cornilla there is a free shuttle from the train, because the station is quite far from the town.
Where to live cheaply in Cinque Terre
It's pretty expensive everywhere. It's a tourist attraction, and prices for hotels in high season start at 90€. If you really, really want to live in Cinque Terre, stay in Monterosso al Mare – it's cheaper there.
And even lower prices in La Spezia and neighboring towns to Monterosso. For example, in La Spezia we rented for two days a nice apartment with all conveniences for 40 € per night – for such money in Cinque Terre you won't find even a modest room.
For your convenience, we found some cool hotels with a balcony or terrace in Cinque Terre and neighboring La Spezia:
in Riomaggiore in Manarola in Vernazza in Corniglia in Monterosso in La Spezia.
Where to eat
Our landlord suggested that during the low season the chances of eating in the old town of Monterosso were higher than in other towns. This is indeed true – in other towns many cafes were closed. I think this is also true for high season – Monterosso is bigger than the others, and there are more cafes marked on the map, too. In general you won't have problems with meal in the summer – there are a lot of cafes and restaurants everywhere.
The food is not worse or better than in other Italian cities, and the prices are about the same or slightly higher. For example, we had a "Margarita" with beer for 7 € for two. Find out what the prices of food in Italy are.
In the low season there were few working cafes. Prices are like in other Italian cities. The alley in Vernazza.
Italy, Cinque Terre – Reviews
Well how to write about Cinque Terre so that at least a little bit to convey its beauty? . let's put it this way: here you creep in the Internet, dreaming to see Italy. and here at last you come, damn it to Rimini, well let it be Rome. or Milan. or even Venice, and everything seems wonderful and almost as you expect. BUT…
Greetings! Cinque Terre is a national park on the Ligurian coast. The name translates as five cities or five lands, and it includes five cliff-hanging communes: Monterosso, Vernazza, Corniglia, Manarola and Riomaggiore.
Cinque Terre is a huge national park on the Ligurian coast, meaning Five Lands. These lands belong to the communes of five towns: Riomaggiore, Manarola, Corniglia, Vernazza and Monterosso. No cars drive through these towns. The only way to get here is by train. Or on foot.

Hi all, I love to travel and I've been around, I think, half of Europe. But my special love is Italy. This September my husband and I spent 10 wonderful days in this wonderful country.

Planning our trip to Italy, I really wanted to visit not only the must-see cities such as Venice, Florence, Rome, but also to see something really unusual. In addition, I wanted to visit the sea.
I will begin with the fact that I have been living in Italy for three years now, and this country is so rich in beauty and history that when people ask for advice about where to go, where it is most beautiful, it is logical to answer – everything is beautiful here.
Cinque Terre, I love you! Paradise on earth. I finally got the chance to write a review about the most unforgettable, impressive, mind-altering place. Once you are there, you will dream about the azure coast of Liguria for a very long time. I will start from the beginning.
We visited this beautiful place in August 2017. About everything in order! Together with a young man we traveled in August this year in Italy. We were in Florence for a few days, after seeing photos from the reserve of Cinque Terre and the show Pozner and Urgant "Their Italy", we decided to go to this …
Hello travel lovers! We recently returned from our Italian trip, a must-see was a visit to the villages of Cinque Terre. Cinque Terre is 5 small villages on the coast of the Ligurian Sea in western Italy.

Cinque means "five" in Italian. A UNESCO-protected national park includes 5 villages: Monterosso, Vernazza, Corniglia, Monorola and Riomaggiore in Liguria. All the villages are very small, very authentic and are located on the mountains with access to the sea.
My husband and I went to this wonderful place also by train from Milan, as we do on all our other trips to cities in Italy. My colleague advised us to go there, and we didn't regret listening to him. The place is truly magical. It is five villages that are built on the cliffs along the seashore.
It just so happened that my parents moved to Italy, but I unfortunately did not get to visit them for a long time. On my first trip they recommended a visit to Cinque Terre, which I did on their advice and was absolutely delighted!
A city I never want to go back to. Why not?! Read in the review. A true and objective review of a "great" drowning city. Lots of Photos.
Hi all, I was in Italy in August 2013. We originally came with my spouse in the city of Rimini. And in general I spent two unforgettable weeks. I love to travel! I love to learn something new, to discover new places, cities, culture, etc.
Why I went to live in Milan. Telling what to watch, what to save on, and what to bring from the capital of world fashion. Lots of useful information from a seasoned traveler and a newly minted Milanese.
No matter how you look at it, travel reviews are my favorite! And so far they've all been at the top ) Well, I really write from the heart! I really want everyone to be able to feel what I feel, no matter where they live or what they do.
In Naples we were only three days and visited only what was within walking distance of Corso Umberto, where we lived, between the train station and the port . We immediately ruled out going to Pompeii and Vesuvius, although it is certainly interesting.
Some people go to Paris in April, some begin to think about their garden, but I decided to go to Pisa, though I regretted it a little. Pisa is a small picturesque town, it's perfect for walking. If you are going to Florence, you can stop here on the way. And of course.
I bought my tour in Coral Travel, from 04/27/19 to 05/4/19, went alone, single room. The hotel is impossible to choose, travel agency warned me at once that it is not worth relying on a good hotel. A few people from our group stayed at the Anna Mare 3 hotel in Rimini.
Sunny Sicily☀️Taormina bird's-eye view-you are beautiful♥️ I will tell you the pros and cons of the Hospitable Island☀️+Song from the cartoon "WE WALK"
Hi everyone, I love Italy! And I have already had a lot of experiences from different trips. Impressions, of course, pleasant. And I want to share with you impressions and information about the island of Sicily. (People of my generation immediately associate Sicily with the movie "The Wire" and Commissioner Catani.