Corfu or Crete: where should I vacation in 2022?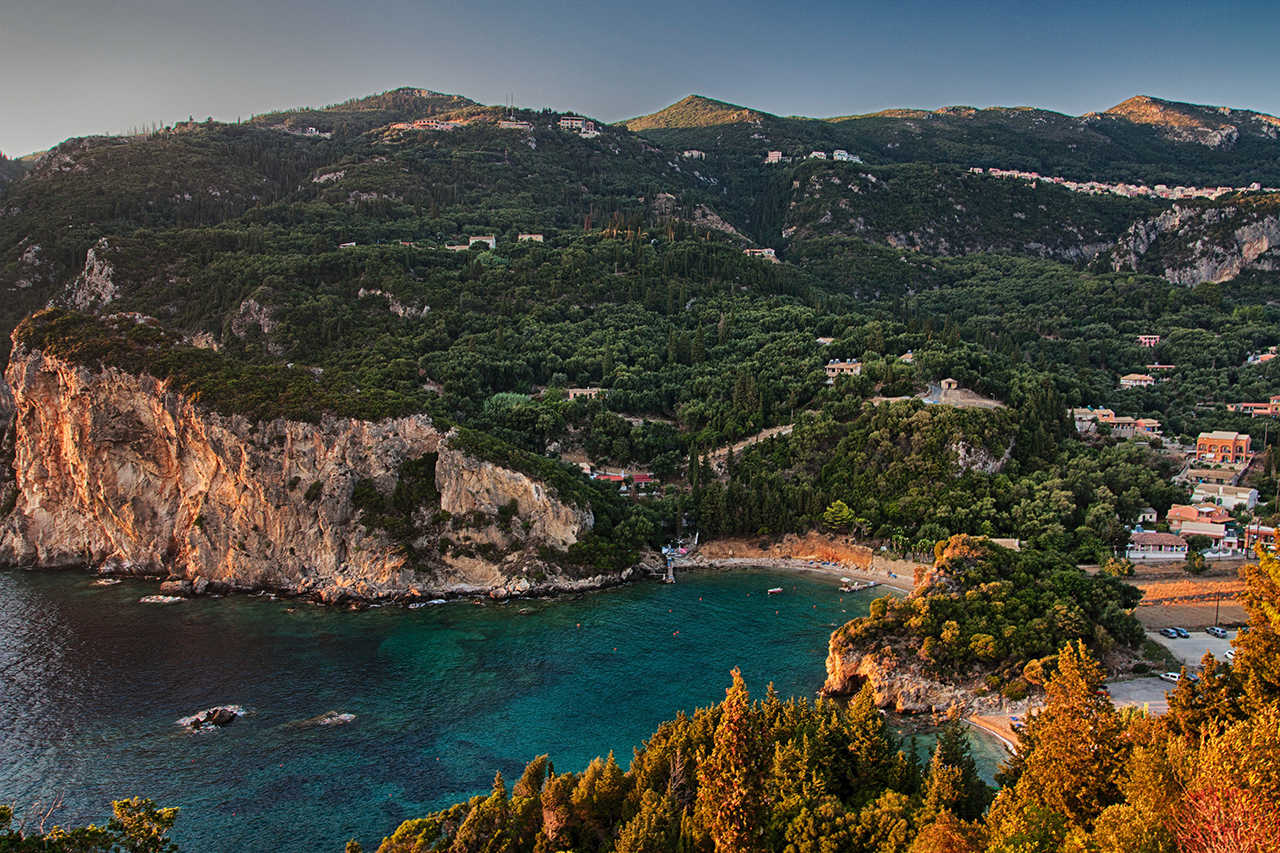 Should I choose Crete or Corfu? We compare holidays in the Greek islands in 2022. Beaches, weather and attractions, prices of tours, hotels, food, tours and transport rentals.
Content:
It's easy to get into Greece with a package deal. Let's compare the prices of tours to Corfu and Crete during the high season of 2022. The cost is for two people for 7 nights, with a flight from Moscow.
Crete. Inexpensive tours are in low season – from November to April. The cost by air with accommodation in hotels 1-2* without meals starts from 33 thousand rubles. In the summer months the prices almost double.
The prices for tours to Crete in the high season of 2022:
| | | |
| --- | --- | --- |
| Hotel type | Price, ₽ | Example |
| Hotel 1-2* | from 62 000 | Minoas |
| Hotel 3* | from 66 000 | Agrabella |
| 4-5* Hotel | from 73 000 | Creta Suites |
Corfu. The island is located to the north, so the holiday season starts later and lasts from June to late September. The off-season tours to Corfu sell from 34 thousand rubles without meals and from 39 thousand rubles with breakfast.
Prices for tours in Corfu in high season in 2022:
| | | |
| --- | --- | --- |
| Hotel type | Price, ₽ | Example |
| Hotel 1-2* | from 60 000 | Alexandra Resort |
| Hotel 3* | from 80 000 | Bintzan Inn |
| 4-5* Hotel | from 96 000 | Ionian Princess Club Suite |
Where is better. Tours in Corfu and Crete in budget hotels are about the same. Accommodation in luxury hotels in Corfu is more expensive. The fact is that the small island is aimed at travelers with wealth and belongs to the elite resorts of Greece. In its hotels there are all conditions to fulfill any whim of tourists.
Beaches and sea
Corfu. The most northern of the Greek islands, Corfu has a 251 km coastline and is washed by two seas – the Ionian and the Adriatic. Corfu is also good for a beach holiday, but it does not have as long beaches as Crete. The beaches with sand are fewer in Corfu, but there are many comfortable, sheltered from the winds bays.
Crete. A large island in the Mediterranean Sea is appreciated by beach lovers. Crete has long stretches of coastline, which are covered with sand or pebbles, and scenic stony bays. Many beaches on the island have been awarded the honorary Blue Flag. All Cretan resorts can boast nice beaches for children.
Where are the best beaches and the sea – Crete or Corfu? In general, they are about the same. In Greece, all beaches are clean, comfortable and free. At resorts, recreation areas are comfortable: they have paid sun beds and umbrellas, changing rooms, toilets and showers.
On the beach a lot of water rides for children and entertainment for adults. Vacationers enjoy yachting, sea fishing, snorkeling, diving, parasailing, jet skiing and "banana boats. On both islands it is easy to find picturesque wild beaches.
Is the sea cleaner in Corfu or Crete? The Mediterranean, Ionian and Adriatic seas are clear and transparent. Sea urchins live in shallow waters, so watch your step and swim in special shoes.
Shaitan Limania (Devil's Harbor) beach in Crete (Photo: anastosKol / flickr.com / CC BY-NC 2.0 license)
Weather and Climate
The weather in Greece is determined by the mild Mediterranean climate. Is it warmer in Crete or Corfu?
Крит. Остров находится на юге страны, поэтому курортный сезон на Крите начинается в апреле и длится до октября. Летом температура воздуха поднимается до +35…+38°С. Уже в июне жаркое солнце высушивает землю и растительность. Для июльского и августовского Крита типичны желтый, серый и коричневый цвета. Весь теплый сезон дуют морские бризы, и они поднимают волны у берегов. Погода на Крите по месяцам >>
Корфу. Живописный остров Корфу, или Керкира, называют зеленым. Климат в этой части Греции более континентальный. Лето на Корфу мягкое. Настоящая жара наступает лишь в июле и августе, но температура редко поднимается выше +30…33°С. Погода на Корфу по месяцам >>
Where is better. If a dry climate is important, it is better to go to Crete. Those who can't stand the summer heat will be fine in Corfu. In June and September it is equally good to vacation in Crete and Corfu, especially with a child. In early summer and during the velvet season, the air temperature is suitable for walks (+22 … +26 ° C) and the sea is comfortable for swimming +22 … +25 ° C. During the off-season – late fall, winter or early spring – it is more pleasant to holiday in Crete. Corfu is humid and rainy in low season.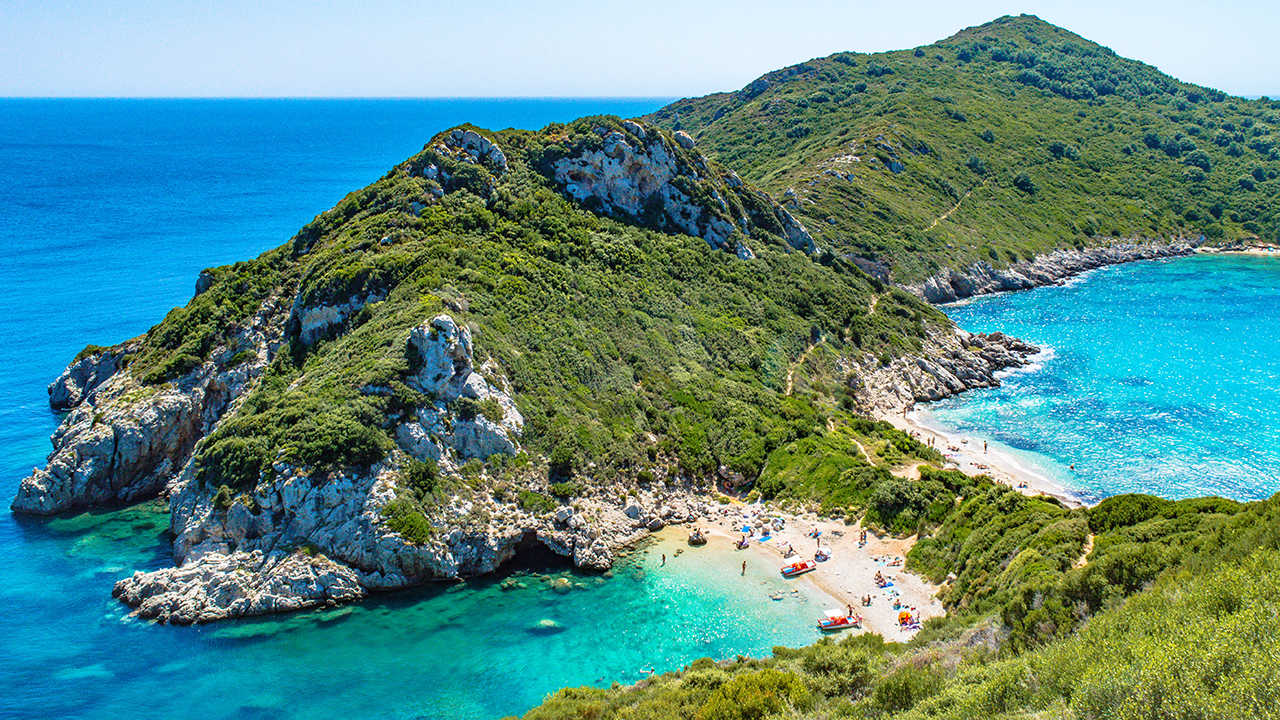 Porto Timoni beach, Corfu (Photo: unsplash.com / @chriskaridis)
Prices for vacations
Before the trip, it is important to determine the main costs. Where is better and cheaper to vacation in Greece – in Corfu or Crete?
Prices for accommodation. Crete is a big island with a developed tourist infrastructure. There are more hotels here and they are a little cheaper than in Corfu. If you are looking for an all-inclusive vacation, pay attention to the northern part of the island. For budget tourism is more suitable the south of Crete. Although Corfu refers to the elite resorts of Greece, except for the luxurious hotels 4-5 *, there are many inexpensive mini-hotels, apart-hotels and hostels on the island.
The prices for a double room in Crete and Corfu in the peak tourist season of 2022:
What to choose between Corfu or Crete for your vacation?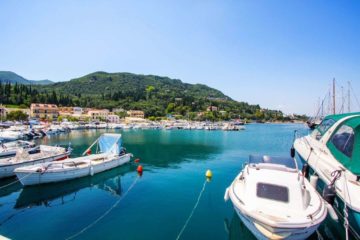 If you have the opportunity to go on vacation, and you want to go to Greece, then you should definitely visit one of the most popular places among tourists. Many people ask the question, "Crete, Rhodes or Corfu, where is better?" Let's figure out which is better: Corfu or Crete. Each of them in its own way good and attractive and each has its own characteristics. It is only up to you to choose the most comfortable option, and we will help you make it.
Climate .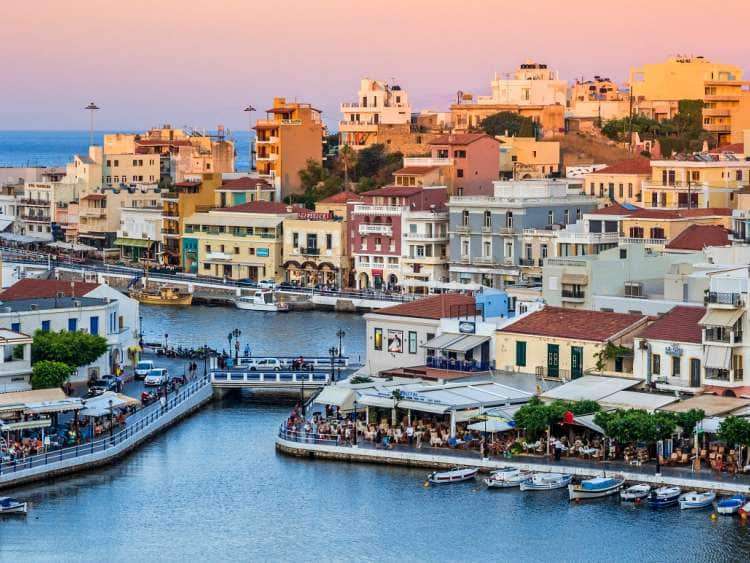 First of all let us understand the differences between the climate of Corfu and Crete. They are quite significant, because Crete is the southernmost island of Greece, which makes the period of warm days longer and the sea warmer. Summers are dry, with temperature and humidity depending on the distance from the sea. The bathing season lasts an average of 7 months, from May to November. From June to August, the island is hot, sometimes windy. In the autumn it is warm, there is practically no precipitation, which makes the rest comfortable and pleasant.
While Corfu is the northernmost, the bathing season here is shorter, the sea is colder and rainfall is more abundant. Summers are mild with lots of vegetation. May and September are considered the best months to visit. Provided that in May it is still cool to swim, but June will be a good start to the swimming season. In July and August the hottest days, but the water temperature is not as high, which makes the rest more comfortable. September is pleased with a decrease in the influx of tourists, because of which you can safely enjoy the swimming.
How to reach Crete and Corfu from Moscow by yourself
Traveling on your own is a choice of the way, the hotel, the sights and everything else. Taking a tour is undoubtedly easier, but it is much more convenient to build a route yourself. This means that you do not have to adapt to anyone, you can go to the place that interests you. You need to pay attention to the remoteness of the airport, major cities and infrastructure. Independent travel can save money on reservations, transportation, and food.
First you need to make a Schengen visa, the cost of which in 2019 is 3700 rubles.
Crete
Crete can offer a variety of places for a leisurely, secluded vacation. A large number of options for stays – inexpensive hotels, hotels, houses in villages.
You can get there in several ways:
Buy tickets for a direct flight and with a connection;
fly to Athens by plane and then take a ferry;
To get there by car, combined with the ferry, which is the most difficult and time-consuming option.
You can check the price of a ticket to Crete in the form below:
The average check in a restaurant is about 25 euros, but you can buy food at the market, keeping within 15-20 euros. Instead of cabs, it will be much cheaper to travel by bus, about euros. To get by plane will cost from 8500 rubles in low season. A room in a cheap hotel for two people a night will cost 30 euros. Excursions also from 30 euros.
Corfu
You can get to Corfu only by air. The choice of hotel and everything else will follow the same rules as for Crete. The average bill will be already 30 euros, which is more expensive than the Cretan rates.
You can buy a plane ticket in the range of 5,500 rubles in low season. The transport costs from 1,5 euro. The cheapest hotel room costs about 40 euros per night. The cost of a tour starts at 40 euros.
Check the form below to see how much it would cost to get to Corfu:
So, a budget trip to Crete on your own will cost about 60,000 rubles for two people for 7 nights. In Corfu, the cost starts at 70,000 rubles.
In other words, Crete is a more favorable island than Corfu.
Which tour is cheaper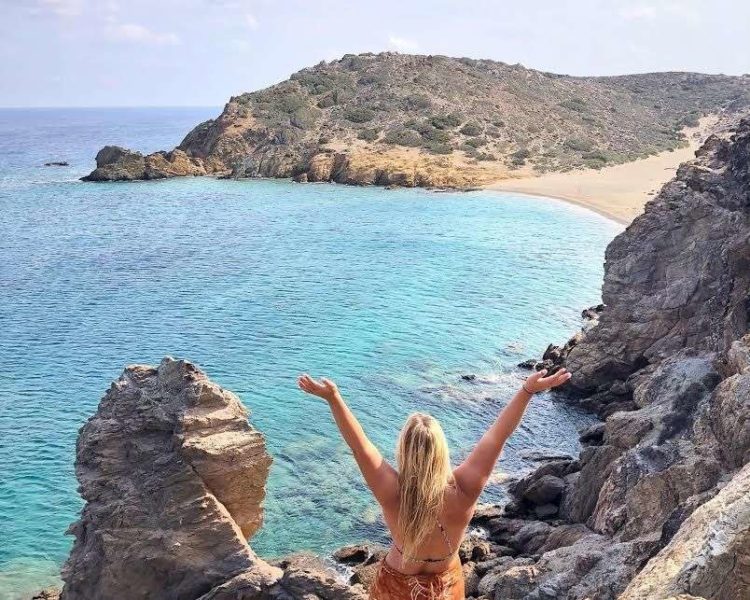 The easiest way to travel is to buy a tour. Here everything is thought out for you and you do not need to look for anything yourself. It usually includes a flight, accommodation, meals and excursions.
Стоимость путёвки на Крит начинается от 40000 руб. за 7 ночей на двоих. Вылет осуществляется из Москвы. Если рассматривать «полный пакет» — от 60000 руб. Проверить цены на туры на Крит ->>>
На Корфу можно приобрести путёвку стоимостью от 45000 руб. Всё включено от 115000 руб. Проверить цены на туры на Корфу ->>>
Of course, last minute trips will cost cheaper, you just need to have time to buy them. Budget hotels are about the same, but the luxury class in Corfu is more expensive, because this island is aimed at wealthy tourists.
The Sea and the Beaches
Crete is washed by three seas:
Sea of Crete. There are sandy beaches with a gentle approach to the water.
Libyan Sea. The water temperature is slightly lower than before, there are almost no waves. Developed beaches are very few, covered with pebbles and black sand.
Ionian. Shallow, warm sea, with a variety of shades of water. It is not as calm as the others, but it's the best place for photos.
The beaches of Crete are very beautiful, covered with white and pink sand or fine pebbles. There are also cave beaches, wild, hilly. Here you can go scuba diving and snorkeling. Many beaches are equipped with all amenities: sun beds, umbrellas, changing rooms, playgrounds. Also there are walking boats. There are small cafes with national cuisine on the territory.
Corfu is washed by the Adriatic and Ionian Seas. It is quite shallow, which is convenient for holidays with children. The water is very clean, you can safely do some diving. The beaches are covered with sand or pebbles. There are also wild beaches with few people, where you can relax and enjoy nature.
Attractions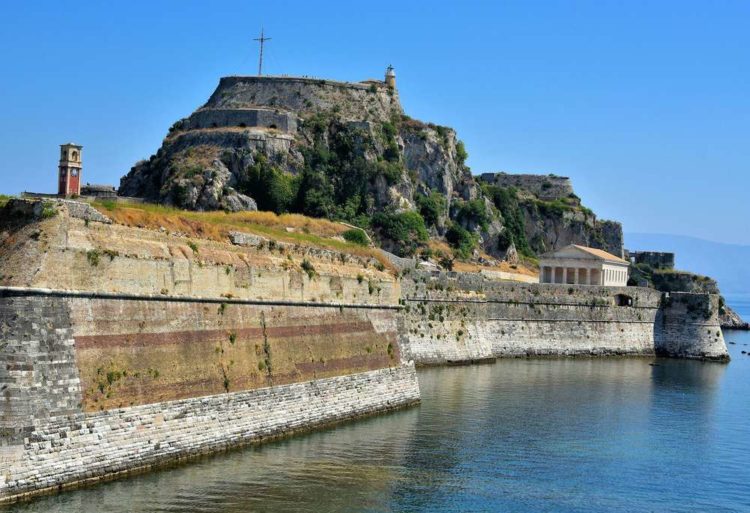 Crete has a lot of attractions, including old fountains, museums, castles, palaces, monasteries and entire ancient cities. In addition, there is even a sunken city of Olus, beautiful lakes, caves and gorges.
In Corfu there are many monuments of Byzantine architecture, palaces and monasteries. Here is the "love canal". This place is very popular because of the warm water, sandy beaches and incredible beauty. There is also an observation deck, which offers a beautiful view. In the number of attractions Corfu is not inferior to Crete.
Entertainment
Crete is suitable for a variety of holidays. Here you can go on excursions, boat trips, scuba diving, visit a water park. The island can offer many other water activities, such as surfing and windsurfing. In addition, tourists climb mountains and ride bicycles.
Corfu can offer water skiing and catamarans, as well as boat trips with a transparent bottom, in addition to water activities – skydiving, karting, sports fields. For adults there are plenty of entertainment: casinos, bars and clubs.
Excursions
In Corfu, as well as in Crete, there are sightseeing, entertaining, children's excursions, as well as tours for pilgrims. They include free time to visit the stores and get up close and personal with the local beauties. The two islands can also provide catamaran and boat tours.
Hotels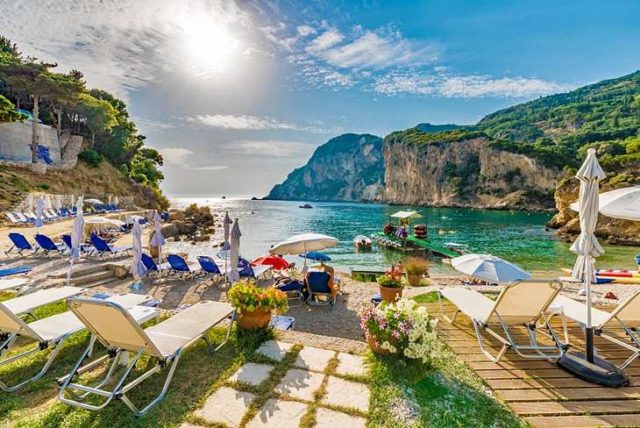 There are much fewer hotels on Corfu than on Crete. However, all of them can meet the needs of tourists. You can choose any location, both from the airport and from the beach.
Entertainment for children
In Crete there is a huge variety of places that any child will enjoy. Children are treated with great love and there are all conditions for them: various water parks, a huge aquarium, an observatory, amusement parks. In cafes and restaurants there are children's menus and equipped playgrounds.
Corfu has almost all this as well. In addition, there is a museum of seashells and amusement rides.
Where to have a cheaper vacation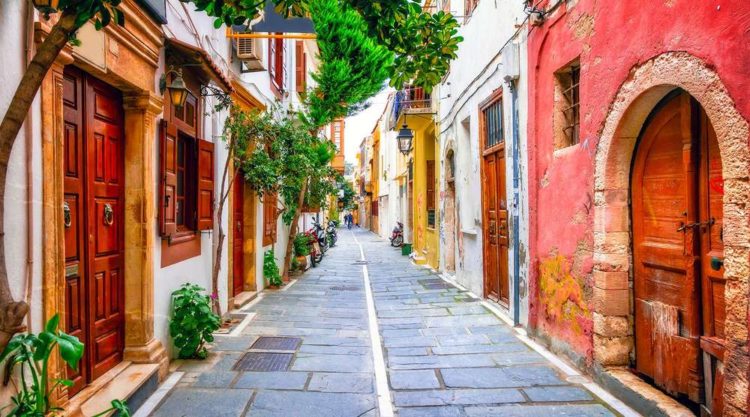 Travelling to Corfu for a family will cost quite a bit, and more expensive than to Crete. But, of course, you can always take advantage of the most favorable accommodation and excursions, buy souvenirs in large stores rather than souvenir shops. Eat not necessarily in restaurants, you can cook yourself.
No more need to rack your brains wondering what to choose: Crete or Corfu. Both of these islands are beautiful. The beaches are comfortable, the sea is warm and clean, the nature is fascinating and attractive.
Crete is a little more budget Corfu, but both there and you can find the cheapest version of the tour.
Holidays are suitable for everyone: children, young and old people. There are places for active holidays, as well as for a measured and relaxed.