Prices in Cyprus – 2022: food, tours, rent
Looking for information on holiday prices in Cyprus in 2022? We have collected in one place all the prices of Cyprus: how much is food and groceries, clothing, transportation; what are the costs of excursions and entertainment, rental housing and transport and much more.
Prices are current at the time of updating this article.
To easily convert euros into rubles, multiply the cost of food and products by 70. Even easier – multiply the price by 7, and then add 0 at the end. If dinner at a restaurant costs 30 euros: 30*70 = 2100 rubles.
Are you going to Cyprus with your family? Explore the useful information in the articles:
Cafes and Restaurants in Cyprus: Food Prices – 2022
This section will describe food prices in Cyprus in 2022: how much it costs to eat in restaurants and cafes, products in stores and supermarkets, fruits, vegetables, drinks.
In many establishments, you can have lunch or dinner for 25-40 euros for two people. If you want you can find a cafe with lower prices.
The average cost for a meal in restaurants in Cyprus – 2022:
| | |
| --- | --- |
| Lunch at an inexpensive restaurant | € 10 |
| Three-course lunch (for two people) | € 40 |
| McDonald's combo lunch | € 5,83 |
| Local beer (0.5) | € 3,00 |
| Imported beer (0.33) | € 3,50 |
| Cappuccino | € 2,89 |
| Can of Pepsi / Coke | € 1,24 |
| Water (0.33) | € 0,68 |
As in other tourist destinations, the rule for restaurants in Cyprus is: the closer to the sea, the higher the prices. If you are looking for a cheap place to eat in Cyprus, go to the second or third line.
Here are the prices for lunch / dinner at one of the best restaurants in Limassol – La Maison Fleurie (second place among restaurants in Limassol according to TripAdvisor rating):
Duck with honey and peppers / olives / orange: 24 euros
Chicken breast in pepper sauce: 24 euros
Fondue (beef) for two people: 59 euros
venison in red wine: 27,3 euros
Veal roast: 24 euro
Choice of desserts: from 9,40 euros
moussaka: 10,5 euros
kleftiko (Cyprus lamb dish): 13 euros
grilled octopus: 15,5 euro
grilled swordfish: 15 euros
prawns and shrimps from 17,5 euro
Fried calamari rings: 12 euros
Desserts: from 4 euros
Coffee: from 1,7 euro
Note: The portions at Cypriot restaurants are big, and it's not uncommon for a single portion to fit two people (meze).
Video with the prices at Ocean Basket Restaurant in Paphos:
For more information on food prices in cafes and restaurants see the menus of the best restaurants in Cyprus (all establishments from the list below are among the top 10 in their city):
(Paphos) (Limassol) (Ayia Napa) (Nicosia) (Paphos) (Limassol) (Larnaca) (Nicosia and Limassol)
Keep in mind that these are the best restaurants on the island; less popular places may have much lower prices.
As a side note, if you have unpaid debts or fines, the customs may not let you out of the country. Read how to check the exit ban from Russia abroad online and what to do to avoid it.
Photo: food prices in a restaurant in Nicosia
Prices in stores and supermarkets in Cyprus
Grocery stores and supermarkets on the island are plentiful. If you're coming to Cyprus for a long time – it's better to eat not in cafes and restaurants, and buy products in the supermarket and cook your own food.
Average prices of food and products in Cyprus supermarkets in 2022:
| | |
| --- | --- |
| Groceries | How much does it cost. |
| Milk, 1 liter | € 1,31 |
| Fresh bread, 500 grams | € 1,36 |
| Rice (1 kg) | € 1,55 |
| Jar of beans, 350 g | € 0,79 |
| Eggs (12 pieces) | € 2,54 |
| Cheese, 1 kg | € 7,71 |
| Chicken fillet, 1 kg | € 5,79 |
| Beef, 1 kg | € 8,91 |
| Fresh fish, 1 kg | € 6,99 |
| Bottle of water 1.5 liters | € 0,67 |
| KEO Cyprus Wine, 0,75 | € 2,96 |
| Local Beer (0,5 L) | € 0,93 |
| Imported Beer (0.33l) | € 1,10 |
| Marlboro Cigarettes | € 4,50 |
Our experience. In September we rented an apartment in Limassol for two weeks. We cooked by ourselves, bought products once in 1-2 days in the supermarket Debenhams near the house.
On average, we spent 20-30 euros for one trip to the store. Usually we bought meat, some stuff to go with dishes, juice or water, fruit, vegetables, sweets for tea, sometimes wine, ice-cream, olives.
Fruit Prices in Cyprus – 2022
Fruit, which is grown in Cyprus (for example, oranges), are very cheap. But the cost of imported fruit (apples) can be unpleasant for the average tourist.
Here is the approximate cost of fruit in the supermarkets chain Papantoniou in Cyprus in 2022. The price is per 1 kilo:
Apples: from 1,49 euro.
mango: 3.95 euros
pears: 2.75 euros
watermelon: 0.29 euro
mandarins: from 0,39 euros
large plums: 5,45 euros
pomegranates: 5,29 euros
oranges (Cyprus): 0.79
melon: from 0.95 euro
bananas: 1.19 euros (on promotion)
Cyprus cherries: 7.99 euros
peaches: 2,75 euros
How much vegetables cost in Cyprus
Cyprus stores and supermarkets sell a lot of inexpensive and quality vegetables. Approximate prices for vegetables in large chain supermarkets:
Tomatoes: from 0,35 euros.
cucumbers: from 0,45 Euros
bell peppers: red, yellow: 4,85 euros; green: 1,30 euros
cabbage: 0,29 euro
carrots: 0,95 euro
eggplants: 0,95 euro
cherry tomatoes: 3,29 euros
dill: 0,35 euro per bundle
potatoes: 0,30 euro
Olives: from 2,49 euros
Other popular supermarkets in Cyprus are Carrefour, Froutaria, AlphaMega, LIDL.
Prices in Cyprus for fruit, vegetables and meat are well reflected in this video:
Clothing and Shoes
Prices for clothing in Cyprus are quite high. But the island is often held sales, during which you can buy good things at a discount of up to 70%.
Winter sale begins in early February and lasts 45 days. Summer discounts in stores begin July 15 and last also 45 days.
Below are the prices for clothing in Cyprus.
summer t-shirt – 10 euros
summer dress – 25 euros
Zara dress – 34 euros
swimsuit is 20 euros
Men's shoes – 100 euros
Women's leather bag €44
Branded jeans (Levis) – 60 euros
Branded sneakers (Adidas, Nike, Reebok, etc.) – 79 euros
Prices for tours and entertainment in Cyprus
Among the excursions in Cyprus, the most popular among tourists are boat trips, safaris, entertainment tours, gastronomic tours, sightseeing tours.
Their prices range from 20 to 300 euros, depending on the distance of the route.
Excursions
How much do popular excursions in Cyprus:
sightseeing tour of the island – 60 euros
A trip to the city of Famagusta – 55 euros
Trip to the Akamas Nature Reserve – 55 euros
Ancient Cyprus" tour – 40 euros
Winery tour – 60 euros
Pilgrimage tour of the monasteries – 40 euros
Kavo Greco Nature Reserve – 63 euros
Northern Cyprus – 250 euros
Instead of group tours you can order individual tours, which the guide will lead only for your family or group. Compare the cost of such excursions can be, for example, on the website Tripster.
Entertainment
snorkeling (trip on a boat with a transparent bottom) – 80 euros
quadricycle safari – 50 euros
a trip to the water park – 50 euros
boat trip – 60 euros
shark fishing – 200 euros
jeep safari – 60 euros
Daily yacht rent – 1500 euros
In the Animal World (excursion for children) – 45 euros
Oceanarium in Protaras – 13 euros (adult), 7 euros (child).
The average price of entrance tickets to museums – 4-5 euros.
A visit to the zoo in Limassol will cost 5 euros for adults, a children's ticket costs 2 euros.
For children will be interesting to walk through the Luna Park in Ayia Napa. The rides in it are paid for by tokens. One token costs 1 Euro. It is cheaper to buy 12 tokens at once, which will cost 10 euros.
The rating of attractions and attractions in Cyprus, as well as reviews of tourists about them can be found on the website TripAdvisor.
Photo: Cape Kavo Greco © dimitrisvetsikas1969
The cost of transport
Transport in Cyprus is poorly developed. You can move around the island by bus, cab, rental car or bike.
Buses
Many vacationers use buses to get around the island. Buses run fairly frequently. The schedule can be found at the bus station, although if you just come to the stop, you will not have to wait long.
In 2022, a single trip on the bus costs 1.5 euros (children under 6 years old are free). At night time fare is twice as expensive. The fare is paid directly upon boarding (or you can buy a travel card in advance).
Children under 6 years of age can ride the buses for free.
If you plan to travel a lot around Cyprus by bus, it is cheaper to buy a pass for a day, a week or a month . You can buy a pass at the bus station:
1 day – 5 euros
1 week – 20 euros
1 month – 40 euros
Pass can be used for a specified period of time on all routes on the island.
Cab
The cab in Cyprus is expensive. Cars are equipped with meters, but when boarding, it is advisable to make sure that the cab driver turned on the meter.
The cost of a cab ride differs for daytime and nighttime:
By day: about 3,5 euros per ride, 0,73 euros per kilometer
At night (from 20:30 till 06:00): 4,3 euros per ride, 0,85 euros per kilometer.
If you are planning your trip several days in advance, it's sometimes more advantageous to book a transfer in advance rather than hailing a cab on the spot.
For example, a transfer from Larnaca airport to Limassol for 4 people will cost 53 Euros.
Renting a Bike
For short trips within the city is more convenient to rent a motorcycle. You can rent a motorcycle, as well as a scooter.
You can rent a bike in Cyprus from 30 euros per day. All bikes are in very good condition. The price corresponds to the quality, in addition, they are comfortable and fast. Rent a scooter is cheaper – about 12-20 euros per day.
Rent a car
According to the reviews of tourists, the most convenient way to travel in Cyprus in 2022 is to rent a car. You can book a car in advance online (look at the prices here).
The cost of daily rental car starts from 9 euros but during the high season it can be 3-4 times higher. The price depends on the rental period, gearbox, car class. The longer you will use the car, the lower will be its price.
More about cars on the island: Rent a car in Cyprus – 2022.
Photo: © Evgeniy Isaev / flickr.com
Prices for housing
If you are planning an independent holiday in Cyprus, and are going to stay in a hotel – look through Booking to find accommodation at the lowest price. For renting private apartments, houses and villas is convenient to use Airbnb (at the link – 2100 rubles discount for the first booking).
2 stars
Prices for two-star hotels range from 25 to 85 euros. Larco Hotel 2* in Larnaca gets good reviews. According to tourist reviews, the staff is very friendly and attentive, and the hotel itself is located 15 minutes walk from the main city beach.
The price for a single room varies from 35 to 55 euros per night.
3 Stars
The cost of accommodation in three-star hotels varies from 30 to 110 euros per night.
According to tourist reviews, a good option would be the three-star Daphne Hotel Apartments in downtown Paphos. Its advantages are an excellent location and excellent service.
The cost of a single room is only 23 euros.
4 Stars
Rooms in four-star hotels in Cyprus cost from 30 to 200 euros per night. Popular among tourists are Amphora Hotel & Suites in Paphos (from 80 euros) and Ciao Stelio Deluxe Hotel in Larnaca (from 85 euros).
Five Stars
Five-star hotels in Cyprus offer a wide range of services, so rooms cost from 70 to 300 euros per night.
One of the most popular is The Royal Apollonia Hotel 5* (from 125 euros) in Limassol. Tourists note the convenient location of the hotel and a good view of the sea from the room.
How much do tours and stays cost
How to find an inexpensive trip to Cyprus? It's easy to do with the help of Travelate and Level.travel websites. They compare prices from all tour operators and display them on one page, allowing you to choose the appropriate option.
The table below shows the minimum cost of a trip to Cyprus for 2 adults with a flight from Moscow. Tours from the regions are usually 20-50% more expensive.
Tour prices by month:
3 nights
7 nights
11 nights
July
36100
52200
66600
August
44300
55900
63200
September
42000
51200
59200
Useful information about Cyprus
Have you ever holidayed in Cyprus? What are your views on food and grocery prices in 2022?
Taste of Cyprus: What to try and what to eat
Gastronomic review. We get to know the national Cypriot cuisine and what you have to try. Discover the prices of food, drink and groceries in Cyprus in 2022.
Check out our free courses:
Content:
Food in Cyprus: The tradition of national cuisine
The national cuisine of Cyprus was formed under the influence of Greek, Turkish and British cultures. Here they love vegetables, oils, yoghurt, lemon, garlic, parsley, coriander, basil, oregano and other spices. Desserts with honey and nuts resemble oriental sweets.
The food in Cyprus is not as spicy as in Turkey. The food is cooked in vegetable oil or lamb fat, salads are dressed with olive oil. Soups are prepared from chicken, thyme, lentils, egg yolks with greens and lemon. Traditional salad ingredients are vegetables, chicken, cheese, olives, seafood. Rice, pulses, vegetables, bulgur, pasta are used as a side dish.
Poultry, lamb, pork, beef, and fish are cooked, but the choice of meat dishes is much wider. Meat is roasted, stewed in pots in the oven, or cooked on the grill. Inhabitants of Northern Cyprus do not eat pork.
Fish is fried or grilled. Shrimp and mussels are usually frozen, while local varieties of fish, small squid, and crabs are fresh. Sometimes the catch is put on display so that the customer can choose the fish they like.
Taverns serve salad, potatoes, bread, and sauce along with the main course. All this is sprinkled with lemon juice before serving, or a lemon cut into quarters is brought to the customer.
Rent a car – it's the best way to travel! Localrent.com is a reliable and convenient car rental service in Cyprus. Choose a car for your taste and budget – the choice is wide. The cost of renting a car from 14 euros per day. Do you have any questions? Russian-speaking customer service will help you with everything.
(Photo: Sergey Galyonkin / flickr.com / License CC BY-SA 2.0)
What to Try in Cyprus
To get the best idea of the national cuisine of Cyprus you must try meze. While in Greece it is an appetizer, in Cyprus an entire meal is served consisting of various dishes and snacks: garlic-cucumber salad in a yogurt sauce (tallatouri), pea mousse (hummi kopanisti), vegetable salad with cheese and olives, eggplant snack, meat or fish dishes.
Moussaka, baked eggplant with meat and vegetables under cheese and egg, is well known on the island. Rice is cooked in an interesting way – it is fried in olive oil with spices and then wrapped in vine leaves, a dish called dolmades. Very often the locals order giant beans stewed with vegetables.
Especially delicious are the locals prepare meat dishes – tavas (meat with vegetables in pots), kebab – here it is served on a flatbread with red peppers, onions and herbs. Almost in every tavern in Cyprus you can try mutton, chicken or pork kebab – souvlaki. And pork shashlyk marinated in wine and coriander is called krasato .
Lamb lovers will appreciate the taste of melt-in-your-mouth keftiko: young meat stewed in the oven, served with tomatoes, garlic, peppers and onions. The stewed meats are no less delicious: to prepare the stefado, the roast beef is stewed in wine and spices. There are stifado of rabbit, poultry and pork. To go with beer go great spicy sausages on the grill – lukanika or basturma.
What else can you try in Cyprus? It is necessary to try halloumi sheep cheese, the locals love to add it to other dishes or grilled. Popular hot snack is feta cheese baked with vegetables and olives in a pot.
Separately, it is worth mentioning the drinks of Cyprus and sweets. On the island a fine selection of white and red wines, it is still producing the drink of the Crusaders – wine "Commandaria". Village grape vodka "Zivania" is especially good if you freeze it slightly before drinking. Tourists also recommend "Uzo" and the local beer "KEO". In addition, other alcohols such as liquors, gin and whiskey are inexpensive here. Coffee with cardamom and cinnamon is very tasty. For dessert, you can order baklava, lukum or glicots, fruit cooked in syrup.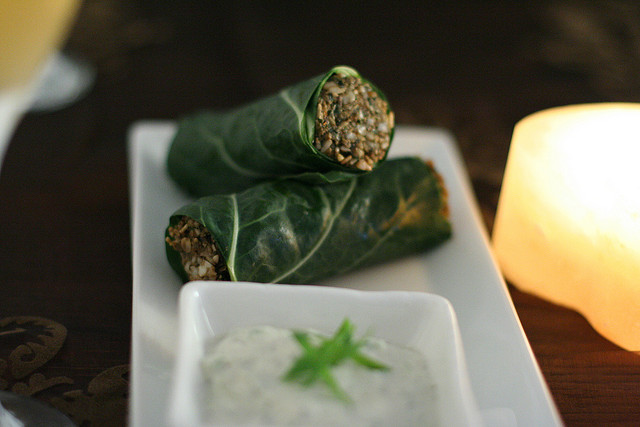 (Photo: Geoff Peters 604 / flickr.com / CC BY 2.0)
Food and drink prices in Cyprus in 2022
Exchange rate: 1 euro ≈ 57 RUB.
Prices for food in Cyprus vary slightly from place to place: for example, in Paphos and Ayia Napa, which are popular resorts, eating in taverns is somewhat more expensive. Average cost: soup costs 3-6 euros, omelette with additional ingredients 4-6 euros, salads 3-9 euros, fish dishes 10-15 euros, meat dishes 6-15 euros, shashlik 12-16 euros, meze around 15 to 20 euros (fish dishes are usually more expensive).
Paphos
Salads from 4 euros, moussaka 9 euros, pasta 9 euros, fish up to 15 euros. Soft drinks from 2 euros, cocktails 5-7 euros, frappe 1,5-2 euros, coffee 2-2,5 euros, a glass of wine from 3 euros. A dinner for two can be had for 40 Euros and a lunch for 30 Euros.
Prices in a grocery store in Cyprus (Paphos)
Limassol
Lunch consisting of a fish main course with juice and dessert will cost 25-30 euros for two people, dinner with meat, salad and wine – 40 euros. Salads from 4 euros, meat dishes from 9 to 15 euros, fish dishes from 15 euros. A coffee with dessert – 8 euros, a glass of wine or a beer – 2-3 euros.
Larnaca
You will have a lunch for two for 15-20 euros, a dinner for 40 euros: the fish platter with shrimps and mussels is 20 euros, shashlik, potatoes and salad is 15 euros. A dinner at a posh place costs 60-70 euros.
Ayia Napa
To have lunch for two people can cost 25-40 euros, to have dinner for 50 euros. A sandwich costs from 6 to 8 Euros, meat course – 9-15 Euros, salad with cheese and chicken – 8 Euros, mussels and octopus – 18 Euros, beer – 3 Euros, coffee from 3 Euros, freshi – 3-4 Euros, wine from 7 Euros.
Protaras
In taverns meat and fish dishes start from 7 Euros, salads from 5 Euros, meze from 15 Euros, sweets from 5 Euros. For a solid dinner for two is 15-20 euros, with wine 25 euros.
Related articles:
: how to get cheap : where is the best place to rest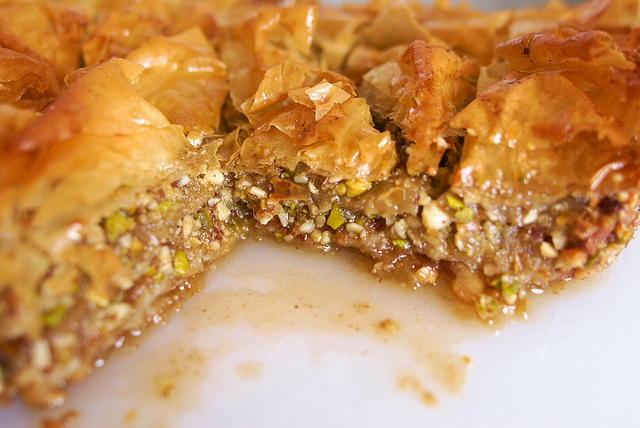 (Photo: balise42 / flickr.com / CC BY-SA 2.0 license)
Food prices in Cyprus in 2022
Grocery prices in Cyprus stores can vary – it depends on the city and the size of the store. In large chain supermarkets (eg, Papantoniou) are often discounts and promotions, so it is cheaper to shop there. Tourists also recommend buying products at the markets, where you can bargain.
According to reviews, in Cyprus, the gifts of the sea and dairy products are expensive: 1 kg of Dorado – 9 euros, cod – 12 euros, 1 liter of milk – 1.5 euros, half a liter of kefir – about 2.5 euros. Cheap alcohol, meat, cheese, seasonal vegetables and fruits: chicken (kg) – 5 euros, olive oil (0,5 l) – 5 euros, ice cream (kg) – 3 euros, cucumbers, potatoes, tomatoes (kg) – 0,35-0,5 euros, melon (kg) – 0,7 euros, apricots and peaches (kg) – from 1 euro, cherry and strawberry (kg) – 6,5 euros.
Prices for products in stores in Paphos are approximately as follows:
water (1.5 liters) – from 0.5 euros;
wine (bottle) – from 3 euros;
juice (1 liter) – 2 euros;
cheese (300 gr.) – from 4 euros;
bread – from 1 euro;
milk (1 l) – from 1 euro;
bananas (kg) – 0,5 euro;
grapes (kg) – up to 2 euro;
Desserts (piece) – 0,8 to 4 Euros.
The cost of products in stores in Limassol:
yogurt (300g) – 3.2 euros;
cheese (500 gr) – 4,2 euros;
Sausage (kg) – 5 euros;
bacon (200 gr.) – 1,9 euro;
tomatoes (kg) – 0,85 euro;
oranges (kg) – 0,75 euro;
watermelons (kg) – 1,3 euro;
sweet pastry (piece) – 2-6 euros.
Useful articles: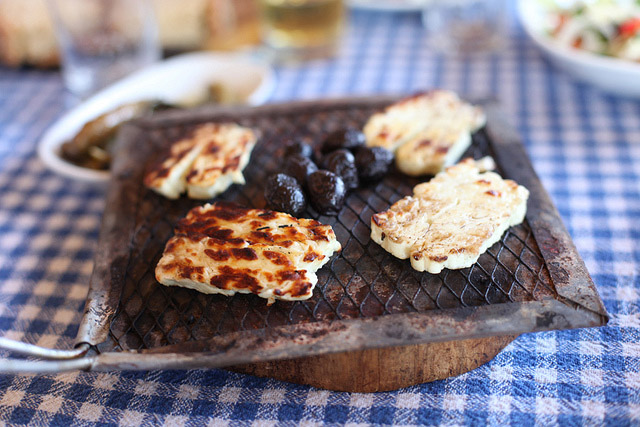 (Photo: Giia | Guldal Aydinli / flickr.com / CC BY 2.0 license)
Cuisine and Prices in North Cyprus
While the cuisine in the south of the island clearly inherits the Greek tradition of cooking, the cuisine of Northern Cyprus clearly shows Turkish motifs. The menu includes kebabs, meze, hummus and jacik, sheftalija, dolma. For dessert you can order coffee with pirohu or ekmek kadaif. It is recommended to try grape vodka (raki), local wines are not popular. Soup costs 5-6 liras, meat up to 20 liras, fish up to 30 liras, a complex dinner – 8 liras.
According to the reviews, the prices of food in the northern part of Cyprus are lower. Here is the approximate cost of products in Turkish Liras (2022):
milk (1 liter) – 3 lira;
bread – 0,65-4 lira;
olive oil (0,75 ml) – 15-20 lira;
tomatoes, potatoes (kg) – 2-3 lira;
apples, bananas (kg) – 3-5 lira
cheese (300g) – 6-8 liras
chicken fillet (kg) – 28-30 liras
beef (kg) – 20-40 liras
Fish (kg) – from 20 liras.
(Photo: Ania Mendrek / flickr.com / License CC BY-NC-ND 2.0)
Tips and reviews
The prices of food in Cyprus seem high to some, while other tourists consider them average European. But no one has ever complained about the taste of food, and the generosity of Cypriots, manifested in their huge portions and compliments from the chef, invariably lifts the mood.
To choose a good tavern, you need to look for the ones where the locals eat. You can also just walk around and take a closer look at the visitors. Tourist cafes also cook delicious, but the prices are high, so go farther away from the coast.
Portions are such that one dish for two is enough – especially the meze. Otherwise, no recommendations – just try and enjoy the amazing taste of the national Cypriot cuisine.