How to go to Dagestan by yourself? Ready itinerary for 6 days.
About 3 years ago I saw a friend's photos of amazingly beautiful nature.
– And where is it? – I asked. It was hard even to guess what kind of country it is.
– This is Dagestan! – she answered.
That's when it dawned on me that Dagestan would be a major travel dream for the near future.
As a result, a year ago I realized my dream. And in my opinion, it is one of the best travel destinations in Russia.
Rice terraces of Indonesia, picturesque landscapes of Iceland, desert dunes of Morocco, gorges of American canyons, cows in the fields of the Swiss Alps, the Hoover Dam in Nevada, ancient and mysterious Machu Picchu – all in one place, in Russia! There is no need to embark on a round-the-world trip to see the natural beauty, and even less need to spend a huge amount of money.
Pros and cons of Dagestan for the traveler
Dagestan, like any place on the planet, has its pros and cons.
+ Beautiful and diverse nature: barkhans, mountains, canyons, waterfalls and the sea;
+ Unique culture and hospitality of local people;
+ Budget-friendly;
+ Few tourists, although every year there are more and more. But this does not prevent you from enjoying nature alone.
– Not developed infrastructure in the tourism industry;
– Bad roads;
– In some places there is no 4G;
– Bank cards are only accepted in the cities. If you go to enjoy the nature of the region, have cash with you.
How to get to Dagestan?
The capital of Dagestan is Makhachkala, so the journey begins with this city. By the way, Makhachkala is one of the three airports in southern Russia that are now operational. Flights are also received by Sochi and Mineralnye Vody (including international).
By plane:
There are direct flights not only from Moscow and St. Petersburg, but also from Rostov-on-Don, Kazan, Samara, Surgut, and Tyumen. Flights are made by the following airlines – Aeroflot, Pobeda, Azimut, UVT Aero, irAero.
By train:
You can get from Moscow to Makhachkala by train, but it takes about 40 hours. It is long, not comfortable, and you can't save a lot of money (the ticket price starts from 4000 rubles). Probably, this option is ideal for aerophobes only.
By car:
You can come to Dagestan by your car. The distance from Moscow to Makhachkala is 1,900 kilometers. You will have to go with an overnight stay in Volgograd or Rostov. Google-maps show two routes. You will have to choose according to the situation – road repairs, congestion.
By bus:
Travelling by bus is below average pleasure, but sometimes there are hopeless situations. In March, Krasnodar airport was closed, and my sister had to get to Makhachkala somehow. The only other option was to take a bus. I bought my ticket at a bus station and on a night flight. There were almost 90% of men on the bus, but she got there peacefully. The only thing was that in the vicinity of the republics the bus was stopped several times at checkpoints, everyone was driven out into the street and their documents checked.
When to come to Dagestan?
You can visit Dagestan all year round, but if you want to see more natural beauty, I suggest planning your trip from May to October, excluding the hot summer months of July and August. A particularly cool time to travel to Dagestan is from mid-May to mid-June.
The photo below is early March. There is snow in the mountains and it is quite cool.
It is very hot in Dagestan in the summer. If you can't stand the heat well, it's better to plan your trip for spring and autumn.
Dagestan itinerary
For better organization of the route and orientation on the terrain, you can put points on maps maps.me in advance. The app works great without the internet, you just need to download the maps in advance. If you get lost don't hesitate to ask the locals, they will help you.
Day 1 – Makhachkala
We fly to Makhachkala, don't stay there too long. Personally I did not like the city – the garbage in the street, a lot of people and cars, vanity. So we rent a car and go to the town of Kaspiysk, which is very close to Makhachkala.
We have lunch in a cafe on the Caspian Sea coast and check into a hotel. Here, for example, are two not bad options – Grand Hotel Caspiy and Arena Hotel.
We rest on the beach after the flight. The Caspian Sea is very shallow for swimming, but children and those who can't swim will definitely like it.
Closer to sunset we drive to the Sarykum barkhan. The entrance fee is only 50 rubles. Here you can see the zoo where rescued animals live. If you are lucky, you will meet a round head which burrows in the sand very funny and maybe even a scorpion.
This barkhan is not very big and you will not be able to take photos on the dunes, because you can walk there only on special paths. But as you can see from the photo, there are a lot of footprints and this means that people still walk on the barkhan ignoring the bans.
Day 2 – Sulak Canyon
Today you should devote the whole day to Sulak Canyon, look at it from different angles – from above, from below and from water. This is one of the most beautiful places in Dagestan, I strongly recommend that you devote a full day to it.
First we drive to the village Zubutli, to look at the canyon from below and there take a boat ride on the Myatlinskoye water reservoir. You must go to the village through the hydropower station, which is a restricted facility, so you must have your passport with you. You will need to fill in your data and car number at the checkpoint.
Ride on a boat (about 30-40 minutes), the cost for 2019 300 rubles. If you are going to ride less, insist on continuing. Recently, because of the flow of tourists and the desire of the locals to earn more money, reduced the time of the walk on the reservoir.
You can take yourself a separate boat for 3000 rubles, if you do not want to sail with other tourists.
Sulak Canyon view from the water.
Water here is crystal clear. And so much so that you can scoop water from the boat and drink it. Here on the shore there are places where you can eat. In general there is shashlik and snacks.
After lunch we go to the Dubky village, where there are observation points on the canyon. On the map maps.me there are clues where to look for them.
Another picturesque place that you should plan for this day is the Chirkei hydroelectric power station dam. It resembles the Hoover Dam in Nevada. If you have time left after that, you can swim in the Chirkei Reservoir.
Let's go to Gunib for the night, there is the biggest choice of guesthouses there. Or you can also go to Upper Gottsatl, to guesthouse Zainab. It's very popular with tourists. Lovely family, very hospitable people and delicious food – I heartily recommend it.
Day 3-5 – Gunib, Gamsutl, Salta waterfall, Khunzakh
Since the next 3 days of accommodation will be in one place, the order in which you see the following sights does not matter at all. You can be guided by the weather or your own strength.
The list of places to see in these 3 days:
1) The village of Gunib – climb to the highest point and look at the mountain plateau. I advise you to come here at dawn or dusk and positive emotions are guaranteed. There is also a children's camp where you can feed deer and rabbits.
2) Gamsutl is an abandoned village in the mountains, reminiscent of Machu Picchu. The road there is very bad, so you have to hike (about 2 hours). For me it was one of the most memorable places in Dagestan, after the Sulak Canyon. And on the way to Gamsutl, be sure to make a stop at the fruit terraces. They were created many years ago to retain water from the mountains. Now many orchards have been abandoned.
Abandoned aul Gamsutl
3) Karadakh gorge – you can go to the gorge only in dry weather, if it rained the day before it is unlikely to succeed. We were not lucky.
4) Salta waterfall is unique in that it is underground. It is most active during the melting snow and the rainy season. In summer, it can be quite like a brook, in the intense heat it dries up. In the photo showing the location, I deliberately chose the photo with me to understand the scale of the place.
5) Sogratl – I advise anyone who wants to learn the culture of Dagestan to visit this village. Ethnodom @etno.seklya is located in this village. I recommend that you sign up in advance with the organizers and arrange a tour. In fact, it is a museum, where you can touch the history and culture of Dagestan and even try on the national costume. It really didn't suit me, it added 10 years at once, and I hurried to take it off.
National costume. Dagestan
6) Ghor is another abandoned aul, like Gamsutl, also with a very beautiful view of the mountain plateau. When we went there it was raining, foggy and impossible to see the place in all its glory.
Ghor is an abandoned village.
7) Hunzakh – there are 4 reasons to come here:
– waterfalls, the largest of them is Tobot;
– coffee house with delicious coffee and homemade desserts (for those who like coffee, after 3 days without it – will be a paradise place);
– for the thrill-seekers, you can jump rope here.
Here is my recommendation list of things to see in the mountainous region of Dagestan, but the most important advice – stop wherever you like, sometimes you just meet very beautiful scenery on the way.
Dagestan – views from the road
Day 6 – Derbent.
Two options are possible on this day.
If you have flown to Makhachkala and rented a car, we go to see one of the oldest cities in Russia – Derbent. The city with a rich history and a calling card in the form of the Naryn-Kala fortress.
And yet, Derbent is also on the Caspian Sea. You can have a little rest before your return trip, so I included it in my Dagestan itinerary.
If you come by your own car, the best option, would be to continue your vacation in Chechnya and leave through the Andi Pass to Kazennoy-Am Lake. On the way there will be such 360 degree views that I almost broke my neck to see everything and I wanted to stop the car every 100 meters.
Rent a car in Dagestan
Having a car to travel around Dagestan is a must. Large Russian and international car rental aggregators do not work in Dagestan. You can look for a car among the ads on Avito or local rental companies. On average, you should allow for 1,500 rubles per day, plus gasoline costs.
How to travel around Dagestan without a car?
If you do not have a driver's license, it is better to buy a tour, take individual excursions or look for locals who will be willing to help you organize your vacation.
In Dagestan is quite realistic to negotiate with a driver in a private car and he will drive you around the mountains as much as you want. Then in advance put into the budget of the trip the cost of renting a car with a driver and his overnight stay. The best way to find such an offer is on Avito.
Your second option is to look for author tours. Specifically for Caucasus republics it is a very hot topic – author tours in Dagestan. Where to buy and how much does it cost? This article tells where you can find small tours for 3-4 days from local organizers from 20,000 rubles.
The third option is to put together an independent tour with the help of excursions. As a base for booking accommodation it is worth considering Makhachkala or Derbent, and then book day tours around Dagestan. For example:
Sulak Canyon – all-inclusive – a 10-hour trip to one of the most picturesque locations in Dagestan.
Khunzakh Plateau – the trip lasts more than 12 hours, but it is worth it.
Dagestan Machu Picchu and Salta Gorge – also a very long trip, but Gamsutl is worth it!
The obvious disadvantage of such trips is the loss of time. Every day you will have to go back to the city, but at the same time you have a chance to travel around Dagestan without a car.
What city to choose as a "base". Derbent is more interesting from all points of view, but from Makhachkala starts a lot more excursions.
Where to stay in Dagestan?
I have opened a little bit the subject in another article – Where to stay in Makhachkala or Derbent? The choice of accommodation is quite scarce. Especially it is felt after the departure of a large aggregator.
Considering that Bucking no longer works in Russia, I have described all possible options for booking lodging in a separate article – If not Bucking, then… How to book lodging in Russia now, given the sanctions?
Yandex.Travel, Ostrovok and Supra.ru are the priority. Can I trust these unfamiliar services? Yes, you can. I have already tested them on my own experience. I told you about Sudnoot.ru here, but I haven't yet managed to find out about other services.
Even if you are still at the very beginning of tourism development in Dagestan and there are not many offers, you can still choose an accommodation. I advise to book accommodation in Kaspiysk, Gunib and Derbent, they are ideal for our itinerary.
What to try in Dagestan?
Dagestani cuisine is very simple – the base is bread and meat!
I recommend that you try the following dishes:
1) Dargin-style chudu – it's a pie, similar to Ossetian, comes with different fillings. I took cottage cheese + cheese, very tasty.
2) Kurze – local dumplings. I tried them with potatoes and cottage cheese with herbs. In the end, I want to say that dumplings with salty curd are tastier than with sweet.
3) Apricot porridge with urbech – I tried it at the guest house Zainab. Boiled for several hours with constant stirring of apricots and flour. It tastes like jam, very tasty and filling. And the urbeche is a paste of grated nuts, it adds spice and slightly brightens up the sweetness of the apricots.
4) hemp seed gingerbread – don't worry, the seeds are not a drug).
5) apricots and cherries – yes, you can eat them in any region of Russia, but for 100 rubles to buy a huge bag of cherries and a 5L bucket of apricots you are unlikely to get.
Is it safe in Dagestan?
When I told them I was going to Dagestan, many people were shocked. They questioned me about whether I really wanted to go there, worried that I would be stolen and that I had no idea where I was going. They called me crazy and brave.
BUT! All people's ideas are just stereotypes. I have not met such kind, helpful, hospitable people anywhere in Russia. They were ready to invite us into every home and treat us to tea and lepeshkas. At the Sulak Canyon they just gave us a shashlik instead of selling it. And at the dinner in Bolshoi Gottsatl, they asked us to tell everyone to come to Dagestan. It's all good here! You are always a guest in Dagestan and you understand very clearly what Caucasian hospitality is).
Author: Toma Danilova
Friends, this guide to Dagestan at my request was written by Toma Danilova ( @lady_mixi ). The text is original and authorial. The photos also belong to Tamara. The traveler lives in Izhevsk, and writes about her adventures on Instagram. I could not pass by the unusual route. I am very interested in the republics of the Caucasus as fresh ideas for travel in Russia.
What else to read:
Dagestan itinerary in March – 5 days is already a report on my trip in March 2022
Dagestan: journey to the land of mountains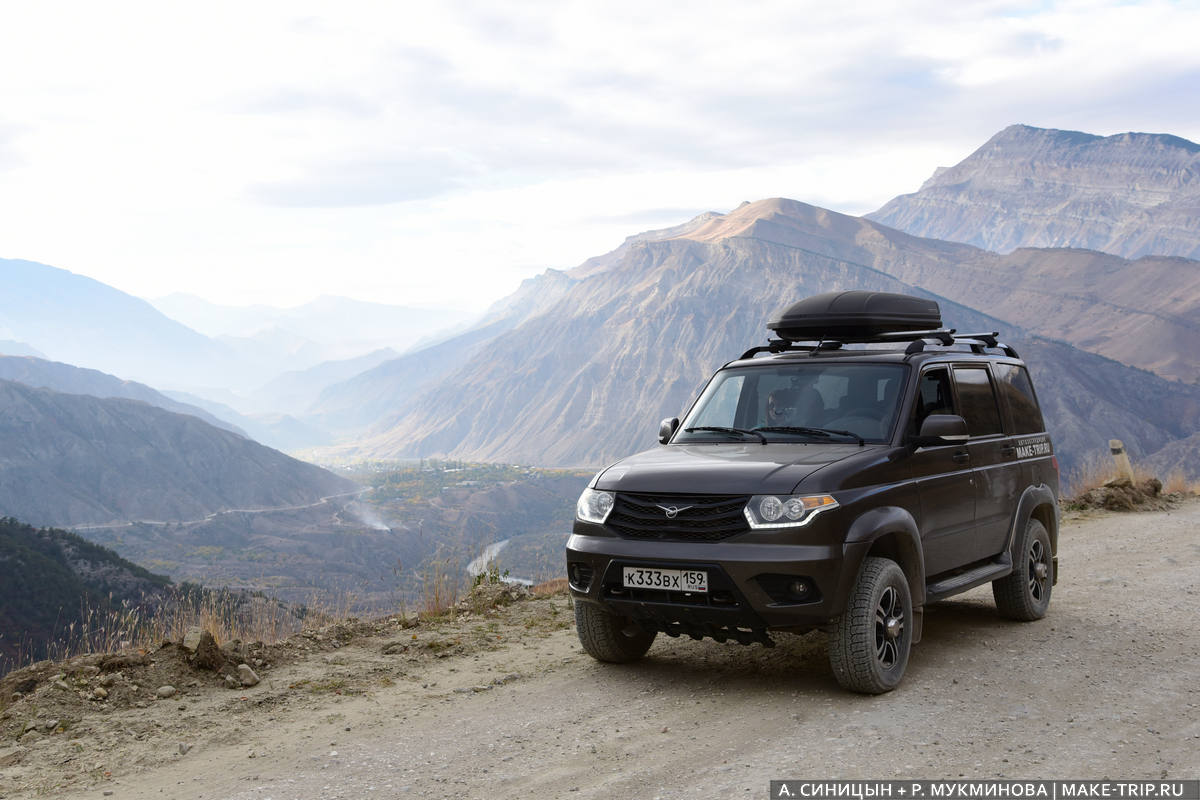 Is there any region in Russia more surrounded by stereotypes than Dagestan? Is it dangerous there? According to the media, there is a guerrilla lurking in every home in the republic. We weren't afraid, and decided to check it out. We're telling you about our trip to Dagestan by car.
Dagestan has all the best things in the Caucasus. The most cosmopolitan republic, the most diverse nature, the tastiest cuisine, the kindest traffic cops and the most hospitable people.
Content:
Safety in Dagestan
We felt safer in Dagestan than in our hometown. Yes, here strangers on the street can pounce. to feed and help. If you are offered to come in and have a meal, save yourself: they will feed you and invite you to spend the night, and give you food to eat on the way back. The guest is sacred.
Quite a lot of traffic police checkpoints. They stop to register and check the documents, and ask if everything is okay, if you need help and if anyone hurts you. There are all kinds of things you can ask the police: where to buy good gasoline, or how to get to places of interest.
The really dangerous in Dagestan are cows and daredevil drivers. Beware of rednecks on serpentine roads: they may appear unexpectedly in the middle of the road from a bend, or in a fit of madness run in front of the car. Beware of the latter ones near Makhachkala: the kamikazes try to outrun as many cars oncoming traffic and do not return to their lane to the last lane. In mountainous Dagestan drivers are more calm.
Tip. Still, it is not entirely safe in Dagestan. In the media there are still stories about liquidated militants and attacks on traffic police checkpoints. Stay tuned for more news!
It is necessary to know:
Rules are there to be broken. Unperturbed cows pop out from around corners all the time. A flock of sheep or a herd of sheep can run in front of you.
Mentality
Where in Russia are the most open and hospitable people? In Dagestan. Here ordinary tourism turns into ethnographic tourism. You only ask the locals something, and already you are sitting at the table, listening to the life, getting acquainted with family members and looking at photos. The villagers are so sincerely happy to see you that you would have to have a cold heart to refuse an invitation.
According to our hostess Zemfira, all Dagestani women have a strong maternal instinct, so they try to feed, water and put to bed.
Visiting a resident of the village of Chokh.
When traveling around the world we are used to refuse to help and communicate, because 99.99% of them are helper. They are sure to bring in a store or hotel that pays them a commission, or ask for money for services. We are sparrows, and we don't take the bait, so we almost don't communicate with locals. This habit is useless in Dagestan: you HAVE to communicate here, otherwise all the charm of the trip will be lost, it will be just another hunt for beautiful sights.
During our trip to Dagestan we did not meet a single person who wanted to take advantage of communication with us. Take alone the case when in the mountains we were searching for an unknown cave! It all started with a trivial desire of local residents to show us the way, and ended with the fact that two villages together with the village administration helped us in our search, and the locals almost fought over the right to host us as guests in their homes.
A friendly driver in Derbent. Ramazan introduced us to his donkey. Abdusalam was a selfless guide to the Yantau Cave.
Where to Live
In contrast to Ingushetia, there are many hotels. Most of the options are in the large cities: Makhachkala, Izberbash and Derbent. There are guesthouses even in small villages – for example, in the villages of Chokh, Salta, Kubachi. It's convenient because you don't have to go back to one place all the time. Even if there is no hotel, you can ask a local for a night – no one will refuse you. We did not try, but we were constantly offered lodging for the night.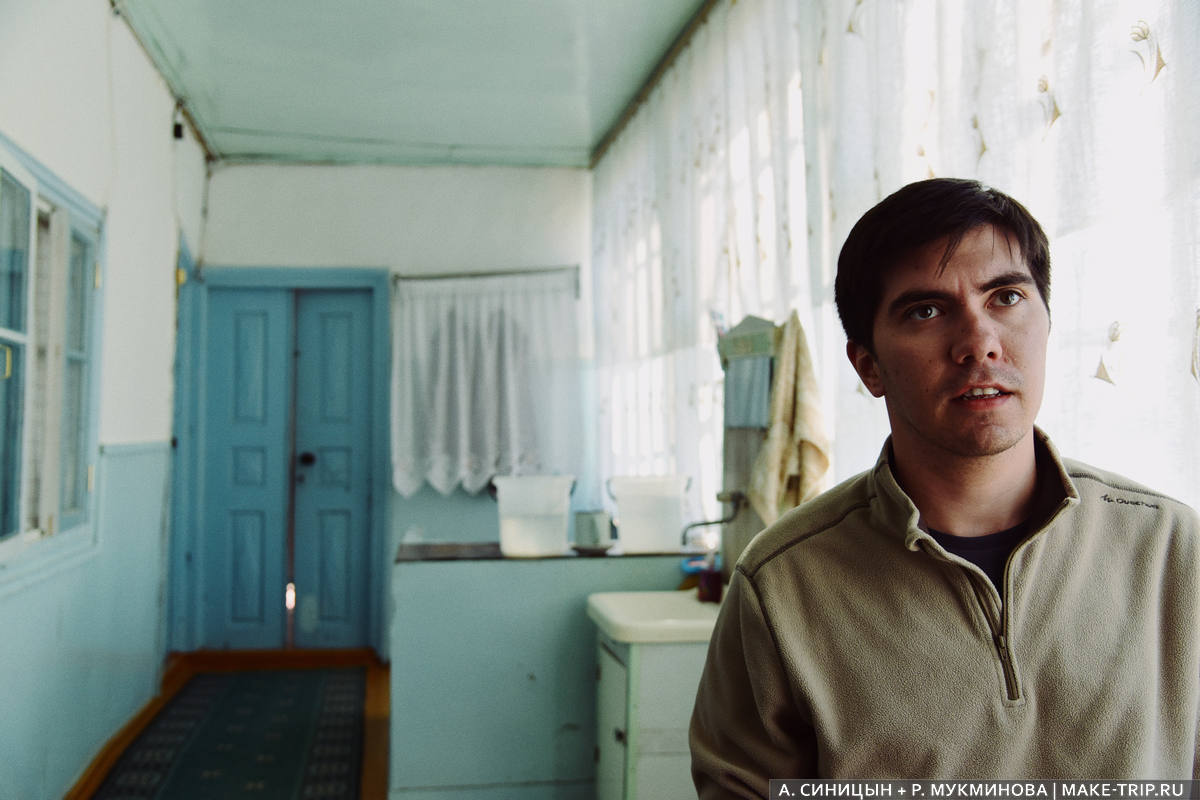 Our friend and expedition member Azat is a guest of a resident of Chokh village.
Accommodation prices are reasonable, in Makhachkala and Derbent from 1,000-1,200 rubles for a double room. Hotels and guest houses are easy to search on Hotelluk and Yandex.Travel (there is a cashback).
Here is where we stayed:
Derbent – Hotel Arbat 4* in the city center. 1500 rubles per room. Pretty convenient entrance and exit from the city, there is an inexpensive restaurant.
Gunib – hotel "White Cranes". 2000 rubles for 2 rooms for three people. Killer delicious breakfasts are included, which are prepared by hostess Zemfira. Perhaps, of all the many hotels in Russia, where we lived, this is the best in terms of price/quality ratio. Highly recommend!
The village of Chokh now has a notable ethnodome. A local enthusiast restored a dilapidated house and turned it into a museum-hotel. According to reviews, the interior in the national style and beautiful views from the hotel is bribing, but living in it is not very comfortable. The room costs from 2000 rubles.
Ethno-house with arches – in the upper right corner.
National cuisine
We tried a few dishes of national cuisine:
Khinkal is a steamed or water-cooked dough served with meat and a strong meat broth and sauce. It is unusually nourishing and tasty. Price – from 250 rubles.
Urbech – a nut paste, which tastes like liquid halva. Sometimes made from seeds, such as sesame seeds.
Chudu – scones or pies with a filling. They may be thin or thick. From 100 to 250 rubles, depending on the type.
Also popular are meat soups and kurze – like our dumplings. And there are traditional shish kebab, lula kebab, pilaf, and lagman everywhere. As for sweet you can always recommend almond shakerpare and baklava, which are delicious!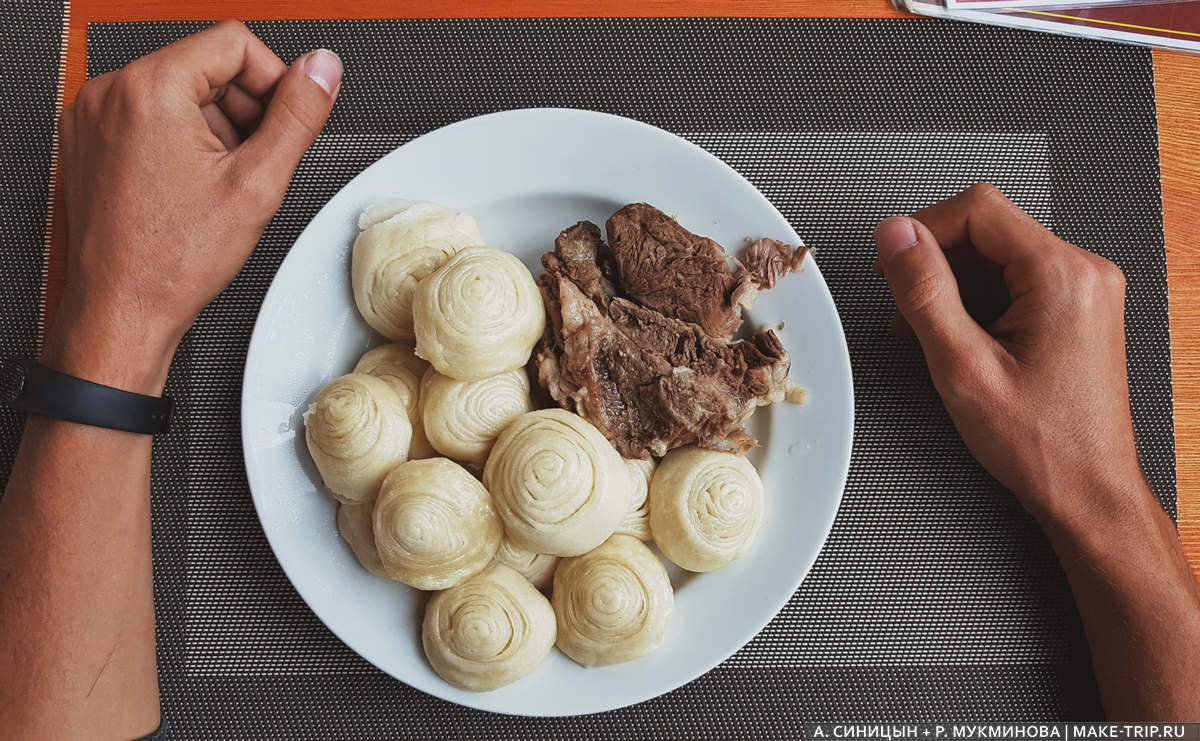 Khinkal – nourishing, tasty, inexpensive.
Sightseeings map
What to see
When we started looking for what to see while traveling in Dagestan, we were overwhelmed with an avalanche of information. There are so many unusual and diverse places in the republic! Let's tell only about the main and the most interesting, which we visited.
Khunzakh plateau + fortress + Tobot waterfall. Wide plateau at 1700-2000m, from which tumbles Tobot waterfall. Especially beautiful at sunset.
Gunib . Take a walk in the park "Upper Gunib" and visit the fortress, climb the Mayak mountain. The views from the Lighthouse are delightful – locals advise meeting sunrise or sunset there.
Underground Salta Waterfall. Amazing place: first you will walk through the gorge, which will lead you into a cave. There is a hole in the ceiling of the cave where the waterfall comes down from. In the summer it is full of water, and in some places you have to walk through the water. We were in October, when almost everything dried up.
Karadakh Gap. Here you get a feeling as if you have entered a lost world. Only birds, mountains and silence. One can get there from the Hunzakh plateau or from Gunib. From Gunib you first take an asphalt road, then about 20 km across the pass on dirt roads.
In the Karadakh gorge. Houses in the village of Chokh.
Abandoned villages. Gamsutl, Goor, Koroda – bright representatives of typical half-destroyed mountain auls of Dagestan.
Sulak Canyon. It is written that it is more beautiful than the Grand Canyon in the USA. I don't know. The best view is from the observation decks in the village of Dubki.
Samura liana forest. It's quiet, cool and peaceful, but the road to the reserve is murdered. Locals advised to come exactly to Samur – the most beautiful lianas there.
Derbent. In the old town there are many interesting things: an ancient mosque, fortress, museums, winding streets. In the courtyards and alleys dry laundry, on the thresholds of houses cats squirm, and from the branches of trees hang heavy ripe pomegranates and persimmons. Derbent is the oldest city in Russia, the first settlements appeared here over 5000 years ago.
Barkhan Sarykum. An amazing pile of sand in the middle of the steppes. How did this barkhan come to be? Why doesn't it move? Scientists have no clear answers yet. There is a special microclimate and a lot of red-listed animals, though it looks lifeless. Nearby is a picturesque abandoned railway station.
See our full review of Dagestan's sights with photos, descriptions of places and useful information.
Barkhan Sarykum. Alexei Sinitsyn, the instigator of our Dagestan trip, on the Khunzakh plateau. Aul Goor at sunset.
Roads
Unlike other Caucasus republics, Dagestan has a dense network of roads. To get from one mountain village to another one does not have to go down to the plain and take a different road – one can almost always drive straight through.
The roads in Dagestan are countless descents, rises, passes and serpentines. Some of them are covered with excellent asphalt (roads between the main villages), while others are dirt roads of varying quality: from decent to gear-grinding choppers. If you do not want to jump on bumps and suffocate from the dust, choose the main. But the best views, of course, are on unpopular roads.
Even on the most semi-abandoned secondary roads there are always cars, so don't fear getting lost or breaking down – you'll find help.
You will be interested to know:
Serpentine that leads from Lake Kezenoi-Am to Dagestan. On the road to Gunib. The beauty at every turn!
Gas stations in Dagestan
In other travelers' blogs we read that there is a problem with gasoline in Dagestan – it is mercilessly used. It's a paradox, but before the trip we were more worried about bad gas than about safety.
There isn't a gas station in Dagestan that we are accustomed to, but you see a lot of fakes: Lukoil, Rosneft and Gazprom in different variations, from missing letters to doubled consonants. Gas stations are common, but few people fill up there. The locals almost all drive on gas.
How to find a good gas station:
Ask locals where they fill up. The traffic police will also tell you where. Interview as many people as you can.
Choose gas stations where expensive local cars are parked.
Don't stop where there is unknown 93 or 96 gasoline.
Where we filled up:
Leaving Chechnya, we filled up a full tank – they have good gasoline (for example, at the "Leader" gas station on Kezenoi Am).
Near Gunib, on the road past the village of Nizhny Keger, there is a red gas station with the same name. Refill your tank in the morning – you run out of gas in the evening.
It is safe to fill up at "Gostneft" station – there are many of them on R-217 highway near Derbent and Makhachkala. They say there is Lukoil gasoline from Volgograd.
Once I filled up at the gas station "Rusneft" – the locals assessed it as 'neither bad, nor good'.
Useful Links
Websites that inspired and helped me to travel around Dagestan:
Chic photos of the republic on Dmitry Chistoprudov's blog.
An inside look at Dagestan. Lots of fascinating articles, interviews and stories about the lives of locals on the "This is the Caucasus" website.
Guide: articles, attractions, news, playbill on strana.ru.
Discover the world of the North Caucasus: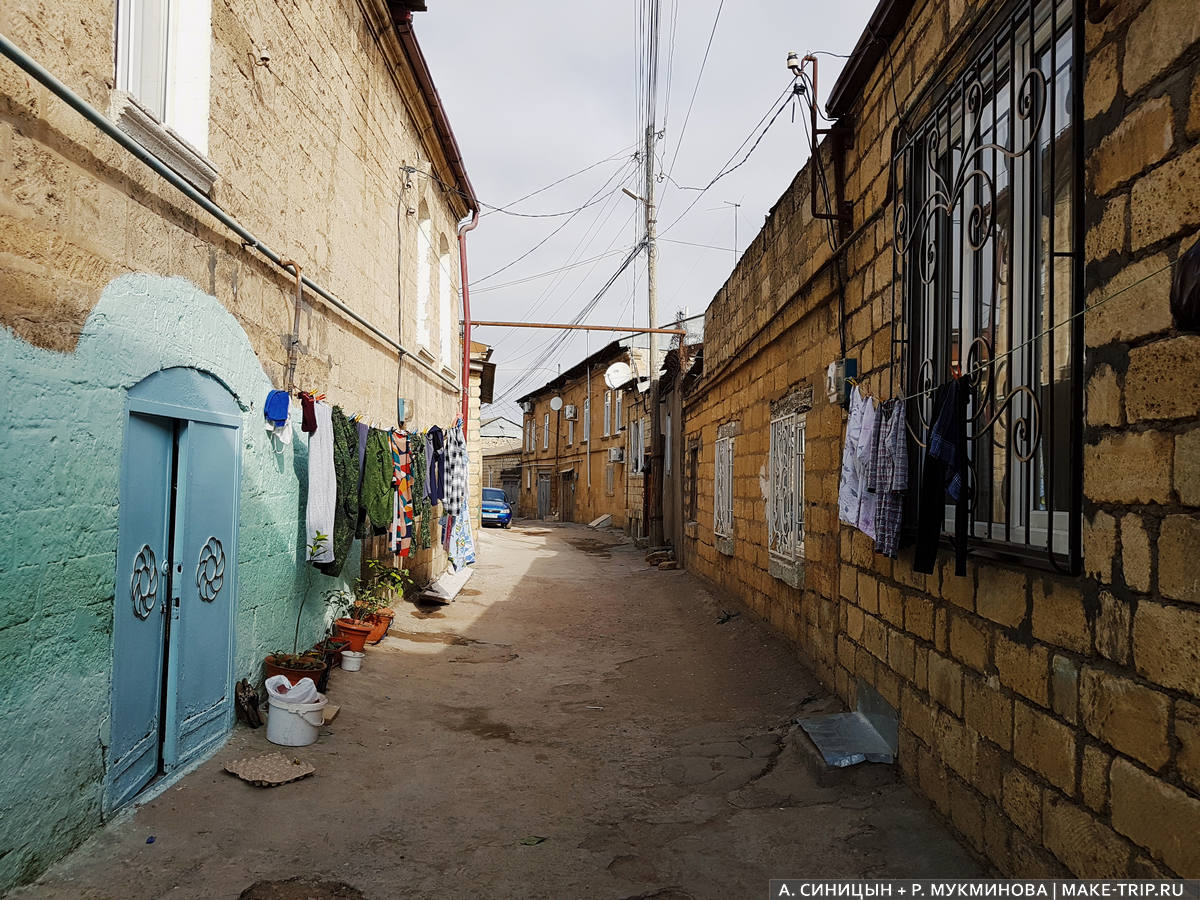 Authentic Street in Derbent.