Dream Journey to India: The Taj Mahal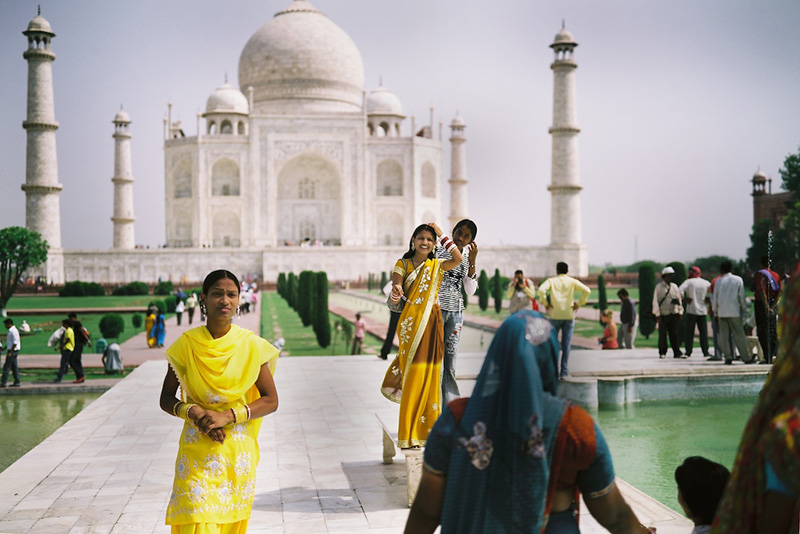 Journey to India in your dreams and reality to the snow-white Taj Mahal.
The travel program was written for a contest for 30,000 rubles for a dream trip organized by MAKE-TRIP.RU. The challenge was to come up with an original idea and route for the trip and to keep within 30 000 rubles for the flights. The best texts of the participants will be published in a separate rubric.
The sponsor of the contest is the Skyscanner cheap flights search service. It allows you to compare prices of all airlines and buy tickets at the lowest price. Get acquainted with its effective smart search tools:
Search for the cheapest airline tickets to any destination. Check out →.
Up-to-date information about the best airline fares. View →
Author: Stanislav .
My adventure began quite recently. I am sitting in Sheremetyevo airport, waiting for my flight.
I feel a little excitement. I've never been there. I want to change my life, see the world, see the Taj Mahal.
Six hours on the direct flight and here I am at Delhi airport. Obtrusive cab drivers try to take me by the hand.
I refuse in my "Thank you, no need" manner. I am met by guide Abdullah, waving his tanned hand from afar.
– How was your flight, was it uneventful? – he asks.
– Yes, Abdullah, thank you, we took off gently and landed gently. How was the weather?
– It's hot, brother, – he says.
– I see. Let's go to the hotel.
– Okay. – The Indian answers. And we get in… I mean, I get in the cradle and Abdullah drives the motorcycle. Here it is, economy service. But that's all I need. Tired of my 222 Mercedes.
– Tell me, my tan friend, where can I rent a motorcycle? I want to go sightseeing tomorrow.
– There's lots of places. You don't have to take it, take mine. I'm going to Goa tomorrow.
– Thanks, buddy! – I reply cheerfully.
The next day came. I have only one thought in my mind. The thought of traveling. Going wherever you want and not thinking about anything.
I quickly got dressed, grabbed a couple of oranges to eat, took my backpack with me and headed out to the parking lot. There were almost no people around, it was 5:00 in the morning. Ever since I was a kid, I've learned the saying, "God helps who gets up early.
I started the horse, the smells of oil and gasoline hit my nose. Yeah, good dope, I laughed. I threw my backpack into the cradle and only the whistle of the worn-out tires reminded me of me. On the road I kept seeing carts, cars less often. I passed a couple of kilometers at a leisurely pace and saw a lake or a pond in the distance.
I rushed forward. I left the highway, and the following scene appeared before my eyes. At the foot of the hill there was a lake with crystal-clear water.
The branches of the trees came down to the water, as if they wanted to drink it. Without thinking twice, I put on my Adam's suit and plunged into the water. After a sharp contrast (it was under 30 degrees outside, but the temperature of the water, according to my senses, was only 15 degrees) my eyes became blurry. A little later came to form. I noticed something dark at the bottom of the hill. Dived in, it turned out to be a small cave. In it I found scraps of paper. On one of the pieces was nothing but a map. A treasure map, but no chest. But there is a route, and the first point in it, judging by the drawing, is some place. The unchartedness and uncertainty (what am I doing here and what is this map?) had me loaded for about 10 minutes. Went back to the bike. Changed my Adam's suit for traveler's clothes. On the map, the next point was none other than the Taj Mahal. Is it far to go there, I asked myself this question, and probably even aloud, as a man's voice nearby echoed:
– It's dangerous to go far in your jalopy. What if something falls off. You'd better come with us. – The man with the big mustache said amiably and pointed to his Toyota Hilux pickup truck.
– Where would you put the bike? – I asked.
– Yes, let's put it in the back, it's a pickup truck.
Two other tough guys came over and the four of us loaded Abdullah's Alligator. That's what he called it from time to time.
And we hit the road. It was time for lunch, and the symphony of hungry stomachs began to emanate from me. The gas station and the cafe were nearby, so we killed two birds with one stone. We ate to our heart's content and filled a truck full of gas.
– Why were you going to the Taj Mahal? – Carl asked, twitching his right moustache.
– Well, to travel, to unwind. Get some inspiration and get inspired. I go to the South all the time. Already bored. I wanted something new. I've been dreaming since I was a kid.
– Oh, I see. – Carl twitched his right mustache so hard he screamed. – Man, I almost ripped it off. When I think about it, I start twitching it.
Everyone laughed a horse's laugh, so a passing policeman honked his horn.
– We're on our way to work," continued my new-found friend, "Things are sad in Delhi, and the taps at the Taj Mahal are leaking. We'll have to wrap it up.
Along the way I met some picturesque views, all of which were engraved in my memory. The company turned out to be very cheerful and the maps didn't let us get bored. The South was waiting for us, and we were anticipating. Some of us were eager to see the wonders of the world, and some of us were just curious to win a game of cards with a stranger.
240 kilometers passed quickly. A phone call. Oh, it's Abdullah calling. He must be on his way.
– Hey, brother! How are you?
– Fine, we're on our way to the Taj Mahal, just past Mathura.
– Auff, got in, how's my alligator? – (alligator because it's green. – Author's note.)
– Alive and well, in the back of the truck dust! – I answered.
– I started surfing here, and you know, I'm good at it. And there's a lot of young people here. It's a party in full swing. So, braaaat, come on over.
– Thanks, I'll come straight from here to your place. Dreams come true, surfing and seeing the ocean.
At the ticket booth at the Taj Mahal, it turned out there were no tickets available at all. I sat down on the steps and decided to snooze for a while… Someone started tugging at my arm….
– Sir Robert, sorry for the delay of your flight, Moscow – Delhi boarding begins, let's go!
Taj Mahal, Agra, India – review
Want to see one of the Wonders of the World? Check out the Taj Mahal.
Do you want to visit a fairy tale? Then you definitely need to go to India, and if you go to India, then, of course, to see the Wonder of the World – Taj Mahal with your own eyes is a must. Taj Mahal is situated in Agra and is the pearl of Muslim art and architecture in India and in 1983 it was named a UNESCO World Heritage Site.
The story of the origin of the Taj Mahal is already a miracle, because this mausoleum-mosque and was built in the 17th century for 22 years by 20,000 craftsmen from all over India. It is hard to imagine, but it is true, and it was built by Shah Jahan for his beloved wife Mumtaz Mahal, who died giving birth to his fourteenth child. Of course, every woman probably wants a palace built in her honor, but I'm not sure any woman would want a posthumous mausoleum as a gift, even if such a gorgeous one. As soon as you see at least a glimpse of this magnificence, you immediately realize that it is a work of art and all it was built from translucent marble, which were brought from 300 km, in addition, the mausoleum itself is inlaid with semi-precious stones, turquoise, agate, malachite, carnelian.
And the marble itself has an interesting feature – in bright light it is white, at sunrise it is pink, and when the moon shines at night it is silver. But I personally found out what a mirage is, only in the opposite direction. Of course, I immediately wanted to take a picture of the Taj Mahal and myself, it was a sunny day and after taking selfies, I found that I was in the photo and the Taj Mahal was not, there was some light effect and he was not captured in the photo, after a long trial, the photos came out, he had to have time to click exactly a split second, otherwise after a second the entire palace disappeared. But you will have something to photograph.
There are photographers walking around who will offer you to take professional photos and they will be conjuring over you from different angles and in different positions but if you decide to use the service, then discuss at once how many photos you need and at what price, don't be shy to bargain, because they overcharge you initially. The only thing I regretted that I went inside the mausoleum itself, which, by the way, for an extra fee, you have to decide at once if you will go into the mausoleum itself at the entrance to the territory itself, where you will go through the inspection and buy tickets. I did not like it inside, first of all, it was very crowded and there was very little space, you would go one by one back to back, which means that you would not have time to stand there and look at something, and secondly, there was nothing much to look at, there were 2 sarcophagi, Mumtaz Mahal herself and her husband Jahan, although they say that the sarcophagi were empty, and they themselves were lying under the mausoleums, and thirdly, the energy inside was not good. If you do decide to walk up the stairs, you must either take off your shoes and continue walking barefoot, or put on shoe covers. You will have to go up on the right side for foreigners, and you will go out on the left. Do not be surprised that you will be the object of increased attention and even feel like a star, because the locals in India consider it very lucky to touch or take a picture with a person with fair skin.
This magical visit, I am sure you will remember forever, you will touch not only the beauty and history of love, but also eternity and greatness.