Dubai Weather in February
Is it possible to have a good holiday in Dubai in late winter? Find out the weather in Dubai in February 2022: air and sea water temperatures, rainfall. Reviews and travel tips, how to dress and what to do on vacation.
Search for last minute tours on Level.Travel and Travelata services – they will find the best deals among different tour operators. Want to save your money? Check out our 7 rules for buying tours online.
Air and water temperatures
Compared to January, the weather in Dubai in February is very warm. Daytime temperatures are around +24. +25°С. Sometimes the thermometer rises to +30 ° C. Tourists who arrive in the UAE from snow-covered Russian cities think that they have entered a long-awaited summer.
There is no exhausting heat, it is easy to breathe and leisurely walks in the city are popular among holidaymakers. The difference between day and night temperatures is great. Many tourists and locals don't even turn on their air conditioners and spend most of their time outdoors. There is no need to worry about the rain – they are very rare and short-lived.
Weather and temperature in Dubai in February:
| | |
| --- | --- |
| t air temperature during the day. | +24. +25°С |
| t at night | +15. +21°С |
| sea water t | +21,5°С |
| Humidity | 65% |
| Number of rainy days | 1-3 |
| Precipitation | 3.8 mm |
| Number of sunny days | 24 |
| Daylight duration | 11-11,6 hours |
According to tourist reviews, the weather in Dubai in February is a real holiday for all those who are bored with frost and cold winds. The dry warm climate is very useful for strengthening the immune system. It is easily tolerated by young children, holidaymakers of age and those who suffer from cardiovascular ailments.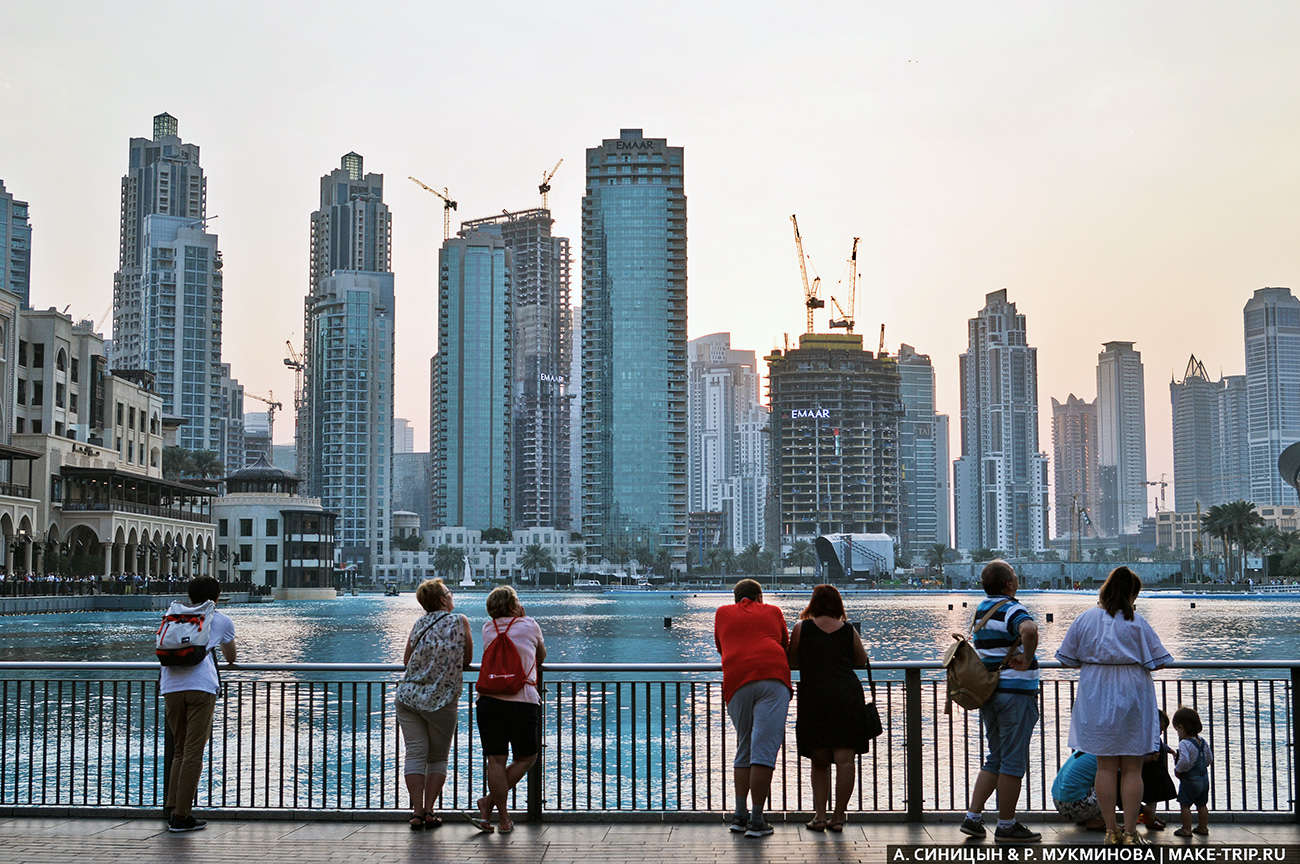 Can you sunbathe in February?
Yes, it's good to sunbathe in the bright sun. The Arabian Peninsula has high levels of ultraviolet radiation all year round, so even with cloudy skies, it's easy to get sunburned. To keep your skin from getting burnt, choose morning sunbathing hours and use high-protection creams.
How to Dress
In winter, there is no need to wrap up in warm clothing. Take a light beach kit, swimsuit and swimming trunks on your trip. In the evening, especially by the sea, a light jacket, pants and sweater will come in handy.
(Photo: unsplash.com / @alireza_attari)
Things to do
What to do in Dubai in February 2022? In pleasant warm weather, tourists enjoy swimming and lounging in the sun. The water temperature is around +22°C. For children, the sea is still cool, for some adults, too. But there is a way out! Choose a hotel where there is a swimming pool with heated water. Around the clock there maintain a comfortable temperature of +28 ° C.
The weather in Dubai in February likes lovers of outdoor activities. Tourists enjoy bus tours, sand dune safaris, jeep and camel rides.
Make the most of your vacation in February! Before the heat sets in, explore the colourful Oriental bazaars, stroll along Dubai's stylish waterfronts, ascend the viewpoints and marvel at the beauty of the blooming parks.
From winter to summer: What's the weather like in Dubai in February, can you swim, does it rain?
What is February for the people of Russia? It's snow, it's a lot of snow! It is frosty and it is the coldest month of winter. Not without reason, many tourists rush to the sunny shores of the sea at the end of winter, where it is warm and you can swim. One of these places is Dubai, which is located in the UAE. Here every year flies more than 60 million tourists, and not a small part of them is in the last winter month. And all because the weather in Dubai in February 2022 is not hot, there are no strong winds and no long rains. The water temperature in the sea and in the Persian Gulf allows swimming, but not for long. Let's take a closer look at the climate of the best city in the world and decide: is it worth spending money and fly here at this time of year?
If you want to hear our opinion, the answer is: it's worth it! There's no heat and the sun is always shining. It rains briefly, and the sea is warm and calm so you can swim in it.
On average, the air temperature during the day easily reaches a mark of +24 degrees. The maximum values are slightly higher, about +26 degrees. To a strong heat air will not get warm, no matter how the sun shines. And the temperature will not go down heavily either. We can say that during the whole month the thermometers are keeping on the same mark.
At night the air cools down a little. A breeze is blowing from the sea, which is cool, but not very cool. It gets cooler to about 20 degrees, which doesn't stop tourists from walking around and enjoying Dubai at night. At dawn it gets a little cooler, about +16 degrees. But with the first rays of the sun the temperature goes up again and almost a couple of hours reaches its maximum daytime values.
As for the sea, not all tourists risk swimming in it. Many repulsed by the water temperature, which is 21 degrees Celsius. Sometimes at sea there are waves that may appear without wind. But no one denies the pleasure to bask in the sun and sunbathe on the beach. It is important not to forget about safety and to use special sunscreen. Otherwise, weakened skin over the winter can not stand, and you will get burns and other unpleasant things.
You'll be interested to know: – how much is the flight to the UAE – how to get a visa to Dubai and whether it is necessary for tourists for 30 days.
February is considered the rainiest month of the year in the city. But it's one thing to be considered, it's another thing to be so in reality. It never rains completely, but it can rain 5-7 times during the whole month of February. The amount of precipitation is 5-7 millimeters. This is very little. But it should be noted that it may rain only in some areas, so somewhere up to 20 millimeters may fall. But this is not a problem, because after the clouds the sun will rise again and the water will quickly evaporate, leaving behind only high humidity.
Daylight hours are slowly getting longer. While it was exactly 11 hours on February 1, at the end of the month it is already 11.6 hours. The sunrise here is late, and the sunset is early. But this does not prevent tourists to admire both of them sitting on the beach.
Reviews of tourists about the weather and rest in Dubai in February
"Had a great holiday in Dubai in February that year. The weather was just great, the sun was shining for most of the holiday. The sea is a little chilly, but if you get over yourself, you can swim in it. A big plus is the prices, which here at this time are not high. So it's great to get away from the frost and snow here."
"Want to enjoy the sun and warmth in winter? Then hurry to Dubai in February! There's a lot of sunshine and a lot of heat. We vacationed from the 14th to the 23rd. The sun was shining all days. It rained once, but only for a few minutes. We did not even have time to understand that it was rain. The temperature during the day was gorgeous, without a lot of heat. You can walk and relax on the beach. There are not so many tourists, but they are there. If you know the places where there are few of them, you can spend time calmly.