Dzhumalin keys (Gorny Altai): how to get there and tips
There are many amazing and beautiful places in Altai, Dzhumalin keys are no exception. These thermal springs on the Ukok Plateau, nestled in the picturesque valley of the Dzhumala River at an altitude of 2,400 m above sea level, are added to the UNESCO list of protected natural sites.
Their second name is "Warm Springs". The water in the springs does not change temperature all year round and contains a radioactive element called radon. Jumalinskie Keys attracts from the side of tourism or as a recovery of the body. Before the trip is recommended to consult with your doctor, there are medical contraindications.
Plato Ukok places are amazing, tourists come here not only from Russia but also from all over Europe. For some visitors it is a good way to change the environment and get closer to pristine nature, for others – to solve long-standing health problems. For every tourist there is a fascinating thing to do.
When to go on vacation?
All year round the water in the thermal springs is maintained at a mark of 18-20 degrees. Dzhumalin springs do not freeze even at minus 50 degrees. You can come to Teply Klyuch at any time of the year, but it is better to go on a trip from May to November, when the weather in the Altai Mountains is favorable.
In the rainy season there are difficulties on the roads, but in the summer weather is dry and warm, you can easily get to all the local attractions. From June to August is especially hot, while in September the weather is warm, and visitors can enjoy the beautiful scenery and local beauties.
Fans of active and even extreme recreation will like to rest in the Altai Mountains in winter. However, in this period, some sights remain inaccessible because of the short daylight hours and bad weather. In winter, a lot of snow falls on the Teply Klyuch Pass and frosty weather sets in. Each tourist decides for himself what he expects from the upcoming vacation, and based on his own wishes, determines the best time to travel.
How to get there by car?
You may drive 560 kilometers from Dzhumalin Keys to Gorno-Altaisk, which is a large transport hub. The airport n.a. N. Roerich Airport is located in Gorno-Altaisk. Every day tourists from all over Russia and not only, there are regular flights to Gorno-Altaisk.
Direct buses from Gorno-Altaisk to the destination do not run, but from the city bus station you can get to Dzhumalin keys through the village Aktash. You will have to spend more than 12 hours on the way.
You can also use a private shuttle (service of local residents). Tourists will be comfortably carried to the thermal springs by private cars. The price for such a pleasure is 15,000 rubles.
If you want to travel by car, you will have to drive from Kosh-Agach to Belyashi village on an unpaved road. Before you reach the village, you will see a junction between Dzhazatok and Kalguta. The driver's task is to turn left. Further the recommended speed is not more than 60-80 km/h. The car is to move in the direction of the Ukok Plateau off-the-road, the distance is 30 km. Soon you will see the thermal springs. If you drive from the village of Kosh-Agach you will spend about 4 hours. The total distance is 100 km.
The nuances of visiting
A trip to the thermal springs of the Altai Mountains cannot be an impromptu experience. Since the Dzhumalin Keys are a UNESCO-protected site, it is necessary to obtain in advance a pass for arrival and movement on the Ukok Plateau. It is advisable to provide the required document in advance, as the decision is made within 1 month. You do not have to go anywhere, the bureaucracy can be done online. The decision comes by email, but it is better to clarify by phone.
An application for a pass should be sent to the Gorno-Altaisk Border Guard Department. Working hours and the order of the document are listed on the official website. If necessary all questions can be asked and clarified by phone 8 (38822) 4-82-48 during the working hours of the organization.
You may receive the ready pass in Gorno-Altaisk or on arrival to Dzhumalin's keys at the military checkpoint in Kosh-Agach or Aktash villages. To do this you must present an identity card at the checkpoint. If it is an adult tourist, the passport; and a child – ID. In the absence of the appropriate document, entry to the Dzhumalin keys for tourists is prohibited.
Trip Prices
If interested in a trip to the Dzhumalin Keys in the Altai Mountains, it is important to decide on the rates, determine the upcoming costs and the budget of the vacation. A visit to the thermal springs in the Altai Mountains is a low-cost vacation in Spartan conditions.
Your major expense is a plane trip to Gorno-Altaisk and further transport to Dzhumalin Springs. The cost of a one-way plane ticket starts at 6,500 rubles for 1 person, depending on the month of rest and carrier rating. If you book a transfer to the thermal springs, the price of such a trip is 15,000 rubles.
This is the end of the tangible financial expenses. There are two variants of accommodation for nonresidents – in a tent and in rented houses of old construction with the minimum level of comfort and lack of conveniences. Tent installation costs 100 rubles for tourists, while newcomers have to pay 200 rubles for a bed in a rented accommodation. You can sleep on bunk beds or in a sleeping bag. Of furniture – beds, a table, a stove. Therefore, an obligatory purchase is a bundle of firewood at a price of 250 rubles. To take a bath from thermal springs – 200 rubles for 1 session.
More often tourists come to Dzhumalin Keys for 10 days. This is the period when you can take a full course of treatment and recovery of chronic diseases. This is a unique chance for visitors to cure their digestive tract, nervous and cardiovascular system and to strengthen their bones with healing water with radon. For 10 days one should spend about 2,000 rubles for lodging and the same sum for wellness baths. Plus food and heating with firewood. In total, the cost of the trip is 12,000-13,000 rubles with a flight for one tourist.
Video review of an independent trip to the Altai Mountains by car:
Where to stay?
Warm Key in Altai hospitably welcomes guests from all corners of Russia and not only. Tourism is one of the main sources of income for local residents. You can stay in rented accommodation or set up your own tent (also not for free) at the tourist base. In the first case we are talking about wooden structures with bunk beds and a wood burning stove. Nothing extra, but it is always warm and cozy.
Several dozen wooden log cabins have been built near Radon Springs in Altai, and tourists can stay here for several days, weeks. Tourists are especially attracted by the proximity of Jumalin springs and healing water. You can also spend your vacation in nearby villages where you can rent an apartment, and the mountain air and picturesque landscapes charge with positive energy.
What to do and what to see
Besides thermal springs you can enjoy the panoramic views of the surroundings, explore the local attractions and the fascinating history of local places. The Kalguta mine is considered a historical and natural monument. This unique object is located 7 km from the tourist camp, it attracts with petroglyphs and hieroglyphs thousands of years old.
The Teply Klyuch Pass at an altitude of 2,900 m above sea level is not left unnoticed. At the very top is nestled mountain lake with clear water. Then you are recommended to move towards the picturesque plateau Ukok. You are not allowed to shout and talk loudly, make bonfires, litter and use foul language here. These places are rightly called the Holy Land by the locals.
In addition to thermal springs at Dzhumalin Keys, there is an outdoor pool with always warm water. Separately, there is a small spring with cold water, effective in the treatment of ophthalmic diseases. There is also a stream with drinking water. Bathing is allowed not more than 10 minutes, otherwise you can harm your health.
Architectural structures on the territory are not provided, only natural monuments and scenic spots. Before the trip, it is important to find out not only how to get to Dzhumalin Keys, but also in advance to make an excursion program. Spectacular sights in the vicinity are not to be found, but fresh air, clear water hands, picturesque scenery and hospitality of local residents are guaranteed. If you rest in Altai, you can hide from the bustle of the city.
Environmental situation
Radiation in Altai is off the scale in some areas. Rare thermal springs contain a radioactive element called "radon". Thanks to this component, the water can heal a person from a number of diseases, but the main thing is moderation. Prolonged stay on the Dzhumalin springs can be harmful to health, there is a capacious list of contraindications.
The water in the thermal springs of the Ukok Plateau contains almost the entire Mendeleev's table, so the place is unique in its kind. Every year thousands of tourists come to Altai, who are ready to live in Spartan conditions, just to take recreational baths and solve long-standing health problems.
This unique natural object is worthy of special attention from the side of tourism and recuperation. Dzhumalin Springs is an inexhaustible source of health and energy, a unique place on the map of Russia.
Dzhumalin Keys, Altai Mountains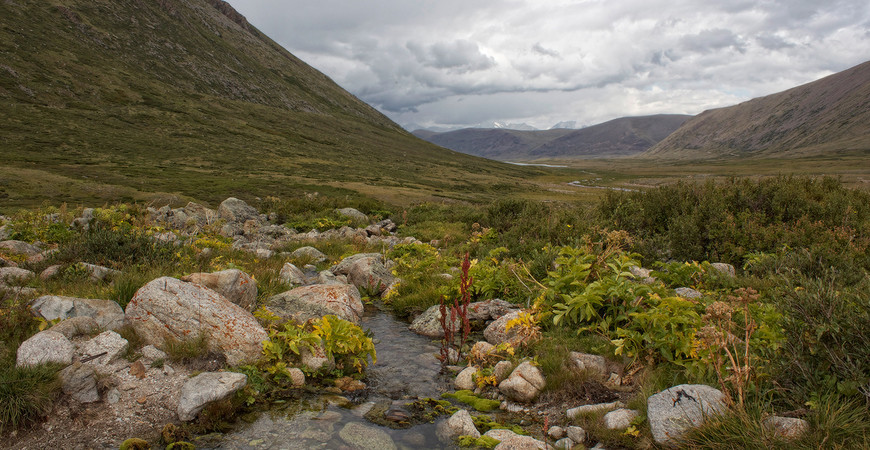 Parking for a car – 100 rubles. Tenting place – 100 rubles. Sleeping place in a common house – 400 rubles per person per night. Reception of radon baths – 200 rubles per day.
There are many unique places in the Altai Mountains. Huge areas of almost undeveloped land, where grow medicinal herbs and are inhabited by rare species of animals. Every year more and more tourists visit the region in search of interesting sights and new impressions.
One of these places is the Dzhumalin Keys. People simply call them Warm Springs, because even in the harshest winters their surface is not covered with ice. The value of these springs is that their water contains a useful mineral, radon. The Dzhumalin Springs are the beginning of the Ukok Rest Area, which is included in the list of UNESCO World Natural Heritage Sites.
Infrastructure
The Dzhumalin Keys are located near the border with Mongolia, far from populated areas. The nearest village Kosh-Agach is one hundred kilometers away. The thermal springs come to the surface in the valley of the river Zhumaly (Dzhumaly) near the Teply Klyuch pass, which passes into the territory of the Ukok Plateau. The place is incredibly picturesque surrounded by hills with high mountain tundra landscapes.
Tourist season lasts from May to November. Infrastructure as such is practically absent here. There are three bathhouses with baths inside near the streams with medicinal water. There is also a small outdoor pool. Their visit for one day will cost 200 rubles per person. You can stay in the tent you've brought with you. If you rent a space for it, it costs 100 rubles, as well as the parking lot for one car.
You can also find some more old houses with the least infrastructure nearby. Inside there are bunk beds for sleeping bags, stove for heating, table and bench. Cost of accommodation is 400 rubles per night. You always take the firewood with you, because there are no trees around.
Pass to the Dzhumalin Keys
Since the area around the Jumalin Keys is protected by the state, you must obtain a pass upon entry. An application for a permit is submitted to the department of the Border Department at the following address: Gorno-Altaisk, Kommunisticheskiy Avenue, 94. The teleophone for communication is 8 (38822) 4-82-48.Mode of work: Monday through Thursday from 08:30 till 18:15, on Friday shortened day till 17:00. The lunch break is from 12:30 to 14:00.
Documents must be sent in advance because it takes up to 30 days to process them. This can be done by fax or e-mail. After that, it is better to call back and clarify their receipt. Prepared pass is handed personally upon presentation of identity documents (passport, birth certificate for a child). If it is inconvenient to come to Gorno-Altaisk for documents you may transfer their delivery to Aktash or Kosh-Agach. In this case they are issued at the checkpoints of local military units.

Benefits of Water
Thermal springs beat from under the ground on the right bank of the river Zhumaly in two hundred meters from its bed. Their temperature varies from 9 to 20 degrees. In addition to radon in the water contains many other minerals beneficial to human health. In the baths water flowing. In each of them treat a particular disease. Some tourists stay at the springs for ten days to take a course of treatment in its entirety.

It is believed that with the help of local radon water can cure diseases of the gastrointestinal tract, bones, cardiovascular and nervous system. After the baths cool down in the pool outside, and a little further there are springs for drinking. In general, all procedures in this complex rejuvenate and purify the body, but before visiting it is necessary to consult a doctor.
Attractions
As a rule, a trip to Dzhumalin Keys is combined with hikes to local attractions. One of these is the Kalgutinsky mine with ancient petroglyphs on the rocks, which is only seven kilometers from the base. Then go to the Teply Klyuch Pass at an altitude of 2,900 meters above sea level. At its top there is a lake with very cold water. After that the road leads to the valley of the river Kalguty and the legendary plateau Ukok.
The area of Dzhumalin Keys has long been considered holy ground. Here it is forbidden to swear, make noise, leave or burn garbage in the fire. According to ancient beliefs in the water is the spirit of a girl to whom travelers leave coins and jewelry. You can often see pyramids of stones, so shepherds thanked the gods.

How to get to Dzhumalin Keys
The nearest major transportation hub, Gorno-Altaisk, is located 560 kilometers from Dzhumalinskie Keys. There is an airport named after Nikolai Roerich, where regular flights arrive. From the city you should leave in a southeasterly direction along the Chuisky highway in the direction of the Mongolian border.
After the village of Kosh-Agach there is another 100 kilometers of road. At the beginning the gravel road is quite passable, but at the end you will have to bypass large ditches and streams. Passage is possible only on four-wheel drive off-road vehicles. The first signpost will appear at the fork in the road that goes to Kalguty and Dzhazator. At this point you should turn to Kalguty. Further signs will be with the signs "Teply Klyuch", you should turn in their direction. All in all the way from Gorno-Altaisk takes about 8.5 hours, so you should leave early in the morning to reach your destination before dark.
Buses
There is no direct bus connection to Dzhumalinskiye Klyuchi. You can get there by changing trains through the village of Aktash. A passing bus departs daily from the Gorno-Altaisk bus station at 10:40 a.m. The trip takes 14.5 hours. The fare starts at 1,050 rubles. Further to the destination you will have to go by car. You can use the services of local residents. Many of them organize trips to the keys. On average, such a tour costs 15000 rubles for one car.