Nha Trang Excursions – Tourist reviews and prices in 2022
Looking for tourist reviews of Nha Trang excursions – 2022? In this article we will tell you what are the excursions in Nha Trang in 2022, what are their prices, as well as how to save money when choosing a tour in Vietnam.
A tour to Nha Trang for the price of a plane ticket? It is possible! Try to search for hot tours in the meta-search engines Travelata and Level.travel – they compare the cost of trips from major tour operators and find very cheap options.
Excursions in Nha Trang – 2022
City Tour
Traditional tour of the main attractions in Nha Trang, you can buy it at any travel agency. What sights will be shown:
Ponagar Cham Towers
Long Son Pagoda
Nha Trang Catholic Cathedral
Garden of Stones
Silk Workshop
Sometimes other attractions are included in this list. Some agencies also add a visit to a restaurant to the tour, but the cost then also increases.
Photo: Long Son Pagoda in Nha Trang
Tourist feedback on this tour varies. The city tour itself is organized at the proper level, in minibuses with air conditioning, accompanied by a Russian-speaking guide.
Some companies in Nha Trang add a visit to partner stores to the sightseeing. Tourists leave a lot of negative feedback about such tours.
We recommend not to take a city tour. You can easily get to most of the sights on foot, and there are buses to the rest. There is no point in spending money on a sightseeing tour of Nha Trang if you can see all the interesting places on your own. In this case, no one will push you and limit your time.
Excursion to the southern islands
According to tourist reviews, this light sea excursion to four islands will be a good addition to a vacation in Nha Trang. What it includes:
A boat ride through the islands south of Nha Trang
Oceanarium visit
Snorkeling or diving
Beach vacations
Lunch on the boat or in a restaurant on the island (depends on the price of the trip)
This excursion is best suited for swimming and sunbathing on the beach. Snorkeling is relatively sparse, but will appeal to those who have not snorkeled before. On two islands out of four tourists do not land, there are only stops for diving and snorkeling. According to tourist reviews, the musical show on the ship, when the guides ask foreigners to sing a song in their native language, is especially interesting.
Prices vary widely, from $7 to $65 per person. The price of the more expensive tours already include entrance fees to the islands and entertainment (but if you buy these tickets on the spot – will be only about $5).
Tourists spoke well of the simplest version of the tour to the southern islands, taken for $7 at one of the hotels. But there are bad reviews about the expensive excursions ($40). A Russian-speaking guide on a trip to the southern islands is hardly needed, so you can reduce the price by agreeing to an English-speaking one.
Excursion to the northern islands
As part of this trip, tourists visit several islands north of Nha Trang. The most interesting of them are Orchid Island and Monkey Island. All tourists in Nha Trang, especially couples with children have good reviews about this tour – the Orchid Island is a park where you can feed deer and ostriches, and the Monkey Island – a real home for monkeys, of which there are at least a thousand. For a fee, you can ride an ostrich or an elephant.
On the northern islands, many also note the good beach and clear sea. Excursions to the northern islands cost about $30. If you want to go on your own, you can get around $ 13-15 (bike rentals + entrance fees to the island).
Video of the Northern Islands:
Young Bay Falls.
This excursion is also difficult to visit on your own, since Yang Bay Park is 40 km from Nha Trang. Before visiting Yang Bay Falls you will have the opportunity to feed crocodiles and take pictures with them, play with Himalayan bears and watch piggy races.
The waterfall itself is not very impressive, but you can swim in its rapids. You can also visit hot springs in the park.
From this video, you can see what to expect at Young Bay Park:
Ba Ho Falls.
Another similar excursion is to Ba Ho waterfalls 20 kilometers from Nha Trang. You can go as part of a tour group, or you can get a bike ride yourself – so you have the opportunity to spend a day there. A lot of good reviews this tour gets just because Ba Ho Waterfalls, you can relax from the beaches of Nha Trang in the shade of trees and cool water springs.
Some agencies take tourists to the beach after the tour – either to Monkey Island or behind Zoklet Beach.
Read more about the waterfalls and the beach:
Ba Ho waterfalls video:
Excursions from Nha Trang to Vietnam
Dalat
Excursions to Dalat are some of the best in Nha Trang, with 2022 tourists leaving only positive reviews!
Dalat is a city in the southern part of Vietnam, located at one and a half kilometers above sea level. The temperature there is noticeably lower, so the nature is very different from that of the coastal resorts.
There are two varieties of excursions to Dalat – for one day or two. They differ in price and the number of places to visit. We recommend taking a two-day tour – for one day you just do not have time to see all the sights. The tour program varies from agency to agency, but usually it definitely includes waterfalls, cable car, Crazy House, coffee plantations and flower garden. You can read detailed reviews about them here:
Ho Chi Minh City Excursion.
The second popular excursion to other cities in Vietnam is a trip to Saigon (Ho Chi Minh City). Travel agencies offer one- and two-day trips.
The two-day tour shows the sights of Saigon, the Cu Chi guerrilla tunnels, and rides through the Mekong River Delta.
The one-day tour includes the sights of the city plus one more thing (tunnels or river).
If you have not been to Saigon, you can take this tour, but if you choose between it and Dalat – definitely take Dalat.
Video about the Cu Chi Tunnels near Ho Chi Minh City:
Other Excursions
Let's talk briefly about the remaining excursions.
You should not take the Wineperl amusement park and Thap Ba mud springs as excursions – in fact, the services of a travel agent will be only a transfer to the right place. You may as well visit these places yourself, but to pay for the road is much less.
There are tours to other places in Vietnam – Hoi An and Halong Bay, and even in Cambodia. It's a long drive, so such tours are quite expensive. In our opinion, it is better to go there on your own and spend a few days.
Good reviews leave about snorkeling and diving – it is an inexpensive way to look at the underwater life in the vicinity of Nha Trang.
Before you go on vacation, don't forget to take out insurance. You can compare prices from major insurance companies through the Cherehapa service – read our instruction on how to buy health insurance online in 7 minutes.
Tour prices in Nha Trang in 2022
The cost of excursions in travel agencies in Nha Trang varies many times. The price depends on several factors:
Language (tours in Russian are many times more expensive)
Whether the price includes entrance tickets and optional services
Agency markup
You can save on tours if you go with an English guide instead of Russian. It makes sense to do so if you are at a sufficient level of English, or go on a tour, where important and interesting information will not be in principle. For example, in one company we were forced to have a Russian guide on a snorkeling excursion, although there is no need to talk about anything at all.
How much are the tours in 2022
The cost of tours in the Russian Information Center (with a Russian guide):
| | | |
| --- | --- | --- |
| Tour | Prices for adults | Prices for children |
| Sightseeing | $13 | $6 |
| South Islands | $24 | $14 |
| Northern Islands | $26 | $16 |
| Ba Ho Falls. | $25 | $18 |
| Young Bay Falls | $24 | $17 |
| Snorkeling | $16 | $18 |
| Diving | $42 | $18 |
| Dalat 1 day | $18 | $14 |
| Dalat 2 days | $77 | $62 |
| Saigon 1 day | $56 | $46 |
| Saigon 2 days | $120 | $92 |
The prices listed here are average by Nha Trang standards. Many sell tours more expensive, but you can find cheaper options.
Where to Buy Tours – Travel Agencies Overview
According to numerous reviews of satisfied tourists can be allocated Russian Information Center and travel agency "Ivan Susanin" – we recommend ordering excursions in these places. The quality of service is on par, the staff is responsive, and the prices are acceptable.
– Russian Information Center
Many Russian operators have overrated prices for excursions in Nha Trang. These companies include "Anex Tour" and "Pegasus".
A large number of negative reviews have "Anex Tour" and "Russian Information Center Alpha" (do not confuse with the original RIC). Prices are high, and about the terrible quality of tours you can make up legends – read how people talk about them on the Internet.
Another option is to buy a tour in Nha Trang through the Internet, there are a lot of good reviews about them. You can do it in advance from Russia, as well as from Vietnam. According to our impressions, the prices when booking online are the same as in the street agencies. In this case, only about 15% of the cost of the tour is paid first, and the rest is paid directly to the guide after the end of the trip.
One of the most reliable and cheapest sites for buying tours in Nha Trang online:
Useful information about Vietnam
And what excursions would you advise to take vacationers in Nha Trang in 2022? Your opinion will be useful to other tourists.
Travellata – Cheap Tours Search
Related posts
Vietnam – 2022: rest, prices, reviews
Phu Quoc, Vietnam – 2022: rest, prices, reviews
Vietnam Holidays – 2022: all inclusive prices
Read also
Prices in Vietnam and Nha Trang in 2022 – food, clothing, accommodation, rent
Share in VK Telegram OK Twitter Discounts on tours Turkey – 2000 ₽ .
4 comments
We stayed in Nha Trang from 8 to 20 February 2016. We lived in the hotel Gjlden Sand. The hotel is on the second line in a small bend, you can not hear the signals of cars. To the sea 3 minutes at a quiet walk. The town is clean, only littered in the evening, especially when a lot of Chinese guests. The hotel we stayed in was lovely: they cleaned the room every day, changed the linen and towels, and the staff was very friendly. Our room was with breakfast. The food we had was very good and varied: several types of meat, sausages, fish, vegetables, fruit, freshly squeezed juices, coffee, tea, etc. In general it was wonderful. We bought excursions from our guide, it's true that it was rather expensive, it was cheaper on the street, but there is a risk, if something happens, no one will answer. We had a lot of restaurants, the prices were acceptable, a lot of exotic dishes: ostrich meat, crocodile, and about seafood we can write for a long time. In general, anyone who has not been in Vietnam, I advise to visit this country, do not regret it. We want to go again, because we have not seen everything.
I first time I was in Vietnam and for the first time went to rest by myself. Coincidentally, fate led me to the app with an interesting name "Uncle Vanya", and how I am now glad that I decided to install it!
Having had a negative experience with Anex tours, I decided to take a risk and try an unknown company. I contacted the coordinator of Uncle Vanya and the next day went to explore Bajo waterfall and a wild beach.
From the trip itself I was incredibly delighted – the organization, the wildlife, the tedious, but no less exciting conquest of the waterfall, the cleanest deserted beach, where you can enjoy the nature away from the crowds of Russian and Chinese tourists (believe me, it is worth it!). Along the way we were accompanied by an excellent guide, thanks to him the trip was very informative and rich, all along the way he told about the peculiarities of local culture, lifestyle and answered any questions from our inquisitive group. During the ascent to the falls he gave help and support to all those in need. And on the way he treated the whole group to some delicious refreshing coconuts!
My second trip turned out to be Dalat, perhaps the most popular excursion here! This time we were accompanied by a different, no less professional guide, who also turned out to be an interesting conversationalist! Special thanks for the great amount of informative information, which he was able to competently, interestingly and with humor! The trip was very interesting, eventful and full of positive emotions!)
In general, risking once, I was in very good hands!
I strongly recommend everyone coming to Nha Trang, go to these guys, if you really appreciate quality rest and professionalism of the accompanying guides. A nice bonus to all this will be an attractive price)).
I read the previous review and wholeheartedly support and share the opinion of the author. We were in December 2017, out of season, so there was nothing much to do on the beach and we spent almost all the time on excursions.
We also went with Uncle Vanya. On the first day we went fishing. We didn't catch anything, although the pond was full of fish, you could see closer to the surface. But it turned out that during the off-season, the fish are cold, their metabolism slows down and they almost do not eat. But on the way there and back learned from Zhenya many interesting things about Vietnam and the Vietnamese, how they were recovering from the tsunami a couple of months before our arrival. Very interesting. And toward the end of the fishing trip we had a lunch with fresh fish (some of which we grilled ourselves on the local clay grill), soup, salads, hot drinks.
We were also with Vlad at Yangbei Falls, in Dalat for two days (managed to see a lot) and with Zhenya in the northern islands. In the end, we rode ostriches and elephants; fed crocodiles, Himalayan bears, fish from a baby bottle; visited a coffee factory with cosmically delicious cocoa, a factory with hand embroidery; made bets on the pig races, dog races with monkeys as jockeys, cockfights; bathed in hot springs; walked along waterfalls; rode a cable car over the woods, quad bikes through the jungle – just to name a few.
But the fact that the attitude in Uncle Van is better than in major tour operators – this is a fact. In addition, we went by 6-10 people in a group, rather than 100-120 as Coral Travel. In fact they, Coral, hanged numbers to all tourists, because they could not remember them by sight.
And Uncle Vanya's employees deserve a lot of respect. If you read us – hello from Moscow
Top 10 tours in Nha Trang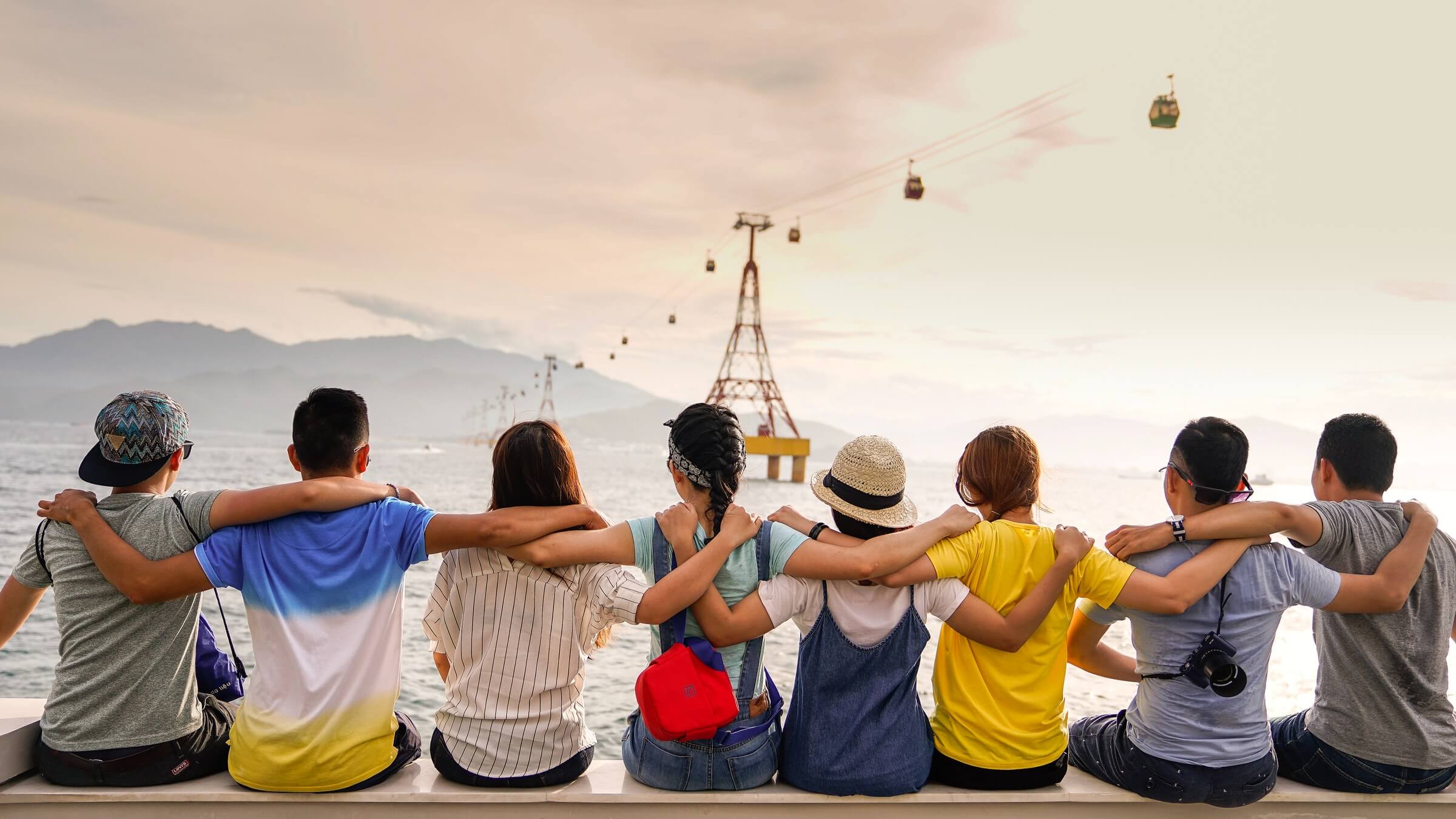 Nha Trang is very well located – from the resort is convenient to visit both the surrounding area and more distant attractions. Learn about the 10 most interesting excursions from Nha Trang that you should take during your vacation. Descriptions, prices and tips for tourists.
Another Nha Trang: sightseeing tour
Description . You can see the main sights of the resort on your own, but on this original sightseeing tour you will be introduced to the non-tourist side of Nha Trang. In 4 hours you will see the pagodas of Hai An Tu and Loc To, residential areas of the city, shipyards with fishing boats and houses that locals build from handicrafts on the banks of the river Cai. Depending on the number of participants, the tour is conducted by jeep or motorcycle.
Цена . Для взрослого — 40$. Уточнить цену >>
Reviews . Tourists appreciated the guide's interesting story and vivid impressions of the resort's non-tourist sites.
Cham Towers in Nha Trang.
Secret Nha Trang on motorcycles
Description . Top popular excursions in Nha Trang include a motorcycle trip around the city and its picturesque surroundings. You will ride through the resort's narrow streets, a wooden bridge over the Cai River, visit ancient Buddhist temples and admire the rice fields from observation decks. The tour is designed for 1-2 people and lasts 5 hours.
Цена . Для взрослого — 34$. Уточнить цену >>
Reviews . The guide easily adjusts to the capabilities and needs of the participants. Tourists are pleased that they learned a lot of interesting things about the life of ordinary Vietnamese, their attitude toward religion and the history of the country.
Local people's houses made of improvised materials on the Cai River. Photo: opeleye / unsplash.com.
The land of the wild waterfalls of Bajo
Description . One of the most interesting excursions from Nha Trang allows you to enjoy the beauty of South Vietnam. In 5 hours you will see authentic pagodas, fishing villages and farms, walk through the Bajo River Valley and admire small waterfalls in the tropical jungle. The highlight of the tour is swimming in the mountain lakes.
Цена . Для взрослого — 45$. Уточнить цену >>
Reviews . Tourists noted the convenient format of the tour. Up to 10 people take part in the tour. You can always stop at the favorite place to take memorable pictures. Walking through the tropical jungle is more comfortable in sports shoes, not beach shoes.
Young Bay Falls
Description . In 8 hours, tour participants will have a whole firework of adventures: dancing of the local Raglay tribe, cockfighting, crocodile fishing and ostrich riding, Swim in a mountain waterfall and take a relaxing bath in a warm mineral spring!
Цена . Для взрослого — 40$. Уточнить цену >>
Reviews . A trip to Young Bay National Park is enjoyed by nature lovers and extreme entertainment enthusiasts. Family tourists are happy that the tour is suitable not only for adults, but also for children.
Rice fields on the way to Yang Bay Park
Immersion in the real Vietnam
Description . An informative tour from Nha Trang introduces the life of traditional villages, the life of ordinary Vietnamese fishermen and folk crafts. You will visit an ancient temple, a coconut plantation, a home incense workshop and make your own Vietnamese seafood soup.
Цена . Для взрослого — 38$. Уточнить цену >>
Reviews . A trip along the Cai River allows you to escape from a bustling resort and immerse yourself in real Vietnamese life. According to tourists, the guides lead the tour very professionally.
Northern Islands Tour
Description . The boat trip starts from the port of Datong. During the 9-hour group tour, tourists are shown one of the world's largest orchid collections, Monkey Island and a bear show.
Цена . Для взрослого — 41$. Уточнить цену >>
Reviews . Tourists enjoyed the boat ride through Nia Phu Bay and relaxing on An Binh Beach. Tourists recommend taking water and fruit for a snack.
Monkeys on the island. Photo: jesseexplore / unsplash.com.
Southern islands in Vietnam
Description . If you like to snorkel among coral reefs, take an excursion from Nha Trang to the picturesque islands of South Vietnam. Combine a great beach vacation, exciting snorkeling and feeding sea turtles.
Цена . Для взрослого — 40$. Уточнить цену >>
Reviews. Excursion to the southern islands is a delight for sea lovers. Swimming in the clear blue water, corals and colorful fish of the South China Sea is a great pleasure!
Excursion-Expedition to the distinctive Daklak
Description . A two-day tour to the heart of South Vietnam can surprise even those who are not first time visitors to this country. You can see authentic Southeast Asia, canoe, ride elephants, see the Dry Nur waterfall and learn about the distinctive culture of the Mong people. Overnight accommodations are arranged in a small eco-hotel on the shores of Lake Lak.
Цена . Для взрослого — 85$. Уточнить цену >>
Reviews . Tourists enjoyed swimming in the waterfall, rice wine, elephant coffee and Vietnamese food.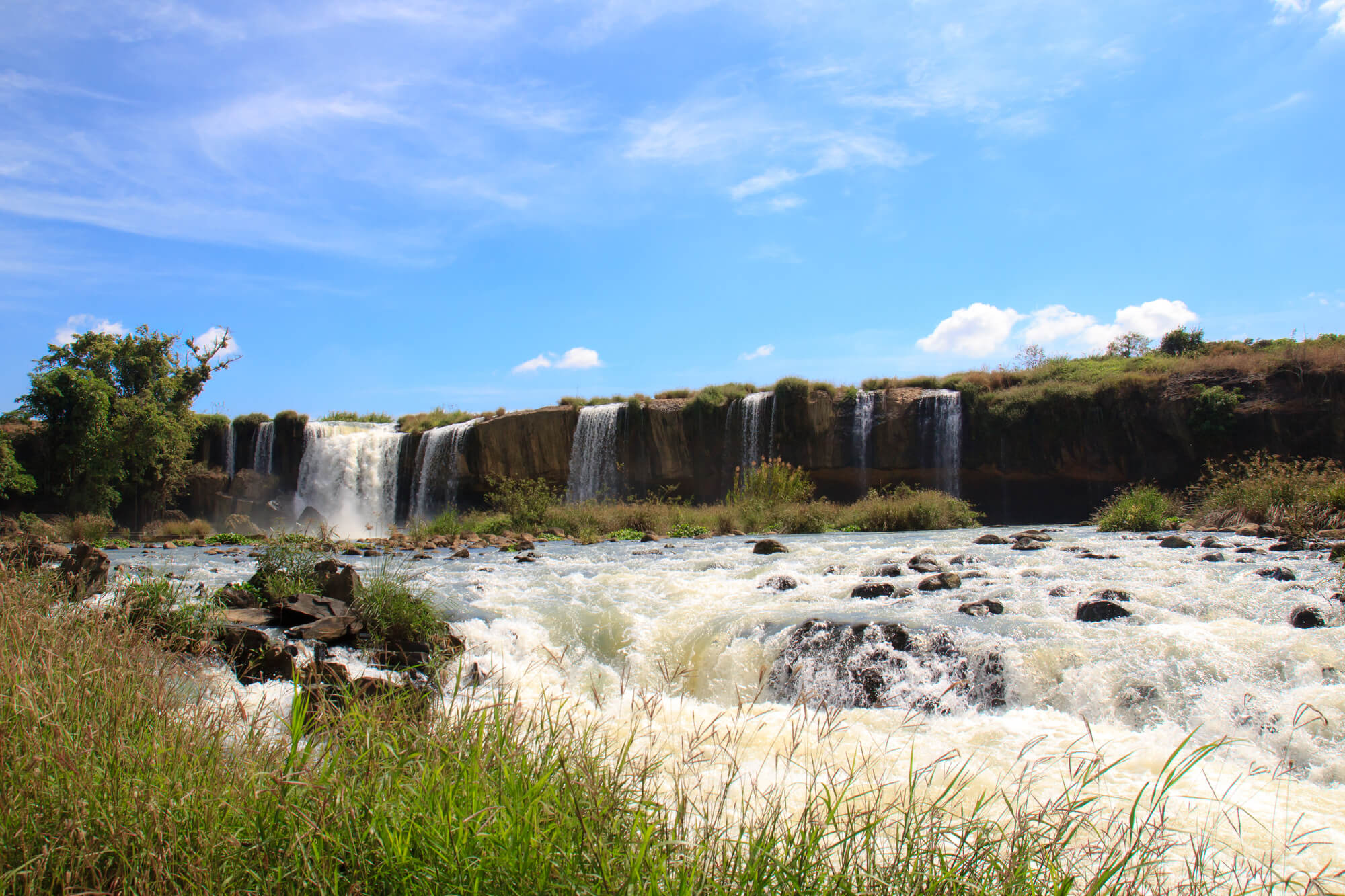 Dry Nur waterfall in Daklak. Photo: leduongcusc / depositphotos.com.
Snake Village.
Description . From Nha Trang a popular excursion to an exotic farm where snakes are bred. You will meet a cobra, stories about snake venom medicines and a real "snake" lunch!
Цена . Для взрослого — 56$. Уточнить цену >>
Reviews . The tour lasts 3.5 hours. Tour participants have the incredible gastronomic experience of eating a snake heart.
The Mystique of the Temples
Description . Traveling through Buddhist temples and monasteries is a great opportunity to learn about Vietnam's religious traditions. You will learn about the life of a hermit monk, see a huge statue of Buddha 48 m high, admire the surroundings and the Cai River Valley.
Цена . Для взрослого — 55$. Уточнить цену >>
Tourist Reviews . Tour participants note the beautiful architecture of Buddhist pagodas and the serene atmosphere of Vietnamese monasteries.
Tips for tourists
When purchasing a tour, ask what is included in the price. Do you have to pay extra for transfers, food, and entrance fees? Always carry cash with you when you travel. Extra money will be useful to pay for lunch, drinks, attractions, and buy souvenirs.
We do not recommend taking gastronomic tours if you are conservative and finicky eaters. Asian cuisine is spicy and spicy, and not everyone likes it – tourists leave very different reviews.
Nha Trang has a hot climate. For travel, wear light comfortable clothes and sports shoes. Take a small backpack or bag on the road. Find out when to vacation in Nha Trang.
When feeding monkeys be careful. Wild animals easily snatch and carry away sunglasses, hats, smartphone and photographic equipment. Do not try to pet or pick up monkeys, they can bite.