How and where to celebrate the New Year at Baikal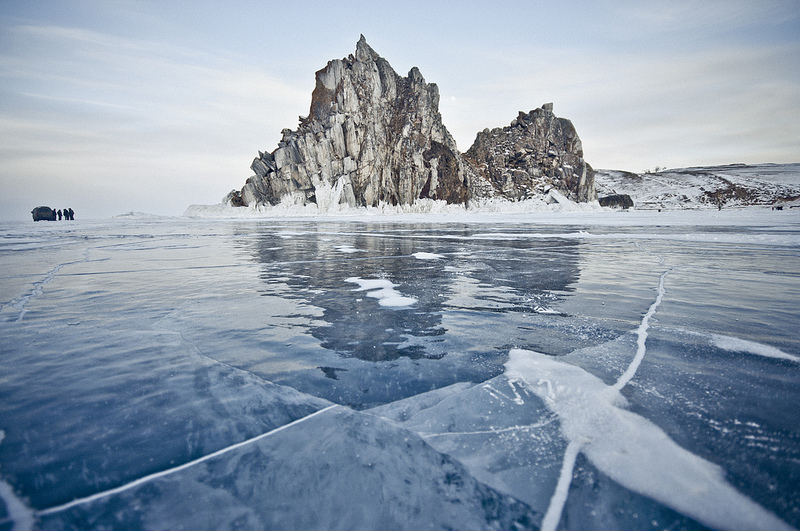 Walks on the clear blue ice, dog sledding, fishing on omul – this and much more awaits you at Baikal. Here is the story about how to celebrate New Year on the lake, what to do and how much it costs in 2022.
To visit the deepest and cleanest lake Baikal in winter is a dream of many travelers. The endless perfect smoothness of the lake, sparkling in the sunlight, huge ice floes on the shore of the most bizarre shapes and shades are stunning. According to a local legend, a wish, made here on New Year's Eve, is sure to come true.
How to celebrate the New Year in Baikal
There are several places to celebrate New Year in Baikal: the most popular are hotels on the Baikal tract, in Listvyanka village, and at the Maly Sea. The mysterious Olkhon Island also offers options for New Year's Eve accommodations, but the infrastructure is not as well developed as we would like it to be.
Listvyanka is a popular tourist village at the mouth of the Angara River, the only river flowing out of the lake, so people often call this village the gateway to Baikal. Listvyanka has a well-developed infrastructure, a diving center and museum with the sealarium and aquarium, where you can make a virtual dive to the bottom of the lake in the bathyscaphe.
On the way to the village all tourists drop into the architectural and ethnographic museum "Taltsy" . Here you can see the buildings of the peoples inhabiting Siberia in the 17-19 centuries – Russians, Buryats, Evenks and Tofs. Several thousand exhibits are on display. During the New Year holidays there are folk festivals – you can go sledding from the hills, take part in the sack fights, play in the snow and drink herbal tea. Folk celebrations with fancy-dressers also take place at Sobolinaya mountain, which is a ski resort in Baikalsk.
In Listvyanka you can buy delicious Baikal omul and stay at one of the hotels or recreation centers. Some of them offer their own holiday program. So, the hotel complex "Baikal" offers to meet the new year 2022 in the style of the Wild West, and "Baikalskie terem" – a classic Russian feast with music and dances.
The Little Sea in winter is a favorite place for fishermen on the lake. The tourist bases of the Small sea are far away from Irkutsk – 250 km from the city, but there are a lot of winter recreation centers with comfortable conditions for staying here all year round. For the New Year in Baikal the "Khadarta" resort promises a luxurious banquet with karaoke and fireworks, and the "Altan" resort – a holiday program in the Soviet style, a la "Blue Fiancee" and a disco.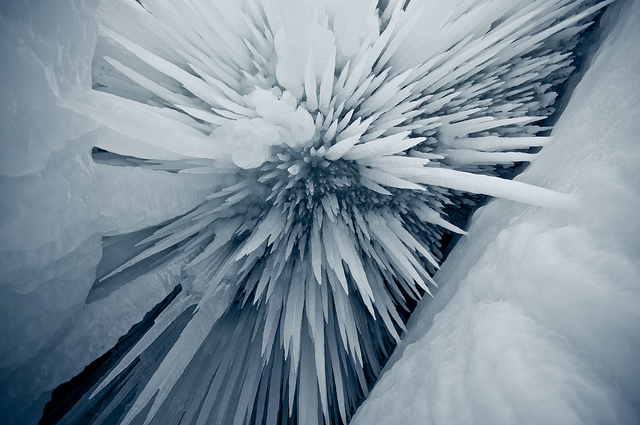 (Photo: Marco Fieber/Ostblog.org / flickr.com / CC BY-NC-ND 2.0 license)
Vacation in Baikal for the New Year – 2022. What to do?
During the winter vacations, fans of extreme sports and outdoor activities come to Baikal. Jeeping, skiing, snowmobiling, dog sledding, a real Siberian bathhouse and fishing for omul are the main tourist attractions. For skiers and snowboarders there are several tracks of different levels of complexity, there are training slopes for beginners, and ice rink in Listvyanka stretches along the entire village. Traditionally, on New Year's Eve divers lower a Christmas tree under the water, and the brave ones who dare to dive under the ice will be able to see it.
Tourists are especially fascinated by the walk on the lake: Baikal is so transparent that in some places you can see the rocky bottom of Baikal and its underwater inhabitants. And what beautiful splash formations! Though it's quite a dangerous trip in January, when the ice is at its hardest, it'll be there in February.
If weather conditions allow, you can take a short trip to Circum-Baikal railroad, which is considered one of the most beautiful in the world, see historic tunnels and architectural buildings. Visitors to Listvyanka can take an elevator to the observation deck of the mountain "Kamen Chersky" and admire the magnificent panorama.
What else you can do after New Year's party – 2022? It is interesting to visit mystical Olkhon, the most mysterious island on Baikal, or to take a trip to a resort with mineral waters and hot springs. Most of the thermal springs are located in the north of Baikal, you can get there by train from Severobaikalsk. The springs are equipped with heated locker rooms, there are lodges nearby, and you can rent skis and skates. It is absolutely free of charge and rather extreme, taking into account frosty weather outside, you can have a swim in hot springs of Chivyrkuisky Bay, there is also a fonts and wooden changing rooms.
History lovers will be interesting to visit Irkutsk with a sightseeing tour: to see the embankment, churches, the central square and streets of the old city, the monument to Kolchak. Children will enjoy the ice town, built on the occasion of the holiday.
(Photo: Simon Matzinger / flickr.com / CC BY 2.0 license)
Weather
During the New Year holidays, a real Siberian winter reigns in Baikal. Dazzling drifts of snow, glittering in the sun and freezing temperatures of -10. -15°C during the day, at night the temperature drops below -20°C. Despite the cold the air here is dry, the sun shines a lot and the cold is easily tolerated. Nevertheless, warm clothes and underwear are a must, plus sunglasses and sunscreen.
Prices in Baikal for New Year – 2022
During the winter holidays the prices at the cafes and hotels in Baikal are usually higher. A New Year's banquet at a restaurant will cost from 3 to 10 thousand rubles per person. You can get 200-300 rubles for admission to museums and 500 rubles for admission to the nerpinarium. In 2022 accommodation with food in a hotel or recreation center starts from 2500 rubles per person. Rooms at budget guest houses start at 1200 rubles for two people. You can rent a vacation home for New Year's Eve from 1400 rubles and a chalet from 2000 rubles.
We recommend searching for holiday bases, hotels and other accommodations on the service Roomguru – the earlier you book, the cheaper the accommodation will be.
What are your impressions about rest in Baikal?
To celebrate New Year in Baikal is to get some of the most vivid impressions in your life: here is an absolutely extraordinary nature, bright winter sun and a lot of entertainment for all tastes. In summer, the charm of the lake is involuntarily lost because of the milling crowds of tourists, and in winter there are fewer holidaymakers, and most of them are true fans of Baikal. Moreover, as noted by tourists in their reviews, a smaller number of tourists has a positive impact on the quality of service, and prices surprise by their loyalty.
Read also about other interesting places in Russia, where you can go to celebrate the New Year.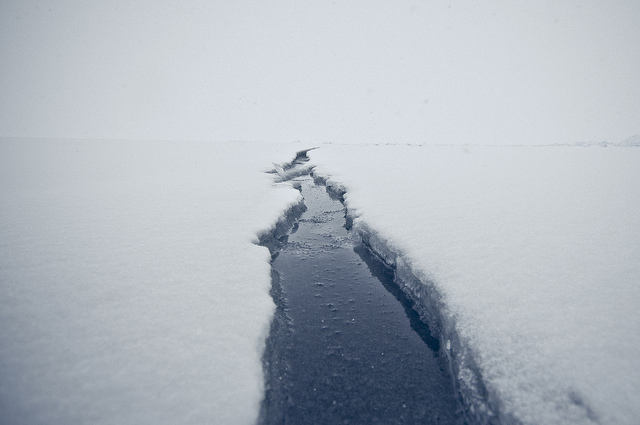 (Photo: Marco Fieber/Ostblog.org / flickr.com / CC BY-NC-ND 2.0 license)
First photo: Marco Fieber/Ostblog.org / flickr.com / License CC BY-NC-ND 2.0.
Holidays at Baikal in January 2022
Not every tourist will understand that the locals are so discussing when the lake will be completely frozen. In early January, Baikal is still "breathing". But if the winter is very frosty, at this time it will be very beautiful and interesting at the tourist centers of the Small Sea and Olkhon.
If you are planning your rest on Baikal in January, 2022 be ready to spend some hours for ice crossing to the Olkhon island. If you don't know how to skate – it's OK, you can walk, but you will need warm and sportive shoes. You also need poles, like for Nordic walking. On the way you will see bizarre blocks of ice, hanging from the rocks. This is the only place you can see such unruly winter beauty.
Popular Destinations
Arshan Resort
Olkhon Island
Listvyanka settlement
Small Sea
Baikal Transparent Ice and Olkhon Ice Fest
You can appreciate all the beauty and fairy tale of the famous lake, when it is covered with transparent ice – so crystal that you can see the stones at the bottom. And on the shore – the figures of dragons, mermaids and seals. Also made of ice. Our journalists set off on an expedition to tell you how magical Baikal is at this time.
Where to go and what to see
The first thing you should do is go to Listvyanka village. There is a kaleidoscope of emotions and faces there. There are dog sledges, huskies and malamutes waiting for you. Divers put the New Year tree under the water. And if you are a diver, it would be unforgivable to leave Baikal and not dive to its bottom, even in winter.
If you're a fan of skiing, go to Baikalsk . One of the two main Siberian ski resorts is located there, it disputes the primacy with Sheregesh. It has a mild climate and lots of snow.
If you want to take a walk on the ice in the direction of Olkhon Island, you can go to the Lesser Sea. Besides, you've probably seen the pictures of happy people lying on Baikal ice with their arms outstretched. The ice here is surprisingly transparent, and you can see the bottom through it. The sun shines 300 days a year. There are also high hummocks and fancy crack patterns. These will be your pictures, too, if you come on vacation to Baikal in January.
Don't miss a trip along Circum-Baikal railway, the old railroad along the lakeshore, which became a "ghost-road" in the 50s, after the Irkutsk hydroelectric power station reservoir flooded a considerable part of it. Now a retro-train, which stops at the most picturesque places, runs along it. Tourists explore the unique tunnels, built in the rocks according to Italian designs, admire the beauty of the lake and have picnics.
Rest in Baikal, when the end of the New Year vacations, good to spend in a sanatorium, at the end of January 2022 there is expected to be a real boom in prices. In addition to treatment, each health resort offers its own entertainment program and tours to Baikal.
Become a master of hospitality
More than a million tourists come to Baikal every year. In ancient Irkutsk, too, there is a lot to see. Every hotelier, restaurateur, travel agent and other representative of tourist industry is able to prove it. Masters of Hospitality" contest organized by the project "Russia – the country of opportunities" is an occasion to make a statement, to share experience, to get an assessment of experts and recognition of vacationers.
Rest with children
A winter landscape with ice grottoes of Baikal looks like an alien landscape. Photo: Viktor Guseinov
If you come to Baikal in January 2022 with children, know that not only Christmas and Old New Year are ahead, but also the Chinese New Year. There are three noisy and fun festivals with contests and other entertainments, including for kids. Without exception, everyone is also waiting for a walk on the lake, where through the clear water you can see the bottom. You will go down into the ice grottoes – at other time of the year you just can not visit here. You will see mysterious caves and snow-covered mountains.
Choose the best hotels and camping sites in Baikal
Eden" tourist complex
Address
Phone
The tourists come here for solitude with nature and comfortable recreation: it takes several minutes to get to Baikal, there are pine forests and fresh air around, there's a sauna and a swimming pool on the territory. Those who like active rest like it here: the tourist complex will help to organize horse and dog sled rides, trips on hivus, hiking and helicopter rides. Weddings and business events are also organized here, and there is a banquet and conference hall for that. In short, Eden comes up with a separate program for each request. Cozy rooms, a restaurant with local cuisine, where you can try fish and the gifts of the taiga, responsive staff – all this will make your stay here unforgettable.
Nilova-Pustyn medical center
Address
Phone
A picturesque place on the bank of the river Ihe-Uhgun in Buryatia. It is here that "Nilova-Pustyn" health resort is located, and it is famous for its radon baths. They are the main component of treatment, and here go people with metabolic disorders, diseases of the heart, musculoskeletal system and others.
Prices for vacations
| | |
| --- | --- |
| Rent per person | Hotel – from 3000 rubles. Guest house – from 2000 rub. Hostel – from 500 rubles. |
| Dinner (per person) | In a cafe – from 300 rubles. Restaurant – from 1200 rubles |
All prices are for 2022.
Weather in January
The number of people, wishing to take a steam in an unusual ice bathhouse in Baikalsk is especially large during severe January frosts. Photo: Yulia PYKHALOVA, "KP"-Irkutsk
In January at Baikal it's usually -12…-15 degrees during the day and about -20 degrees at night. There may be much harder frosts, when the temperature goes down to -30 … -35. It's better to wait before freezing at camping house and go out for 20 minutes, maximum – for half an hour. Then you won't have time to freeze.
But there is a rule in Baikal: a Siberian is not the one, who doesn't get cold, but the one, who wears warm clothes. Keep this in mind! In your closet must be a warm down jacket, woolen hat, mittens and winter boots.
What new railroads will be built in the near future?
In recent years, many have noticed how much more convenient traveling in Russia has become. It is faster and more comfortable to get to the desired location. It became possible thanks to the national project "Complex plan of modernization and expansion of the mainline infrastructure". Find out what has already been done as part of this program, what railroads will be built in the near future, what sections will be repaired, what airports will be modernized.
How to get there
Irkutsk airport is located in the city limits. You can get to the center in 30 minutes by bus №20, 42, 43, 80, 90 or by trolleybus №4. Site of the airport – iktport.ru Airport "Baikal" Ulan-Ude, 15 km from the city center. You can get there by buses №28, 55, 77. The site of the airport is airportbaikal.ru.