What tourists say about Florence
Florence is a real treasure box! It holds so many wonders that would be enough for several major cities. The city is a jewel in the crown. Florence is a beautiful capital of Tuscany.
The capital of Tuscany is so beautiful and rich that it's a crime to come here for just one day! If you want to enjoy it, take three or four days, or even better, a week. You won't be in a hurry and you'll get real pleasure from walking the streets of Florence.
Content:
Pros and cons of vacationing in Florence
There are no disappointed with a trip to the Italian city. Florence left the most pleasant impressions with connoisseurs of architecture, painting, beautiful parks and fans of shopping.
The pros of vacationing in Florence, according to reviews of tourists:
Nice atmosphere of measured, quiet life.
Excellent hotels and a high level of service.
Tasty Tuscan cuisine and wine.
A compact historical center that is easy to get around on foot.
The opportunity to learn more about the Renaissance in the streets, museums and galleries.
Magnificent architectural monuments.
Natalia Polyanskaya: "The Duomo is the city's calling card. There is a feeling that this cathedral smiles at you all the time. Whichever way you look at it, it takes your breath away.
There are not a lot of minuses:
High prices for hotels.
Crowds of tourists even in low season.
There are lines at the ticket offices of the main attractions.
Some places are not well maintained.
Vasily: "The neighborhood around San Lorenzo is quite depressing. There is an awful market stretched out for several blocks around the cathedral and the square of the same name. Is it possible that outside of the old part of town there is no place for such a flea market?
Tourist Florence in the summer season (Photo: @maximesteckle / unsplash.com)
Hotel reviews in Florence
Rumguru and Airbnb accommodation in Florence
Like all ancient cities, Florence is good because there are no mediocre buildings in its center. Many palazzos, towers, and monasteries have been turned into chic hotels. Accommodation prices are high. According to reviews of tourists, especially expensive hotels in Florence from April to the end of September. If you want to pay less, choose hotels outside the historic center.
Grand Hotel Minerva 4 *. On Piazza Santa Maria Novella is a hotel with a rooftop pool and outdoor sun terrace. The Duomo and Galleria dell'Accademia are within walking distance.
Hotel Monna Lisa 4*. A wonderful hotel with a blooming garden welcomes guests in a building of the XV century. The interiors are decorated with antique furniture and paintings of Giovanni Dupré, the ancestor of the hotel owner. An excellent choice if you are interested in the galleries of Florence!
Portrait Firenze – Lungarno Collection 5*. The hotel is situated 30 meters from the famous Ponte Vecchio Bridge. Guests like the excellent service, bistro restaurant, spa and panoramic views of the city. Some tourists complained about the noisy air conditioning.
The St. Regis Florence 5*. The 5-star hotel with luxurious rooms and spa is located on the banks of the River Arno, in a building built by the famous architect Filippo Brunelleschi. The restaurant serves Mediterranean and Tuscan cuisine. Many people like this hotel so much that they come here year after year.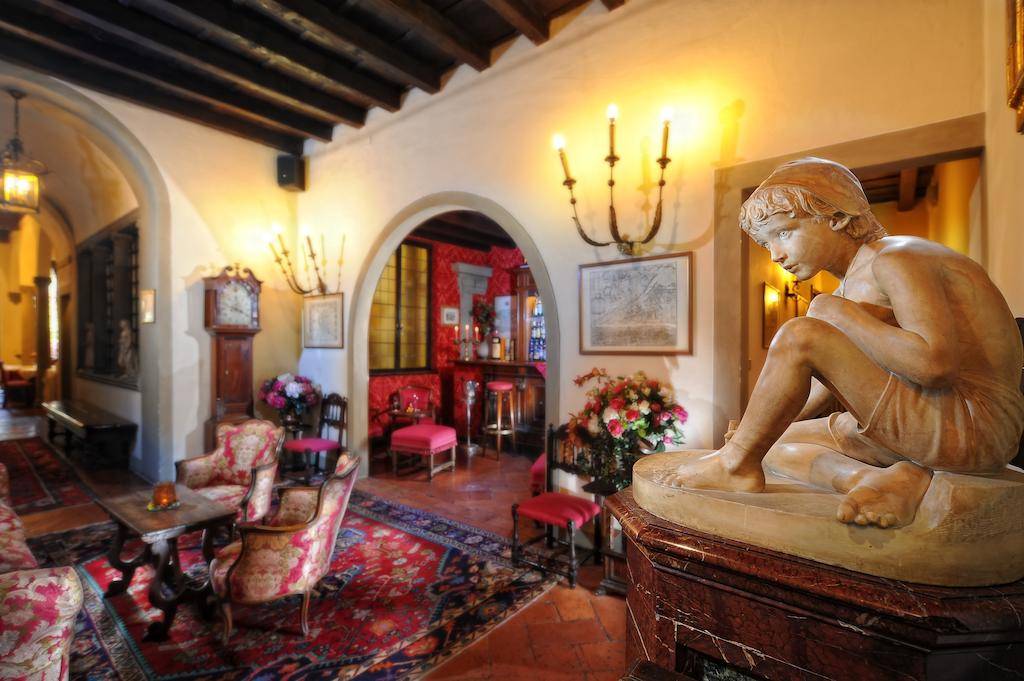 Hotel Monna Lisa's lobby. Photo: Hotel Monna Lisa.
Reviews about the weather in Florence
The capital of Tuscany is located in central Italy, in the humid subtropical zone. This city is not visited for a beach holiday, so the tourist season begins in February and ends in late October.
Most tourists are in summer when Florence is hot and stuffy. In August the thermometer rises to +32 ° C. The low season lasts from November to January. During the winter months it is cold and damp. The air temperature is +2. +10 ° C, and it rains every other day.
According to feedback from tourists, to vacation in Florence is better to come in spring or autumn. At this time on the streets not so many people, and the weather is quite comfortable for walks. In April and May the air temperature is +18. +23 ° C, and in the first half of autumn +21. +27°С.
Lisa Asteeva: "In April, the first flowerbeds start to appear. The city is impregnated with unparalleled floral fragrance. I felt the arrival of spring with every cell.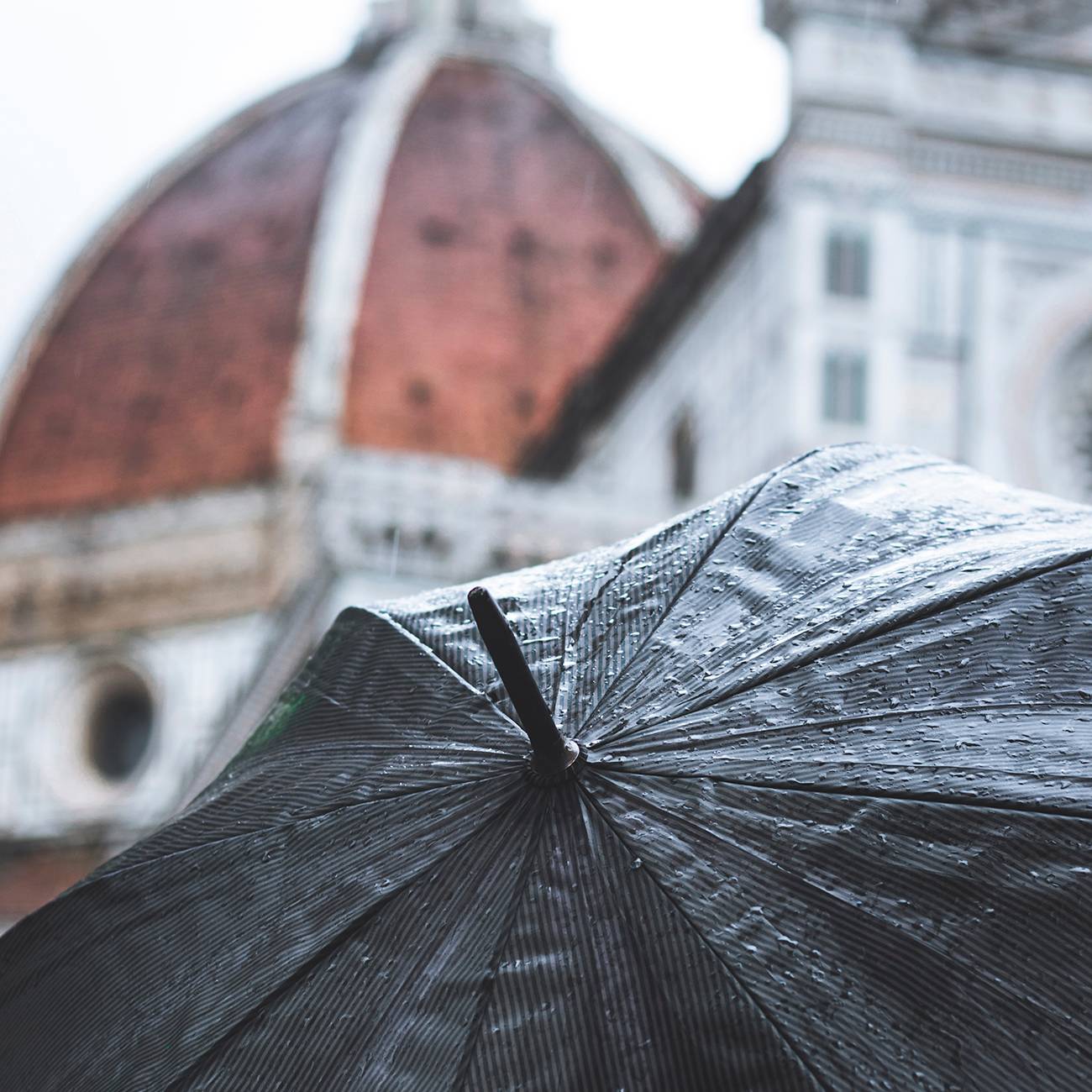 It rains every other day during the winter months (Photo: @jackofallstreets / unsplash.com)
Florence sightseeing reviews
Florence can safely be called an open-air museum and the cultural capital of Europe. There are ancient temples and monasteries, medieval palaces and luxurious parks. The art collections of the city are unique. The Renaissance period is felt everywhere. The historic center is built in a single style, there is no eclecticism. Even the shopping streets are organically blended with the medieval buildings.
Florence has more than 70 museums and galleries. Tourists come to see the paintings of great painters, famous frescoes and statues. The main disadvantage that almost everyone writes about is the lack of time. Florence is impossible to get to know in 1-2 days. This is a place where you want to come back again and again!
Catty Shark: "It's very beautiful and interesting. I've been here many times and each time I saw a new side of the city. Each time I brought home a special emotion that Florence gave me.
Natalia: "Take the firenze card. It's good value for money. It includes many museums.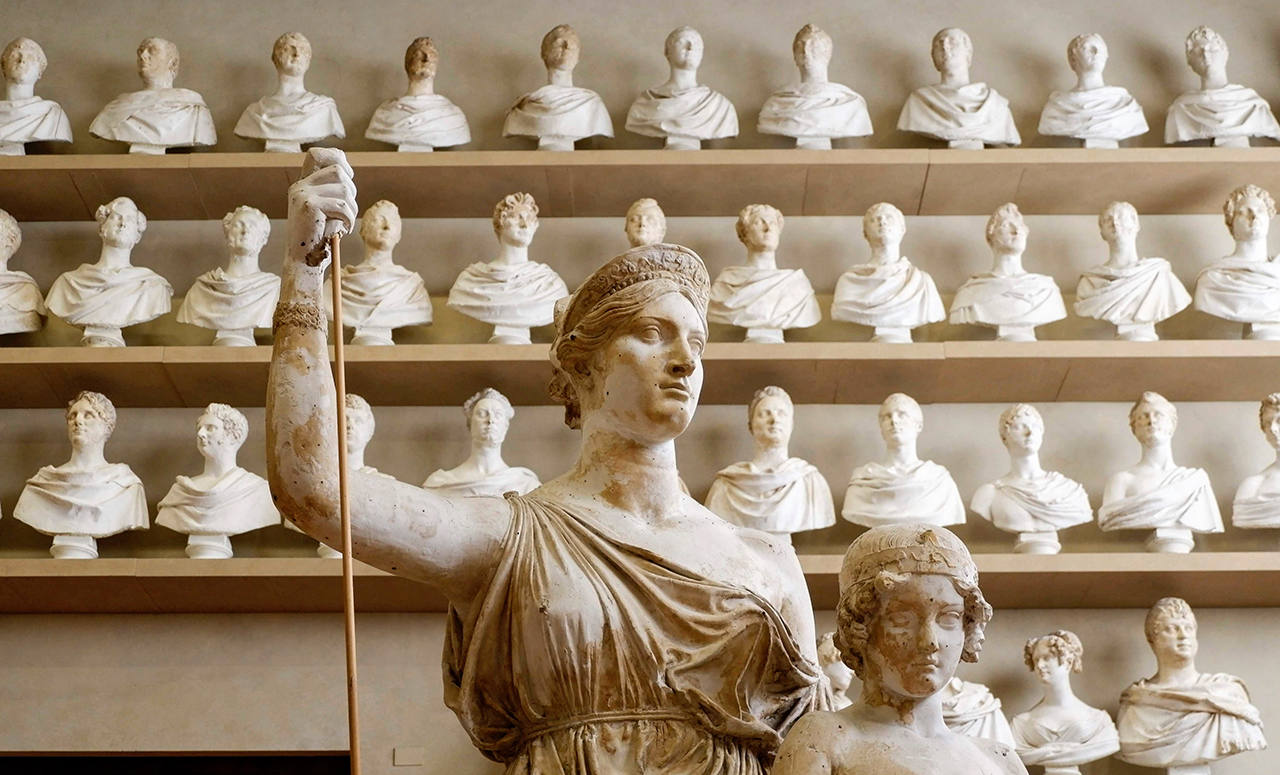 Academy Gallery in Florence (Photo: @strider_ / unsplash.com)
Reviews of tours in Florence
Florence offers many tours in Russian. For those who come to the city for the first time, it is very convenient. Even if you like to walk everywhere yourself, we advise you to use the services of travel agencies and buy in advance online tickets to the main museums and galleries. You'll spend a little more money, but you will not have to wait in lines and will save time and energy. We advise to look for excursions on the site Tripster.
According to tourist reviews, excursions are popular in Florence:
Love : "Great tour! I am writing after 3 hours of walking in the rain in Florence. Turns out the rain is not a hindrance to walking around the city. Many interesting stories and facts, fascinating stories. More about the tour →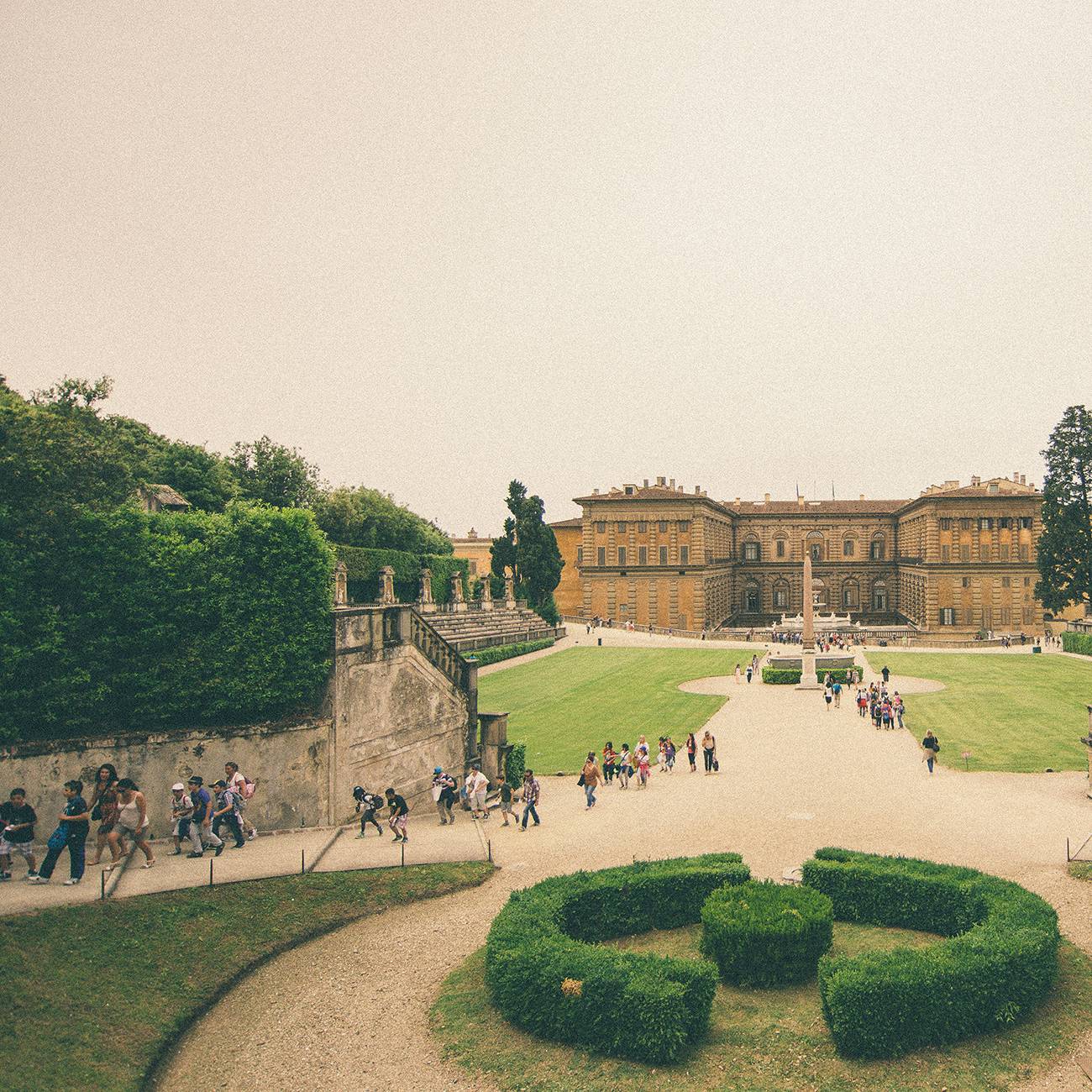 Pitti Palace in the Boboli Gardens (Photo: AntonioA / flickr.com)
Florence shopping reviews
Florence is inferior to Milan in terms of shopping, but there are also enough places where you can buy a good designer coat, fashionable leather goods and beautiful jewelry. In winter the discounts are great from January 5 to March 15. In summer the sale season lasts from July 6 to September 3.
According to reviews of tourists, the greatest interest in Florence are outlet stores, as well as shopping centers I Gigli, La Rinascente, Sotto and Baroni. For souvenirs go to the markets or on Via Cerretani, which is located near the railway station.
Marina: "Barberino Designer Outlet is great and has everything you need. I was really surprised by how cool it is! It's very nice, cozy, and lots of stores with low prices."
Reviews of hotels in Florence
The view of Tuscany from the rooms is very beautiful. By car not far from Florence. Rooms are spacious, for its price excellent design . Clean and large bathrooms. Tuscany atmosphere. Read more
Location. What we did not like : We were placed in another building, not the main one. Had to walk 5 minutes to the other street from the suitcase and. Breakfast needs to be varied. Read more
The staff speaks good English. The room is clean. There is everything to cook. Near the streetcar, convenient to get to the center without a car. Cons : Parking fees. Read more
Breakfast is good, although not varied. Friendly staff at the bar and restaurant. Cons : Very dirty, uncomfortable, poorly maintained. Faulty doors, locks and uncomfortable keys. Something was leaking due to breakage. Read more
The location of the villa is great. it's a green part of town. in the summer is great in the heat. transport runs on schedule and you can easily get to the center in 10 minutes. the owners are very friendly. You feel. Read more
Beautiful hotel with antique furniture and rooms with a Tuscan wine theme. Clean and comfortable. Conveniently located, in a quiet location and close to the center. Fresh croissants for breakfast, and more. The owner Matteo will advise you. Read more
The hotel is very well located and very clean it was a pleasure to stay in. Read more
Everything but breakfast at this hotel is excellent! It's perfect for my family. The location is amazing. The staff are very friendly. They were complimentary upon arrival. Read more
Food was good, varied, good location, the hotel was quiet, not far from the train station and the center, 10-15 minutes walk. Did not like : Lack of an iron, you have to pay 15€ to iron a dress. Take it. Read more
Add Review
Where to stay in Rome: best neighborhoods and hotels For a big city like Rome, the best tourist attractions are relatively close to each other. Thus, several districts are quite convenient for accommodation.
Best Tourist Destinations for December December December can be gloomy and cold in much of North America and Europe, but that doesn't mean December is a bad month for travel. The first winter month features classical concerts.
Where to Find Winter Sunshine in Europe The idea of spending the winter in Europe isn't so bad: frosty forest trails, snow-covered mountains and cozy log cabins all sound tempting. But when the reality lies in the ever-present gray.
Tourists
Company
Popular Destinations
Where to Buy
Travel agency ® Saletur.ru (2005-2022) – the website is for information purposes only, and all information on it is not a public offer, as defined by the provisions of Article 437 (2) of the Civil Code of the Russian Federation. Up-to-date information including the cost of the tourist product can be obtained from the managers of the company on the telephone numbers indicated on the website. Any reprint or inclusion of advertising information is allowed only with a written permission of the site's editorial board. Privacy agreement