Food and Alcohol Prices in Zanzibar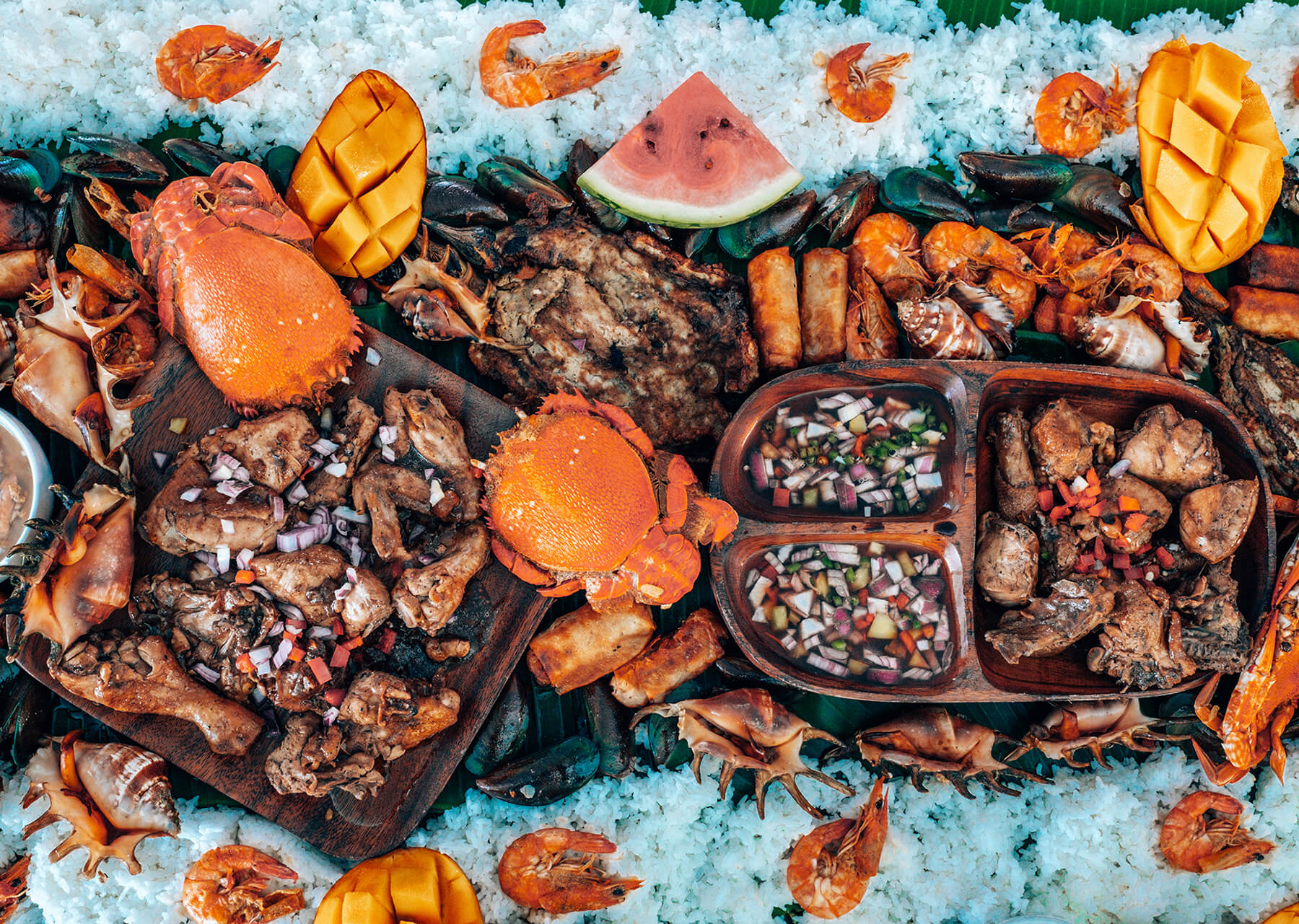 Is it expensive in Tanzania? We tell you about the prices of food and alcohol in Zanzibar in 2022. What to try, how much the food costs in the stores and what the average check in cafes and restaurants is. Tips from tourists, how to save money.
Exchange rate: 1000 Tanzanian Shillings (TZS) ≈ 31 RUB.
and Travellata – find bargain tours – discount hotels
Food Prices in Zanzibar – 2022
Breakfast for two in a cafe will cost 18-22k TZS. For this money you will get a couple of eggs, sausages, buns, butter and coffee. Lunch at a cheap place costs about 44k TZS for two people. For dinner with alcohol you will spend 80-130k TZS for two.
Food prices at Zanzibar cafes and restaurants in 2022:
poa poa salad – 12k TZS
urojo soup – 1.5k TZS
black octopus with potatoes and tomatoes – 13k TZS
lobster, one piece – 25-40k TZS
grilled octopus and squid – 18k TZS
grilled whole fish, 300g – 5k TZS
fish burger – 14k TZS
shrimp fries – 20k TZS
seafood platter – 24k TZS
Zanzibarian pizza – from 3k TZS
cup of cappuccino – 4k TZS
bottle of water, 0.6l – 2k TZS
Helpful selection: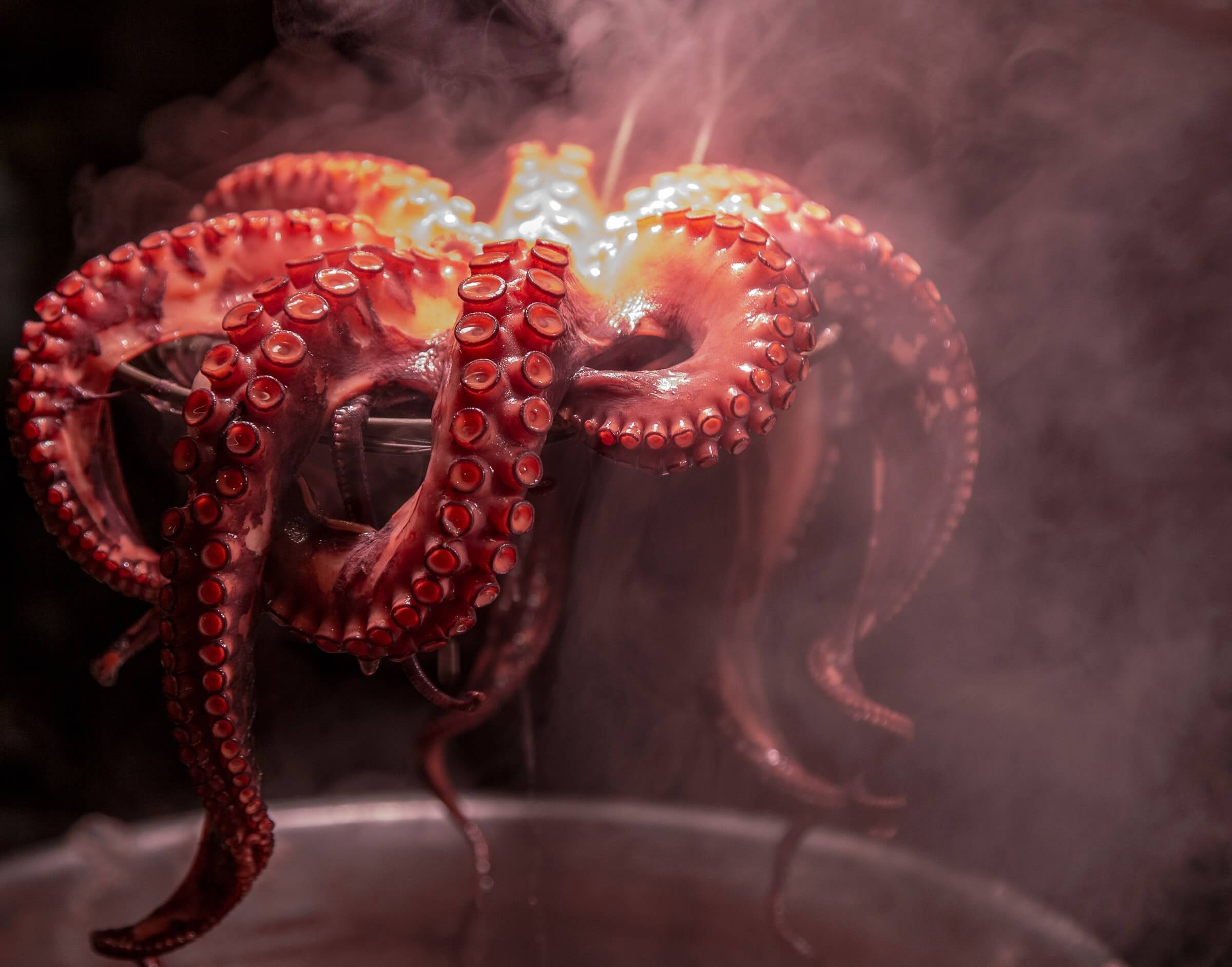 Boiled octopus. Photo: pashagulian / unsplash.com.
Alcohol prices in Zanzibar
The African country lives by the laws of Islam. There are restrictions on drinking and selling alcohol, but not as strict as in the rest of the Muslim world. Most establishments have a beer and wine list. The range in Zanzibar is inferior to non-Muslim countries, and the prices of alcohol are high.
If you decide to dine in a small restaurant, find out if they serve alcohol. For the people of Zanzibar, religious principles are more important than profit, so about 20% of the establishments run by Muslims do not sell alcohol.
Alcohol is sold in specialized stores that are available in Stone Town and on one of the island's most popular beaches, Nungwi. Alcohol is offered in any hotel, however, the more stars in the name, the higher the price per bottle will be.
Tourists recommend the inexpensive light beer "Kilimanjaro", "Tusker", "Safari" and "Serengeti," which is made at the local breweries. About 90% of the wines sold in Zanzibar are produced in South Africa, 9% in Kenya and the rest in Tanzania. Lovers of spirits are advised to try the local vodka with juniper cognac, 0.5 liter costs 10000 TZS.
Respect the Muslim traditions! Try not to drink alcoholic beverages in public places, outside hotels and bars.
Liquor prices in hotels and stores in Zanzibar in 2022:
local beer, 0.5 liters – 4.5-9k TZS
Glass of wine – TZS 6k
50g of spirits – 5k TZS
whiskey, tequila, 1 liter – 45,8-57,3k TZS.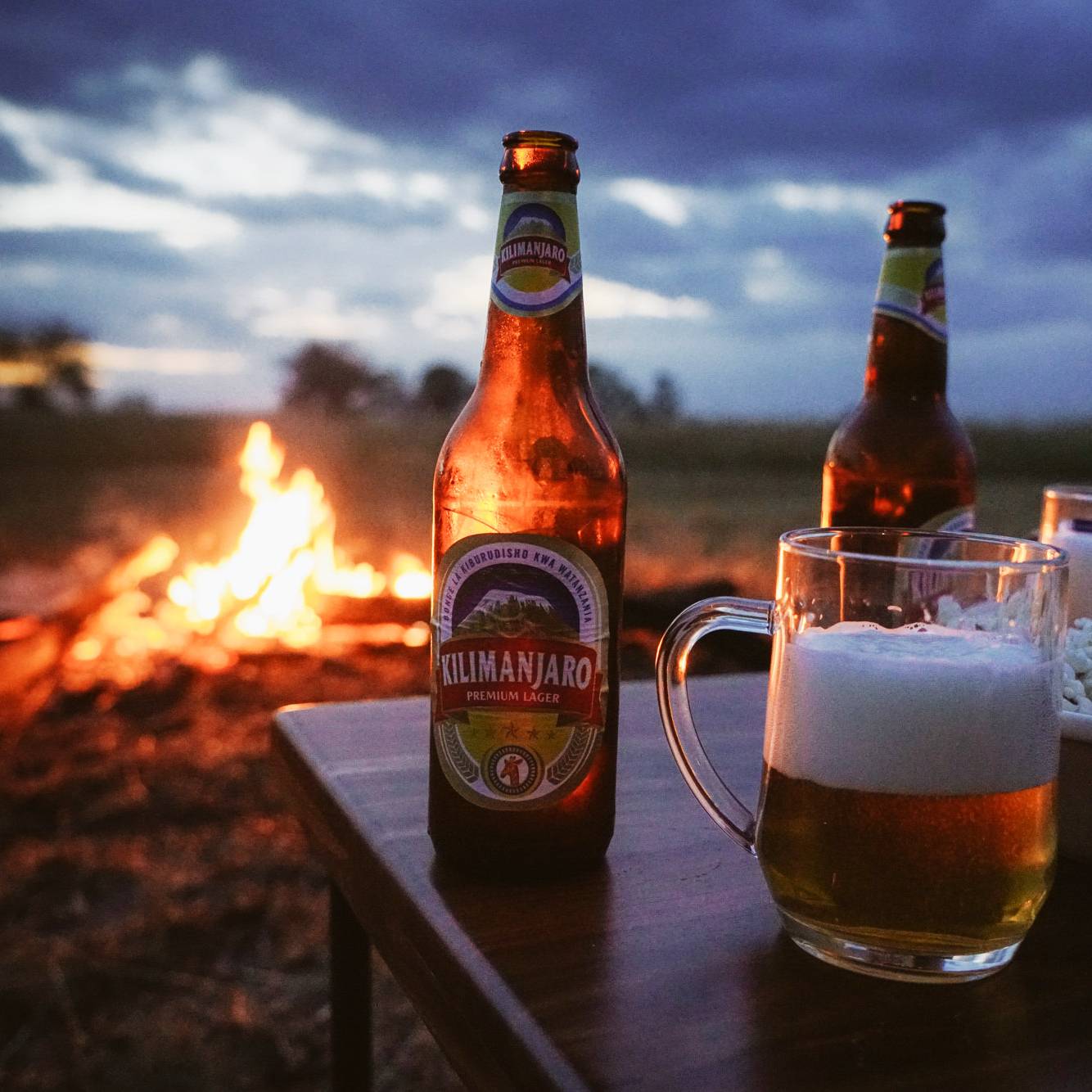 Kilimanjaro beer (Photo: codywellons / flickr.com)
Grocery Prices in Zanzibar Stores
On the African island, food prices are lower than in Moscow. Fish, seafood, fruits and vegetables are especially cheap.
Food prices in stores in Zanzibar in 2022:
bread – 700 TZS
cheese, 1 kg – 10k TZS
milk, 1L – 2.3k TZS
bananas, 1pc – 100 TZS
pineapple, 1 piece – 2-3k TZS
mango, 1 kg – 2-3k TZS
ground Tanzanian coffee, 100gr – 2k TZS
juice, 1 liter – 3,5-5k TZS
coca-cola, 0,5 l – 1k TZS
water, 1.5l – 1k TZS.
What to try in Zanzibar
Zanzibari cuisine is steeped in African, Persian and Arab traditions. It is spicy, low in salt and not spicy. The diet of the locals is based on side dishes of rice, fried and stewed bananas, fruit, vegetables, fish, and seafood. Many dishes are cooked with the addition of coconut milk. Freshly squeezed fruit juices and tea with spices are popular drinks.
Ugali – porridge made of corn flour
naan – bread
mishkaki – kebabs
sorpotol – stewed beef and by-products with spices
biryani – similar to pilaf dish made of rice and meat
urojo – spicy potato soup
kochumburi – tomato and onion salad
omelet mayai – omelette with fries.
mandazi – triangular doughnuts.
Zanzibari chocolate: a sweet made with sesame seeds and honey.
What you need to know
The cuisine of Zanzibar will surprise few meat-eaters, but it will please fans of fish and seafood. Locals rarely eat meat, although restaurants and cafes have meat dishes. There are usually about 20 hot dishes on the menu: one of chicken, one of beef and 18 of fish and seafood.
In the villages there are small establishments for locals to cook inexpensive food. A bowl of soup costs TZS 1,000, French fries TZS 1,500 and a chapati flatbread TZS 400. The restaurants look unpretentious, but the food is good.
Zanzibar chefs do not rush anywhere and profess the principle of "life without a care" – akuna matata. In a crowded place, the wait for an order stretches for 40 minutes. If a restaurant on a remote beach assures you that everything will be made with fresh products, take your word for it. Chef first goes to the local market for goods, and then will cook your dinner. Sometimes you have to wait for a very long time – 1.5-2 hours.
There is no siesta in Zanzibar, but many stores open in the afternoon and work until late at night.
In restaurants and cafes is customary to leave a tip – 10% of the check.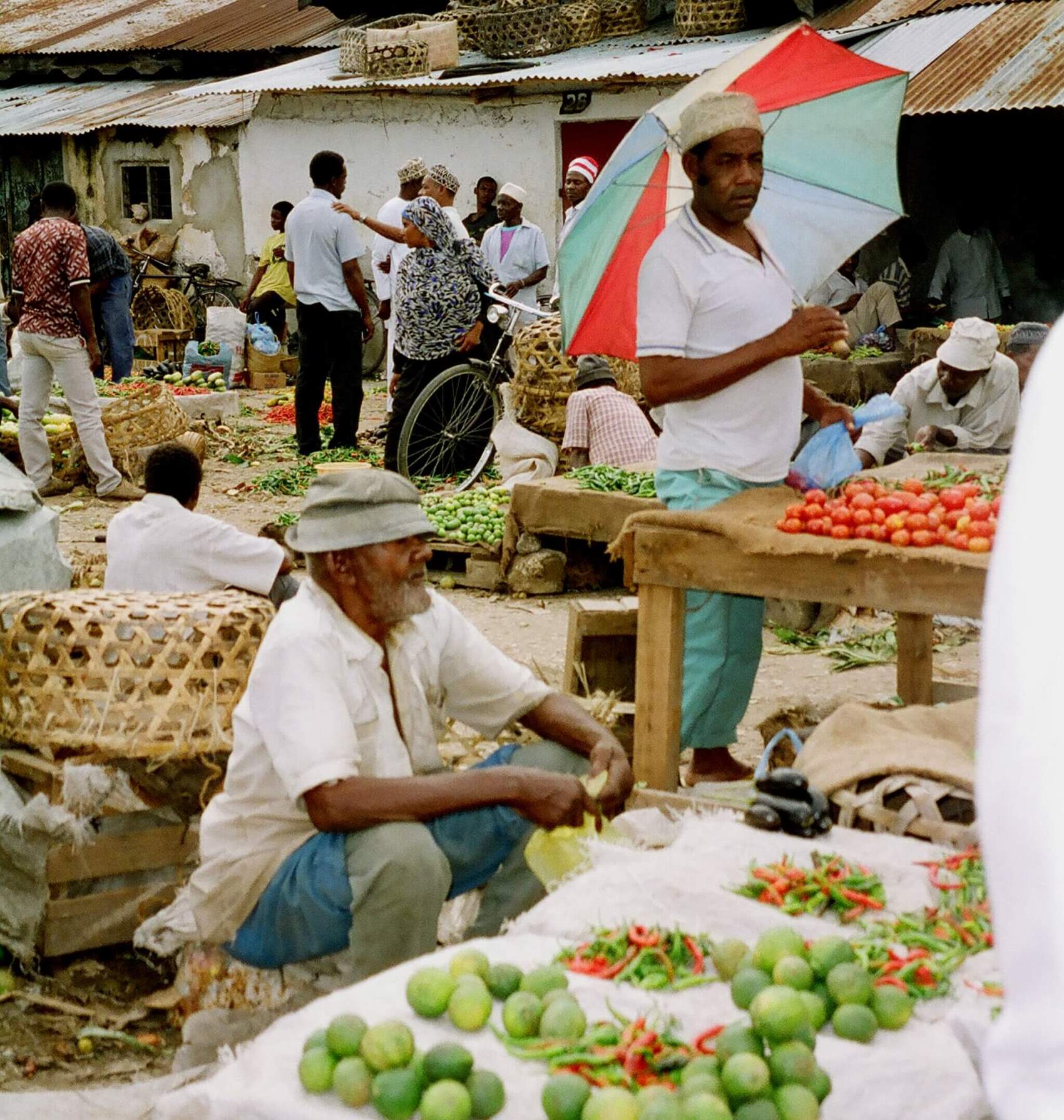 Zanzibar's colorful food market. Photo: Karen Fasimpaur / wikimedia.org / CC BY-SA 3.0.
How to save money on food in Zanzibar
Eat at establishments frequented by locals. Inexpensive restaurants and cafes stand away from beaches and hotels and are not marked with flashy signs.
Fruits and vegetables are better to buy at farmers markets, and groceries, dairy products and water – in stores. Do not forget to bargain! Skillful bargaining can reduce the price by 1.5-2 times.
A tasty and cheap snack is a street food. Tourists love the seafood kebabs, grilled potatoes and corn cobs, fried chicken and freshly squeezed cane juice. Street deli stalls abound in Stone Town. They usually start trading in the evening, after 5:00 p.m. to 6:00 p.m. A skewer of squid, octopus tentacles or shrimp costs 6-8k TZS, and 0.5 liter of fruit juice costs 1000 TZS.
Beach restaurants sell beer for 4-6k TZS, and liquor stores sell it for 3k TZS per 0.5L. There are always crates at the entrance. Put an empty bottle there and you'll get a cheaper beer at 2.5k TZS.
We recommend trying the restaurants that specialize in Zanzibar cuisine – Captain Cook Equinox on Jambiani Beach, The Fisherman on Kendwa Beach and Chit Chat in Stone Town.
Zanzibar: food prices, hotels, tours – 2022
If you're wondering now how much money to take to Zanzibar, this article is for you. My husband and I estimate (and we consider ourselves middle class, but not rich) that the prices for a vacation to Zanzibar are above average. That is, for example, higher than in Thailand, but lower than, say, in Dubai. Now in order.
Money Zanzibar
First of all I will tell you about the currency, which is in circulation in Tanzania and Zanzibar. This is the Tanzanian shilling. However, everywhere you can pay in dollars. And for services to tourists the prices are immediately named in this currency not to confuse people. The only thing: in Tanzania you cannot pay with American money issued earlier than 2006. So make sure you have some new ones.
And you'd better take cash with you. Though it is possible to pay with a bank card in civilized places.
In addition, if you want to withdraw dollars from the card in the country, you can't do it. An ATM or bank cashier can only give out shillings, and not always at a favorable rate. So if it's important for you to have dollars, take them from home.
Plus, when traveling to Zanzibar, note that here the initial prices are set at three times the price with the expectation that you will haggle. It's a must here.
Zanzibar: Food Prices
Food prices in Zanzibar vary a lot from place to place. They were highest at our hotel Hakuna Matata – breakfast was included and we paid $40 per person for dinner. That said, there wasn't much of anything special there except one night. At the same time, the food was always very good and hearty.
We met lower food prices at the cafes in Stone Town and Nangwi Beach. We paid $30 for dinner there (in Stone Town) and $20 (on Nangwi) for two. And that's with alcohol – local beer.
It's even better if you just buy fruit and other groceries at the layouts or stores.
Hotels Zanzibar: Prices
Prices at hotels in Zanzibar vary dramatically. The initial cost is $20 for two people per night. But the conditions will be appropriate. It is practically an authentic environment in which there are locals, with a lack of comfort, sanitation and safety. Nevertheless, it suits many people.
High price points for accommodation in hotels in Zanzibar go up to the amount of $ 1,200 per room per night. For $ 1,500 a day you can rent a whole luxury villa with its own pool. But these are isolated proposals. On average a normal hotel will cost about $ 50-150 for two people a night. Accommodation at our hotel cost $100 per room per night. It was a hotel with slightly above average prices for accommodations and high prices for food, as mentioned above. That is, the slightly lower price for accommodations the owners decided to cover with overpriced food.
Excursions in Zanzibar: Prices
Prices for excursions in Zanzibar depend on its complexity and distance. As a rule, excursions on the island are quite complex, that is, one tour covers several sites at once. For example, you are picked up in the morning and driven in a private car on the island, during which you pass almost the entire coast with stops for bathing, have time to stop at the seaweed farm, ride a boat and visit the rain forest. Such a trip can cost anywhere from $200.
There are excursions more expensive: it is a VIP-sector, which involves going to the outer islands, which is called for the rich. Most of the same trip costs an average of $50-70, and to hire a guide for 2 hours of walking around the city can be for $ 30.
Total for our 5 days on the island we spent a little over $700 on excursions. This is despite the fact that 4 days were fully occupied with trips.
Cab in Zanzibar
Another expense item is transfers. You can, of course, ride in the local so-called shuttle buses, but it's dangerous and unpleasant. It is better to take a cab, the cost of which starts from $20 per trip one way, if we talk about transfers from the airport to the hotel. Our hotel was located near the airport and the shuttle was just $25. I think for the farthest points on the island, transfer prices can go up to $50. It would be a little more cost effective to book a shuttle at your hotel rather than taking a cab at the airport.
You can also rent a car and drive yourself. Driving in Zanzibar is not complicated, and to get confused on the roads – from the category of fiction. We recommend using the worldwide service rentalcars.com.
Souvenirs of Zanzibar
This is where the will of the imagination is! In Zanzibar you can buy cheap souvenirs for 20-30 dollars, so that was enough for everyone, and you can spend thousands of dollars. It all depends on your appetites.
Total
For 5 days in Zanzibar we spent $550 for hotel accommodation, $300 – round trip flight from Dar es Salaam to Zanzibar (although this expense can be avoided if you buy a plane ticket to Zanzibar, not to Dar es Salaam, just that flight was not convenient for us), $50 – for transfers from airport to hotel and back, $700 – for food, souvenirs, additional hotel services (laundry, etc.), $700 – for excursions. Total for 5 days: $2300 (without domestic flights – $2000).
You can vacation cheaper: $200 to stay in a very cheap hotel, $140 for a ferry instead of a plane, $30 for independent transfers by local public transport, $400 for food and souvenirs, $100 for entrance tickets to excursion sites. Total: about $900. But you'll have to try really hard to do that.