Food prices in Abkhazia – 2022: cafes and stores
If you have plans to visit Abkhazia and to have a good rest, it is important to determine in advance the amount of money that you have to take with you for food. It is important to take into account in what city you plan to spend your vacation, how many people are going on a trip, for how long. According to reviews, prices in Abkhazia for food are lower than in Sochi and the Crimean Peninsula.
If the holiday in Abkhazia used to be considered a budget option, in the past couple of years, the rates have increased markedly. This is due to the impossibility or unwillingness of Russian tourists in such difficult times to go abroad. It is upsetting that while the prices for the holiday have increased, the living conditions in Abkhazia have remained the same and correspond to the definition of "sovdepia". In any case, before the trip it is important to plan the budget, to determine the amount for food or dinners in a cafe.
What money to take with you on vacation?
The country's national currency is Abkhazian Apsar, but not for the first year Russian ruble is in circulation. The reason is its high exchange rate – 1 apsar = 10 rubles. Apsars are gradually leaving the turnover of goods and are bought mainly by numismatists to add to their own collections. If you are going to travel to Abkhazia, it is recommended to get hold of Russian rubles. It is advisable to bring small change, since vendors in local stores often do not have change.
In Abkhazia you can pay in cash or choose to pay by bank transfer. In the latter case, it is important to remember that cards are not accepted everywhere. For example, you will be more glad to get cash and a good tip on the market in Abkhazia, and cashless payment is possible only in some stores, restaurants and cafes. If in large tourist towns (Gagra, Sukhumi, New Athos, Pitsunda) one is not surprised to pay by card, the small villages of Soviet constitution want to see "real" Russian rubles. By the way, ATMs are also problematic, and are only available in large cities.
If you choose non-cash payment, prepare plastic cards Visa or MasterCard, while American Express gives a lot of trouble at the cash register. Ideally it works, but in reality it regularly crashes the system.
Prices of food in stores in Abkhazia
If the prices of food in canteens and restaurants of Abkhazia "bite", the tourists choose a budget option – shop at local markets or go to neighborhood stores. In the latter case, the prices are not much higher, but you feel more comfortable (in the market can be cheated).
Here is a standard check of a person, who is resting on a resort in Abkhazia:
| | | |
| --- | --- | --- |
| Product name | Weight/quantity | Price, rubles |
| Still water | 0,5 л | 35 |
| Beer | 0,5 л | 55 |
| Semisweet White Wine | 0,75 л | 250 |
| Milk 2,5% | 1 л | 70 |
| Vegetable oil | 0,9 л | 110 |
| Pork (flesh) | 1 kg | 300 |
| Chicken thighs | 1 kg | 220 |
| Chicken eggs | 1 dess. | 70 |
| Hard cheese | 1 kg | 350 |
| Sausage meat "Daddy Can" | 1 kg | 280 |
| Rice | 1 kg | 65 |
| Buckwheat | 1 kg | 70 |
| Tomatoes | 1 kg | 60 |
| Primed cucumbers | 1 kg | 45 |
| Holden apples | 1 kg | 40 |
| Bananas | 1 kg | 70 |
| Baton | 1 pc. | 35 |
There are no chain supermarkets here. The alternative is the local stores, which sell everything from laundry soap to fine wine. It's convenient, but you can hardly save money. Moreover, to the neighboring store will have to walk 2-3 km. Therefore, upon arrival in town you must immediately decide where and what to buy and be sure to compare prices with the market.
If there are no problems with housing in Abkhazia, it will be difficult to find a supermarket in this morally outdated country. Therefore, it is better to build a route "For shopping" in advance, we will have to walk.
Flight cost to Adler:
Useful information.
Prices in the markets of Abkhazia
Food in Abkhazia is inexpensive in the market, but you will have to get up early to buy fresh and inexpensive products. The cost of fruits and vegetables depends on the season, but the price of meat and fish is stable all year round. The most popular markets are in Sukhumi and Gagra, called central. To save some money on products, it is better to buy early in the morning or a couple of hours before market closing. During this period, sellers are more accommodating, make good discounts, give something for free.
Fruits of Abkhazia are inexhaustible source of natural vitamins. No vacation can do without their presence on the menu. Sometimes it is not profitable to buy on the market, since the sales are engaged in resellers, intermediaries. Wholesale prices can be traded with farmers traders. They bring fruits and vegetables in cars, they do not particularly watch the showcase, and do not stay long at the market. Even locals sell the goods well, let alone tourists. Fruit is especially cheap in Abkhazia in August and September, so that when you arrive you can eat up enough vitamins.
As for other foods, the prices on the market are not particularly different from store prices. Here is a list of the most popular products and their approximate cost in the season 2022:
| | | |
| --- | --- | --- |
| Name of food | Weight | Price, rubles |
| Pork (flesh) | 1 kg | 300 |
| Beef | 1 kg | 370 |
| Lamb | 1 kg | 400 |
| Chicken fillet | 1 kg | 280 |
| Eggs | 1 dess. | 70 |
| Tomatoes | 1 kg | 60 |
| Cucumbers | 1 kg | 60 |
| Potatoes | 1 kg | 40 |
| Grapes | 1 kg | 120 |
| Persimmon | 1 kg | 300 |
| Figs | 1 kg | 300 |
| Pasta | 1 kg | 50 |
| White rice | 1 kg | 70 |
| Buckwheat | 1 kg | 70 |
| Bread | 1 pc. | from 20 |
| Mineral water | 1 л | 50 |
| Wine at home | 1 л | 200 |
In August-September figs are in season in Abkhazia. So you can buy this exotic fruit not only in the market, but also from farmers for 80-100 rubles per 1 kg. Also prices for vegetables, greens and fruits are getting cheaper. Watermelons by 15 rubles and melons by 30 rubles per 1 kg appear in the free market. So this is the first thing to buy in Abkhazia upon arrival.
The most popular are central markets in Gagra and Sukhumi. More often holidaymakers buy up there, so the prices are somewhat inflated in the tourist season. Locals tend to avoid such places and choose budget markets for shopping. So, wondering what the prices in Abkhazia for food, it is important to clarify the month of stay in this exotic country, take into account your wishes.
Fruits in Abkhazia in September are cheap, and shortly before the closing of the market sellers give them for next to nothing. This way you can save money and replenish the stock of vital vitamins.
Interesting materials:
Prices in cafes and restaurants
Not to go to the market in Sukhumi and not to look for inexpensive stores in Pitsunda, in any tourist town of Abkhazia there are enough cafes and restaurants, which will please not only with hospitality and delicious dishes, but also with optimal rates. For example, a set meal in a cafe in Gagra costs 250-300 rubles, and you can eat up to your heart's content. If you visit a restaurant in Gagra, the average bill for two people is 1,300-1,500 rubles. This amount includes two portions of meat dishes, a bottle of good local wine.
The best restaurants in Abkhazia are concentrated in large tourist towns. While in small villages by the sea you can eat in local cafes or canteens, so as not to cook on your own. In the latter case, the price of a complex dinner drops to 250 rubles, but the food is homemade and delicious, the portions are large.
Many tourists upon arrival go to the coolest restaurant to celebrate their arrival. The menu and prices at the restaurant Gagripsh are surprising. In the first case, the variety of dishes of oriental cuisine strikes, in the second – their not always adequate cost (depending on the season). Prices "bite". But for many people visiting Gagripsh has already become a good tradition. In their reviews, many tourists note the good service and advise to dine here by all means. The average bill is 1900 rubles for one person.
Here is what dinner for two at a price of 1,200 rubles includes: Abkhaz-style hodgepodge, a large portion of kebab, nut sauce, satsivi, hashlama, beans, house wine (bottle). But every day on vacation so do not pokhikuyu.
Prices in the cafes of Abkhazia are acceptable for tourists who have prepared in advance for the rest and are knowledgeable. They don't differ much from a meal at a restaurant in Gagra – no more than 5% for the food itself, plus 10% for the service staff. If you do not leave a "tip", the owners may even take offense, so they made this service payable.
Prices in cafes in Abkhazia depend on the tourist town, the season, the particular institution. Here are the average rates in the restaurant business in the country:
| | | |
| --- | --- | --- |
| Name of dish | Weight, g | Price, rubles |
| Khachapur boat | 200 | 150 |
| Abkhaz meat | 200 | 450 |
| Lamb shashlik | 100 | 250 |
| Cheese platter | 200 | 400 |
| Lobio | 150 | 100 |
| Khinkali | 1 pc. | from 30 (depending on stuffing) |
| Mamaliga with cheese | 200 | 180 |
| Achapa (pkhali) | 100 | 200 |
| Smoked meat | 100 | 250 |
| Hashmala | 200 | 200 |
The prices in Sukhumi, New Athos and Pitsunda restaurants are about the same. The check for 1,200 rubles must include alcohol at the rate of 1 bottle. By the way, the waiter will definitely give good advice on what to try in Abkhazia. There are enough national dishes in the country.
Useful materials for an independent trip:
Tips for tourists to rest in Abkhazia
If you go on holiday in summer, the prices of fruit in Abkhazia will pleasantly please, especially the residents of Siberia, the Far East, etc. So it is recommended not to get lost, and eat exotic dishes from the heart. The list of recommendations does not end here:
In search of an answer to how much wine costs in Abkhazia, buy the products of home winemakers. Wine on tap in 1 liter will cost 120-200 rubles.
If you wonder what fruits in Abkhazia cost cheap in September, get the answer: cherry plums, grapes, dogwood, pears, peaches, apples, on the way – persimmons, walnuts and hazelnuts.
Determining where to eat nourishing and inexpensive food in Gagra, give preference to homemade meals. If you have no desire to cook on vacation, you can visit a local canteen or café. The prices in restaurants are too high.
If you visit the same cafe, restaurant, regular customers discounts, compliments of the chef. Take advantage of such a bonus.
Local dining rooms are open in the morning until 17.00-18.00. So if you want you can still have dinner here.
The restaurant's check already includes a 10% gratuity for bothering the waiter. Even if the service was not to your liking, you have to pay for it. The so-called "imposed service".
While choosing a tourist town for your upcoming trip, it will not hurt to find out what fruits are the most inexpensive in Abkhazia now, how much will the lodging and transportation cost, to determine the entertainment costs. Only such a sound approach and organization of the trip will help to save money and spend unforgettable time at the sea.
My name is Sergey and I work as a tour guide in different cities of Europe, Asia, Eastern Russia, also as a manager in a large travel agency. During my travels I experienced a lot of emotions, learned useful information about rest and prices, saw unique places, about which I hurry to share on the pages of my blog about tourism.
Prices of food in Abkhazia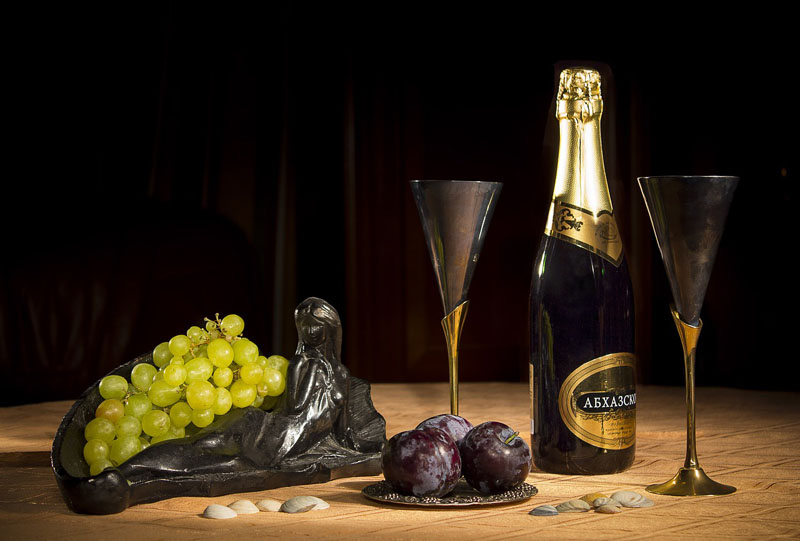 Cheap Abkhazia is now almost a myth. Let's see how much food costs in 2022! We've done a detailed review of prices in cafes, restaurants, stores and markets in the country's resorts.
Content:
What you need to know about prices in Abkhazia
Abkhazia used to be a paradise for budget travelers, now the situation has changed. Many tourists complain in their reviews about the increase in prices (they are compared with St. Petersburg, Moscow and Sochi), while the service remains at the same deplorable level. Nevertheless, the Country of Soul is only slightly inferior to the Russian south in its popularity – visitors are attracted by the pristine nature, historical sites and, of course, delicious cuisine.
Why do many tourists are interested in the prices for food in Abkhazia? Because mostly people settle in the private sector and prefer to cook on their own, only occasionally eating in cafes and restaurants to try the national cuisine. It is for such tourists we have collected the prices of food in Abkhazia in the markets, stores, cafes and restaurants in 2022.
It should be noted that pricing in the republic is very peculiar and vague: for example, today you can be told one price at the market, tomorrow the same product will cost more expensive at the same seller. You must be prepared for the fact that tourists and locals do not pay the same price.
On a side note:
– inexpensive tours to Abkhazia – hotels and guest houses (there is a cashback) – apartments and houses for rent
Prices of food in stores in Abkhazia
You will not find big shopping malls in country (there are only some in Sukhumi), there are big supermarkets in Gagra and Sukhumi. So far, markets, village milkshops and small stores are ruling in Abkhazia, so food prices can vary as much as 20-40 rubles.
Prices of imported goods are very high, but in general they are almost the same as in Russia, or a little higher, so here are just a few examples of food items:
bread (600 g) – 18 rubles
milk (1 liter) – from 60 rubles
suluguni (kg) – from 400 rubles
sausages (kg) – from 300 rubles
cooked sausage (kg) – 300-350 rubles
buckwheat (kg) – from 70 rubles
sugar (kg) – from 65 rubles
ice-cream – from 12 rubles.
Prices in the markets of Abkhazia
The cost of fruits and vegetables in the markets of the republic depends on the season: when they are harvested, the fruit is much cheaper than out of season. However, some vendors are trying to earn extra money and overstate the price, so compare several sellers. In general, the prices on the markets of Abkhazia vary slightly from city to city. The cost of fish and meat throughout the year is stable.
Tip: according to reviews, before the market closes (3-4 pm) or from early morning (6-7 hours) food prices are lower – the same is true in the Crimea. Haggle!
So, let's look at prices in the markets in 2022 in the most popular cities of Abkhazia – Sukhum and Gagra.
Prices in Sukhumi for products in 2022 are as follows (per kg / liter).
watermelons – 25-30 rubles
melons – 50-65 rubles
apples – from 50 rubles
peaches – about 150 rubles
medlars – from 50 rubles
Mandarins – from 10 to 100 rubles (small to large), on the average 20-50 rubles
pomegranates – from 150 rubles
sweet bell pepper – from 50 rubles
tomatoes – from 60 rubles
cucumbers – from 35 rubles
Potatoes – from 30 rubles
carrots – from 35 rubles
eggplants – from 40 rubles
Onions – from 35 rubles.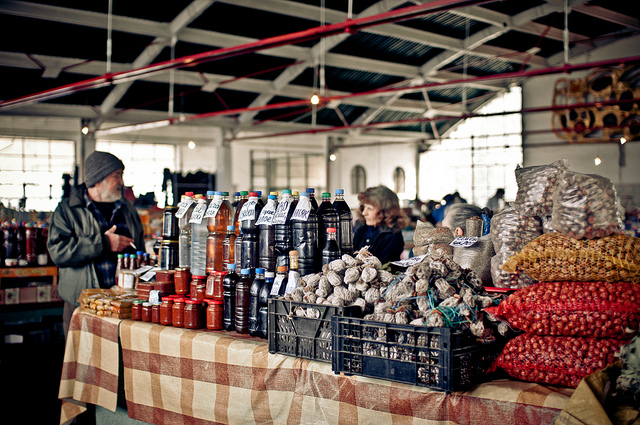 (Photo: Marco Fieber/Ostblog.org / flickr.com / License CC BY-NC-ND 2.0)
Meat, fish, dairy products and groceries:
adjika – from 100 rubles
milk – from 45 rubles
suluguni – from 300 rubles
smoked cheese – from 400 rubles
chicken – about 180 rubles
pork and beef – from 350 rubles
fish (trout) – from 300 rubles
sugar – from 40 rubles
eggs – from 70 rubles
rice – from 60 rubles
honey – from 500 rubles
Churchkhela (ajinjoukh) – from 40 rubles per piece.
Bottled wine costs from 150 rubles for 0,75 liters, but on average tourists get it for 200-350 rubles. Home wine on draft – about 200 rubles for 1.5 liters. Chacha – 100-300 rubles for 0,5 liter. The price range depends on the place of purchase and how greedy the vendor is. A variety of jam is for sale: from about 150 rubles for a jar (0,5 l.). Tangerine, blackberry and pomegranate juice: 30-50 rubles for 0,5 l.
The prices for food in Gagra are the highest in the republic. According to tourists, the central market of Gagra is more oriented at tourists and the food prices there are higher than in Sukhumi. Some tourists note that the cost of fruits and vegetables is close to Moscow and St. Petersburg. Sometimes there are no price tags on products, and you can get the price from the ceiling. The market is rather worth visiting as an attraction and it is more convenient to store at the stores nearest to your hotel. However, for fresh cheese, fruit and vegetables and easy conversation it is better to go to the market.
Tip: very cheap local fruit can be found not in the markets (where most everything is imported), but with private vendors-farmers – sometimes they sell the goods directly from the machines (eg grapes, watermelons, figs during the harvest) at very low prices. If you travel by car, you can buy watermelons and melons directly from the melons. You can buy local mandarins cheaply.
(Photo: Dauntless-85 / flickr.com / License CC BY-NC-ND 2.0)
Prices in cafes and restaurants in Abkhazia
The cost of food in cafes and restaurants in Abkhazia, as elsewhere, depends on the level of the institution and its location. Coastal restaurants in resort towns (especially in Gagra) are the most expensive.
Tourists recommend to eat at the so-called apatskhas (patskhas) – traditional cafes where national cuisine is prepared. The average bill is about 400-500 rubles for two people. You can also have inexpensive meals at local canteens. If you want to eat traditional food, there are a lot of restaurants with European cuisine in Sukhumi and Gagra.
Budget breakfast costs 100-150 rubles per person, business lunch – from 200 rubles for one, lunch – from about 500 rubles for two, dinner – the same. Eating in a cafe by the sea is about 300-500 rubles per person.
Approximate prices in cafes and restaurants in Abkhazia in 2022:
porridge – 60-70 rubles
shashlik (100 gr) – about 100-200 rubles
salads (200 gr) – from 50 rubles
meat dishes (200 g) – from 150 rubles
side dishes (200 g) – from 50 rubles
soups and other first courses – from 100 rubles
tea, coffee – from 20 rubles
fish dishes (100 g) – from 130 rubles
Khachapuri with egg – from 70 rubles.
Tips for tourists
Many tourists like the local restaurant "Nartaa" in Sukhumi – reasonable prices, delicious food (you can eat from 350 rubles per person). Also extremely popular legendary restaurant "Gagripsh" in Gagra. Prices there are higher than average even for this resort, the average check – 1700 rubles. But some people consider these establishments to be overpublicized.
In reviews holidaymakers often meet complaints about cases of poisoning – we recommend drinking only bottled water and do not buy on the beach of dubious quality products (pastries, etc.), as well as a responsible approach to the choice of cafes and restaurants. Home wine is better to buy from acquaintances, as tourists also report poisoning.
Look for those establishments where the locals eat, not tourists – an indication that the cooking is good.