Prices for holidays in Greece – 2022: food, tours, rent
We have prepared information about prices of holidays in Greece in 2022: how much it costs to eat in cafes and groceries in stores, rent, transportation, tours; what are the prices of accommodation, flights and tours to Greece.
At the end of the article, we will tell you when it is cheapest to vacation in Greece.
Prices are current at the time of update (January 2022):
As a benchmark, we considered the prices of holidays on the island of Crete, as it is one of the most popular tourist resorts in Greece.
The cost of holidays in other cities in Greece, as a rule, is not much different from Crete. For example, according to numbeo.com data the cost of food in Crete restaurants is 10-20% cheaper than in Athens and on the islands of Rhodes, Corfu and Santorini.
How to find cheap tickets to Greece? The easiest way to do it is with the search engine Aviasales. We recommend looking for tickets with different departure dates to find the cheapest options.
How much does it cost to fly to Greece
In 2022, ticket prices from Moscow to Heraklion (Crete) start at RUB 8,900.
The cheapest round-trip tickets are in the fall (October-November) and winter. At the same time, in winter and spring flights to Greece are much less frequent than in summer.
During the high season (May – September) ticket price rises to 11000-16500 rubles for a round trip flight.
You can see actual prices of air tickets to Greece on the calendar below:
Prices in Greece for food – 2022
How much does it cost to eat in a restaurant
In 2022 at a cheap restaurant in Greece you can have lunch for 10 euros on average and a three course meal for two will cost approximately 27,5 euros.
The breakfasts always leave cheaper – about 5,5 euros, and the dinners turn out the most expensive – about 25 euros per person.
Approximate prices for drinks in restaurants in 2022
| | | |
| --- | --- | --- |
| Drink | Price in euro | Price in rubles |
| Local beer (0,5 l) | 3,00€ | 234 |
| Imported beer (0,33 l) | 3,50€ | 273 |
| Cappuccino | 2,88€ | 225 |
| Can of Pepsi / Coke (0,33 l) | 1,73€ | 135 |
| Water (0,33 l) | 0,50€ | 39 |
Here is an example of the prices in the menu of Johnny Burger cafe, located in Heraklion. According to the tourists, Johnny Burger is one of the best cafes in Crete:
A regular burger – 6,2-8,2 euros, depending on the weight
vegetarian burger – 4,7 euros
Caesar salad – 4,9 euro
steak – 14 euro
schnitzel 6,9 euro
All other menu items can be seen on the restaurant's official website (under "Μενού" – menu).
If you are interested in a budget meal, a combo meal at McDonald's will cost 6 euros.
Photo: © Mariamichelle
Prices in supermarkets and stores
If you're going to Greece for a long time, it's cheaper to cook on your own (if you can) rather than eating in cafes and restaurants.
The cost of food in the supermarkets in Crete:
| | | |
| --- | --- | --- |
| Name | Price in euro | Price in rubles |
| Milk (1 L) | 1,13€ | 98 |
| Cheese, 1 kg | 9,67€ | 754 |
| Fresh bread, 500g | 1,03€ | 80 |
| Eggs (12 eggs) | 2,53€ | 197 |
| Chicken fillet, 1 kg | 2,50€ | 195 |
| Bottle of water (1,5 l) | 0,55€ | 43 |
| Local beer (0,5 l) | 0,97€ | 76 |
| Imported beer (0,33 l) | 0,85€ | 66 |
| Marlboro cigarettes | 4,00€ | 312 |
| Tomatoes (1kg) | 0,75€ | 58 |
| Onions (1 kg) | 0,40€ | 31 |
| Potatoes (1 kg) | 0,70€ | 55 |
| Fresh carrots (1 kg) | 0,88€ | 69 |
Alcohol prices
Toscana Chianti, red, 1,5 l – 7,99€
Chardonnay Cimarosa, 750ml – 2,99€
Beer, KEO, 6x500ml – 7,49€
In restaurants, taverns and cafes:
a glass of wine in a tavern – 1,5 €
Whiskey / rum / vodka (50ml) – from 4,5 €
A bottle of wine (0,75) – 14€ to 18€
See video with prices of food in supermarkets in Greece:
How much does fruit cost in Greece
Fruit prices in popular supermarkets in Greece (Xalkiadakis, Lidl):
| | | |
| --- | --- | --- |
| Name | Price in Euros (per 1 kg) | Price in rubles |
| Apples | 0,60€ | 47 |
| Bananas | 1,15€ | 90 |
| Fresh strawberries | 1,99€ | 156 |
| Oranges | 0,80€ | 62 |
| Kiwi | 2,19€ | 171 |
| Watermelon | 1,00€ | 78 |
| Blueberries | 10,00€ | 780 |
| Melon | 1,00€ | 78 |
Cost of clothes
Greece, and Crete in particular, is a great place for shopping lovers.
Every year, from the middle of July the sale season starts here, during which you can buy clothes with considerable discounts – from 30% to 80%. The season lasts until the end of August, and the closer it is to the end, the greater the discounts.
For example, you can shop at Talos Plaza, which is close to the center of Heraklion, or at Focas, a multibrand department store.
Here are some examples of prices of clothing in Greece (Crete):
Swimsuit – 15 €
Flip-flops – 5 €
T-shirts with pictures of temples and gods – from 30 to 50 €
Jeans (Levis 501 or similar) 55€
25€ for a summer dress in a store like Zara or H&M.
A pair of Nike / Adidas / Reebok sneakers – € 58
A pair of leather shoes for men – € 83
Photo: Clothing stores in Greece © kirkandmimi
Prices for sightseeing tours and attractions
Greece is rich in sights, so a visit to the country should especially appeal to lovers of cultural and excursion holidays.
Excursions
In Crete 2022, tourists are offered many excursions – both on the island and to other parts of Greece.
Approximate prices for popular excursions from Heraklion:
Knossos Palace – from 28€
Bay of Balos – from 36 €
Kournas lake – from 38 €
Rethymnon – from 39 €
Arkadi Monastery – from 36 €
Samaria Gorge – from 42 €
The cave of Zeus – from 31€
Sightseeing
Those attractions that are easily accessible from the hotel, it's cheaper to visit on your own instead of going on a guided tour, in which case you'll only have to pay for the entrance ticket.
Ticket price for self-guided visit of Heraklion sights:
Archaeological Museum of Heraklion – 4€
History Museum of Crete – 5 €
Natural History Museum – 6€
Koules Fortress – 2€
Entertainment
Non sightseeing and historical places for other entertainment and relaxation
Water City water park – from 33 €
jeep safari – from 59 €
pirate boat trip – from €35
Fishing trip on a hired yacht or boat – from 70 €
Transport and rentals
The transport infrastructure in Greece is excellent – only the railroads and the subway are missing.
Buses
If you don't rent a car, buses are the best and cheapest way to get around town and the island.
One trip costs €1.2 and you can buy a ticket either at a street kiosk or directly from the driver. You can also buy a monthly pass for 52.5 euros.
Buses run frequently (about once every 10-15 minutes), but at the weekend the waiting time can increase to 30-40 minutes.
You can also take the buses not only to get around the city, but also to nearby villages and towns – the ticket will cost from 4 euros, depending on the distance of the destination.
Cab
You can also move around the city by cab. The price of a ride within the city will be 3-5 Euros, the nearest village will cost you 20-25 Euros, and the cost of a ride to another city starts at 75 Euros.
Advice: you can bargain with the cab drivers, they are quite accommodating. Do not get in the car until you're not told the exact price that suits you.
An alternative option is to book a transfer from the airport or from the city to the city in advance. This method will be convenient if you are traveling with children or a large group. For example transfer from Athens airport to the city center will cost only 42 € per car for 4 people.
Two-wheelers
Renting two-wheelers is well developed in Greece:
A bicycle will cost you 6-8 euros per day or 1-1,5 euros per hour
a scooter or moped will cost from 20 euros per day
Motorcycle rental costs from 35 Euros per day
It is the safest way to travel by bicycle as there are bicycle lanes and bicycle parking lots in the larger cities.
Ferries
There are many islands in Greece and so ferries are very common. The prices are quite democratic.
For example, from the price from the port of Athens to the other islands of Greece in 2022:
Athens – Rhodes: 51 euros
Athens – Kos: 43 euros
Athens – Crete (Heraklion or Chania): 38-40 euros
To see the actual timetable and prices, as well as to buy tickets online, visit ferriesingreece.com.
Photo: ferry in Greece © mikejmason
Rent a car
License holders can easily rent a car in Greece. Apart from a license and a passport you do not need anything else.
Many tourists prefer renting a car to visit most of the sights and beaches on their own.
Small cars (VW Polo, Opel Corsa, Hyundai i20) – from 20 euros per day
bigger and roomier models (Skoda Octavia, Mercedes-Benz A-Class) – from 40 euros per day
Premium and off-road cars – from 70 euros per day
You can compare prices for car hire in a specific city on the popular site Economy Bookings.
The average cost of gasoline in Greece is 1,64 euros per liter.
Warning: be careful on the roads in Greece, as the local motorists drive quite aggressively.
Boats and Yachts
One more exotic way of moving around Greece is boat or yacht rentals (you will need a special license for that).
The cost of rental varies greatly depending on the level of the boat, the average price is 90-100 euros per hour.
How much does it cost for accommodation in Crete
Hotels and hotels
The average price for a night in an inexpensive hotel in Greece (2-3 stars) in 2022 is 38-40 euros. For example, a standard single room at a modern hotel in the center of Heraklion (Kastro Hotel, 3 stars) will cost 41 euros.
A night in a 4-star hotel can cost 45-65 euros, depending on the hotel and the availability of active discounts. Popular options for tourists are Capsis Astoria Heraklion and Olive Green Hotel.
Those looking for maximum comfort and convenience can stay in a 5-star hotel – the cost of accommodation starts from 55 euros. Good reviews of vacationers receive GDM Megaron Hotel and Galaxy Iraklio Hotel.
Photo: © superfactice
Long-term rentals
If you are going to Greece for a long time, it will be more profitable not to stay in a hotel, but to rent an apartment.
A one bedroom apartment in the center of Heraklion will cost you around 250 euros per month, a little further from the center from 200 euros per month.
You can also book excellent private apartments and villas directly from the owners on the website Airbnb (here you can get a discount of 2100 rubles for the first booking).
The cost of tours in Greece from Moscow
Standard tours
The standard tour for 7 nights with accommodation in a hotel of 2-3 stars will cost 22000-31000 rubles per person. For example, a tour in June to the Tsalos Beach Hotel (3 stars, 1 line, 300 meters to the sea) costs 46100 rubles for 2 people.
If you are interested in tours with accommodation in hotels 4-5 stars, then the prices for tours will increase to 30000-60000 rubles per person.
For example, a package to Aldemar Knossos Royal (5 stars, 1 line, 70 meters to the sea, breakfast in the room) for 7 days costs 54400 rubles per person, and a similar package in Kritzas Apart Hotel (4 stars, 3 line, 300 meters to the sea, breakfast in the room) costs only 30100 rubles.
How to look for low-cost tours in Greece? You can use the travel sites Travelate and Level.travel – they compare the cost of tours among 120 tour operators and find the cheapest options. Check out our article Prices in Greece for all-inclusive holidays in 2022
Photo: Island of Crete © jarekgrafik
All-inclusive tour prices
A standard "all-inclusive" tour for 7 days in a 2-3 star hotel costs from 28000 to 47000 rubles per person. For example, you can have a rest at Pela Maria hotel (2nd line, 100 m to the sea) for 31600 rubles per person.
For those who prefer a tour in hotels 4-5 stars, the cost of the rest will be from 37000 to 87000 rubles per person.
For example, a weeklong stay at Marilena Hotel (4 stars, 2nd line, 150 meters to the sea) costs almost 37,000 rubles, but the Apollonia Beach Resort & Spa (5 stars, 1 line, 20 meters to the sea) will cost 7,400 rubles.
How to spend less money?
When vacationing in Greece is cheaper
Cheapness of rest in Greece directly depends on the seasonality.
In Crete the beach season begins in late May, so the prices of tickets and tours at this time are the most pleasant.
The peak of tourist activity is in July and August – at this time there are seasonal discounts on clothing, as well as maximum discounts on flights and accommodation.
In autumn and spring, holidays in Greece in Crete will be comfortable for those who are not interested in a beach holiday, but in sightseeing and sightseeing. At this time (October – April) there is no strong heat – the air temperature ranges from 10 to 20 degrees Celsius, but the prices for tickets and accommodation increase.
The great time for a holiday in Greece is the Indian summer season in September and early October, when there are not so many tourists, and the sea is still warm.
The food prices in Crete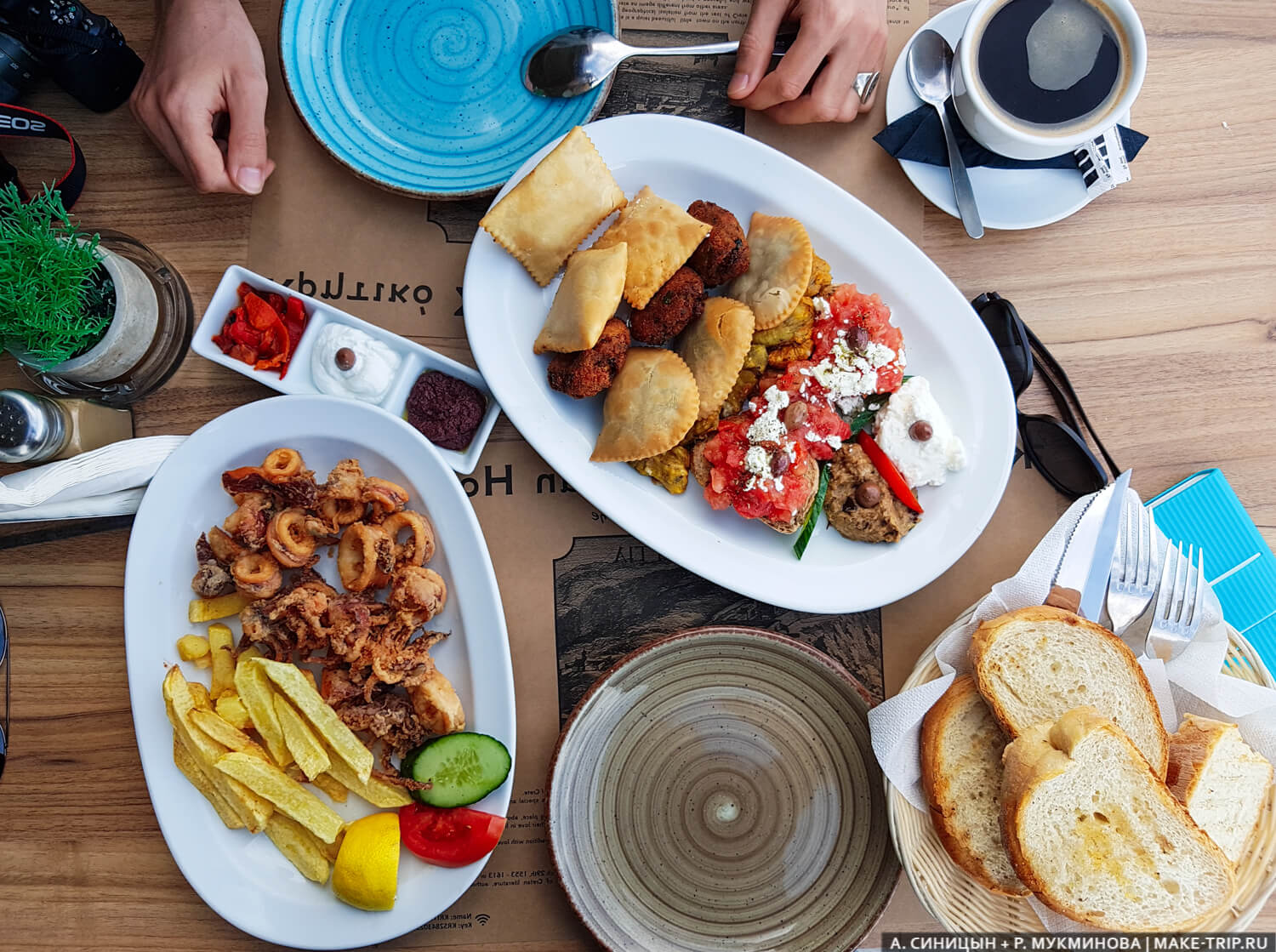 Cretan cuisine is the most ancient in Greece! I tell you from personal experience, what are the food prices in Crete in 2022, what to try of the island cuisine and where you will eat well.
– Cheap Tours – Cheap Tickets – Inexpensive Hotels – Author Tours
Content:
What to try in Crete
Like the rest of Greece, Cretan cuisine uses olive oil, cheeses, wild herb spices, meat, beans, seafood, and fish. However, it has some special dishes that you won't try anywhere else – I'll tell you about them. If you are interested in the usual Greek dishes like moussaka and souvlaki, then read what to try in Greece.
Here is what we advise you to try while vacationing in Crete:
Snails – I read they were eaten as far back as the Minoan civilization!
Kalitsunya – little fried cakes with different fillings. We ate them with spinach and cheese.
Dacos – bruschetta-like sandwiches: dried bread on which they put tomatoes and cheese. Simple, but delicious!
Apaki – smoked pork.
Local cheeses mizitra and graviera. They are often added to dishes.
A meze of Cretan appetizers. If you see it on the menu, take it for sure! This way you will immediately taste the most popular appetizers like dakos, kalitsunya, cheese, apaki and other dishes.
If you are interested in Cretan cuisine, I advise you to take a gastronomic tour of the island on Tripster:
My favorite thing about Crete was the local snack meze: delicious, varied and unusual! This is the meze at Cretan House in Sitia. A staggeringly delicious meze at the coastal restaurant Nais in Chania.
Food prices in Crete cafes and restaurants – 2022
Breakfast in Crete with the Greeks is coffee and that's it.
We noticed that Greeks in general drink coffee all the time. Espresso costs 1,5-2 €, and cappuccino, frappe, latte, americano, hot chocolate – 2,5-4 €.
Early in the morning it is not easy to find a place to have a good breakfast. Only coffee shops and pastry shops are open. Coffee shops have a small selection of puff pastries with spinach, cheese, sausage or ham for 2.5-4 €. In the pastry shops there is a larger selection – you can buy baklava or pastries for about 3 €. That's mostly what we had for breakfast in Crete. The best breakfast we had was in Heraklion – there we had eggs Benedict, scrambled eggs and drank delicious filter coffee. Such a hearty breakfast costs about 15€ for two.
We did not notice that the prices of food in cafes and restaurants in Crete were different from the general Greek prices. As in Rhodes, Athens and Thessaloniki, we usually spent 15-25 € for lunch or dinner for two, and only in very rare cases we spent 30 €. But that's without alcohol, with alcohol it will be 10-20 € more expensive. Find out how much it costs to eat in Greece.
Portions in Greece are large, so don't order several meals at a time. It is better to order more if you are not full.
We were surprised by the fact that in Greece we have never had inexpensive business lunches. And only in Crete, in Chania, on the seafront, I noticed a restaurant with varied menu – from 11 to 16 €. Read about other features of Greek institutions here.
Check out what the prices are for traditional local food in the cafes and restaurants of Crete in 2022:
| | |
| --- | --- |
| Smoked pork apaki. | 5,5-6 € |
| Herb meatballs | 7 € |
| Grilled rustic sausages "lukaniko | 5,5 € |
| Misitra cheese | 3,3 € |
| Graviera cheese | 4 € |
| Calizuna patties (4 pieces) | 4,5 € |
| Dacos | 4-4,2 € |
| Cretan salad with dacos | 6,5 € |
| Fried snails | 6 € |
| Mesé with seafood for two | 29 € |
| Grilled meat meze for two | 25 € |
| Mesé of Cretan appetizers | 15-20 € |
Of course, we have also the normal Greek food in Crete: moussaka for 7-9 €, Greek salad 5-8 €, souvlaki 6-8 €. But since we are in Crete we tried local food and we liked it a lot! Unfortunately, during our visit they didn't cook the famous snails with rosemary. We never understood – either it was out of season or the snails didn't yield this year.
Find out how much it costs:
A simple but hearty breakfast: hot chocolate and baklava at Vamos. Breakfast at Cafe Granary in downtown Heraklion: delicious eggs Benedict, signature omelet and good filter coffee.
Food Prices in Crete
Groceries in Crete cost the same as in the rest of Greece – we didn't notice any difference. Everything is slightly more expensive than in Russia.
In Chania, we went to the weekend market for farm fruit. We bought local pomegranates, dried olives, very sweet oranges and clementines, good white grapes, unripe opuntia and mediocre watermelons.
All of these cost 8.5€.
Note that supermarkets are often closed on Sundays. Not all grocery stores are open late and it is certainly difficult to find a 24-hour supermarket, unlike in Russia. The markets also close fairly early, until about noon.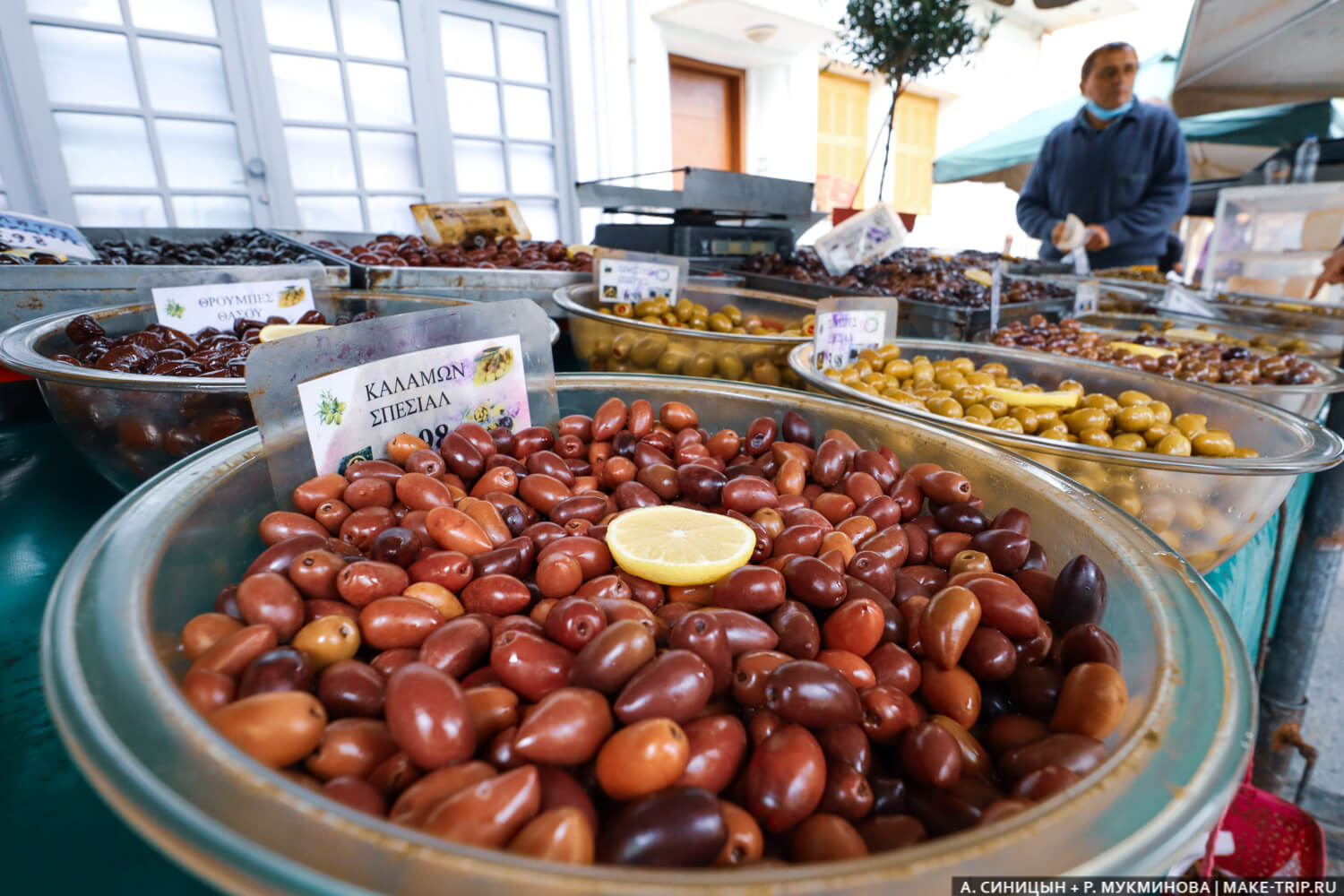 Olives at the Sunday market in Chania.
Where we were fed deliciously.
Almost all the restaurants and cafes in Crete, where we ate, were very tasty. I'll tell you about my favorites.
In Chania we really liked Nais restaurant: beautiful serving, very tasty food and reasonable prices. And all this with a view of the sea! Especially the green salad with figs and nuts and the assortment of Nais are good.
In Heraklion, you can eat tasty and inexpensive at the traditional Erganos tavern, where I recommend the fried liver. And right in the city center, in El Greco Park, there's a great cafe called Granary. They brew real filter coffee and make amazing eggs Benedict. There's a seafood restaurant right on the waterfront called Ippocampos. We didn't eat there, but our landlord highly recommended it.
In Matala not a bad restaurant Zafiria with a view of the caves, and in Sitia we were deliciously fed meze with traditional Cretan snacks at Cretan House restaurant by the sea.
In Frangokastello there is a cozy restaurant with a view of the sea next to the hotel Fata Morgana.
Learn more about Crete:
Lunch at the cool coastal cafe Nais in Chania. Breakfast at Cafe Granary in downtown Heraklion.