Food prices in Cuba: lobsters for 500₽ and mojitos for 100₽
This is not Asia for you! Food prices in Cuba are pretty high, almost European. I tell you what it costs, the average check at a cafe, cocktail and lobster prices. Find out how to save money and where to eat tasty and inexpensive.
Currency exchange rate: 1 CUC = 1 USD = 25 CUP.
Check out: How to go to Cuba now – there you'll find recent travel reviews, pandemic entry conditions, a list of available resorts and tour prices. See also the list of open countries.
Content:
Shocking prices in Cuba
Cuba is a country of contrasts: everything here is either expensive or very cheap. This applies not only to the prices of food, but also other goods and services. See for yourself!
What's cheap in Cuba:
1.2₽ is a ticket on any city bus.
2.5₽ – a cup of natural coffee at a local cafe.
5₽ – an ice cream cone.
5₽ – a lemonade, a glass of juice from a bag or a non-alcoholic pina colada cocktail.
5₽ – toilet.
20-25₽ – sausage and cheese sandwich.
7.5-25₽ – museum admission for locals, but for foreigners will be 25 times more expensive.
50₽ – intercity bus fare for locals (100 km).
100-160₽ – alcoholic cocktail.
530₽ – lobster with side dish in a cafe, a very reasonable price for such an exotic meal.
1200₽ – apartment in downtown Havana per night.
Which is expensive in Cuba:
63-100₽ is a can of water.
80₽ – a 0.35 liter can of beer.
80₽ – a packet of regular tea in bags.
190-310₽ – a coconut on the beach.
310₽ – a modest breakfast at any guesthouse.
1600₽ – bus ticket for 300 km.
3000₽ – a night in a budget guesthouse in the Varadero resort.
Level.Travel and Travelata – find tours to Cuba at the best price. These are the services I use to buy trips. See also my tips on how to buy tours cheaper.
Airbnb – a large selection of apartments and rooms in guest houses, choose the best accommodation based on reviews. I booked all my accommodation in Cuba there.
A stall where you can buy coffee for 1 peso nationale and other small things (drinks, beer, cigarettes, cookies). A street vendor of fruits and vegetables in Old Havana.
Stores in Cuba
Prepare for the fact that you can not buy anything in the stores in Cuba – there is a shortage and empty shelves. So you will have to eat exclusively in cafes, which increases the spending on vacation.
Bottled water is sold to tourists at an inflated price. In stores in tourist places deliberately do not write the price tag on the water, because for locals and visitors called the price different. They ask for $ 1.5 for a half and a half or $ 1 for a half liter.
The choice of fruit is also poor: except for bananas and papaya, there is nothing to buy.
Half of the shelves in Cuban stores are completely empty. The other half is stocked with one or two kinds of goods.
Fast Food and Cafes for Locals
Cubans don't eat well. The lack of goods, the blockade, and the low productivity in agriculture are to blame.
Sandwiches are the most popular meal among Cubans. A big bun with cheese and sausage is sold everywhere, it costs very cheap – less than half a dollar. But the quality of the products is poor, such a sandwich looks unappetizing, and tastes so bad, too.
The second line in the ranking of popularity are small pizzas, like those sold at bus stations or student cafeterias in Russia. The price is also about half a dollar.
Of course, such snacks are far from a healthy diet. I suppose these sandwiches, pizza, and bread in general, which is the mainstay of the Cuban diet, explain why many Cubans have a bad figure.
In addition to sandwich shops, Cuba has a small number of local canteens and cafes. Currency in these institutions is the national peso, prices are acceptable, but still higher than in Russian canteens. I can recommend cafeteria Don Pepe in Central Havana (23.130564, -82.379551). The prices are low, the food is good, the staff is polite and speaks a little English.
The most popular food in Cuba is sausage and cheese sandwiches for 25 rubles. Eating a sandwich for breakfast in a restaurant. A sandwich in a restaurant! That sounds loud. Two sandwiches and coffee cost us $10. Mama dear, what prices!
Cafes for tourists
There are catering establishments with prices in cookies, not only tourists go there, but also Cubans themselves. For most Cubans, a trip to a place like this is a holiday. Often they come as a family. The choice of dishes in such places is wider, almost always there are cocktails and seafood on the menu.
Cubans eat simply, the basis of their diet – only a few products: bread, rice, beans, vegetables, meat and forage unsweetened bananas, replacing potatoes. So be prepared that almost all meals will be rice-based, some vegetables and foraged bananas, and only the meat will be different.
The average check for two of us always came out around $12-23, including cocktails and tips.
A typical lunch at a tourist cafe in Cuba: rice and beans, cabbage and other vegetables, herbs and meat. Lunch elsewhere. As you can see, not much is different. A pizzeria in Havana, stylized as a diner in the U.S. from the '50s. It's geared toward locals, but the prices are at the level of a tourist cafe.
Breakfasts
Breakfasts in all of Cuba come in only one type and for one price! It's amazingly true to tradition. They cost $5 per person and can be ordered at the guest house or tourist cafe. The composition is the same: coffee, eggs or scrambled eggs, fruit, bread, butter. There's no point in looking for cheaper – you won't find it. Although I know one exception: Don Pepe where we had breakfast for 64 pesos nationale, or $2.50 for two. But this cafe is for locals and it's pretty hard to find.
A typical guesthouse breakfast: fruit, eggs, bread, butter and coffee. 10 cukes for two. Breakfast at Don Pepe in Havana for $2.50 for two. Same eggs, same bread, same coffee, just no fruit. Don Pepe, a cafe for locals in Havana.
Where to eat good and inexpensive
I boldly recommend these establishments:
Havana:
Café Mambo Habana (23.135816, -82.357171) – great lobster for only $8.
La Caribeña (23.138309, -82.354776) – mediocre spaghetti, but great fresh juices and smoothies for only $1.2-1.5.
In Trinidad:
Restaurante Casa Shango (21.805569, -79.982783) is our favorite place, very low prices and cocktails for only $1.50.
Restaurante Don Antonio (21.80476, -79.985916).
In Varadero: La Vicaria (23.147173, -81.265766).
Our favorite restaurant is Shango in Trinidad. You can eat for two for only 12-15 kucos with cocktails. And look at the height of the ceiling! And in general, the interior of the restaurant is one of the reasons to go there. Shango menu.
Lobsters
Lobsters are one of Cuba's calling cards. Here you can easily find them in almost every tourist café. By Caribbean and global standards, they are quite inexpensive: $10-$20 per dish. We took lobsters at Mambo Habana in Havana – they are only $8 (with side dishes) and very good. I recommend it! See above for coordinates.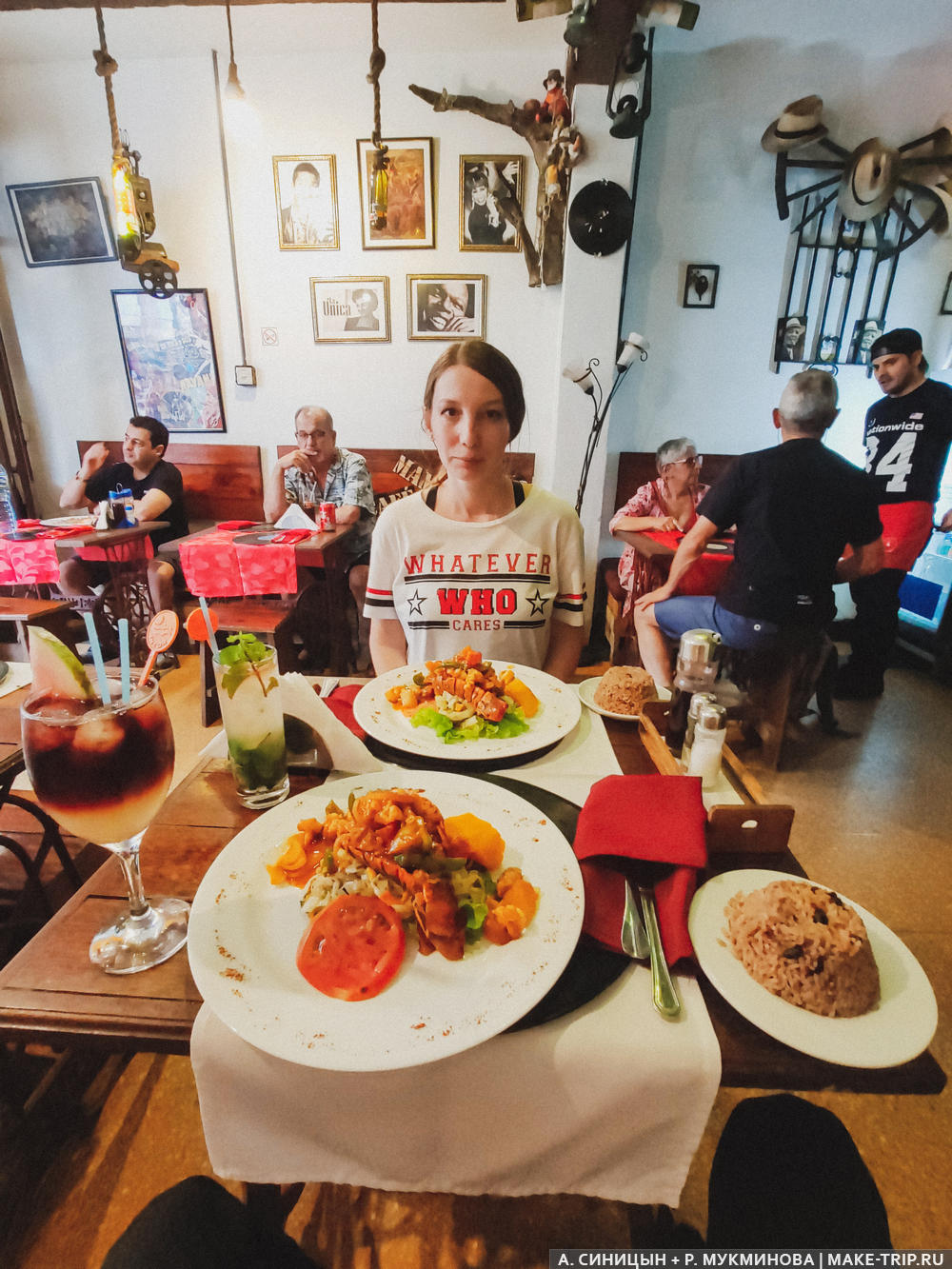 We ordered lobster for 8 cukes at Café Mambo Habana.
Alcohol prices in Cuba.
Not a day without alcohol! That was the slogan of our trip to Cuba. We like juices more, but Cuba, as they say, disposes. Let me tell you about prices on this stuff.
Alcohol is sold everywhere and is in demand. Beer and rum are the basis of Cubans' alcoholic diet. Wine, liquor, whiskey – it's all for the bourgeois and tourists. It is true that you can't buy a small can of beer (0,33) cheaper than 1 kuk. I am not interested in rum, but it seems to be cheap. Wine is expensive and, of course, only imported from Chile and Spain. And this is a blow to the very heart! But fortunately, there is an alternative.
Cocktails are Cuba's calling card. "Cuba libre", mojito, daiquiri – these words are known all over the world, and they all come from the Island of Liberty. You can buy and drink a cocktail in Cuba, especially in Havana, at almost every corner. Prices are low: usually 2.5-3 cukes a glass, but in Trinidad and Havana we found one for 1.5 cukes. In Trinidad, for cocktails come to Shango, which I wrote about above.
We drink the local Canchanchara cocktail in Trinidad for 1.5 cookies each.
Our food expenses in Cuba.
We spent 12 days in Cuba, eating only in cafes and occasionally taking breakfast at the guest house. At lunch and dinner we almost always had alcoholic cocktails or beer, and regularly bought beer in the store – it was hot after all! We spent this much for two people:
$369 – food at the cafe.
$100 – about that much we spent on alcohol in cafes and stores.
That is about $20 a day per person. Quite a lot, almost like in Europe. Just in Europe, you can save money by buying food or ready-made meals in supermarkets, and in Cuba such a trick will not work – the store shelves are completely empty. Yes, this is not Asia! Prices for food in Cuba are quite high, and the taste and quality is a bit lame. But the prices of alcohol are quite low, so feel free to take as much rum and cocktails as you want!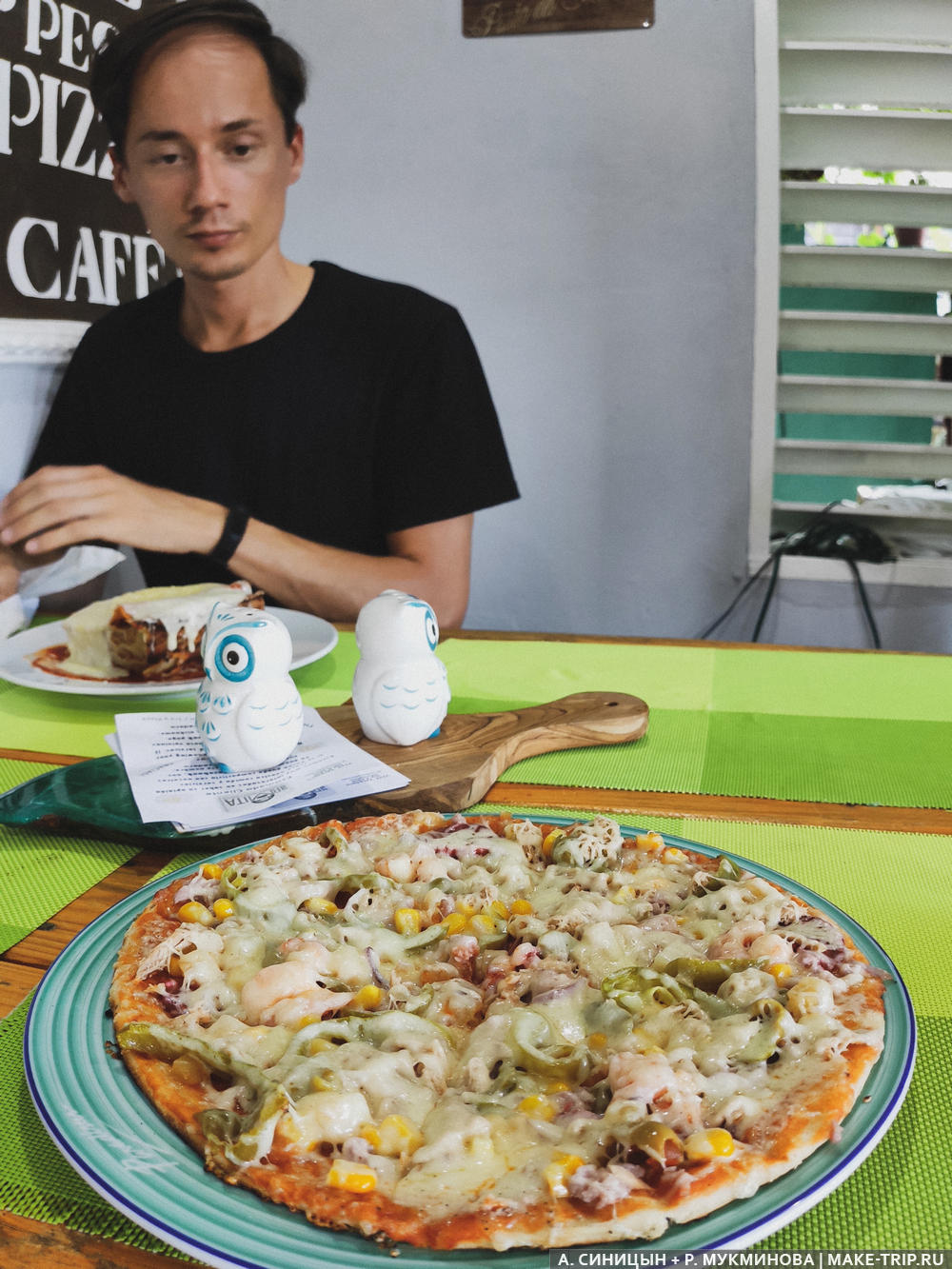 Pizzeria for locals in Varadero. Not cheap, but grumpy: pizza, juice from the bag and lasagna cost 8 cukes, and it tasted so-so.
Food prices in Cuba: how much does food and alcohol cost
If someone tells you that the food in Cuba is monotonous and tasteless, that person has probably spent all their time in an all-inclusive resort hotel. In fact, there are many tasty dishes you can try in Cuba, but of course, many vacationers at hotels in Varadero and other popular resort areas in Cuba are not willing to spend the extra money on food.
If you're one of those who are going to Cuba on your own or just want to try the local dishes despite staying at an all-inclusive hotel, this article should interest you. It's time to debunk common misconceptions about food in Cuba and talk about how much it costs to eat in this country.
Private Restaurants
These days Cuba already has a large number of private restaurants, which here are called paladars. Cubans have been allowed to legally own and operate their own restaurants since 2011, and within a few years, private restaurants have popped up everywhere in this country.
If you want to save money on food, visiting a private restaurant is a good idea, as the prices of food in public restaurants are usually noticeably higher. In addition, private restaurants often offer some unique fresh fish and seafood dishes that cannot be found in public establishments.
A few outstanding Cuban dishes you can eat in private restaurants are ropa bieja (stewed and shredded beef with tomato sauce and spices), paella (a Cuban version of a Spanish dish, sometimes served in a clay pot), lenchón asado (spicy roasted pork), and enchilado (fish dish cooked in wine and spicy tomato sauce).
There are many private restaurants in Havana. Their prices are generally not very high, although higher than in many other regions of Cuba. For example, ropa bieja here costs an average of 8 cucas, while a similar dish in Camagüey costs 4-5 cucas. In the same town, I was able to sample lasagna, spaghetti, and pizza for around 2.5 kuc for each dish.
In general, one simple rule applies to private restaurants in Cuba – the farther they are from the tourist centers, the lower their food prices.
Food in a private home
Prices for food in Cuba can pleasantly surprise you if you stay in a private home (kasa). You can get authentic, homemade Cuban food in these houses. Many Cubans are excellent chefs, but they have not had the chance to open a restaurant due to government restrictions and/or limited financial resources. In private homes, you can get a table set with various dishes for as little as 5-10 kuc. Breakfast is usually already included in the price of the casa. Expect to be served fresh fruit juice (guava, mango, etc.), eggs of your choice, soft bread, homemade jam, and pieces of tropical fruit. In addition, strong Cuban coffee is almost always offered.
If you want to have lunch or dinner at the casa, you need to notify the hosts in advance so they can buy all the fresh ingredients you need. Of course, dishes may vary from one private home to another, but what is common here is that there will be plenty of protein on the table, such as seafood, stewed chicken and roast pork. The side dishes usually include black beans with cilantro, white rice, a delightful baked yuca with butter and garlic, and a salad of greens.
Peso Food
You're probably already wondering, "What is this, peso food?" To begin with, there are two kinds of currency in Cuba: CUC and CUP. The currency has already been discussed in a separate article on this site.
By peso-eating I mean the food that is offered in small stores around the country, which accept CUP currency (the national currency). 1 CUP = 0.04 CUC. These foods are very cheap, and if you have a very limited budget, you can eat peso food, spending no more than 3 cuc a day. But of course you have to pay with CUP currency, which you should buy in advance. Some foods you can buy with CUP (pesos) include: fresh fruit juice (1-2 pesos), egg and cheese sandwich (9 pesos), sugar cane juice (1 peso), pork and rice flour (36 pesos), pizza (6-30 pesos), ice cream (1 peso), coffee (1 peso), beer (12-15 pesos).
Public restaurants
Not so long ago, travelers had basically one single option for eating out: restaurants run by the Cuban government. The food and service in such restaurants are generally a bit worse than in private restaurants, and prices for meals range from 4 to 12 CUC. Many such restaurants accept payment in CUP, especially outside of Havana or other tourist locations.
Cafeterias
Cafeterias in Cuba are typical indoor fast food restaurants. These establishments offer burgers, sandwiches, and rice and bean dishes. Prices are almost always marked in CUP, and meals cost about 20-40 CUP. Many of the eateries are open 24 hours a day, so some travelers sometimes spend the night in them.
Street eateries.
How much does it cost to eat at eateries in Cuba? In fact, the prices of food in such places are not very low, but still travelers who want to save on food often buy food in such places.
There are many street stalls, booths, or just people with baskets or wheelbarrows in Cuba. A typical street vendor sells pizza, ham sandwiches, and other snacks. Merchants with carts often sell boxes of prepared classic Cuban dishes consisting of meat, rice, and beans. These dishes are very simple to prepare, but allow you to fill up for as little as 8-20 CUP. Some vendors also sell peanuts wrapped in a cookie jar, ice cream, and other snacks and sweets on the street. Street vendors always quote the price in CUP, but if you only have CUC, they will accept that currency and give you change in CUP.
Prices of drinks and alcohol
Cuba is hot, so you will often be thirsty. You will not be able to drink tap water in this country as it is very dirty. Water prices in Cuba are unfortunately quite high, and don't be surprised if you have to pay 1 kuk for even a small 500 ml bottle of water.
But other drinks in Cuba are quite cheap. For example, local beer costs about 1 kuk and no more than 2 kuk in a restaurant. Cocktails in most restaurants cost 2 to 3 kuk, and local inexpensive rum is sold for no more than 1 kuk per shot.
Food Costs
It is fair to say that food prices in Cuba vary widely. Accordingly, your food costs may vary greatly. If you eat strictly peso-food, you can spend as little as 2-3 cookies a day on food, but you are unlikely to enjoy eating that kind of food all the time. If you go to a restaurant, you'll pay 8 to 15 cukes per meal.
Although Cuban cuisine is not as well known or internationally recognized as, say, Mexican, Indian or Italian cuisine, Cuban dishes are actually quite tasty, cheap and very diverse.
Might be interesting
El Agua Beach on Margarita Island
Playa El Agua is probably the most famous beach on the Venezuelan Caribbean island of Margarita. The beach is located in the north of the island and.
Zanzibar Excursions
Zanzibar is a well-known beach destination, but in my opinion go to this island just for the beach.