Prices in Italy – 2022: food, tours, trips
We have prepared information about prices in Italy in 2022: how much does it cost to eat in restaurants and cafes, what are the prices of transportation, tours, rental housing and transport, as well as tours and stays.
At the end of the article, we'll tell you when holidays in Italy are cheapest.
All prices are current at the time of update. As a basis, we took prices in Rome, but in other cities they are not very different.
More useful articles:
Flight costs from Moscow
From the end of May to early October 2022, and during the New Year holidays, the average cost of a ticket from Moscow to Rome is 12000 rubles. At other times (low season) average ticket price to Italy is 9 000 – 150 000 rubles.
Note: flying to Rome is not always the cheapest way to get to Italy. Often tickets to Milan, Pisa, Rimini and other cities are cheaper than tickets to Rome.
How much airfare from Moscow to Rome costs in different months:
Prices in Italy for food – 2022
The cost of a lunch in a cafe or restaurant
In a cheap Italian restaurant you can eat for 15 Euros (1153 rubles). A three-course set lunch for two people costs about 50 Euros (3200 rubles).
Approximate prices for drinks in Italian restaurants and cafes in 2022
| | | |
| --- | --- | --- |
| Drink | Price in euro | Price in rubles |
| Local beer (0.5) | € 4,50 | 346 ₽ |
| Imported beer (0,33) | € 4,00 | 307 ₽ |
| Cappuccino | € 1,19 | 91 ₽ |
| Can of Pepsi/Cola (0.33) | € 1,82 | 140 ₽ |
| Water (0,33) | € 0,92 | 71 ₽ |
Examples of the cost of a dish at one of the best (according to customer reviews) Roman Pataclara restaurants:
pickled mackerel – 16 euros (1,230 rubles);
crispy foie gras – 22 euros (1690 rubles)
raw beef Piedmontese – 26 euros (2,000 rubles)
cheese platter – 16 euro (1230 rubles);
You can see the full version of the menu with prices for all dishes and drinks at the restaurant's official website.
If you prefer to eat in a fast-food place, a combo-dinner at McDonald's will cost you 8 euros.
Photo: Italian spaghetti © Tom Purves / flickr.com
Store and supermarket prices
If you're able to cook on your own, it makes sense to buy food from popular supermarkets (Emme Piu, Eataly, Carrefour).
Approximate food prices in Italian stores 2022:
| | | |
| --- | --- | --- |
| Product | Price in euro | Price in rubles |
| Milk, 1 liter | € 1,46 | 112 ₽ |
| Fresh bread, 500 grams | € 1,38 | 106 ₽ |
| Rice (1 kg) | € 2,01 | 154 ₽ |
| Eggs (12 pieces) | € 3,09 | 237 ₽ |
| Cheese (1 kg) | € 12,57 | 966 ₽ |
| Chicken fillet (1 kg) | € 8,74 | 672 ₽ |
| Bottle of water (1.5 l) | € 0,66 | 51 ₽ |
| Local beer (0.5) | € 1,19 | 91 ₽ |
| Imported beer (0,33) | € 1,56 | 120 ₽ |
| Marlboro cigarettes | € 5,20 | 400 ₽ |
| Tomatoes (1 kg) | € 2,03 | 156 ₽ |
| Potatoes (1 kg) | € 1,11 | 85 ₽ |
| Onions (1 kg) | € 1,11 | 85 ₽ |
Video of food prices in Italy in 2022 (Carrefour supermarket):
How much does alcohol cost
Liquor prices in Italy vary widely between supermarkets and restaurants.
a bottle of inexpensive white wine – from 2,5 euros (192 rubles);
beer Birra Moretti (0.5) – €0.9 (69 roubles);
Becks beer (0.66) – 1.80 euros (138 rubles)
vermouth Martini (1 liter) – 7 euros (538 rubles)
grappa (1 liter) – 10 euros (769 rubles).
A bottle of home wine in restaurants and cafes costs from 8 Euros, and different cocktails from 4 Euros.
Fruit prices
The same supermarkets (Eataly, Carrefour) offer a huge range of fruits:
| | | |
| --- | --- | --- |
| Name | Price in euros (per 1 kg) | Price in rubles |
| Apples | € 1,85 | 142 ₽ |
| Bananas | € 1,87 | 144 ₽ |
| Oranges | € 1,93 | 148 ₽ |
| Grapefruits | € 1,50 | 115 ₽ |
| Kiwi | € 2,50 | 192 ₽ |
| Grapes | € 2,59 | 199 ₽ |
| Watermelon | € 0,49 | 38 ₽ |
Clothing prices in Italy – 2022
Approximate clothing prices at big chain stores like H&M or Zara in 2022:
plain jeans and shirts – from 10 euros (769 rubles), the price depends heavily on the season and discounts;
Levis 501 jeans – 80 euros (6150 rubles);
A light summer dress – from 35 euros (2,700 roubles);
Sneakers Adidas, Reebok, Nike – 82 euro (6300 rubles).
Good things in Italy can be bought not only in brand stores. Italian supermarkets often have different promotions and discount weeks, so it's quite possible to find inexpensive but high quality clothes.
Photo: © Justin Ennis / flickr.com
Excursions and entertainment
Italy has a huge number of attractions, and excursions are organized from all major cities.
Excursions
How much do popular excursions in Italy cost in 2022:
– 34.5 euros
Tour of the Vatican Museums and the Sistine Chapel – 28 euros – 119 euros
Inexpensive individual tours in Italy can be found through the service Tripster – it allows you to study in advance the popular options of excursions, read the reviews of tourists and make a decision.
Attractions
Prices for independent visits to Italian sights in 2022:
Colosseum – 12 euros (plus 5 euros if you need an audio guide);
St. Peter's Cathedral – 15 euros;
general ticket to the Sistine Chapel without queue and the Vatican Museums – 20 euros;
Visit to Milan Cathedral, Duomo Museum and Church of San Gottardo – 2 euros;
Ticket to the Galleria Borghese without queuing – 25 euros.
Tip: You can save on sightseeing with a tourist card Roma Pass – it allows you to visit 1-2 attractions for free and without queuing, and for the rest – to get a discount. In 2022, the cost of the card for 2 days begins at 28 euros, and for 3 days – from 38.5 euros.
Photo: Trevi Fountain © Gary / flickr.com
Transportation
Italy has a well-developed transportation infrastructure, so you'll have no problem getting where you want to go in any city.
Metro
In the major Italian cities (Rome, Milan) have a small subway (2-3 branches).
The fare for the subway in Rome is 1 euro. Purchased ticket is valid for 75 minutes. All this time you can freely transfer to other trains and branches, but if you go out on the street, you will not go back with the same ticket.
If you want you can buy a pass for 1 day or a special tourist pass, which is valid for 3 days.
Another option to save on travel is the previously mentioned Roma Pass. It allows not only free access to museums and attractions, but also to use all forms of public transport without restrictions (buses, streetcars, trolley buses, metro).
The subway in Rome runs from 5.30 am to 23.30 pm (Saturday to 0.30). Electric trains run every 7-10 minutes.
Trains
Rail service in Italy is represented by regional and high-speed trains running between major cities.
The cost of travel in Italy in 2022 depends on the direction and level of comfort on the way.
For example, for a train from Rome to Florence:
high-speed train will cost 35 euros, travel time is about 1.5 hours;
Regional train – 22 euros, travel time – 3.5 hours.
The high-speed trains always have the necessary amenities (toilets, air conditioning, outlets, etc.), while the regional trains may have older cars that do not have as many amenities.
There are also electric trains to different destinations – for example, from Fiumicino Airport to the center of Rome you can get for 8 euros.
Photo: TrenItalia train © Rob Dammers / flickr.com
Buses
Italy has an excellent bus service – in Rome, for example, there are more than a hundred routes in every possible direction. Most of them run from 5.30 to 0.00.
In addition, there are special "night buses", which run from 0.30 am to 5.30 am and leave every 30 minutes. Tickets for such buses are purchased only at the boarding, you can not buy them in advance.
Daytime ticket prices are as follows:
Single ticket (BIT) – 1,5 Euro, valid 100 minutes from composting;
Daily ticket (BIG) – 7 euros, valid until 0.00;
Single Tourist Ticket (BTI) – 18 euros, valid for 3 days from the first punching;
Weekly ticket (CIS) – 24 euros, valid 7 days from the moment of composting.
Intercity routes are also well developed. The cost of travel depends on the destination – on average from 12 to 35 euros. For example, from Rome to Florence you can get for 12-18 euros. In the day there are about 10-15 flights on almost all routes.
A reminder: Do not forget to punch your ticket when boarding, otherwise you will be considered a "hare" – and that is punishable by a heavy fine.
Cab
The cost of a cab ride in Italy is calculated as follows:
calling a cab (if you don't like to look for a car on the street) – 3.5 euros;
Boarding – 3 euros in the daytime, from 22.00 till 6.00 – 6,5 euros. At weekends and holidays night boarding costs 4.5 euros;
Then the cost is calculated by the distance of the trip. After 11 euros have been added on the counter, the cost per kilometer becomes 1,3 euros; after 13 euros the fare changes to 1,6 euro/km and remains so till the end of the trip.
If you want to order a cab in advance – try to use the Russian-speaking service Kiwitaxi. You will be met at the right place, the driver will know the exact route and the final cost of the trip will be known in advance. For example a transfer from Fiumicino airport to Rome will cost 50 Euros per car.
Planes
Domestic flights in Italy are often more convenient than traveling by train or bus, and at a fraction of the cost.
Due to the fact that the flights are mainly operated by low-cost airlines, the ticket price is quite low – for example, a ticket for a flight from Rome (Fiumicino Airport) to Milan (Linate Airport) costs only 42 euros.
You can compare ticket prices from different companies through Aviasales.
River streetcars (Venice)
The so called vaporetto operate from 6:30 to 22:00 (operating hours may vary depending on the route).
The cost of a day ticket is 25 euros. If you have a valid pass, the ticket price is reduced to 10 euros.
Photo: Vaporetto river streetcar in Venice © Gregoire Fossemalle / flickr.com
The cost of living in Italy
Hotels
Double room in a hotel of 2 to 3 stars in Italy costs from 4,500 rubles per night. For example, at the Domus Terenzio (3 stars, 3 km from the city center) you can stay for 4650 rubles.
Prices for rooms in hotels of 4-5 stars strongly depend on the specific hotel – from 11000 to 700000 rubles per night. For example, at the hotel GKK Exclusive Private Suites (4 stars, 2 km from the city center) a double suite costs 11500 rubles.
Photo: Ata Hotel Villa Pamphili in Rome © Dennis Jarvis / flickr.com
Renting an apartment
You can rent from locals either a private room with access to a bathroom and kitchen or an entire apartment.
The cost of housing depends on the season, but on average it ranges from 4000 to 6000 rubles per day. If you want you can find options even for 3000-4000 rubles – but in such cases it is important to assess the credibility of the owner (this will help reviews and evaluations of guests).
Where to stay in Italy for a low price? Look for cheap hotels with Hotellook , and private apartments and appartments directly from the owners – through Airbnb (at the link – 2100 rubles discount for the first booking).
Long-term rentals in Italy
If you are planning to stay in Italy for 2-4 weeks, it makes sense to rent an apartment for a month at once.
One room in the city center will cost about 60,000 rubles. A similar option, but further from the center – from 41500 rubles.
If you are traveling with a large group, you can rent a bigger apartment – a three-room apartment in the city center costs 90,000 rubles per month, and the same housing on the outskirts – from 78,000 rubles per month.
Try comparing these prices with the price of apartments on Airbnb – you can often find a good place to live cheaper there. Do not forget to read the reviews of previous tenants.
Italy tours from Moscow – 2022
Standard package
A standard tour for 7 days with accommodation in a hotel 2-3 stars costs from 61000 rubles for two people. For example, a tour with apartments in the hotel Regio (3 stars) in July 2022 will cost 63500 rubles.
The tours to Italy in the hotels 4 and 5 stars in 2022 cost from 80000 rubles for two people. For example, a trip to the four-star Best Western Madison Hotel in Milan costs about 78000 rubles.
We advise to look for a trip to Italy through the websites Travelata and Level.Travel. They compare the cost of tours in different tour operators, allowing you to find the most inexpensive tours. Use special promo codes to get a discount on a tour.
Prices for tours to Italy to the Best Western Madison hotel with flight from Moscow
Prices for holidays in Italy "all inclusive" – 2022
Those who prefer not to worry about anything while on vacation can take advantage of all-inclusive tours.
In 2022, an all-inclusive tour to Italy with accommodation in a hotel 2 to 3 stars costs from $ 90,000 rubles for two people. As an example is the hotel Nyce Club Le Dune in Sicily (3 stars, 1 line, the way to the beach through the hotel), a double room in which costs 110,000 rubles.
Maximum comfort with the option "all inclusive" can be obtained in the hotels of 4-5 stars. The cost of such a tour with a flight from Moscow is 110000-220000 rubles and more. For example, a 7-day vacation at the Hotel Capo Peloro Resort on the island of Sicily (4 stars, 1 line, 300 meters to the beach) costs 117000 rubles.
When is the vacation in Italy cheaper?
Prices for flights and accommodation in Italy are reduced significantly in low season – from late September to early May (except for New Year's holidays).
But only in the high season local supermarkets, stores and outlet stores offer maximum discounts on goods, so the lovers of shopping should go to Italy around the beginning of July.
Season of sales starts with a discount of 20-30% and ends with a very attractive offers – discounts on brand goods reach 60-70%.
Food prices in Italy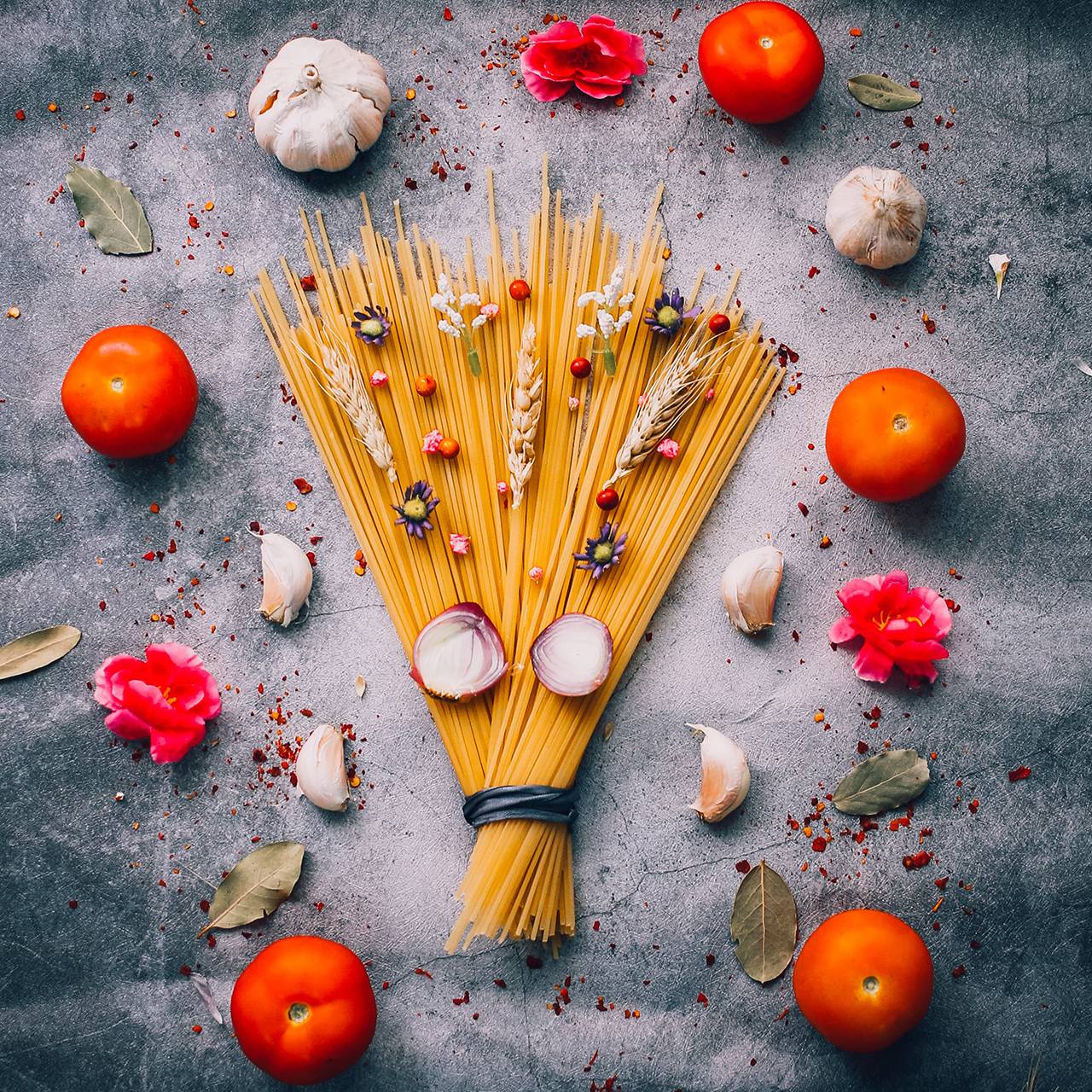 Travelling to the Apennine Peninsula is a foodie's paradise! We tell you about food prices in Italy in 2022 in cafes and restaurants, groceries in stores, the cost of alcohol and fast food. What to try in Italy and how to save money?
Exchange rate: 1 EUR ≈ 57 RUB.
Content:
Where to eat cheaper in Italy
Living in Italy is cheaper than in neighboring countries – France, Switzerland and Austria. But food and drink prices in Italy in 2022 can not be called democratic. The most expensive cities are considered Rome and Milan. Meals in Venice and Rimini are slightly cheaper.
Prices for products in supermarkets across the country are about the same, but in small stores and markets in southern Italy, the cost of products is lower. In general, northern Italy is considered richer and more expensive region than the south. However, in all tourist centers and resorts there are expensive restaurants and budget cafes, so the trip through Italy will suit tourists with any budget!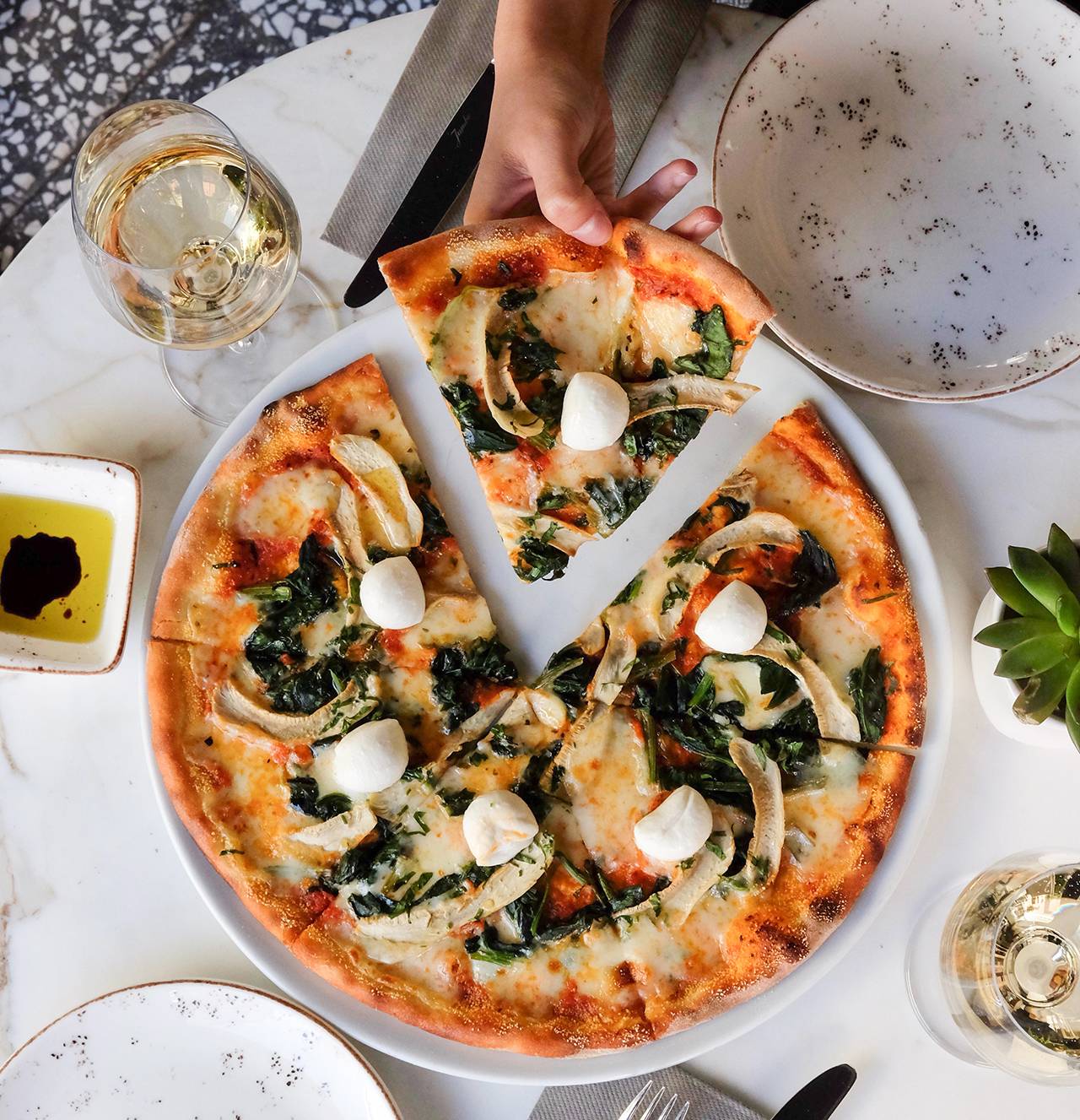 Neapolitan pizza with mozzarella cheese (Photo: unsplash.com / @pinarimsi)
What to try in Italy
Before the main course, Italians eat antipasto . Each region likes its own appetizer dish. Very popular are stewed artichokes and toasted bread with herbs, cheese and ham – bruschetta . One of the gastronomic symbols of Italians is caprese . This is a bright snack of ripe tomatoes, mozzarella and basil, whose colors repeat the national flag of Italy.
If you like meat dishes, try pasta carbonara, Pollo alla Romana pepperoni chicken, a hearty omelette with sausage and cheese frittata, and veal schnitzel saltimbocca.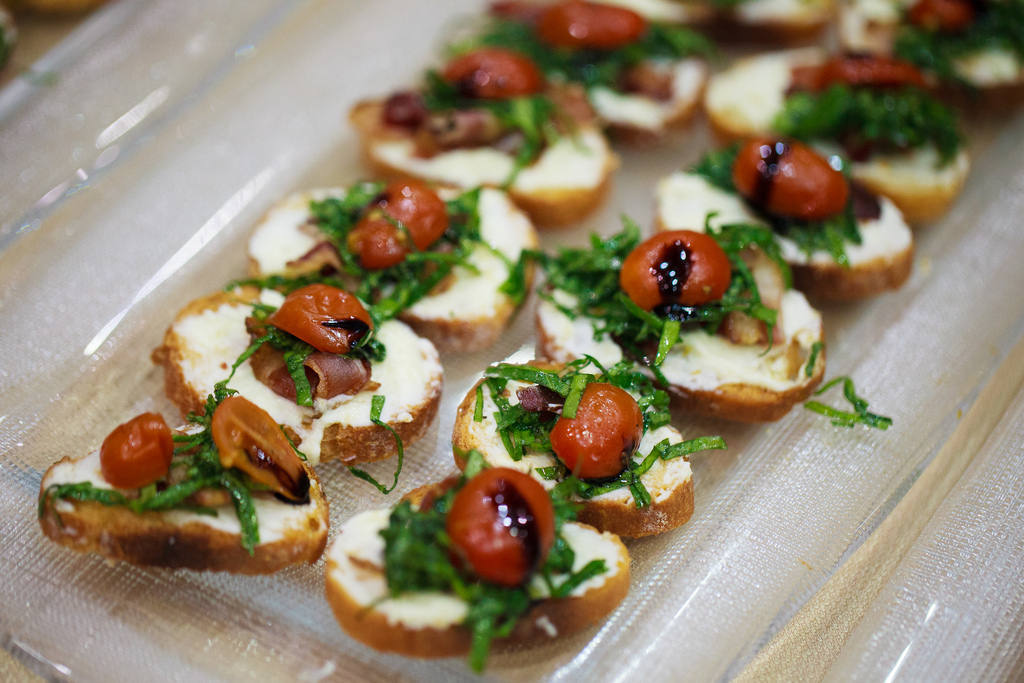 Bruschetta, a popular antipasto, is toasted bread with ham, mozzarella or vegetables. (Photo: opacity / flickr.com)
Fish lovers love cachucco soup, fish paella, octopus salad with potatoes, swordfish rolls, stuffed cuttlefish and a selection of fried seafood. Dessert connoisseurs delight in tiramisu, panna cotta, Caprese cake, and delicious gelato ice cream.
Liqueurs are also extremely popular with Italians. Try the dark red cherry amaretto , limoncello made from lemons and the bitter blackberry and herb campari. Tourists recommend strong liqueur with anise and elderberry sambuca , sweet gennepi and amaro infused with wormwood, thyme and mint . If you don't like alcohol, why not try some of Italy's delicious non-alcoholic drinks: cinotto, sanbitter, crodino and aranchato.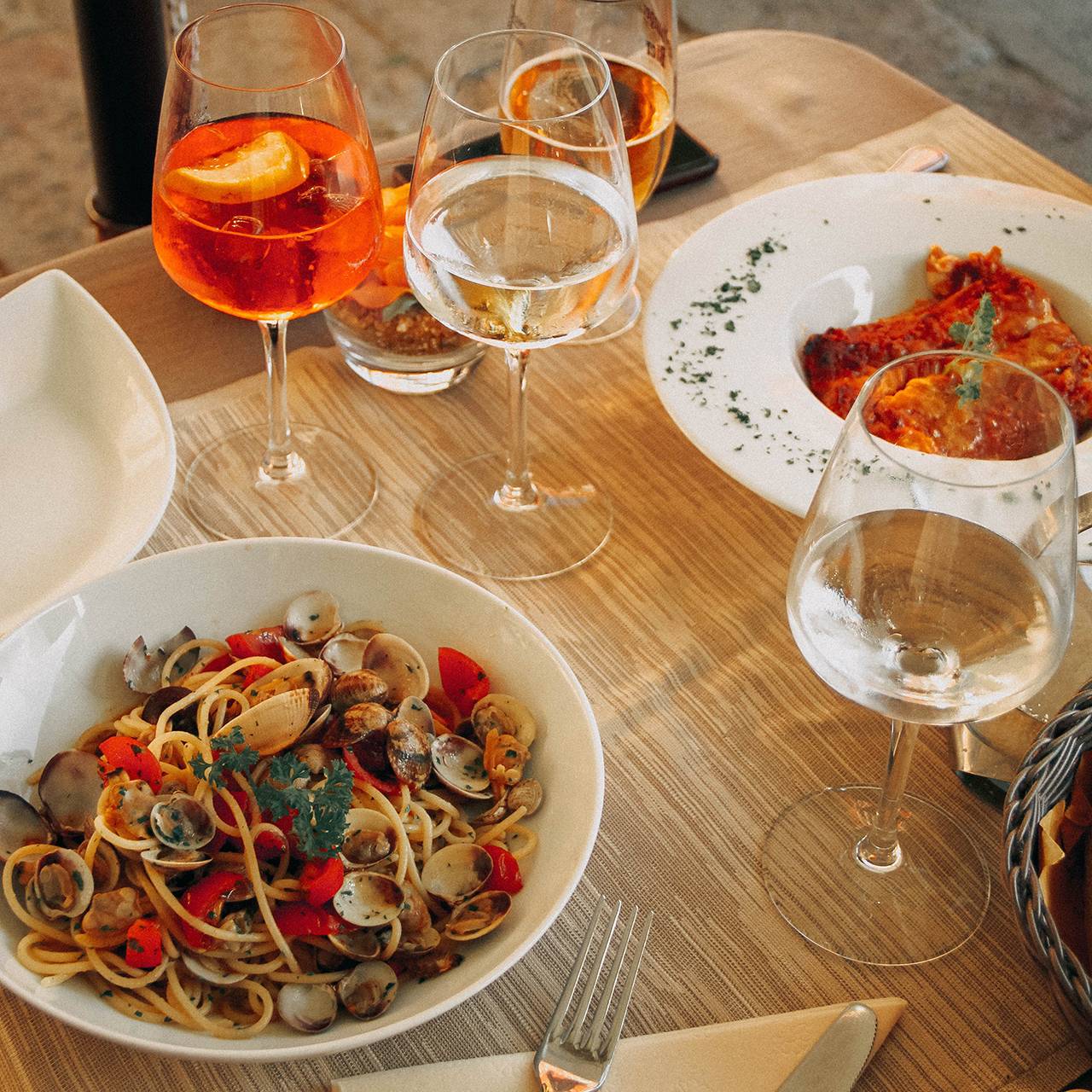 Pasta with seafood (Photo: unsplash.com / @liubovilchuk)
Food prices in cafes and restaurants in Italy – 2022
How much will it cost to eat out in Italy in 2022? A popular Italian breakfast of cornetti pastries and a cup of cappuccino will cost 2.5€. An omelette with spinach and coffee costs 8€, a glass of wine and a cheese plate costs 10€.
How much is lunch in Italy? An average bill for two people is 50-60 €. You'll be served pizza, pasta or ravioli, a bottle of wine, dessert and two cups of coffee. A cheap menu al giorno (business lunch) without drinks costs from 10 €. If the menu includes a lunch of soup, main course and a glass of wine it will cost you 15-20€. Olive oil, balsamic sauce and parmesan are usually served for free everywhere, but in tourist places it can be included in the bill.
Prices in Italian cafes and restaurants in 2022:
Margarita pizza – 3-4€;
assorted pizzas – 5-12€;
focaccia with rosemary – 4,5€;
Minestrone soup – 4,5 €
Seafood rolls – 12€;
Pasta – 6 € to 12 €
lasagne – 8€
fish dish – 20 €
truffle dish 15€;
A small bowl of Italian ice cream – 2 €;
tiramisu – 4€.
Useful selection: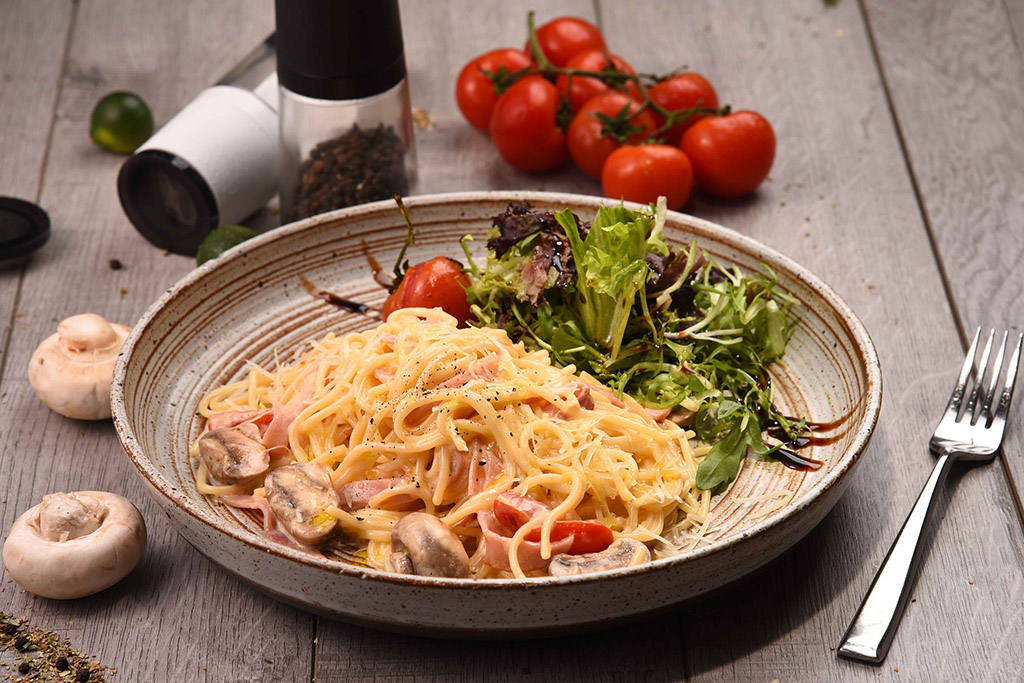 Pasta – spaghetti or any other pasta with one of the traditional Italian sauces (Photo: heinanlan / pixabay.com)
Drink prices in Italy
The most popular drink of Italians is coffee. Alcohol in cafes and restaurants is less popular than coffee.
Prices for drinks in cafes:
A cappuccino or espresso costs 1.5€;
A bottle of water with or without gas: 0,15€;
A glass of fruit juice costs 3 to 5€;
A 0,33l glass of Peroni beer – 2-8€;
A glass of wine – 1,5-8€;
alcoholic cocktails – 5-10 €. Tourists often choose Martini cocktail, Don Giovanni, Godfather, Bellini and Aperol Spritz.
Italians like a non-strength 3.5% beer. However, the main drink in Italy is wine. In stores regular table wines, or Vino da Tavola, are inexpensive – from 1.5 € for a bottle of 0.7 liters. Prices for quality wines IGT or IGP are several times higher – 4-8 €. DOC vintage wines are much more expensive. A 0,7 l bottle of Montefalco costs 20 €, Chianti 15-20 €, Montepulciano 20 €. The most expensive DOCG wines cost 50-100 €.
Store prices for alcoholic beverages in Italy in 2022:
Italian beer, 0.5 l – 1-1.5€;
Keglevich vodka, 1 liter – 18-53€;
Puni whisky, 0,7 l – 54-74 €;
Vecchia Romagna and Fogolar, 1 l brandy – 30-50 €.
Tourists happily buy vermouth in Italy. The Italians have been making fortified and spicy flavored wines since the end of the XVIII century. Liter bottles of vermouth Martini sell for 8,5-37,5 €.
As a souvenir from Italy is good grappa – strong drink, which is obtained from the distillation of grapes. A 0,7 l bottle costs 9 €, and in a gift box – 12 €. Grappa of rare varieties and with a long aging is more expensive – 20-70 €. The price of the popular limoncello depends on its strength. The 0,7 l bottles sell for 8€ – 22€.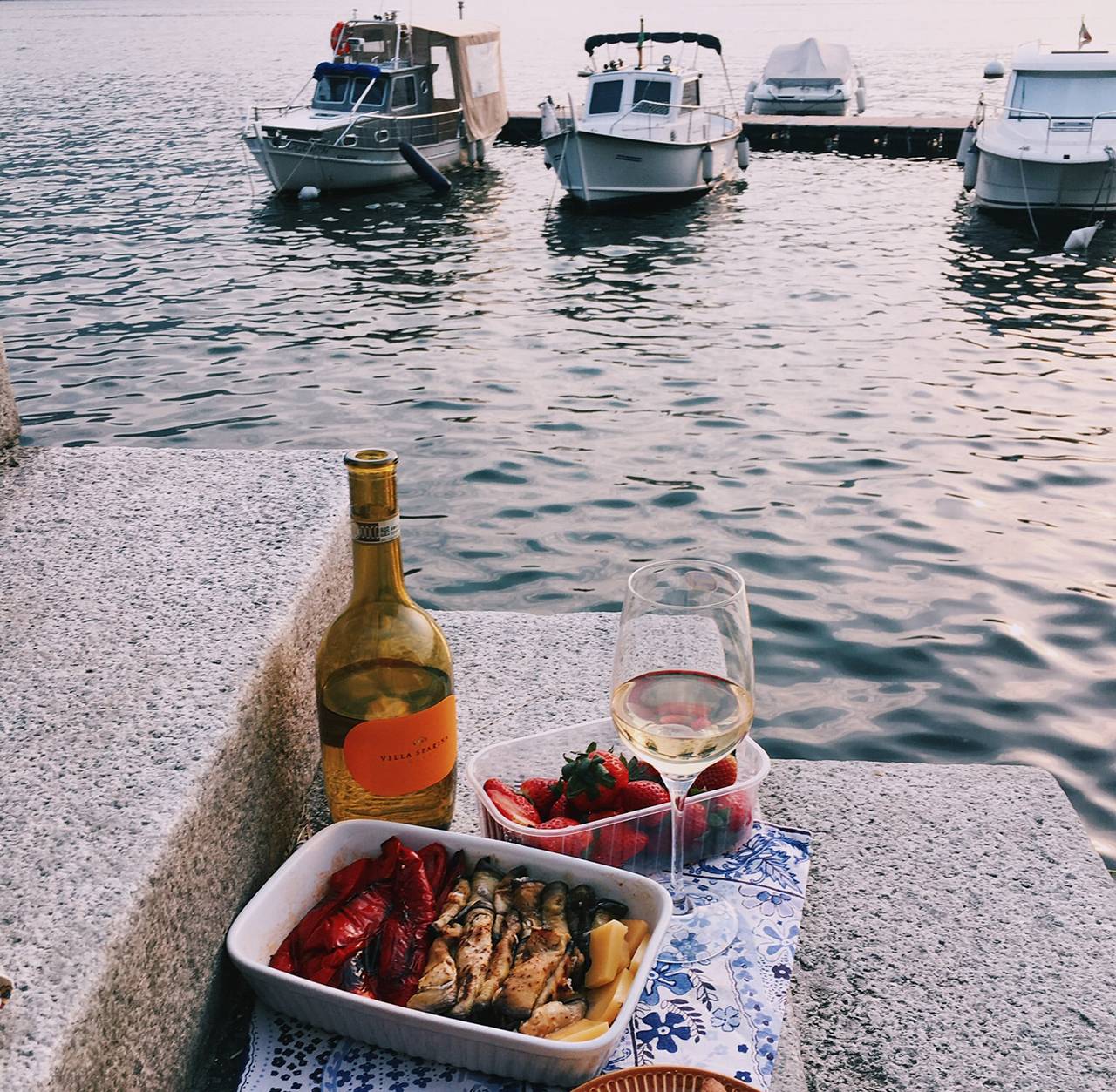 Picnic on Lake Como (Photo: unsplash.com / @ledariiam)
Grocery prices in Italian stores – 2022
How much do groceries cost in Italy? Prices vary by region. The most expensive cities are Rome and Milan, though Bennet, Coop, MD, SPAR and Carrefour supermarkets occasionally offer good discounts. Lidl chain stores are renowned as the most budget-friendly in the country.
Food prices in Italy in 2022:
baguette – 1€;
Pecorino goat cheese, 1 kg – 10-13 €;
mozzarella, 1 kg – 7-8€;
ricotta, 1 kg – 7€;
Parmesan cheese, 1 kg – € 10-15;
Prosciutto, 100g – 1 to 3€;
Sausage napoli or milano, 100g – 1-1,5€;
mortadella, 100g – 0,7€;
ham, 1 kg – 9-10€;
Bacon, 1 kg – 10-20€;
pasta, 0,5 kg – 0,6€;
Smoked salmon, 0,25 kg – 5€;
shrimps, squids, octopus, 1 kg – 10-20€;
tuna, 1 kg – 30€;
olives, 1 kg – 5,5€;
Salads and vegetables, 1 kg – 1-2 €.
Fruit prices in Italy in 2022:
pears, 1 kg – 1-2€;
apples, 1 kg – 0,9-2€;
strawberries, 1 kg – 6€;
oranges, 1 kg – 1,5€;
Grapefruits, 1 kg – 1,5 €;
pomelo, 1 kg – 1,5 €
Bananas, 1 kg – 1€ 1€ to 2€;
kiwi, 1 kg – 2,5 €
Grapes, 1 kg – 2-3,5 €.
Prices in cheap groceries in Italy
Italian fast food
The lowest food prices in Italy are in street stalls and kiosks. This is a great choice for anyone who wants to save as much money as possible. Italians and tourists alike enjoy eating roasted chestnuts for 1€ and porchetta pig meatloaf for 10€. Throughout Italy they sell gelato, a favorite of sweet-tooth Italians, for 4€.
In Italian cities there are many paninoteca mobile snack shops selling delicious buns with different toppings. A simple and hearty panino snack costs 3,5 €. In the streets there are small Al tagli stalls selling pizza. A large slice can be bought for 3-4€.
Useful selection :
What you need to know: peculiarities of Italian places
Siesta. The hot climate makes adjustments to Italian cafes and restaurants. At lunchtime, all establishments close for a long siesta. If you don't have time for lunch before 15:00, you have to wait 2-3 hours, snack on fast food or run to the nearest supermarket for pies.
Communication. Italians come to bars and cafes not to drink alcohol. Here they socialize, discuss the news and watch TV together. In the evening after work, from 17.30 to 21.00, in bars and cafes there are a lot of locals. They have pleasant gatherings over cocktails or coffee, and the owners put out snacks – olives, mini slices of pizza, fried potatoes and pickles – on individual tables or the bar counter. In some places, the treats are free; in other places, the cost is included in the price of the cocktails.
Business Lunch. Many establishments have "menu of the day" menu al giorno – the Italian equivalent of our business lunch. It is offered on weekdays and only at certain hours, usually from 12:00 to 14:00. Depending on the restaurant, the "menu of the day" is different. For 10 € you can order the first and second course. Drinks are charged separately.
Additional charges. You will also pay a Coperto service charge of 2€ for serving food and a Servizio e Copreto charge of 4€. They are common throughout the country, except for the Lazio region and Rome. There, coperto is forbidden by law, and the servizio e copreto charge of 10% of the bill must be listed on the menu.
Different prices. The price for a drink in Italy depends on where you are going to drink coffee, wine or beer. In cafes and bars there are two price lists: al tavoto – at a table and al banko – at the bar. Prices at the table are higher than at the bar. For example, an Americano brought by a waiter costs €2. The same coffee al banko is half the price, i.e. 1 €. A bottle of wine at the bar is 8-12 €, but at a table it's 10-20 €.
Coffee. If you order a coffee, in Italy you will automatically get an espresso, a favorite of locals. It is drunk all day long. If you order a latte, they will probably pour a glass of regular milk. Coffee lattes and cappuccinos in Italy are customary to drink before 11:00 or in the evening after dessert.
Time of sale of alcoholic beverages in the country is limited. In bars, clubs and restaurants alcohol cannot be bought from 3:00 to 6:00, on the streets, in public places and establishments along highways from 22:00 to 6:00, and in vending machines from 0:00 to 7:00. Restrictions are lifted on holidays, festivals and fairs.
Tipping. Italians have a calm attitude to it. Tip is accepted only in big cities. The Italians themselves do not tip or pay 5 €. If you are served very well you can leave up to 5 % from the bill sum to the waiters. They will be very happy.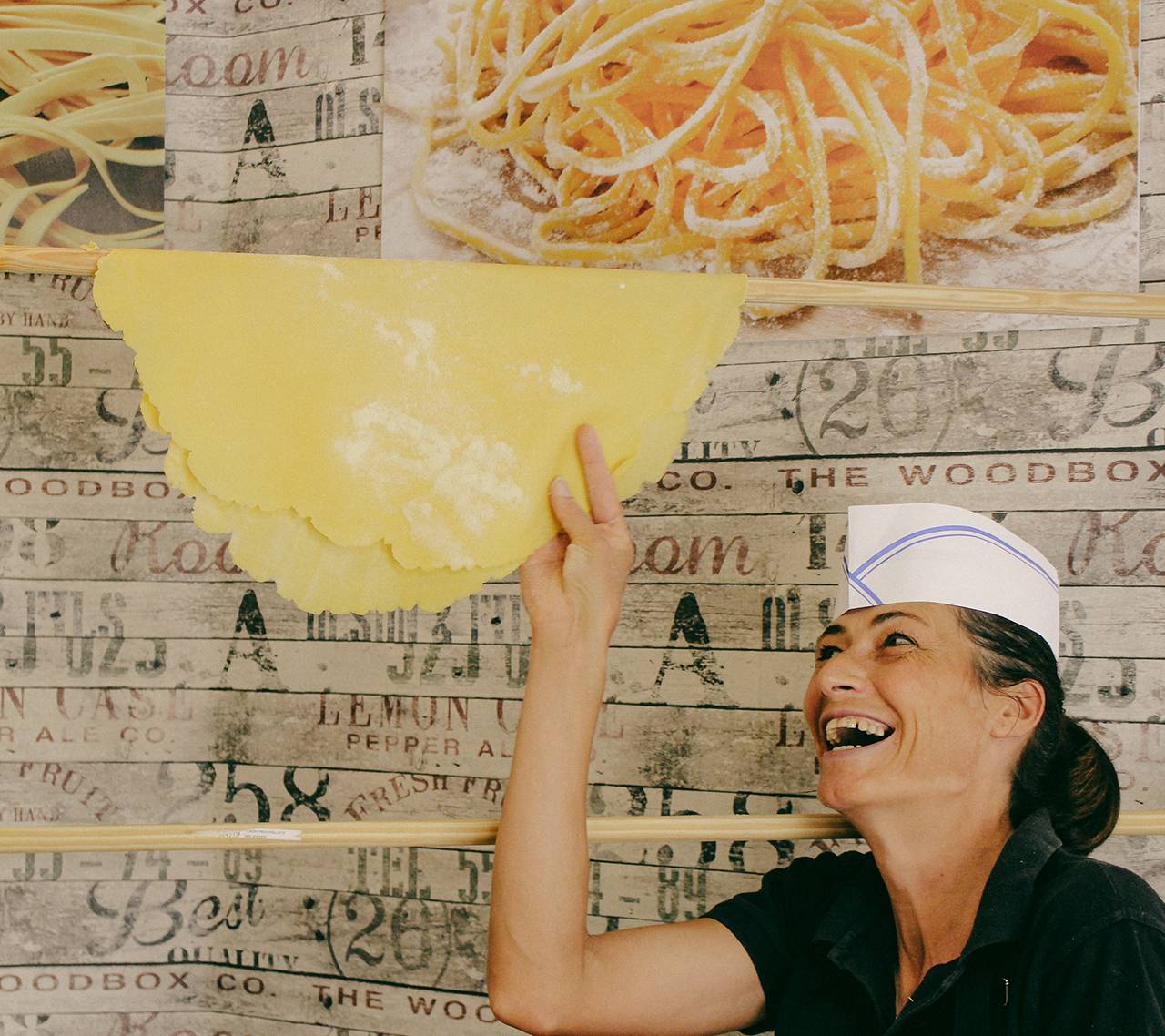 The pasta plate (Photo: unsplash.com / @reskp)
Where to eat delicious and inexpensive food in Italy
Rome has the highest food prices. However, there are plenty of places where you can eat on a budget. If you dream to try Italian cuisine, go to the Trastevere area. According to tourist reviews, tasty and cheap dishes are served at Impiccetta, Dar Poeta, Carlo Menta, Bottega Fienaroli, Rugantino, Pane e Salame, Gelateria Giolitti and Fuorinorma.
According to tourist reviews, the prices of food in Venice are quite reasonable. The Bigoi Venezia, which makes homemade pasta bigoli with sauces for 5 €, offers budget food. Inexpensive and great choice at Cocaeta Pancake House – a portion of pancakes with toppings costs 6 €. L'Angelo near St. Mark's Basilica, We love Italy near Ponte di Rialto and Basegó and All'Arco, which charge 2€ for a popular Italian cichetto. What to see in Venice →
Milan is as expensive as Rome. For a cheap dinner in Milan we recommend Basilico Fresco, Luini Panzerotti, Ciacco Gelateria, Brera Cafe and Al Cantinone Trattoria. What to see in Milan →
If you are in Rimini and want to eat Italian food inexpensively, check out Café Poker, La mi mama, La dolce vita, the bar Trattoria Sole, the restaurants La Cappa, Ristorante Guido, Il pescato del Canevone, La Marianna or Da Lele. Local prices are aimed at locals, so a hearty meal will cost 15-20€. Holidays in Rimini →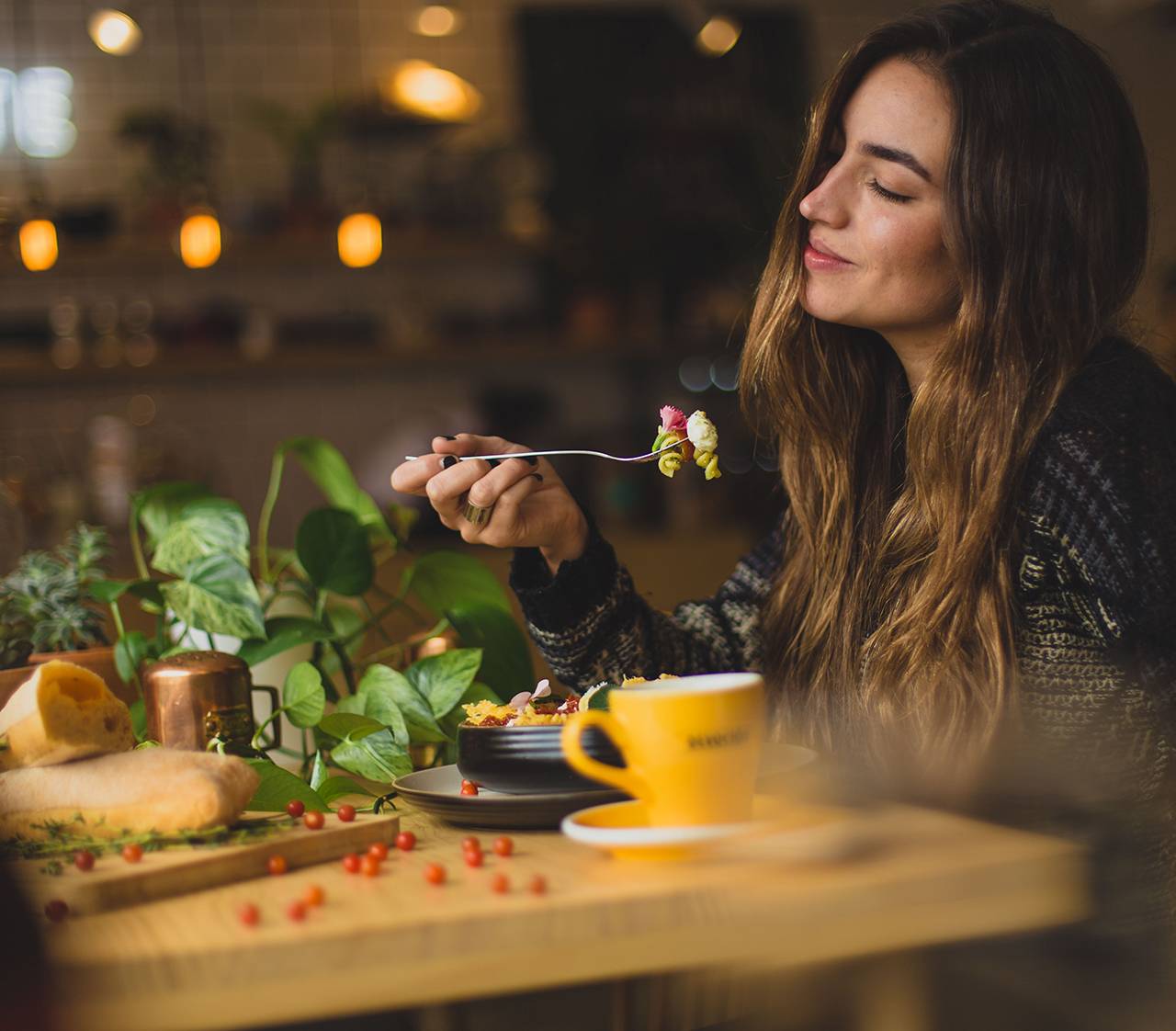 Italian lunch in a restaurant (Photo: unsplash.com / @pablomerchanm)