Food Prices in Seychelles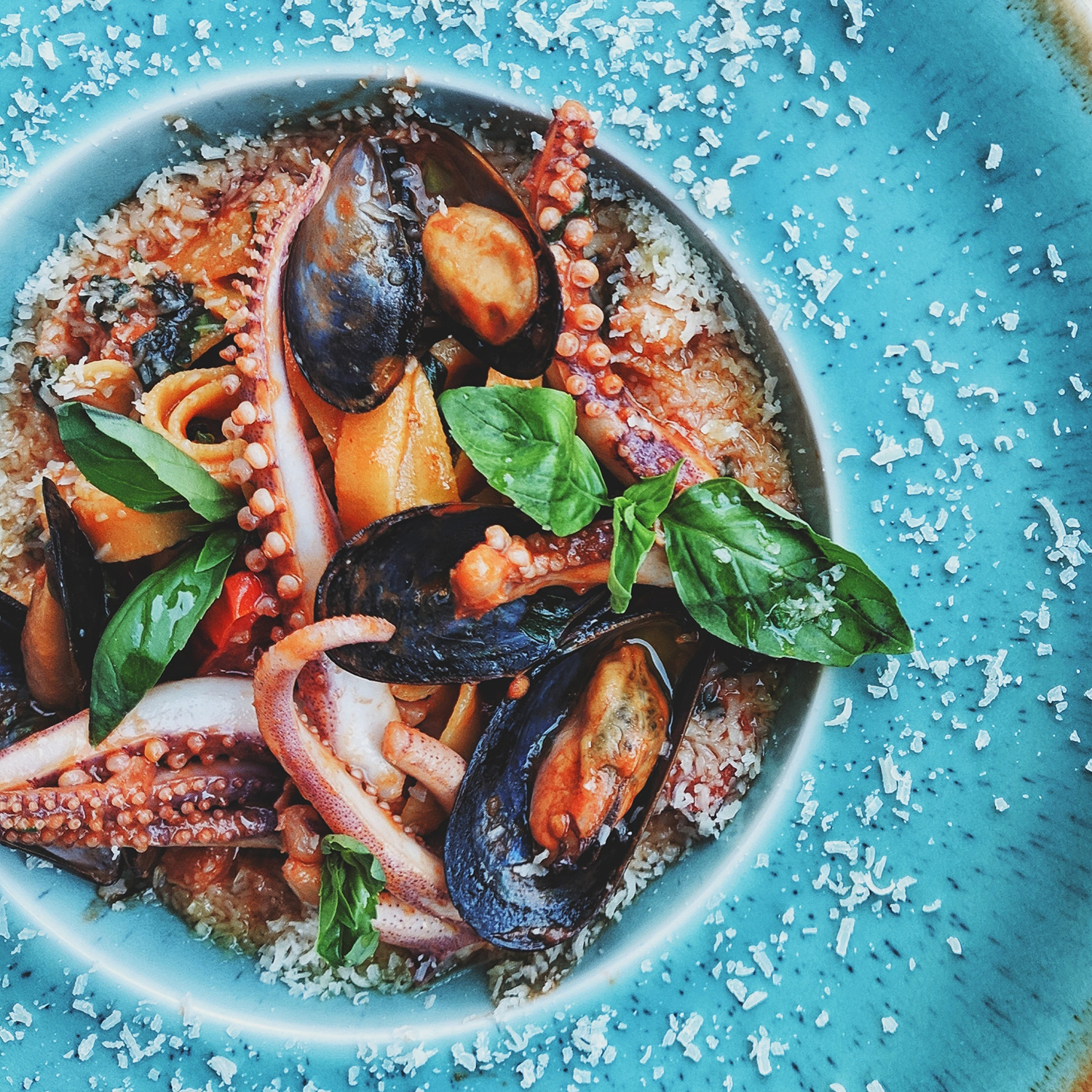 Food is expensive in Seychelles. Find out the prices in 2022 in cafes, restaurants and stores. Advice on how to save money on food and what to try from the national dishes.
– Find tours to Seychelles. – cheap accommodation in the Seychelles.
Exchange rate: 1 Seychelles rupee (SCR) ≈ 5 RUB.
Food Prices in Seychelles – 2022
Most of the goods on the islands – imported, so the cost of food in Seychelles is breaking all records. In a budget restaurant the average bill for two people – 500-600 SCR, and in a more expensive institution – 1000-1500 SCR. Two sets at McDonald's cost 420 SCR. To order sandwiches, a couple of bowls of soup and something to drink in the hotel room you have to pay SCR 1,000 – 1,500.
Prices of food in cafes and restaurants in Seychelles in 2022:
seafood salad – 60-100 SCR
hot dish – 150-300 SCR
pizza – 120-160 SCR
coconut nougat – SCR 80-100
coffee – 50 SCR
bottle of Coca-Cola, 0,33 l – 20 SCR
ice-cream – 15-20 SCR.
Prices of alcohol in Seychelles
In the island republic liquor comes from all over the world. In Seychelles you can taste excellent wines from South Africa and France. Prices for imported alcohol are 30% higher than at the airport.
Locally produced drinks are cheaper. Seychelles produces a good pale lager SeyBrew, dark and light rum Takamaka. Locals drink strong drink from fermented juice of sugar cane Baka, tincture of lemon mint – Dite Zitronel and fermented coconut juice – Kalu.
Store prices for alcoholic beverages in the Seychelles in 2022:
SeyBrew island beer, 0.3 liters – 26 SCR
imported beer, 0,33l – 30-40 SCR
wine – from 150 SCR
Takamaka rum, 0,375 l – from 135-150 SCR
aged rum Takamaka extra dark, 0,7 l – 355 SCR
8 year old Takamaka rum, 0,7 l – 600 SCR
whisky, 1 l – 550 SCR.
At the bar and restaurant, a glass of alcoholic cocktail or wine will cost 150-200 SCR and 50g of spirits will cost 300-400 SCR.
SeyBrew island beer. Photo: yashima / flickr.com / CC BY-SA 2.0.
Food prices in Seychelles
Seychelles is an expensive resort. Prices on the islands are artificially high, but if you rent an apartment with a kitchen and cook for yourself, you can save money. The cost of products in stores and markets is not higher than in Russia, and the prices for fruit and fish are lower.
Vacationers praise the range in the hypermarket STC, which is located in Victoria. Many people like the SPAR store on the artificial island of Eden, but products there are more expensive.
Food prices in stores in Seychelles in 2022:
bread – 12-15 SCR
macaroni, packet – 12 SCR
evaporated milk – 25 SCR
milk, 1 l – 30 SCR
small package of yogurt – 7 SCR
hard cheese, 1 kg – SCR 195-210
boiled sausage, 1 kg – from 50 SCR
chicken meat, 1 kg – 85 SCR
fish, 1 kg – from 60 SCR
instant coffee, 200 g – from 105 SCR
bottle of water, 0,75l – 5,3 SCR.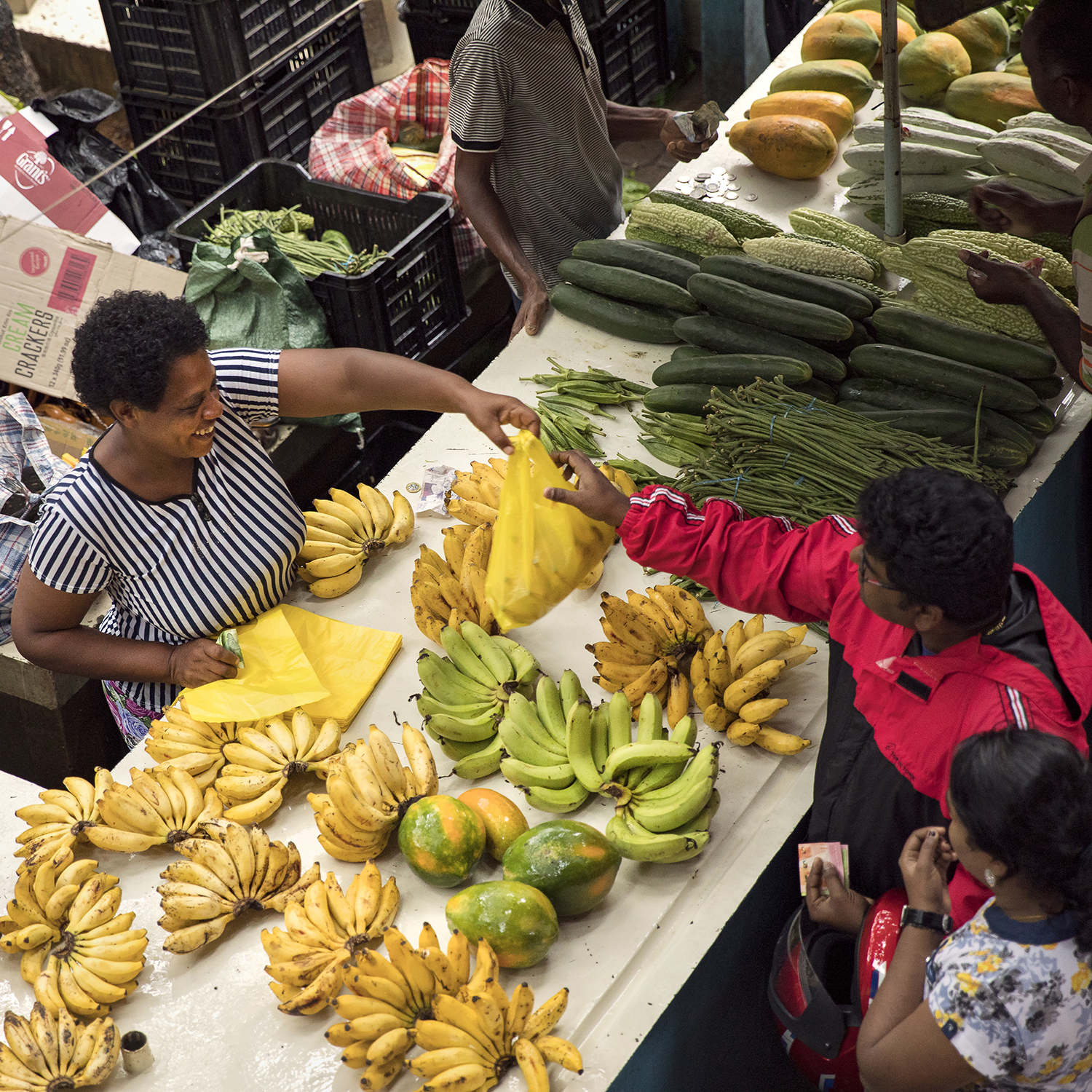 Market in Port Victoria (Photo: UN Women Gallery / flickr.com)
What to Try in Seychelles
Island cuisine has evolved from centuries-old culinary traditions of the islanders, with notable influences from European and Indian cuisines. Seafood, fish, rice, curry and fruit are all eaten in Seychelles. Many dishes are cooked with coconut milk. Islanders gladly drink tea with vanilla and black tea. Coffee, which is brought from Ethiopia, Yemen, and Colombia, is popular.
While vacationing in the Seychelles, we suggest you try it:
bat carcass stew
pwason ek diri – rice with fish
Bringuel – eggplants roasted with spices
stewed and fried bananas
breadfruit chips
pumpkin puree giramon
pancakes filled with everything from fish to candied fruit
grilled bourgeois fish
trululu crabs
lobster in lime sauce
tek-tek shells
zurit – octopus cooked in spicy curry sauce
kat kat – a pudding made from coconut pulp and bananas.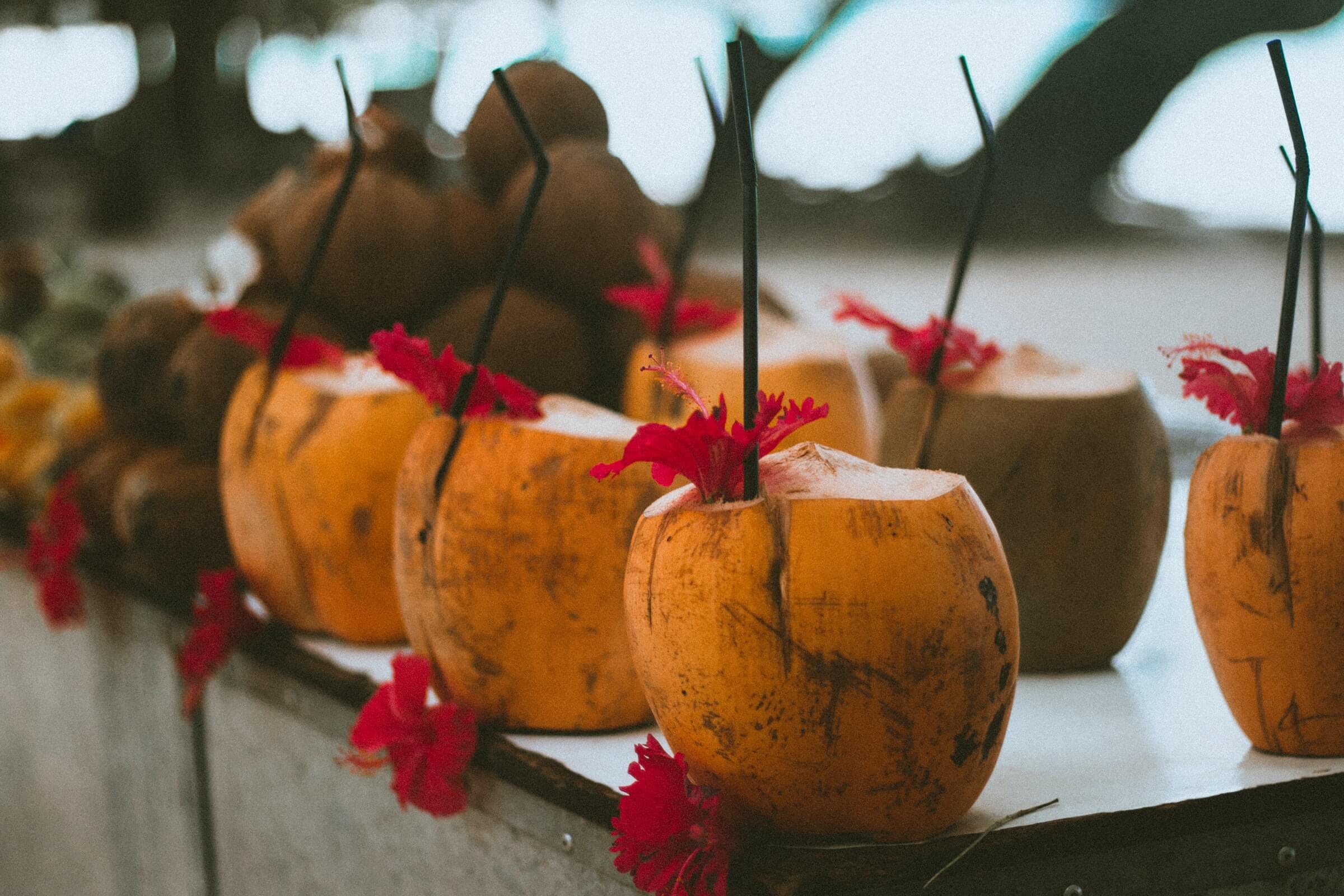 Beach cocktail in a coconut. Photo: d_dmd2 / unsplash.com.
What to know.
Local establishments and small cafes are open until 6 p.m. Almost all hotel restaurants close at 22:00.
It is not customary to tip in Seychelles. A 10% surcharge for service is included in the bill. If you like the food, leave the waiter a few rupees.
Fish and fruit are sold along the roads at prices lower than in the supermarkets. You can buy fruit, but fish spoils quickly in the heat and gets flies on it. Buy fish and seafood in the morning at the markets or from fishermen who sell near the ports. On Praslin Island, fresh fish is sold at the market near Kot Dor beach. Four cleaned fish cost 150 SCR.
With any hotel accommodation package, alcohol is included only for breakfast. Drinks at lunch and dinner have to be paid for separately. In Seychelles, it is forbidden to drink alcoholic beverages on the beaches.
As a souvenir tourists eagerly take the local liquor Coco d'amour. It is made on the basis of coconut milk and tastes similar to Baileys Irish Cream. The bottle costs 300 SCR.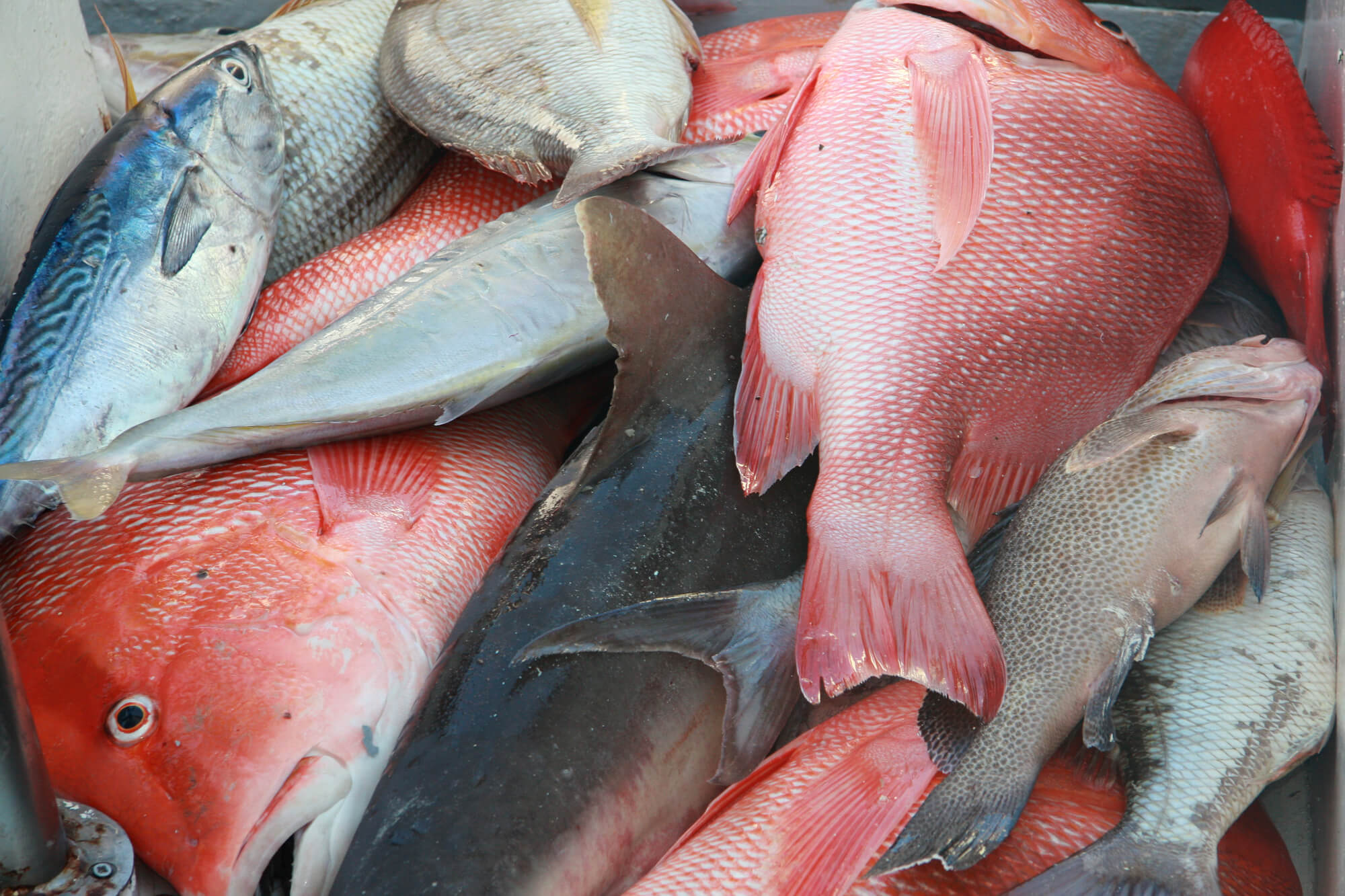 In the Seychelles they catch bass, shark, snapper. Photo: e.m.mitroshin.gmail.com / Depositphotos.com.
How to save on food in the Seychelles
Choose the lively islands rather than the remote ones for a vacation . There is a better infrastructure – there are supermarkets, small stores and markets. The competition between vendors is higher, so the food prices are lower.
Hotels 3-5* are expensive – $200-300 per night. Get a room in a mini-hotel or gesthouse for $ 70-100. The advantage of such accommodation is privacy and attentive staff. In addition, the apartments have a kitchen with a set of dishes, and you can cook yourself.
The alternative to expensive restaurants is street food. In the market cafes, stalls and small diners Take away prices are much lower than the restaurant. A portion of fried Asian noodles with chicken and vegetables at 20-22 SCR, a large fish on coals – 105 SCR, fish with vegetable salad or rice – 50-60 SCR, spaghetti with sauce – 11 SCR, a hamburger – 55-82 SCR, fresh mango or papaya juice – 27-30 SCR.
When vacationing in the Seychelles, treat yourself to tropical fruits. They are cheap: 5-6 mangos – 13 SCR, 1 kg of bananas – 40 SCR, 1 kg of papaya – 50 SCR, coconut – 28-30 SCR.
Fish and seafood lovers should visit the fish market Oceana Fisheries, which operates at the fish-processing plant. Four grilled octopus legs cost 120 SCR, four crabs with peeled back – 110 SCR, two big tuna steaks – 45 SCR, 1 kg of fresh peeled fish Red Snapper – 120 SCR, 6 fish cutlets – 60 SCR.
Vinsky's Forum
I will divide my longread into two parts. The first is domestic, with prices technical issues and stuff. The second – recreational: beaches, trekking, impressions.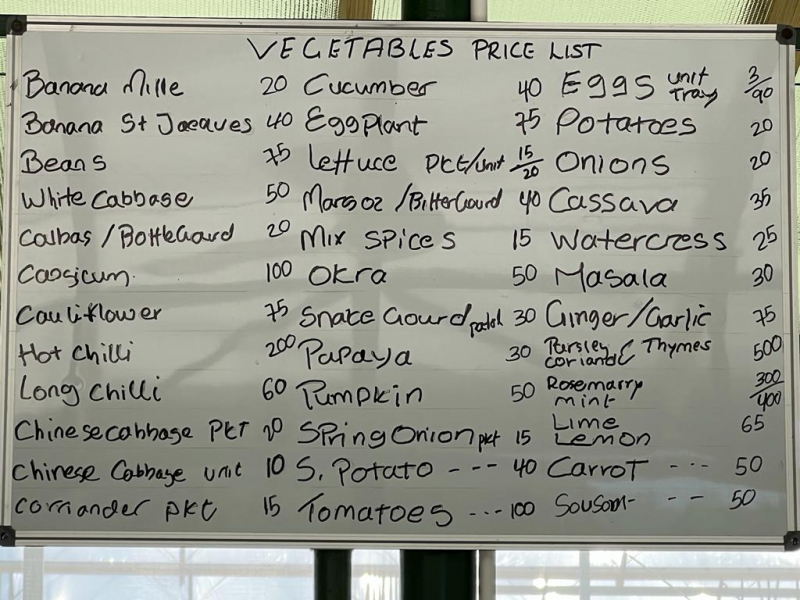 Part One – the household chores. We arrived on Mahe on May 2, Etihad. Etihad, as always, is stable and good. Mahe airport was pleased with its efficiency: it took no more than 40 minutes to pass pass passport control, get luggage, buy a local SIM card and exchange currency. Then we picked up our car Hindai i10 (booked through the hostess of the apartments). At the reception, they honestly noted all the shortcomings, asked if we want to buy insurance and, if not, whether our card works. We said that our card then works no, because we are from Russia, but the insurance do not want to take. They were decent enough to write down our credit card number (although I'm sure everyone on the island knows that Russian cards do not work) and gave us the car. Immediately warned that at the reception in 9 days, they probably will not be and you can just throw the keys under the mat and go (and so eventually happened). Thanks to the forum, this information was not a surprise to us. So, we drove out. The first road seemed like a nightmare. It was very scary to drive, due to the fact that the traffic is right-handed and it is hard to change lanes at once. But I will say right away that on the third day we were driving very freely and did not notice the narrowness of the road, serpentine and so on. Although the local buses… is a special quest… I was madly afraid of them… big and rushing around like Schumachers… We stayed at Evergreen apartments. Highly recommend (I can drop a direct what's the hostess, I'm sure they will consider booking without prepayment). Absolute value for money, room quality and service. The hosts are the nicest people. Had a little rest the first day after the flight and decided to devote to household needs. Went to the STC hypermarket. I should mention that after reading the forum we decided to take some of the food with us (and rightly so): 2 cans of stew, a head of cheese, a stick of smoked sausage, cookies, chocolate, cottage cheese, butter (we froze the butter and put it in a thermo bag with the other products – it drove fine), a small pack of mayonnaise, ground coffee. In STS we saw approximately the following prices: 10 eggs – 44 SR; chicken shanks – 220 SR a kilo, the average juice – 25-40 SR, sausage / ham – an average of 100 SR for 200 grams of sliced meat (my husband took for fun, but it tasted like toilet paper, impossible to eat), cheese – an average of 100 SR per piece 200-300 grams, beer, alcoholic cocktails – 50 SR, pasta – 25 SR pack (500 gr), rice – 10 SR kilo. We bought everything at once. Then we went to small local stores to buy the necessary products. To be honest, I did not see a big difference in prices – give or take, everything is similar everywhere. Here are some more prices for products in small stores, at the vegetable markets and fish (all prices in local currency): – fish – 200 CR for a bundle of small or one large (an average of 2-3 kg): – Avocados – 20-25 for a large fruit (large is about 500 grams, you can't find these in Russia) – Papaya – 30-35 per kilo – Bananas 20-25 per kilo – Yogurts 18-30 for one small package ~100-150 grams. – Milk ~ 25 per liter. – Takamaka rum 310 for a bottle of dark 0,7 (price is the same everywhere) – Smoked marlin 200CR per kilo (average 100 per slice)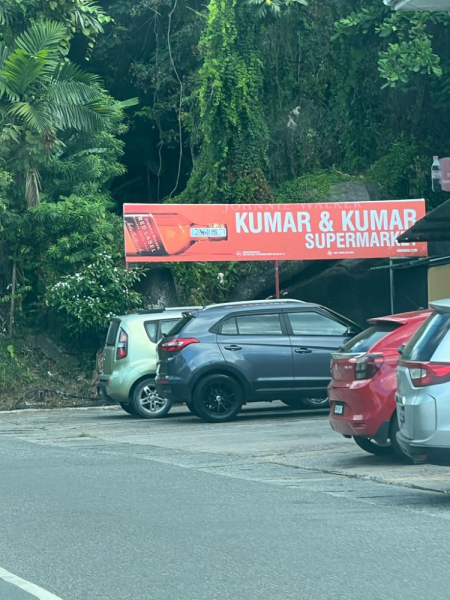 We really liked the Kumar Kumar store (3 minutes after Takamaka factory, driving from Victoria) – we have almost everything. A lot of cheeses, yogurts, a good selection of meat. In the restaurants did not go once. Price hell for an absolutely trivial dishes … We looked at the prices of various institutions – on average, gets $ 100 for dinner for two (salad + hot + a drink for everyone). And the dishes are not of high cuisine: pizza, pasta, burgers, local fish with vegetables or fries… On the first day we filled up our car. Gasoline is about 24 SR per liter. We picked up a Hyundai I10 with a quarter tank. Filled it up to full. About a quarter tank left in the end. We paid 950 SR for a full tank. In the end, the money we have the following: – Tickets 79 000 rubles (bought in December 2021) – Apartments – 70 000 rubles for 9 days – Car rent – 360 euros for 9 days – Food, alcohol, entrance fees, souvenirs, etc. – 900 euros. Total vacation cost 260,000 rubles (assuming the exchange rate of 90 rubles per euro)
Very good for 9 days in paradise :))
Part two. Beaches, trekking, impressions. We spent all 9 days on the island of Mahe. We are on vacation for a balance of relaxation and activity. If you do not want to be every minute in motion, then 8-10 days on Mahe is optimal. More than that would be boring. So. Beaches. We spent 9 days visiting around 15 beaches. I will describe in the order of our subjective preferences. Some beaches are not remembered at all, of missing. Well and yes, IMPORTANT impressions of the beach in May, October or January can be radically different. We were in the first half of May.
Anse Soleit is our favorite and the undisputed top 1 in our personal ranking. Not too big and not too small. Perfect entrance to the water. No algae at all and the water is perfectly clear. Beautiful view. Not a lot of people. There are light waves that make swimming fun but not active. There is a cafe with food and drinks.
Anse Lilot is a sure number 2. Also great view, entrance to the water, cafe, no algae, etc.. The only thing it is inferior to Anse Soleit is the size. The beach is quite small, even 20 people already give the impression of a crowd by local standards. But it is still a beautiful place!
Carana beach – in terms of swimming is quite normal. But the views and pictures are incomparable. In general, if you want great pictures on the beach – you are definitely here.
Anse Major is a peculiarity of the beach that you get here after the homonymous trekking. This enhances the impression of the beach. But even without that the beach is very good. It is divided into a large and small part by stones. You can decide which one is closer to you. The water is clean. There is a bar. If you do not want to walk back along the trail, there is a water cab.
Port Launay is absolutely good for very young children. The water is calm as a closed bay, the entrance is very, very smooth. But there is a significant disadvantage: it is a hotel beach (Constance) and there are a lot of people, as the bay is closed, a lot of algae and the water is not so clear. The water is too calm – the feeling that you're on a lake… personally we don't like it.
Grand Anse is a very long beach with quite active waves. If there is a desire to jump on waves – to you definitely here. I am sure that children to teenagers will come on 100 %. But to have a quiet swim you will not manage. There is no bar. We also visited Anse Intendanse, Takamaka beach, Sunset beach, Anse Royale. I can't say anything bad but we are not particularly memorable.
Beau Vallon – left it for last, because the beach by Seychelles standards is no good at all: a lot of people, water is so-so… come and see, of course, but we did not swim there…
We managed to get through 4 trekking tours and all of them are worth seeing. I list them in chronological order:
Anse Major Trail we hiked on the second day upon arrival. It's a very picturesque trail. One of the pluses is the wonderful beach at the end, where you can spend a couple of hours and head back. On the downside, part of the trail runs through open areas where the sun scorches mercilessly. It's best to get out as early as possible in the morning and to be very active in applying sunscreen. The views on the trail are excellent: Rock Pool – for some reason not everyone considers the way to the pool a trail, but to go there at least 1200 meters of very peculiar road. Especially the last part on the rocks is not the easiest. I am afraid of heights and the last part was difficult for me because of internal fears. But the views are, of course, beautiful: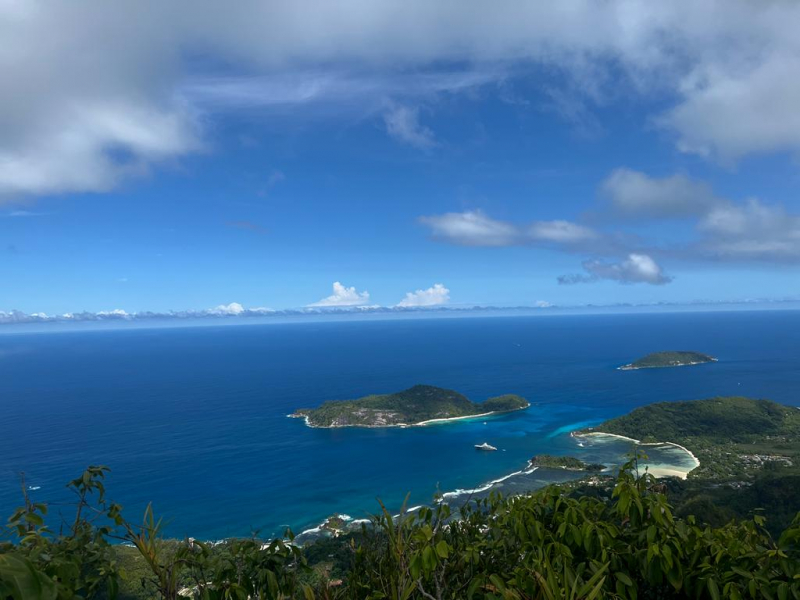 Morne blanc – (my favorite). The trail is one of the shortest, only 850 meters. But all the way up. And in some places the slope is very steep. On the plus side is that the whole trail runs among the woods. It's stuffy of course, but there's no direct sun, you won't get burnt. And at the end of the trail there is simply stunning view of the island from above: In my personal opinion the view is better than Copolia (description below), because there is nature and the ocean, not the city. But this is subjective.
Copolia track is a 1200 meter trail. Mostly uphill, but there are almost straight sections, almost all in the shade and through the woods. Overall, the walk is comfortable. At the top is a huge observation deck overlooking Victoria, the airport and nearby islands. The view is gorgeous. Excursions We wanted to "go out to sea", preferably fishing. But it turned out that you either need to book a yacht (~1500 $), or dubious trips with local fishermen. In the end, we found an option from a local agency Mason's travel https://masonstravel.com/packages/reef-safari/# went to Reef safari (105 € per person). We were very pleased with it: whole day on water, nice boat, transparent bottom boat ride, snorkeling, nourishing lunch, visit Moyene island, cruise around… it was a very nice day, like the whole vacation on Mahe…
Nata427 newbie Posts: 9 Photos: 6 Registered: 03/27/1922 City: Moscow Thanked: 0 times. Has thanked: 2 times. Age: 36 Reports: 1 Gender: Female