Food in Tenerife: food and meal prices.
Going on a trip to Tenerife, it is worth thinking about the diet. Tasty, varied and fairly economical can eat all categories of tourists, the main thing is to know some of the nuances and take them into account when planning your trip.
In supermarkets you will find all the usual foods, mostly local and from southern Europe.
Prices do not vary greatly depending on the choice of resorts, but if we talk about restaurants and cafes, in the more popular cities, portions may be slightly different in the smaller side.
In general, Tenerife is quite affordable prices. And thus, here you can have a great holiday, eating in cafes and restaurants, and self-cooking from groceries bought in the store.
Products in supermarkets
Tenerife has a large number of grocery chains, you will not have to spend a lot of time and effort to find a department store. Popular are Lidl and Dino. I personally prefer Mercadona – there's a large selection of groceries and housewares, very high quality private label products, home delivery for a small fee, and always convenient parking.
In the supermarkets the choice of meat is quite extensive, but the fish is mostly imported, so it is better to go to the market for it. A huge assortment of local cheeses, mostly hard, with sheep's and goat's milk. Many people like them, but I prefer the classic Edam, Gouda, and soft Philadelphia.
If we talk about alcohol, it is much cheaper here than on the mainland, it makes no sense to take it from duty-free. The main thing is that you can get the best out of it, and if you want to get the best out of it, you'll have to buy it at home. Personally, I did not like the wines from Tenerife, I prefer the Spanish mainland. However, there are connoisseurs of Tenerife wines, so be sure to try, maybe you will like it.
Advice: Do not buy alcohol and products in duty free – on Tenerife the prices are often much lower than at the airport.
Food in the markets
Buy quality local products can be found in the markets. The most popular markets are the Mercado de Nuestra Señora de África in the capital Santa Cruz, the fish market in Las Galletas, Mercadillo del Agricultor near the southern airport.
It is worth bearing in mind that buying food at the market will be somewhat more expensive than in a supermarket, but it is worth paying more for the quality. You can buy a lot of tasty local fruits at the market and fruit markets: sweet bananas, juicy mangoes, figs and chestnuts. Fish markets abound with fresh seafood: vieja, squid, octopus, mero, samu, tuna and sea bass.
Food in Tenerife: Fruiteria, or fruit shop, is where you can buy the freshest local fruits and vegetables. Frugeria are usually open first thing in the morning, so get up early!
Food in Tenerife: Fish Market For the freshest local fish, head to the fish market. Get there early to pick the best pieces.
If you're going to the market to shop, prepare to get up early. Trading begins at 8 a.m. and is usually over by noon.
The cost of the food basket in Tenerife in 2022
Food prices in Tenerife can not be called low, on average, to buy a set of products for a few days, I need € 30-40, but it's still significantly lower than on the mainland. Here is an example of the average cost of the most common products:
Bread – €1-2€
Milk, 1l – €0,7
Sliced semi-hard cheese, 200g pack. – €2
Butcher's Ham, sliced, pack of 100-125 gr. – €2,5
Eggs, 10 pieces. – €1,5
Chicken, 1 kg – €3.5
Sea fish, 1 kg from €3
Cucumbers 1 kg – €1
Tomatoes 1 kg – €2
Potatoes €1
Iceberg lettuce €1
Bananas – €2
Chocolate €1
Drinking water, 1 liter – €0,3;
Beer in cans: € 0,50.
Prices are approximately the same as in Russia, something cheaper, something more expensive. But the choice is greater, the products are of higher quality and fresher. Especially good are cheeses, meat products, fruit and vegetables.
For more information on prices in Tenerife, see my article.
How much does it cost to eat in cafes and restaurants in Tenerife?
Cafes and restaurants in Tenerife are able to offer guests food for all tastes, the quality of food is decent. If you just want a simple snack, I highly recommend tapas, a small traditional Spanish appetizer. If you want something more substantial – choose a cafe that you like, preferably with local people. In any case, you will be fed deliciously.
Tip: Away from the major resorts, many cafes and bars are closed for a siesta in the afternoon. If you don't have time to eat, you can snack by picking up ready-made food at the supermarket. There are usually salads, good pastries. You can take meat and cheese slices, bread, and make sandwiches.
You can have breakfast on the island for €2 or €9. It all depends on what you prefer for breakfast and the level of the establishment. A common option is a full breakfast. It usually includes scrambled eggs or omelets, slices of bacon, a cup of coffee, toast with butter or jam and juice. On average such a breakfast costs €5-7.
Tony Roma's restaurant in Las Americas The famous Tony Roma's restaurant in Las Americas. Great steaks and ribs.
The average bill at this reasonably priced restaurant for a salad, main course and drinks is about 15 € per person. You can save by ordering the dish of the day or the menu of the day. The menu of the day is a godsend. Usually it consists of an appetizer, main course, dessert and drinks and costs on the average 8-12 €. Such a lunch can be quite full for two.
When paying the bill, I recommend carefully checking the bill. But it can happen in any tourist place, not only in Tenerife.
The waiters don't expect much in tips, but they will be glad if you leave a couple of euros.
It's considered a norm to smoke on terraces in Tenerife, no matter if there are kids or people around so if you come across it – don't be surprised, just sit down at another table.
What to try in Tenerife. Traditional food
Tenerife has a lot to offer, even to gourmets. Traditional dishes are a unique cocktail of island cuisine and culinary influences from Portugal, Spain and other European countries.
Traditional dishes are based on simple ingredients: vegetables, fish, meat and spices. They are nutritious, caloric and memorable because of the original combinations of ingredients, as well as various sauces.
For me, the leader among the sauces was moho, it is spicier and milder and spicy. It contains hot peppers, herbs and spices. It is memorable for many visitors to the island, so mojo is one of the best-selling souvenirs. Thousands of tourists take it back to their home country to experience the taste of Tenerife again at home.
Food in Tenerife: Canary Potatoes Canary potatoes are boiled in seawater and served with mojo sauces
Food in Tenerife: burger In Spain they make very tasty burgers, and stores have everything to make them at home: buns, cutlets, sauces. Be sure to buy a local burger in a small café and then try cooking it yourself at home
So, here are my top 5 traditional dishes that you should try when you come to the island:
The most popular side dish is the crinkled canary potato. Local sweetish, small potatoes are boiled in seawater until they are completely boiled and served. Eaten right off the rind, dipping in sauces.
Mojo grilled cheese is another delicacy and popular appetizer. Natural goat cheese is grilled, thanks to the special art of cooking it does not melt completely. With red mojo the dish will be spicy, with the green sauce spicy.
Pata asada – roasted pork ham is loved by tourists and locals. It is left to stand for a long time in a marinade of wine, oil, and spices, and then baked until cooked, topped with white wine.
Fans of seafood will also find something to taste in the bars and restaurants of Tenerife. For example, an unusual roast of salted fish Sancocho Canario. It is served with a vegetable side dish and a spicy mojo sauce.
Those with a sweet tooth can try frangoyo, a dessert based on Gofio whole-grain flour and frangoyo cornmeal. Molasses, honey, aniseed, almonds, raisins and whipped cream are added. Frangoyo is served in cremations and garnished with nuts.
Regardless of taste preferences, everyone will find a meal to their liking in Tenerife.
How to save on food in Tenerife
Food in Tenerife is much tastier and of higher quality than in Russia. Their cost is lower than on the mainland, because here there is a special tax regime.
You can save on food in Tenerife, using a few simple tips:
Take a menu of the day. For €10-15 you'll get a full three-course meal with dessert. The portion size is enough to eat for two.
Buffets. Buffets on the island, where you can eat without restrictions for only 8-10 €. There are salads, vegetables, meat, fish, pasta, and even desserts. But be prepared for the fact that drinks will have to be purchased for an additional fee.
Your own kitchen. Booking an apartment with a kitchen, you can save a lot on food, cooking on your own. The average price of such apartments for a week for two is €250.
Inexpensive seafood can be purchased in the markets, away from the city centers. In the developed markets prices can be much higher than in the less touristy. In the store there are also local fish, but more imported. Ask to have it cleaned and cut – it's free and very convenient.
A trip to Tenerife can be a foodie's paradise. Restaurants and cafes will be able to surprise even experienced gastronomic tourists. There are even special gastronomic tours in Tenerife.
But even if you prefer to cook at home, the quality and freshness of products will certainly please you, and home food will bring great pleasure.
Holidays in Tenerife: a selection of useful materials
Vladimir Galka, author of travel guide
Great to see you on my site!
I hope that you will find useful information for organizing your vacation, because I love not only to travel, but also to share their experiences and tips.
All the information in the guide is checked by me personally. I write only about those places and countries where I was myself!
I will answer your questions about holidays in Tenerife in the comments.
I love to travel: 25 countries, more than 300 flights, 20+ car rentals, many hotels and apartments. So I know how easy and inexpensive it is to plan a great vacation.
Food prices in Tenerife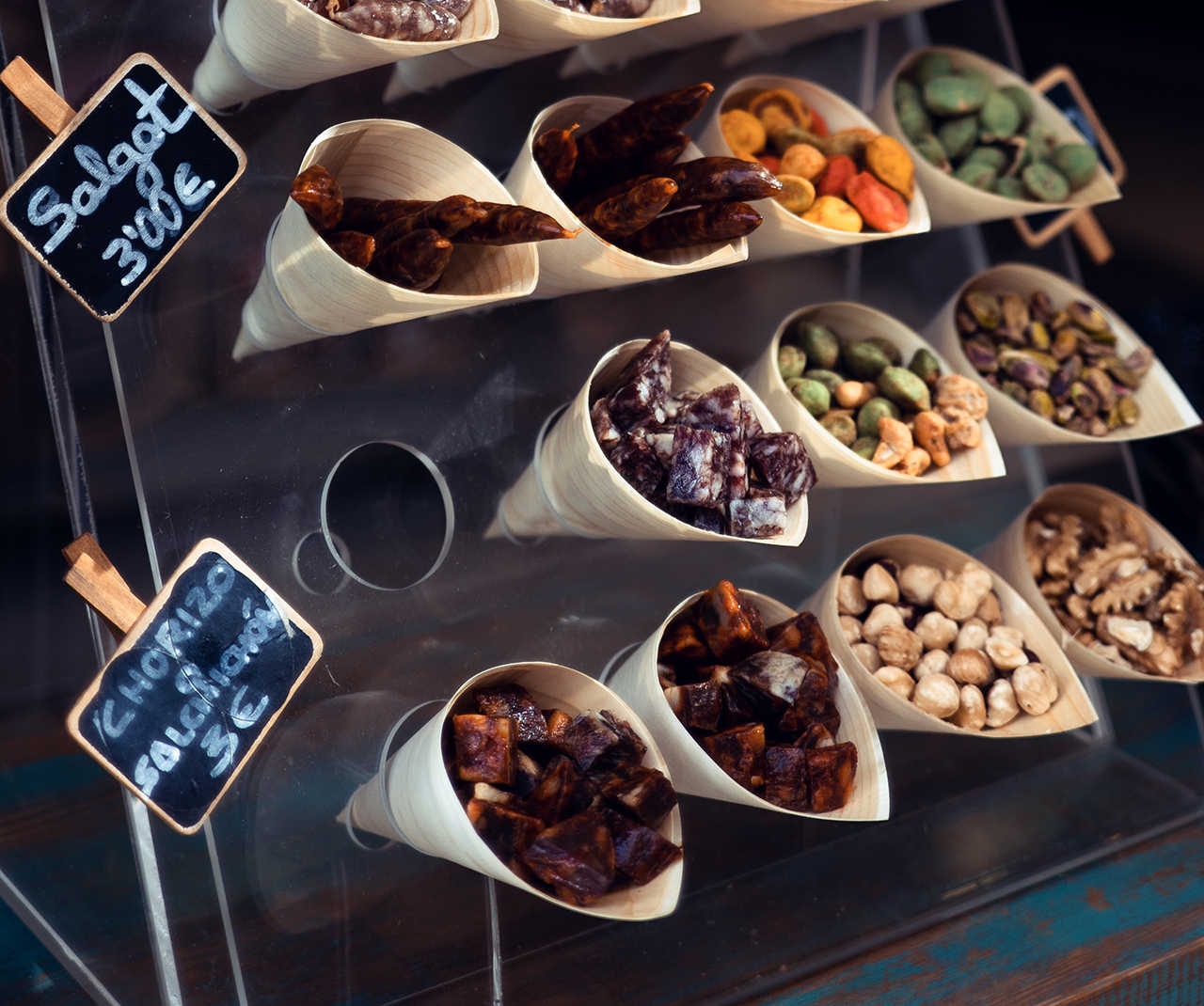 Everything you need to know about food in Tenerife: food prices in 2022, what to try, how much food and Canarian fast food cost. Learn about the features of cafes and restaurants in Tenerife. Tips on how to save money.
And Travellata – search favorable tours – cool excursions in Russian
Content:
What to try in Tenerife
Island cuisine is an exquisite blend of Spanish, Italian, Portuguese, French and North African culinary traditions. The food in the Canaries is very diverse. What to try in Tenerife?
We recommend fish dishes. The most delicious are those prepared from vieja, sama, marlin, wild dorado and large tuna. The fish is fried, boiled and served with different sauces – red mojo rojo , green mojo berde and garlic alioli . Keep in mind that fish is not the cheapest food in Tenerife. Prices for it are higher than for beef and pork.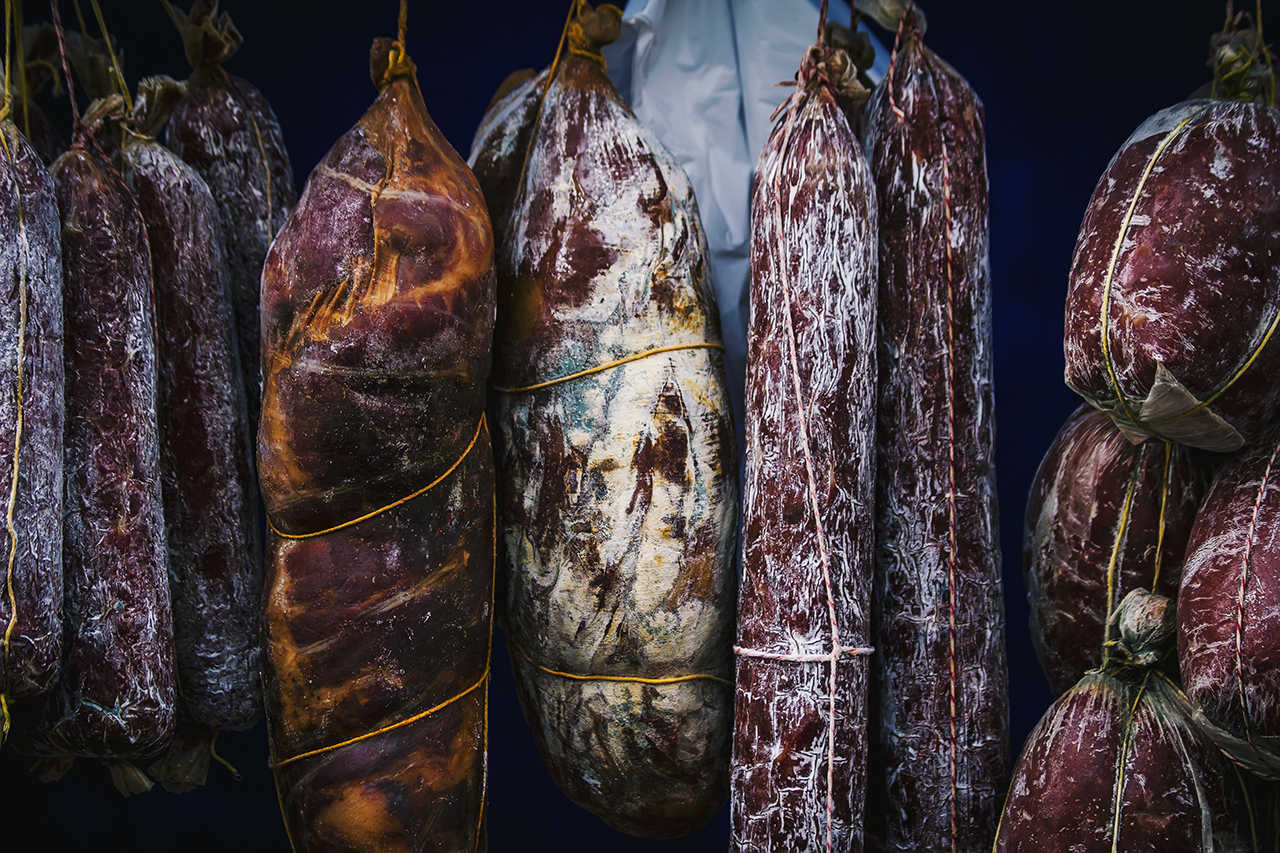 Chorizo (Photo: unsplash.com / @supernov)
If you like meat delicacies, try the rabbit stew, chorizo pork sausage, and carne de cabra roasted goat meat . Sweet eaters will love the palm honey, fig jam, roasted canary bananas, opuntia cactus fruit and traditional frangoyo dessert.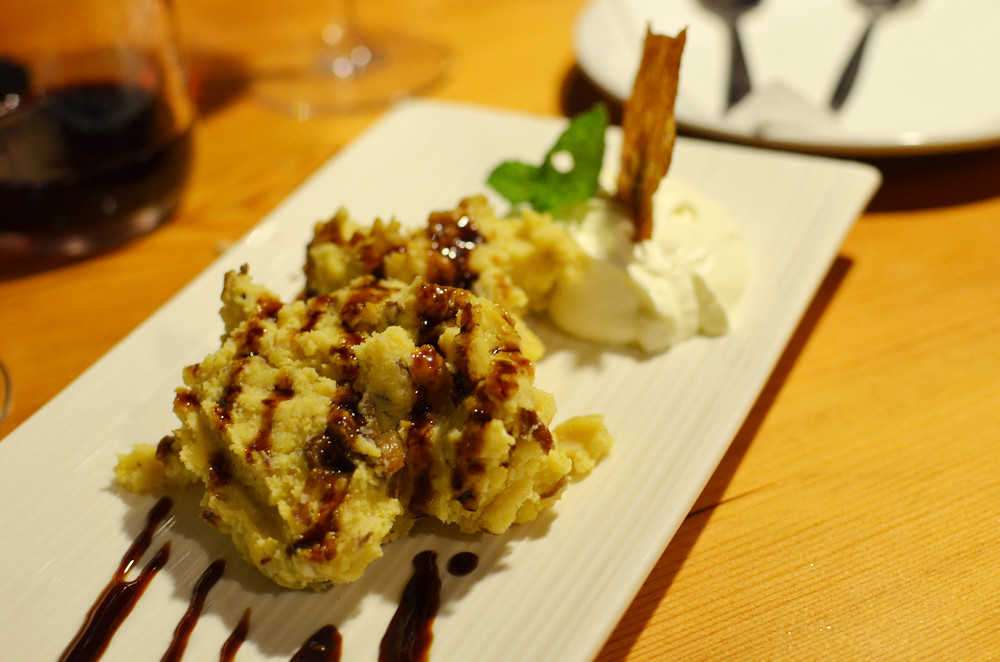 Frangoyo is a pasty Canarian dessert, the main ingredients: milk, flour, egg (Photo: BuzzTrips / flickr.com)
Food prices in Tenerife cafes and restaurants – 2022
The island charges a 5% sales tax, while the rest of Spain charges 22%. Because of this, the prices of food and alcoholic beverages in Tenerife are low.
Locals like to have breakfast with coffee and a bun – it costs 2-2,5 €. Most tourists on the island are British, so cafes and restaurants offer a British breakfast for 3 €. It includes a glass of natural orange juice, coffee, two fried chicken eggs, bacon, sliced tomato, a leaf of lettuce and toast with jam and butter.
The most expensive are the 9€ Norwegian breakfasts. They include a glass of orange juice, two boiled eggs, smoked sausage or salted salmon, bread, croissant, jam, butter and a cup of coffee.
Tapas (any snack with wine or beer) at 100 Montaditos (Photo: 100 Montaditos / facebook.com)
The average bill at a budget restaurant is 8-20€ per person. The portions are large. Business lunches are available in many establishments. From 12:00 to 16:00 visitors are offered a fixed menu for 7-12 € – a salad or appetizer, a main course, a soft drink or a glass of wine.
Food prices in cafes and restaurants in Tenerife in 2022
Seafood paella – 7€;
pizza – 6€;
Pasta – 6,5 €;
large seafood plate – 12€;
octopus dish – 6-20€
king prawns kebab – 19€
Mediterranean shark steak – 23€;
A glass of sangria – 2,5 €.
Drinking prices in Tenerife
The islanders love coffee. In the morning, they drink a special drink called baraquito – coffee with condensed milk, liqueur and cinnamon. It is considered an energy cocktail that refreshes and energizes you for the day.
Most of the alcohol is brought to the island from the mainland. About 150 kinds of wines are made in Tenerife, so the wines are inexpensive. The most common is Malvasia.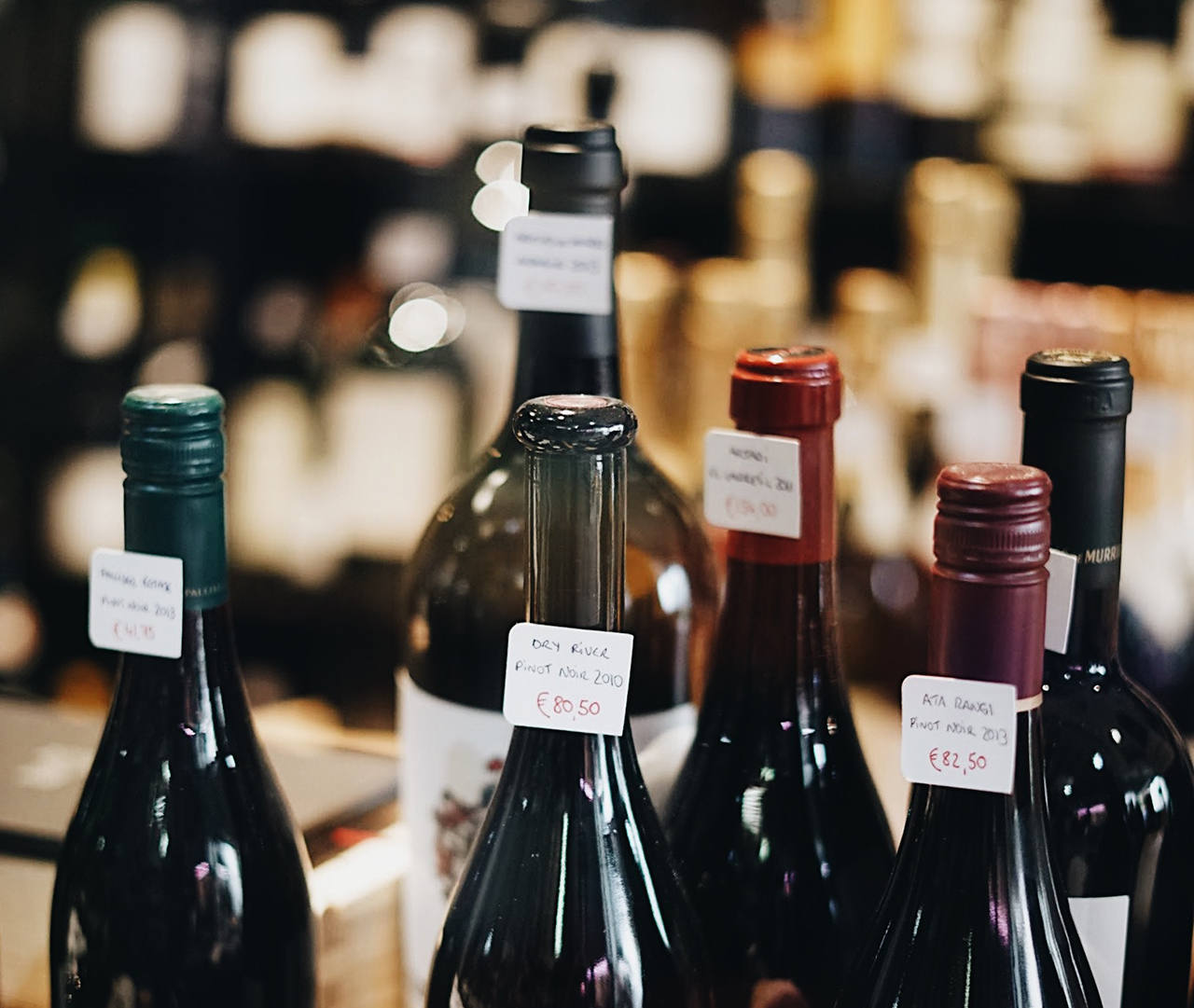 Spanish wine is stronger than French and Italian wine (Photo: unsplash.com / @furbee)
Because of preferential taxation prices for English whiskey, French cognacs, champagne and other foreign alcoholic beverages in Tenerife are 20-30% lower than in duty-free stores. Bars and restaurants offer the popular light beers Dorada and Tropical for 2 € per pint. A glass of wine costs €2-3 and 50g of whisky €3.
Prices for alcoholic beverages in stores in Tenerife in 2022:
sangria, 0.5 l – 1€;
wine, 0,75 l – 1-8€;
Local beer, 0,33 l – 0,3€;
Carlsberg and Heineken, 0,33l, 0,6€;
Guinness beer, 0,5 l – 3€;
Local rum from sugar cane Perladel Caribe, 1 l – 5-6 €;
Whisky – 15-20 €.
Prices for food in Tenerife – 2022
All the popular food chains of continental Spain – Lidl, Makro, Dia, Carrefour, HiperDino, UDACO, MAXCOOP and GrosMercat. A good selection and low prices in the supermarkets Mercadona and Puchita. Many products are imported, so they cost a little more than in the mainland.
Here are the prices of food in Tenerife stores in 2022:
bread – 0,4€;
milk, 1 l – 0,65 €;
Jamón, 100g – from 1€;
Boiled sausage, 100g – from 0,85€;
bacon, 100g -1,85€;
smoked sausage, 100g – 2€;
eggs, 10 units – 1,5€;
chicken fillet, 1 kg – 5€;
herring, 1 kg – 2,25€;
dorado, 1 kg – 6,9€;
Sea bass, 1 kg – from 5,1€
persimmons, 1 kg – 2€;
pears, 1 kg – 2,25€
apples, 1 kg – 1,6€;
oranges, 1 kg – 1,7€
bananas, 1 kg – 1,2 €
kiwi, 1 kg – 2€;
cucumbers, 1 kg – 1,1€;
tomatoes, 1 kg – 1 €;
Drinking water, 1,5 l – 0,25€.
Canarian fast food
Fast food chains in Tenerife are represented by Spanish and foreign franchises. There are McDonald's, KFS, Subway, Little Italy and Telepizza restaurants. A hearty set costs 7€.
Residents of the island are not too fond of such fast food and prefer traditional Spanish street food. The resort centers of Puerto de la Cruz, Los Cristianos, Santa Cruz and La Laguna are full of delicious smells. In the streets of towns and villages, fried churros sticks are prepared. They are usually eaten by dipping them in sugar or chocolate.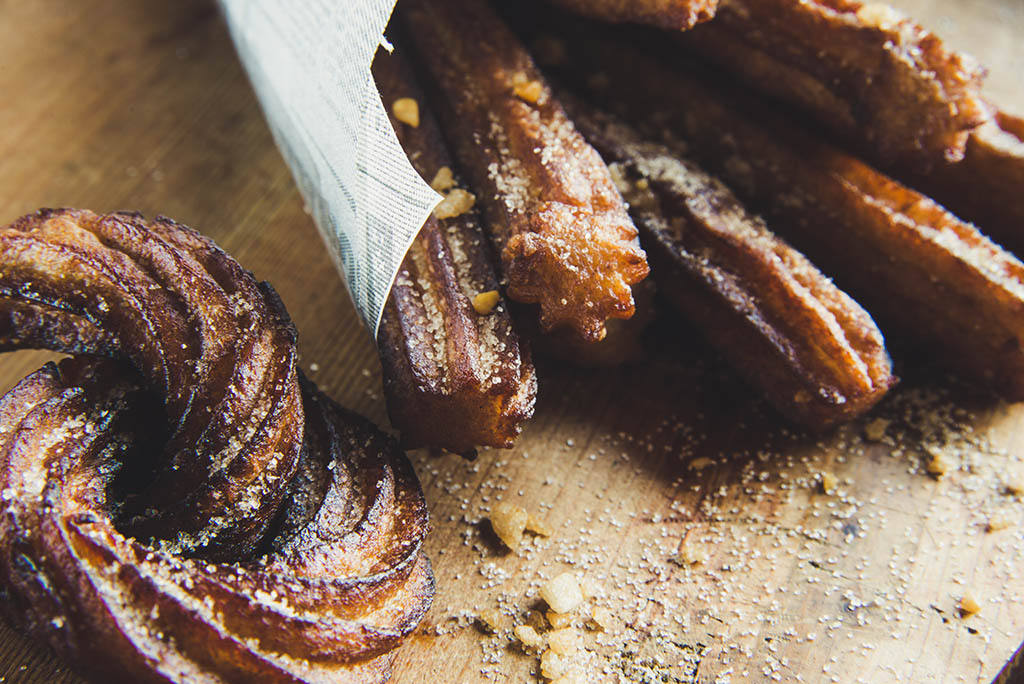 Churros are fried pastries made of custard dough (Photo: unsplash.com / @huibscholten)
A great snack on the go are caramelized apples, roasted chestnuts and sugar-roasted almonds. If you get hungry, get some pinchos – mouthwatering sandwiches that are pierced with skewers. They are made with fresh bread and various appetizers.
Try tapas . Simple hearty fast food – similar to pinchos sandwiches, plates with sliced smoked sausage, bowls with nuts or olives. Tapas are available in regular restaurants and special tapas bars.
Prices for popular fast food in Tenerife in 2022:
Grilled cheese – 8€;
tapas – 5 €;
pinchos – 2 €;
kebab – 3 €;
a cup of cappuccino – 1,5 €;
A fruit smoothie 1,5 €.
Useful selection: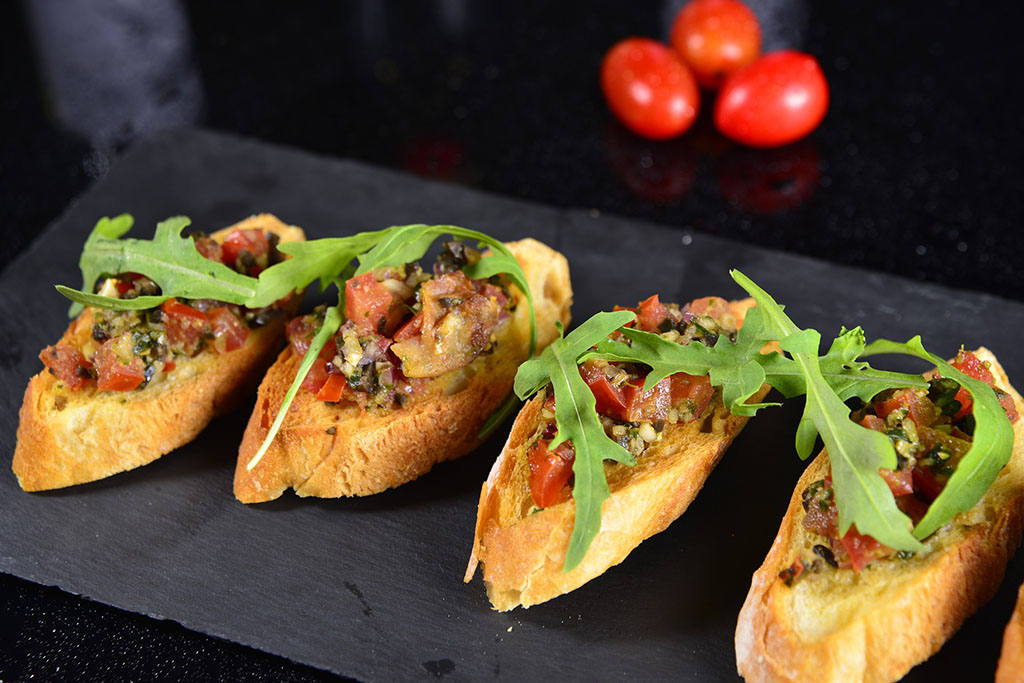 Tapas as sandwiches (Photo: Pix3853 / pixabay.com)
What's important to know
Restaurants and cafes in Tenerife have a flexible approach to the dress code. Frontline establishments are allowed to wear beachwear. In cafes and restaurants at higher levels in swimsuits and shorts will not be allowed.
Canarian restaurants observe certain traditions in serving food. Breakfasts are served from 9 a.m. to noon, lunches from 1 p.m. to 3 p.m., and dinners from 9 p.m. to 11 p.m.
Café and restaurant workers do not particularly rely on tips. But they will be grateful if you leave for good food and good service about 10% of the bill.