Gagra or Pitsunda: which is better?
It is not necessary to go abroad, when Russia has so many places for beach and tourist recreation. In the summer of 2022, the current destinations are Abkhazia and the Crimea. In the first case, most tourists spend their vacations in the cities of Gagra or Pitsunda. It remains only to find out which resort is better for vacation and with what.
Rest in Gagra in summer
The most popular resort of Abkhazia, where visitors get comfortable conditions of rest and positive impressions. In addition to picturesque landscapes and clean waters of the Black Sea here is a well-developed tourist infrastructure. So vacation will be remembered as a noisy group of friends, as well as young families with small children.
Excessive inflow of tourists in Gagra is observed in summer – during the bathing season. Reviews of holidaymakers describe not only a beach vacation with all the comforts, but also a rich educational and entertainment programs.
Some tourists are attracted by the warm waters of the Black Sea, others enjoy the picturesque landscapes of the Caucasus Mountains, and others enjoy the hospitality of local people and national cuisine.
If you want to change the atmosphere of the evening you can spend at a disco or take a walk along the lighted embankment, go on an excursion to the nearest resorts and towns. This list of entertainment does not end there. Rest in Gagra in the summer of 2022 provides a lot more interesting things.
Abkhazia is a succession of beaches with fine pebbles and gently stepping into the water. Compromise variant for a holiday with children. The coast line is 10 kilometers long, the access to the city beaches is free and free of charge. In addition, everything is equipped for a comfortable holiday.
For extra charge you can rent a beach chair and a sun umbrella, rent water bikes and catamarans, entertain your child on the attractions for kids. If you wanted to eat, the prices in local cafes are affordable, and the cuisine – delicious dishes. Reviews about recreation in Pitsunda are no less inspiring.
WHAT TO SEE FROM THE SIGHTS
Exploring, Pitsunda or Gagra, where is better, tourists take into account the richness of local attractions. In this case, the second resort wins. For example, in Gagra you can visit the castle of Prince of Oldenburg built in 1904, look into the wooden restaurant "Gagripsh", stroll along the Gagra colonnade of Moorish style, take pictures at the fortress "Abaata" and the memorial to independence.
Do not miss the observation deck of the city, the seaside park and picturesque promenade with benches and original lanterns for soulful evening strolls. It will not hurt to send the children to the local "Waterpark". Rest in Abkhazia in the resort of Pitsunda on reviews of tourists also provides active entertainment, but the only water park built in Gagra.
If you happen to rest in Gagra, an excursion program becomes part of an active holiday, expanding the outlook and knowledge of local places. For example, by visiting the ancient castle, you can get acquainted closer with the legendary personality of Alexander Oldenburgsky. No less fascinating excursion to the museum at the fortress "Abaata", equally captivating for adults and children.
In order not to linger in Gagra, you can go on an excursion to the neighboring towns of Abkhazia, also resorts – Sukhum, New Athos, etc. Many interesting things to see in Adler, go down to the picturesque river Ritsa, visit the water park.
After returning from vacation the answer to the question, Gagra or Pitsunda – which is better, is obvious. Tourists speak positively not only about the comfort of the vacation, but also gain a lot of new impressions. The prices are reasonable and the living conditions are acceptable. Also attracts the proximity of the sea, the development of tourist infrastructure and transport interchange.
Gagra is considered the center of tourism in Abkhazia, so there are conditions for the next vacation want to return here. It is also attracted by democratic prices.
Spending begins with the choice of how to get to Gagra and Pitsunda. You can get to Adler by plane, then change to a bus or train. By train is cheaper, but the end station is the city of Sukhum.
If you don't take into account the transportation costs, rest in Gagra is attractive with reasonable prices. You can rent a bed for 500 rubles per person in the private sector and 1,000 rubles for a hotel without meals. While vacationing with a friendly group, it's better to rent an apartment. For instance, you will have to pay 1 500 rubles or more for a "two-bedroom" apartment per day depending on the distance to the sea.
The cost of food is the same as in your own city. You can eat at budget cafes, where the price for a complex dinner is up to 300 rubles per person. Vegetables and fruits are inexpensive, the guests attract tourists by tempting offers and promotions.
If you choose, Gagra or Sukhumi, where is better, the first option clearly wins on several evaluation criteria. This city is considered the center of tourism in Abkhazia, offers a comfortable vacation for all tastes and wallets. Significant advantages – a convenient transport interchange, picturesque scenery and a variety of local attractions.
But the disadvantage is considered overcrowding in Gagra in the summer season, low quality cleaning of streets and beaches or its absence. The city becomes overcrowded, dirty and untidy. So there is still much to work on and seriously consider whether it is better to have a rest in Gagra or Pitsunda.
Rest in Pitsunda in summer
This is another resort town of Abkhazia, which offers tourists medical and recreational and entertainment and educational recreation in the summer. At the resort you can enjoy the beautiful scenery, fresh air and tranquility, a break from the usual bustle of megacities.
In Pitsunda the hot summer is combined with a light breeze, and beach vacation is suitable for adult tourists and families with children. However, due to the lack of investment flow, it is difficult to say that there is a well-developed tourist infrastructure. Nevertheless, visitors from all corners of Russia continue to look for guest houses in Pitsunda with good reviews and come here all year round.
This resort town is more suitable for a quiet, family vacation when you want to relax and gather your thoughts. You can do this on the city embankment, in a shady grove with relict pine trees on the shore of Lake Ritsa or Stalin's dacha.
You will not miss the historical monuments, architectural constructions, combination of mountain slopes of Caucasus mountains and azure waters of Black sea. It is quiet, peaceful and beautiful all around.
The shoreline is pebbly, the entrance is gentle, and the access to the beach is free. Choosing a place to stay in Pitsunda, it is desirable to give preference to residential buildings on the first line. Then the sea is at hand. But such housing in the season costs from 2 000 rubles per day per person.
On beaches everything is provided for comfortable rest of fastidious tourists. This necessarily sun beds, umbrellas, attractions, cafes with delicious and inexpensive food, toilets and changing rooms.
WHAT TO SEE FROM THE SIGHTS
In addition to beach relaxation at the resort there is something to see. Among the significant sights are the old lighthouse from the 19th century, the Esher dolmen, the water tower, the monuments of pearl diver and the stone girl.
From the spiritual monuments of history in Pitsunda worthy of attention are the St. Andrew's Cathedral (pictured below), the chapel of Pitsundsky saints. From architectural – Gudauta wine factory, Stalin's dacha near Lake Ritsa, the Great Pitiunt reserve.
You can start with fascinating excursion to Pitsundsky temple in the center of the city, built in X century. Continuing acquaintance with history you should visit local history house-museum with the rich exposition in 3, Adamia St..
The second direction – the Pitsundo-Musser Reserve and acquaintance with relict pine trees or bamboo grove. It also does not hurt to visit with a tour such resort towns as Gagra, Sukhum and New Athos. Travel on your own or by sightseeing bus. For example, there are several options to get from Gagra to Pitsunda. The price is up to 200 rubles.
Lovers of wildlife will love the excursion to the mountain lakes Ritsa and Inkit, travel on the river Bzyb and Gegsky waterfall. And in the village of Agarki, which is not far from Pitsunda, you can look into the First Gorge with a comfortable beach and a great place for diving.
The comments of tourists are contradictory. The main dissatisfaction is the lack of entertainment. In this case Pitsunda really loses to noisy Gagra, where you can party till dawn all day long.
This resort town is more suitable for a family vacation. The main entertainment is the beach and the sea. You can also sit in a cafe or stroll along the promenade, but the choice of entertainment venues is small.
To make a choice where to rest in Pitsunda, it is recommended with the rates. Cheap rest – in the private sector, where the bed-bed guest charges 500 rubles per day per person, depending on the summer month. Cost more expensive are private apartments on the beachfront with its own beach. The tourist will save from 2,000 rubles per day. Complex dinner – up to 300 rubles.
PROS AND CONS OF VACATIONING IN PIZUNDA
It remains to determine where to rest best in Pitsunda and what they say reviews. Of the positives – tranquility, eco-friendly vacation and reasonable prices for recreation. The disadvantage is the lack of development of tourist infrastructure and transport interchange. In the latter case, to get to a place of rest to be with a few transfers, and this is an additional expense.
Otherwise, both resorts are very hospitable and create conditions for a pleasant, affordable and memorable way to spend a long-awaited vacation. As a group of friends or as a family.
Gagra or Pitsunda: Where to have a rest?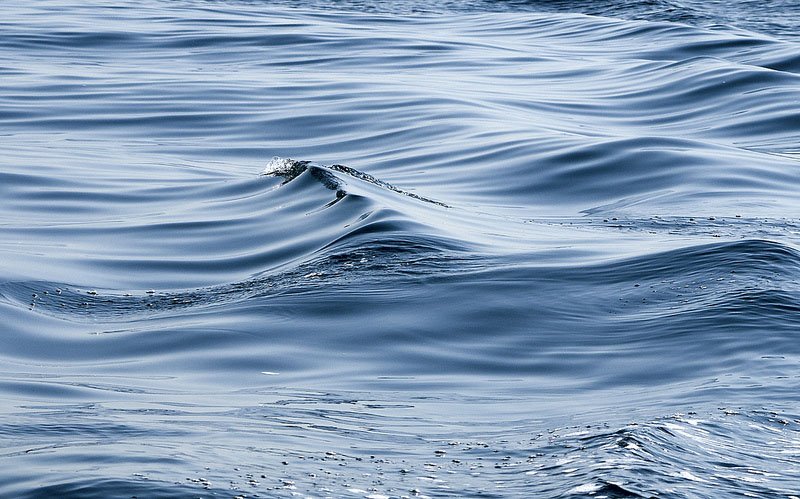 Where to go in summer 2022 – to Gagra or Pitsunda? We compare holidays in two popular resorts of Abkhazia. Prices, hotels, reviews, climate.
In Soviet times, a trip to Abkhazia was something out of the ordinary: everyone could not afford a holiday in Gagra or Pitsunda, and the Soviet elite loved to holiday in Abkhazia. Now the Country of Soul is open to everyone, you just need to buy tickets and plan your trip. For those who are going to go to Abkhazia, we have collected relevant information for 2022 about two popular resorts of Abkhazia – Gagra and Pitsunda: prices for food and hotels, pros and cons of rest, reviews of tourists.
On a side note:
And Hotellook – hotels with discounts – accommodation in the private sector
Leisure in Gagra in the summer of 2022
Ancient Gagra, whose history begins in the 1st century BC, attracts first of all its mountain scenery and turquoise sea – this is certainly one of the most beautiful parts of Abkhazia. Thanks to this Gagra "lighted up" in such famous Soviet films as "Merry Boys", "A Winter Evening in Gagra" and "Dark Nights in the City of Sochi.
In Gagra, in addition to beach holidays, there is something to do: there are many sights in the city and its surroundings – from the traditional castle of Prince of Oldenburg, restaurant "Gagripsh" and Lake Ritsa to a variety of waterfalls, lakes, caves, groves and parks. Unfortunately, during the Georgian-Abkhazian conflict the city was seriously damaged, but did not lose its charm. Rest in Gagra in the summer of 2022 can also be varied by visiting neighboring cities: Alakhadze, Pitsunda and Gudauta, and there is already not far to New Athos and Sukhum.
Fans of extreme in Gagra in summer will also like it: in Abkhazia you can go diving and speleodiving, jeeping, rafting and fishing. In addition, Gagra offers all the beach attractions familiar to tourists.
Advantage of Gagra before other resorts of Abkhazia is that you can quickly and inexpensively get to it: all buses and buses that run from the border pass through Gagra, and, in principle, the city has a developed public transport system. Also Gagra favourably differs from other cities of republic with developed tourist infrastructure, however every year there are more and more tourists: beaches and hotels are sometimes overcrowded which is a significant minus. The bulk of tourists stay in the private sector in New Gagra, and Old Gagra, where all the sights are located, is quiet and majestic.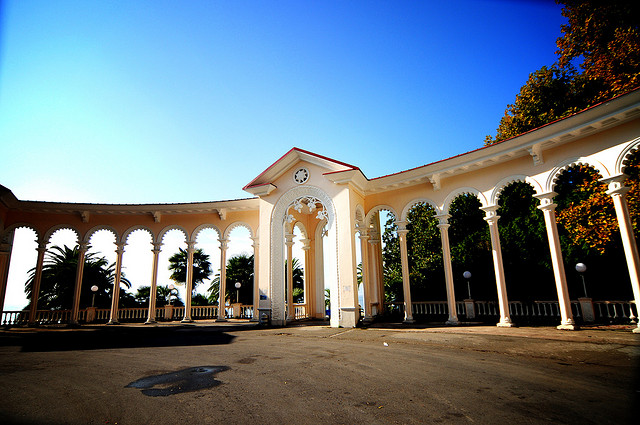 (Photo: mikesub / flickr.com / License CC BY-NC-ND 2.0)
Prices for vacations in Gagra in summer
Prices for recreation in Gagra in the summer are quite moderate, but in general higher than in other resorts of Abkhazia, affects the popularity among holidaymakers. To have lunch in the dining room for 300-500 rubles per person, in a cafe, of course, the average check is higher – from 1200 (and more – it all depends on your pretensions). The local fruit in the season is quite cheap, but the prices of products in the stores are as in Russia, and sometimes even more expensive. Buy fruit and vegetables early in the morning at the markets.
Find a room in a guesthouse on Yandex.Travel or Hotellook for 600-1500 rubles. Of course, the price will depend on the comfort of housing and the distance from the sea. In general, Gagra has a lot of housing proposals, as there is a great demand for them. A lot of boarding houses, sanatoriums, guest houses and hotels – for every taste and wallet. Apartments – from 1500 rubles (depending on conditions and number of rooms), a cottage – from 3000 rubles per day for two. We recommend booking accommodation in Gagra in advance. Private accommodation without intermediaries is better to search and book on the Daily.ru.
Rest in Gagra in the summer of 2022 with children
In Gagra it is comfortable to vacation with children both in summer and winter: the city is surrounded by mountains that protect it from winds, so in winter the air temperature can reach +20 ° C. Gagra is considered one of the warmest places on the Black Sea coast. The climate here is humid subtropical: in the summer the air heats up to +35 ° C and the water – up to +33 ° C.
People come here with children to get away from the urban bustle and enjoy the unforgettably beautiful views. For younger vacationers built a water park. You can also take your children to visit the local zoo, take them on an excursion to Lake Ritsa and waterfalls or simply take them for a walk in the mountains.
Climate of Gagra is extremely favorable both for children and adults: surrounding mountains protect resort from cold winds and breeze brings freshness. Daytime air temperature in Gagra in summer reaches 30 ° C, and at night – up to +20 ° C. Bathing is also comfortable: the water temperature is up to +25 ° C.
Reviews about rest in Gagra in summer
Generally, reviews about rest in Gagra in summer are positive: lush wildlife in the neighborhood, beautiful architecture, clean sea and a fairly developed tourist infrastructure (compared with other resorts) overrides such minuses as "sovkovkovosti" and some fussiness of the city. Holidaymakers in their reviews especially note the good location of the resort, a favorable climate and the proximity of attractions.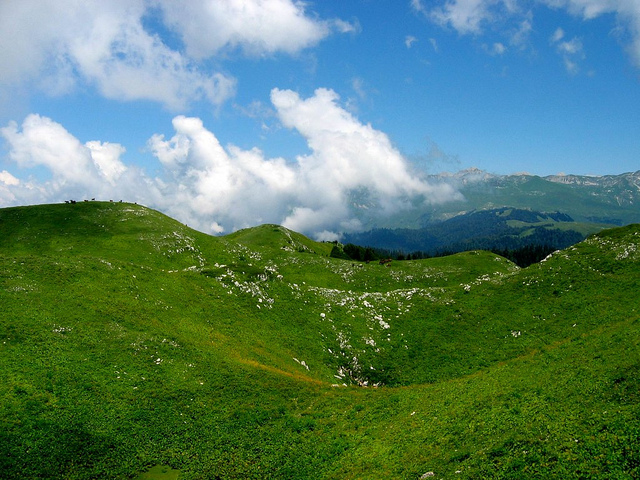 (Photo: Ivan Ermokhin / flickr.com / License CC BY-ND 2.0)
Did you know that you can get tours to Abkhazia for only 25,000 rubles (for example, a tour for two persons for 7 nights from Moscow)? And during the promotional period – even cheaper! The price of the tour: flight, accommodation, transportation, insurance and meals of your choice. Last minute tours at the best prices can be found on the service Level.Travel – it compares the proposals of 120 tour operators, and therefore can find the best option. You can buy tours online, which is very convenient.
Holidays in Pitsunda in the summer of 2022
Pitsunda is another popular climatic resort in Abkhazia, where you can comfortably rest and relax. The city was founded by the Greeks in the 4th century BC, in Soviet times here, as well as in Gagra, rested party leaders and heads of state. The film "Scarlet Sails" was shot in the city.
Why go to Pitsunda? The resort is famous for its curative pine air: there is a pine grove length of four kilometers, where it is always a pleasant coolness and a delicious smell of pine needles and resin. In addition to the famous pitsunda pine, boxwood and cypress trees grow here. And not far from the resort there is a huge Pitsunda-Musser Reserve.
Also Pitsunda is famous for its microclimate. Almost always in the Bay of Pitsunda the sun shines, while other resorts of Abkhazia can be overcast. The air temperature in the summer in Pitsunda area reaches +27 ° C, and at night the thermometer column does not drop below +17 ° C. The water gets warm to approximately the same temperature.
The bay of Pitsunda is safe for swimming: it is quiet and not too deep, there are almost no big waves. Well, and the water washed Pitsundsky Cape, undoubtedly considered one of the cleanest in Abkhazia.
Prices for holidays in Pitsunda in summer
Prices in Pitsunda, as elsewhere in Abkhazia, in 2022, almost as in Russia. Cheap seasonal fruit and inexpensive local food, friendly people, beautiful nature, clean sea and curative climate make Pitsunda very attractive for tourists.
To have a solid meal in a dining room (first, second, compote) is up to 500 rubles per person and in a cafe – up to 1000 rubles, depending on the level of the institution and the dishes. Shashlik costs about 150 rubles per 100 grams, soups – from 70 rubles.
Prices for hotels in Pitsunda not high: to find housing from 600 rubles per day is not a problem, and if you haggle, you can find cheaper. However, the proposals are not too many. Guest houses, hotels and mini-hotels are advised to search at Yandex.Travel or Hotellook.
You can search for private accommodation on Sudnots.ru (apartments or whole houses); you may also find variants on the spot. For example, a room in a guest house costs from 1000 rubles per night for two people, while apartments cost from 2000 rubles per day.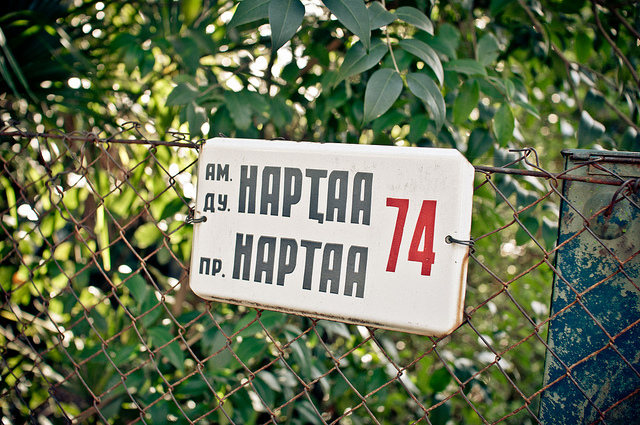 (Photo: Marco Fieber/Ostblog.org / flickr.com / License CC BY-NC-ND 2.0)
Rest in Pitsunda in the summer of 2022 with children
In the summer of 2022, both children and adults can rest beautifully in Pitsunda: thanks to the shady alleys and groves, you can always take shelter from the scorching sun, breathing in the healing aroma of pine trees. Especially recommended to visit the relic park Pitsunda patients with allergies and colds, as well as those who suffer from diseases of the nervous and cardiovascular systems.
Pitsunda is ideal for holidays with children: the resort is quiet, there is no noise and bustle, and all the entertainment can be found on the waterfront. The sea here also deserves all praise: warm and clean, and the beach is wide pebble. If you want almost complete solitude, go on vacation to the neighboring with Pitsunda settlements, for example, in Myussera or Ldzaa.
There are few sights in Pitsunda, and you can see them literally in one day. The resort cannot be compared to Gagra or New Athos in this respect. In the city should pay attention to the ancient Pitsunda Temple, which hosts organ and classical music concerts, a monastery and a museum of history, and outside the city – Pitsunda relic park with its intoxicating aroma of pine trees, Pitsundo-Musser Reserve, house-museum of ethnography Khetsuriani in the village Ldzaa and the sanctuary of Ldzaa-nyha.
Reviews about summer holidays in Pitsunda
About Pitsunda, as well as about Gagra, speak well: an excellent climate, crystal-clear sea and good beaches, low prices. At a resort it is quiet and calm, here come mainly for a measured rest with children, the resort is excellent for people in age. Those who want to improve their health also come here. There are also negative reviews about rest in Pitsunda, mostly they relate to the lack of developed infrastructure and service. Many tourists close their eyes to the lack of the latter, but there are significant shortcomings in the rest in the summer at this Abkhazian resort, as you read below.
(Photo: mikesub / flickr.com / License CC BY-NC-ND 2.0)
Disadvantages of vacationing in Pitsunda
Pitsunda is quite far from the Sukhumi highway, which makes tourists without personal transport have problems. If you plan to actively travel around the country on your own, "based" in Pitsunda, be prepared for the fact that transport to this resort looks pretty rare. In the evenings, buses and marshrutkas stop running at all, so it's worth finding out the schedule beforehand. Of course, you can use the services of cab drivers, but it is not cheap.
If you agree in advance with cab drivers, the fare from the border to Pitsunda can cost up to 1200 rubles (per car), from Gagra to Pitsunda – up to 600 rubles. You should not accept the offers of zealous cab drivers at the border: it is unlikely that someone will take you for 1200 rubles, the sum will be much higher.
On this basis, we recommend to go to Pitsunda only for a quiet family holiday and for health purposes, and those who wish to see Abkhazia on their own, we recommend to stay in Gagra or Sukhum – there are no such acute problems with public transport as in Pitsunda.
As for lodging, the choice of guest houses and mini-hotels compared with Gagra is also small: if in Gagra, most hotels are located on the coast, many hotels in Pitsunda are at a sufficient distance from the sea (and often even in neighboring villages), keep this in mind and check the hotel location on the map.