Benidorm: tips for your vacation
Spanish city on the Costa Blanca is called the second Las Vegas and the Capital of Entertainment. Find out from reviews what tourists write about vacationing in Benidorm, how they evaluate the beaches and weather, what hotels and attractions they advise.
Content:
Reviews of tourists about Benidorm
Benidorm is loved by young people to come to Benidorm. During the high season, one of the busiest resorts in Spain turns into a real Klondike – the streets are crowded with tourists, restaurants are full, and from the bars all night long music booms. Vacationers love the wonderful sandy beaches, clean sea and convenient location. From Benidorm is convenient to travel to other cities in Spain.
Ksuyshenka: "Spain greeted me sunny, warm and bright colors of blooming greenery. Benidorm is located in an incredibly beautiful place. The views that opened from the peaks were simply breathtaking. I fell in love with Benidorm.
Valentina and Ruslan: "The feeling that at night no one sleeps in the city. The streets are full of tourists, and a sea of lights. There are a lot of nightclubs and other places of youth entertainment in Benidorm. During the day, the city is a bit quiet, and life there is calm and measured.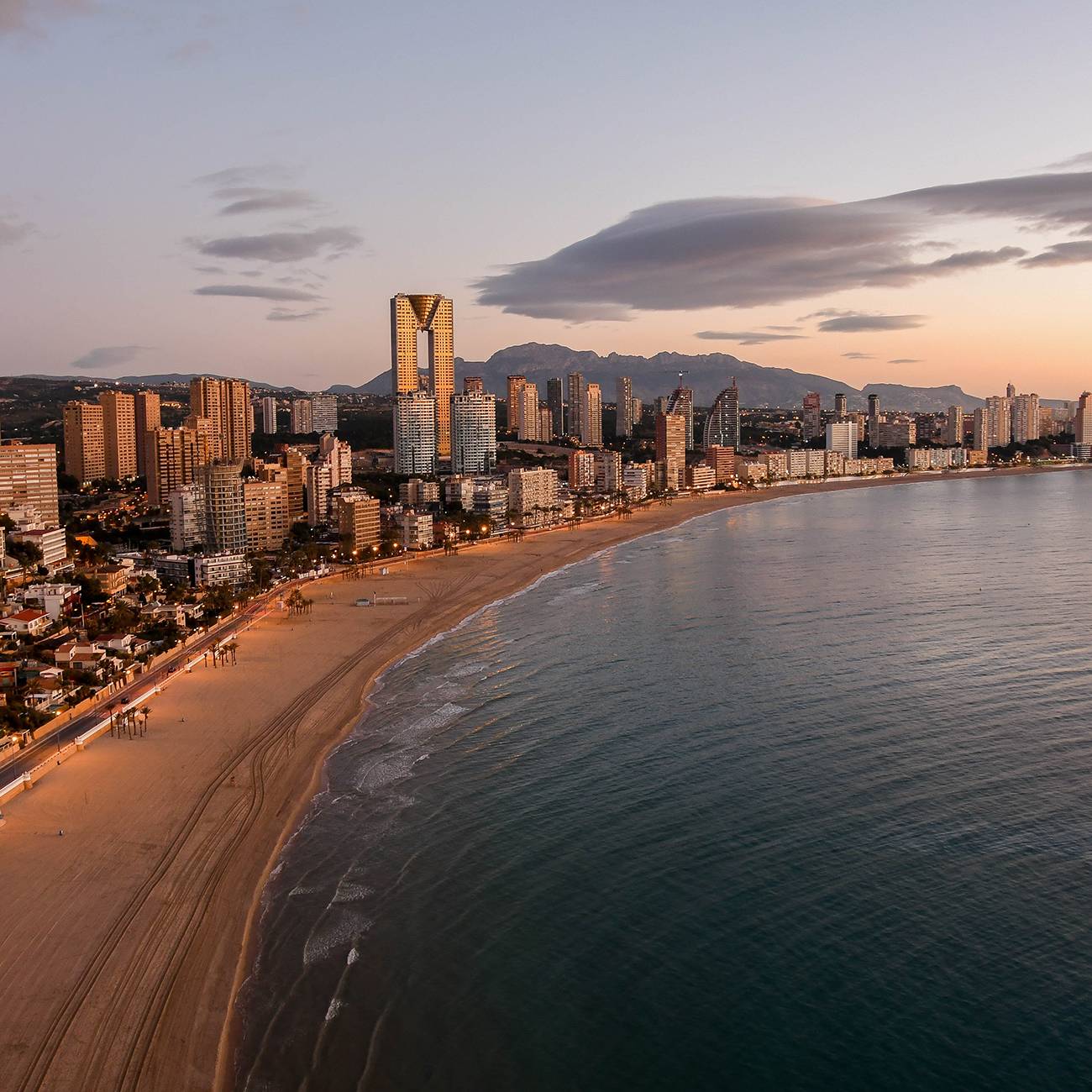 Dawn in Benidorm. Photo: maksimivanov / unsplash.com.
Best hotels in Benidorm
According to official statistics, hotels in Benidorm take up to 32 thousand tourists. In addition to hotels 2-5*, at the resort you can settle in a campsite, family boarding house or rent apartments. Lodging on the Costa Blanca is very popular. Book your favorite rooms in advance!
For the best hotels in Benidorm in Spain, according to tourist reviews:
Hotel Servigroup Venus 3* is a cozy hotel with an outdoor pool near the Levante beach. During high season, a double room with breakfast and dinner costs from 165€.
Hotel Servigroup Calypso 3* – A hotel with a swimming pool and a sunbathing terrace 300m from the beach. Room for two with breakfast and dinner from 165 €.
Gastrohotel Boutique RH Canfali 4* – comfortable accommodation in the historic center. From the roof terrace you can see the beaches of Levante and Poniente. A double room costs from 150 €.
Hotel Servigroup Castilla 4* is a multi-storey hotel 500m from the Levante beach. A room for two with breakfast and dinner starts at €155.
Hotel Boutique Villa Venecia 5* is a luxury boutique hotel near the Levante beach in the old town of Benidorm. A double room with breakfast costs from €267.
The Level at Meliá Villaitana 5* is a superb complex in the form of a Mediterranean village. A room for two with breakfast costs from 263€.
OnlineTours – Benidorm tours – hotels in Benidorm
Beaches of Benidorm
The Mediterranean Sea on the Costa Blanca in Spain is very clear. In Benidorm it is calm, without big waves. The tides come in, but the changes are little noticeable.
All beaches are free. The longest is Poniente Playa. The beach of Poniente in Benidorm has everything you need for a comfortable holiday, but during the season there are a lot of people. According to tourist reviews for 2021, it is good to relax on the luxurious sandy beach of Levante. If you want to swim in secluded bays, choose Mal Pas Playa, Almadraba or Ti Ximo.
Nikita B: "Even in September you can say there's nowhere to go on the beach in Levante. But I always liked it for its relaxing and unpretentious atmosphere.
Panorama of Poniente Playa beach
Benidorm sights
Seaside City is divided into new and old. In the modern part there are high-rise buildings, large supermarkets and business centers. A local landmark is the tallest building in the country, the Grand Bali, which rises 210 m.
Take a walk through the historic part of the resort and experience 17th- and 19th-century Spain. Visit the church of Sant Jaime and the ancient Iberian settlement of Tossal de Cala. Admire the coast from the observation deck between the beaches of Poniente and Levante! The view from the cliff is so good that this place is called the "Balcony of the Mediterranean".
Nick Kascheev: "I found Terra Natura Zoo to be one of the best in terms of the conditions in which the animals are kept. They really have a lot of space there. Attractions in the vicinity. Here I recommend visiting Alicante, Guadaleste and Valencia."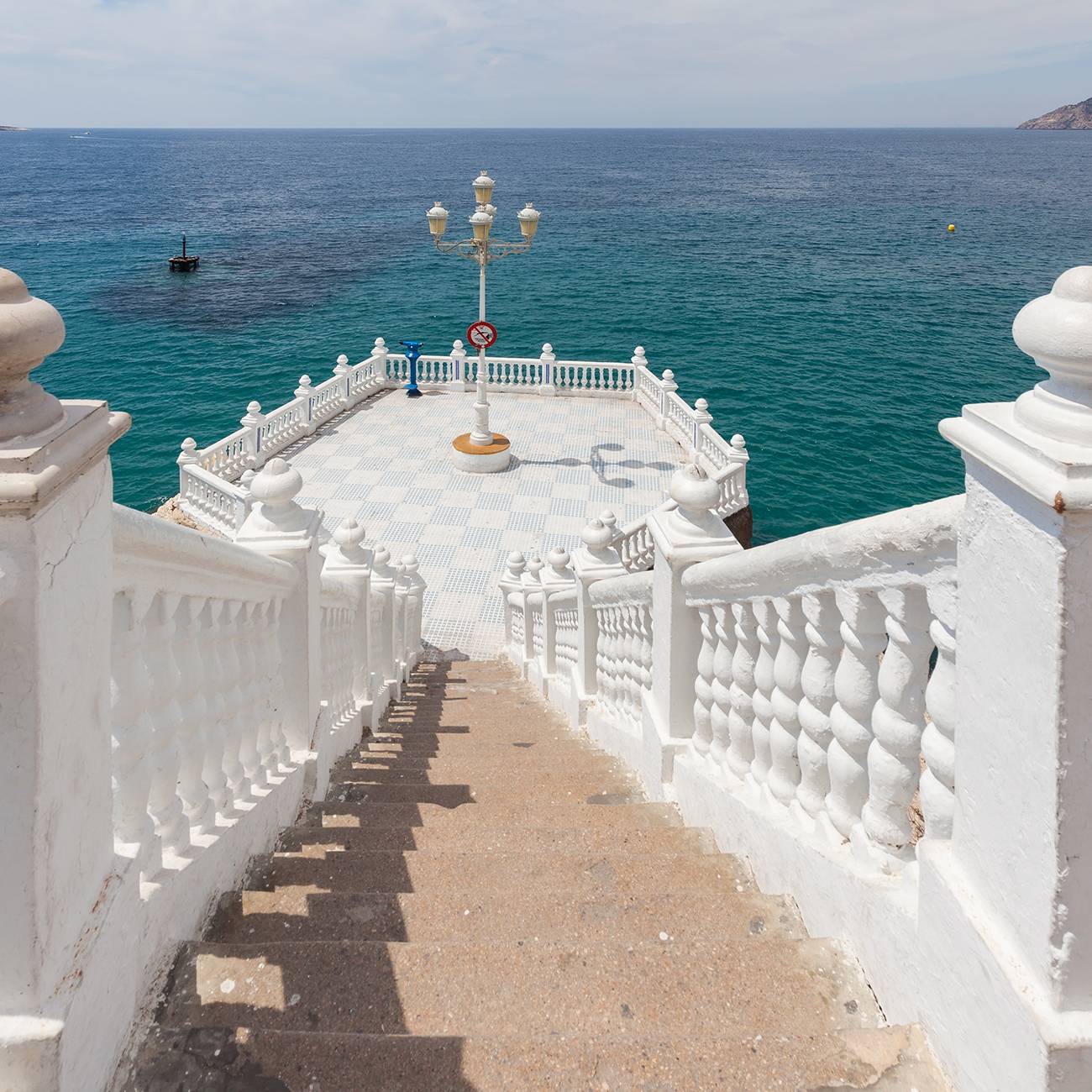 A popular attraction in Benidorm is the Balcony of the Mediterranean. Photo: Diego Delso / wikimedia.org / CC BY-SA 4.0.
Holidays with children
According to tourist reviews, many hotels in Benidorm in Spain focus on families with children. They have playrooms, shallow pools, children's menus, and parents can always use the services of a babysitter.
Entertainment at the resort enough! According to tourist reviews, families with children in Benidorm enjoyed spending time in the zoo Terra Natura, amusement park Terra Mitica, two water parks and nature park Sierra Gelada.
Natali_pups: "The Terra Mitica theme park is really cool, but very stretched out! The adrenaline is off the charts."
El Morret Negret is in the foreground, the smaller island is Illeta Penyes d'Arabí, and Ifach National Park is on the horizon. Photo: neilmarkthomas / unsplash.com.
When best to go
Thanks to the mountain range that borders Pontiente Beach, Benidorm has a special microclimate. Strong winds and heavy rains are rare here. Compared to Valencia, Benidorm is noticeably drier.
The first holidaymakers arrive at the resort in April. The average daytime temperature in mid-spring is +20°C. It is possible to sunbathe! The sea in Benidorm is the warmest in Spain. Bathing season begins in May and lasts until November. Parents with children come to rest in Benidorm in June, September and October, when there is no heat.
Summers are hot and dry. Because of the high humidity of the air is not easy to endure the heat. The peak of the tourist season is in July and August. According to reviews, this time in Benidorm rests the most tourists, and prices are the highest.
Zoya Verbitskaya: "In November the swimming season comes to its logical conclusion, but a beautiful tan is ensured in any case. A couple of days on a sunbed – and voila, I am an African".
A cross in Benidorm. Photo: koolmeess / unsplash.com.
Conclusions: is it worth vacationing in Benidorm
Spanish resort is a great sea, beaches, skyscrapers, modern hotels and theme parks. Come to vacation in Benidorm in 2022 if you like multinational gatherings, nightlife, bright lights, parades, discos, carnivals and fireworks. In Benidorm you can find activities for all tastes – lazy relaxation on the beaches, delicious Spanish cuisine, shopping, diving and excursions to neighboring resorts on the Costa Blanca. You will not be bored!
Benidorm travel guide


Shakymiss
Benidorm is located in the province of Alicante, which is located on the Mediterranean coast, this resort town is located about 120 km south of Valencia and about 40 km north of Alicante. The entire coast is called Costa Blanca.
Benidorm is a place where absolutely different people can rest, each of whom has their own ideas about the ideal holiday.
First of all Benidorm in the summer season (as well as in September) is the best for a beach holiday – the weather is almost always sunny, rains are very rare (for a month of rest rain was one day), in the city has two equipped beaches (there are sun beds, umbrellas that can be rented, showers and toilets) and the sea water is quite warm – you can swim for a few hours without risk of overcooling. The waves in Benidorm almost none, if any, they are not very big, so the resort is not suitable for fans of surfing.
To the taste will have a rest in Benidorm and fans of more active entertainment – near the city is a water park called Aqualandia, which is perfect for travelers with small children (there are small slides for them) as well as for teenagers and young people – most of the slides there will be interesting just for them, there are more or less extreme. Near the water park is a nature park called Mundomar, where you can admire exotic animals, the park is perfect for visiting with children, and will also be of interest to all those who love nature.
When it is better to rest in Benidorm?

Shakymiss
Benidorm is a beach resort town, so if your goal is a beach vacation, the best time to go is the summer months or September. The hottest month is August, the temperature is about 28-30 degrees (on average), sometimes it rises to 33, the maximum was 35 degrees (but in general such heat is rare, usually in Benidorm no suffocating heat). Water is the warmest also in August, in this month in it you can bathe for hours – after all its temperature can reach even 28 degrees! In July and June also pretty warm, the air usually gets warm to 26-28 degrees, however it is worth noting that in early – mid-June the water may still be unheated – about 22-23 degrees, so long-term swimming will be avoided. Rains practically isn't present, the maximum – one – two days a month, overcast weather too rare. In September the weather is usually not bad, but still in the autumn and it starts to deteriorate a bit – there can be quite overcast days, the rain becomes more frequent – two or three days a week can be rainy. This is especially true in the second half of September. The air temperature also drops by the end of September it rarely rises above 25-26 degrees, the water also slowly begins to cool. The period from June to September is the best for a beach holiday, but to visit the excursions in the heat is rather difficult or should be planned for cloudy days.
As for the prices in the summer months – the most expensive month is August, which… read more
How to get there?

Shakymiss
Getting to Benidorm is quite easy, you can do it in absolutely different ways. The nearest airport is located approximately 40 km south of Benidorm, in the city of Alicante, the capital of the same province. If you're flying from Moscow, there are direct flights between Moscow and Alicante, but they will cost much more than connecting flights; our acquaintances, for example, had to change planes in Germany, and someone else had to change planes in France.
If you live in St. Petersburg, then there are several options for you – there are more convenient and less convenient, but budget. Of the more convenient options is to fly from St. Petersburg to Moscow, Helsinki or some other European city, change and fly to Alicante (direct flights, unfortunately, do not exist at the moment). A more budget option is the possibility to use the services of a discount airline called Ryanair. This is an Irish airline, which is famous for its cheap tickets, which can even cost you 150 euros round trip (if you book the ticket in advance – six months to five months). One of the disadvantages – the airline saves literally everything, you print the boarding list yourself at home, if you want to put something in the baggage, you have to pay extra for it (you can take with you only one bag, which should weigh no more than 10 kg and be no larger than 55 x 45 x 20 cm, if the size will be larger – you have to pay extra). Previously, any other item – a bag, a handbag, too, had to be packed.
Food and drinks

Maroona
A couple of tips for those who are going to Benidorm – where to eat and what to eat!
Some inexpensive restaurants (of course, there are, in principle, enough, but here are a couple to note):
Gofres Manneken Pis (Av Martínez Alejos, 1)
This restaurant has been open for more than 30 years and has been an undeniable local favorite. There are several similar cafes between Benidorm and Alicante, so you can't miss it. By the way, you can also order food at this restaurant.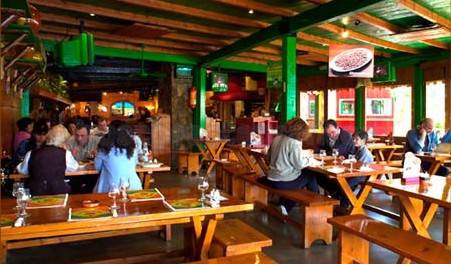 El Corral del Pollo (C/ Abu-l-salt, 1 Dénia)
The restaurant offers a wide variety of international cuisine, mostly meat dishes here, with generous portions and all sorts of promotions, very attractive. Their fried chicken, according to many, is even the best in the region. And what about the fried rabbit? The place is perfect for group dinners – it's spacious and cozy enough, and the tables are big. And there are company deals, like Tex Mex (all kinds of grilled meats) for four and La conquista de La Restaria for six (main course with appetizers and dessert). All at very reasonable prices!
La Sidrería Escondida (C/ Ruzafa, 2)
This is a restaurant-bar that serves Asturian cuisine (a region in the north of Spain). Try their natural cider. Even if you're not hungry, at least try their cheeses, pates or Spanish cold meats – very tasty! And cheap! In general, it's worth noting that the restaurant offers a large selection of savory snacks, complex.
What tours are worth visiting in Benidorm?

Shakymiss
Benidorm itself is a resort town and quite new, so excursions as such are not held within the city, however there are a number of attractions near Benidorm which are worth visiting.
Excursions can be ordered from your tour operator, as well as to buy in the so-called street tour bureaus. If you decide to use the services of a tour operator, you should keep in mind that their prices are much higher than in independent travel agencies. The pluses of this method is complete confidence that you will not be cheated, as well as the availability of Russian-speaking guide. In other travel agencies the price is usually much lower (sometimes the difference was almost 2 times), but in this case you need to be vigilant, to choose a reliable travel agency (which always have an open office, a lot of customers, good reviews, they give a contact phone number, which can always be reached). Of the disadvantages of this method – not always going to the Russian-speaking groups, may have to go with the British (and among holidaymakers in Benidorm, they are in the vast majority), it may be mixed group (in these cases, the guide in turn translates into two languages).
One of the most popular excursions you can take from Benidorm is a trip to Guadaleste. Guadaleste is a small town that is high up in the mountains, with a permanent population of only about 200 inhabitants. This place is one of the most visited in Spain (second place for the number of tourists). Guadaleste.