Istria – an inexpensive holiday in Croatia.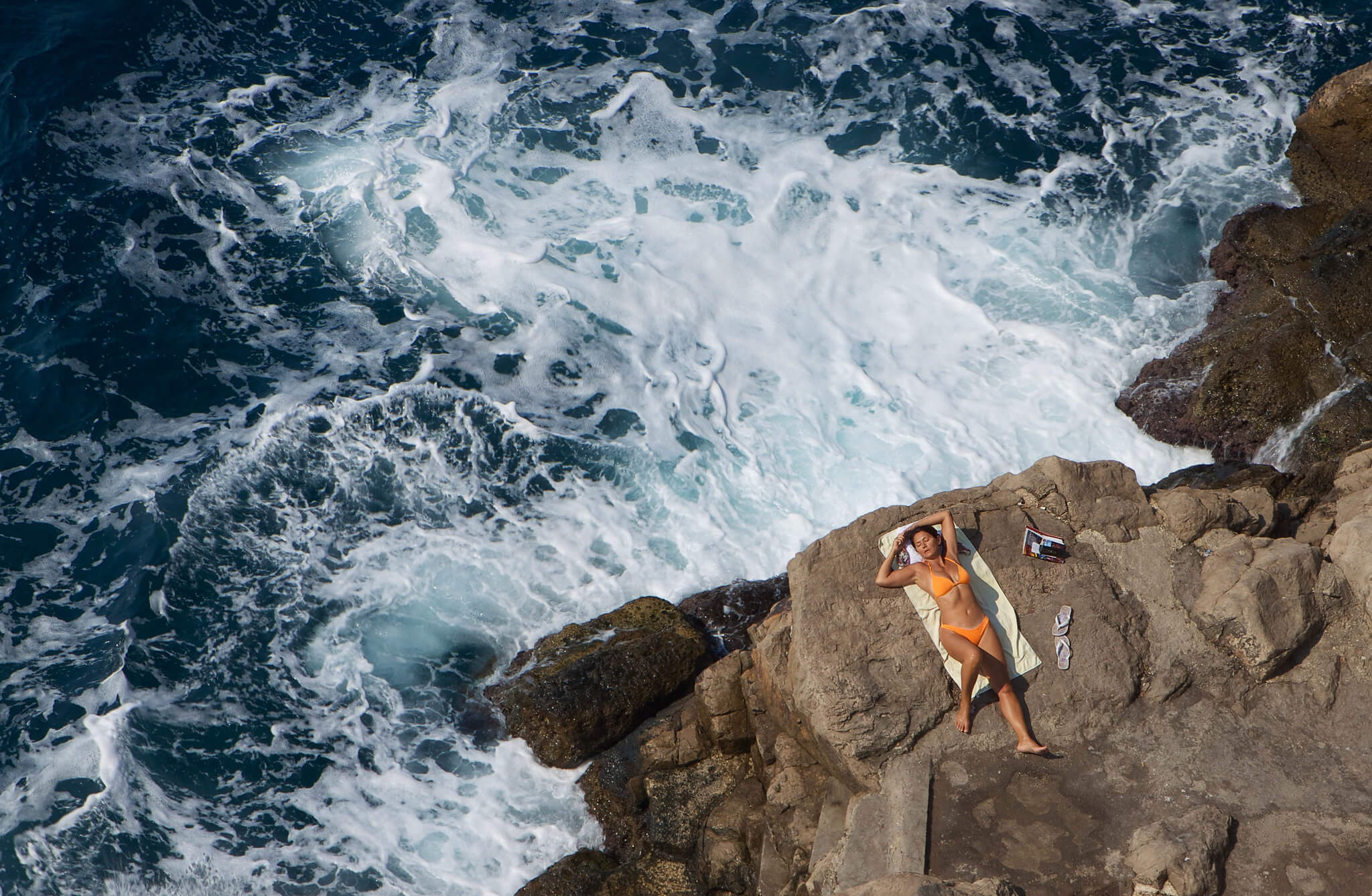 The westernmost peninsula of Croatia is liked by everyone who cannot stand the intense heat. Istria offers resorts and hotels for all tastes. Collected reviews of beaches and interesting places. Is it convenient to vacation with children? Tips of tourists.
Contents:
Resorts of Istria
The resort region is located on the border with Italy. For the beauty, mild wonderful climate, interesting monuments, clean sea and comfortable beaches the Croatian peninsula is called the Istrian Riviera.
There are many resorts on the peninsula:
Umag, the westernmost town in Istria and Croatia, which is enjoyed by fans of tennis, surfing, diving and gastronomic tourism.
Novigrad is a small fishing town with narrow streets, a beautiful church and modern infrastructure. It hosts the largest fish festival in Europe.
Porec is a large resort with a beautiful historical center and great opportunities for active recreation. The main attraction is the Byzantine Basilica, which is protected by UNESCO.
Vrsar is a small town with a unique atmosphere of the Middle Ages. A great place for a quiet holiday by the sea!
Rovinj is a romantic resort city built on an archipelago of 22 islands.
Pula is the pearl of the Istrian peninsula. It is the most ancient Croatian town on the Adriatic Sea. Pula is a paradise for lovers of archaeology, ancient architecture, beach recreation and nightlife.
Medulin is the southernmost town in Istria. It is chosen by fans of water sports, discos and nightclubs.
Rabac is a green town preferred by families with children and young people.
Opatija is a picturesque resort with a pleasant promenade by the sea, ancient temples and mansions.
Lovran is an ideal place for tourists at an age and couples. The small resort is loved for its perfectly preserved old town, promenade and modern spa.
Krk, an island to the east of Istria, is known for its lush nature, historic monuments and wonderful beaches.
Brijuni Island is an archipelago to the west of Istria, which has the status of a national park. Holidays on Brijuni are not cheap.
Elenok: "Peninsula Istria – beautiful nature, gorgeous sea, clean air. I rested in Poreč. The water is exceptionally pure and of turquoise color, the bottom is stony".
The coastline of Istria stretches for 430 km. There are few sandy beaches. Photo: kowalikus / unsplash.com. The Roman amphitheater in Pula. Photo: niels_to / unsplash.com.
The best hotels
Istria's resort towns and villages welcome vacationers at all levels of hotels, family hotels, apartments, villas and campgrounds. Search for tours to Istria on Travelate.
The best hotels in Istria, according to reviews by tourists:
Castello Gulici Porec 3* is a cozy guesthouse in an old stone mansion, 3 km from the center of Porec. For double room you will pay from 75 €.
Rooms Jakić 3* – a bright apartment near the beach in Medulin. During the high season a room for two costs from 115 €.
Azzurro Mare 4* – a stylish apartment hotel 2 km from Pula's amphitheater. A double room costs from 100 €.
Hotel Sol Sipar for Plava Laguna 4* – an excellent beach hotel with a spa and an indoor pool in Umag. A room for two with breakfast costs from 170 €.
Amadria Park Hotel Milenij 5* – luxury hotel in the center of the fashionable Opatija resort. A room for two with breakfast costs from 209 €.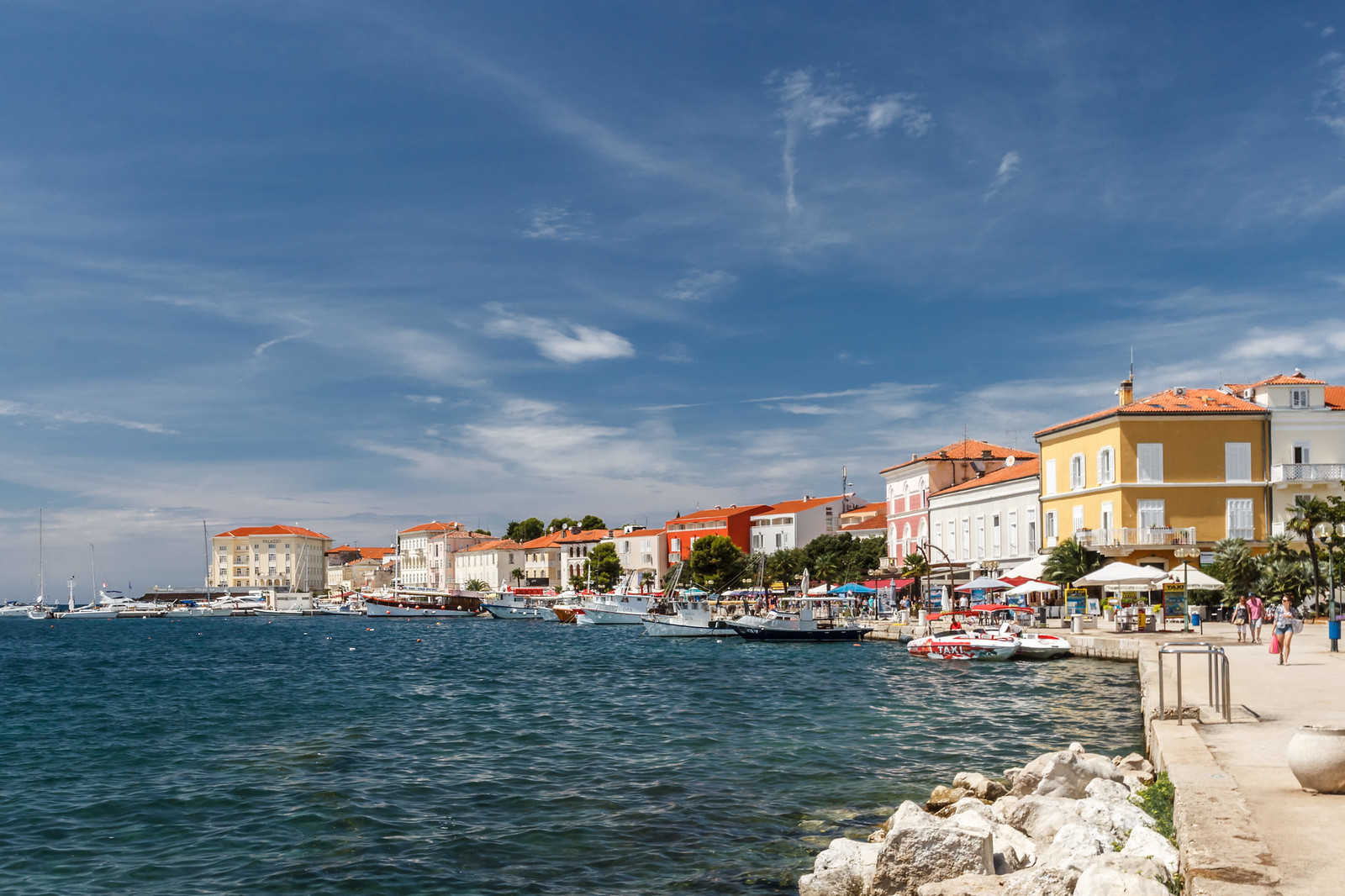 Poreč is the center of a picturesque resort area on the Adriatic Sea. Photo: Valinor Photography / flickr.com.
Beaches of Istria
The peninsula's coastline stretches for 430 kilometers. You can swim and sunbathe on rocky, pebbly, natural platform beaches and artificial concrete slabs. There are very few sandy beaches. Many places to relax by the sea are marked with an honorary Blue Flag.
All beaches in Istria are free. For a more comfortable stay tourists rent deck chairs and umbrellas from the sun. Because of the stony bottom and sea urchins, we advise to swim in aqua suits.
Talant: "Fazana Beach is pebbly and crowded. Along the beach there is a running track to the neighboring Peroi, about 4 km. It's nice to run in the morning: the Croats are not a very sporty nation, there are few runners, and those are tourists".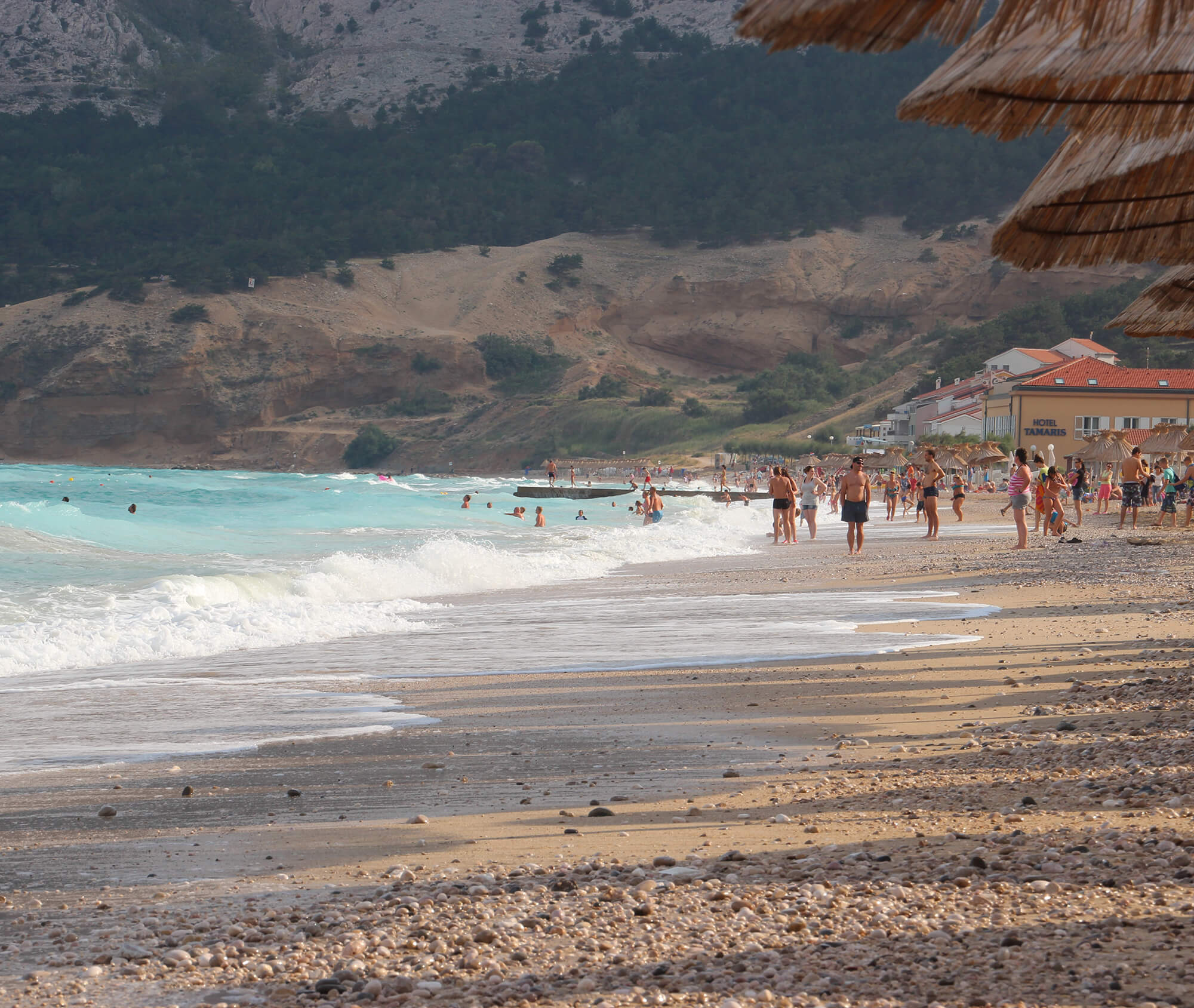 Baska beach on the island of Krk. Photo: Andorado / wikimedia.org / CC BY-SA 3.0.
What to see
Istria is famous for its picturesque hills, vineyards, pine forests, rocky coastline, and historical and cultural monuments. People come to Pula to see the Roman amphitheater, and in Porec – to see the ancient basilicas. The small town of Ravna Gora is a mecca for fans of hiking, biking and mountain climbing. According to reviews of tourists from Istria are popular excursions in Croatia – to Plitvice Lakes, Brijuni Islands. Also, tourists love tours to Italy.
Arsenal: "In Istria, Croatia, there are many ancient cities, where it is nice to walk and there is something to see. One of them is the amazing fortress city Hum, which is listed in the Guinness Book of World Records as the smallest city in the world. You won't see any modern buildings, so it feels like time has stood still here."
People come to Pula to see the Roman amphitheater. Photo: dbajurin / Depositphotos.com. Plitvice Lakes. Photo: unsplash.com / @adspedia.
Holidays with children
Parents with children like to come to Istria because of the climate. It's less hot in the summer, and the little ones feel better than in the southern regions of Croatia. Sandy beaches and attractions on the peninsula is not enough, but in Istria is a wonderful nature and great opportunities for tourism. Explore the picturesque peninsula with your child on bikes and on foot!
Gets: "Also we all really liked the attitude to children – in Croatia they simply adore them: Bus drivers would always say hello to kids and ask them anything, grandma and grandpa passers-by would always pay attention to a child – some of them stroke his head, some just smiled, even schoolchildren at the bus station were very caring towards a child – some took him by the hand, some just smiled, and I don't speak about sales clerks and waiters at restaurants… We were surprised by such attention and we, as parents, were very interesting and pleasant to observe it".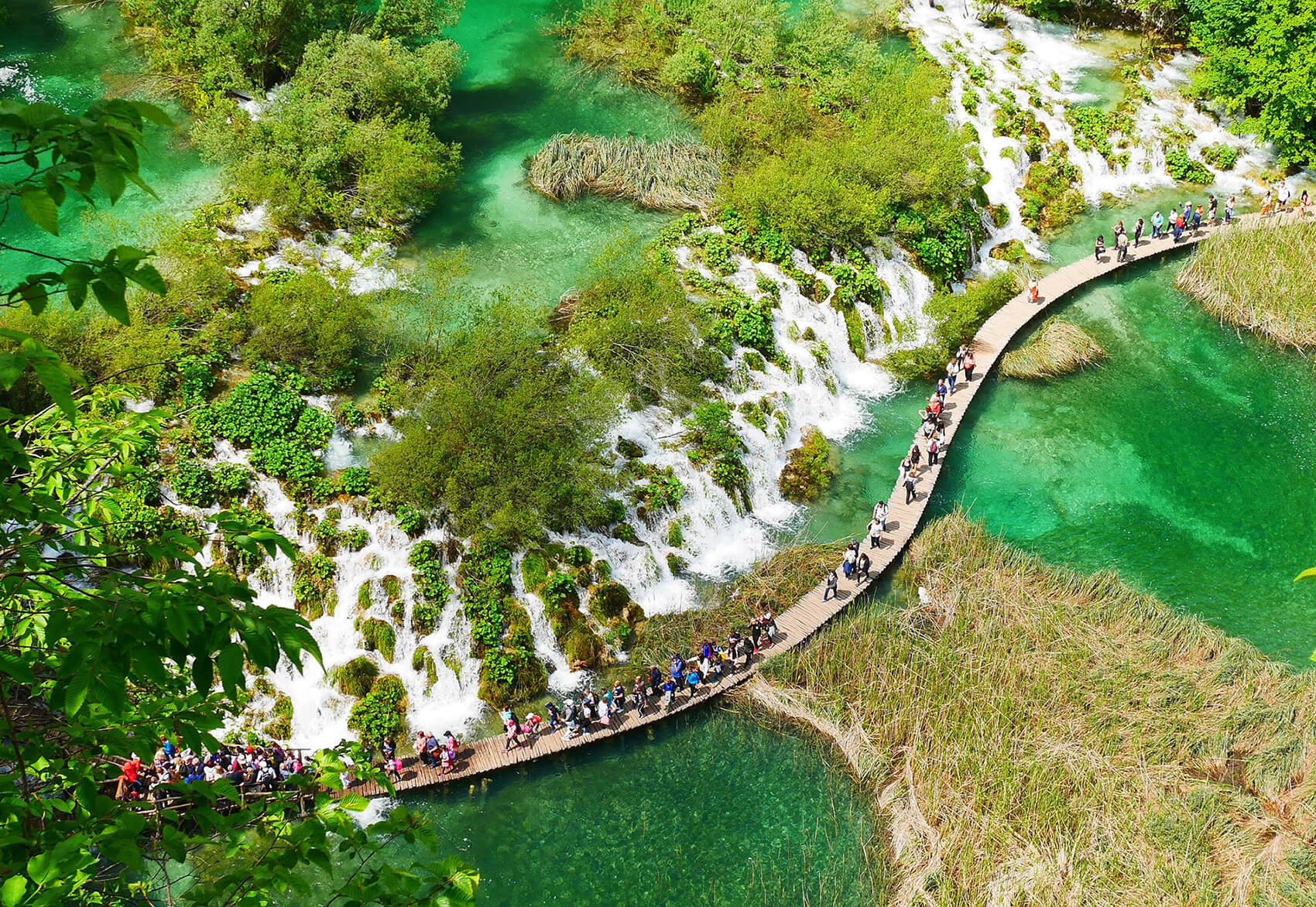 Tourists at Plitvice Lakes. Photo: king521_yolo / unsplash.com.
When it's best to go
The climate in Istria is much drier and cooler than in Dalmatia. The average temperature in July is +26 ° C. The water in the Adriatic Sea rarely warms to +25 ° C. If the beach season in the other resorts of the country begins in May and lasts until October, in Istria it is comfortable to swim in July and August. In June and September the temperature of the sea water is about +20 ° C. For a holiday with children is already cool!
Sergey: "We stayed in May. We got on an anomaly, because of 12 days the sun was only 2.5 days. It rained for 5 days in a row, the other days were cloudy.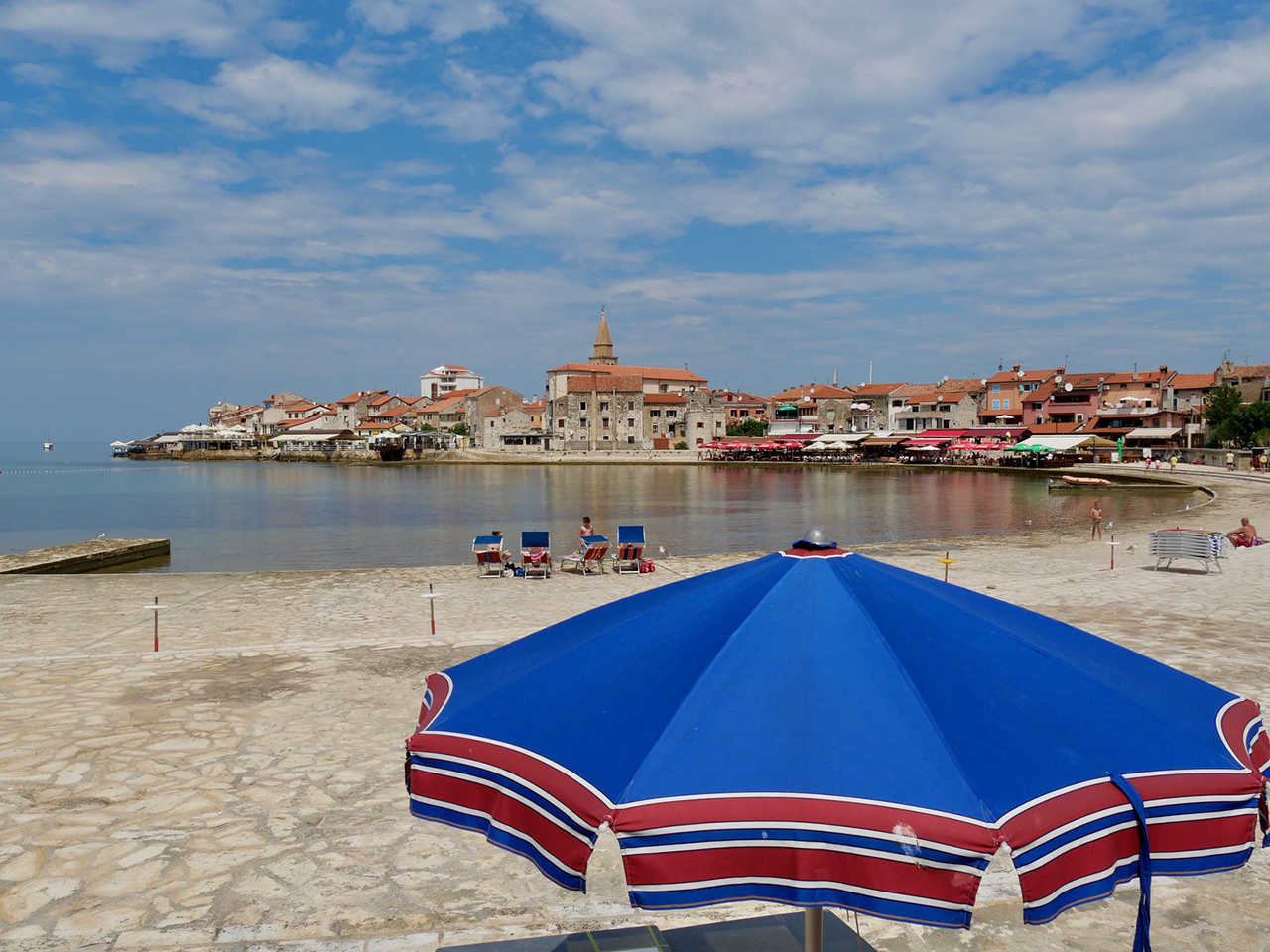 It is comfortable to swim in Istria in July and August. Photo: Granding / flickr.com.
Conclusions: is it worth to go to Istria
The Istria Peninsula offers the cheapest vacation in Croatia. According to tourist reviews, parents with children, connoisseurs of historical sites and ecotourism like it here. There are interesting hiking and biking trails along the green hills and picturesque coast. A beach vacation is inferior to the Middle and South Dalmatia, but in Istria there are many well-maintained stony and pebbly beaches.
Pine and deciduous forests, clean air from the mountains and the sea create a special microclimate. Doctors value the resort opportunities of Istria and recommend vacationing in this part of Croatia to anyone who suffers from respiratory diseases.
Gets: "Once again I remember the delicious Istrian air – because of the huge number of different conifers and generally a lot of greenery, the air is saturated with different aromas. I wholeheartedly fell in love with the Croatian pines, which descend directly to the sea and sometimes embrace the cool Adriatic."
Cover your knees: what really awaits tourists in the hyped Dagestan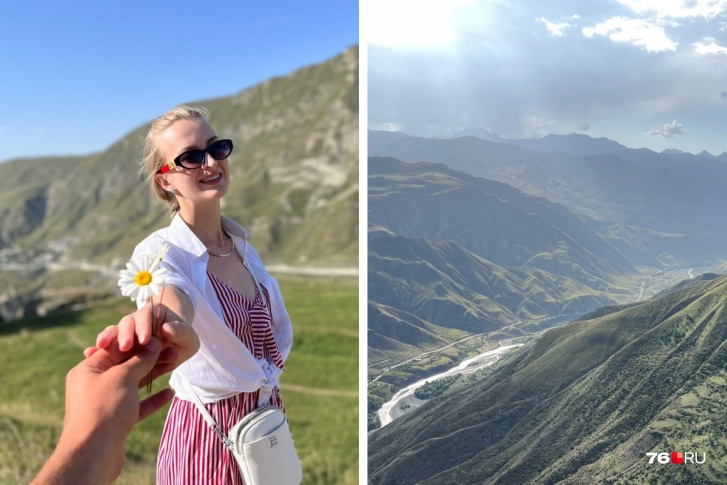 The Republic of Dagestan is an unexpectedly out of the shadows resort region of Russia. In the past two years, it has been steadily gaining popularity among travelers. The coronavirus pandemic with closed borders to many familiar destinations, as well as sanctions due to military special operations that extended the closure regime, have contributed to this. The narrowing of the world when planning a vacation forced us to look at the unexplored corners of our home country. The 76.RU editor-in-chief went on a tour of Dagestan, leaving an honest account of what a vacation in the republic was like.
In the summer of 2022 my husband and I did not even think about where to spend our vacation. Dagestan is a solution for those who seem to have already seen everything interesting and accessible like Prielbrusya, Russian southern resorts, the Crimea, Karelia, the neighboring country of Abkhazia. In a sense, for me, the Republic of Dagestan resonates with Altai – a few years ago trips to both destinations were not so popular, and now the flow of tourists has rushed to an infrastructure that is not quite ready for visitors. So it is better to know some things before you pack your suitcase for a trip to the republic.
Requirements for the appearance of the tourist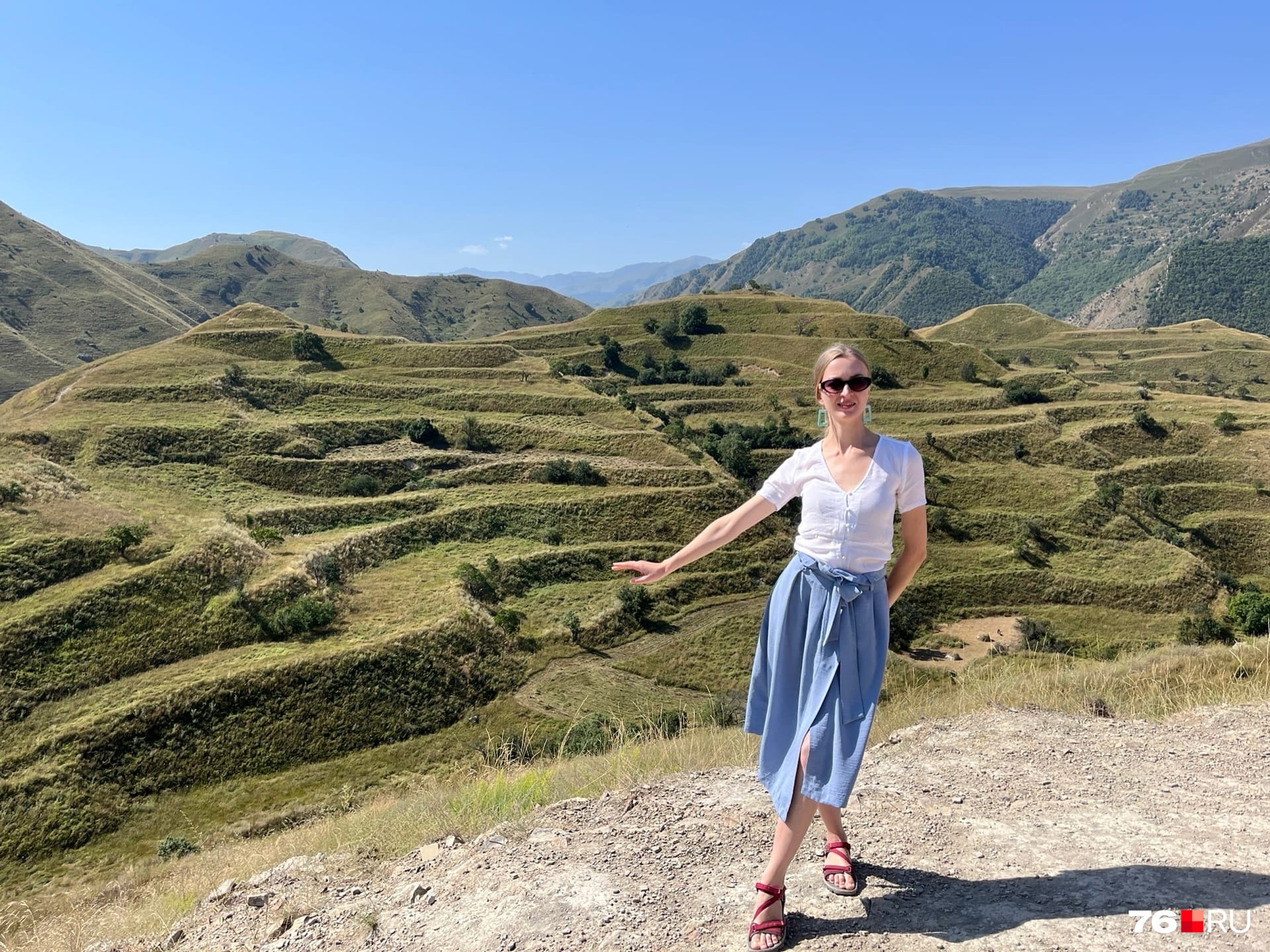 This is one of my most revealing travel outfits (not counting the swimsuit)
Photo: Anna Yolkina / 76.RU
Virtually the entire population of the republic is Muslim. Religion is so demanding of people's lifestyles that even non-religious tourists are asked to observe the rules. Usually guides in organized tours warn about this, but if you plan to travel here by yourself, prepare clothing that covers your knees. Pants and skirts below the knee are good for girls. Also for men. Shorts are okay, but again, preferably knee-length and below. For ladies, deep necklines and frank shirts are undesirable. However, no one said a word to me for a top with open shoulders.
– In Makhachkala no one will say anything to you. But during the trips to the mountain villages, the locals may come up to me and ask why I take such tourists, – asked our guide Benya to understand. – There was one incident with a girl in short shorts, because of which they came up to me with questions.
In other words, no one is likely to be openly aggressive with you because of your clothes, but they might stop working with your guide.
Only at one point was our group asked to cover up. More accurately, only the girls were asked to do so, which made us smile. That day we came to ride the sapboards on the reservoir. Naturally, everyone was in bathing suits, planning to take a dip in the blue water against the backdrop of the mountains. The ladies were given handkerchiefs and asked to cover up until we swam away from the shore.
After swimming from the shore, all the girls threw off their scarves
Photo: Anna Yolkina / 76.RU
Food and alcohol
Food in Dagestan is generous, but our group got bored with the monotonous mountain food in five days. We had apricot porridge and pancakes for breakfast every day. Lunches and dinners usually consisted of soup, chicken shish kebab, boiled lamb, or beef, lamb, or chicken stew with vegetables. Chudu – thin unleavened flatbread with meat, cheese, cottage cheese or even pumpkin inside – is always served. It is very delicious. But the traditional khinkal is not striking – these are puffy boiled pieces of dough. They are served with broth, boiled meat or sauce. Sweet lovers will be sad: honey and caramels are offered for dessert in the mountains.
Simple dishes, by the way, had a pleasant effect on digestion. Unlike the same Black Sea coast, where every summer tourists fall down from intestinal infections.
In Makhachkala and Derbent the choice of dishes is wider, there are cafes for all tastes. But there is a peculiarity – not all establishments sell alcohol. Again, because of the religious considerations of the owners. However, you will have no problem finding alcohol – Dagestani cognac and local wine are sold in stores. The latter is rather mediocre, but the cognacs are taken away by fans by the crates. It's all because of prices – Dagestan is an unusually cheap region. The most expensive bottle of wine in a specialized store is 300 rubles. And cognac is 1.5-2 times cheaper than in other regions of the country.