Poreč is a tiny, but very popular town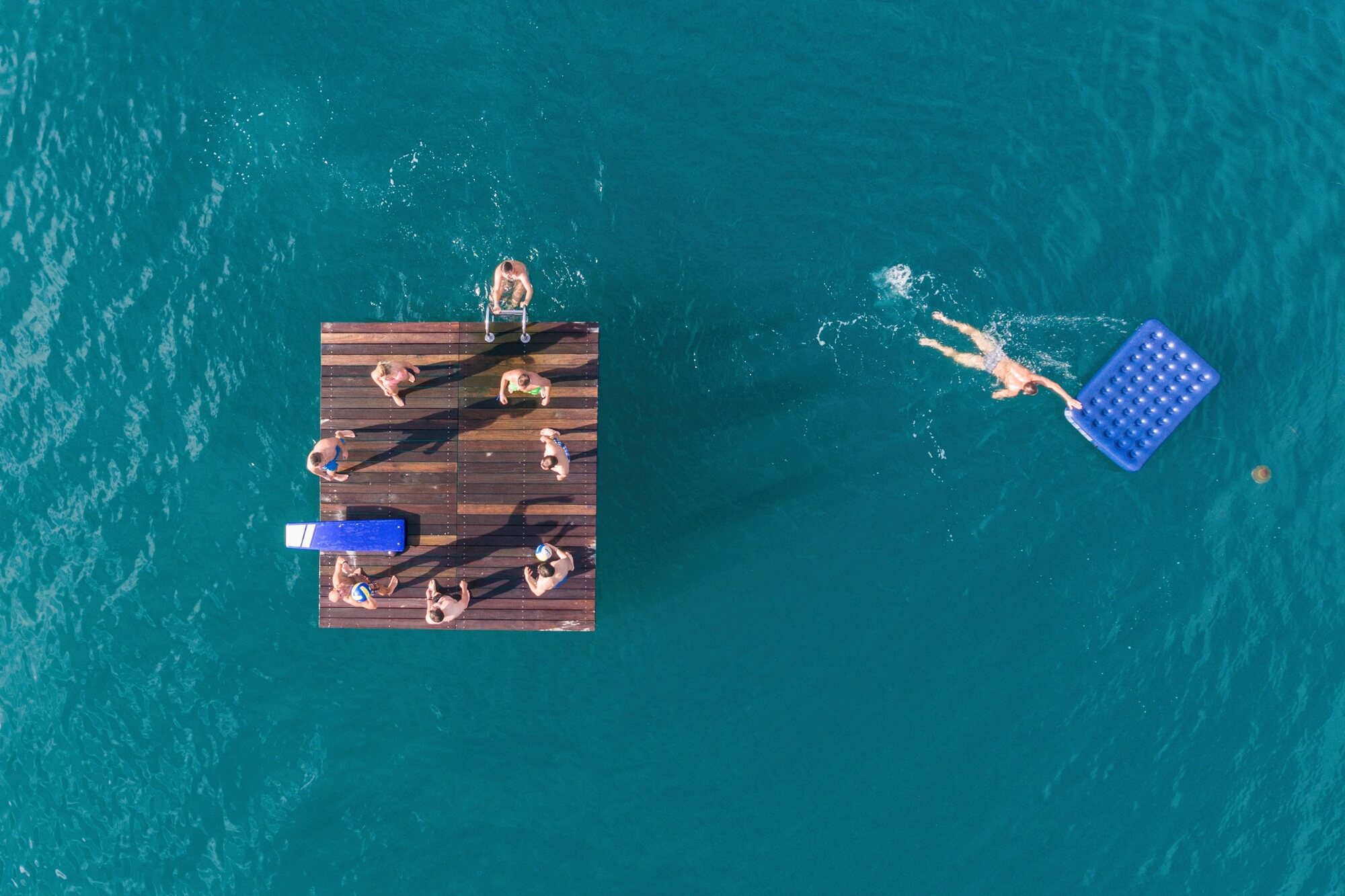 Let's visit the most visited city in Croatia! A selection of the best hotels in Poreč. How do vacationers rate the beaches and attractions? When is it comfortable to rest by the sea? Tips of tourists.
Contents:
Impression of the resort
A small Croatian town with a rich history is located on the Istria Peninsula, in the western part of the country. Poreč is the center of a picturesque resort area on the Adriatic Sea.
Italy is a stone's throw away. These lands became part of Yugoslavia only after the Second World War, so in the streets you can see signs not only in Croatian but also in Italian. The population is multinational.
There is no public transportation in Poreč. Locals drive cars, and tourists use cabs and small steam trains that take passengers to the Old Town.
Seville: "Poreč is a tiny little town! They usually mention 7,000 inhabitants. "Not at all," our landlady Martina was slightly offended. – "There are almost 15 thousand people in Poreč."
Elena Ladygina: "The nature is gorgeous, there are pine trees around. This is what Istria is famous for. The sea is beautiful and clean. All the relax! Thank you, Croatia, for your hospitality. We fell in love with you and will definitely come back to visit.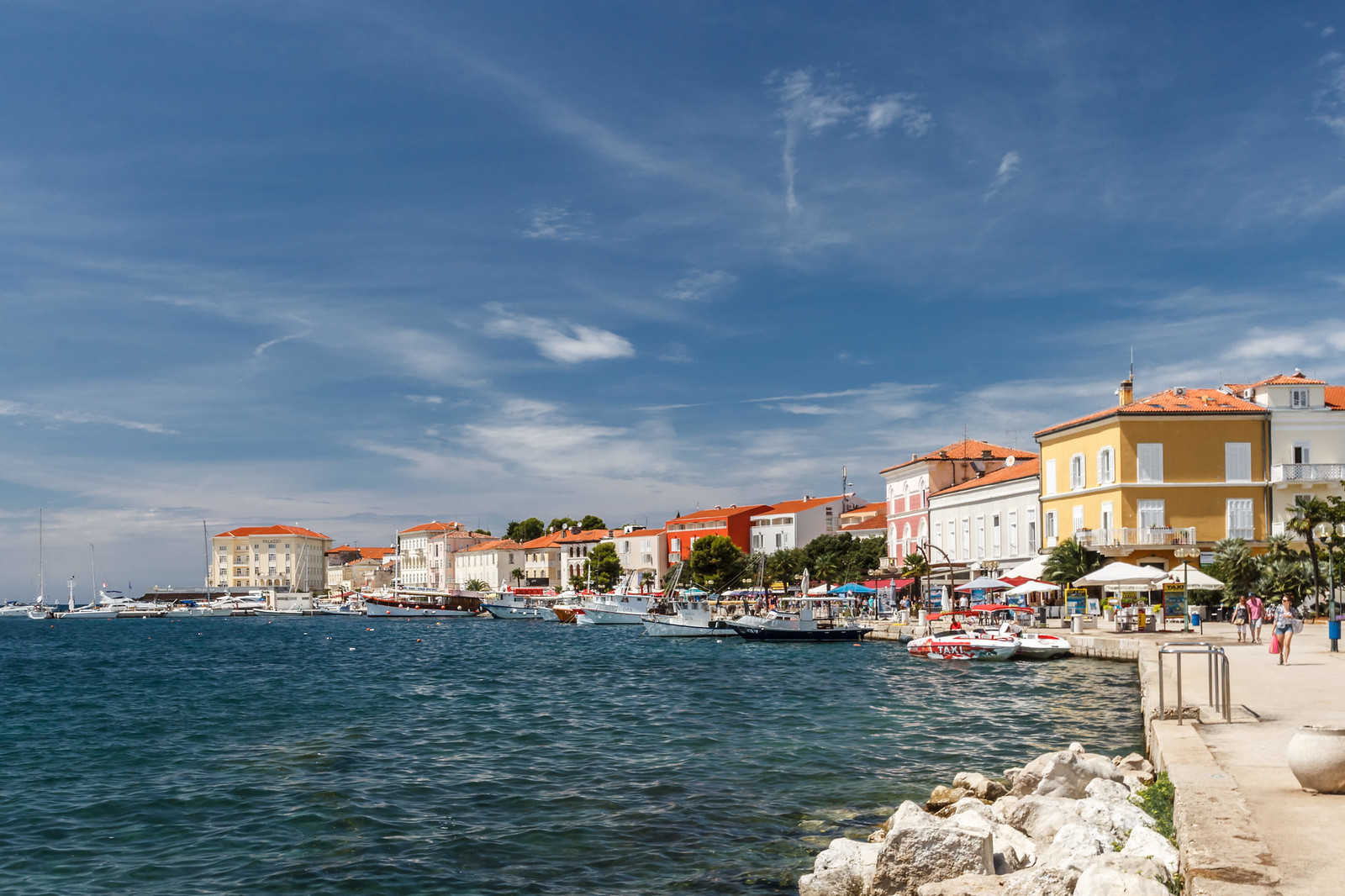 Poreč is the center of a picturesque resort area on the Adriatic Sea. Photo: Valinor Photography / flickr.com.
Best hotels
Poreč is a very popular tourist destination in Croatia, so it's easy to find hotels of any level here. If you dream of a vacation with all the amenities, choose a luxury beach hotel. For a vacation with family or friends, choose a private villa by the sea. Choose accommodation in Poreč on Hotelluk, and tours on Level.Travel.
Tourists who want to save money like the hotel 2* Delfin Plava Laguna. The cozy hotel is surrounded by lush greenery and is only 50 meters from the pebble and rocky beaches.
The best hotels in Poreč, according to tourist reviews:
Marko 3* – nice apartments with family rooms and a terrace. In high season a room for two costs from 68 €.
Orro Rooms 3* is a neat guest house 1,6 km from the city beach. For a double room you'll pay from 77 €.
Valamar Riviera Hotel & Villa Parentino 4* is an elegant hotel with a magnificent view of St. Nicholas Island. A room for two will cost 109 €.
Village Galijot Plava Laguna 4* – A stylish seaside hotel in the resort area of Plava Laguna. A double room with breakfast costs from 175 €.
Mobile Homes Camping Santa Marina 5* – a luxury camping in the seaside town of Vabriga, 10 km from Poreč. A family tent with air conditioning, two bedrooms and a terrace – from 135 €.
Spada Residence I 5* – Luxury apartment 1,3 km from the beach Borik. You can stay with pets! A room for two people costs from 180 €.
Beaches of Poreč
The indented coastline of Poreč stretches for 65 km. The rocky shore alternates with amazingly beautiful lagoons with clear emerald water. Almost all beaches are with concrete platforms, stony or with coarse pebbles. There are few sandy beaches.
Tourists like small secluded bays. Not all places are suitable for recreation with small children. Some descents to the beaches are quite steep. There are sea urchins in the Adriatic Sea, so swim in special shoes.
The best beaches in Poreč, according to tourist reviews: City Beach, Blue Lagoon, Zelena Laguna, Oliva, Brulo, Donji Spadici, Borik, beaches at the hotel Nautica and the island of St. Nicholas.
Irina Savrina: "The water in the Adriatic is quite cool – about +22 ° C. For those who like to swim in the "steamed milk", it is not suitable, well, for very young children, too, perhaps. It did not bother us, we love cold water, but it's incredibly clean and stunning color.
There are few sandy beaches in Poreč. Photo: Chawran / Depositphotos.com.
What to see
The historical center of Poreč is impressive – the Roman forum and ancient temple ruins, the Byzantine basilica of Euphrase, the remains of medieval towers, ancient churches in Marafor Square, Gothic and Baroque palaces. Many buildings were built on the foundations of Roman buildings. Take a trip to St. Nicholas Island to see a Tuscan-style castle and a 600-year-old lighthouse!
Vict0r_SU: "The old town is a great place to walk. Some of the streets are preserved from the times of ancient Rome. It looks gorgeous in the evening.
Victoria: "Very nice little town. Great to visit with friends if you drive across the country."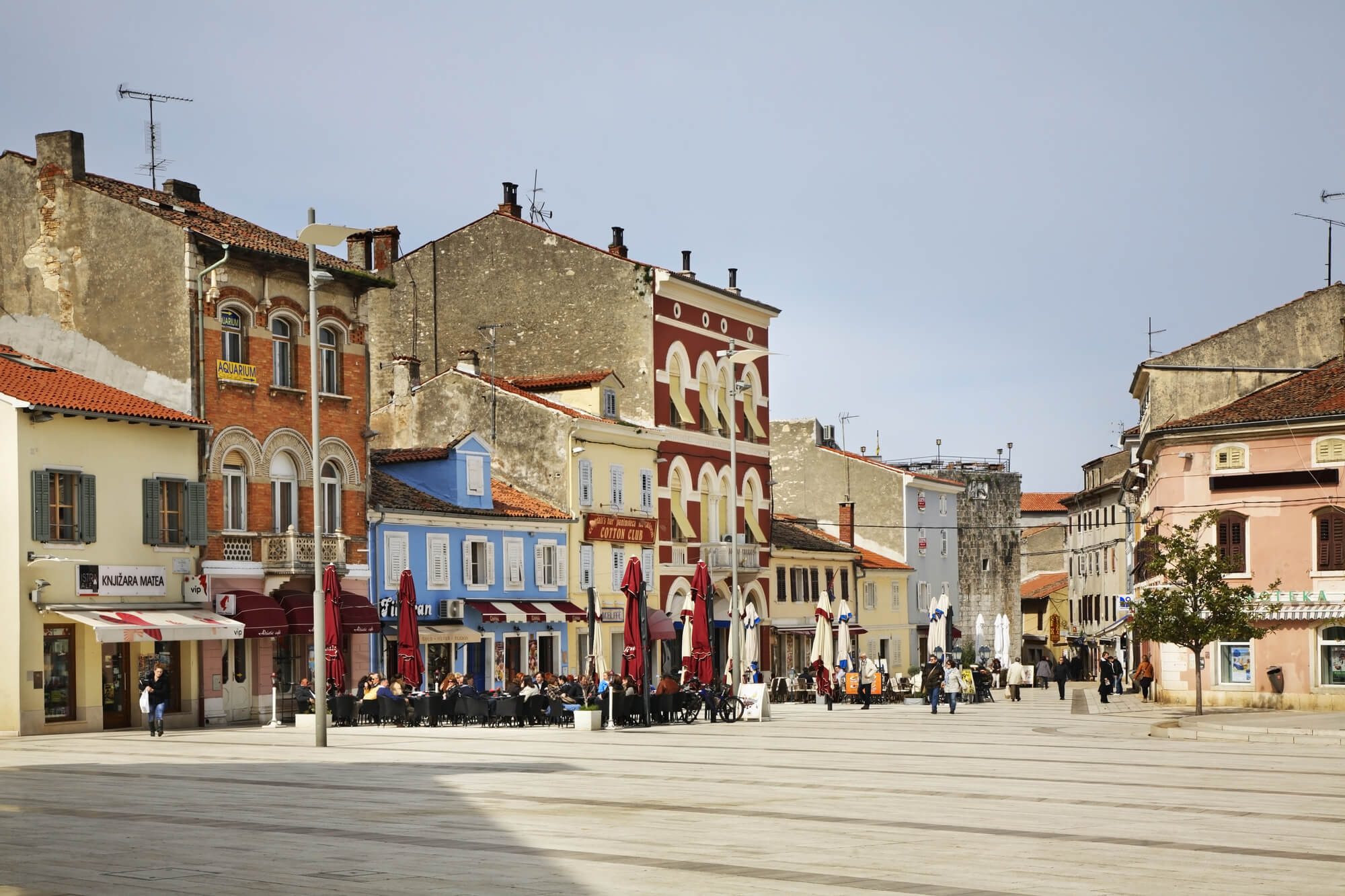 Freedom Square in Poreč. Photo: nokolagmail.com / Depositphotos.com.
Holidays with kids
Vacations in Poreč with little ones can be a lot of trouble. Here it is difficult to find a sandy beach, the sea water is not too warm, and the terrain is hilly.
But a holiday with older children will bring a lot of fun. Take your child for a walk through the old town, visit the museum of Poreč and take a boat trip along the coast! Schoolchildren will find it interesting to visit the shores of the picturesque Lim Channel and the Barredine Caves.
Kristina: "We vacationed in September. Mom, dad and a "one-year-old". Nature – everything is great: a lot of greenery, clean sea, albatrosses. The minus in all coast of the Green Lagoon – absence of descents for wheelchairs. We had to lower almost everywhere on hands. But on the whole we liked the hotel, the country and the rest.
When it's better to go
The climate on the Istrian peninsula is less hot and drier than in the south of Croatia. Beach season in Poreč begins in May and ends in October. Swimming is comfortable from June to September, when the water temperature in the Adriatic Sea is above +20 ° C. The hottest months are July and August. Daytime temperature rises above +30 ° C, and the sea water warms up to +24 … +26 ° C.
Ira Nadeina: "September in Poreč is a perfect time to relax. There is no unbearable heat when you want to hide under an air conditioner from the scorching sun, but it's not cold yet. You can spend hours walking around the old part of the town, sunbathing on the beaches, without the fear of getting burnt, and swimming in the sea.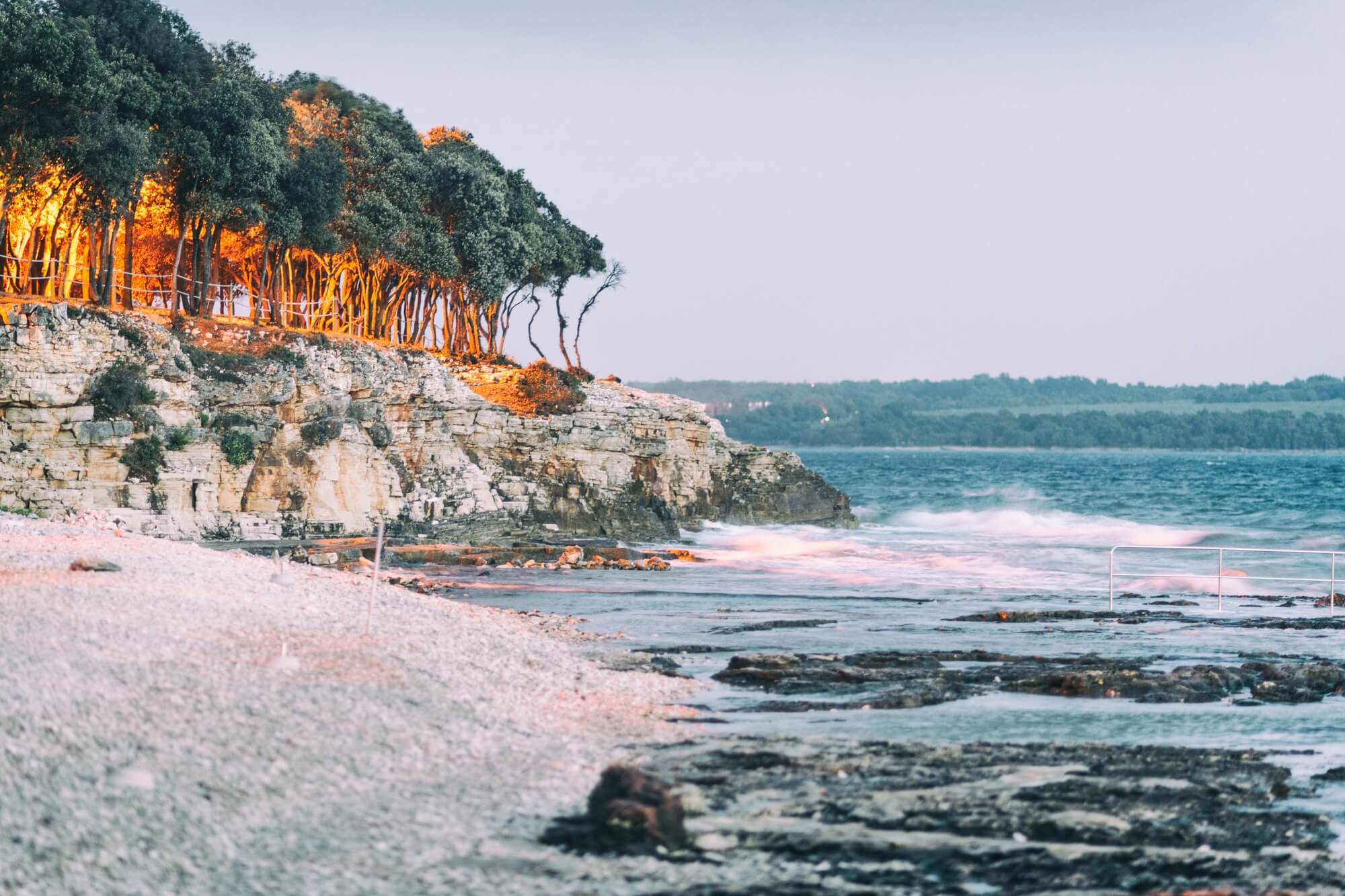 The beach season in Poreč begins in May and ends in October. Photo: Chawran / Depositphotos.com.
Conclusions: is it worth going to Poreč
The resort town of Poreč in Croatia attracts tourists from all over Europe. The seaside town is loved for its pleasant relaxing atmosphere, mild climate, colorful attractions, proximity to Venice and Slovenia. It is a wonderful place for those who dream about beach rest, solitude, communion with nature and want to get acquainted with the historical monuments of Croatia and neighboring countries!
If you like active rest and ecotourism, too, you will not be disappointed. There are many hiking and biking trails along the peninsula of Istria. On the Adriatic Sea is popular diving, yachting and sea fishing. In the city and its surroundings, there are enough tennis courts and mini-golf courses.
Croatia, Poreč – review
A place for a peaceful vacation: clean sea, extraordinary air, delicious food. Who and why goes to Poreč, who is better to rest there?
I fell in love with Croatia from the first picture. I was captivated by the fabulous views of this country: the azure sea, unusual architecture, amazing natural beauty. In general, set a goal to go there, went, now I want to share my impressions with you.
Weather
I went to Croatia in early June. I can not say that it is the season for swimming. Yes, it was hot, but the water in the sea was cold – only 19 degrees. Usually in mid-July the influx of tourists in Croatia starts, the sea gets warm and the heat wave reaches unbelievable 40 degrees. When I was there the temperature was no higher than 30 degrees, and I can say I was literally sweltering from the heat.
Choosing a Tour
Choosing the time and city to travel in Croatia, I was guided at first by the low cost of travel, proximity to the sea and the opportunity to ride for a day or two in a neighboring country. I sat for weeks on the websites of travel agencies, pricing and evaluating the location. I liked the hotel, the description of the town was pretty good, and it was close enough to the border (I planned to go to Ljubljana, but it didn't turn out). The trip with a flight, accommodation in a three-star hotel with two meals a day, transfers and medical insurance cost me 35,000 (excluding visas, I have a Schengen visa). I bought it in advance, back in March.
About Poreč
It so happened that I did not calculate everything, and my hotel was not in the town of Poreč, but in the tourist village, which is located 3 kilometers from the city. You can go there by steam train, but I walked there. It was nice to walk and save 20 kuna.
Poreč itself is small, there is a historical part, such a classic with old houses, it's nice to walk around these alleys, especially in the wild heat.
The city is touristy, so there are a lot of different shops with souvenirs, a lot of stores with clothes. There is also a port from which you can go to neighboring cities.
There is also a small bus station, from which you can also go to different cities.
The tourist village I lived in.
As I said, it is 3 kilometers away from Poreč, and it is worth considering when buying a trip. There are many hotels, restaurants, bars, courts, sports fields. Here you will not find any banks, so to change currency you will have to go to town. There are stores and small markets, but the prices are a bit higher than in Poreč, so it is better to go to Poreč for food, medicine and other necessities. There is Spar, where you can save your money.
In the village you will hardly see any locals, because there are only tourists around.
The beaches here are clean, the sea is clear. Mostly pebbles everywhere. Again, I was out of season, so the people were few, it was possible to go a little farther from the beach and all day sunbathing, swimming alone.
The place is amazing in its beauty, the air is just amazing, around flowering plants and for some reason smells like a hospital. It feels like every cell is filled with iodine.
Who mainly rests here?
Mostly people of retirement age or families with small children rest here. I practically did not meet people in the company. As I understood the place is not a party, mainly people come here for a relaxing holiday. A lot of Germans, Italians. Russians too often meet.
Language
Croatian belongs to the Slavic group of languages, so we understand each other in principle, many words are similar. Many people working in the service sector speak Russian. But then almost everybody, of course, speaks English.
Money
The national currency of Croatia is kuna. Its exchange rate to the ruble is 10 to 1. I would not advise to go with our rubles, go with euros and change there to kuna. In many places, you can sell goods for euros. No one will sell you anything for rubles. Not every exchange office or bank is able to change rubles for kunas.
Is it cheap or expensive?
I went to Croatia for new experiences, for the sea, for suntan, so I did not want to spend much money. Mostly I spent my hard-earned money on lunch, because it was not included in my meals, and on rides. I will warn, that in stores all is not cheap, if to translate to our money: a yogurt costs from 90 rubles, a liter of milk from 100 rubles, bread from 40 rubles, a sausage for 80 grams from 130 rubles, the cheapest local beer – 150 rubles.
But I must note that the prices in the restaurants at the same time are not much higher than in restaurants of the "Shokoladnitsa" level.
Travelling to Venice by ferry back and forth cost me 5500 rubles. And roundtrip to neighboring Rovinj cost 600 rubles.
If you add up, I spent 220 euros pocket money for 7 days, and I had to limit myself.
Food
The food here is amazing. Because of the cleanliness of the place, the food is organic. Great vegetables, great meat, and of course, amazing seafood. Great wine and beer.
What to bring?
In Croatia, a cult of lavender, in tourist shops and strive to sell you bags of lavender and lavender oil.
Truffles are also mined in Croatia and they cost a lot of money. Often in the shelves you can find sausages, cheeses and other products with truffle, the price is higher by three times than the products without truffle.
The wine and tinctures here are very good. There are a lot of them, so that it depends on the taste and the color.
In general, I liked the vacation, I needed peace and quiet, and I got it. I hope that I will get to Croatia again, but my next trip will be to Dubrovnik and Split.