Riccione – a respectable, but not expensive resort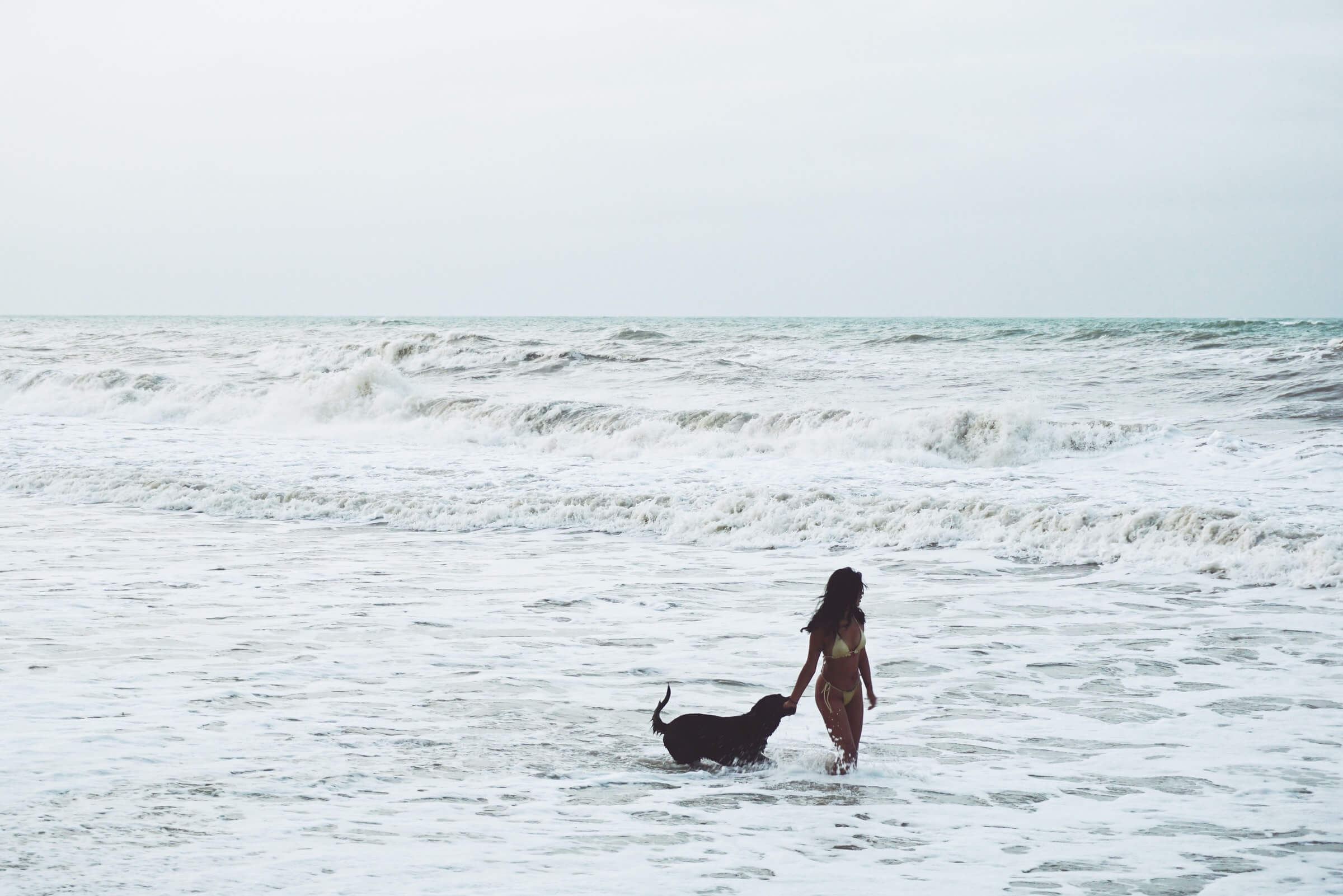 We've gathered reviews about vacations in Riccione, the "green pearl" of the Adriatic Riviera. Find out what tourists say about the resort's beaches and hotels, and what excursions they recommend to go on.
Content:
Impressions of the resort
Like any seaside town in Italy, Riccione boasts great views, beautiful nature, good beaches and a special atmosphere of romance. According to tourists, Riccione is much cozier than neighboring Rimini.
Riccione is considered a respectable, but not too expensive resort. It is known for its beautiful parks and gardens, port for yachts, pedestrian street with luxury boutiques and the best discotheques on the entire coast.
OlegNaMeste: "A great Italian resort, where you can have a great vacation. One of the disadvantages that can be highlighted is the noisy youth parties at night.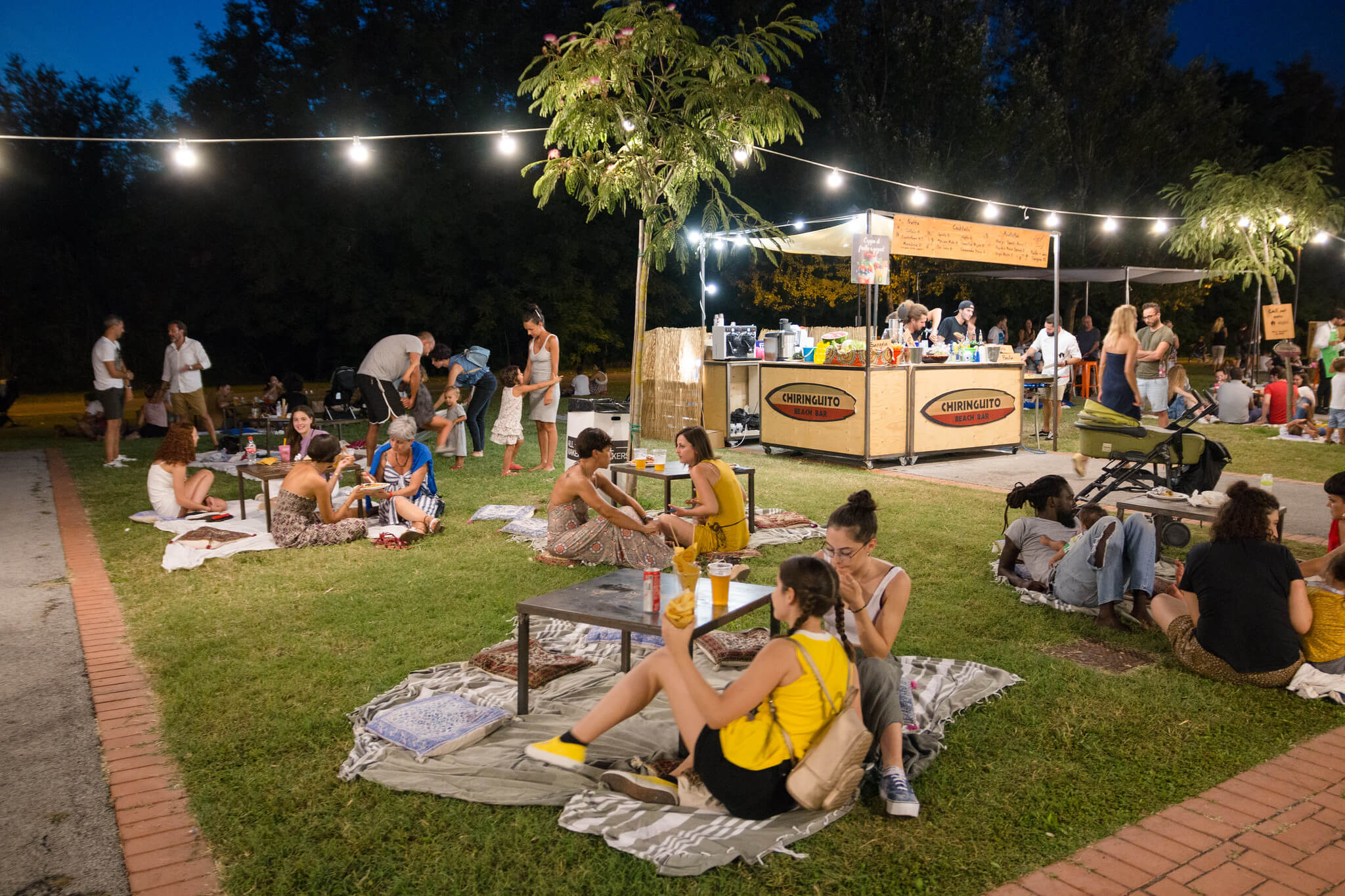 According to reviews from tourists, Riccione is much cozier than in neighboring Rimini. Photo: D. Marzocchi / flickr.com / CC BY-NC 2.0.
Best hotels
Most hotels for holidays in Riccione are "three" and "four", which are near the beaches or on the waterfront street. To the sea – no more than 100 meters! The Italian resort is famous for bicycle friendly hotels, where cyclists love to stay. Search for hotels in Riccione on Hotellucca.
The best hotels in Riccione, according to tourist reviews:
Dan Hotel 3* – A comfortable hotel with a terrace 10 minutes walk from the train station. A room for two with breakfast costs from 90 €.
Hotel Corona 3* – A stylish hotel 45m from the beach. A double room with breakfast costs from 85 €.
Polo Younique Hotel 3* is a cozy hotel near the exhibition center Palacongressi. For a room for two tourists pay from 78 €.
Hotel Dory 4* offers its guests a new wellness center with whirlpools and an outdoor pool. A double room costs from 93 €.
The Hotel Concord 4* is an excellent hotel in the center of the resort, next to Viale Ceccarini. A room for two with breakfast costs from 80 €.
Grand Hotel Des Bains 5* – A grand hotel in the Art Nouveau style 150 m from the beach. A double room costs from 180 €.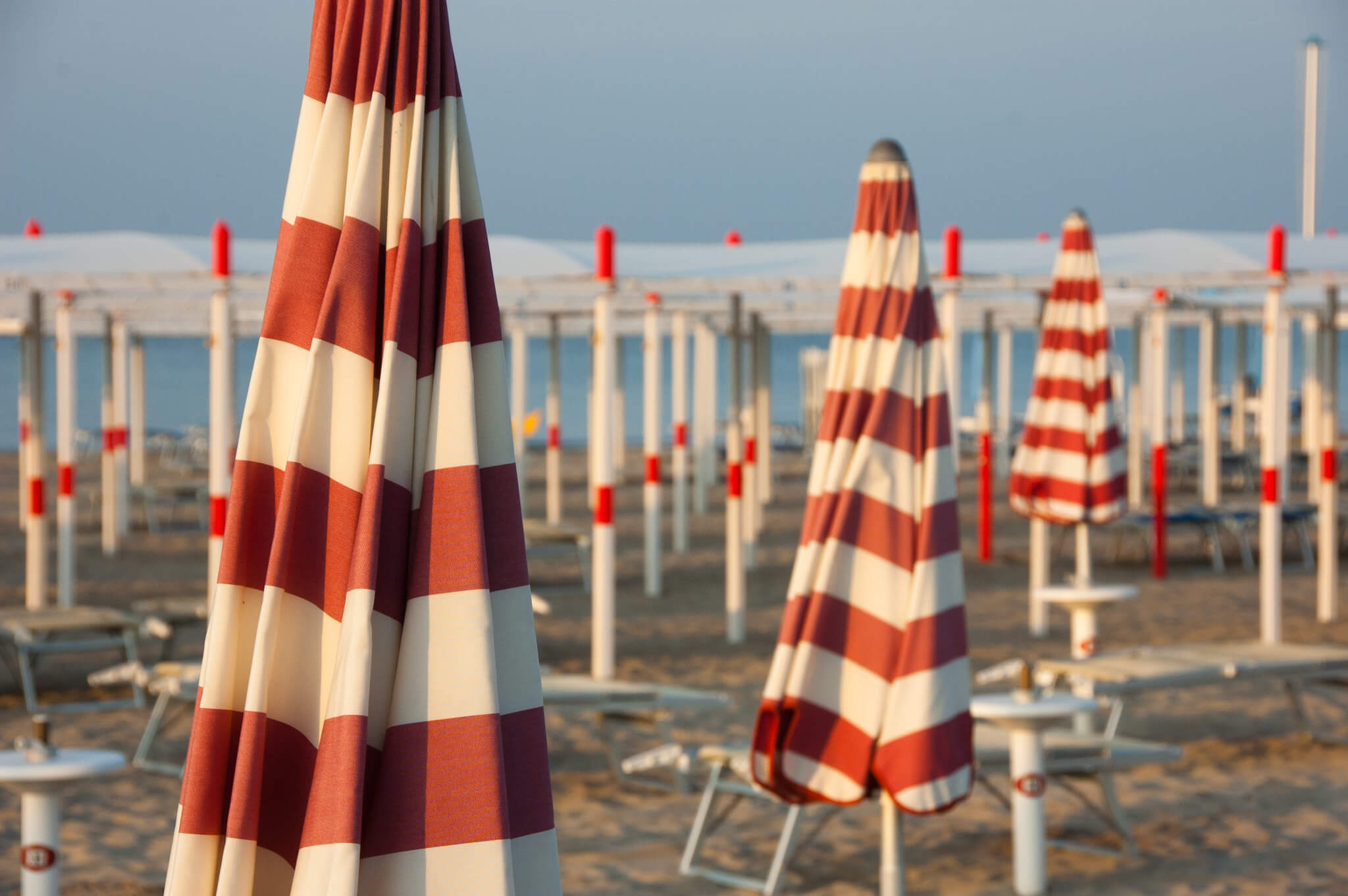 Most hotels in Riccione are three and four, which are located near the beach or on the seafront. Photo: Antonio_Trogu / flickr.com / CC BY-NC-ND 2.0.
Riccione's beaches.
According to tourist reviews, the sea in Riccione is quite clean. The coast is covered with fine sand and the entrance to the water is gentle.
For almost 7 km stretches a series of paid beaches, which belong to the hotels. Between them there are free areas where you can relax with your towel. Near the beaches are small cafes and restaurants, bars, showers and toilets. There are pools, gyms, billiards and table tennis tables.
MamaT23: "Spiaggia 130 Riccione is a fantastic beach. Very clean, plenty of sun loungers. They will cost you 16 EUR per deckchair and umbrella per day."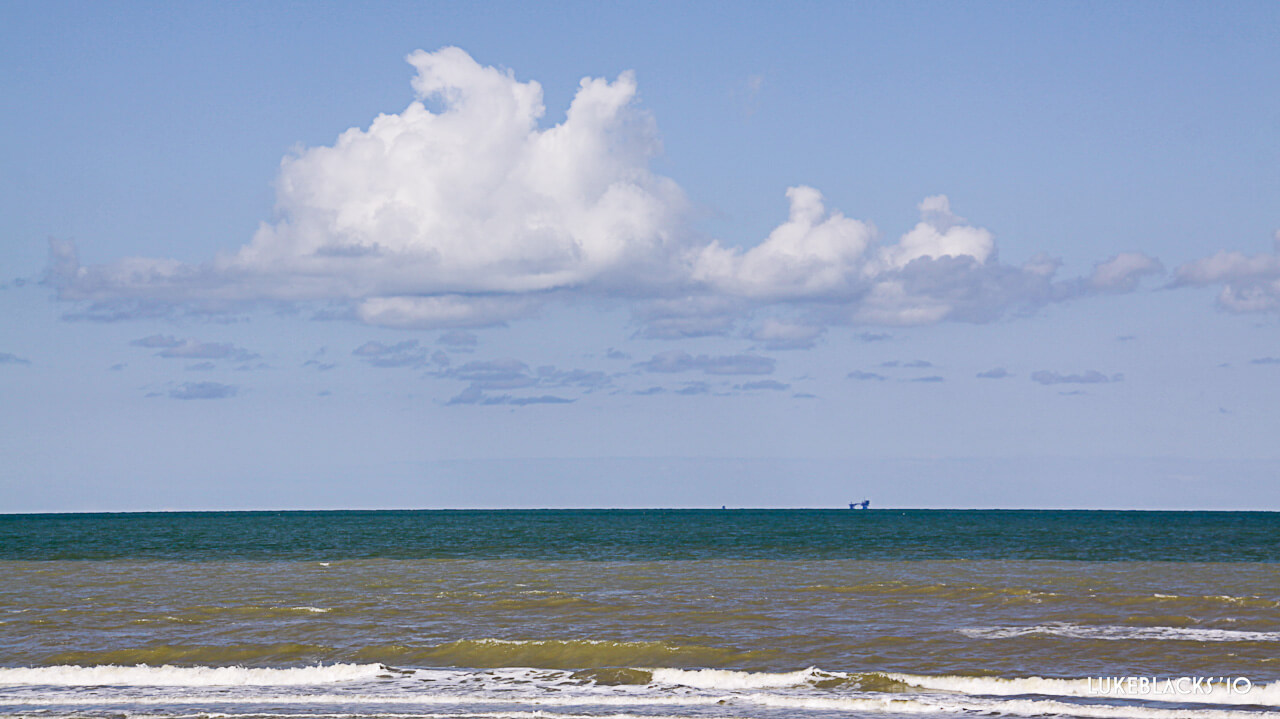 The shore is covered with fine sand and the entrance to the water is gentle. Photo: LukeBlacks / flickr.com / CC BY-NC-ND 2.0.
Where to go from Riccione
In the city itself, it's nice to walk through the picturesque parks, see the Villa Mussolini, Castello Agolanti, the Riccione Canal and the Museo del Territorio. Tours from Riccione to San Marino, Florence and Venice are popular with tourists. We do not recommend buying an excursion to Rome! It takes 9 hours to get there, and you'll only be in the city for 2 hours.
Alish37: "Excellent guides on excursions. We went to Venice, Florence, San Marino, a tour of Rimini. So many interesting things I learned about Italy and this region in particular. The vacation was wonderful.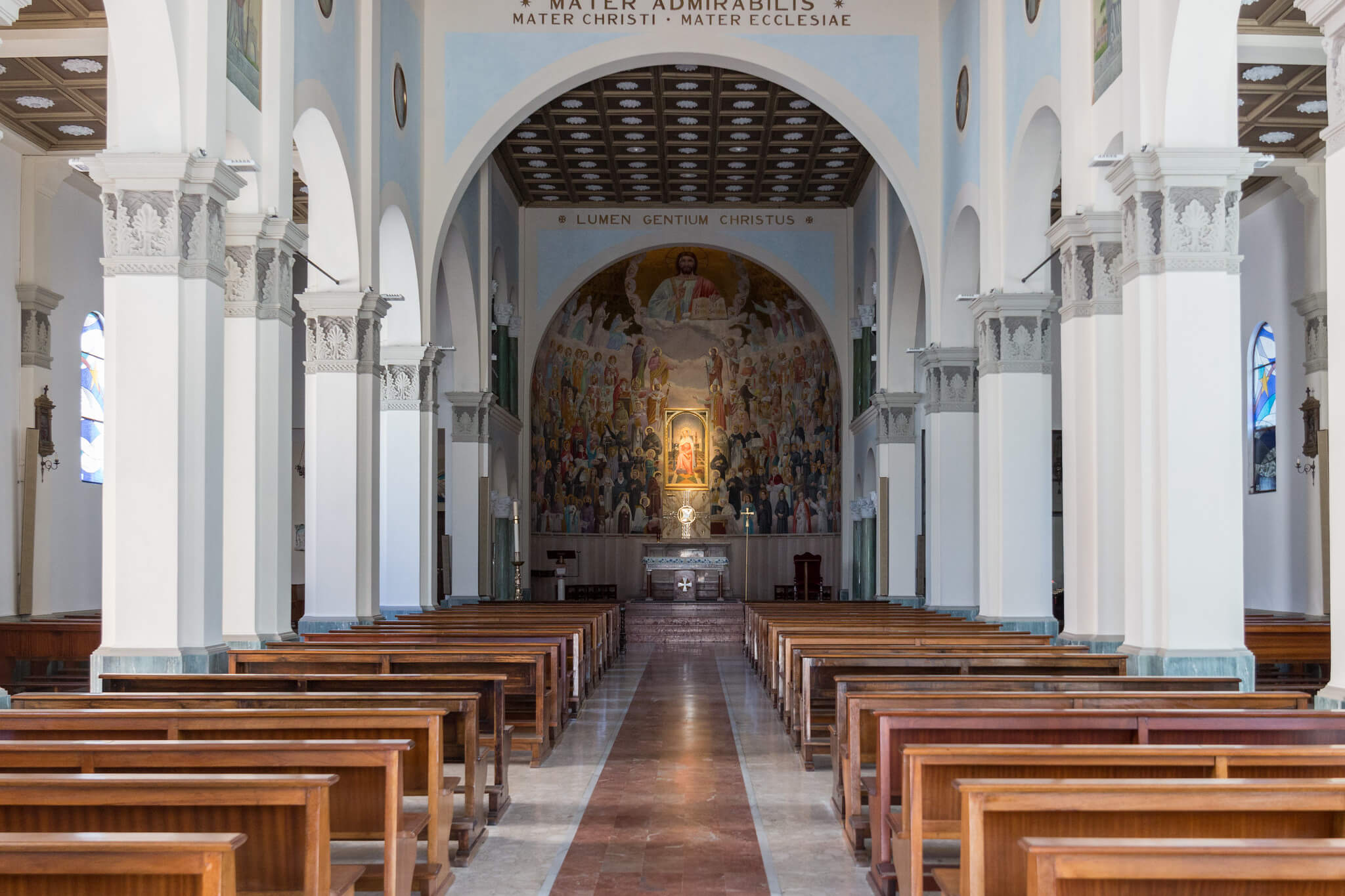 Church Chiesa della Mater Admirabilis. Photo: D. Marzocchi / flickr.com / CC BY-NC 2.0.
Holidays with children
The advantages of vacationing with a child in Riccione are many: a wonderful climate, beautiful landscapes, comfortable hotels and clean beaches. Parents with children praise the Italian resort for the excellent animation, green parks, water parks Beach Village and Aquafan di Riccione, an entertainment park "Fabillandia" and dolphinarium.
sarcazm: "Leisure time with children is very comfortable as there are a lot of different animators on the beaches and children will definitely find something to their liking.
Daria Sinitsina: "Riccione is ideal for children's holidays. Take beaches for example! It has a perfect strip of sand, the sea is warm and very, very shallow. On paid beaches there are cool playgrounds and attractions, animators who play with children all day long.
When to go
The tourist season in Riccione begins in late April and early May. In spring, it's good to walk along the beach and sunbathe, but it's still cold to swim. The sea temperature is only +18°C.
June, July and August are the sunniest months of the year. In the middle of summer it's hot: during the day the thermometer rises above +30 ° C, and the water in the Adriatic Sea is heated to +25 … +27 ° C.
The first half of September in Riccione has summer weather. Then the nights get colder and it rains more often. In October the beach season ends.
Svetlana: "The place is very beautiful and the climate is good. But we had a week of terrible heat, up to +50 ° C. Not really normal temperature for Italy. Our hotel pool and air-conditioned rooms saved us".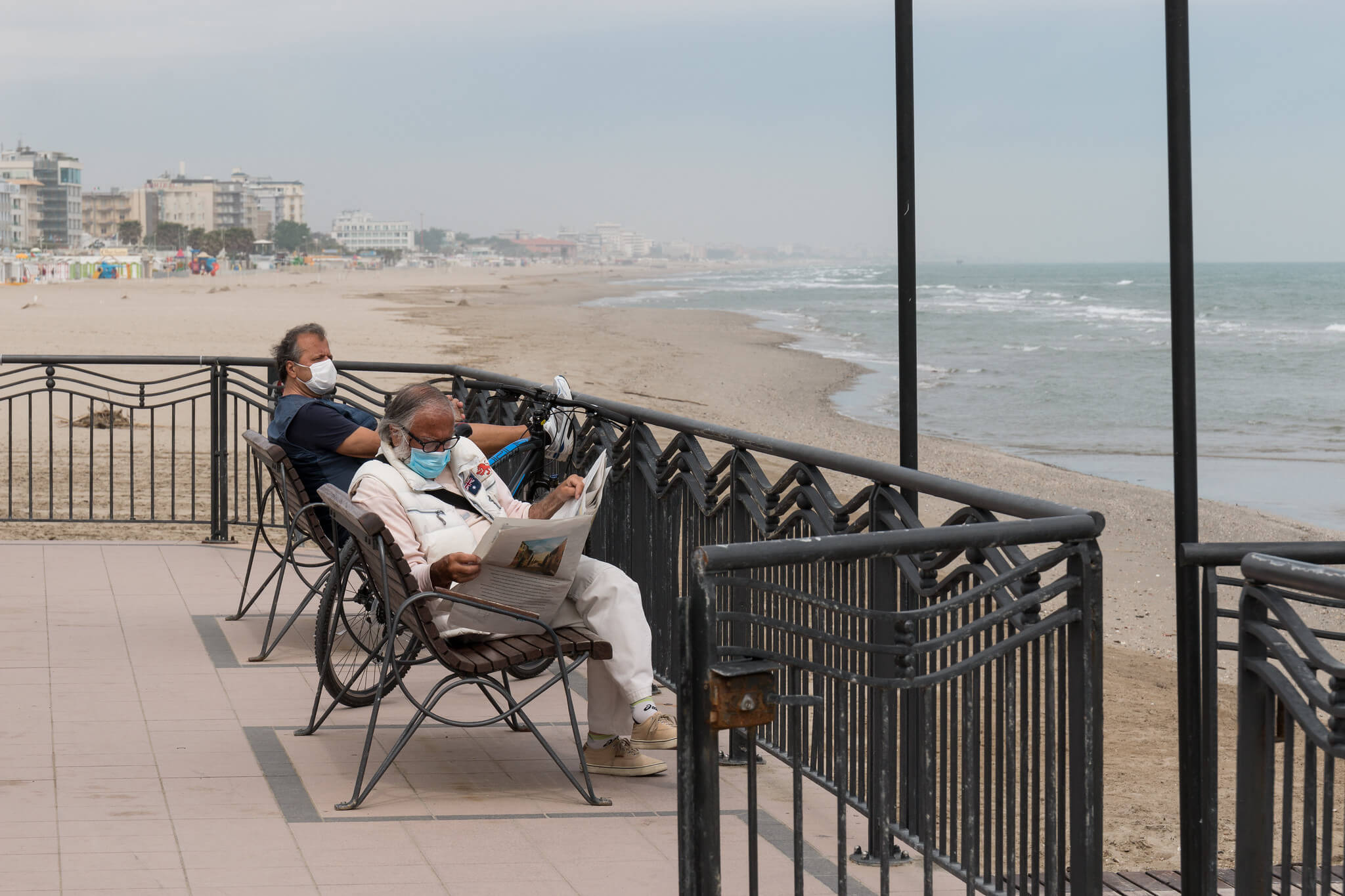 In spring it was nice to walk along the beach, sunbathe, but it was still cold to swim. Photo: D. Marzocchi / flickr.com / CC BY-NC 2.0.
Conclusion: is it worth going to Riccione
The Italian resort is convenient to get to. Riccione is a 10-minute drive from Rimini, and there is an international airport nearby that accepts charter flights from Russia.
The resort is good for young people, lovers of outdoor activities, parents with children and everyone who wants to spend a vacation in comfort. The older generation is attracted by the thermal springs of Riccione Terme.
In addition, in Riccione excellent shopping. You can go shopping in small boutiques and large outlet stores. Luxury brands of clothes and shoes sell on Viale Ceccarini.
Russian tourists in Riccione have a few holidays. Our compatriots prefer cheaper Rimini.
The guidebook of Riccione


Elvira
Riccione is a small town in the province of Rimini and in close proximity to the resort of Rimini and the Federico Fellini International Airport, located on the coast of the Adriatic Sea, called the Green Pearl of the Adriatic Riviera. On a small area there are many gardens and five city parks.
The capacity of the city is small – only about 500 hotels and 4 campsites. Riccione, also called the Secular Salon of the Adriatic, offers a more expensive, privileged vacation compared to the democratic level of its neighbor – Rimini. Here you can find first-class hotels, upscale restaurants and expensive boutiques located on Via Ceccarini, Riccione's main street. The city also has a marina.
Riccione is an ideal place for holidays with children, thanks to its excellent beaches with the finest sand and soft, gentle descent into the water, here, on the beach, there is also a water park "Beach Village". In the vicinity of the city there is another water park, considered one of the best in Europe – Aquafan, not far located and children's amusement park Fabilandia, there is also an excellent dolphinarium.
Riccione also attracts young people with its varied nightlife and prevailing festive atmosphere. There are a lot of bars, cafes and discos in the city and one of the most famous on the Adriatic is the disco Prince.
The older generation, too, has something to do in Riccione – there are thermal springs of the recreation center Riccione Terme, thanks to which the resort, which became one of the… read in full
What to see in Riccione?

Maroona
Riccione is a small Italian town near Rimini. The city, like all seaside towns (and not just seaside), boasts great views, great nature and is so romantic! Here's what to see, where to walk, what to see, and where to visit: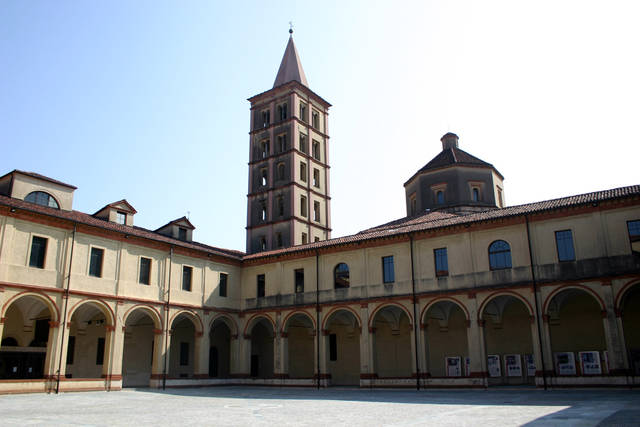 Museo del Territorio read in full
How to have fun?

Elvira
Despite the fact that Riccione is a very small resort, there is enough entertainment for children, adults and young people. For example, tourists of all ages will enjoy the largest water park in Europe called Aquafan. It covers 150 thousand square meters, there are swimming pools for both adults and children, and the largest of them, with artificial waves, created as an imitation of the ocean. The most popular attractions are Giant Slides, Fast River and Kamikaze. Aquafan is in Via Ascoli Piceno, 6. Open in summer from 10 to 18.30 daily. Tickets cost from 15 to 23 euros, children under 5 years old are free. In the season along the Adriatic coast to Aquafan runs its own bus. Interestingly, at night, from 10 p.m. to 4 a.m., the popular Walky Cup disco operates on the aqua park grounds.
There is also an Oltremare and Imax theme park with an adventure island, a sea planet with all kinds of predator fish and a dolphin lagoon with charming and friendly dolphins. There is also a huge 3D movie theater with films about flora and fauna. Entrance fees range from 19 to 26 euros, children up to one meter tall pass for free. To get to the amusement park can be taken by buses 42 and 45.
Very popular in Riccione are the local thermal springs – Riccione Terme with an excellent spa and wellness prophylactorium. The address is Viale Torino, 4/16, the cost depends on the procedures.
Young people will be very pleased with the nightlife.
Weather in Riccione by month:
Riccione – for those who love to be on top of the pleasures!
Riccione is a very cozy resort. Also with its own unique infrastructure, but it is immediately felt in the atmosphere. In Riccione the beach is sandy, there is shallow water, there are no breakwaters.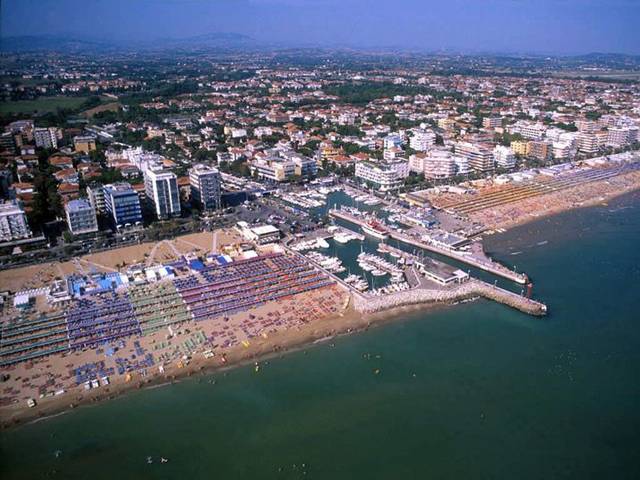 The beach itself is about 7 kilometers long, well understandable. Everywhere there are umbrellas and sun loungers, there are also children's animation areas. It is really cool that you are not limited to your hotel beach, and you can walk wherever you want. There are separate lounge areas, not just an umbrella chaise lounge, and large chairs or sofas, all patterned and made for full reclamation under the sun. As for the cost of the beach, it depends on how many spots are available. But all practically at the same cost. There is a, at the resort we met at Riccione, the closer to the sea, the more expensive set of umbrella-loungers, and, accordingly, the farther away, the cheaper. The rest in Riccione is considered respectable, you can not call it straight vip.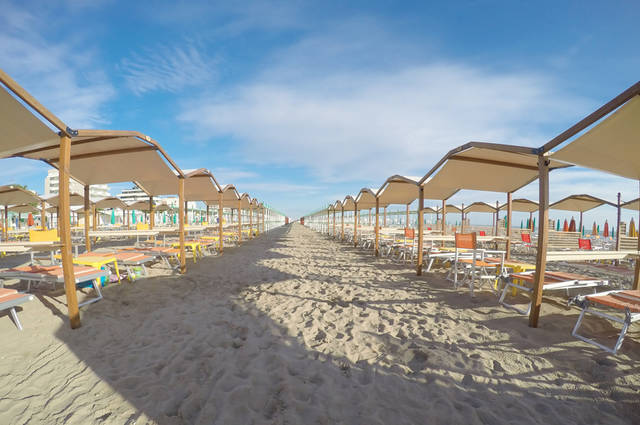 There are cooler areas. But it is definitely more expensive, well-groomed and respectable.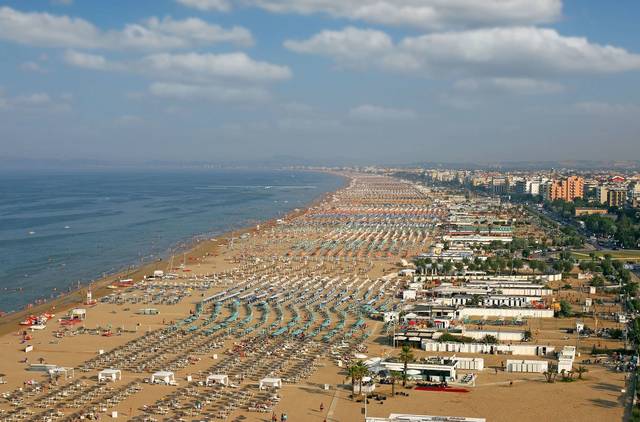 And, accordingly, the cost is higher. If it is an umbrella for 2 people and 2 sun beds – it starts from 20 – ty euros. If it's closer to the sea – it will be 27 and 29 euros. For 4,5 euros you can use the pool all day. For 3 euros you have 15 minutes Jacuzzi. The cost of the hotel 3 stars with meals and breakfast per person will cost 404 euros. This is for a week. On the streets. read completely
Fabulous Riccione
We have already vacationed in Rimini, so this summer we decided to stay in Riccione. We decided to stay in Riccione this summer. I must say that Riccione is a little bit more expensive than Rimini, but also much more interesting. The stores here alone are worth it. All the coolest stores are located in Via Ceccarini and, as our guide said, this street adores the famous Adriano Celentano. Whether it's true or not, I do not know, but we fell in love with this street. There are a lot of stores, from the most democratic ones like Stradivarusa to the cool boutiques like Gucci, Valentino, and so on. There are also stores of local young designers, where you can find a lot of interesting things, for example a cool blouse for 8 euros. The street is very big, just behind the bus terminal, and there's a nice fountain there.
The sea in Riccione is wonderful. Very shallow and warm. To a decent depth it is necessary to go very long, therefore we have bought at once a mattress and already on it swam on depth. The only thing I did not like was the seaweed. There is a lot of algae, especially when the tide comes in. You swim in the green water. Sometimes with algae brought all sorts of garbage thrown by tourists into the sea. Beaches are sandy, of course, paid. We first went to the beach, which cooperated with our hotel (the signs with the beach number listed the names of hotels), we paid for two sun beds and an umbrella of about 8 euros. Then we started going to the free beach (you see a wide sandy strip between the beaches without any signs, know that this is a free beach). It's all good there, but steal. We almost lost two phones.
Riccione – the green pearl of the Adriatic

Ir0
The town of Riccione, which is called the "green jewel" and the "social salon" of the Adriatic Riviera, is located in the north-east of Italy in the Emilia Romagna region.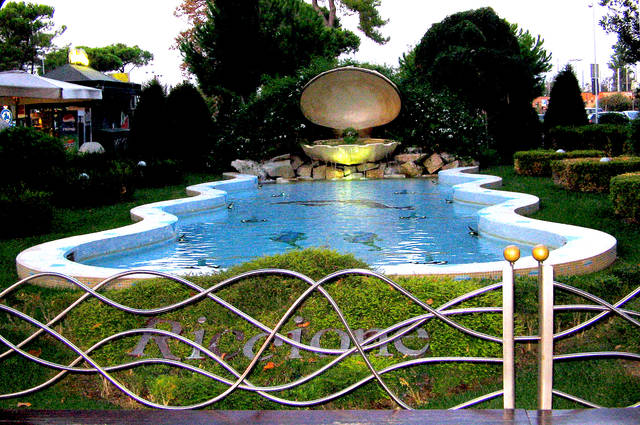 Most tourists – locals and tourists from Europe. Russians rather a little, as a rule, our tourists prefer cheaper options – in neighboring Rimini. Rimini is a city rich in attractions, but the water and beaches there are not particularly clean. Still a big city, not a resort. And cheap hotels are outside the city.
Riccione is ideal for a holiday on the Adriatic coast. The town has a tourist port with yachts, many excellent clubs, as well as restaurants and trendy boutiques on Via Ceccarini. Shopping in Riccione is for all tastes – you can buy a democratic Guess, Sisley, Zara as well as Armani, Furla, D & G and others. Prices in restaurants are quite reasonable. Coffee is especially cheap, by the way, of good quality.
There is a public transport along the coast and also a railway station. Therefore, from Riccione you can easily get to Rimini.
The cost of recreation in Riccione. September 2018.
We took a tour with a flight from Moscow (ourselves from Siberia). In the end, the trip for two people cost us 64 thousand rubles for 10 days, plus about 20 thousand paid for the flight to Moscow and back. And since our visa expired, we had to open a new one, which is still about 4000 rubles, if converted from euros. We landed at the airport of Rimini, met our guide, who was with us in the last visit, he even recognized us and joked all the way to Riccione (a nice bonus).
All excursions we have long been buying only on the street, it comes out much cheaper. It is better to take tours in a package, then you will either a good discount, or give a gift of some excursion. We took tours to Venice, Milan, Verona, and we were given a free excursion to San Marino, which costs 15 euros. We liked the excursions, Venice was the second time, gave 60 euros per person, plus a ride on a gondola for 15 euros. In Milan we went for 75 euros, we went to the outlet village as a part of the excursion. A trip to Verona for 60 euros also included a visit to Lake Garda. Here was a bad moment, our guide said that all beaches on the lake are paid and you have to pay 10 euros for the entrance. We didn't have any cash, so we decided to just wander around the town, leaving our bathing suits in the bus. And literally 5 minutes after the walk we came to a great municipal beach. It was very frustrating to sit on the lake shore and not be able to swim.
It seemed to me that eating in Riccione was a little more expensive than in Rimini. On average we had about 30-40 euros for dinner for two with two glasses of wine. Pasta or pizza was about 10-15 euros, I took lasagna for 9 euros. Some vegetable salad with tuna could be bought for 5-6 euros. A glass of wine was 1 to 2.5 euros. Tiramisu – 4,5 euros, panna cotta – 4 euros. We had lunch mainly with fruit, we went to the nearest supermarket and bought a glass with already sliced fruit for 2 euros. Tasty and refreshing in the heat.
In Riccione there is a whole shopping street where you can easily get lost. Stores vary, from local designer goods to major global brands. Clearly cheaper than in Russia. We are well-stocked in the outlet village in Milan, so in Riccione we bought only small things, such as very beautiful sandals for 20 euros, slip-ons for grandmother for 10 euros, cool swimsuit for 5 euros, underwear set from CK for 45 euros and jeans for 10 euros.