Winter in St. Petersburg: where to go, what to see?
The main reason for the trip to St. Petersburg in winter is not the best idea, many tourists are sure. In winter St. Petersburg can be frightening due to high humidity, piercing winds and changeable and capricious weather. However, St. Petersburg in winter has a special charm and is able to give more pleasant experiences than at any other time of year. For more information about where to go and what to see in St. Petersburg in the winter months – see below.
The following is a list of places to visit in the winter.
Start your acquaintance with the Northern Capital with a walk along Nevsky Prospect – the main street of the city, full of architectural sights, theaters, museums and cozy cafes, where it is so pleasant to warm up with a cup of hot chocolate or coffee on a cold St. Petersburg day. Most of the city's walking tours depart from there, and you can see for yourself observing the colorful tourists from all over the world. See the Kazan Cathedral and the Savior on Blood, see the Singer's House, climb to its roof and take a tour of St. Isaac's Cathedral, then return to Nevsky Prospekt and head for Palace Square.
St. Isaac's Cathedral. Photo: @safaritour.gk
The main square of the city strikes the scale and luxury of the palace buildings. Here you can see the legendary Winter Palace, the Alexander Column and the Triumphal Arch. In the wintertime on the square there is an ice rink, a Christmas tree and various installations. In the evening, the Palace Square is decorated with millions of lights of illumination, which creates a fairy-tale atmosphere.
Palace Square. Photo: mariapsyholog.
You can spend a great time in the fresh air, resting from the bustling city, in St. Michael's Garden, located near the Church of the Savior on the Blood. In winter, the park has an atmosphere of silence and peace, dispose to long walks and fun pastime. In the park there is a non-freezing pond, which throughout the winter inhabits the ducks. Every evening in St. Michael's Garden plays live classical music. This is definitely a place to go in St. Petersburg in the winter.
For the winter is definitely worth seeing in St. Petersburg.
In winter is the best time to enjoy half-empty St. Petersburg museums and the masterpieces of world art.
We recommend that you take a few hours to explore the rich collection of the Hermitage, the leading St. Petersburg museum, whose collection includes more than three million pieces of art from around the world.
Opening hours: every day from 10:30 am to 6:00 pm, Wednesdays until 9:00 pm.
Ticket price: the standard price is 400 rubles. Ticket price for citizens of Russia and Belarus – 350 rubles. Free entrance – the first Thursday of each month.
Hermitage. Photo: @ira_pavlovskaya
Don't miss the opportunity to visit the Russian Museum – a unique architectural complex of seven buildings with a vast collection of masterpieces of Russian fine art from the 11th to 20th centuries. There is a lot to see here!
Working hours: from 10:00 to 18:00 on Monday, Wednesday, Friday, Saturday and Sunday. Thursday from 1 pm to 9 pm. Tuesday is a day off.
Ticket price: student ticket – from 200 to 300 rubles, adult – from 400 to 650 rubles.
Russian Museum. Photo: @instaschredingera
Winter in St. Petersburg is a time of theatrical premieres and international festivals. There are dozens of venues in the city where you can see productions for adults and children in winter. If an experienced audience will find it most interesting to visit the Mariinsky Theatre or the Academic Theatre named after Lensovet, then children should be taken to the theater "Puppets" or "Zazerkalye". Given the high rush on opening nights, we advise booking tickets in advance.
What to see in St. Petersburg on New Year's Eve
On New Year's Eve, St. Petersburg transforms beyond recognition. Here and there on the streets and squares there are Christmas trees decorated with hundreds of lights, store windows are filled with Christmas gifts and Christmas attributes, facades of buildings are decorated with bright lights and installations with holiday symbols.
The center of solemn events in the pre-New Year's Eve St. Petersburg is Palace Square. Here is installed the main Christmas tree of the city, there is an ice rink, there are concerts of famous musicians and theatrical performances.
Palace Square in the New Year. Photo: @gala_galochka08
Take a walk along the Griboyedov Canal. For the holidays, bridges are decorated with colorful garlands and stretch from house to house thousands of small, like fireflies, bulbs.
Want to get in the Christmas spirit? Head to the market! Stroll among the stalls with Christmas toys, shaped lollipops and Tula gingerbread, talk to the colorful vendors and warm up with a cup of hot cocoa and colorful marshmallows to the sound of Christmas carols. The best fairs in St. Petersburg are held on Pionerskaya and Moskovskaya squares, as well as in Gatchina and Elagin island.
Christmas fair. Photo: @fair_spb2017
Want to see St. Petersburg in winter in all its glory? Climb up to the observation deck of St. Isaac's Cathedral or book a private tour of the rooftops of Nevsky Prospekt and the historic part of St. Petersburg with a photo shoot from a professional photographer.
What to see near St. Petersburg in winter
Choose a nice winter day and take a trip to the outskirts of St. Petersburg, home to Peterhof, the luxury residence of the imperial family. It's a great place to stroll and learn about Russian history. In the always crowded Peterhof in winter you will not find crowds of noisy tourists, a nice bonus – entrance to the palace and park complex in winter is completely free.
Winter Peterhof. Photo: @lerkina.life
Hours: The Upper Gardens and the Lower Park of Peterhof are open to visitors from 9:00 to 19:00 daily.
Ticket prices: from October 15, entrance to Peterhof is free.
Another destination for quiet walks and admiration of the Russian architectural heritage is Gatchina. You must go here to appreciate the features of this place – beautiful nature, which in winter takes on gothic colors. It is difficult to find a better place for reflection, that's why in Gatchina so loved to visit the heirs to the Russian throne and creative personalities.
Opening hours: from 10:00 till 18:00, the ticket office closes at 17:00. Weekends are Monday and the first Tuesday of each month.
Tickets to the Grand Palais: adults – 400 rubles. For children – 200 rubles. Persons older than 65 years old – 200 rubles.
Tickets to Priory Palace: adults – 200 rubles. For children: 100 rubles. Persons older than 65 years old – 100 rubles.
Winter Gatchina. Photo: @insta_gatchina
Active recreation in the countryside is not always an extreme entertainment. You can have fun in the countryside in one of the equestrian clubs in St. Petersburg, where after a brief brief briefing you will go for a ride on thoroughbred well-groomed horses in a snow-covered forest. Always dreamed of a ride on a dog sled? Visit to St. Petersburg is a great excuse to make the dream a reality. You can become a passenger or a rider in the nursery of northern sled dogs "Huskies of Lembolovo".
Location: Lenoblast, Lembolovo village, Baltiets village.
Working hours: on weekends from 12:00 to 16:00, on weekdays – by appointment. Weekend weekend: Tuesday.
What to do in St. Petersburg in winter – 7 ideas
Do you want to go in winter in St. Petersburg? We share ideas about what to see, how to rest and have fun. What is the weather in St. Petersburg in winter and is it worth going on holiday? Reviews and tips for tourists.
Is it worth to go to St. Petersburg in winter
Most tourists come to the city in the summer. In winter in St. Petersburg, there is little sun, no fountains and bridges do not open. And you can not ride on the river trolley on the Neva and can not admire the park sculptures.
So is it worth going to St. Petersburg in winter? Yes. You can almost completely alone to wander through the museum halls and art galleries. Lodging in low season is cheaper than in summer, and there are no lines at the ticket offices of sights.
What to see on your own in St. Petersburg in winter and where to go? Below we tell you about popular attractions in and around St. Petersburg.
Price overview and tips
How much does it cost to go to St. Petersburg
All the ways to get to the top
How to walk on Peter's rooftops
The best hotels, hostels and apartments in the center of St. Petersburg
Where to stay on the cheap
Our guide to St. Petersburg
24 must-see places
Discover night St. Petersburg!
7 interesting night tours
Museums
The weather in St. Petersburg in winter is unpleasant. What can you do? Of course to visit museums and exhibitions. Go to the Hermitage, because now you can buy your ticket online and not have to wait in line. See the masterpieces of the Impressionists and Modernists in the General Staff of the Hermitage. Get audioguide tickets to the Russian Museum and Mikhailovsky Palace, visit the Fabergé Museum and the Church of the Savior on Spilled Blood with an audio tour.
In addition, many museums accept guests completely free of charge. See where you can go in St. Petersburg in winter without paying.
On the third Thursday of each month you can admire the treasures of the Hermitage. Advice – go to the General Staff, it is quite deserted and there are no lines.
Free days at the Museum of Porcelain – the first Thursday of the month, the Zoological Museum – the third Thursday of the month, the Museum of the History of Religion – every Tuesday from 19:00 to 21:00 and the first Monday of the month. On February 10, you can look at rare exhibits at the Pushkin Apartment Museum
Visit the Mokhovaya 18 contemporary art gallery. It's free Tuesday through Saturday from 11 a.m. to 7:30 p.m. You do not need to pay for admission to the Kronstadt Maritime Museum, the Museum of Modern Art "Artmuse", the museum-monument "Sampsonievsky Cathedral", the Museum of the St. Petersburg Metro and the history of photography.
Hermitage Hall (Photo: unsplash.com / @abrizgalov)
Out-of-town strolls.
Have you already visited all the museums and churches and do not know where else to go in St. Petersburg in winter? Take a trip to the suburban estates. Beyond the city limits there is fresh air and more snow. In Peterhof, the paths are thoroughly cleaned, so a walk through the parks will be a pleasure.
For those who have already been to Pavlovsk, Oranienbaum and Tsarskoye Selo, we recommend discovering little-known estates. Come to Nevsky forest park and walk around Bogoslovka. Explore the palace and park complex "Leuchtenbergskie Estate" in Sergievka and Ilya Efimovich Repin's "Penates" museum-estate in the village of Repino. Visit Hannibal's manor Suida and Rimsky-Korsakov's house-museum in Tikhvin. Read our guide to the suburbs of St. Petersburg.
Peterhof in winter (Photo: conticium / flickr.com)
Snowkiting
Fans of extreme entertainment choose winter sports. Winter kitesurfing lessons are very popular with tourists. It takes courage and skill to ride behind a parachute-like kite. While gliding in the wind on skis or snowboarding you gain a decent speed and get a good portion of adrenaline.
You can learn how to snowkite near the mouth of the Smolenka river – near metro station Primorskaya, in the Park of the 300th Anniversary, in Sestroretsk and Zelenogorsk. The trial lesson on weekdays costs 2000 rubles, and on weekends – 2500 rubles.
Downhill skiing slopes.
What to do in St. Petersburg in winter for fans of downhill skiing and snowboarding? Do not deny yourself the pleasure and ride the equipped snow slopes! There are many winter resorts in the vicinity of St. Petersburg. The most popular are Okhta Park, Snezhny, Red Lake, Golden Valley, Lyubogorie, Pukhtolova Mountain, Kavgolovo, Tuutari Park and Northern Slope. You can take all necessary things from the rentals.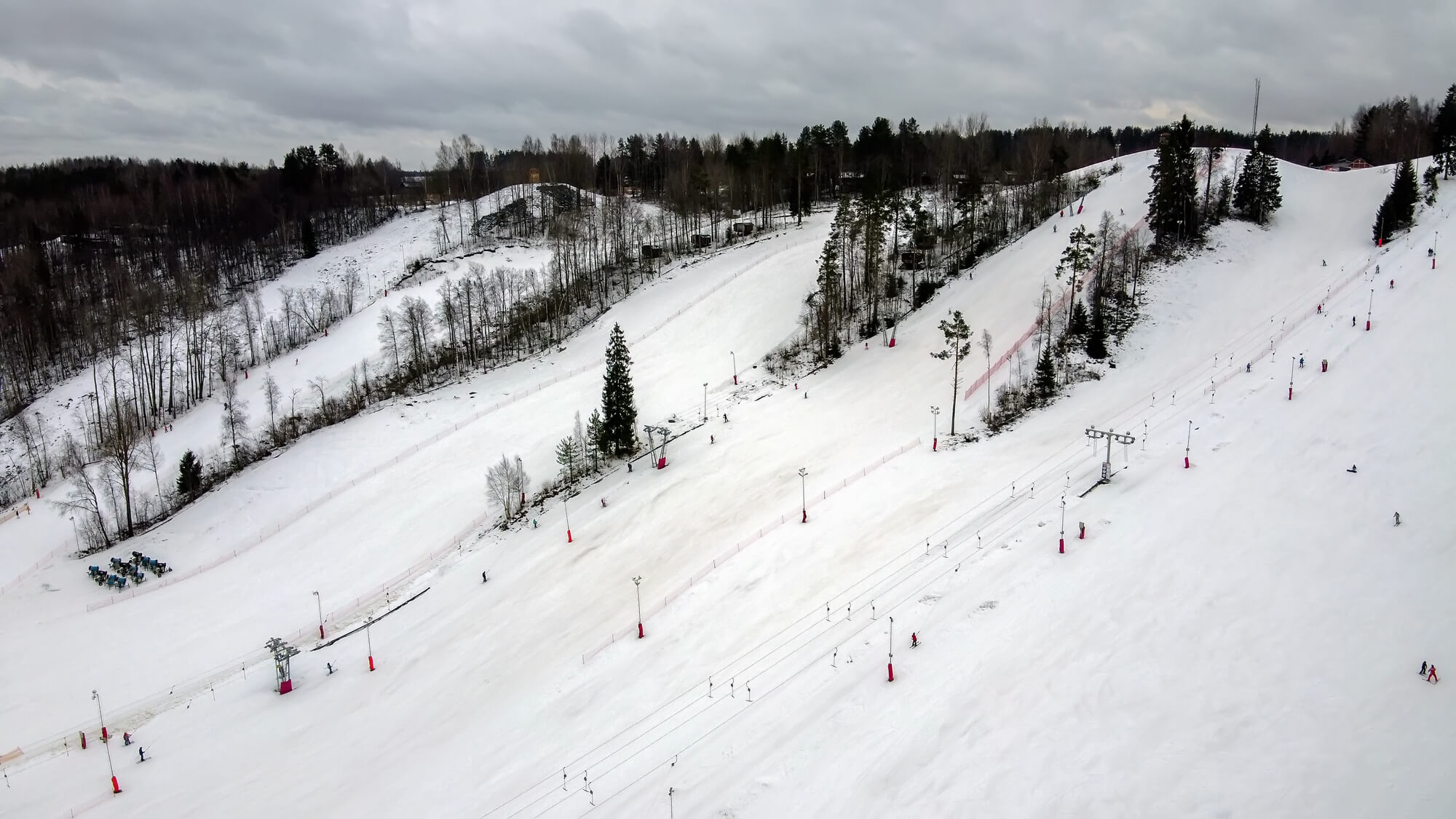 The trails at Snezhny. Photo: sunfreez / Depositphotos.com.
Ski slopes in the parks.
If you like cross-country skiing, go for a walk in the park. Residents of St. Petersburg love winter jogging, too, so there are plenty of places with paved trails. Good tracks are in the Park of the 300th anniversary, Tavrichesky garden, parks "Sosnovka" and "Alexandria", Udelny park, Elagin island, Rzhevsky and Kavgolovsky forest parks. The rent of the ski set costs 300 rubles per hour and 600 rubles for the whole day.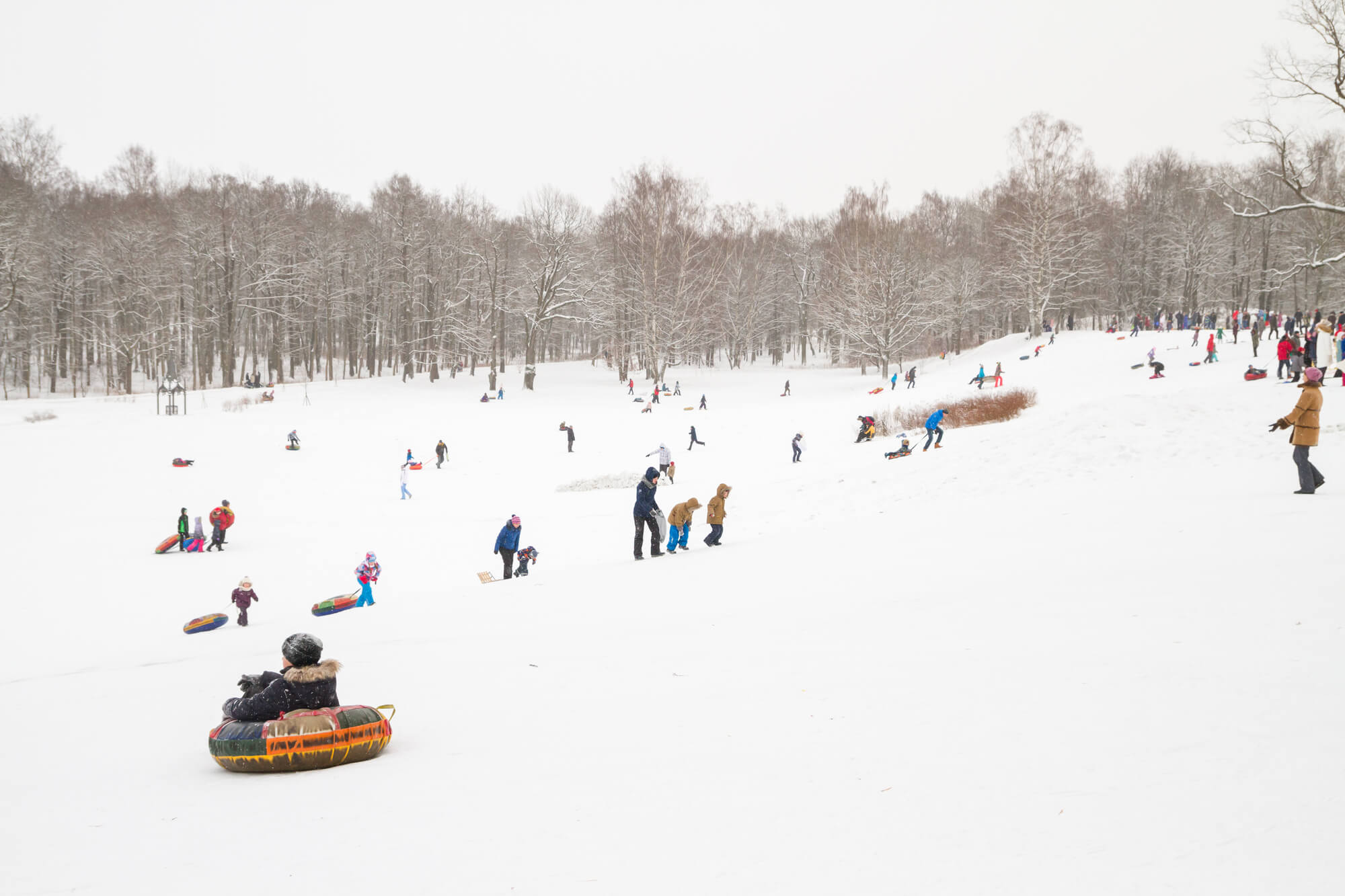 Alexander Park in Peterhof. Photo: ViktoriyaPodgornaya / Depositphotos.com.
Tropical forests
According to tourist reviews, in winter in St. Petersburg it is nice to be among green plants, exotic flowers and animals. Spend a day in the tropics! Endless summer reigns in the tropical complex "Mindo", the greenhouse of the Tauride Garden, the Botanical Garden of Peter the Great, the pavilion "Exotarium" of the Leningrad Zoo and the "Exopark", which is located in the shopping and entertainment center "Rio".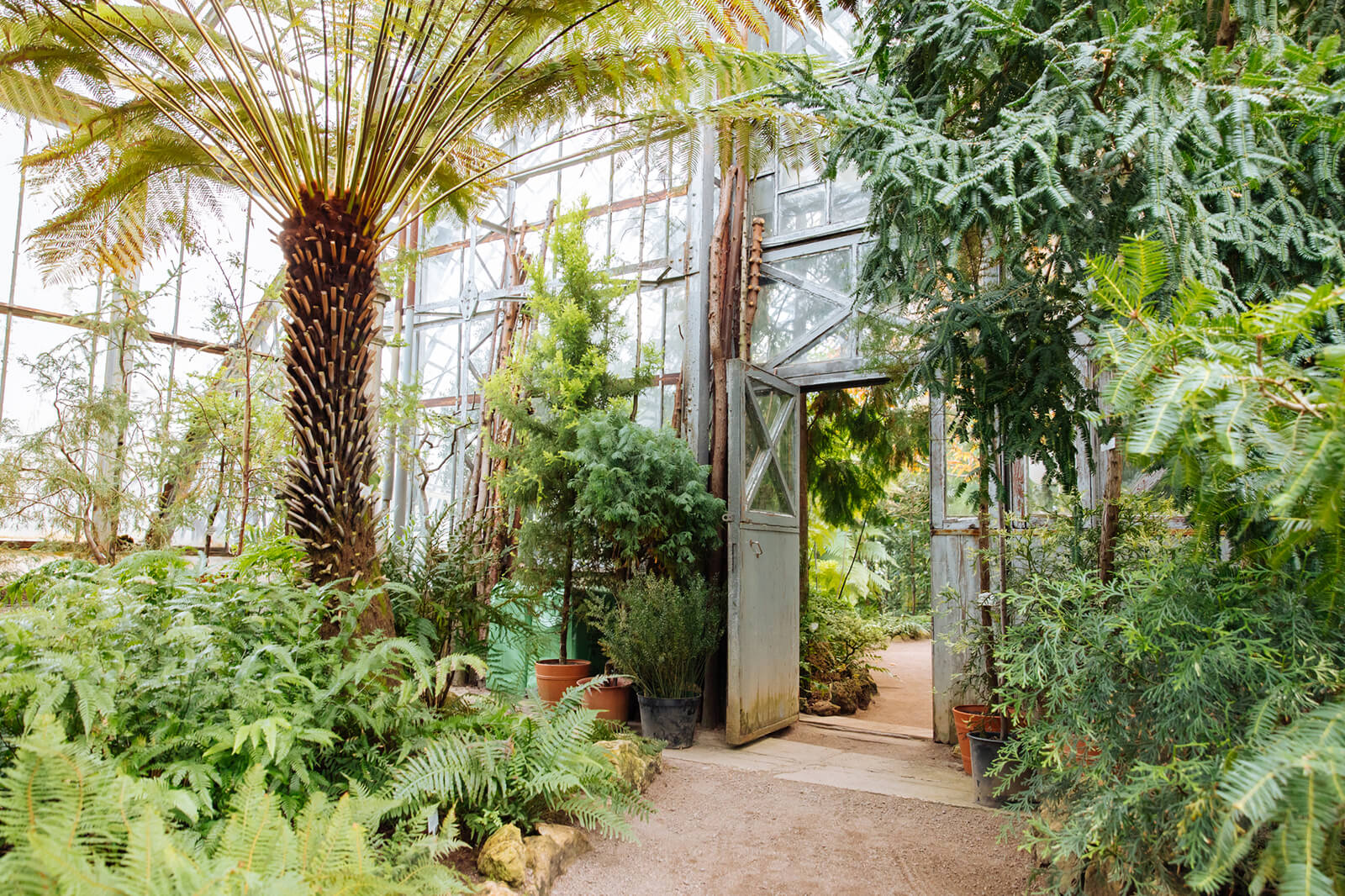 Botanical Garden of Peter the Great. Photo: Dimaberlin / Depositphotos.com.
Deer farm.
Families who come to St. Petersburg in winter with children leave good reviews about "Lapland Park" on Krestovsky Island. Visitors are greeted by a large ice rink, a fair with drinks and treats, an ice maze and a slide. Most impressive for tourists is the farm, where reindeer live. Feed the animals with the reindeer moss and take a memorable photo!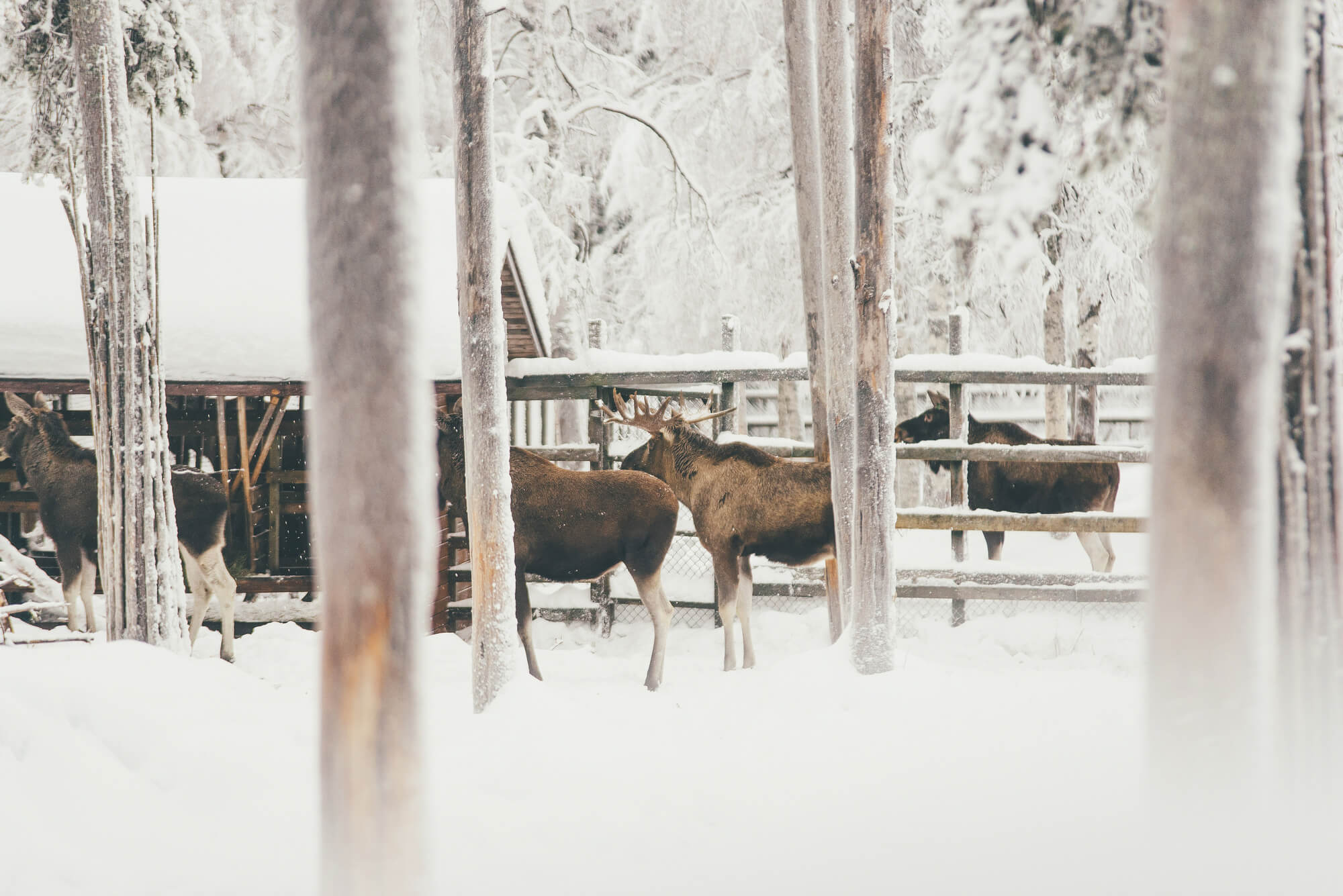 Feed reindeer to animals and take a picture of them! Photo: Vyshnova / Depositphotos.com.
Weather in winter in St. Petersburg.
The weather in St. Petersburg in winter is cloudy and unstable. The thermometer rarely falls below -10 ° C. The temperature rarely falls below -10°С. Heavy snowfall may be replaced by cold rain, sometimes with fog at night.
The daylight hours are short – it gets dark around 15:00, so it's better to plan your excursions in the morning. Near the Gulf of Finland and the Neva, the wind constantly blows.
Dress warmer! Fur outfits in St. Petersburg are not too practical. For walks we need a long waterproof jacket with a hood, a warm sweater, a scarf, a hat, mittens, winter pants and comfortable waterproof shoes.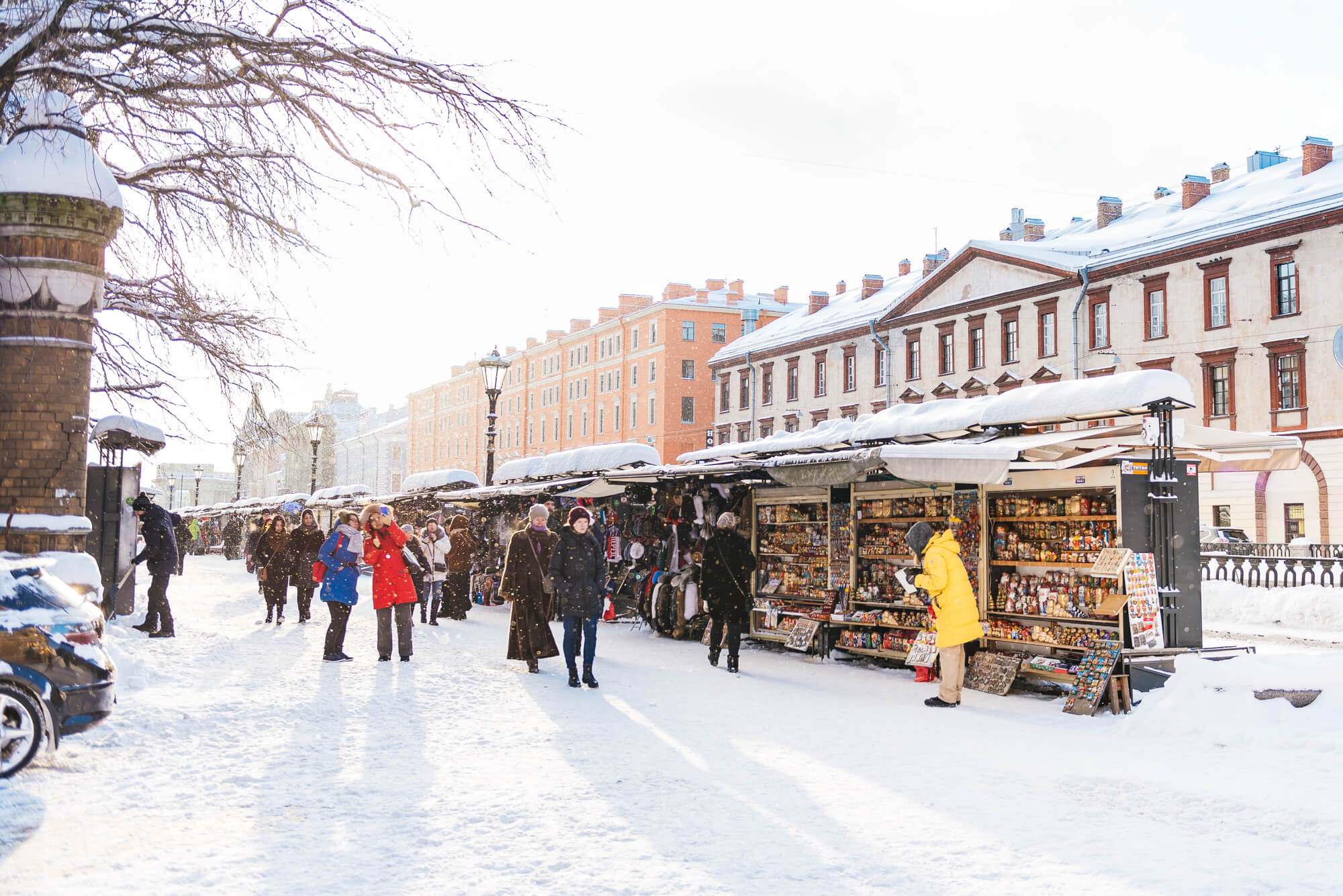 Daylight hours are short – around 15:00 it starts to get dark, so plan your walks for the morning hours. Photo: dina160987.gmail.com / Depositphotos.com.
Reviews of tourists about holidays in winter in St. Petersburg
Tourists who have come to St. Petersburg in winter like everything, except for the dank and cold weather. We advise to be sure to take an umbrella.
Do not use public transport during rush hours. In the morning and evening St. Petersburg subway is always crowded.
SergL: "The frost was sensitive, and the sidewalk cleaning in many places left a lot to be desired. Walking slowly – you start to freeze, speeding up – you increase the risk of running over on an icy crust.
Alexei: "The climate is difficult, especially at the end of winter and beginning of spring. It's dark, damp, windy. It's better in the summer and fall."
Natalia K: "For completely uncomfortable weather in December, visiting museums is best.
Vorontsov Palace (Photo: unsplash.com / @litburon)