The best resorts in Georgia – Gudauri
The ski resorts of the world are represented by a huge list. One of the best ski complexes in Georgia is considered "Gudauri". Affordable prices, many slopes. Excellent accommodation conditions and the quality of services provided.
Gudauri ski resort in Georgia
About the resort, where it is located
Ski resort "Gudauri" is located 120 km from Tbilisi, in the Kazbegi district (Mtskheta-Mtianeti). Nearby is the main attraction of the region – Cross Pass. The complex is relatively young. Every year it attracts more and more tourists. It is constantly improving and developing.
GLK is considered ideal for freeride, off-piste slopes. In total there are 22 tracks, with a total length of 50 km. Tourist infrastructure is ideally developed: hotels, cafes. Rental equipment. Ski service. Instructor service.
The prices for the services are a little bit lower than in many other Georgian resorts. At the same time the quality of the service is ideal. In addition to skiing at the resort is available a lot of other entertainment:
Sauna and SPA;
Paragliding;
Snowbikes, snowmobiles;
Excursion programs;
Children's clubs, playgrounds, and so on.
There is a separate ski school for children on the territory of the resort. In the snow park you can rent special snowmobiles, which the child can control on their own.
Tours to the ski resort
Most travelers prefer to buy tours to the ski resort. Their desire is quite justified. The price includes not only accommodation, but also many additional services. In the form of transfers, special insurance and so on. Even if the ski insurance is not included in the price of the tour, you can arrange it yourself, online.
I recommend looking for tours on this search engine (one of my favorites)
Hotels near the resort
In Gudauri, there are plenty of accommodation options near the resort. Among them are many inexpensive offers, providing accommodation in shared rooms. Many hotels, hostels and hotels offer additional services: ski pass sales, equipment rentals, transfers.
. Not a bad option for solo travelers. A bed in a shared room per night will cost from 1 100 rubles. The cost of individual rooms includes breakfast and dinner. Ski elevators are in close proximity. Parking is paid.
Gudauri-Dimebi hostel. The guests can stay in two, three or four-bed rooms. The distance to the nearest elevator is 100 meters. There is a place to store ski equipment. Parking is free.
Hostel SkyAtlandida. One of the most budget options. The minimum price for a place in a shared room is 760 rubles. On the territory of the chic ski infrastructure: rental equipment, the sale of ski passes, luggage room. There is a possibility to order an instructor, approach to the hotel on skis.
Hotel Ski House Panorama. The cost of rooms from 2 340 rubles includes a hearty breakfast, a full dinner. On the territory of the sauna, indoor pool, restaurant, tour desk. Working rental ski equipment and luggage room. Currency exchange. Staff speaks 3 languages.
Family hotel "Mtamta". An ideal inexpensive accommodation option for families with children. Direct access to the ski slopes. Rental shop. The point of sale of ski passes. A place to store ski equipment. There is a service of transfer, car rental, food delivery.
In Gudauri there are many good hotels, inns at affordable prices. Each of them has a number of specific advantages. If you want, you can easily choose the ideal option for yourself.
Ski resort "Gudauri" in Georgia, hotels
Alternative resorts
Abroad and in Russia, there are a huge number of ski resorts that can compete with the complex "Gudauri". Below is a list of the most popular destinations and options.
Abroad
Russia
Each resort is good in its own way. When choosing a resort, I recommend that you pay attention not only to the advantages, but also to the disadvantages. As for foreign ski resorts, almost all countries require visas. Take this point into account when preparing for your trip.
Gudauri ski resort in Georgia, gondola elevator
Elevators
The ski resort "Gudauri" is served by 15 elevators of different types. The total capacity is 11 000 people at a time! The elevators work regardless of the number of skiers on the line. Closing is possible only under weather conditions (strong wind, fog). Payment is possible per lift, for a certain number of days or by purchasing season passes.
Prices for ski passes
The cost of a single lift for an adult is 10 GEL (216 rubles). A day ski pass costs 50 lari (1,080 rub). The minimum cost of a season pass to all popular resorts in Georgia will cost from 312 lari (7 days in the season), or 6,736 rubles. For children under 6 years old elevators are free.
Gudauri ski resort in Georgia, ski elevators
Chairlifts description
On the territory of Gudauri ski resort there are Doppelmayer and Poma chairlifts. Types: gondola, chairlifts, rope tow lifts. Gondola elevators can transport up to 10 people at a time. Chairlifts are for 3, 4, and 6 people. Four rope tow lifts are rope tow lifts installed on educational and children's slopes. Each elevator has its own name.
Saving on elevators
You can save on elevators not only in our country, but also at the resort "Gudauri". The principle is the same. Calculate the time you are going to devote to skiing. If you plan to spend a lot of time on the slopes, you should buy a season ticket. In this way you can save your money. And vice versa. If you are going to go down one or two times, it is better to pay for the ascents one by one.
Gudauri ski resort in Georgia, slopes
Description of the ski slopes
On the territory of the resort "Gudauri" a total of 22 slopes, a total length of 50 km. All of them are of sufficient width and pavement quality. Every night groomers grade the slopes. Some of the slopes are illuminated in the evening.
Most of the slopes are intended for beginners and not very experienced skiers. There are also slopes for professional skiers, slalom, and freestyle skiing. For the fans of extreme sports there is a snowpark with a main track that is over 1000 meters long. Many slopes have FIS certificate.
How to get to the ski resort Gudauri
The trip to the resort "Gudauri" consists of several stages. Each of the stages has its own characteristics. They should be taken into account even before the trip in order to calculate the time and necessary expenses as efficiently as possible.
By plane (how long is the flight from Moscow)
The nearest airport to Gudauri is in Tbilisi, 120 km away. There are several flights per day operated by different companies. The flight time varies from 10 to 15 hours, depending on the airline. The ticket price starts from 6 635 rubles. It also depends on the carrier, the day of the week and some additional factors.
Rules of transportation of skis
Ski luggage is specific. Some companies charge for its transportation. In other airlines the service is free of charge. That said, there are a few simple rules to follow. First, skis and poles must be packed in special cases. The weight of baggage may not exceed 23 kg. For excess weight you will have to pay extra. Even if all rules are respected – warn the company about the presence of your luggage.
How to get from airport to hotel
From the airport to the hotel is easier for those who bought a tour at the ski resort. Independent travelers can choose one of the following options. Each of them has its own characteristics.
Bus. One of the more or less comfortable options is a bus or shuttle cab. The cost is not high – between 100 and 250 rubles, depending on the carrier. Travel time is about 2.5 hours. Frequent rides. Not the best option for tourists with large luggage or small children. Bus schedule Tbilisi – Gudauri.
Cab. There are cabs at any airport, ready to take you to the specified place. As a rule, the cost of their services is quite high. And the quality of their services often leaves much to be desired. Therefore I recommend the option described below.
Transfer Kiwi Taxi. International company Kiwi Taxi offers transfer services at a fixed price around the world. You can choose and book a car of any class online. The minimum price is 3 800 rubles. Conveniently, comfortably and reliably. Choose a car
BlaBlaCar
If you want to get from Moscow to Tbilisi you can with the help of BlaBlaCar service. The trip will take much less time than by public transport. The cost is set by the owner of the car. It depends on the number of hitchhikers, the class of the car and so on. At the time of writing there were offers from 3,750 rubles.
Ski equipment rental
On the territory of the ski resort "Gudauri" there are many small rental shops. But, some skiers do not recommend contacting some of them. They advise to use the services of Mplus center, located near the lower station. Near the Marco Polo Hotel. Standard ski sets there cost from 30 GEL. VIP kits are 20 GEL more expensive. Check for the actual prices at the official site of the resort.
Cafes, restaurants and canteens
There are enough cafes, restaurants and bars on the territory of the resort. The main menu is Georgian cuisine. Some restaurants offer European and even Ukrainian cuisine. The prices are quite acceptable. At the same time there are expensive options. Some establishments are equipped with panoramic terraces.
The weather in Gudauri
The climate of Georgia can by no means be called harsh. Some winters are quite snowy, just in the region of Gudauri. But sometimes there is little snow. The thermometer rarely gets above -12 degrees at night.
Weather by months (from November to March)
Daytime temperatures in November are still above 0. Nighttime temperatures can drop to -5°. There is almost no snow. December is characterized by a large amount of precipitation. By the end of the month the snow cover is already good. Temperature readings day/night: -3/-10° respectively.
The coldest month is January. The daytime temperature is -5° and the nighttime temperature is -12°. Naturally, depending on the year, the figures may vary. Snow days are few, less than in December, more than in February. February is characterized by more comfortable temperatures. Up to -2° during the day, up to -10° at night. In March, daytime temperatures are above 0°C. At night, the frost can reach -5 °. The season is ending.
Weather now
In what month is better to go to the resort
In this matter, everything depends solely on your desire and possibilities. If you do not want to be disappointed by the lack of snow on the slopes, it is better to go in February. Those who are not afraid of frosts can go to Gudauri in January. And tourists, who want to save money, go at the end of March, near the end of the season.
Gudauri webcams
Webcams from the ski resort look here
Financial issue
Going on vacation at the very beginning it is worth taking care about finances. The expenses will be large. Therefore, I recommend carrying cash and bank cards. In any case, I always take cards with me, cash. It's much more practical that way.
What money to take
The currency of Georgia is the lari. You can exchange rubles for the national currency at the airport or at the resort. I recommend to monitor the exchange rate in different exchange offices beforehand (you can do it online) in order not to miss a chance. Cash should be enough for food, entertainment, services of the complex.
What bank cards to take
At the ski resort "Gudauri" accept bank cards of different types (tape, with chips). In the process of booking a hotel, find out whether they accept your cards. I have been using a debit card "Tinkoff Black" for a long time. So far there was no reason to be upset.
What items to bring to the ski resort
What things to bring read here

Where to buy good quality clothes read here
Contacts of the Gudauri ski resort, official website
For the latest information on the resort operations, prices, additional offers and services please visit the official website of the resort.
Address: Gudauri village, Kazbegi district, Georgia
Phone: +7 (981) 7777131
Official website: gudauri.ru.
Gudauri Ski Resort in Georgia on the map and GPS coordinates:
Gudauri Ski Resort is rightfully considered one of the world's best resorts. High quality service, affordable prices for rentals and elevators. Excellent accommodation are just some of the advantages of the complex. Have a safe and enjoyable skiing!
Stanislav recommends:
Hello friends. My dream has come true, now I have to go to work and have some free time to travel. Now I work on the Internet and invest.
Ski resort Gudauri: useful tips
Where can you go skiing with a group of friends? Consider Gudauri! We tell you how to get to the Georgian resort, winter weather, slopes, hotels, food and entertainment. Prices for elevators and equipment rentals. Bonus – reviews and tips from tourists.
Gudauri – one of the most developed ski resorts in Georgia. It is located in the north of the country, near the Georgian-Russian border. The modern complex is especially popular with youth companies and fans of extreme sports, but children also come here. There are no special attractions, but after riding on the slopes you can spend time in a bowling alley, relax in the pool and enjoy the local cuisine.
Exchange rate: 1 Georgian lari (GEL) ≈ 19 RUB.
Content:
Climate and weather in Gudauri
The mountain resort is famous for its mild winters, absence of severe frosts and winds. The resort village is the highest mountain village on the Military Georgian Road, and there is always a lot of snow in these places. The snow cover is up to 3 meters thick in winter. Due to the dry climate and altitude, snow in the mountains lies for a very long time.
Skiing season begins in mid or late December and lasts until mid-April . In early winter, a lot of sunny days. Temperatures drop to -5°C during the day and down to -10°C at night. In January, nighttime temperatures often reach -15°C. February is colder than January with heavy snowfalls and frequent cloudiness. Temperatures may drop to -20°C in this month. However, due to the low humidity, the frost is easily tolerated.
March is famous for abundant snowfalls. The temperature is quite comfortable – from 0 ° C to -5 ° C. In April, the resort is sunny and the air warms up above 0 ° C.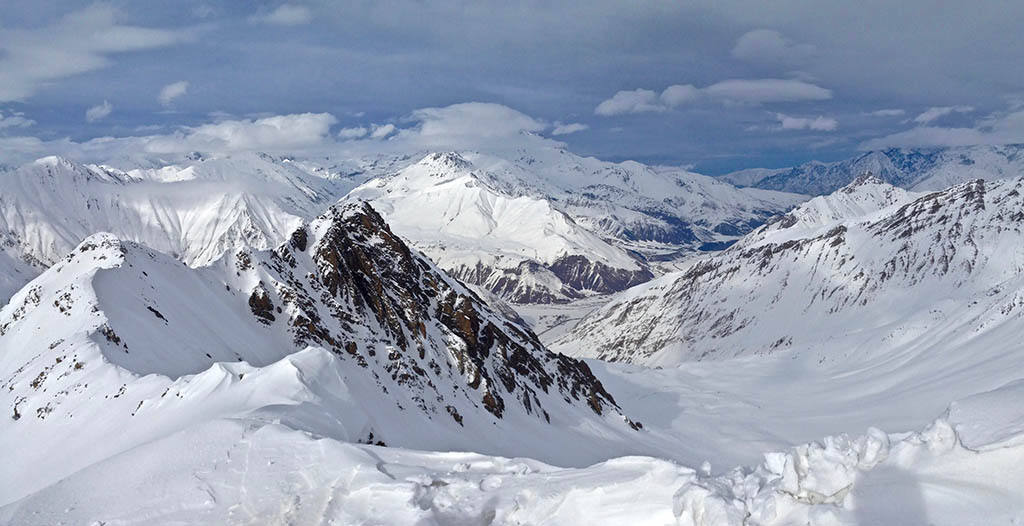 (Photo: unsplash.com / @alexeyok)
How to get there and how much it costs
Gudauri is located 140 kilometers from Tbilisi. Many international flights arrive at the airport of the Georgian capital, so the main flow of tourists arrives at the resort exactly from Tbilisi.
Shuttle buses to the mountain village run from the bus station, which is located near the Didube metro station in Tbilisi. It takes almost an hour to get here from the airport. The buses go from 9:30 to 17:00 every 1.5-2 hours. The trip by public transport takes 3.5-4 hours and the fare is 7 GEL. For bulky luggage you pay the same amount. However, not all tourists choose this option, because it is uncomfortable to carry ski equipment in the bus.
Cab . A cab ride lasts for 2 hours and costs from 150 GEL. To save money, you usually book a transfer for several people.
– Search for cheap tickets on all airlines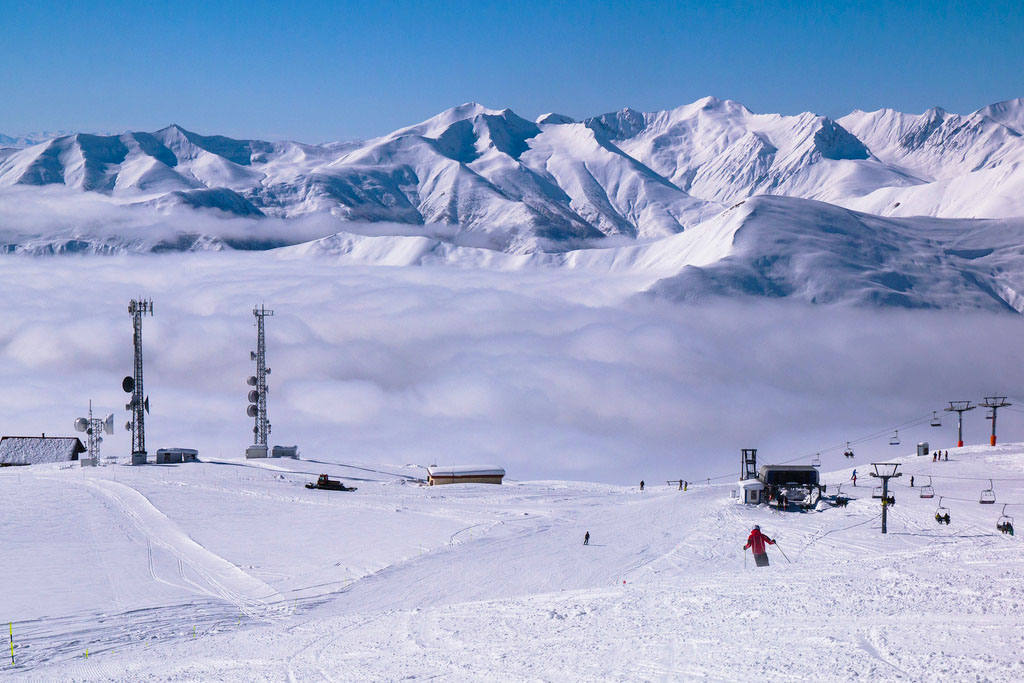 (Photo: pkmk / flickr.com / CC BY 2.0 license)
The road to Gudauri across the border . Many tourists get by train or plane to Vladikavkaz and travel to Gudauri by land through the Upper Lars checkpoint. The distance of 80 km can be covered by cab, shuttle bus or shuttle bus.
Depending on the speed of crossing the border, the trip takes from 2 to 4 hours. Transfer by car (up to 4 people) costs $90, and delivery by minivan (up to 7 people) or minibus (up to 12 people) costs from $160.
Pros – getting to the ski resort is fast, cheap and on a scenic mountain road. Cons – there can be traffic delays at the border. In addition, Cross Pass is sometimes closed to travel due to heavy snowfall and the danger of avalanches. Do not worry – the road is necessary not only for tourists, but also for locals, so it is quickly cleaned.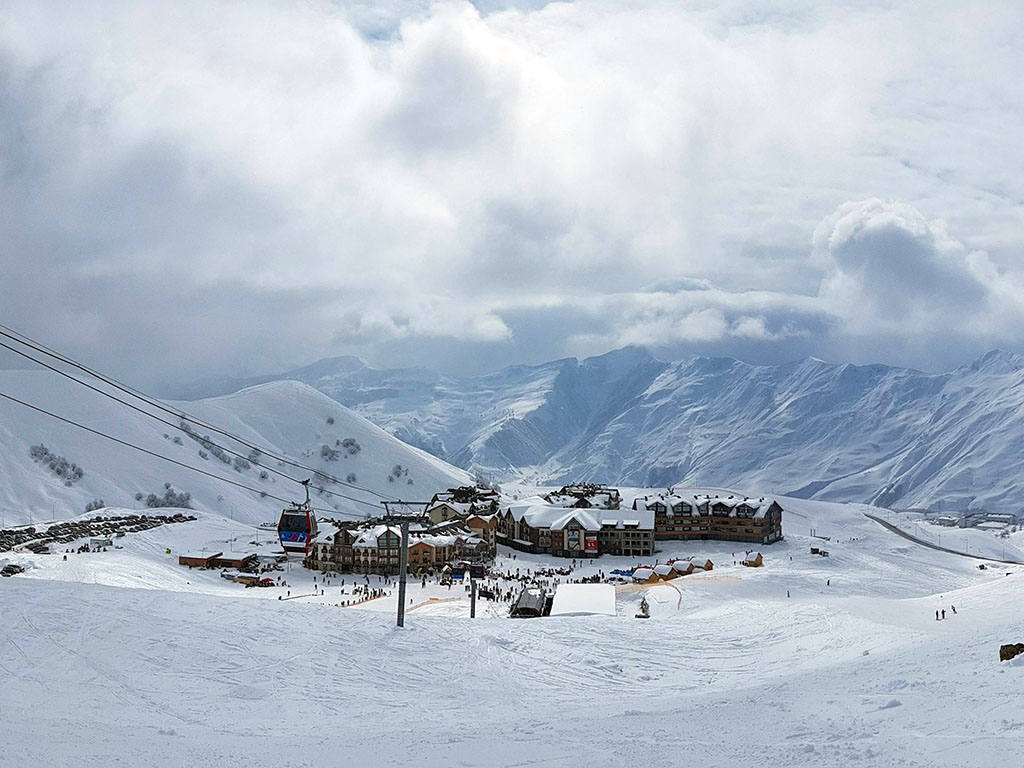 (Photo: unsplash.com / @aionov)
Trails
Gudauri is a large and modern ski resort in Georgia. There's a great infrastructure there that suits inexperienced skiers, professional athletes and off-piste skiers.
On the slopes there are 22 tracks with the length of more than 70 km. The longest one is 7.5 km long. 80% of local slopes are red and blue. Steepness of the slopes is up to 50 degrees. Every morning the snow is groomed by snowcats, and on some trails artificial snow machines are used.
Gudauri slopes from the bird's eye view
The slopes are served by 12 elevators. The lower one is built at 2,000 m, and the highest point is on Mount Sadzele (3,258 m). The main ski lifts of the resort are:
"Gudaura," a 10-passenger gondola elevator built for blue runs.
"Snow Park" is a three chairlift, which is used by fans of extreme sports.
"Koudebi. – is a three-chair elevator that leads to the top of the mountain of the same name. It is used by those who want to ride on the red slopes and freeride areas.
"Pirveli" is a three chairlift to serve the lower green trail.
"Shino" is a 6-chair rope that runs from an elevation of 2,150 meters.
"Solico" – a four-chair elevator designed to serve the blue trail and beginner routes.
"Sadzele" – a four chair lift to the top of the mountain, created to serve the black and red trails.
Bugels . Skiers and snowboarders enjoy the Alpina, Bombora and Baby rope tow elevators. Bugel "Zuma" is designed for the green trail and children's skiing area. Next to it there is a tubing track with the length of 0.3 kilometers.
Off-piste skiing . Fans of freeride skiing ski along the slopes under the elevators. They slope the eastern and western slopes of Bidara and Chrdili peaks, as well as the northern slopes of Sadzele. Throughout the winter season, heli-ski tours with instructors are organized from Gudauri.
Prices for elevators in Gudauri in 2022
A single lift costs 7 GEL, three lifts cost 18 GEL, and night skiing costs 10 GEL. A day ski pass costs 40 GEL for adults and 25 GEL for children from 6 to 16 years old. For a ski pass for a week you have to pay 232 GEL. You can use a multi-pass, which is valid at all ski centers in the country.
Prices for rent equipment and clothes in Gudauri
A standard set for the day – skis, poles, boots or snowboard and boots – costs 30-35 GEL. You can also rent equipment at rental shops in the resort village:
skis – 20 GEL;
ski boots – 20 GEL;
helmet and gloves – 10 GEL;
snowshoes – 20 GEL;
set of avalanche equipment – 50 GEL;
snow shovel – 12 GEL;
skis for ski-tour – 70 GEL;
splitboards – 60 GEL;
telescopic ski poles – 15 GEL;
beeper – 40 GEL;
Freeride backpack – 5 GEL.
Hotels in Gudauri
Lodging in Gudauri is located at altitudes from 2,000 to 2,750 meters above sea level. The development is divided into Lower, Upper and Central. Gudauri is a popular ski resort in Georgia, and there are many guest houses and about fifty 3* – 4* hotels. In the guest houses you can stay with meals "full board", and the hotels offer rooms with breakfast or two meals a day.
The cost of a double room in the hotels of Gudauri during the winter season of 2022:
| | |
| --- | --- |
| Guest houses away from the slopes | 25-30$ |
| Guest houses and apartments near the slopes | 60$ |
| 3* hotel | 100$ |
| 4* hotel | 130$ |
Tourists like the fact that some hotels in Gudauri have direct ramps to the slopes, and others are only a 5-10 minute walk from the elevators. Those who have chosen lodging far away from ski areas usually arrange for a shuttle service with the owners of the guesthouse or hotel.
and daily.ru – accommodation search
Lodging in Gudauri is located at altitudes of 2,000 to 2,750 meters above sea level. Photo: flashback313.gmail.com / Depositphotos.com.
Food prices in cafes and restaurants
Restaurants, cafes and grill bars in Georgia's Gudauri ski resort feed tourists with European and Georgian cuisine. There are establishments that offer a buffet. Dinner for two in an inexpensive place without alcohol costs 30-35 GEL.
The cost of individual dishes and drinks in cafes and restaurants of the resort:
scrambled eggs with ham and cheese – 8 GEL;
omelette with vegetables – 7 GEL;
sandwich – 13 GEL;
salad – 6-14 GEL;
hot dish – 8-19 GEL;
mushrooms with suluguni – 12 GEL;
chicken shkmeruli – 21 GEL;
kebab – 12 GEL;
pizza – 19-24 GEL;
soups – 7-12 GEL;
side dishes: potatoes and vegetables – 5-8 GEL;
kebabs – 8-18 GEL;
grilled trout – 13 GEL;
khinkali, 1 pc. – 0,7-1 GEL;
khachapuri – 9-12 GEL;
Shoti bread – 2 GEL;
coffee – 2,5-3,5 GEL;
lemonade – 2 GEL;
mulled wine – 5 GEL;
wine, 1 l – 15 GEL;
chacha, 1 l – 60 GEL.
Products are convenient to buy in a supermarket "Smart".
Excursions and entertainment
One of the most famous ski resorts in Georgia, Gudauri can not boast too extensive après ski program. There are no special attractions at the resort. After skiing tourists relax in bars, go to restaurants and bowling club.
Many establishments show movies about skiers and snowboarders, organize entertainment and music programs with live music. Visiting spas and baths costs $ 20-50 per person.
In order to fully enjoy the panorama of the Caucasus Mountains, fans of active recreation climb the mountain Kudebi (3006 m). In the village are popular snowmobile safaris and paraglider flights with an instructor.
Local travel agencies offer vacationers one-day excursions: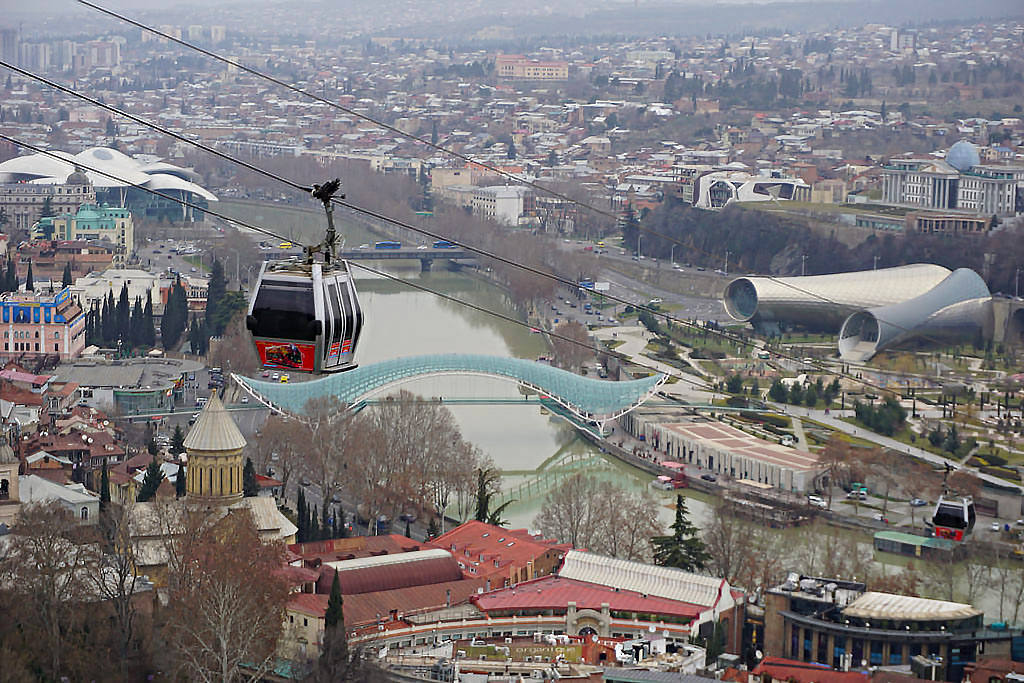 (Photo: Andrew Milligan sumo / flickr.com / CC BY 2.0 license)
Reviews and tips about vacationing in Gudauri
Vacationers note many pluses of the ski resort of Georgia:
The high altitude position guarantees beautiful views of the ridges and valleys.
The village has many accommodations near the ski area.
Excellent conditions for freeride.
No queues. A small accumulation of skiers in front of the elevators happens only on weekends and holidays, but you have to wait in line only 10-15 minutes.
Gudauri is suitable for winter holidays with children. There are playgrounds, special corners in hotels, and private babysitters. A children's skiing school is open.
Disadvantages :
Except for skiing, there is very little entertainment in the village.
A large influx of holidaymakers in the peak season.
After 17:00 available only green slopes, where there is artificial lighting.
There are no half-day excursions from the resort. All educational tours take a full day.
Tips of experienced tourists:
Before you go to Gudauri, it is worth booking lodging and ordering transfers in advance.
If you like skiing in warmer weather, come to Gudauri in early spring.
Near the end of the season the resort can boast considerable discounts for accommodation, and the prices for ski passes go down by 25-30%. The highest prices are in February, early March and during the New Year vacations.
To find out if the road at Krestovsky Pass works or not, use the 24-hour online camera, which is installed at the Upper Lars checkpoint.
Other ski resorts: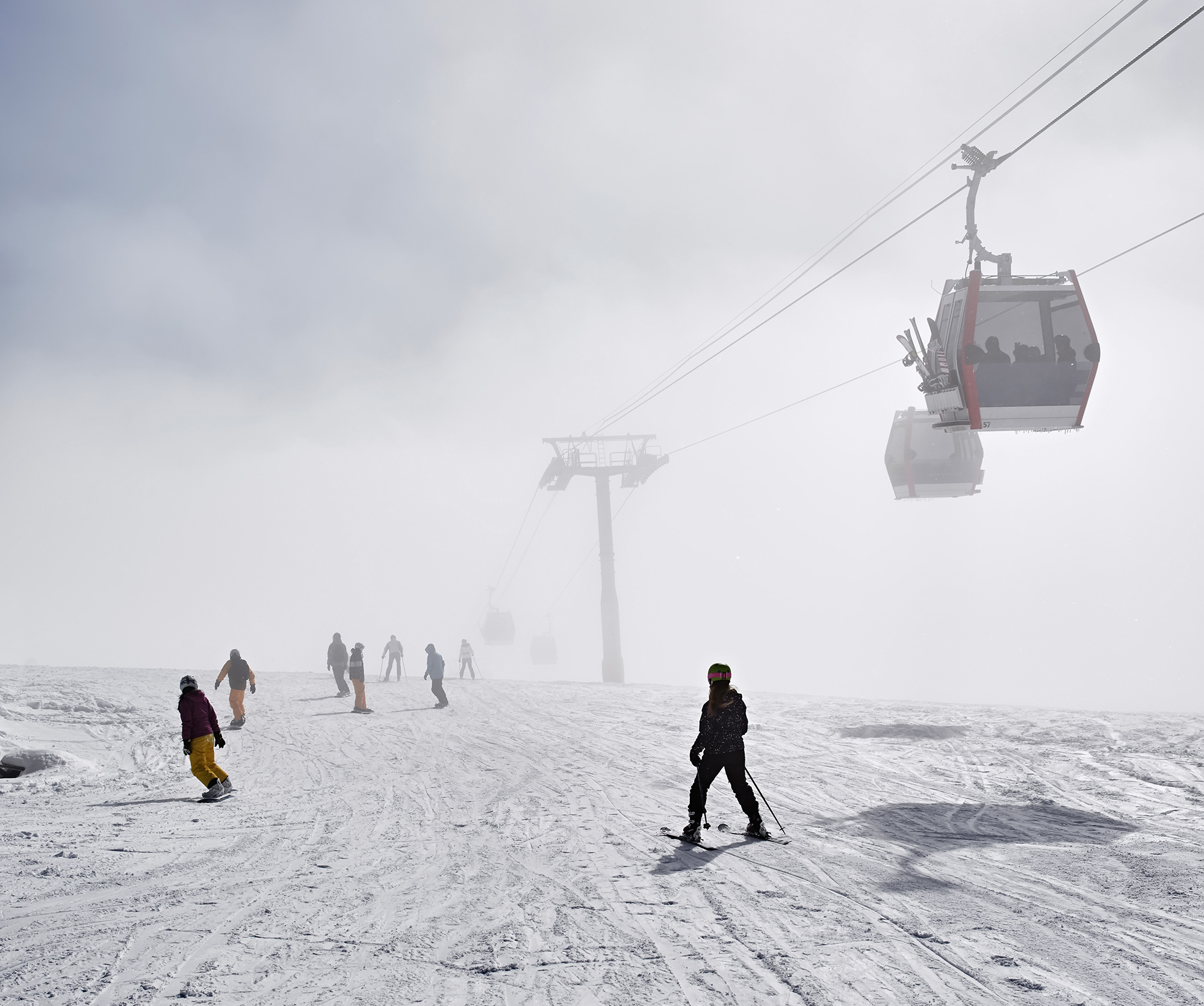 If you like skiing in warmer weather, come to Gudauri in early spring. Photo: Shenki / Depositphotos.com.