Hikkaduwa resort in Sri Lanka in 2022 – reviews, beaches, prices

Hikkaduwa carries a lot of places: here you can find both exoticism and a semblance of a Turkish beach with a crowd of Russian tourists, and high-class service.
We, a young couple from Moscow, went there in February. We had only 10 days: six in Mirissa and the other four in Hikkaduwa. During this time we wanted to see and feel the country's color. So we tell you where to find it.
Now Sri Lanka is the most affordable Asia. Entry rules are as follows: mandatory certificate of vaccination Sputnik and psr-test 72 hours before departure + questionnaire. And a visa – you can get it online or at the airport for $35.
If you are flying with children 2-12 years old, they only need a psr test. Under 2 years old, you don't need anything. Tourists with children 12-17 years old will have to spend 1 night in a quarantine hotel and pay for the child's pcr test upon arrival.
Content
Why Hikkaduwa?
In tourist reviews for 2021-2022, Hikkaduwa in Sri Lanka leads in the number of mentions. And no wonder, it's the most developed resort in the country by tour operators. However we learnt about it only after arrival: signboards, menus, posters – everything is duplicated in Russian. Even the sales clerks speak it, so the place is especially convenient for those who don't speak English.
We chose Hikkaduva because of:
The wide beach, almost three kilometers long.
Perfect waves for surfing
Lonely places without crowds of tourists
For example, like Narigama beach closer to Galle. On the other side, only occasional coconut vendors can be found. By the way, they – coconuts – are cheaper here than in the center (about 50 rupees).
Especially delicious are those that are drunk in the shade of palm trees and in the company of a Lankan. A little further Lavanga Resort&Spa hotel stands a black charred shack, where perhaps with a wave of the hand an elderly man will invite you in. And while you are busy with sweet coconut, he will tell you how the tsunami of 2004 destroyed everything, including his house, in the wreckage of which you are now sitting.
Hikkaduwa is a small town, but the infrastructure is excellent. There are dozens of times more restaurants and cafes, hotels and ayurvedic salons. And most importantly – there are supermarkets where you can buy quality tea and souvenirs without a surcharge.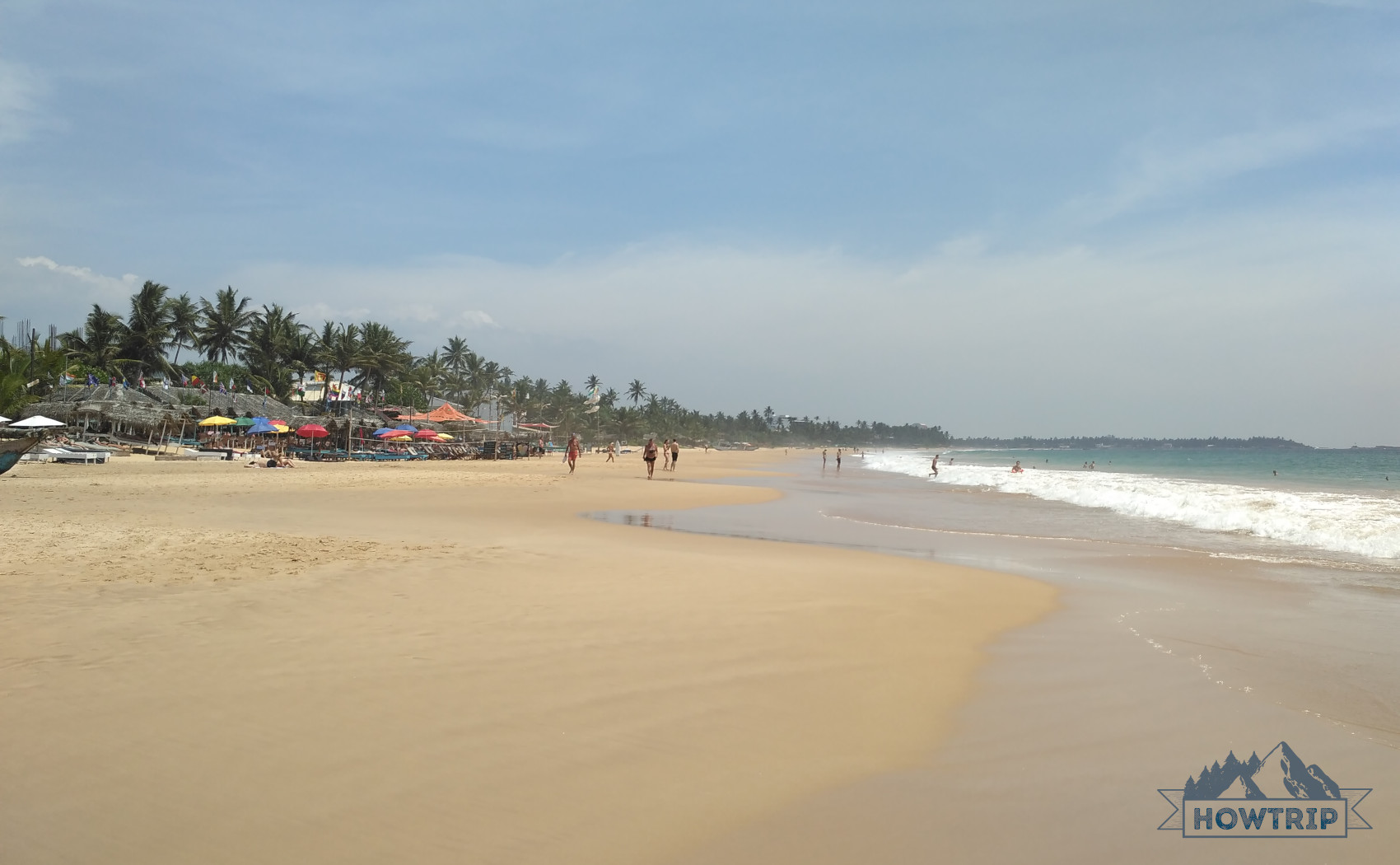 Airline tickets and tours
People go to Sri Lanka by tours – a purely beach holiday with one or two excursions, and on their own – to see everything and surf everywhere.
Tours.
In Hikkaduwa usually the cheapest tickets. That is why there are many compatriots, and Lankans are maximally oriented to russo-touristo.
✓ In 2022, a 7-day tour to Hikkaduwa for two will cost from 90 000 rubles.
All inclusive package for a week will cost about 175 000 rubles. You can also take a full board tour (breakfast, lunch and dinner) and pay from 110 000 roubles for two.
Family tour to Hikkaduwa to a good hotel (parents and child) – from 150 000 rubles.
We have indicated the cost of the tour subject to departure from Moscow. To learn the price of tours to Sri Lanka from your city and suitable dates can be online aggregators:
They analyze offers from all leading tour operators, display prices directly and tell you when and with whom it is more profitable.
Self-trip.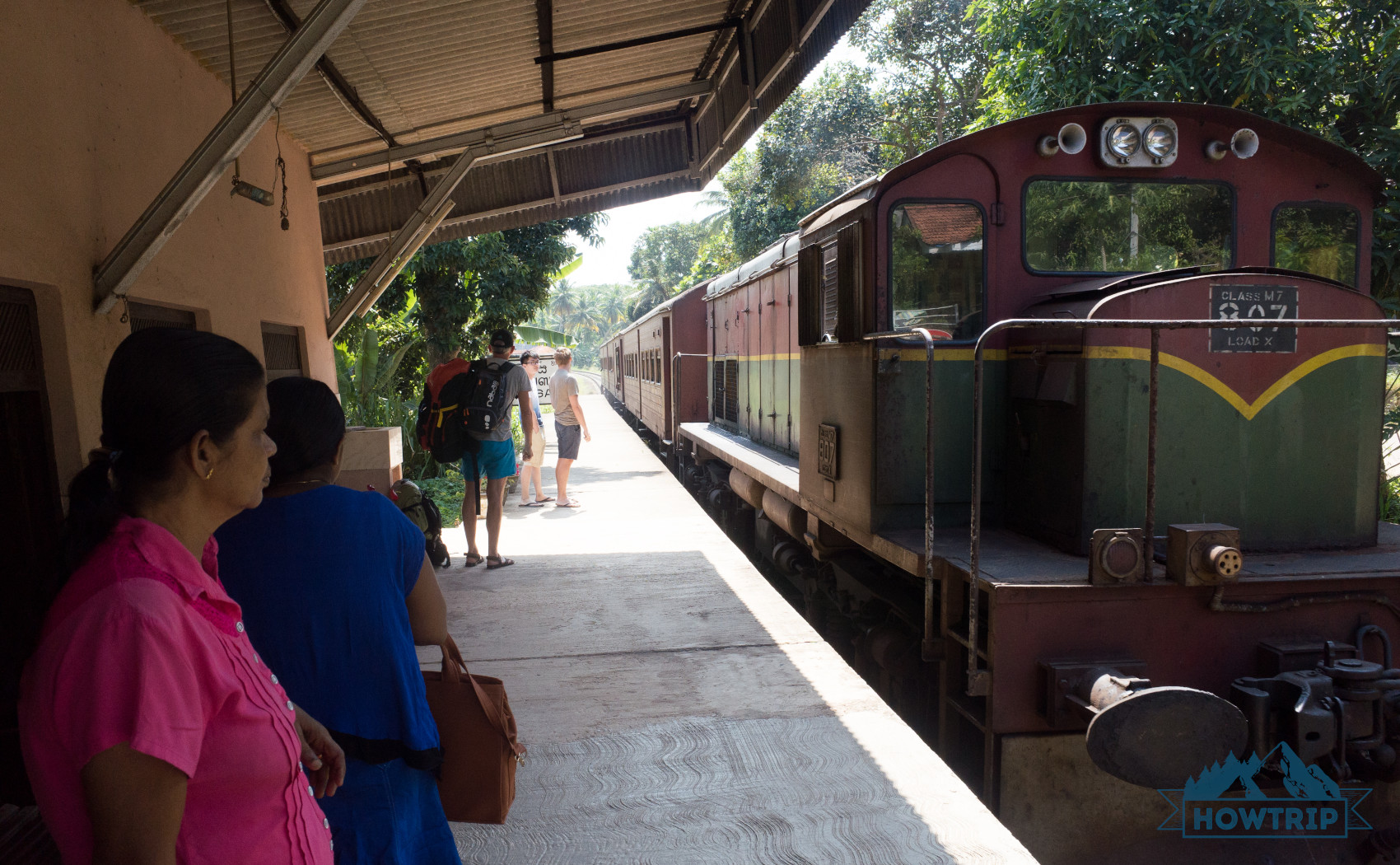 Tickets to Sri Lanka from Russia cost from 35,000 rubles round trip for one person. There is a direct flight from Moscow – Aeroflot, 8 hours in the sky. From the regions fly with a connection, usually in Dubai or Doha. You can buy tickets at:
By the way, we have an article comparing these two services, you can read it.
As for lodging: on RoomGuru or Booking in Hikkaduwa can find and bungalow of sticks and straw for 400 rubles / night for two, and more or less a hotel of 2-3 stars for 1000-1500 rubles / night, also for two.
The main problem with traveling on your own is getting from the airport to Hikkaduwa itself, because ↓
How to get from Colombo to Hikkaduwa?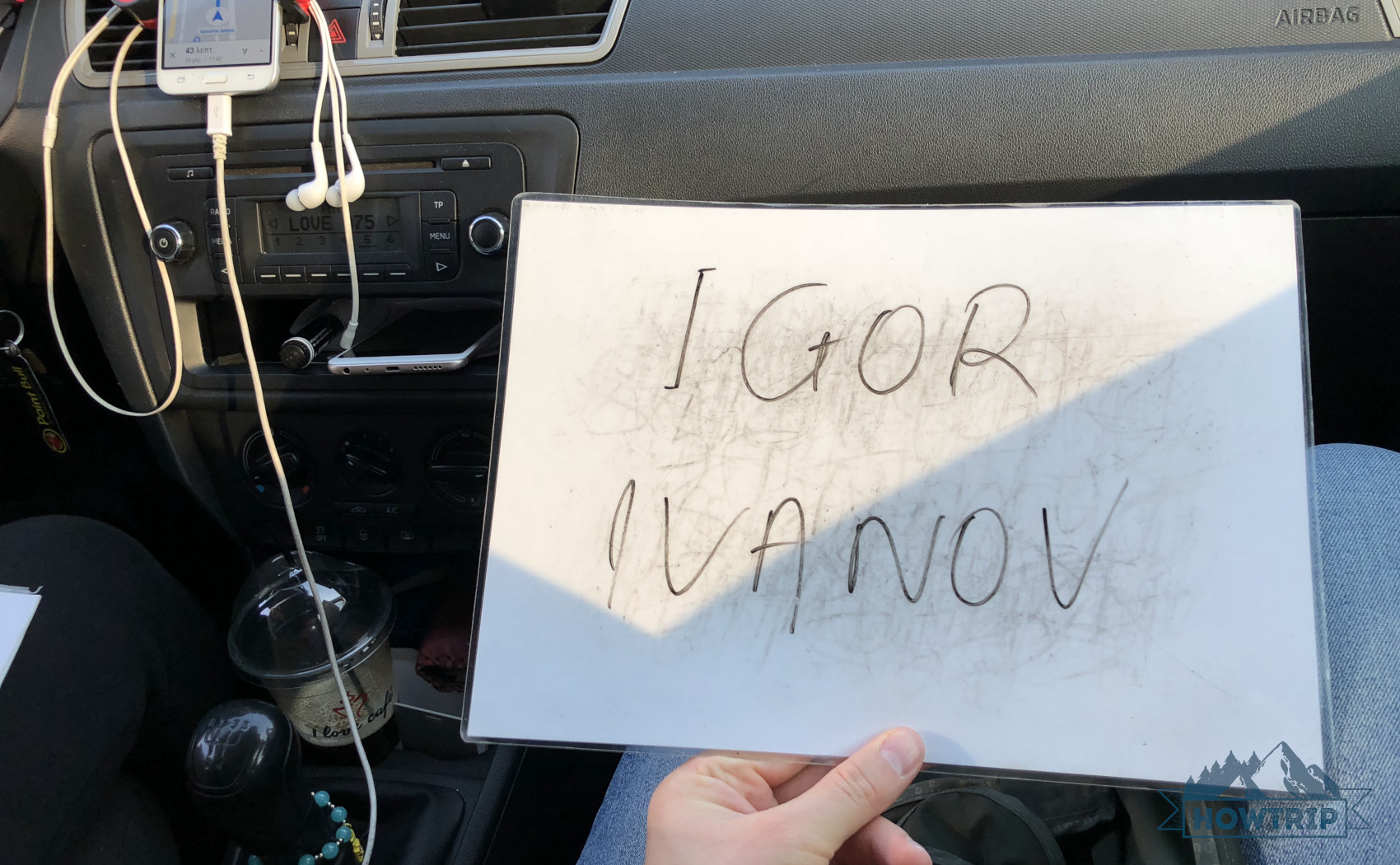 KiwiTaxi meets you at the airport with a sign like this
Hikkaduwa Resort is located 100 km away from Colombo airport, because of speed limits it takes about 2 hours by car.
The easiest way to get there is a transfer from your hotel (pre-booked). Haggle in correspondence by mail, an adequate price is ≈ $50. You will be met with all honors and a piece of cardboard with your name scratched on it.
The option of "cab at the airport" is better not to consider. And do not go to the local bomber at all and do not give your luggage in his hands! The cab driver will ask for a tip or take the bags to his own trunk. And he will do it with such a sincere smile that you won't notice how you get into the car with the same smile.
The best option: if you are traveling with 3-4 people, much better to take a transfer from KiwiTaxi – it will cost $ 65-70 per car. We used the service in Greece, it is very convenient.
There is no direct flight Colombo-Hikkaduwa and by bus . First you should take bus #187 to stop Colombo Fort, and then change to a bus to Hikkaduwa (or to a passing bus to Galle, Matara, Tangalle).
If you want, the same 187 will take you to the terminal station, where there is a train connection to Hikkaduwa station. But there is a risk of ending up in a subway-like Moscow at rush hour, or even worse, because this is Sri Lanka and Hikkaduwa.
Weather in Hikkaduwa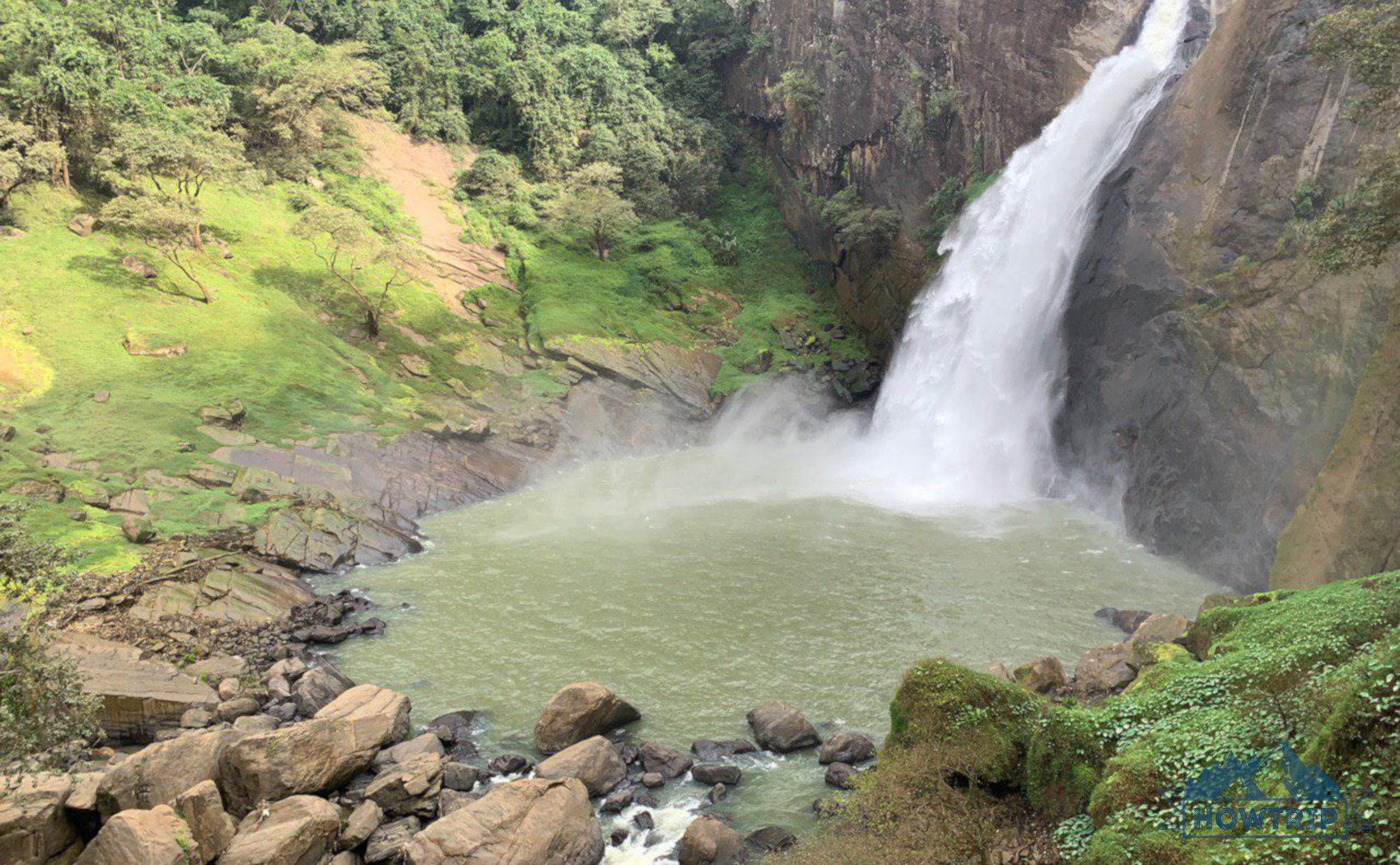 Hikkaduwa welcomes tourists all year round, but you need to proceed from the purpose of your trip.
For surfers is ideal for both spring and autumn – in short, from April to October, when the Indian Ocean is raging and the waves rise to a height of 5 meters.
For beach holidays, the high season starts in winter – December – and ends in March, but in April you can still catch days without rain and waves. During the tourist season, the ocean is calm and warm, +28°C, and the daytime temperature stays around +30°C.
The low season is summer, when heavy rains come up to three or four times a day. In addition, in August, the water level rises, closing off part of the sandy beach. Nevertheless, many people go to Hikkaduwa even in the off-season – the forecasts are often wrong, but the low prices in cafes and hotels are stable:)
In general, in summer you can find a corner where the season is in full swing, unlike the same Hikkaduwa. In this article about Sri Lankan resorts we looked at all the places to stay – where, when and who to go.
Hikkaduwa Beaches.
It is difficult to say where Hikkaduwa beach begins and ends – there are no exact boundaries. If you look at the map, it consists of two large ones: Hikkaduwa Beach (north) and Narigama Beach (south).
The southern part of Hikkaduwa Beach is the real Sri Lanka, it's wilder. Fewer tourists, you can feel the scale and power of the ocean: waves crash with a noise on the rocks, and white foam floods your feet. Friendly dogs are stretching in the sun, and Lankans are just the same, sprawled out on the sand, enjoying life. Few dare to swim on this beach. The entry is too sharp, the sand sucks, and the waves want to push you deeper.
Beware! The main danger of the ocean in Hikkaduwa – the back currents.
The northern part is livelier and more popular. There are coral reefs here that hold back strong waves. Many people prefer the beach at Chaaya Tranz (now Hikka Tranz), it has a comfortable entrance and large turtles. Tourists affectionately call this place "lagoon," and we called it "Russian" – behind the back played "Stewardess named Zhanna," and compatriots lazily sipping beer.
Lying down did not tempt us, so we swam closer to the south beach, where the locals were not afraid to swim. They are a kind of indicator of safety.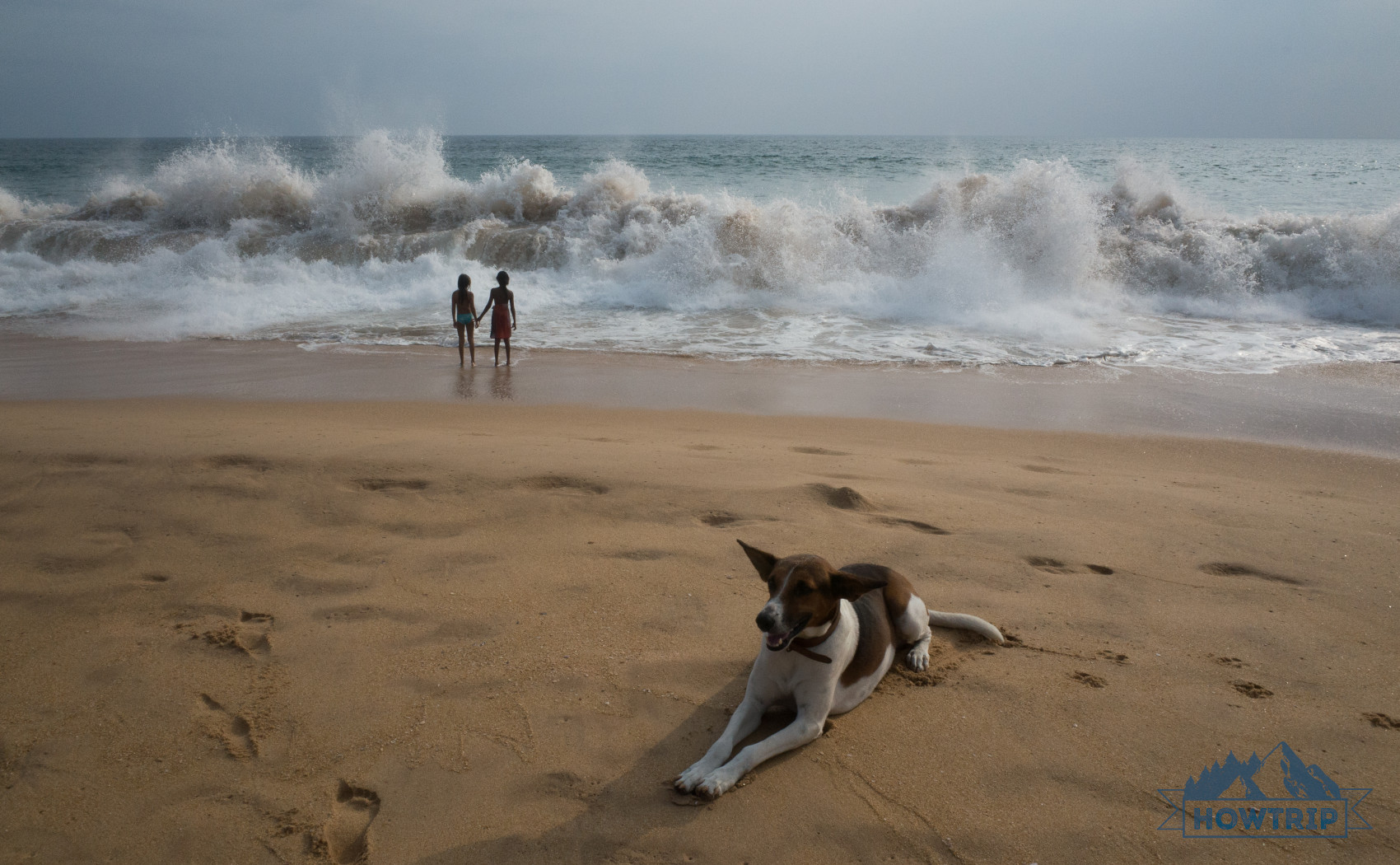 Cuisine and cafes Hikkaduwa
For calculations: 100 Sri Lankan rupees ≈ 37 rubles.
Prices in supermarkets and markets Hikkaduva:
A can of local beer is 150-170 rupees.
Mangoes as in Thailand, kg – 500-700 rupees
Pineapples, kg – 100 rupees
Passion fruit, kg – 200 rupees
Bananas, kg – Rs 100-200
Who cares – alcohol is freely available, sold in stores.
Lankan cuisine is similar to Indian cuisine, so remember the phrase "no spicy" like a prayer. Also – "no sugar", "no ice" – when ordering drinks.
The Lankans cook spicy dishes even though they are used to adjusting them for the Europeans. But it is worth a reminder if you are not a fan of hot peppers. It is better to ask for cocktails and juices without sugar and ice – sometimes they freeze tap water and there is a risk of catching an intestinal infection.
Reviews say that in Hikkaduwa and in general in Sri Lanka must try several dishes:
– rotti (filled tortillas)
– Rice and curry (more than 15 varieties of rice are grown in the country)
– lassi (drink with juice, yogurt, water, and spices).
– string hoppers (rice flour dish)
– tea with milk (this is the island of Ceylon).
There are many cafes on the beach, where you can eat both local and European cuisine. In the evening, the staff takes the tables right out to the ocean, so you eat here while looking at the sunsets. Recommended:
JLH Beach Restaurant – try the mango shake with ice cream (Rs. 390) and the avocado juice (Rs. 350)
Hello Burger – just great burgers (Rs 700-900)
The Getfresh – inexpensive seafood restaurant, shrimp and rice ≈ 960 rupees, fish ≈ 850-900 rupees
Main Reef Surf Cafe – order rice and curry (600 rupees), get about seven plates with different fillings
Hikkaduwa sights – what to do?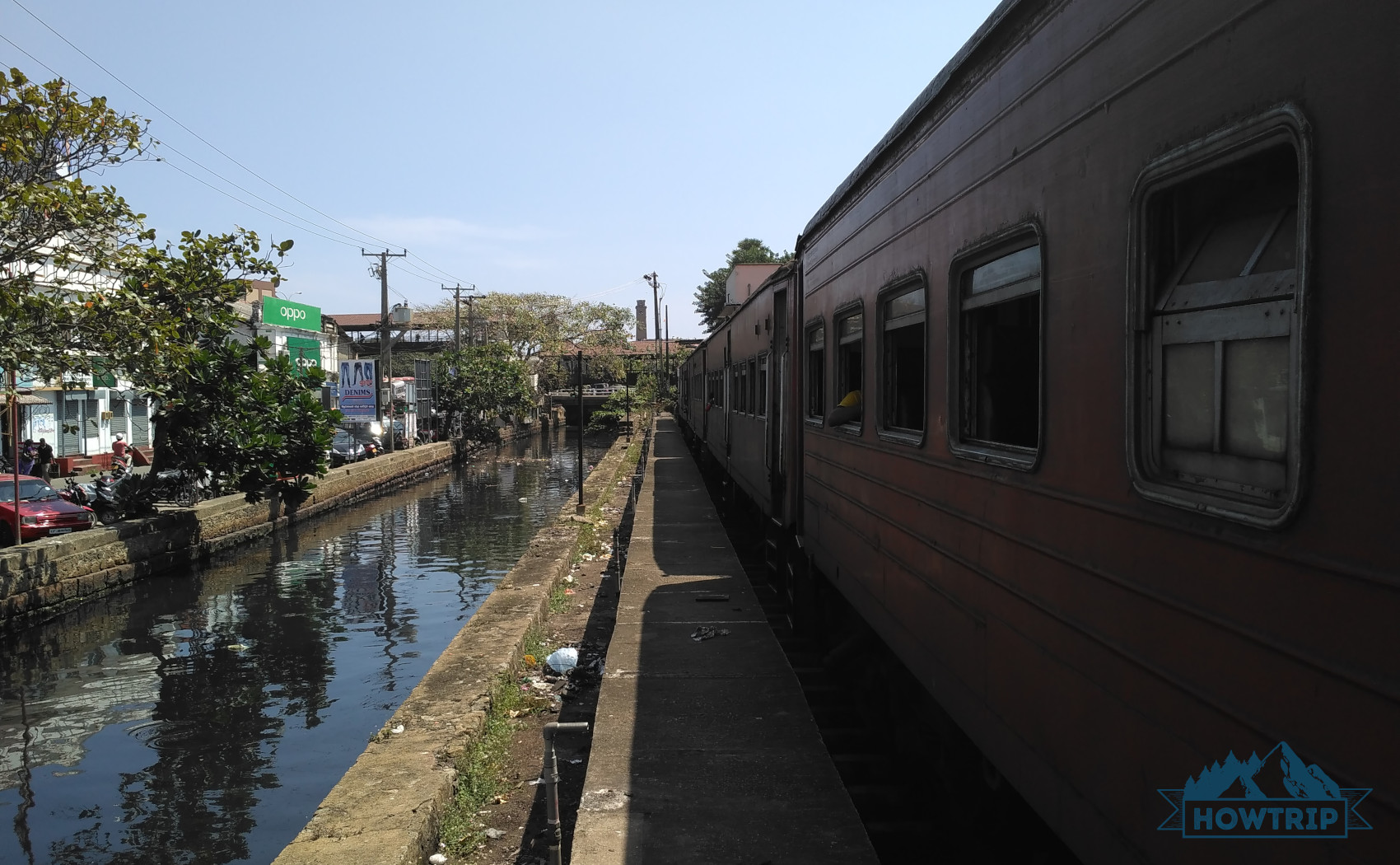 Don't expect impressive architecture or interesting museums in Hikkaduwa. The main attraction here is the ocean. So, the main things to do here are surfing, snorkeling, and sightseeing. Of the things to see locally, there is:
Turtle Farm.
Tsunami Monument.
Well, and a massage, for which you have to pay 2000-2500 rupees.
Surfing and snorkeling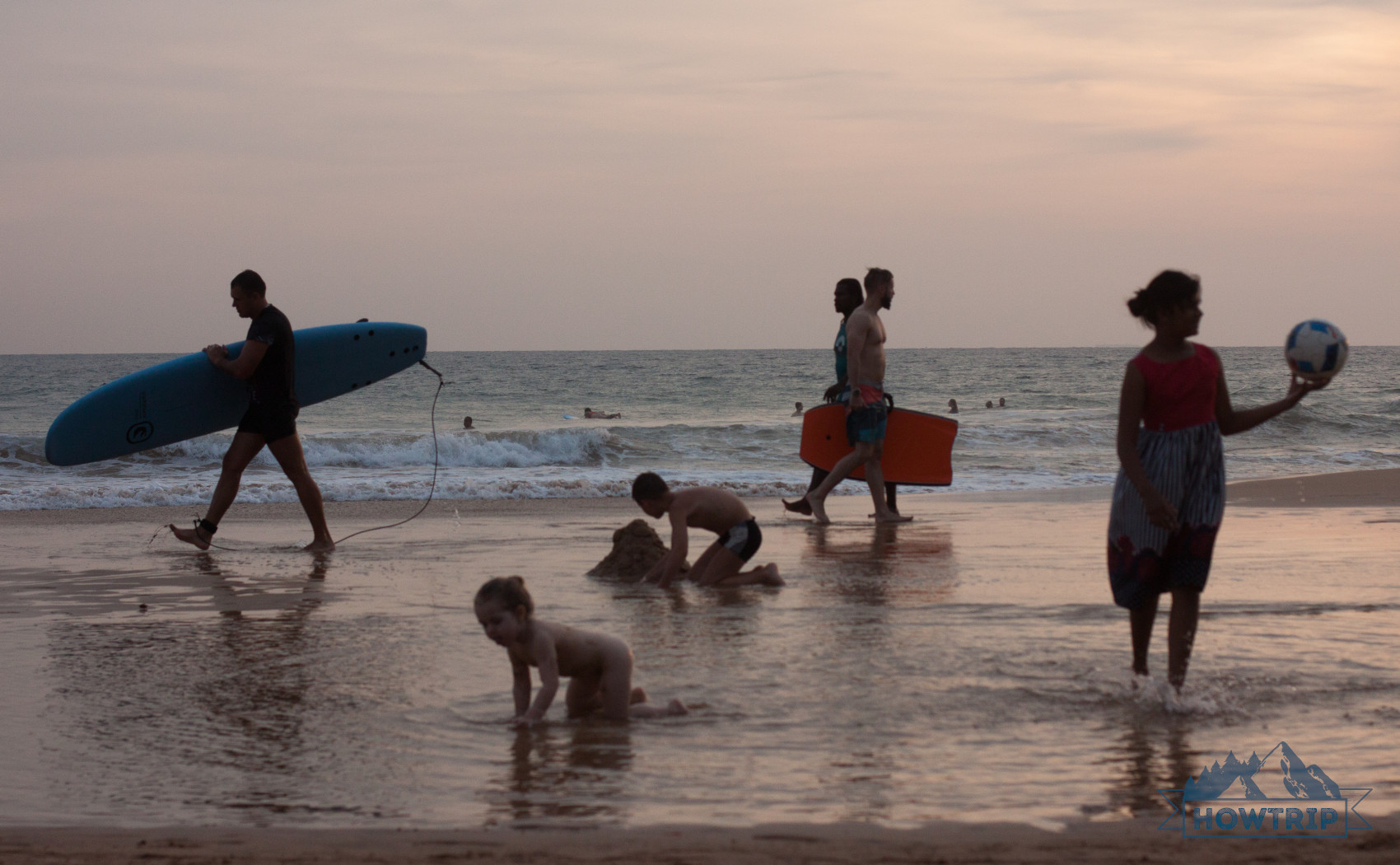 In Hikkaduwa, surfing is the first thing to do. If you've never surfed, be sure to take an instructor: he will pick up a board, provide clothing (so you don't burn and you can be seen), and take you to a special place with optimal waves. Such a lesson with a pro – about $35. There is even a Russian school, but the cost of classes is higher – from $45. Those who are confident on the board, you can rent surf on the beach: 1 hour – 600 rupees, the entire day – 1200-1500 rupees.
For lovers of the underwater world will do snorkeling. It is not everywhere – the most beautiful views are just at the beach hotel Chaaya Tranz. To go to the coral reefs is better in the place where the turtles come out. You will have a chance to swim with them.
Excursions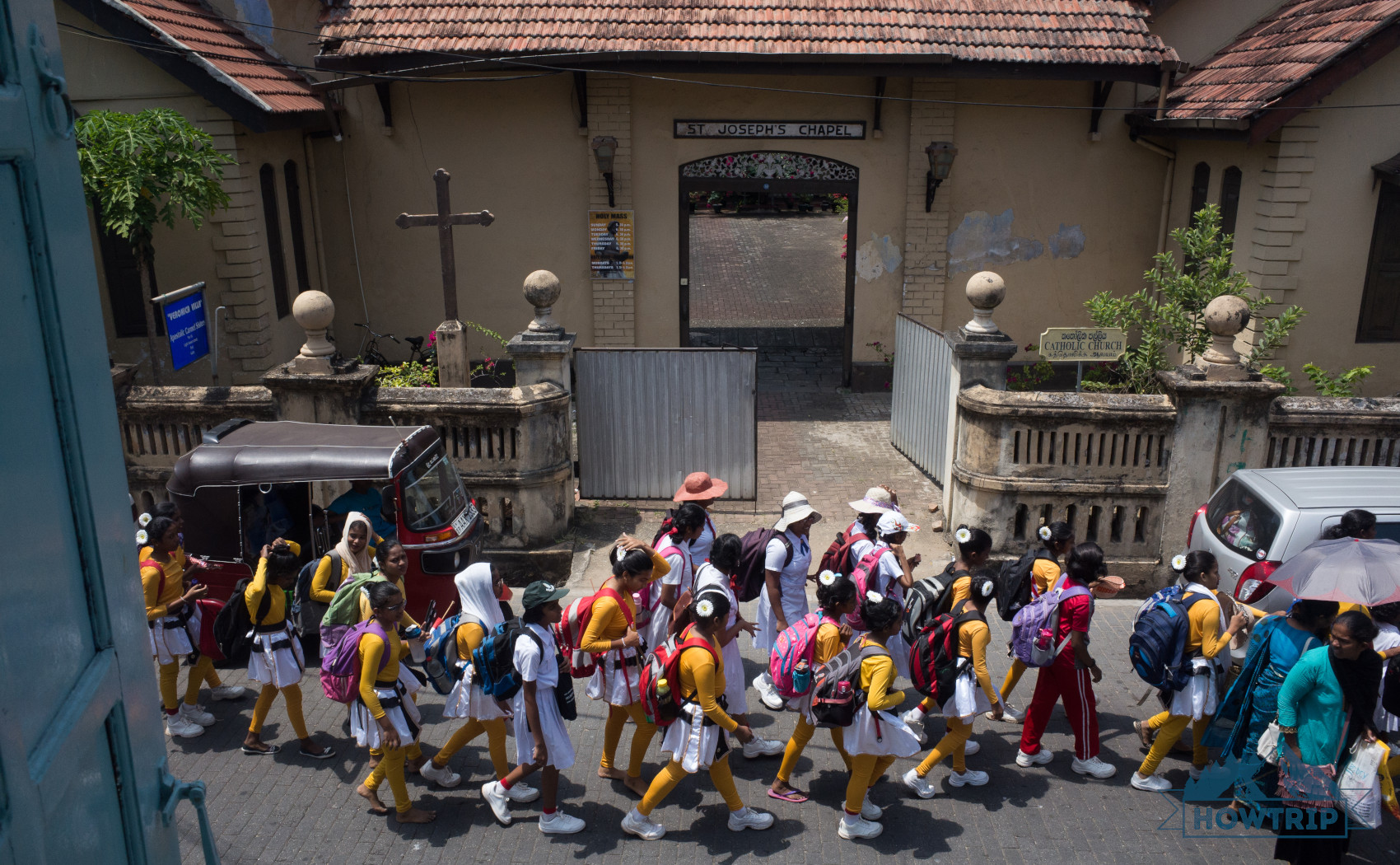 Prices for popular excursions in Hikkaduwa (local agencies):
2-day to Sigiriya and Kandy – $140-160
2-day to Ella and Nuwara-Elia – $140-160
River mangrove safari and turtle farm – $40-45
Whale watching – $60
Yala National Park – $70
✓ For those who, like me, can not swim, excursions in boats with a glass bottom are good, so you can see the fish without getting into the water. Cost: 2100 rupees for 6 people. This trip is ideal for tourists with children.
The temple Sinigama Muhudu Viharaya is located on Hikkaduwa – it stands on a separate island, where victims of robbery can ask for retribution from a higher power. Perhaps that's why it attracts tourists. Admission is free, but the boat ferry will ask from 400 to 600 rupees. You can haggle, or you can watch from the shore.
Near the city is an area Meetiyagoda, where Moonstone is mined. There you can go on a tour (sometimes even for free) and after the story of the guide you can buy the stone in the shop by the mine. You have to bargain!
✓ Speaking of souvenirs: it is better to buy them in large supermarkets, like Sandagiri, and take the markets only as an attraction. Tea in the store is sold the same, but cheaper than in the tea boutiques. Look for the O.P (orange pekoe) marking on the package – it's a whole leaf, high-quality tea.
✓ Also popular is an 8-hour excursion to the weeping forest (Sinharaja) – a national park in Sri Lanka. There are few animals there, but birds, beautiful plants and … insects – in abundance. Wear closed clothes, and take an extra set of underwear to change into after swimming in the waterfalls.
✓ The most worthy excursion left for last – if you can do it, it will probably be the best in your life. This is the ascent to Adam's Peak, a mountain of 2,243 meters. Pilgrims believe that Adam's Footprint is here, and tourists believe that this is the most beautiful view in Sri Lanka.
Hikkaduwa and Sri Lanka are rich in excursions, but we recommend exploring on your own.
Accommodation in Hikkaduwa – Hotels and Houses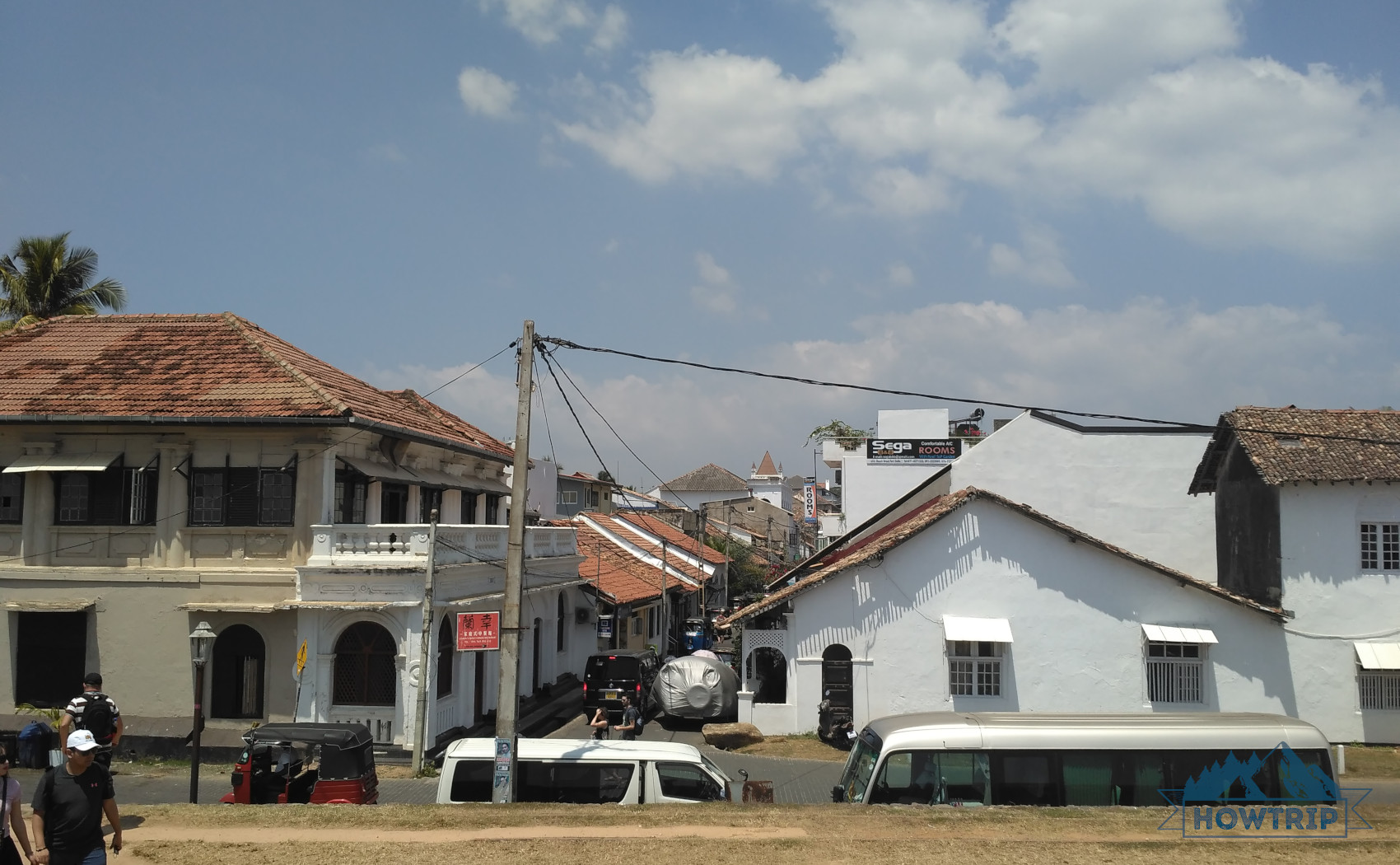 Hotels in Hikkaduwa are either guest houses or bungalows, or the usual three-star hotels. Lodging is cheap: because of the variety of excellent options and for 1000 rubles a day. You can find a place to stay in Hikkaduwa on the good old-fashioned search engines:
A selection of good hotels.
We stayed in a guest house, for a night we paid about 1400 rubles. For that money we got quite a good room, tastefully decorated (the owner – a Frenchwoman) and a normal breakfast. A turtle lived on site and the ocean was a 5 minute walk (though across the street). Basically, you can recommend it.
Where else to stay? Here are 3 decent hotels, the last two only available for the tour:
4* Hikka Tranz by Cinnamon is the best hotel in Hikkaduwa. Rooms overlooking the ocean, an excellent beach – you can surf, snorkel and swim with children. Tour price: from 130 000 rubles (breakfast) Price per night: $ 110
2* Lanka Super Corals – probably the only hotel in its category, which HOWEVER positive reviews. Tourists insist on raising the stardom to all 4 Price of the tour: from 100 000 rubles (breakfast)
2* Villa 96 – a small hotel away from Hikkaduwa with a Russian hostess. Hospitality – at the level, delicious breakfasts and dinners. Tour price: from 95 000 rubles.
It is better to choose a hotel not on the first line in the center – the music from the cafe just will not let you sleep. The Fanki de bar has an especially busy nightlife. We almost rented a hotel in this building (reasonable price, panoramic windows overlooking the ocean, a great room), but just in time we thought of a catch. Turns out that the place has music so loud that it vibrates the walls.
Where else can we go? Tourist Reviews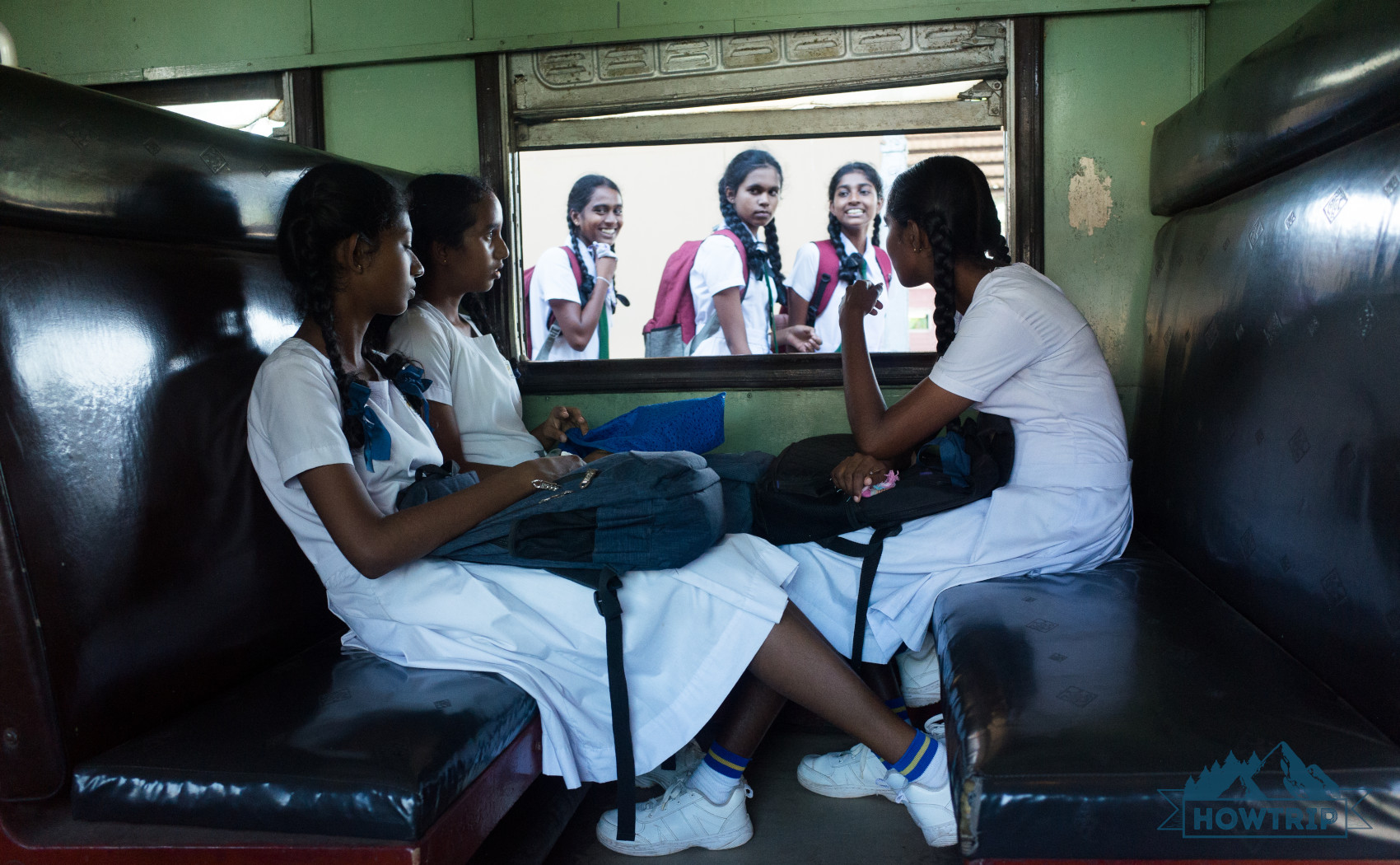 Hikkaduwa is easy to get around in 3-4 days, and the rest of the vacation is better to go to conquer other cities. We've only been to the fort city of Galle, but tourist reviews say there are many more places to visit.
The bus to Galle is 50 rupees. There are also cabs and tuk-tuks, but it's better to get there by train from Hikkaduwa station. It will take about half an hour, but the ride in a colorful car from the colonial times of England (€ 1) will be more impressive than a walk through old Galle.
You can take a car (though, either directly at the airport in Colombo – to help RentalCars – or at the hotel Citrus Hikkaduwa, only there is a rental car) and drive to nearby resorts. In Bentota you can take a walk on the sandbar, swim in the lagoon and see the ancient temple of Galapata with a huge statue of Buddha. In Unawatuna, swim without waves and snorkel. In the resort of Kulutara to see the most beautiful castle of the XX century, waterfalls and cave temples Fa Hien Caves with traces left by people 37 thousand years ago.
Another beautiful place is Mount Sigiriya. Climbing it is not free ($ 30 adult ticket and $ 15 children's ticket), but it is worth it. Previously there was a luxurious palace, or rather, an entire city with gardens, fountains and swimming pools. The steps were carved between the paws of huge stone lions, the half-destroyed parts of which remain today.
Copying materials is allowed only with the obligatory indication of a direct, active and open for indexing a hyperlink to howtrip.ru.
Hikkaduwa – beaches, reviews, hotels, weather
Sri Lanka is amazing! More interesting than Egypt and Turkey, now and get a budget. How is the situation there now? We bought tours on the next date, a week before departure, now I think it is risky to buy tours in advance, the money can hang on the deposit. And the state has already issued an official permission for all tour operators to defer refunds to tourists. Prices in Egypt have gone up a lot. I know from my own experience, we went there in December 2021 and the same hotel costs not 100 thousand and already 170 thousand!
In Turkey it is not the beach season yet, and the prices are also biting. We did not want to go to Tunisia and Morocco, we did not like those destinations, but Sri Lanka
Sri Lanka, Hikkaduwa, December 2021: This is now our favorite place to vacation! I had never been to Sri Lanka. Even before the pandemic, for some reason I was not interested in this destination. When my husband suggested flying there on vacation, I was even a little surprised. It turns out that this country is open to Russians now. The price of the tour was also quite adequate, it is surprising in our time of pandemics. I had no expectations, no plans for tours, a list of must-see, we just decided to fly, and sorted out already on the spot. And it's such a thrill to discover a new country! All over again,
Hikkaduwa – a place to relax and get close to nature Sri Lanka has long been beckoning me with its beautiful beaches from the covers of travel magazines and the desire to experience the distinctive atmosphere of the inhabitants of the "tea" island. The choice fell on its western coast, because the trip was planned in February, and at that time of the season is there. Sri Lanka – a country where I advise everyone to rent apartments in villas owned by locals, because firstly it is cheaper than a hotel, and secondly the villas there are most and almost every one will feed you a delicious breakfast.
swim and sunbathe on the beach
do active recreation
Play a wedding or celebrate their anniversary
rent villas and apartments
Take pictures
The best beaches! We traveled around Sri Lanka for three months and ended up in Hikkaduwa. Of all the beaches in Lanka, we liked Arugambay and Hikkaduwa. But in Arugambay nothing to do more than a couple of days, because besides the beach there is nothing – a small village. And there are no big cities nearby. Hikkaduwa is a tourist place, so there is everything for tourists – tours, restaurants, cafes, rent a transport, surfing training, diving. From here, you can take tours for a day or more to the major attractions of the island.
We stayed at Anilau Villa Sisira – an inexpensive, comfortable gesthouse.
swim and sunbathe on the beach
rest individually
Go scuba diving
Unforgettable holiday! We stayed in Hikkaduwa between 5.07.15-11.07.15 at Citrus Hotel. Hotel is very nice, clean, neat rooms, friendly staff, excellent service, a good location: 10 minutes right – turtles, wide beach, you can swim in the ocean, even out of season, 10 minutes left – a lot of surfclubs, restaurants, but most are closed (out of season), and all the same quiet, deserted beaches) Do not be afraid to fly to Sri Lanka out of season, we had a great vacation, tanned, surfed,
We were able to go sightseeing, surfing and sightseeing.
swim and sunbathe on the beach
rest individually
go on a pilgrimage
do active recreation
Play a wedding or celebrate their anniversary
Take pictures
Last January my family and I went on a fabulous tour of the island of Sri Lanka. The first point of arrival was a small town Hikkaduwa. The place was extremely picturesque and diverse! On the one hand the vast Indian Ocean and sandy beaches, and on the other side of the beginning of the dense and rugged jungle with broad river tributaries and other fabulous "additions". One day we booked an excursion along this very river and the islands in its middle, where there were religious temples, statues and other
August 2014 I have one question, have those who write rave reviews here been anywhere else or is this their first trip abroad on vacation? My family and I are here now and we are, to put it mildly, in shock. The guide who drove us around the island said "throw it away" when I asked "where is the trash can?" ))))) and the "clinginess" of the locals is off the charts. We have children aged 16-18 who read about the parties and discos. So here's the thing-.
Good afternoon. I have vacationed in many countries, starting with Europe, France, Italy, Czech Republic, Germany, Poland, Spain and all the rest were not a bus tour and a full-time vacation was also in Thailand, the Philippines, Indonesia and Singapore and well iconic in Sri Lanka! I take it this is your first time in Asia, I just can not understand what you want to see here! This is Asia where everything is different. There is no glamorous staff and beautiful skyscrapers for there is a pristine nature, which is worth a lot more than our civilization. And as for the hotel, of course you have to take five and you will be happy. Here is a very good hotel, cinnamon bay.
There are no beautiful skyscrapers in Europe, but Singapore, Dubai, Hong Kong and Macau have more than good skyscrapers and glamorous staff.