Turkey, Alanya – Review
Turkey, Alanya 2022. On the peculiarities of recreation in the current conditions. What money to bring, how to pay by card. What to see in Alanya. About transfer. What to bring as gifts.
Hi Everyone! Finally my husband and I got out on a long-awaited vacation!
Turkish resorts are preferred by many Russians, we go here like at home, so it is comfortable here. This is the second time I've been to Alanya. I like it here so much.
I bought my Alanya trip directly from tour operator, without communicating online, it was a great option!
The flight is a charter (irregular) flight to the airport in Antalya.
And here pops a minus, which discourages many from choosing the city of Alanya for a vacation. The transfer time is a minimum of 3 hours. If you arrive during rush hour or a weekend, it might be longer. In the first arrival was traveling to the hotel for 4.5 hours, this time was more lucky got for 2.5. But on the way you can admire the scenery of the Antalya region.
The advantage of rest in Alanya is that all hotels are city hotels. That is, even without excursions and buying extra tours you can go out of the hotel and walk around the streets, ride the bus and see the city.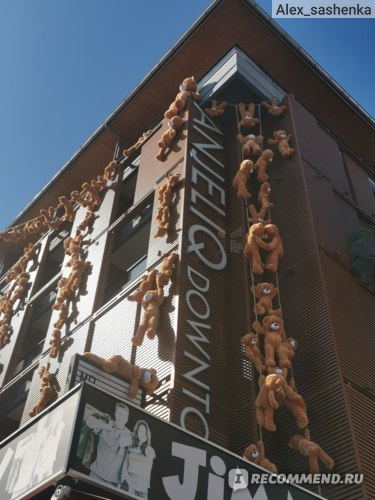 There are many places worth seeing in Alanya, almost all within walking distance.
What we visited this time:
✅ Damlatas Cave . Stalactite cave, entrance about 15 liras. It is cool in the cave, you can take a break from the heat. Stalactite icicles hang from the ceiling.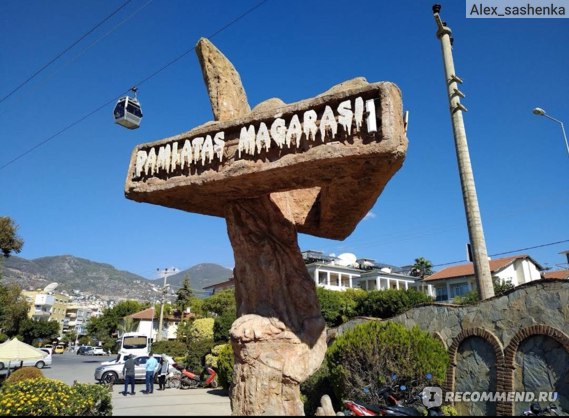 Near the cave there is a funicular railway that can take you to the top of Alanya Castle for 100 liras and return you back.
The funicular offers a view to the sea, Cleopatra Beach, the city, the inscription "I love Alanya" and the fortress itself.
The fortress of Alanya. It is free to walk around the fortress. The entrance to the citadel is chargeable, but there is plenty to see even without it. You can even visit a small mosque, I was very interested in the layout of the fortress.
On the territory of the fortress you can buy souvenirs, freshly squeezed juice, and water. There is a panoramic restaurant, but the prices are overpriced.
✅ Cleopatra Beach, the longest and most popular beach in Alanya. I remember the first time our guide told us excitedly that we would swim in Cleopatra Beach.
And it is worth separating Cleopatra Beach and the sea on this beach.
The beach is steep, fine white sand, it was brought from Africa. Very clean, it's nice to walk on and it's almost not sticky to your feet.
But as soon as you decide to go into the sea, you will see huge uneven slabs at the entrance. This is just a horror. It is not possible to go into the sea normally. The plates find one on another, huge differences in height. And add here almost constant waves on Cleopatra.
You can hardly swim. At most you go in by the neck and jump on the waves while standing still.
Children swim near the shore, with such an input into the water are even more dangerous.
In general, the general admiration of Cleopatra beach I do not understand.
In Alanya there are state beaches with a gentle entrance to the water and due to the fact that it is in a bay there is never a wave.
But if you live near Cleopatra you have to take a bus to it.
A village in the mountains on the bank of a mountain stream. There is a fortress where one of the episodes of The Magnificent Century was filmed.
On the trip we caught river trout, took a clay bath, massages, pedicures with fish. Such a relaxing trip. It was inexpensive and very enjoyable.
At the end of the day we were cooked fish we caught and had a romantic dinner.
✅The SEALANYA park. I will write about it separately, of all the excursions we liked it the most. A water park with sea water and real live fish and stingrays. Give you a mask and snorkel, dive and immerse yourself in the underwater world! It's not just looking at the fish in the oceanarium. You can touch them! And the program ends with performances by dolphins and seals
About money .
Turkey accepts dollars, euros, liras and even rubles in some places. It's most beneficial to bring very little cash with you for literally the first day. And then the peace card is a big help. It was a great way to get by in all major stores and supermarkets. You go to an ATM, you go to the ATM, you go to the cash machine.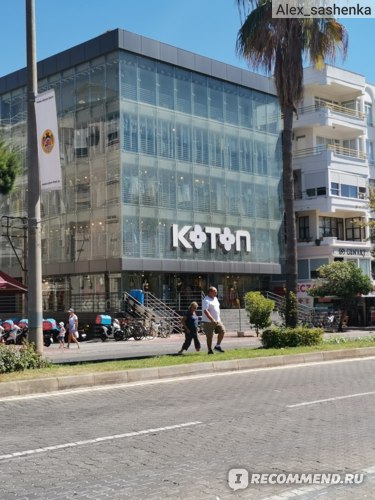 So you go to an ATM, there are plenty of them around the city. You see the sticker "We accept MIR" on the ATM and take out money in liras. The exchange rate is 100% better than in exchange offices, the commission we had was 100r, but we did not withdraw more than 1000lir at a time. We used Ziraat bank Deniz bank. We took back the dollars we had with us. It's always better to pay in liras. You have to pay in cash at markets and eateries.
It's customary to tip "baksheesh" here. Just everyone: the driver, guide, hairdresser, massage therapist. They are just waiting for it. So make sure you have change. money.
What to bring from Turkey relatives and friends?
Turkey is famous for its wines, sweets, pomegranate sauces.
On the way from the airport you will be brought to a huge Turkish delicacies store. And in every market it is sold in plenty. Plus, every tour ended with a tasting of wine and sweets. Turks are willing to do anything to make you buy from them.
But I do not recommend to buy anything in such touristy places.
First of all, more expensive. Secondly, under what conditions it is produced and stored is a mystery.
Go to Migros supermarket (they have three formats, jet-supermarket, MM-market medium, and hypermarket.) Here in the hypermarket a huge selection of sweets, sauces and wine. Since the store is made for the locals, the prices there are cheaper than in the bazaar.
For comparison, I bought pomegranate sauce for 8 lira a bottle, at the market it was 30. Wine for 110, at the market from 200. And the sweets here were kept cool, and what you need in the refrigerator. Plus paid by card at a favorable rate.
About the markets .
Everyone advises to visit the Turkish market. But this entertainment is very much on a fan. For us it was a total stress. Noisy, a lot of people, sellers aggressively pestering and pushing their goods. It's not easy to buy clothes and try them on. In the department with fruit, too, sticking, pulling your hand to your tent. If you like to haggle and this atmosphere of turmoil does not scare you, then go. We stressed out and bought everything in decent stores. Enough color for us.
About the cab
Uber, Yandex it's not here! The cab service is terrible. We bought huge bags at the mall and decided to take a cab to the hotel. We showed our bracelets with the name of the hotel. My husband showed the point on the map with the exact address. But apparently cab drivers in Turkey do not know how to use a navigator, or consider it shameful. As a result, the driver took us to the wrong place, to another hotel. With a bang we were told how to get where we needed to go. And still ended up having to move 200 meters uphill, because he did not know how to get there. We paid 150 lira for a 5km straight ride, plus a 10 tip.
The trip only exhausted my nerves. Well at least we didn't have to carry the bags in the heat.
Walking on a city we everywhere saw the buttons of the call of a cab. It was thought that tourists press the button and a car arrives. In fact our button did not work and we took a cab just near the mall.
About attitude to the Russians:
I did not notice any difference from the last visit. We are the main income of Turks, why would they not like us. They are friendly and always want to sell you something
CONCLUSION:
Turkey is a great country for a vacation. Alanya although it is a bit far from the airport, but there is a lot to see here.
I can recommend Alanya for the second time. There hotels for every taste and wallet. Different formats of rest: beaches, bars, excursions.
Have a great holiday in Alanya.
And if you live in St. Petersburg, or plan to visit it, then come to my profile. There are many reviews of restaurants, museums, hotels and interesting places in St. Petersburg.
Alanya: a recipe for a great holiday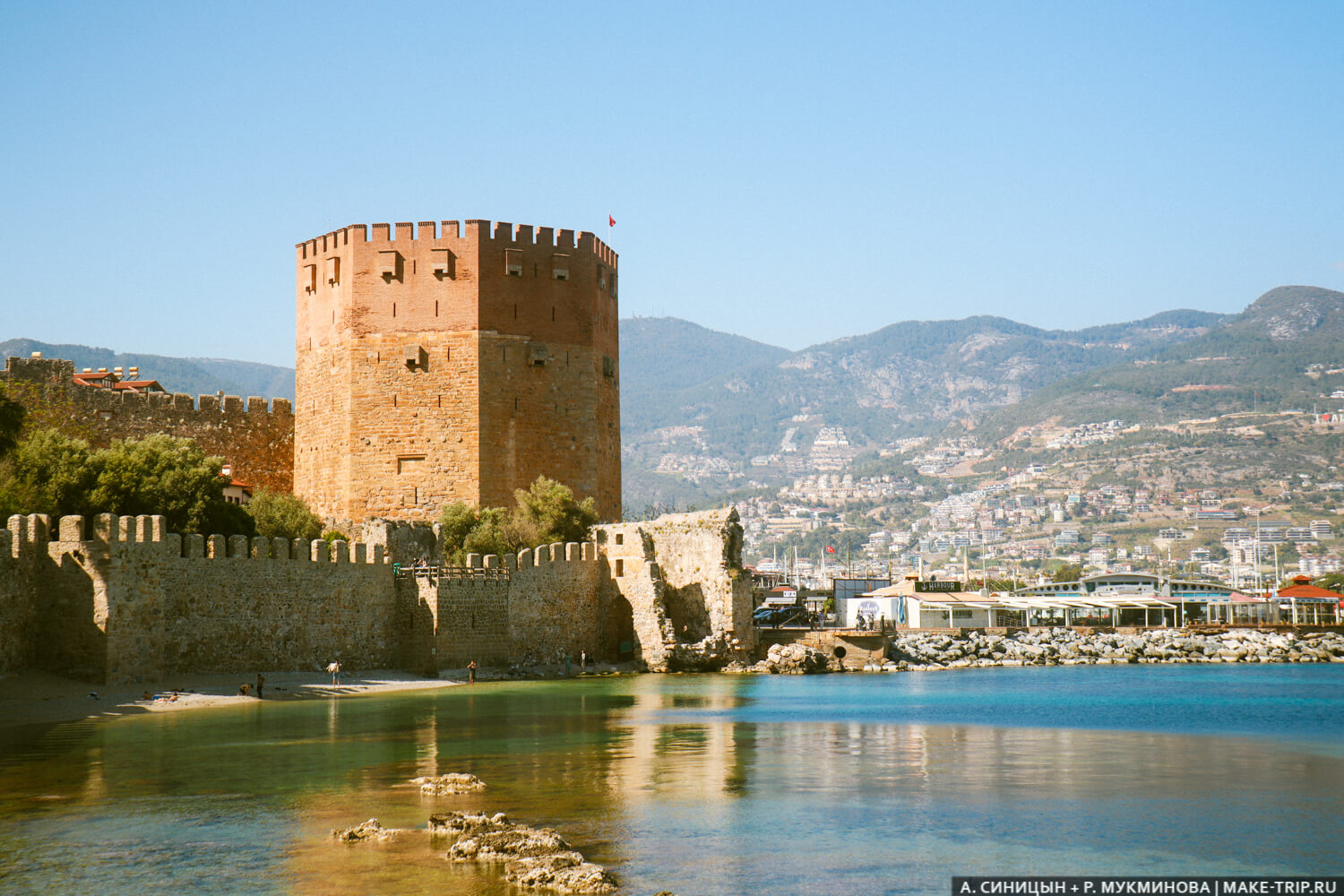 Alanya can be described by three adjectives: budget, family, sandy. We have only the warmest memories of her! In this article I will tell you what Alanya will please you, why Russians love the resort so much and whether you should go.
We have prepared this guide with the support of Tripster, a service of unusual excursions. There we easily found experienced guides who helped make our vacation in Turkey vivid, and had an incredible experience from the locals. Thank you Tripster for the experience!
Content:
Impressions of the resort.
Surprisingly, Alanya leaves almost all vacationers delighted – and we are no exception. I remember it with warmth, as if I was looking at old photographs. Blossoming oleanders, oranges and prickly pear trees, photogenic fortress and the crooked streets of the old town, the extensive marina and amazingly clear water. I was especially impressed by Cleopatra Beach – azure water, nice rolled pebbles and picturesque rock.
Reviews of other tourists about Alanya, too, solid positive. Tourists find the resort cozy, nice and comfortable. It is clean and neat, more like a European.
Alanya has two advantages: it is the most affordable and the warmest resort in Turkey! Even in high season, prices are affordable, and you can swim here from mid-spring to mid-autumn. Tourists also like the well-developed infrastructure and the possibility to have a varied and interesting holiday at the resort.
Oksana: "In my opinion Alanya is the best resort city in Turkey, which combines historical sites, beautiful nature and seascapes with a modern and decorated beach promenade and a lot of restaurants with local cuisine and stores with clothes and souvenirs".
semenova.tmn: "Alanya is a green, neat, cozy and clean city. The city administration always keeps an eye on the place so there are palm trees, lawns and park areas everywhere. In this city you will definitely find a place to walk, a place to go, and a place to eat.
That's how I remember Alanya – as warm as an old photo. Surprisingly, the water in Alanya is clean everywhere! Even in the marina. The promenade in Alanya during the lockdown is deserted. Locals and tourists usually run here, ride bikes, walk their dogs or just walk around. The promenade by the marina and the Kyzyl Kule tower. The best hotels in Alanya are on the beach.
Best Hotels in Alanya
Alanya – the most budget resort in Turkey, and that's its special charm! You can stay in a good 4-5 * hotel on the 1 line with a meal "all inclusive" and a bunch of services such as spa, and at the same time for a reasonable price. And in low season it will be even cheaper! That's what we did, we came at the end of April and stayed in Sunprime C-Lounge 5* and Kleopatra Atlas 4* for a good price.
We liked Sunprime C-Lounge 5* very much – all so stylish and intelligent. Polite staff, spacious rooms. The hotel is all inclusive. The restaurant plays nice music, and the area is always quiet because there are no children. They even serve seafood at peacetime! Located about 5 km from the center of Alanya, the beach has its own access through a tunnel. You can come to the hotel on your own or by tour.
Kleopatra Atlas 4* is more modest, but with a stunning location – right next to the Damlatas Cave and Cleopatra Beach. The rooms are nice but tired. All inclusive. The food in the restaurant is very good! You can come to the hotel on your own or by tour. Read our review of the Kleopatra Atlas.
How to choose a hotel and buy a tour? We do not buy tours at regular travel agencies, but we book them by ourselves at the online travel stores Level.Travel and Travelata. It's more reliable and profitable, no one will give you a pig in a poke, and we can easily find the perfect price-quality option. To choose the best hotel, use filters and read tourist reviews. Learn more about how to buy tours cheaper. If you're flying to Turkey on your own, look for hotels with discounts on Hotelluk.
If you decide to go on vacation in Alanya on your own, you can easily find a hotel without stars by the sea for $ 20-25 dollars a day for two people. Hotels 3* cost from $ 32, 4* – from $ 53, 5* – from $ 90.
We have chosen the best ultra all inclusive hotels in Alanya:
– A hotel for young people or couples. – hotel with water slides. – intelligent and cozy hotel. – Is located on the beach with fine sand Inzhekum.
Also complexes work on an all-inclusive system. It is a little cheaper, and the level of comfort is about the same.
The best all-inclusive hotels in Alanya:
– Hotel for a quiet holiday. – An economical "five" in the city. – A great hotel for a holiday with children. – with a fresh renovation.
In Turkey, new resort hotels open every year. If you like to live in rooms with modern technology and new furniture, in rooms where no one has been before you – then you urgently need to read about new hotels in Turkey.
Our room at the Sunprime C-Lounge 5*. It is spacious and cozy! There is a fairly large balcony with a table and chairs. The Sunprime C-Lounge 5* has a pool and access to the beach through a tunnel. Our room at the Kleopatra Atlas Hotel 4*. Less expensive than the Sunprime C-Lounge. Also has a balcony and a pool.
How to get there
Most tourists arrive on a charter tour at Antalya Airport. A long transfer is the only serious disadvantage of a holiday in Alanya. However, the road will not be so tedious if instead of a long group transfer take an individual or at least a group minibus. In Turkey we book transfers on three websites: Intui.travel, Gettransfer.com or Kiwitaxi.ru – compare prices for the desired date and choose the most convenient and inexpensive. With an individual transfer you can save a few hours of vacation time, especially on the last day of vacation not to leave for the airport too early.
You can also fly directly to Alanya Gazipasa Airport (GZP). For example, Pobeda flies there. See ticket prices on Aviasales. This is also a great way to save time and effort on transfers.
Beaches in Alanya
All beaches in Alanya are sandy and sandy-pebbly, and this is a huge plus for the resort, because the rest – almost everywhere pebble.
The most popular and beautiful beach is Cleopatra beach. The name seems vulgar, because in Turkey Cleopatra is stuck everywhere you can. However, the beach is truly royal and worthy of this name. It amazed me with azure colored water and fine smooth pebbles in the surf zone – I like them very much. It resembles polished semi-precious stones like onyx or jasper. To bury your hands and feet in it – one pleasure! In general, most of the beach is covered with fine sand with a small admixture of pebbles, which is loved by tourists.
The beach Cleopatra has minuses – rather sharp entrance, and in the water in many places there are slabs. I advise to settle closer to the rock with a fortress, where there are no stones. This piece of beach is sometimes called Damlatas beach.
Some other beaches in Alanya also have slabs in the water, such as Oba Beach. According to tourist reviews, the best beach for children is Keikubat, because it has a gentle entrance and shallow bottom. Discover the best beaches in Alanya.
All beaches are free, with a developed infrastructure: almost everywhere there are wooden decking, showers, changing rooms, toilets. For sun beds and umbrellas are charged, but some hotels are included in the price. Also, you can always sit on the towel.
Beach Damlatas is a section of Cleopatra beach, which is closest to the rock with the fortress. There are places where there are no slabs in the water. The transparency is amazing! Cleopatra Beach from the cable car. This is one of the beaches on the east of Alanya, behind the fortress. There is a promenade, a road, and a strip of hotels along the beaches. The beaches are sandy with an admixture of pebbles. There are slabs and corals.
Food prices
Tourists in Alanya mostly eat in all-inclusive hotels and spend money only for ice cream, boiled corn, sweets and drinks. We too lived on All Inclusive, so I can't tell you much about the food prices, plus almost everything was closed during lockdown.
Independent tourists write in reviews that the prices of food in Alanya are reasonable. Usually lunch for two is $15-20, dinner for two with alcohol – $20-25 dollars. A complex dinner for two people costs about $10 per person.
In cafes and restaurants the portions are large and the meat dish is served with bread and salad. If you do not eat much, I advise you not to order too much at once. I usually can hardly eat a single dish.
Read our guide to Turkish cuisine for the best dishes and their prices.
Olesya: "And how many different cafes for all tastes and wallets. I especially remember Delfino Beach Restaurant and Green Beach. We went to the first restaurant for a Turkish night, it was a short night, but the food was excellent! The second restaurant had great service and live music. And the view on the sea was great in both.
Oksana: "There are a lot of different cafes in Alanya with both local and European cuisine. The prices everywhere are very acceptable, and therefore to eat somewhere in the range of 400 rubles per person – it is more than realistic. And it's pretty decent, and very tasty and soulful."
Valentina: "We ate at city cafes and restaurants. We often had a pizza for lunch on the beach, costing 20-25 lira. The cost of steak in a cafe in Alanya was 45 lira, fish – 35-40 lira, vegetable salads – 15-18 lira (you can take one portion for two).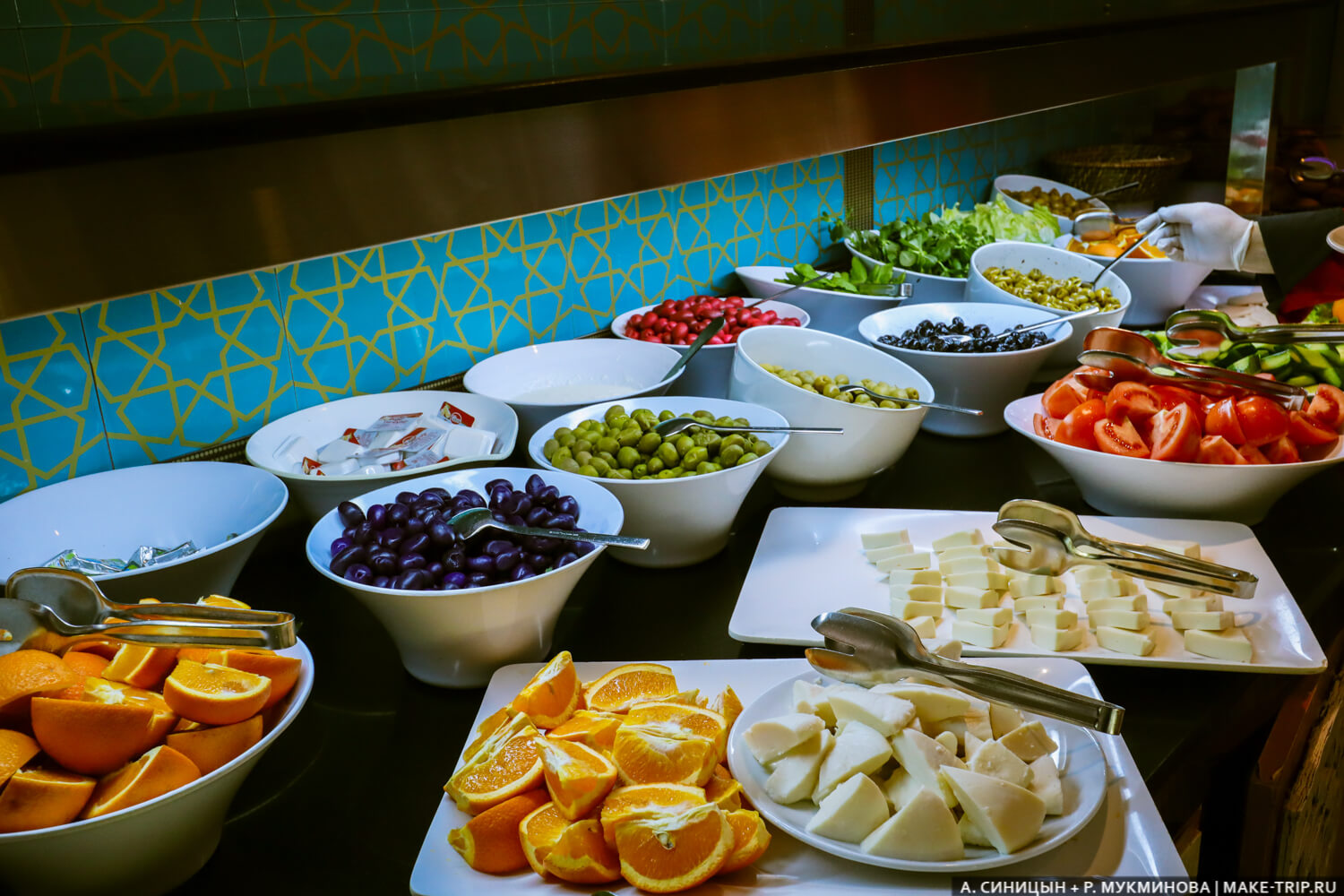 The all-inclusive buffet at the hotel.
Excursions and Entertainment
As with any other resort in Turkey, on holiday in Alanya, the enterprising Turks will offer you a lot of entertainment (the price listed for 1 person):
Diving – for about $25.
Hammam (not in the hotel) – $ 15.
Rafting – from $20.
Safari jeep or quad bikes – $20-50.
Paragliding with an instructor – $ 60.
Boat trip – from $15.
You certainly can't escape from walks on a pirate yacht – you can't make a step on the seafront without being offered it! There is a water park and all sorts of water activities, traditional for resorts. And of course, in the evenings there are discos, foam parties and shows. They are held in the port area and in special club hotels, but during the lockdown, everything was closed.
Excursions at the resort are also plentiful. From Alanya, tourists go to Cappadocia, Pamukkale, Lake Salda, the ancient city of Mira (Demre), the Green Canyon – yes many places! According to reviews of tourists, the hotels overpriced tours, so look them on the service Tripster – there are unique author's tours that will show the country from a new angle. During our big trip to Turkey we booked excursions there. Learn about the best excursions in Alanya.
Check out what tours are available on Tripster:
These are the kind of monster ships there are in Alanya: sure to have foam parties, loud music, and Captain Jack Sparrow. There are some nice ships, too.
What to see
The first thing we did was to take the cable car up to the fortress of Alanya. The fortress itself is not very interesting, but the views are amazing. Then we walked along the wide and long promenade, along which the ships are crowded, looked at the lighthouse and the Kyzyl Kule tower from the side.
Next day we went to Cleopatra beach, archeological museum and Damlatash cave. The cave impressed me, even though I have seen so many of them in my life! Such dramatic surges and sharp, like knives, stalactites on the ceiling at the entrance. Next, we strolled along the promenade by Ataturk Park and watched the daily life of the locals. From this side of the cliff I suggest meeting the sunset.
We made a special day for the Red Tower (Kyzyl Kule) and the shipyards because there is a single ticket for them. The tower is not interesting, but the views are great. And don't be lazy to walk from the tower to the old town, walk the narrow streets and admire the views of the bay and the city.
Another thing we took the bus and drove to the cave of Dim – fantastically beautiful and incredibly ancient. They write that it is about 1 million years old! I would definitely recommend a visit.
The views from the Red Tower of Alanya are breathtaking – you can look at 360 °. It is a beautiful place to walk through the streets of the old city. It is not so big but it is very cozy.
How to get around the resort
If you're staying at the beach hotel east of Fortress Mountain, you'll need route 101 – it runs along the front of the beach to the marina. To catch the bus, wave to the driver and press the red button on the handrail to get off. The fare on the city buses is 3.65 lira. We paid with a regular bank card, we just attached it to the terminal. There are also dolmushas in the city, but you have to pay in cash.
We used the Moovit app to look at bus routes. Be careful – the schedule is not always up to date, especially during the pandemic.
If you want to take a cab, you'll pay 35 to 50 liras for a day trip and double that at night.
If you want to visit the far outskirts of the resort, rent a car on the service Localrent, where we ourselves booked a car to travel around Turkey.
Holidays with children
Alanya is a family resort, many people come here with children, despite the distance from the airport. They come because there are good hotels for children, sandy beaches and a very long season when you can swim.
Do not worry that on vacation with children will be boring! At least there is always children's animation, playgrounds and clubs in the hotel.
You can visit Sealanya Dolphin Park with children in the neighboring village Avsallar, go to the water park Alanya. Go up to the castle, take a ride on the cable car and see the caves. Learn more about holidays with children in Alanya.
When to go
Alanya is considered the warmest resort in Turkey because it is covered by the Taurus Mountains. The high season lasts from May to October. During this time it is dry and hot, sometimes too hot. July and August are months only for those who can stand the heat well. For the rest we suggest June and September, when the weather is fine and the bathing is pleasant. In May and October the weather is also nice, but the water can be cool.
We deliberately went to Alanya in mid-April, not to die from the heat and stay in 5* hotels cheaper. The weather was great, but the wind was cool and I often wore a leather jacket or shirt. It was too cold to swim, but for walks and excursions the weather was optimal.
Alexandra: "For some reason I thought that October would be the velvet season in Turkey and the weather would not be so hot, but it wasn't. During the day the air was heated to 35 in the shade, so it was very hot for me personally. Certainly, it was not 45, but it was enough for me with more than enough. However, the locals assured me that this year there was some kind of anomaly with the weather, it is usually cooler in October.
We specifically went to Alanya in mid-April, so as not to die from the heat and to live in 5 * hotels cheaper. The weather was great, but the wind was cool.
Is it worth the holiday.
So, to summarize. Why do tourists love the resort? Yes, because everyone here finds something for themselves! The resort is clean, beautiful and green. There is a lot of entertainment, but it is quite quiet. Excursions and attractions abound. Lodging is available for all tastes, from hostels and apartments to luxury spa hotels by the sea. Cafes and restaurants, too, and for every budget.
According to reviews, the beaches of Alanya are one of the main reasons why tourists come here. They are almost all sandy and beautiful – one "Cleopatra" is worth!
The tourists only complain in the reviews about the long trip from the airport (about three hours), intrusive sellers and mediocre shopping.
About the shopping I can not say anything, but on all other points with other tourists we totally agree! Alanya is good and we will definitely come again.