Holidays in Georgia in September
For many, the velvet season is the most coveted time to vacation. Find out from the reviews whether to go to Georgia in September 2022 and what the prices are. What the weather at the beginning of autumn – is it possible to swim, whether it rains.
Content:
Air temperature
In September in Georgia is no longer as hot as in summer, but by our standards it is a real summer. The inclement weather is out of the question! There are 22 sunny days per month.
It is especially good to sunbathe and swim in the green subtropical Adjara. The sun gets so hot by 10 am that it's easy to get burnt. To save your skin, use a good sunscreen!
The air temperature by day and night in September:
| | | |
| --- | --- | --- |
| Resort | t during the day | No. of rainy days |
| Tbilisi | +21°С | 1 |
| Batumi | +22°С | 4 |
| Borjomi | +20°С | 5 |
| Kutaisi | +23°С | 4 |
| Gudauri | +13°С | 3 |
Alla: "It was a little hot during the day, but in the evenings it was fresh, but not cold. We never wore warm clothes".
Alexandra: "We stayed in early September for about a week. There was very warm weather – the air temperature reached +30 ° C and the sea – about +25 ° C. True the air is very humid and a couple of days was exhausting heat, but in general it was comfortable.
Water temperature
In Georgia, September is not so hot, but the sea water is very warm: +24 … +25 ° C at the beginning of the month and +22 ° C – at the end. Holidaymakers try to spend all their free time on the beaches.
Water temperature in September:
| | |
| --- | --- |
| When | water t |
| Beginning of September | +26°С |
| Middle of September | +24°С |
| End of September | +22°С |
Irina Nezhentseva: "The Tbilisi Sea has an equipped beach. The water in the reservoir is warm and a pleasant blue color. We went swimming several times and got warm in the sun.
How to dress for the weather
Georgia is located in a zone of Mediterranean and subtropical climate. It is still warm during the day in September. At night, even at sea resorts the thermometer goes down to +18 ° C. It is noticeably colder in the mountains. At night, at the popular resort of Gudauri, it's only +2°C.
In addition to beachwear, pack warm clothes in your suitcase: a sweater, a windbreaker with a hood, pants, and a light jacket. These clothes will be useful for evening walks by the sea or for trips to the mountains. Do not forget to take a raincoat or umbrella!
Maria Martinova: "In the mountainous areas during the day to +20 ° C, at night +5 ° C. Such sudden changes can cause colds, so I tried to dress warmer".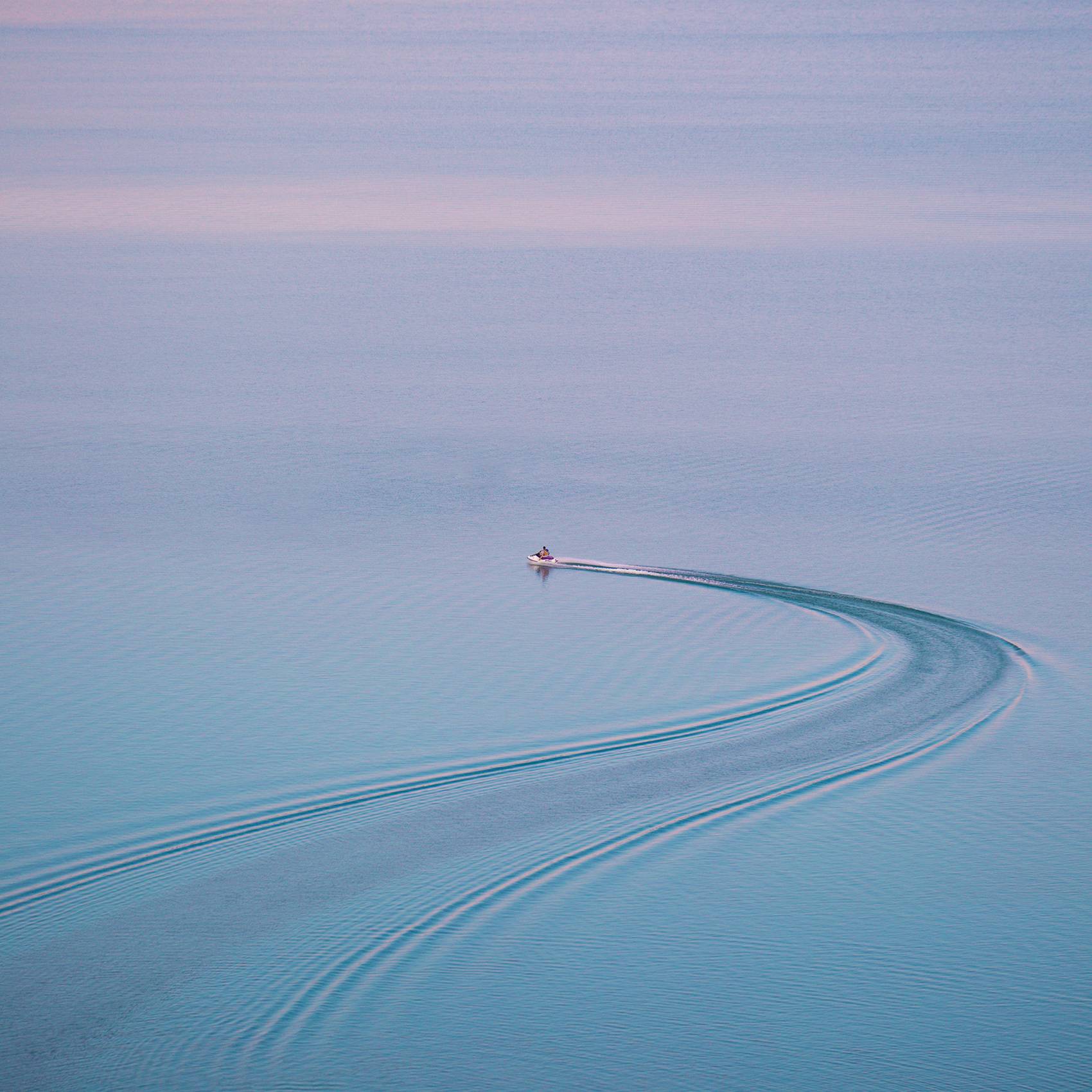 Tbilisi Reservoir (Photo: @vruyr / unsplash.com)
Precipitation and Hurricanes
As fall arrives, the weather in Georgia does not deteriorate. There are only five rainy days in September. The most rainfall occurs in the mountains. At heights of 1500 m and higher it is already cool, and the slopes are often enveloped in fog.
It rains twice less in Batumi than in Poti, Sairma and Kobuleti – 6 days a month. There is no need to be afraid of September rain on the Black Sea coast! It is not cold and only refreshing. After rare storms, the sea quickly calms down.
Prices for vacations in Georgia in September 2022
The main cost of a trip to Georgia in September comes from the road. In 2022 airfare for two people from Moscow to Batumi and back will cost from 14000 rubles. You will have to change flights in Minsk or Istanbul.
In Batumi, a double room with private bathroom in a guest house or budget hotel costs from 20 GEL per day – 4600 rubles for 10 days. Meals in Georgia are inexpensive. According to reviews of tourists, the food is cheaper than in the resorts of the Krasnodar region. You can have breakfast for two for 300-350 rubles, and lunch for 450-500 rubles.
Check out the current prices for accommodations in Georgia in September:
| | |
| --- | --- |
| Tbilisi | Find lodging → |
| Batumi | Find lodging → |
| Borjomi | Find lodging → |
| Kutaisi | Find lodging → |
| Gudauri | Find lodging → |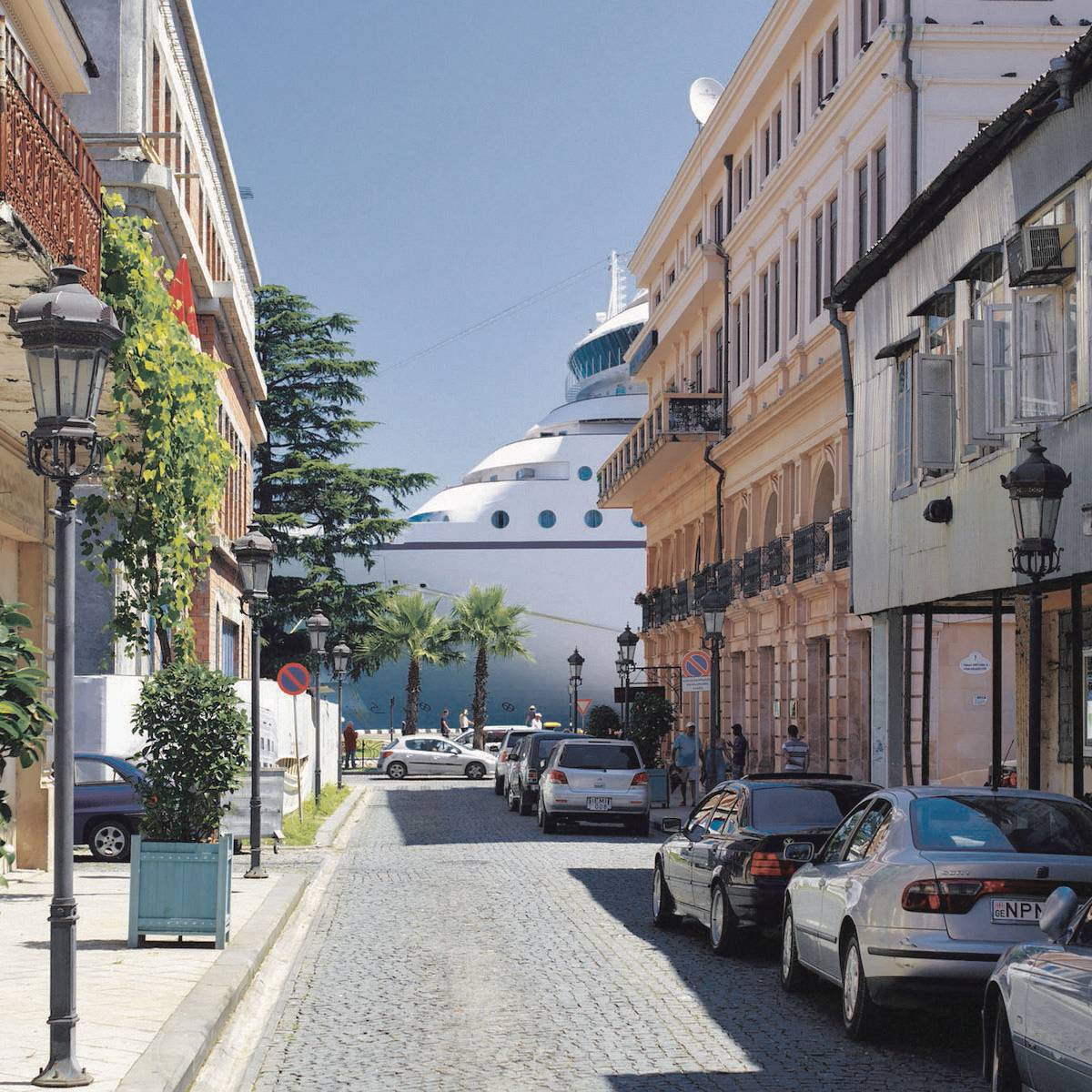 Batumi (Photo: kryshen / flickr.com)
Holidays with children in September
In early autumn, schoolchildren chew the granite of science, so in September, parents with young children come to Georgia. For pre-schoolers, resorts on the Black Sea coast are ideal – the large tourist center of Batumi, cozy Kobuleti, the black magnetic sands of Ureki or Magnetiti.
We advise you to choose small resort villages for your vacation – Kvariati, Gonio, Chakvi and Makhindhauri. It's quiet and cozy here, and the sea is much cleaner than in the seaside towns.
Public transport on the coast is well developed. For a little money you can always take your child anywhere you want. Take a trip to the capital of Adjara! See a show at the dolphinarium, have fun at the Aquapark, and take a stroll along the luxurious Batumi Boulevard.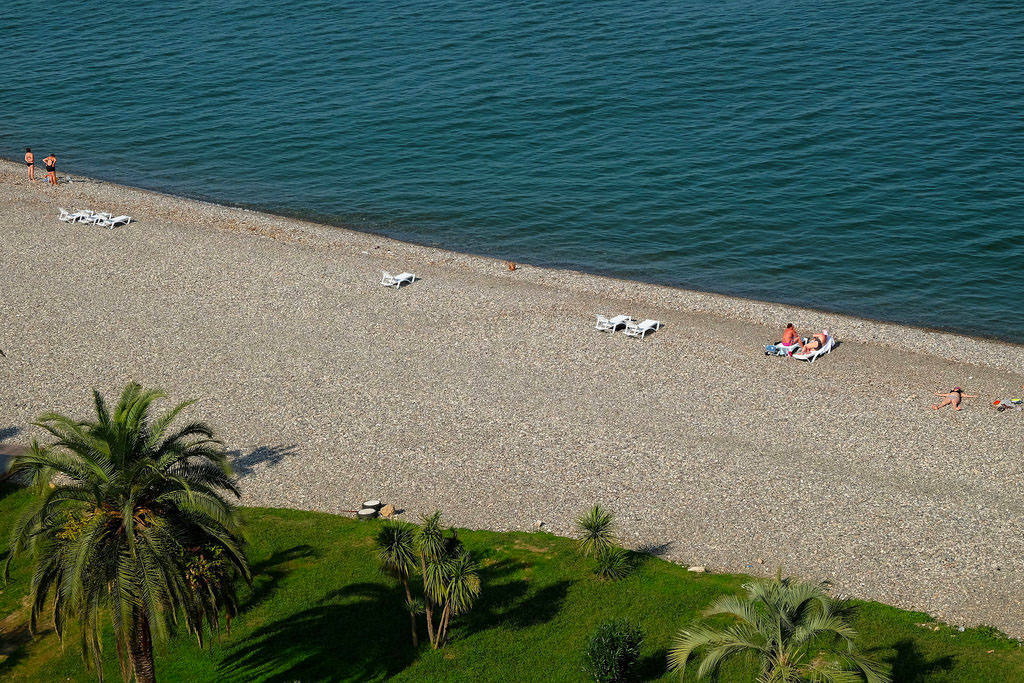 Beach in Batumi (Photo: varfolomeev / flickr.com)
Is it worthwhile to vacation in September in Georgia?
At the end of August, many tourists go home, and the Georgian resorts become freer. A great time for anyone who likes to enjoy a relaxing vacation by the sea! September in Georgia is good for swimming, sea fishing, diving, hiking, sightseeing, health and gastronomic tourism.
Those who happen to visit the ancient Grape Harvest Festival – Rtveli – are especially pleasant. In September 2022, for vacationers arrange special wine tours in Georgia. Learn how traditional Georgian wineries are set up – marani . Participate in picking sunny berries, making wine and a colorful Georgian feast!
Georgia in September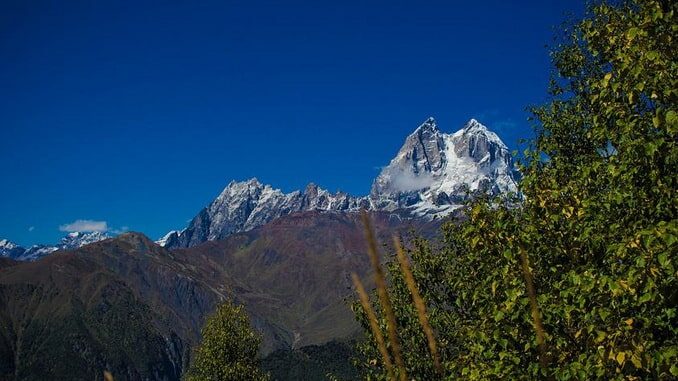 Is it worth to go to the sea in September? Weather, water temperature, hotel and excursion prices, reviews. How to dress and is it possible to swim? What to do in Georgia in early autumn, and what to see – found out Eurotraveler.ru.
As few people know, September in Georgia is a splendid time. And not only from the point of view of harvest and abundance of fruits and vegetables, but also travel. After all, the summer heat – at least in Europe and adjacent parts of Asia – is coming down. Likewise, though reluctantly, prices are creeping up from the summer highs: for tours, tickets, hotels and sightseeing tours.
It happens not at once and not everywhere – in Tbilisi the weather in September is often "nice" blatant heat. But in general a prudent tourist can count on a pleasant pastime and moderate savings.
And if he decides to go beyond the only ancient Tiflis, and realizes more grandiose plan of traveling in space – many will travel to Georgia by car in 2022 – the impressions … may well overflow the memory of your smartphone.
After all, Georgia is truly beautiful and relaxed in September. It is like enjoying a vacation after a stuffy summer, graciously allowing everyone to get a piece of happiness.
But that's all lyricism. Let's visit the facts!
Weather in Georgia in September
Overall can be described as chic and warm. If you have an idea of the scale of the country and do not expect to be able to walk in the same clothes equally in Batumi and Gudauri. Not to mention Mestia!
On the coast and central Georgia in the first days of September, it's still summer. And the temperatures easily reach +30-degree mark.
But in the mountainous regions of Svaneti on the other hand, some days you can feel the icy breath of approaching winter. And in the evenings you should not go out on the streets without warm clothes. For even in the first decade of the month after sunset the thermometers can show anything close to zero.
The capital of Georgia, Tbilisi, for example, enjoyed mild weather in early September 2021 without significant temperature fluctuations. Daytime street thermometers showed up to +24-30, at night tried not to go below +16-17. In most cases, it was as if they were stuck at +20.
Even by the end of the third decade of the month air temperatures were reaching +30 by midday. And only closer to October, as if despairing or tired, have dropped into a range below +20-degree mark.
At the same time it rains not just moderately – the average statistical rate of precipitation is in the range of 20-30 mm. This is equal to one or two (2) rainy days at the most in this area.
Because of this the humidity rarely rises above 75%. Therefore, even on a hot day it is easy to breathe here, and about the stuffiness and do not remember!
Needless to say, that in this weather to walk around the old town (up and down), very nice! And trips to Mtskheta, along the Georgian Military Road, Kazbegi and Sighnaghi will give much more positive emotions!
S.K.I.D.K.I.
Excursions with a Russian-speaking guide in Tbilisi, Gergeti and Mtskheta, Kakheti, Uplistsikhe and Borjomi at a discount of 10-50%. All for € 7-10 per person!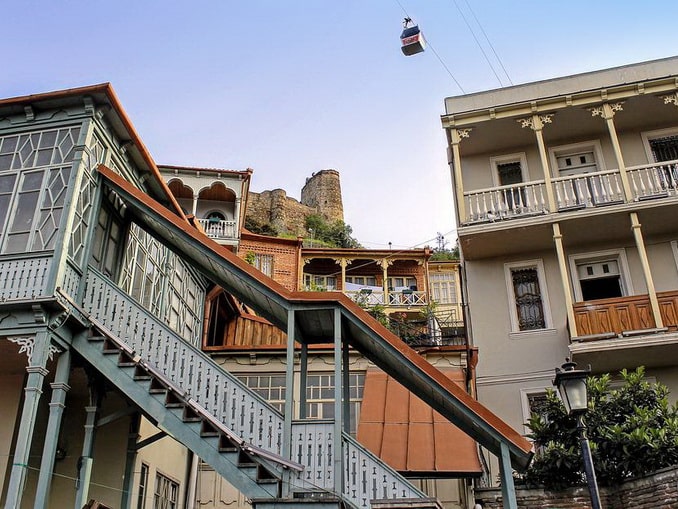 How to dress
Based on the above-mentioned we'll venture to summarize that just a windbreaker and the like in your suitcase may not be enough.
It is also worth taking something like sweatshirts and sweaters in case you want to explore Tbilisi late at night. Or you're going to make an excursion into the mountains.
At any rate, the reviews recommend not forgetting such items at home. So you won't regret very much later!
If you want to visit Svaneti you must already stock up with serious jackets. For the nature and the weather there are rather severe. If you plan to go to Kakheti, after which you will go to the sea, you can be limited with lighter equipment.
By the way, the luggage will almost certainly be useful as well as raincoats and umbrellas. For on the coast in this period of the year it is much more rainy.
Batumi
The main seaside resort of Georgia in the first weeks of September tries not to think about the arrival of autumn. Usually the thermometers here at this time show something about +25-27.
Although in 2021, the weather has made an exception. And not for the better – first half of the month was marked by daytime temperatures around +21-24.
Then the thermometers for some reason burst into the range of +25-27, but quickly calmed down. And the end of September, Batumi met at a low for this area +19-21.
We should stress that usually October begins on a more positive note – the air gets up to +23-25.
It rains much more often in coastal Georgia in early fall than in Tbilisi. But no one can claim that it rains all the time – 5-7 times a month.
You can swim in Batumi throughout the whole September. The sea is heated from 26 degrees at the beginning to 22 degrees at the end.
Gudauri
For order, let's describe what the weather may be like in September in the mountainous regions of Georgia. In particular, in the vicinity of the most popular ski resort of the country, Gudauri (2,100 meters above sea level). By the way, it is located 120 km north of Tbilisi.
So, here with the advent of calendar autumn, even in the daytime it rarely exceeds +25. And in 2021 thermometers too lazy to creep up +20-21.
At night it can be from +10-15 to even 0. And at the end of the month even frosts are possible on the ground.
The number of sunny days is 18-20 during the month. The number of rainy days is noticeably higher than in the capital – 4-6.
The prices in 2022.
In general, very pleasant. Inexpensive but comfortable hotel a kilometer from the center, like Flamingo, will cost only 25-27 € per night (free cancellation is possible). You should agree – you can't compare with Turkey!
If you decide to stay in the heart of old Tbilisi, among all these crooked streets and romantic balconies, then the price range is 45-50 € per night at Mini Hotel Angel Old Town. Which is also not something outrageous and "out of the way".
Prices for sightseeing walks around the city – which is great, long – start at 20-22 €. That's unless there's a discount, which can otherwise go up to 50%!
You can go on a group tour to Kakheti if you do not regret 25-30 €. Approximately the same price for a trip to Gergeti, to the famous Church of the Assumption with a view of Kazbek. And to Mtskheta you will be driven for only 20 € – and the group will consist of a maximum of 15 people!
How much does it cost to rent a car in Georgia? It is not too expensive – you will spend from 20-23$ per day. And in most cases the deposit is not provided at all!
But, alas, if you are going to get to Georgia by plane from Moscow, then you will have to spend a lot. For the tickets in both directions a couple of travelers will spend from 43-45 thousand rubles.
What to do
Regardless of what part of Georgia you mainly intend to stay in, there is a certain set of attractions, which must be visited.
Most of them are located in Tbilisi. You should spend at least 2 or 3 days for visiting Tbilisi, exploring Narikala and the churches and soaking up the atmosphere of the old city.
Again, be sure to take the cable car ride over the Kura River.
And, if you come with children, visit an amusement park on Mtatsminda Mountain.
Again, you will almost certainly want to relax in one of the local sulfur baths. Not for the purpose of bathing, of course. Rather, to "check the box" so that then proudly declare that you've been in the famous Tbilisi baths.
Does it sound as cool as "I remember, I swam in the Szechenyi Baths in Budapest"?
Where to go
Out of town you should definitely go to Mtskheta and see Dzhvari monastery in person. Moreover, the tour will take you 3 hours and no more.
At a distance of about 110 kilometers from the capital is located "city of love" Sighnaghi. Probably the most popular among tourists inhabited locality of Kakheti.
A region, especially famous for its wine – who hasn't heard about Alazani valley? And in September, of course, completely absorbed in harvesting new grapes. Naturally, it is also absorbed in making wine – few tourists have heard of the major local "pearls": Kindzmarauli and Mukuzani!
The undoubted attraction of the country is the Georgian Military Road. In winter and spring, it is often closed due to weather disasters.
Therefore, in early autumn, be sure to take a ride on it by car. And enjoy the magnificent panoramas – in September, you can see for tens of kilometers around.
Moreover, you will have a more specific goal. After all, you must go to Gergeti (160km) to see the Holy Dormition Church.
On the way you will almost inevitably see Zhinval Reservoir and Ananuri Fortress. And if you want you can make a stop at Gudauri resort.
The ancient cave city Uplistsikhe is often accompanied by a visit to the famous Borjomi springs. And the tour, designed for a whole day, received very good reviews. And it costs not expensive – 35 € per person!
Heading towards Batumi, you can visit Adjara or even Imeretia before having a rest on the coast. Stop by Kutaisi, the second largest city in the country.
Or send your feet to the harsh Svaneti. The land of mountains, the tops clinging to the clouds, and towers of Svaneti.