Top hotels and beaches for holidays with children in Greece in 2022
Holidays in Greece are a true pleasure for children and adults. A trip to Greece is the epitome of a perfect vacation together with kids. Gentle warm sun, wonderful nature and a myriad of attractions and activities for all tastes. This is one of the most popular destinations for holidays with families in Europe.
What is the country attractive for children?
Sunny Greece has a pleasant subtropical climate, pristine beaches and azure waters of the sea, which is a major advantage for parents who come here primarily for the beach vacation.
Greece is a great vacation destination for children, offering a variety of activities and cultural and educational experiences. Kids love to spend time on the beaches, and school-age children can also go on interesting excursions.
In addition, many Greek hotels in the accommodation of children under 12-14 years old are not charged, which is a definite advantage when parents choose a resort for a vacation with a child.
What to choose a place to stay?
Our compatriots prefer Crete, Corfu, Rhodes, Kos, Halkidiki and Peloponnese peninsulas for a vacation with the family.
Hotel prices
We recommend renting accommodation on safe websites:
– The world's leading hotel rentals – compare hotel prices at 70 booking agencies
The weather on the islands is warmer and milder than in the north, and by early May the sun begins to warm as in summer. Because of this you can relax with your baby before the onset of heat waves and the moment when they begin to arrive many tourists.
Tours and packages
We recommend comparing the prices of tours on the websites: Travelata or Level.Travel. The cost of the tour includes: airfare, transfers from the airport to the hotel and back, room and board at the hotel and medical insurance.
Island of Crete
The most popular resort, which is preferred for holidays with children is Crete, known for its beaches. Here, in addition to beach holidays, children will be interested in walking through the ancient ruins, labyrinths and visiting caves.
Kids of different ages will be interested in: the Aquarium of Crete, the Botanical Gardens, the Dinosaur Park.
Older kids will enjoy:
Diktea Cave.
Samaria and Kurtaliot Gorge
Archeological, Historical, and Maritime Museums
Among the water attractions, which are loved by all young travelers, we can name Water City Water Park in Kokkini Hani.
The ticket price is 25 euros for adults, 17 for children.
Prices for food (in euros):
Breakfast in a cafe – from 4
Lunch – from 6
Dinner – from 17
Breakfast in a restaurant – from 5,5
Lunch – 14
Dinner – 25.
Halkidiki
The peninsula is famous for its luxurious golden sandy beaches with a gentle approach to the sea. Thanks to the mountainous terrain of the coastline the sea is warm and calm all year round. There are a sufficient number of hotels with all the necessary services for a holiday with your child. Among the advantages – a short flight and the availability of direct charter flights.
To vacation with a child on the peninsula is best during the warm days of May or early September. The most inappropriate time would be July and August, when the air is heated to + 34 degrees.
There's not a lot of entertainment for children. For older children there is an opportunity to spend time actively. You can go scuba diving, snorkeling, go on an excursion to the cave of Petralona.
Will also be interesting:
Archaeological Museum
Folklore Museum
Fisheries Museum
Weaving museum.
The minimum cost of visiting attractions – from 4 euros, the prices for popular excursions – 25 on average.
Average prices in cafes and restaurants (in Euros):
Breakfasts – from 5
Lunches – from 10-14
Dinners – 20-25
Dairy products on goat milk – 1,5-2
Cost of fruits (in euros per 1 kg):
Apples – 0,60
Oranges – 0,80
Kiwis – 2,19
Bananas – 1,15
Melon – 1
The Peloponnese coast
The Peloponnese, which is located in the south of the country, is good with its lack of noisy nightlife, wide sandy-pebbly beaches, lots of greenery and a wide range of hotels for families.
The best time for a holiday on the coast – from May to mid-October. Choice of entertainment for the kids here is quite small. Children will enjoy a visit to Lake Stymphalia – one of the most beautiful places on the peninsula.
Interested in many children's ancient Olympia – the birthplace of the Olympic Games and the Museum of Modern Olympiad and the history of the Olympic Games. Kids will also love visiting the small water park Water Fun.
Rhodes
The island is considered one of the leading health resorts, ready to offer families with children a bright and diverse vacation. The island is located so that it is washed by the Aegean Sea and the Mediterranean Sea at the same time. The best beaches are located on the eastern part of the island.
Important: It's better to come here with children, especially little ones, in April or May.
The main amusement center is Faliraki Water Park with many rides, slides and mazes.
The entrance fee for children from 12 years of age and adults is 24 euros, while for children aged 3-12 years is 16 euros.
It is worth spending time visiting the following interesting places:
Hydrobiological Station.
The Aquarium Museum with a large collection of Mediterranean fish
The Valley of Butterflies
The Zoo
Ostrich farm.
Rodini Landscape Park
Luna Park "Fantasy
The minimum cost of excursion program on average from 40 euros.
The cost of food in cafes and restaurants in Rhodes depends directly on the remoteness from the tourist spots. Average cost (in euros):
Salad – 4
Soup – 4-6
Breakfasts – from 6
Lunches – from 11
Dinners – from 20
Kos
Kos is a quiet, friendly and very hospitable resort. In this environmentally friendly place there are excellent wide sandy beaches with a gentle entrance, safe for kids.
The abundance of greenery, the quiet atmosphere, and the high quality hotels are the reasons why families with children choose to travel to Kos. The best time to vacation here is the Indian summer, when you can enjoy the warm sea water and the half-empty beaches. The hot months of July, August and early September are not very good for a vacation with a child.
It is best suited for recreation with the kids, entertainment for older children are few, and the schoolchildren may be bored at all.
Among the attractions worth seeing is the Hippocrates Garden in Mastikhari. Here are interesting game-excursions for children, where they can learn how more than two and a half thousand years ago, looked like home and how to dress the locals.
Children will also be interested in visiting the archaeological reserve Askolepion and old fortresses. A boat trip to the island of Nisyros, where you can see a real dormant volcano, can be a great adventure.
Prices for meals:
Breakfast – 4-6
Lunch – about 10
Dinner in a mid-level cafe – 10-15
Island of Corfu
Corfu is characterized by mild climate, beautiful beaches and infrastructure. The main value of the island – the stunning nature. The choice of entertainment for children is quite scarce.
There are interesting museums for schoolchildren:
Archaeological Museum
Museum of Shells
Museum of Asian Art, dedicated to the art of India, China, Nepal, Pakistan, Japan, and Southeast Asia.
Aqualand Water Park, located in the center of the island.
In the north there is a water amusement complex Hydropolis and a small water park Sidari.
Average prices for food (in euros):
Breakfast – from 8
Lunch – 18
Dinner – 30
The best time to visit Corfu with a small child is at the end of August and until mid-September, when the island welcomes its guests with warm water in the sea and comfortable weather.
The island of Zakynthos
The distinctive features of the island are its unspoilt nature, the variety of landscapes, the clearest sea, the quietness and tranquility of the area, far from the noise of the cities. Above all, this is a good place for recovery and health promotion. The best time to visit it is from early May to mid October.
Zakynthos is ideal for a quiet family vacation. There are few tourists here even during the high season, as the island is in the shadow of the popular advertised Greek resorts.
Among the activities for young travelers there are not boring options:
A ride on a sightseeing steam train
Sightseeing tour of the island
Walking the mountain trails in the Askos Stone Park, with its ancient buildings
Visiting farms where you can taste figs, peaches, cherries.
Boat trip to see the rocks, islands and caves where you can see giant turtles.
Any child will be happy to visit a water park. There are several: Water Village, Tsivili Splash Water Parj.
Average minimum prices in cafes and restaurants (in Euros):
Breakfasts – 4-5
Lunches – 9-14
Dinners – 17-25
Top 6 best hotels for families
Aldemar Cretan Village Family Resort 4*
Hersonissos, Crete, less than 40 km from the airport and less than 200 m to the sandy beach. There are 3 outdoor swimming pools for children, a water slide, children's playgrounds, a children's restaurant with a special menu and a children's club. In addition, there are discos and every 2 weeks there are shows for children and teenagers.
Coral Hotel 4*
Athens, Palaio Faliro area, 38 km from the airport and 300 m from Eden sand and pebble beach. Babysitting services are available.
Ilissos 4 stars.
Athens, 36 km from Eleftherios Venizelos Airport, 3.2 km from city center.
Veneto 4*.
Rethymino, Crete, 68 km from Chania Airport, 1.1 km from the city, 400 m to the beach.
Grecotel Caramel Boutique Resort 5*
Formerly known as Caramel Beach Village. Adele village, Crete, 75 km from the international airport, 6 km from the city and 100 m from the beach.
Focuses on holidays with children. Playground, club house, swimming pool, babysitting services (surcharge).
Domes od Elounda 5*
Adele village, Crete – 75 km from Heraklion Nikos Kazantkis Airport. 100 m to the beach on the 1 line. For children there is a playground, pool and children's club. Babysitting services are available on a paid basis.
Best sandy beaches
All beaches in the country are public and belong to the state. On the Greek coast dominate sandy beaches, with golden or white sand. They are considered among the best in the world.
About 400 of them are awarded with the international Blue Flag Award, which requires compliance with environmental and safety standards and water quality.
Agios Gordios
The village of Agios Gordios, Corfu. The beach is a short walk from the port of Corfu. The coastline is 1.5 km long and consists of a mixture of golden sand and fine pebbles. The descent into the water is very sheltered for the little ones.
Elafonisi
The southwestern part of Crete. It is shaped like a small island, joining the coastal area with a narrow isthmus, where the little ones like to swim. The shallow coast and the pink sand attract the visitors with kids.
Marathi
Akrotiri Peninsula. A quiet bay for a safe holiday with young tourists. The water temperature here is one of the highest in Greece and the bay reliably protects from waves and winds.
Agios Georgios
Naxos island. The beach is one of the ten best beaches in the world for kids.
The beach of Monastiri
The island of Paros. The beach is surrounded by rocks, which protect it from the winds. It is characterized by clear shallow waters, a gentle slope and lack of large waves.
Tigaki
Kos Island. The beach spreads over 10 kilometers. Excellent for spending time with children, as the sea is clean, quiet and shallow.
Laganas
The southern part of the island of Zakynthos.
The beach with turquoise water, stretching for 9 km, is ideal for family holidays. It is characterized by a gradual descent into the water and a comfortable water temperature which reaches 28 degrees during the summer.
The best resort for recreation with a child according to tourist reviews.
According to many tourists, the best place to travel with a child in Greece is Rhodes. This island is designed to give children of all ages a great experience of the trip, which will be remembered for a long time. The beaches here are clean, comfortable and conveniently located.
Important: vacation with children in Rhodes is best in May, late summer and September.
A trip to Greece with a child is one of the best ways to spend a rich and interesting time with health benefits. A properly organized family vacation will bring real pleasure even to the youngest travelers.
Excursions
Excursions for travelers and vacationers in 609 cities around the world: Tripster.com – a service of unusual excursions by local residents and guides who can tell about the most interesting and fascinating things in their cities.
Airfare
A good way to buy cheap airline tickets on the largest search engine in Russia aviasales.ru.
Holidays in Greece with children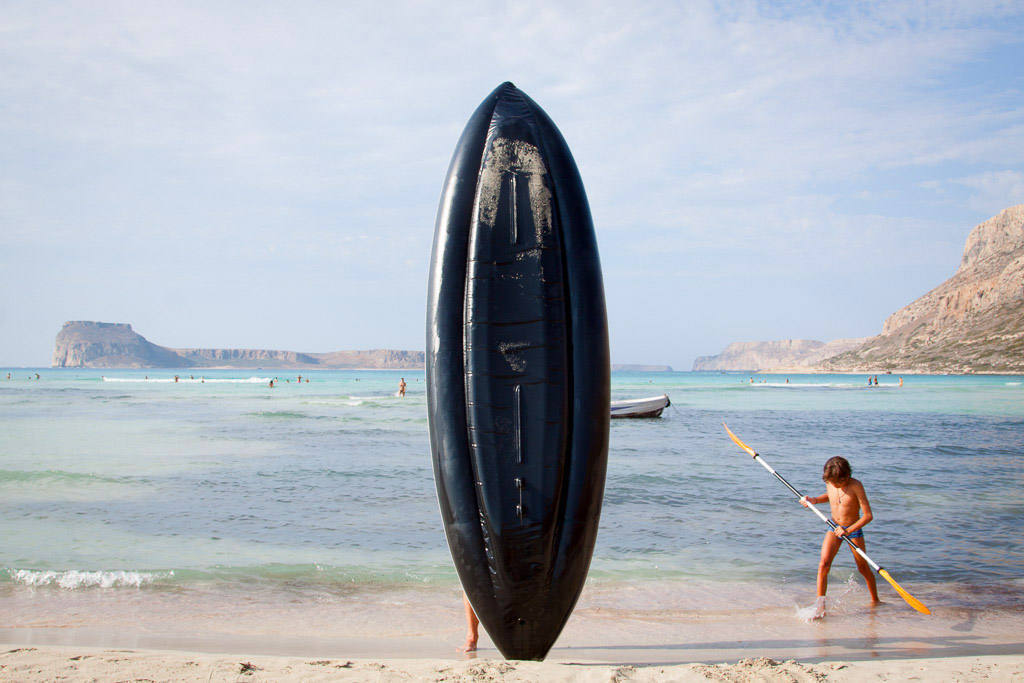 Greece is a good replacement for the usual Egypt and Turkey. We find out what hotels and resorts in Greece are best suited for holidays with children, as well as talk about the prices of tours in 2022 and feedback from tourists.
Greece – a wonderful country with three turquoise seas and beautiful beaches. Rest here has a lot of advantages – cultural and natural attractions, good family-oriented hotels, friendly local people. During the crisis, pricing policy in Greece has become much more flexible, in many hotels, accommodation for children under 12-14 years is free. If you compare the prices of tours (including all-inclusive), holidays in Greece can be considered one of the most inexpensive in the summer season of 2022.
Contents:
Features of vacations in Greece with a child
What to do on vacation for children? Greece is well suited for active and cultural and educational vacation with children. The kids will be happy to flounder in the warm water, and schoolchildren can visit interesting excursions and see the monuments of ancient culture, of which they have heard from ancient Greek mythology. In addition, they have a great opportunity to go snorkeling, sailing, windsurfing and scuba diving.
Keep in mind that children's animation in Greek hotels is not organized in all – the availability of this service is worth checking separately. Usually children have fun on the beaches, amusement parks or water parks. In Crete there are Botanical Gardens and Aquarium, in Athens – planetarium and zoo. Almost every resort town has museums and monuments of ancient civilization, so vacation in Greece with children can not be called boring.
The "all inclusive" system is not very common in Greece, but there are such hotels – we will tell you about them below. Tourists usually take board or half board. Not a bad way to save on costs is to use the early booking service or buy a last minute tour.
Greek cuisine is extremely tasty; it abounds in vegetables, cheese, meat and fish. The dishes do not add as many spices and spices as is common in Asia, and children eat with great pleasure.
It is quite easy to get a visa in 2022 (it is one of the easiest Schengen visas).
(Photo: Walt Jabsco / flickr.com / License CC BY-NC-ND 2.0)
Where to vacation in Greece with children
According to reviews, most often for a holiday with children in Greece people choose the islands of Crete, Corfu, Rhodes, Kos, the peninsula of Halkidiki and Peloponnese. Let's find out what each resort is, and choose the one where it's best to vacation with your child.
Halkidiki is famous for its luxurious sandy beaches with golden sand and pine forests. There are good family hotels in Kassandra and Sithonia. Sithonia is more suitable for families and Kassandra for active youth. There are many nice beaches on the peninsula – Neos Marmaros and Trypotamos in Sithonia, Kalogria, Kovios and Kastri in Nikiti, Furka, Sikia and others.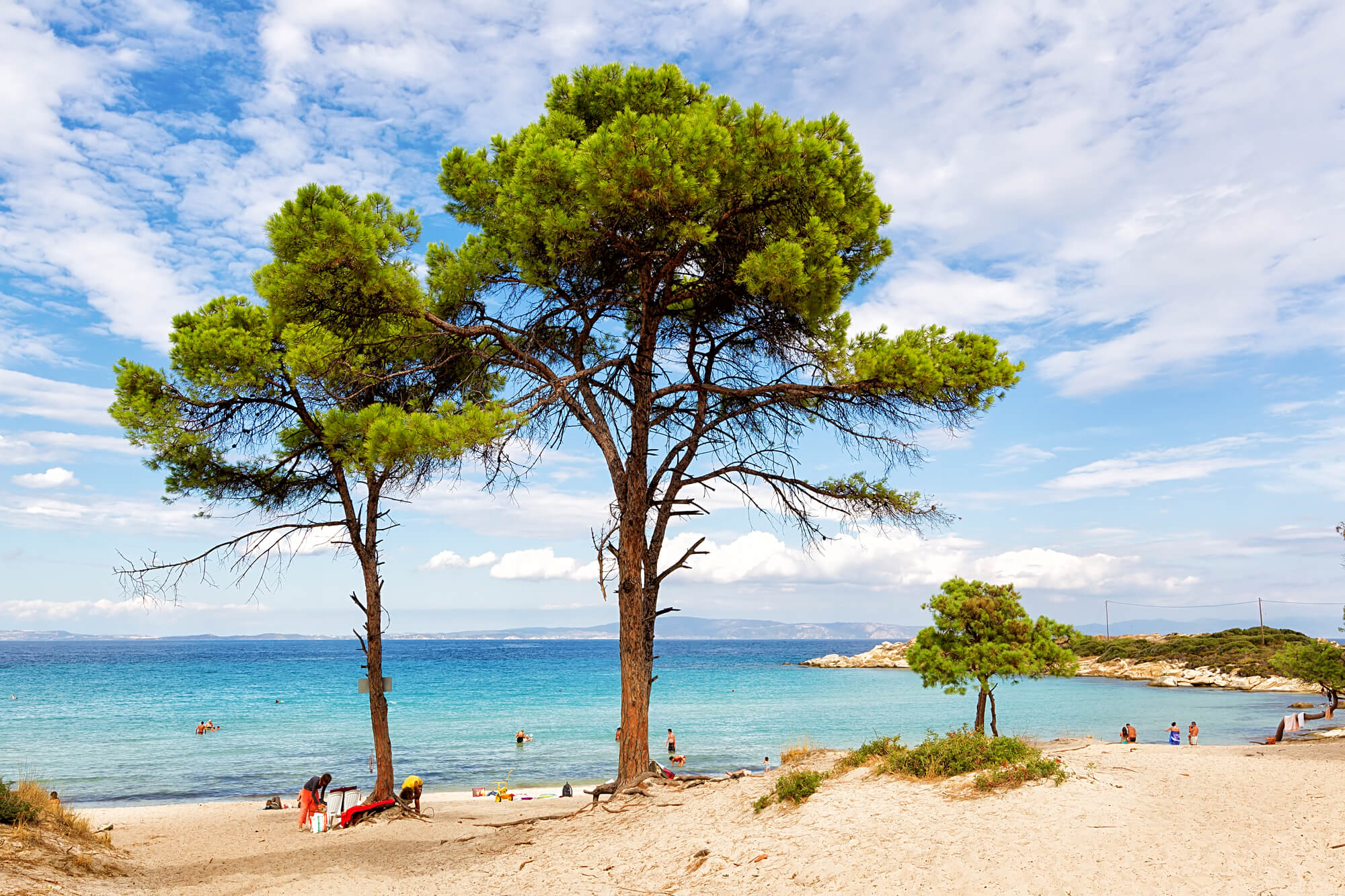 Vourvourou Beach in Sithonia. Photo: vverve / Depositphotos.com.
Crete is the most popular resort of choice for holidays with children in Greece. Also on the island is the longest beach season. There are water parks. The best children's beaches in Crete are Schisma beach in Elounda with a playground and a club for teenagers, Damnoni in Rethymno, Elafonisi in Chania, Keratokampos in Heraklion. See: The best beaches of Crete →
Elafonisi beach in Crete (Photo: jarmoluk / pixabay.com)
The best family resorts in Rhodes are considered to be Kolimbia, Lindos and Faliraki, the latter has a large water park. In general, the part of Rhodes, washed by the Mediterranean Sea, is more suitable for kids – there are good sandy beaches, almost no wind and waves. The best beach on the island is considered Lindos.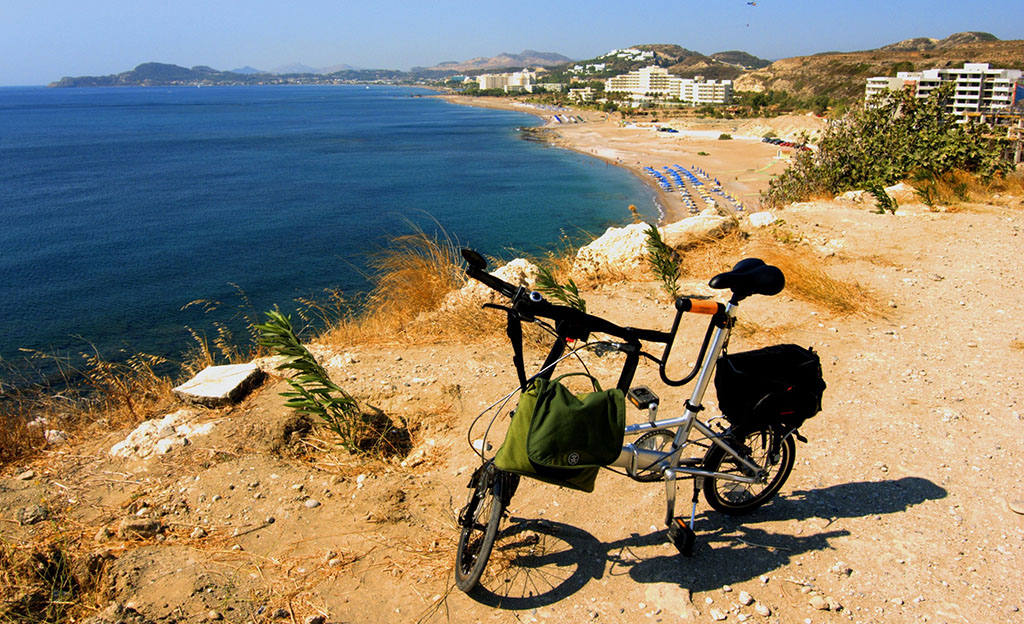 View of Faliraki beach and its hotels (Photo: jon crel / flickr.com)
According to reviews, the beaches of Corfu – such as Rhoda or Agios Gordios – are excellent for a family vacation in Greece. The latter is located in a closed bay with vineyards and olive groves. Here the water is always calm, the entrance is gentle and the sand is pure fine, so you don't have to worry about children.
Beach of Agios Gordios in Corfu. Photo: Elkhophoto / Depositphotos.com.
Kos island is a small cozy island with small beaches, holidays here are quiet and not at all expensive. Warm water and sandy beaches with a flat bottom at Marmari and Tingaki resorts, but there are sometimes waves. The clearest and most transparent water is in Kefalos, the beach itself is sand with fine pebbles, but the water is slightly colder than elsewhere on the island.
The beach at Kefalos on Kos. Photo: konstsem / Depositphotos.com.
In the Peloponnese, the beach of Tolo in Argolida is considered one of the best – sandy shallows and a wide coastal strip. Good conditions for children are created on the beaches of Corinthia – the sandy shores of Loutraki and Xylokastro and the pebbly beach of Sikia are considered the best.
Tolo village in Argolida. Photo: GiannikosImages / Depositphotos.com.
Best hotels in Greece for holidays with children – 2022
In Greece, there are enough hotels designed for holidays with little ones. Among the most suitable tourists named hotels in the average price segment. We have selected several hotels for holidays with children in Greece, which, according to tourist reviews, are the best.
Discounts on tours . Check out the current Travelata promo codes (discounts up to 1,500 rubles). Onlinetours now offers 1-3% discount for readers of our website – triggered automatically when you click on the link.
Grecotel Creta Palace 5* (Crete, Rethymno)
One of the best hotels for holidays with children in Greece, according to reviews. It is located near the sandy beach of Rethymno. It has several restaurants, a spa, a gym, swimming pools, paddling pools and water slides, its own private beach. Tourists noted the high level of organization of children's leisure, good menu, spacious beach and a good location.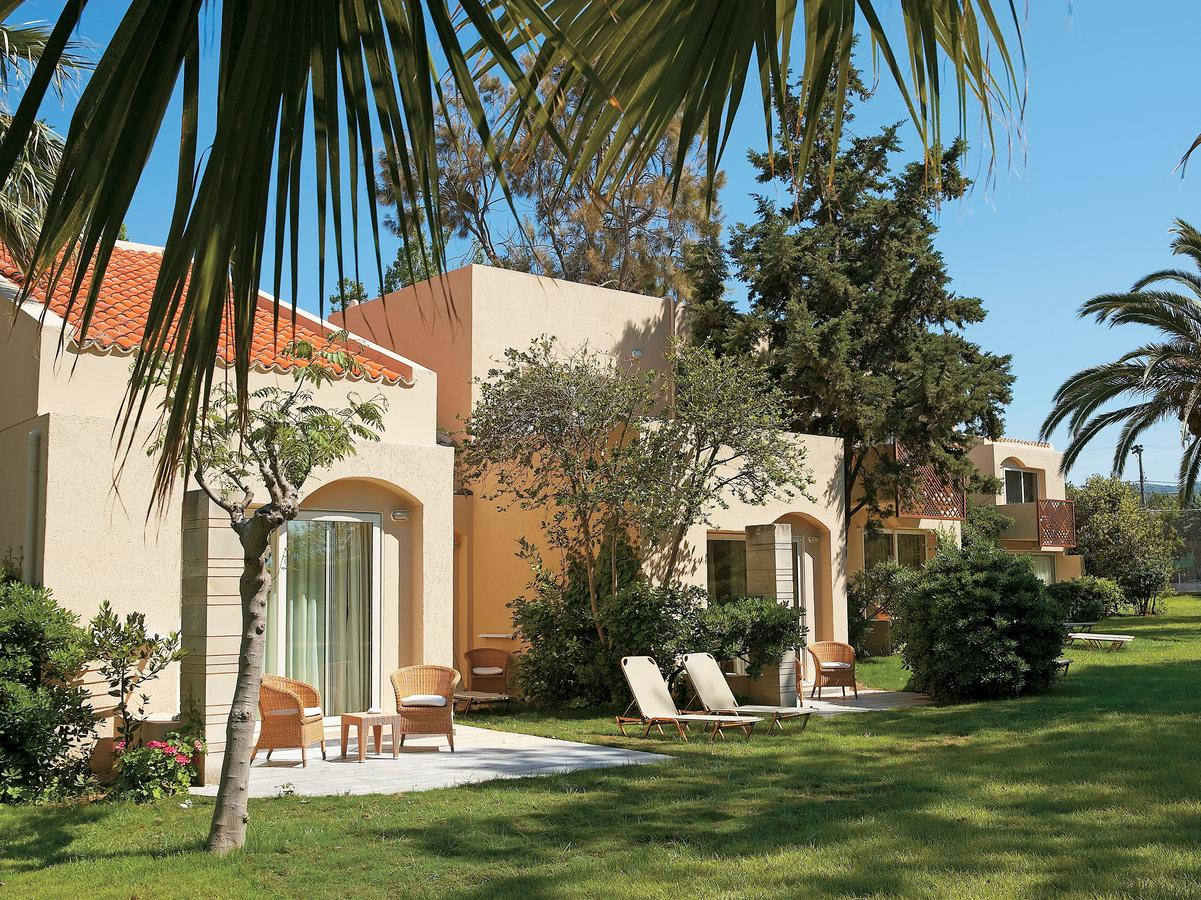 Quiet and cozy courtyards of Grecotel Creta Palace (Photo: booking.com / Grecotel Creta Palace)
Mitsis Faliraki Beach 4* (Rhodes, Faliraki)
The hotel is located on the famous Faliraki beach and works on an all-inclusive basis. According to reviews, the hotel provides quality services, corresponds to the four stars and the stated prices. There are swimming pools, restaurants, spa, tennis courts, a good children's club with animation, a great beach. Vacationers engaged in aerobics, beach soccer, table tennis, horseback riding and water sports.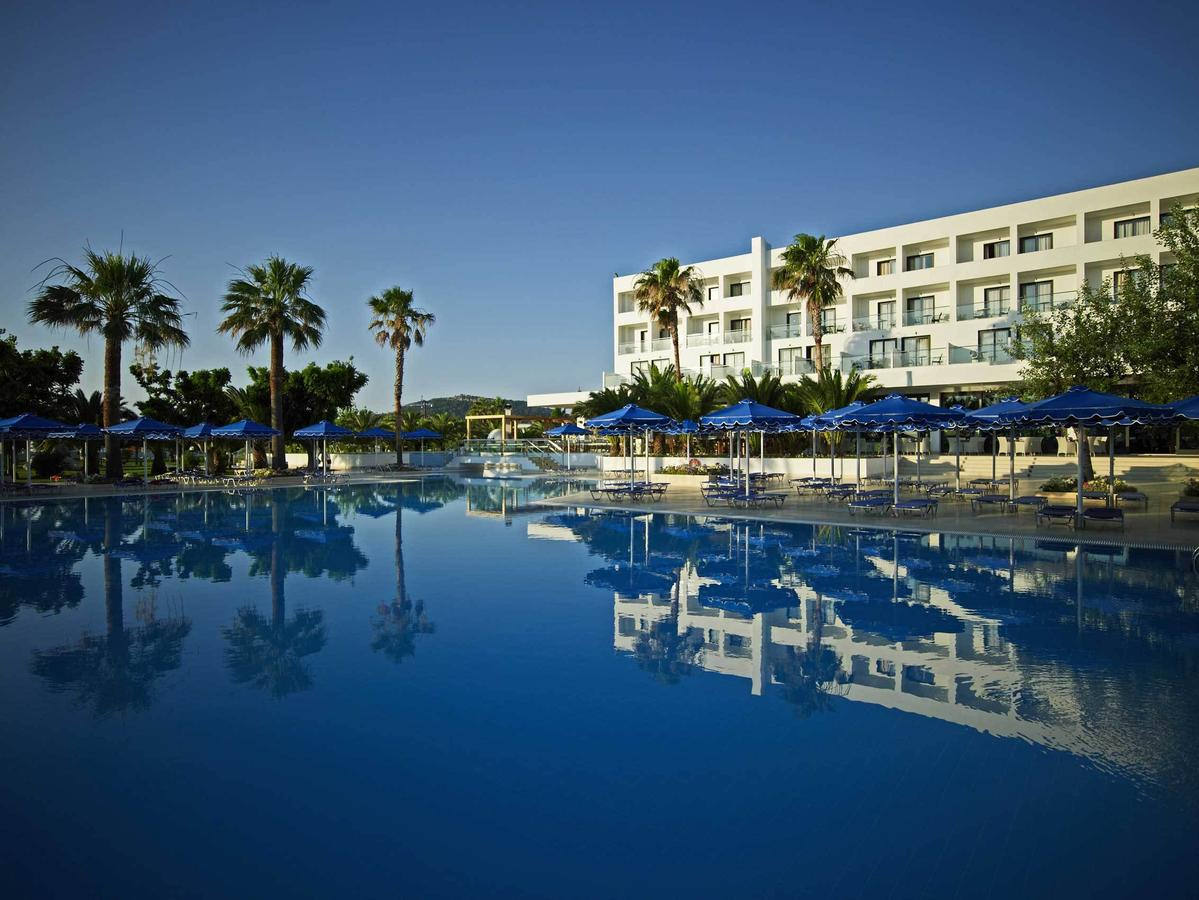 The hotel has a rich selection of rooms: from single rooms with a sea view to family rooms and 4-bed rooms (Photo: booking.com / Mitsis Faliraki Beach)
Stella Palace Resort & Spa 5* (Crete, Hersonissos)
Another hotel that tourists evaluated as the most suitable for holidays with children in Greece and working on an all-inclusive system. It is located on the private beach of Analipsi. On the territory of several pools, including 3 children's, 2 tennis courts. Good children's animation and a special children's menu. At leisure you can do basketball, badminton, aerobics, near the hotel there is a Cretan park "Labyrinth" and Aquarium.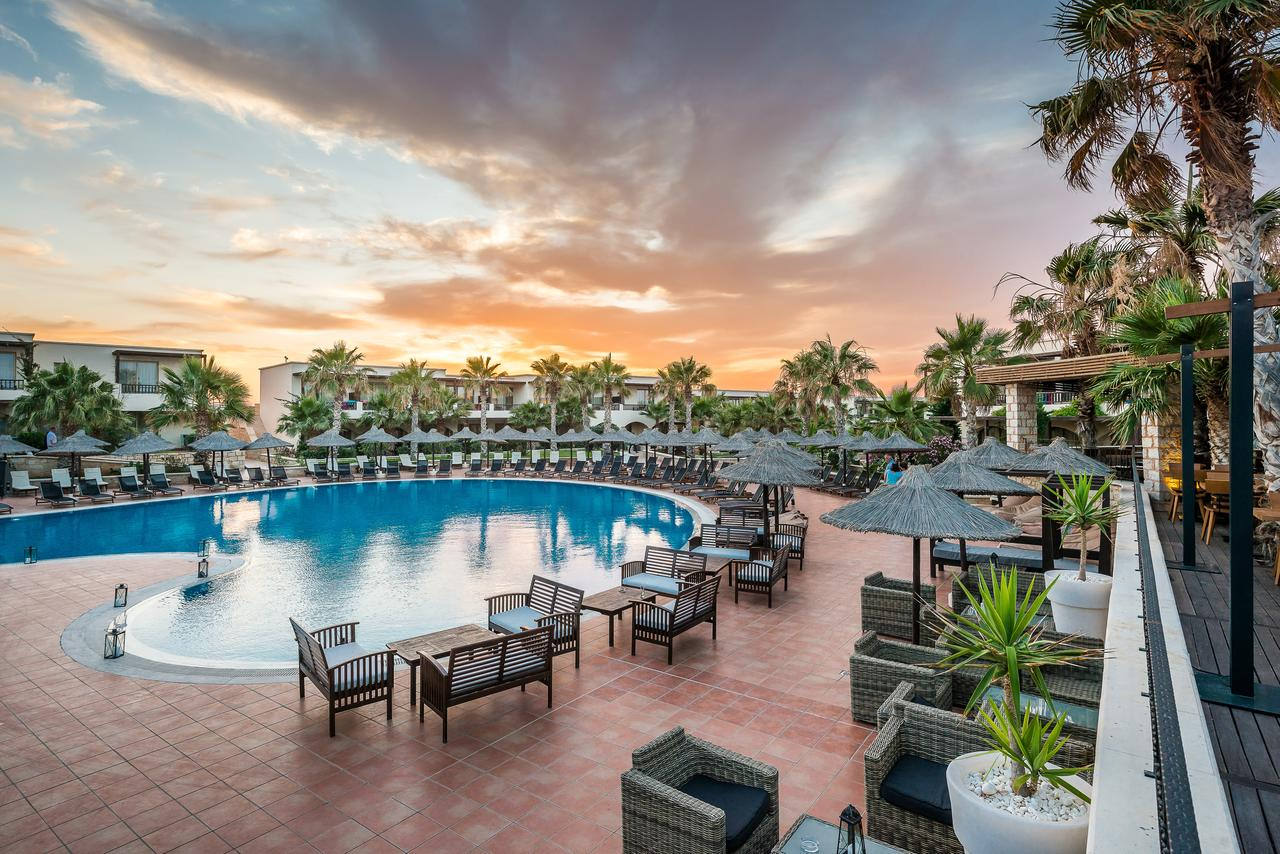 One of the pools on the territory of the hotel is equipped with sun beds and soft benches with tables (Photo: booking.com / Stella Palace Resort & Spa)
Sani Beach 5* (Kassandra, Halkidiki)
The hotel is located at Cape Sani on the Aegean Sea near the beach with pine trees. There are beautiful pools, spa center, restaurants, children's animators. Of entertainment – mountain biking and water sports. Top 10 Hotels for Children in Halkidiki →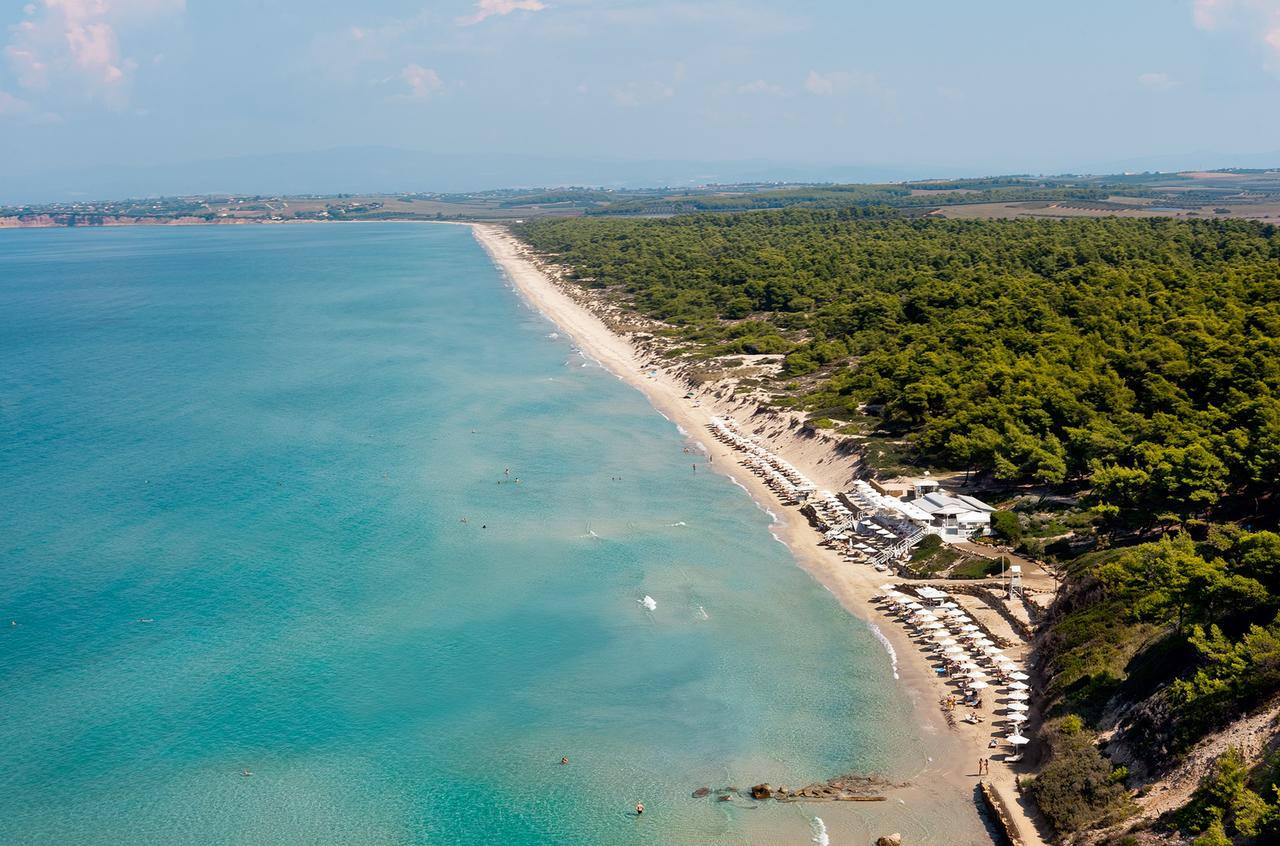 The hotel has a beach area by the sea (Photo: booking.com / Sani Beach)
Prices for tours in Greece – 2022. Rest "all inclusive".
Last minute tours at the best prices look for services Onlinetours (discounts 1-3% for our readers) and Level.Travel – they compare the proposals of 130 tour operators. You can buy tours online, which is very convenient.
Voyages to Greece are usually inexpensive. For example, sometimes you can find an all-inclusive tour for only 20 thousand rubles for two! Rest with children will cost a little more expensive (usually 20-30%).
For summer 2022 the most inexpensive tours with departure from Moscow cost from 30 thousand rubles for three people (2 adults, 1 child) for 7 nights.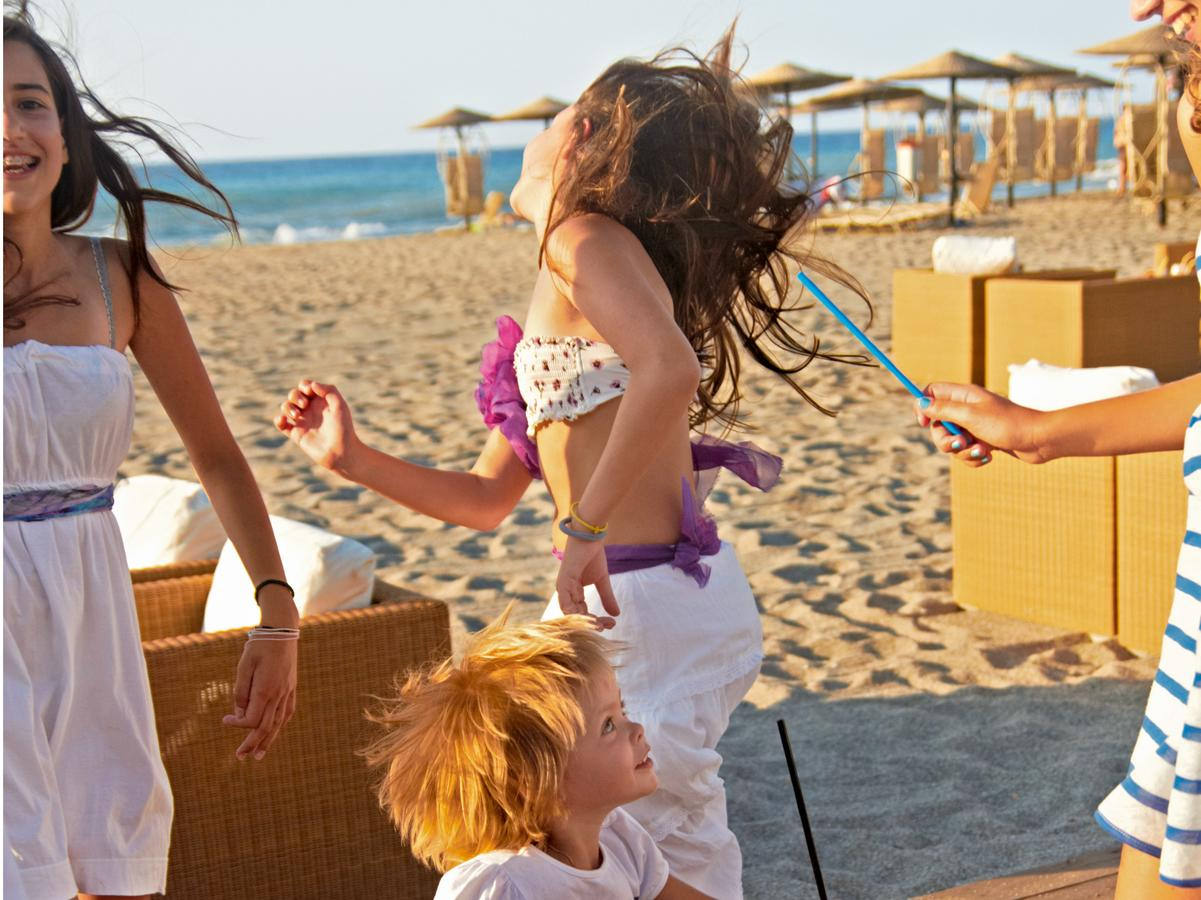 Most of the resort hotels have activities for children, except for hotels with the category "adults only" (Photo: booking.com / Grecotel Creta Palace)
If you want to vacation in Greece with children on an "all inclusive", then be prepared to pay a little more money for the tour – from 40 thousand rubles for three people for 7 nights (hotels from 2 * and above, there are different resorts). As a rule, the hotels working according to this system have services for children.
Prices for tours in Greece in 2022 with a flight from St. Petersburg are about the same as from Moscow, usually a few thousand more expensive. Inexpensive to fly to rest in Greece and from many other cities in the European part of Russia.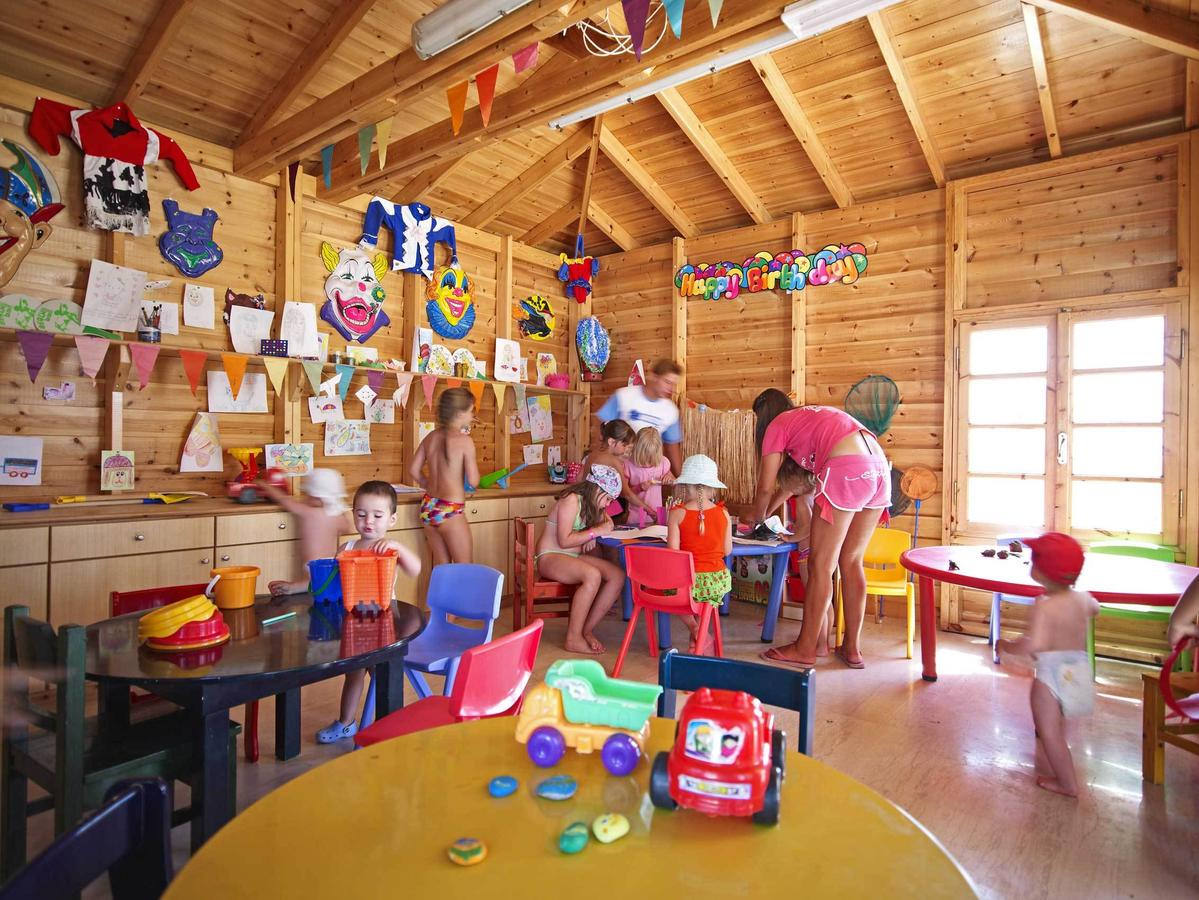 Good hotels for holidays with children include animation, equipped swimming pools, children's entertainment rooms and a quality children's menu (not just fruit plates) (Photo: booking.com / Mitsis Faliraki Beach)
Tips and reviews
Go on vacation with children in Greece is better at the end of May, in June and in September (velvet season) – at this time the weather is most comfortable for kids. Also not bad in early October. In July and August you should choose the resorts of Northern Greece, where it's not so hot. However, if your main goal – to get acquainted with the culture of the country, visiting attractions and excursions, as well as shopping, it is better to go in September and October, when it is not so hot, there are fewer tourists, prices are lower and the sales begin. Also suitable for the spring months.
Read the reviews of guests when choosing and booking accommodation online – it's not always worth pursuing the low cost (Photo: booking.com / Sani Beach)
When choosing a place to stay you should consider the complexity of the flight and transfer. The shorter the transfers, the better.
According to reviews, with toddlers is better to choose hotels on the first line. If the child is of preschool age, excursions are of little interest to him because of his age, so you should focus on local attractions, located in close proximity to the hotel – water parks, playgrounds, water slides, zoos, etc.