Holidays in Hainan with children – 2022. Best Hotels and Beaches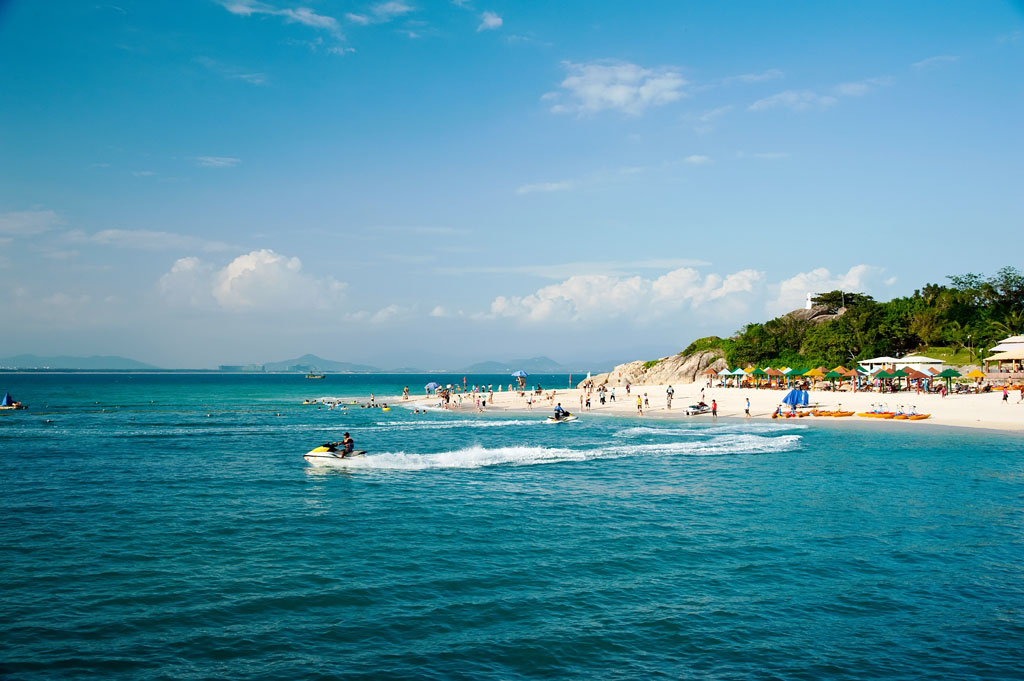 Have you ever been to the sea in China? Have a vacation with kids in Hainan this year! We can help you choose the best resort, beach and hotel for your family vacation. Learn the nuances of vacationing on the island, tips and reviews of tourists.
China does not yet accept tourists from Russia. Take a look at the list of open countries. For convenience, we give pre-departure prices for trips and flights. Information about visas and flights may not be up to date now, check with official resources.
Every year on a tropical Chinese island of Hainan comes to rest more and more Russian tourists. Vacationers with children give preference to the beaches of the south coast, where the sea is warm all year round, affordable prices and a good choice of accommodation.
Content: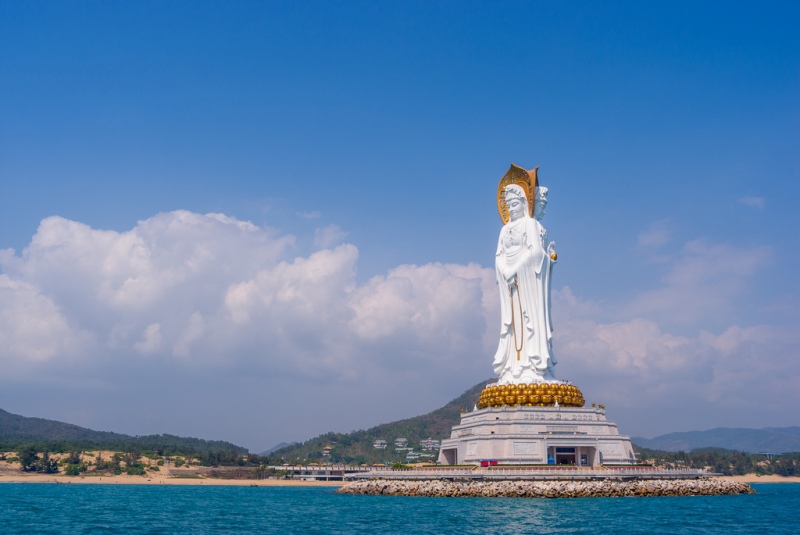 (Photo: llee_wu / flickr.com / CC BY-ND 2.0 license)
Features of holidays in Hainan with children
Most of the beaches on the island are sandy, except for some stretches. Vacationers with children prefer Sanya hotels equipped with playgrounds and swimming pools. Budget travelers can take advantage of comfortable apartments with a kitchen. The most expensive hotels are located in Yalunwan Bay, there are also suitable places for diving. The beaches of Dadunhai Bay are more popular with surfers and family vacationers. Find out about the best excursions in Hainan.
What to occupy yourself and your child? There is a large water park in the vicinity of Sanya, as well as all the conditions for water sports. The highest point in Dadunhai Bay is Mount Deer Turned Head with a large observation deck. On the slopes of landscaped green park, there is a nursery with deer, which you can feed from the hands. Children will also enjoy the sea life shows at the oceanarium, as well as walks to the Butterfly Park and Monkey Island.
When to go
The Chinese island of Hainan belongs to the group of islands with a tropical climate: hot and humid weather in the summer, daytime air temperature reaches +35 ° C, the rest of the time it is warm and dry.
The best time to visit Hainan is in late autumn, spring and early summer, when the daytime temperature may reach +30°C and the sea water +28°C. In September and October, there is a high probability of typhoons, and the winter is a bit cool for a beach holiday. January is the coldest month of the year (+22°C during the day), in February it is a few degrees warmer. The water temperature in the sea is +24 ° C.
Learn how to apply for a visa to China to Hainan island: documents required, cost, timing and nuances of obtaining.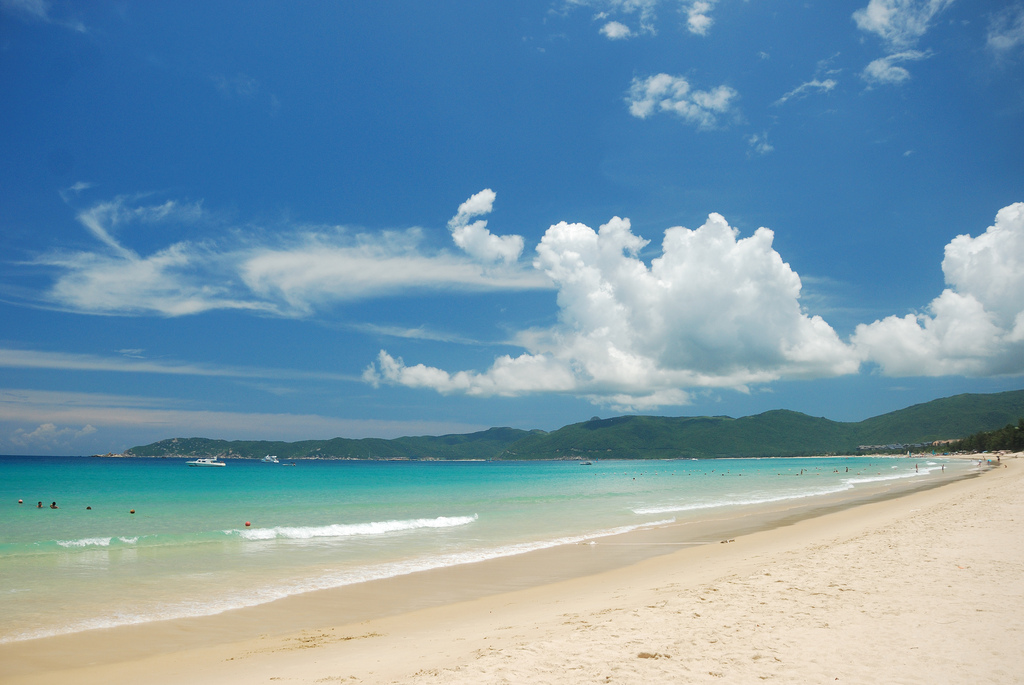 (Photo: shakermaker / flickr.com / CC BY-SA 2.0 license)
Best resorts and beaches
Hainan is washed by the South China Sea. All the famous beaches are located in three bays: Sanyawang, Dadunhai, and Yalunwan.
The most expensive hotels are concentrated in Yalunwan Bay. Local white sand beaches are considered the best in Hainan and are best suited for vacationing with children. It stops here wealthy tourists who value a quiet holiday and good service. Next to the bay is a coral reef, the water is clean and clear. The bay of Yalunwan fish and seafood is excellent, but there are no entertainment and stores, only restaurants and dive sites. To the nearest nightclub you have to drive 40 minutes to the center of Sanya resort.
The beaches of Dadunhaya are located near the center of Sanya resort. This bay is extremely popular with our tourists – all signs and signs are duplicated in Russian. Holidays with children will be comfortable. The bay itself seems to be squeezed between the mountains, due to which the area was formed a unique microclimate. The sand on the coast is fine and clean, all beaches are equipped. Many catering establishments with democratic prices, working stores. A small minus – during the day there is a lot of noise because of the large number of tourists and souvenir vendors.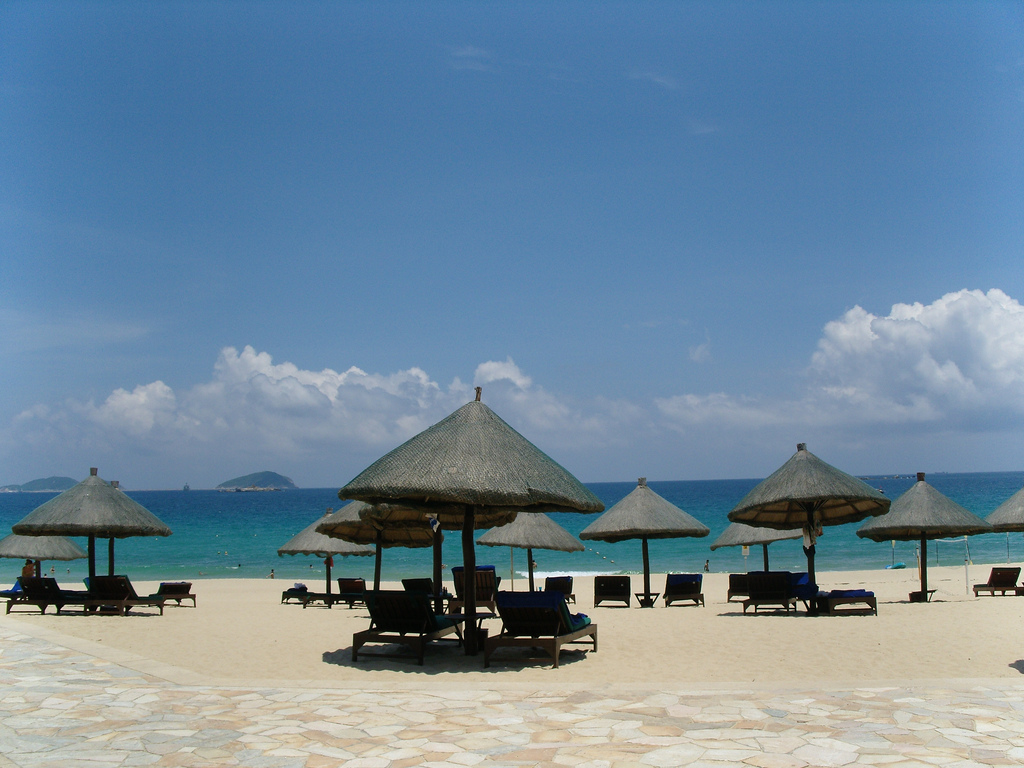 (Photo: Cory M. Grenier / flickr.com / License CC BY-SA 2.0)
Sanyawang Bay is located close to the airport. It stretches out toward Tianya Bay for almost 20 kilometers from the city. There are many seafood restaurants along the waterfront, and there are Japanese and European food establishments. The local scenery is as beautiful as Yalunwani – fine sand and palm trees, but all the beaches are across the street, the sand is not as bright and the water is less clear than in other bays. Not far from Sanyavan is the famous "End of the World" park with a marine zoo and aquarium. Tourist Reviews of Sanya →
Haitianwan is a secluded resort 30 kilometers from the city of Sanya, where the most expensive hotels of the famous hotel chains are located: Hilton, Sheraton, Kempinski and others. All hotels in the resort are on the first line. There is an entertainment center and duty-free store, not far from the bay there are thermal springs, and the popular Monkey Island is no more than a 15-minute drive away. However, this bay is more suitable for lovers of kiting and windsurfing than holidaymakers with children – the coastline is long and open, and the sea is often rough.
Best hotels in Hainan for vacations with children – 2022
When choosing a hotel in Hainan, it is worth bearing in mind that they are oriented towards Asians. The 4- and 5-star hotels are excellent, but the reviews complain about the behavior of the Chinese – they are noisy and inconsiderate. Some tourists do not like the food, such as noodles for breakfast. If you don't mind, choose your hotel!
How to choose a good hotel? Focus on the rating – the higher the rating of the guests, the higher the level of the hotel and the quality of rest. Read reviews of tourists (especially Russians) – our compatriots are very attentive to details and are sure to mention all the shortcomings.
So that you can choose and book the best hotel for holidays with children in Hainan, we have made a special selection.
Look for hotels on services Hotellook and Roomguru. They can help you find the cheapest price. Do not know how to use them? Check out our tips on how to book a hotel inexpensive.
Search for Last Minute Deals at Level.Travel and Travellata which compare prices from 120 popular tour operators. Want to save? Check out our 7 rules for buying tours online.
Hainan Vacation Reviews for Kids
If you want peace and quiet, choose hotels in Yalunwang. Holidays here will cost more than in Dadunhai, but in the evenings not irritating loud music. Active people will be more comfortable in Dadunhai – everywhere you can hear the Russian language, there are restaurants with the usual food, a lot of entertainment for adults and children.
Go with children to the island of monkeys – trip on the cable car is already exciting in itself, and communication with mischievous animals will delight both children and adults. Just be careful: cute monkeys behave too directly, and they are not worth anything to rob a gaping tourist.
В интернете периодически возникают гневные отзывы туристов о песчаных блохах (мухах) , обитающих на пляжах Хайнаня. Они жалуются на сильный зуд в местах укусов и чуть ли не испорченный отпуск. Другие возражают, что нет никаких блох. Очевидно, правы и те, и другие, просто люди отдыхали в разное время и в разных местах. Наш совет — отдыхайте на ухоженных пляжах острова, которые регулярно чистятся, и держитесь подальше от замусоренных мест и зарослей. Отпугнуть врага поможет смесь эфирных масел и крем от москитов, а антигистаминные препараты быстро устранят возникший дискомфорт. Посмотрите, как собрать дорожную аптечку >>
If you are planning a vacation in China with a child without tours, then read how to do it yourself.
Undecided where to go on vacation? Find out how to vacation with kids in Thailand and Vietnam.
Where best to vacation with kids in Hainan in 2022
Where better to vacation in Hainan with a child? When best to vacation and what resort to choose? What are the best hotels for vacations with children in Hainan? Where to go and what to do with a baby on vacation? Is it true that the children in Hainan fly free? Read on the Tour-Calendar!
Holidays in Hainan with children: is it worth the trip? Choosing a time, resort and hotel (Photo © Riku Lu / flickr.com)
Flights, hotels – all in one place. Cheapest prices on Yandex.Travel
Have an interesting vacation. Local excursions on Tripster.
Flights from 1045₽ on Aviasales.ru
Compare tours from different tour operators on Travelate
Is it worth to go on holiday with a child in Hainan
The many reviews of tourists who holiday in Hainan with children, you can get the opinion that most likely the Chinese island is not the best place for a family vacation. And yet if you choose the right time, a good resort and first-class hotels, you can have a great time.
Ease of obtaining a Chinese visa
A short flight from Siberia and the Far East (5-6 hours), but for Moscow a long flight will be a minus (10-11 hours).
Excellent environmental situation on the island, because Hainan is the second in the world after Cuba
Beautiful gentle sandy beaches.
Extremely clean fresh air and beautiful tropical nature.
Delicious fruits like rambutans, lychees, and other juicy exotic delicacies
Good warm weather and gentle and mostly calm sea, but only in some months (October, November, December, March, April and May)
Quite a long flight from Moscow or St. Petersburg – about 10-12 hours
According to numerous reviews in Hainan tourists often catch colds, but this is quite subjective information, and so "lucky" is not everyone.
On the island there are not only local food, but European, Japanese and other, but in spite of this often children do not like it. You have to flock to the fruit (here they are very tasty) and cereals, potatoes. In general, the problem of child nutrition on the island exists, but much depends on the selected hotel
On the beaches of the Chinese behave cavalierly, without being asked take pictures of "white aliens", especially in bathing suits. Things are a little better in Yalunwan Bay
On the beaches there are sand fleas (flies), but not always and not everywhere, as luck would have it. After their bites is a strong itching. Our advice is to visit well-maintained beaches that are regularly cleaned, and stay away from brushwood and littered areas. A mixture of essential oils or mosquito repellent will help scare away the midges, and antihistamines will eliminate the discomfort.
When to vacation with children in Hainan
Hainan is a year-round beach resort, and the water temperature in the sea does not drop below +24 ° C. And yet, numerous reviews suggest that there is a more suitable time for a holiday, and there is not at all unsuccessful.
It is believed that the most comfortable time to rest in Hainan with children is October, November (though sometimes in the beginning of the month there may be bad weather, typhoons) and the first half of December, as well as March, April and May. Summer in Hainan is too hot and humid, while winter, especially in January, may be cool with air temperature of +22 … +25 ° C.
Video: When is the good weather in Hainan
Read more about the weather in Hainan by month and season in our article When it's best to vacation in Hainan Island.
Which resort to choose for a vacation with a child?
Hainan has about five of the most popular resorts for vacationing, so which one to choose for a vacation with children?
Yalunwan Bay
Here are the most expensive hotels, and beaches with white sand are considered among the best on the island and are ideal for family vacations. As a rule, in the bay Yalunwan stay wealthy tourists for whom a quiet holiday with good service is a priority. Nearby is a coral reef, and the water in the sea is clean and clear. The local cafes and restaurants excellent fish and seafood, but no special entertainment and an abundance of stores. If you want to combine family vacations and nightlife, keep in mind that the nearest nightclub will take you about 40 minutes to get to the center of Sanya.
Yalunwan is probably the best place for a beach vacation with kids in Hainan (Photo © Xianyi Shen / flickr.com)
Sanyavan
Sanyavan Cove is very close to the airport, stretching out towards Tianya Bay for 20 kilometers from Sanya City. There are many seafood restaurants along the coast, and there are European and Japanese restaurants.
The local scenery is as picturesque as in the bay Yalunwan, the beaches are also fine sand, but they have a big disadvantage – they are across the street. In addition, the water is usually not as clear as in other resorts on the island. Near Sanyavan is the famous park "The End of the World" with an aquarium and a marine zoo
Dadunhai
The beaches of Dadunhai Bay are very close to Sanya, the main resort of the island. This place is very popular with our compatriots, even all the signs on the beach are duplicated in Russian, which is extremely rare for Hainan.
Not a bad resort for a holiday with children, Dadunhai, but some believe that too noisy (Photo © Jacques Beaulieu / flickr.com)
Dadong Hai is a good holiday resort for children, but it is considered to be not as quiet as Yalunhai with the large number of Chinese arriving in the evenings and the traders making too much noise during the day. The sand on the beach is clean and fine, the coast has everything you need. For those who want to eat not only in the hotel will be good news that there are quite a lot of cafes with affordable prices, in large numbers there are also stores.
Haitanvan
Rather secluded resort located 30 km from Sanya offers mostly luxurious hotels of such famous chains as SHERATON and HILTON. All hotels are located on the first line, there is an entertainment center, nearby thermal springs, there is a duty-free store, and the "Monkey Island" can be reached in just a quarter of an hour.
Some people think that Haitanvan is more suitable for kite and windsurfing enthusiasts than for vacationing families – the coastline is long and open, and the sea is often stormy.
The best hotels for holidays with children in Hainan in 2022
Experienced travelers who liked the holidays in Hainan, believe that if you choose the hotel correctly, the rest will be great, otherwise it will probably be spoiled. Based on videos and reviews we have selected the three best hotels for holidays with children on the island.
Sanya Marriott Yalong Bay Resort & Spa 5*, Yalongwan
This relatively new hotel is located in an expansive, picturesque area on the shores of the most prestigious bay resort of Yalunwan.
It is a great place to stay for a relaxing holiday for parents and their children. Rooms however, with the usual Asian furniture, but spacious. The bathroom had a bath and shower, by the way the water was there as much as we needed. I stayed in my hostel very well.
We had a really great stay at Jalongbei with no noise or crowds as we had in Dadunhai (stayed in this bay in 2017), it was a completely different level, it was quiet, peaceful, and beautiful, peaceful atmosphere, just the thing for a great family vacation. Even though the sea was cool, people were swimming, we usually strolled along the endless line of beach under the nice non-hot sun, one pleasure! Clean fine sand and blue ocean, total relaxation! And these grill dinners on the area in front of the sea with an interesting entertainment program! It is worth to tell about a wonderful heated pool with Jacuzzi and a great kids' club with a playground. We had an opportunity to visit the park in Yalongbei, we especially liked the suspension bridge over the jungle, it was a great entertainment!