Holidays in Karelia in winter 2022-2023: where to go and what to see
If you are thinking when to go to Karelia, winter or summer, the correct answer is not to choose, come twice. Because it will be two completely different vacations. Rest in Karelia in winter – with white snow, fluffy fir trees, just like a Christmas card, frost (but not terrible, not Siberia all the same). And in the northern parts of the country you'll find almost polar night. And if you're lucky you will see northern lights.
Will it be cold? Firstly, it depends on what you're comparing it with. If you compare to ordinary Moscow, St. Petersburg and the more so to Crimean or Sochi winters, of course, Karelia is much colder. But for inhabitants of Yakutia Karelian winter will seem mild and not serious.
So if you are ready to plan your holidays in Karelia in winter, then here is our pick for you where to go and what to see in the season 2022-2023.
Six ways to have a great winter vacation in Karelia
You can meet two Father Frosts at a time
New Year vacations in Karelia are in great demand. If you have chosen a vacation with children in Karelia in winter at the end of 2022 or the beginning of 2023, consider that the kids are lucky – they will see two real Ded Morozov. One of them is called Talvi Ukko, his residence is located near Petrozavodsk, they welcome guests there all year round. And the other is Pakkaine, he lives in the town of Olonets. And he is not a grandfather at all, but a young handsome guy, Morozetz – or Morozko.
Riding in a dog sled
There are several kennels in Karelia, where sled dogs – Huskies are bred. Including in the vicinity of Petrozavodsk. The blue-eyed bouncing dogs are so eager to get off the leash on the snowy trail, in the woods, on the lake – it seems that the huskies get more pleasure from riding than the tourists. The routes are usually designed for 10 – 12 km. Is it possible to fly from the sledge into the snowdrift? Easily. It's not a problem, it's soft. But the dogs will instantly drive forward, you will have to go back to the base on foot, though surely the instructor will help you. And do not forget the lip balm and fat cream to protect your skin. At speed, the wind and snow crumbs flying in your face just scalding cold. Price: 2500-3500 roubles.
Go on snowmobile safari
Adrenalin entertainment is offered on the lakes. You will be offered a briefing for the beginners and then there will be short training runs. There is a route to the village Vekshelitsa on Syamozero, where you can enjoy Karelian cuisine and a folk concert. From the base in the village of Chalna, snowmobilers travel along the forest paths across the river Malaya Suna and Syamozero. There is a radial route to the village of Vatchela on an island in the middle of Syamozero, where there are ancient wooden houses and a half-destroyed church. It is possible to cover 80-120 km per day. Rent of a snowmobile costs 1000 roubles per hour and safari for one day – 5000 roubles. Three-day tour with accommodation and food – 35000 roubles per person.
To visit an ice canyon
When coming to Karelia in summer, tourists often include Ruskeala Park in their program, but we advise to visit it in winter as well. You will see the glaciated Marble quarry. It's huge: 460 meters long and a hundred meters wide. It is from here marble was taken for St. Isaac and Kazan cathedrals in St. Petersburg. In winter the quarry is covered with ice, it is beautifully illuminated, decorated with ice sculptures. On it you can skate or fly from above on a ziplane.
Go skiing
Karelian mountains – not the Elbrus and not Red Glade. But there are good slopes, ski schools with instructors, rent skis and snowboards. You should plan your skiing as one of the points of your winter program, not as the main destination. The altitude difference on the slopes is maximum 50-100 meters. The variants are as follows: ski and biathlon complex "Kurgan" and entertainment center "Gorka" in Petrozavodsk, ski resort "Spasskaya guba", active recreation center "Yalgora", ski center Kallivo Park, country club "Malaya Medvezhka", ski run in the village of Hiitola.
Ice fishing
The best time for winter fishing in the Karelian lakes – Ladoga, for example – is considered the first half of December and the end of winter, from mid-February to late March – this month in the north is still quite winter. At the tourist hostels you can rent fishing rods and other equipment, and if you want you can be delivered by snowmobile directly to the ice-hole. You can catch whitefish, pike, perch, walleye, and burbot.
Road to the mysterious Circumpolar region
Is it possible to rest on the coast of the Arctic Ocean? What is interesting on the northernmost peninsulas – Rybachiy and Sredniy? Where is the "moon road"? The answers to these and many other questions were found by the "Komsomolskaya Pravda" expedition members, who travelled more than 5000 kilometers to the Arctic Circle. Read a fascinating story about their adventures and see the photos.
Weather in Karelia in winter
The average temperature in Karelia in January is -13 degrees. But the weather here is unstable – the republic is almost the first Russian region to find itself on the path of Atlantic cyclones. Clear frosty days are sharply replaced by snowfalls and thaws, and vice versa.
Snow in Karelia usually lies from November to March. Photo: globallookpress.com
But in any case we prepare warm and windproof clothes and outfit. Of course, you will need thermal underwear, clothes made of technological fabrics, hats, gloves and mittens, of course, a fleece. The main Karelian winter joys are in the fresh air. And we want to enjoy them, not freeze!
Snow usually stays from November to March, but winter can last from October to April. In December and early January, the daylight hours are very short, just a few hours – it gets light around 10 am, and by 3 pm it's already dusk. So beforehand, master the night mode in your cameras and smartphones. It gets brighter in late January and February.
All about winter holidays in Karelia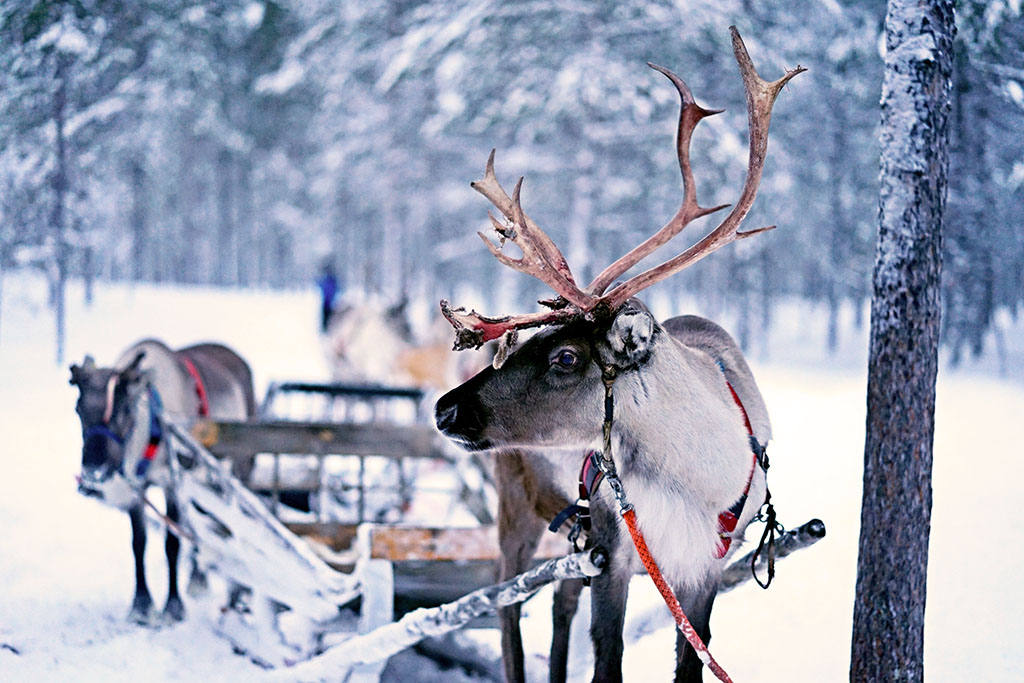 Winter Karelia welcomes visitors with pure snow, frosty air and entertainment. Learn about winter weather, excursions, New Year's Eve and tourist reviews. Here are the prices of holidays in Karelia in winter 2021-2022 for tours, meals and accommodation at the bases.
Recreation in Karelia in winter is no less attractive than in summer. Residents of cities gladly spend their vacations among snow-covered pine forests. Tourists live in warm cozy cottages and recreation bases. They enjoy snowmobile rides, dog sledding and skiing, taking excursions and ice fishing. Many come to Karelia as families and companies to celebrate the New Year.
Content:
Winter weather
Snow in Karelia begins to fall in mid-October. The snow cover becomes permanent in November and holds for about 170 days – until April. The snowfalls here can be prolonged – it may snow without a break for several days in a row.
At the end of January the thermometer often drops to -25. -35°С. The coldest and windiest month is February. But you don't have to worry! Mighty Karelian forests protect from cold winds, that is why freezing weather is relatively easy.
Average air temperature
December
January
February
March
daytime
-3°С
-5°С
-7°С
-2°С
at night
-8°С
-12°С
-13°С
-8°С
How to get there
From Moscow to Petrozavodsk you can fly and travel by train. The flight takes just over 1.5 hours, and the journey by train takes 15 hours.
From St. Petersburg to Karelia, there are trains and buses. The fastest train "Lastochka" reaches Petrozavodsk in 5 hours. By bus to the capital of Karelia takes 8.5 hours.
How to rest in winter in Karelia
Rest in Karelia in winter is very popular. Here you can improve your health in sanatoriums, go on excursions and do active tourism.
Dog sledding trips. Vacationers like to have a new experience and ride sled dogs in the snow. There are several kennels of huskies in Karelia, and Karelian excursion bureaus offer tours with sledding. They are quite expensive – from 3700 rubles. To save money, many tourists come to the kennels on their own, talk to the dogs and ride the sled. Trip for 0.5 km for children costs 1500 rubles, and for adults – 2500 rubles. Excursion to the kennel →
Safari on snowmobiles. The average depth of snow cover in Karelia is about a meter, so snowmobiles are one of the necessary means of transport. During holidays in Karelia in winter 2021-2022 tourists enjoy riding snowmobiles. To rent a snowmobile with a sledge costs 1000 rubles per hour and a one-day snowmobile safari + the second snowmobile with an instructor costs 5000 rubles.
A visit to Ded Moroz. What holiday in Karelia in winter without a visit to the Karelian Santa Claus – Talvi Ukko? His fiefdom is only 20 minutes drive from Petrozavodsk. From the capital of Karelia people come there on their own or as part of an organized tour. It is especially interesting for children. There are several programs in the residence, during which tourists drive a Finnish sled, ride a slide, go sledding for a cross-country vehicle, participate in Karelian national pastimes and tea with pies. The prices start from 650 rubles.
Winter fishing. At the beginning of the snow season – in October and November – kumzha and bracken are biting well. Since February begins active ice fishing for roach, whitefish, trout, pike, perch and burbot. At the recreation centers, fishermen are offered to rent ice drills and fishing tackle, as well as snowmobile transportation to the place of fishing.
Hunting. Until December in Karelia is allowed to hunt wild boar and until January – moose. Hunters can hunt hares, gaits, muskrats, minks, martens, beavers, badgers and wolves until the beginning of February. Also, all winter hunting is open for grouse, grouse, grouse, partridges and woodcocks.
Walks and excursions. Karelian winters are snowy, so it's best to walk through the forest on skis. In Petrozavodsk it is nice to walk around the city on foot. Tourists who come to vacation in Karelia in winter, walks along the embankment along the Onega are popular.
In the winter months, the Ruskeala Mountain Park is open. Helicopters fly to Kizhi. In addition, hovercrafts go on the ice of Lake Onega. Holidaymakers demand excursions to Karelian towns – they gladly go to Belomorsk, Kondopoga, Olonets, Kem and Sortavala. Find out what to see in Karelia.
Popular excursions:
– 1,830 ₽/person. – 5000 ₽ for 1-6 people.
Alpine Skiing. Karelia's uplands and highlands don't compare to the mountains of the Caucasus, but there are winter resorts here, too. Not only beginners like them, but also experienced skiers and snowboarders. In winter there are the Kurgan ski and biathlon complex and entertainment center "Gorka" in Petrozavodsk, the Spasskaya Guba ski resort, the Yalgora center of outdoor activities, the Kallivo Park ski center and the Malaya Medvezhka country club.
The maximum elevation differences of the slopes in Karelia are not great – only 70-100 meters. But the winter resorts have all the necessary infrastructure: equipment and ski rentals, instructor services, and beginner's schools.
Map of ski resorts in Karelia
New Year's Eve. In Petrozavodsk, New Year celebrations are traditionally held on Kirov Square, in the center of the city. There are folk festivals and fairs, hold a festive program and fireworks.
Karelian recreation centers are perfect for New Year celebrations with family and friends. Almost everywhere arrange a festive feast and fun contests. Learn how to celebrate New Year in Karelia.
Here is a useful selection: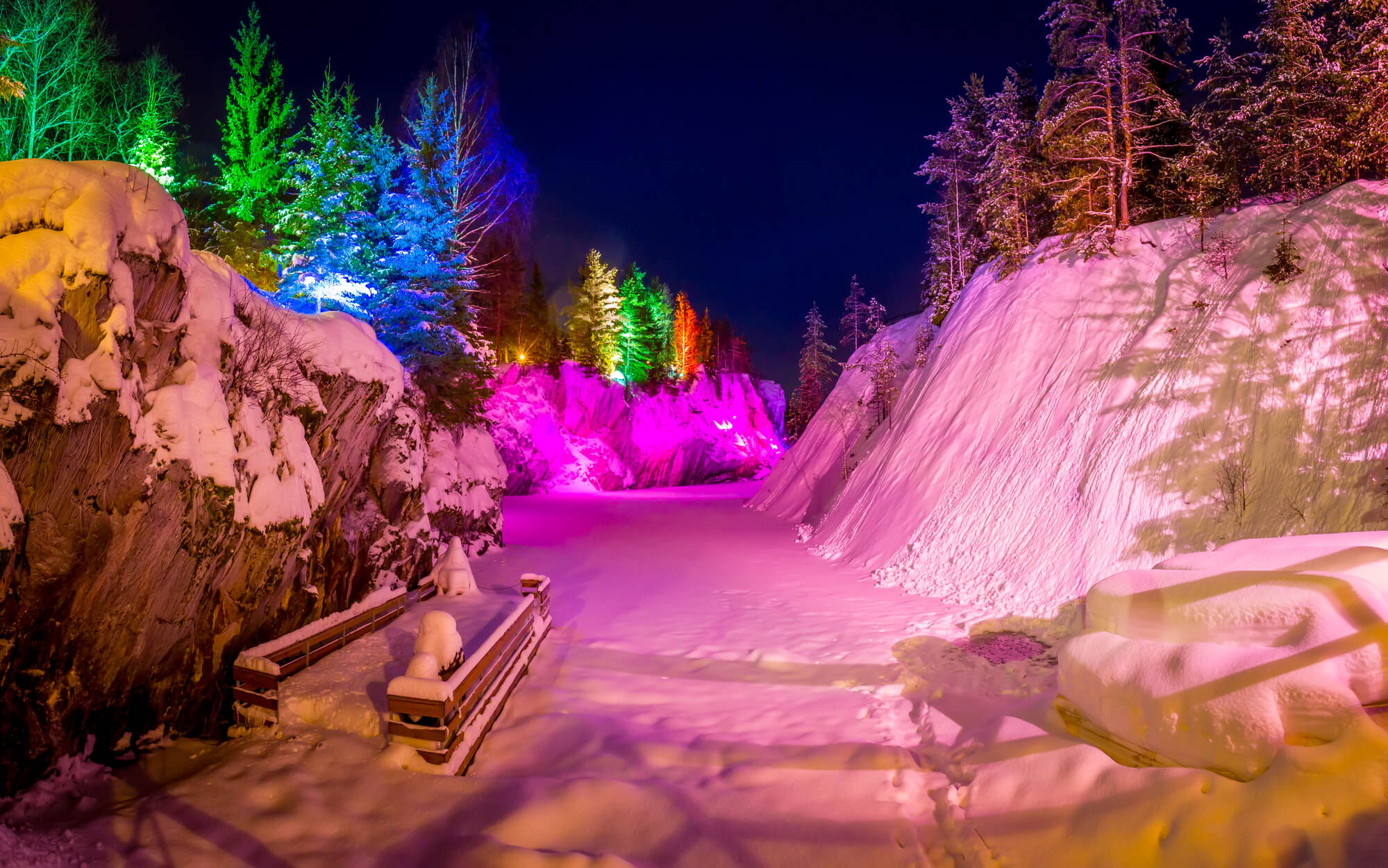 In Ruskeala in the evenings include artistic lighting. Photo: Depositphotos.com.
Prices for winter tours in Karelia
Tours to Karelia in winter in 2021-2022 are designed for 2-5 days. These are busy trips, the program of which includes acquaintance with the Karelian sights, Russian bathing, fishing, skiing, snowmobile safaris and dog sledding.
There are tours for active recreation with children. During them, extreme ways of travel are not provided. Those who want to test their endurance choose multi-day tours on snowmobiles, skis, sledding or combined trips.
Prices for two-day tours start at 10 thousand rubles, and for a journey of 5 days they ask from 19 thousand rubles. The price includes transportation in Karelia, food, lodging, equipment rental, equipment and guide services. In addition pay for excursions, entertainment and road to the starting point of the route. As a rule, the trips start in Petrozavodsk, Kemi or at Chupa station.
Here is a useful selection: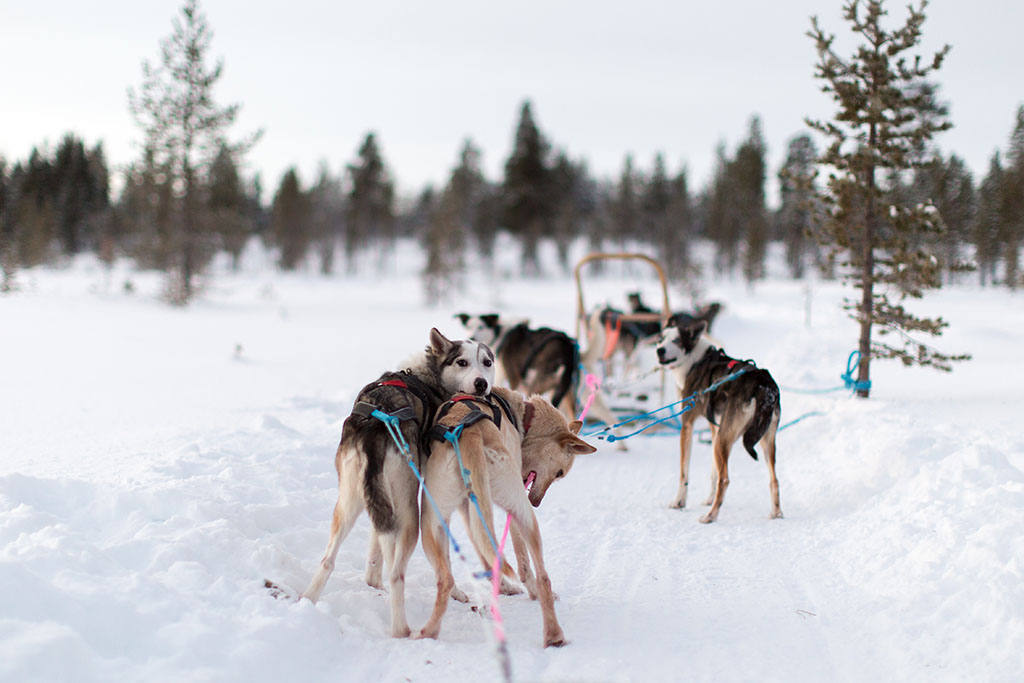 There are several husky kennels in Karelia, and Karelian excursion bureaus offer tours with sled rides. Photo: unsplash.com / @ozgut.
Accommodation at recreation centers
According to reviews, holidays in Karelia in winter 2021-2022 turns out quite budgetary, if compared to the winter resorts of Sochi or Europe.
During the vacations it is convenient to stay in country estates, cottages and tourist centers. In the first half of December, in late January, in February and March a double room with breakfast for two costs 1500-2000 rubles.
Prices go up during the New Year holidays. If you can rent a cottage for 4-5 people for 3800 rubles in the low season, the New Year's Eve prices will be 4400 rubles per day. You also have to pay for the bath house for three hours which costs 1500 rubles.
There are no camping sites with all-inclusive catering in Karelia. Only Karelian sanatoriums, tourist hostel Niska in the Louhsky region of the republic and Hunter Paradise recreation center in the village of Yashozero offer three meals a day.
Useful Links:
– Hotels and campgrounds – apartments and houses for rent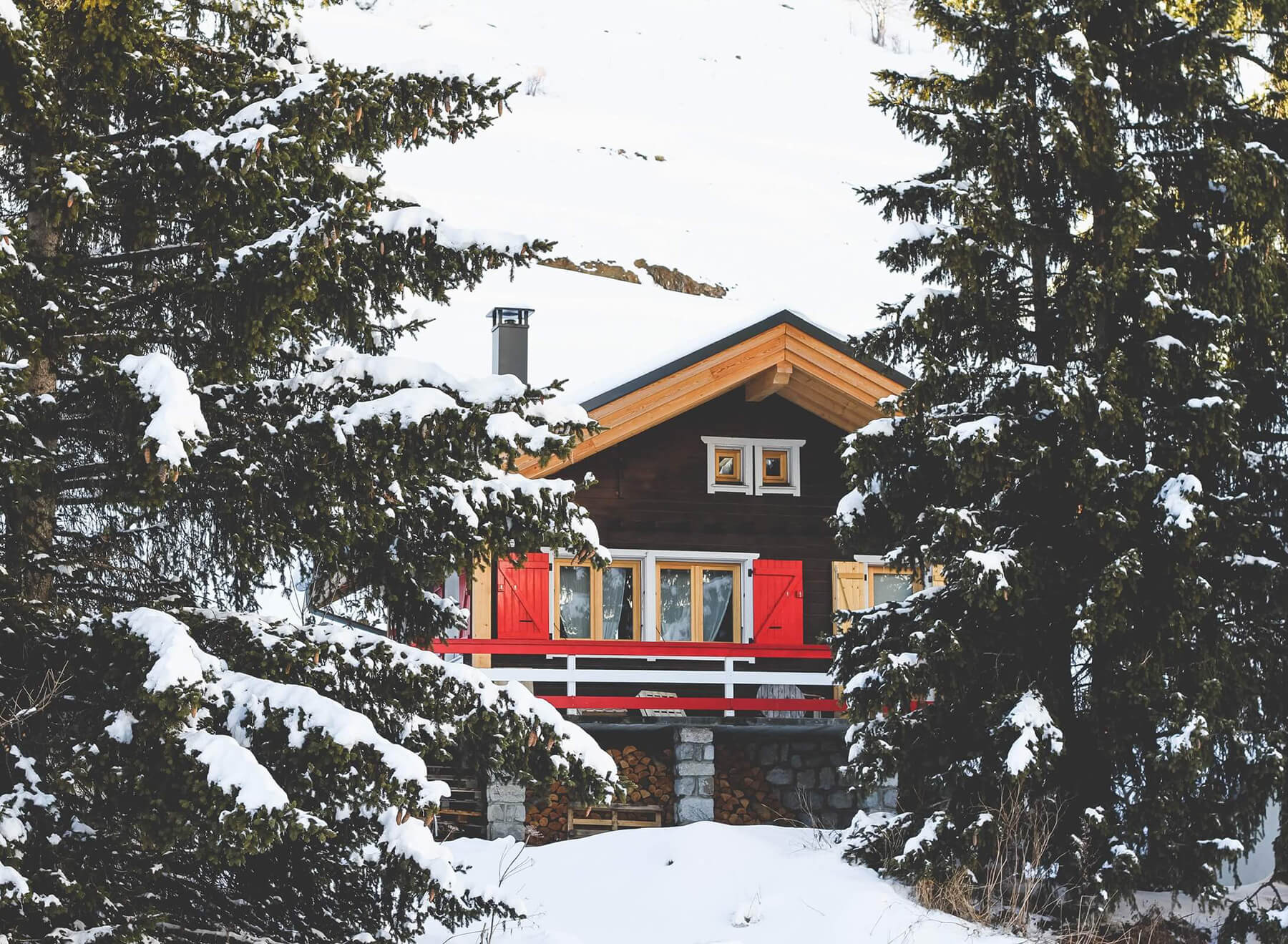 During the vacations it is convenient to stay in country estates, cottages and tourist bases. Photo: heftiba / unsplash.com.
Prices for food in cafes and stores
Winter is not the best time to cook over a fire, so even the most passionate fans of camping prefer to eat in cafes and restaurants. According to tourists' reviews, 600-800 rubles a day is quite enough for food.
You should look for budget dining places away from tourist attractions. Near the highways there are cafes, where truckers usually eat. You will be fed there for 250-300 rubles. A dinner for two at a cheap restaurant, not including liquor, will cost you 1000-1300 rubles.
There are small cafes at many Karelian camping sites and country estates. Breakfast, lunch or dinner at them costs 250-400 rubles. Although the cafe serves guests, they are always happy to lay the table for passing tourists.
If you want to cook your own food during a winter vacation in Karelia, you should buy it at the chain stores – Lenta, Pyaterochka or Magnit. The prices there may be lower.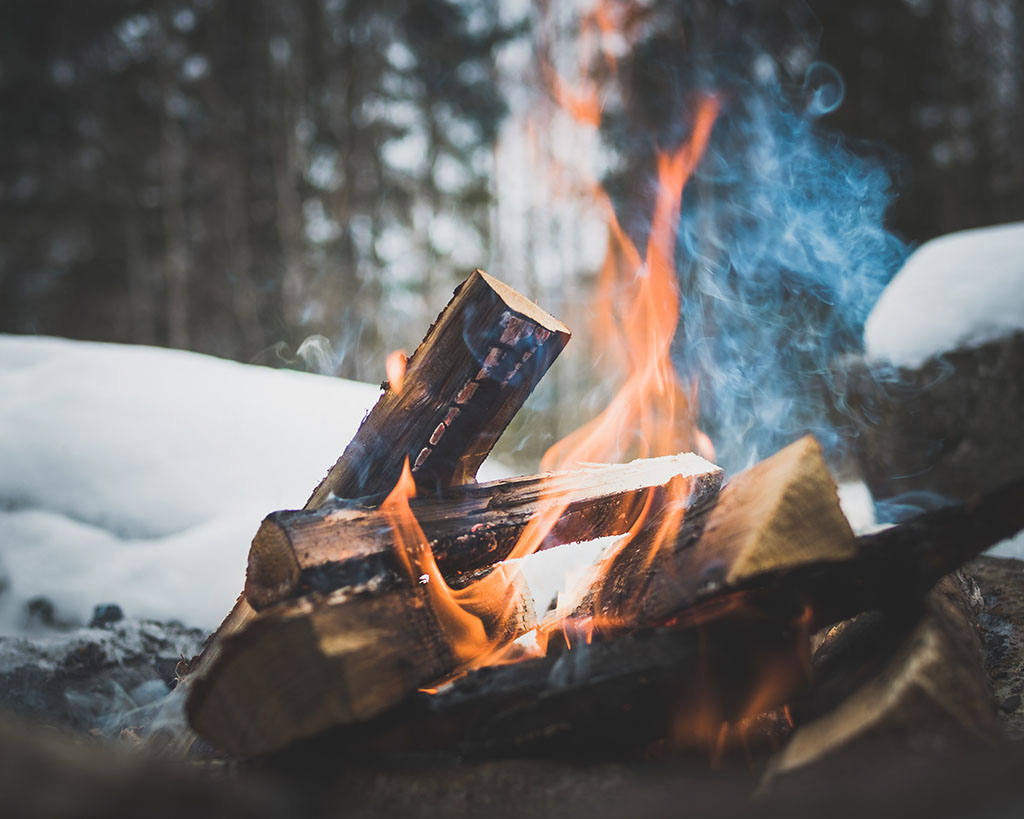 It is better to cook kebab on the campfire on the territory of recreation centers. Photo: unsplash.com / @mika_luo.
Recreation in Karelia in winter with children
Family vacations in Karelia in winter like both parents and children. There are a lot of winter activities in the republic – sliding downhill on tubing and sledging, skiing and excursions. Children are very impressed by the frozen waterfalls, "House of dolls" in Petrozavodsk, the zoo complex "Three Bears", a trip to Santa Claus and a trip to the Marble Canyon.
It is worth visiting the sled dogs' kennel and the reindeer farm with a child. A reindeer sled ride for children under 12 costs 1000 rubles and 1200 rubles for adults. Learn about the best bases for recreation with children.
Car trip
Auto-trips in winter are not as popular as in the warm season. Winter roads require skillful driving, and sections of icy trails are not safe. Here is what experienced autotourists advise:
If you decide to go on vacation in Karelia in winter by car, put studded rubber.
Karelian weather is capricious. Before the trip be sure to check the latest forecast of the weather forecasters.
The country roads may not be cleaned after the snowfall, so follow the main roads and do not turn off into the back roads.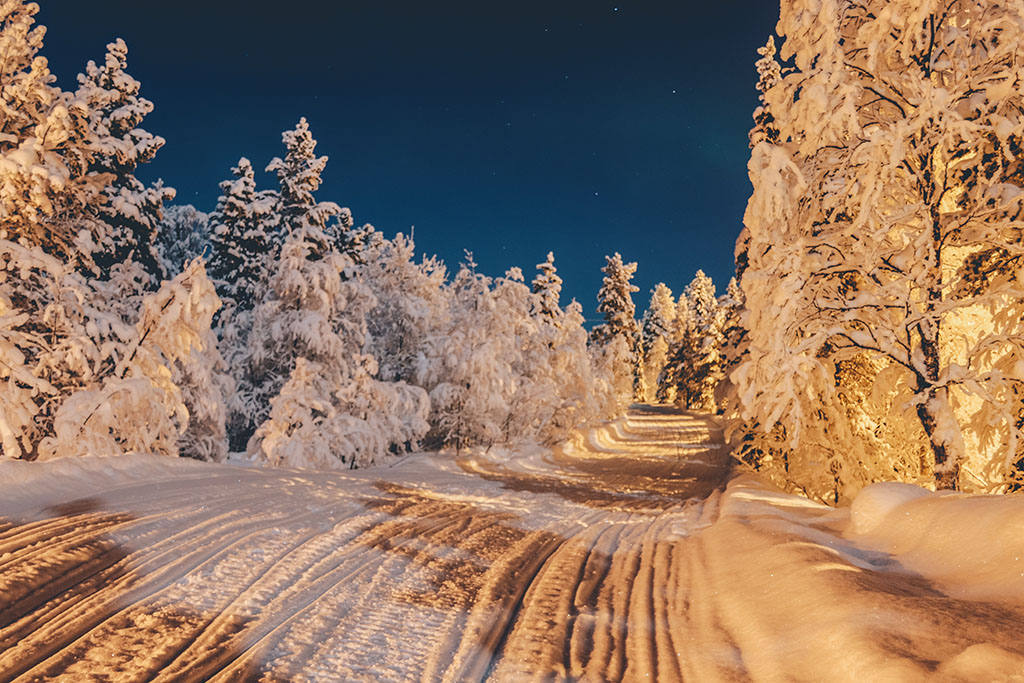 Karelian weather is capricious. Before your trip be sure to check the latest forecast of the weather forecasters. Photo: unsplash.com / @ethanhjy.
Safety tips
Clothes and Shoes . Prepare for a trip to Karelia in winter thoroughly. Because of the high humidity, even a little frost can be felt in the open spaces. Wear warm waterproof shoes with wool socks. Wear thermal underwear, warm sweaters and pants. Go out in windproof jackets with a hood and do not forget the spare mittens!
Hygiene products. To keep your lips from cracking in the wind and cold, use a hygienic lipstick. Oily creams will help protect the skin on the face and hands.
Short daylight hours. Karelia does not belong to the Far North for nothing. In winter it gets light here after 10:00, but it gets dark after 15:00. Take it into account when planning your travel schedule and excursions.
Ice. During thaws the snow melts. In the frost, puddles freeze, and streets turn into an ice rink. Roads and sidewalks are not sanded everywhere, so walk carefully.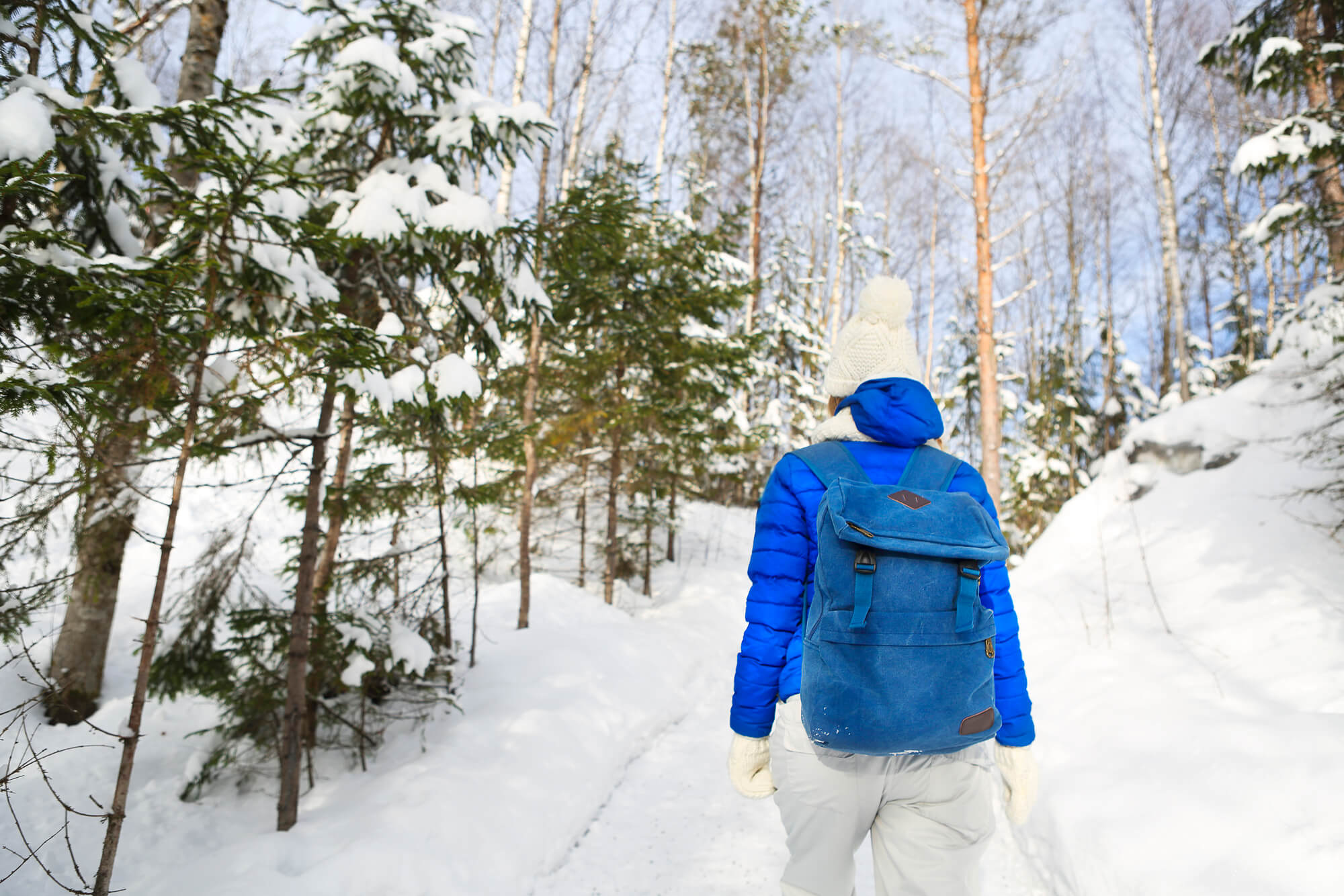 Wear thermal underwear, warm sweaters and pants. Go outside in windproof jackets with a hood and don't forget spare mittens! Photo: Depositphotos.com.
Tourist reviews about vacations in Karelia in winter
Camping in Karelia in winter is not a few advantages:
There are no sudden drops in temperature, so the Karelian climate is suitable for most tourists.
In the republic has a good infrastructure for winter holidays. There are comfortable hotels, warm cottages, recreation centers for fishermen and hunters, amusement parks and ski centers.
Winter vacations in Karelia is on a budget.
Disadvantages :
Because of the snowfall and the poor quality of roads in winter in Karelia is not easy to travel by car.
In winter, you can not get to many Karelian attractions, such as Onega petroglyphs.
The short daylight hours reduce the sightseeing program.
Local travel agencies overestimate prices for excursions.
Is it worth to go to Karelia in winter, everyone decides for himself. But those who have already been here, speak positively about the Karelian vacation.