Where to go in Kenya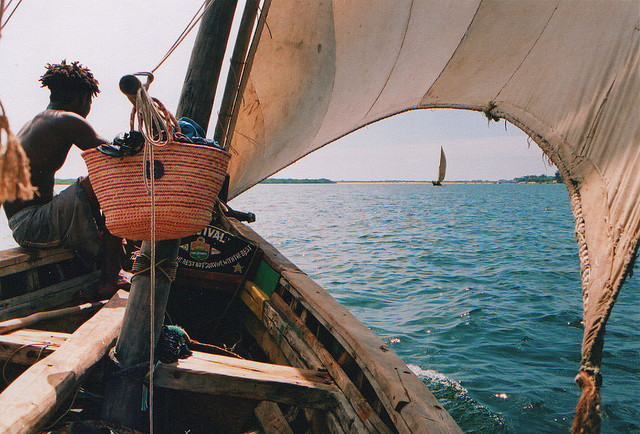 We tell you about beach holidays in Kenya in the resorts of Mombasa, Malindi, Lamu and Watamu. We tell you what to do and see, as well as give advice on holidays.
– Discount Hotels – Cheap Tickets – Discounted Hotels
Holidays in Kenya: going to resorts
Malindi, Mombasa, Watamu and Lamu are the main Kenyan resorts. Despite their small number, they all have a developed tourist infrastructure, able to satisfy the demanding tastes of foreigners. Europeans are attracted by a combination of African exoticism and a high level of service, first-class sandy beaches, favorable climate, relative cheapness and the opportunity to get in touch with wildlife.
Let us briefly describe each of the resorts of Kenya – what a resort is, what you can do and what is worth going for.
Mombasa
Mombasa is the most famous resort in Kenya and is even recognized as one of the best in Africa. In the city itself you will not find luxury hotels – for first class service luxury hotels should go to the surrounding beaches:
Shelley, Tiwi and Diani south of Mombasa;
Nyali, Shantsu, Mgengo, Bamburi and Kikambala north of Mombasa.
Along the beach – to the south and north of the city – there is no shortage of bars, cafes and restaurants, nightclubs, karaoke and the like. The most popular among tourists is Diani beach – this is where most star hotels are concentrated. Are you going to Kenya for a beach holiday? Then it is advisable to look at the beaches north of town, where there are more hotels at affordable prices and fewer tourists.
A holiday in Kenya should not be limited to just safari and beaches – be sure to look at the old Mombasa, which until 1906 was the capital of the country.
What to do in Mombasa:
Walk the medieval streets of the old town;
Admire the Portuguese fortress of Fort Jesus, built in the 16th century;
Choose souvenirs at the Makupa market;
Visit Heller Park.
There are many interesting things to do around Mombasa: the oceanarium in Mtwapa, Bamburi Trail Park, nature reserves and national parks Mpunguti, Kisite, Shimba Hills and Taita Hills, which are home to a variety of wild animals.
(Photo: Marc Samsom / flickr.com / CC BY 2.0 license)
If Mombasa is a kind of traditional beach resort, Lamu does not fit that definition. Lamu is located on the island of the same name, surrounded by mangroves. The port town, with its strong Oriental flavor, traditional Swahili architecture, privacy and tranquility attracts many tourists. There are no cars in the city, people move around on foot or by donkey – you can not pass in a car in the confusing and narrow maze of ancient streets.
At the same time, the Kenyan resort is not devoid of tourist infrastructure: there are bars and cafes, there are colorful cheap hotels and luxury villas. In addition, Lamu boasts a beach Shelah. Not far from the city are such reserves as Tana River, Boni and Dodoni. Planning a vacation in Kenya, we advise you to visit the exotic city of Lamu, at least for a couple of days.
The city's population is mostly Muslim, so watch how you dress.
What to do in Lamu:
Wander the medieval streets early in the morning, while there are no tourists;
Take a dhow boat ride and see the island from the water;
Take a boat to the ruins of the city of Taqwa and the fort of Ras Kitau;
sunbathe on Shelah beach;
Visit Kiunga National Park;
Go fishing, windsurfing, or diving;
Visit the Lamu Museum.
Watamu
To diversify the beach holiday in Kenya you can come to Watamu – a small resort in the national park of the same name. The first place we recommend to go for lovers of the underwater world: there is a huge variety of coral reefs and a rich underwater world (there are about 500 species of fish!). In the national park you can find squid and octopus, stingrays, whale shark, barracuda, and various species of turtles. Also rich in wildlife and mangroves – the park is home to over 100 species of birds. However, not only divers are interested in this place, in this Kenyan resort you can just cut yourself off from civilization and devote time to observing wildlife.
Things to do in Watamu:
diving;
snorkeling;
diving safari;
Take a trip on a boat with a transparent bottom;
Visit Shimba Hills National Park;
turtle and bird watching.
(Photo: Mark Hodson Photos / flickr.com / CC BY 2.0 license)
Malindi
Malindi, as well as Mombasa – a mix of Eastern and European: one half of the city are concentrated expensive hotels and entertainment venues, and in the other – the old town with its narrow streets and medieval houses. In Malindi a notable landmark is the cross, set by the navigator Vasco da Gama back in 1498! Malindi is also a marine reserve, similar to Watamu in many ways.
Malindi, like Mombasa, is famous for its beautiful tropical beaches with pure white sand. This developed resort is as popular as Mombasa – beach holidays in Kenya at these resorts on a high level: the coast dotted with a variety of hotels, bars and restaurants.
The beaches of Malindi are protected from the waves and seaweed by coral reefs, so the water is very clean.
What to do in Malindi:
diving;
snorkeling;
Take a boat trip;
Go to the ruins of Gede town;
Visit the tropical forests of Arabuco Nature Reserve;
Observe the animals in Tana River;
see the sights and the Old Town;
enjoy the nightlife.
Tips for vacations in Kenya
While vacationing in Kenya, you need to adhere to basic rules of hygiene and safety and everything will be fine:
Don't be in the sun for long periods of time, use sunscreen, drink more water and don't neglect headgear and sunglasses.
Use insect repellents, take malaria pills, and use mosquito nets.
Drink bottled water only.
Eat meat with caution and prefer seafood – it will definitely be fresh.
Wash fruit thoroughly before eating.
Carry a first aid kit with all the necessary medications.
Be sure to get insurance.
Read also an article about prices in Kenya – in it we calculate the cost of a 10-day trip to this country. You can also read an overview of the sights of Nairobi.
The best beaches in Kenya: photo and description
One of the best states for holidays is Kenya , which is located in the east of Africa. It wonderfully combines the remains of ancient civilizations and modern infrastructure.
Tourists enjoy the white sand, blue clear ocean and lush palm trees, as well as exotic animals and birds. They try to choose the best places to relax. The rating of the best beaches in Kenya will help travelers to navigate their difficult choice.
Shanzu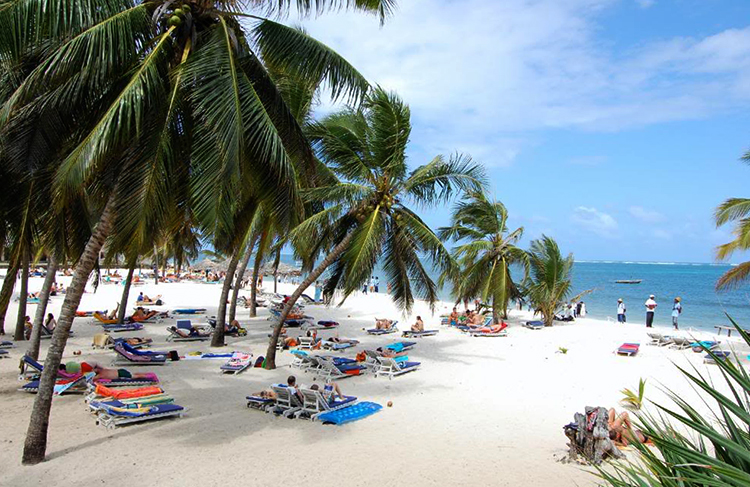 Considered the best place for recreation among tourists. Snow-white sand, gentle entrance to the water, which is very convenient for couples. The bottom is not stony, but sandy. It is necessary to be careful because the tide is strong. Entrance to the beach is paid, rented umbrellas and sun loungers. In addition, nearby are hotels and family hostels, where you can comfortably accommodate.
It is located north of Mombasa. Tourists get there first to the airport. To get to the beach take a cab.
Lamu.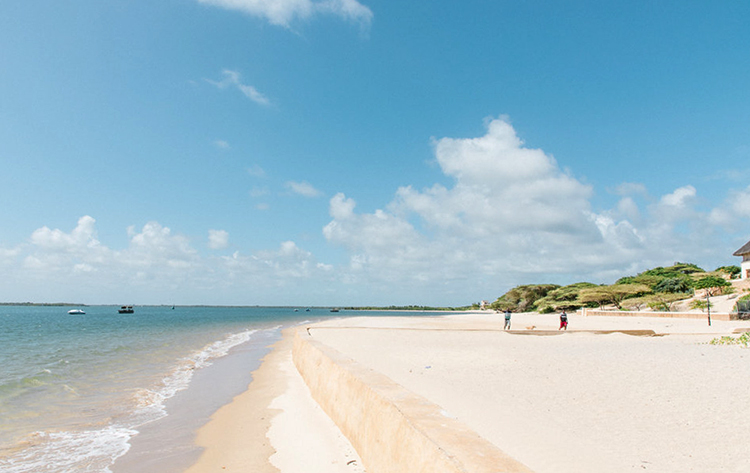 Travelers enjoy the sandy beach where you can have a good rest. The blue water is so clear that you can see the sea flora and fauna. However, there are no palm trees and not much infrastructure, too. Selected budget hotels, the minimum cost of which starts at 15 dollars.
This is an ancient settlement in Kenya, which has been listed as a UNESCO heritage . There are a lot of attractions that will be of interest to tourists.
Getting to the beach is easy from Nairobi airport with a connection at Lamu airport. After that, you should rent a boat to reach the other side of the river. You can also take a bus from Mombasa. But this way is considered tedious and risky.
Kilifi.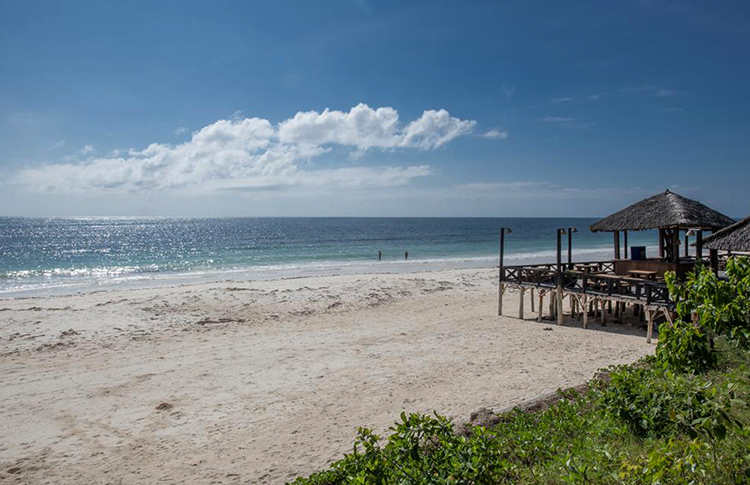 The beach is suitable for tourists who want a break from the crowds of other travelers. It is a small place of snow-white sand that falls into the creek Kilifi, clear blue water and beautiful nature to enjoy. In addition, tourists are offered another attraction: boating.
The infrastructure there is not very well developed, so you will have to take a towel and an umbrella. Entrance is free. Also, travelers can find there a convenient option of accommodation: they can choose from luxury hotels and inexpensive family houses near the water.
Tourists get there by plane, which lands in Nairobi and then flies to Mombasa airport. From there you can get to Kilifi by cab or shuttle bus.
Diani Beach
A quite popular and sought after tourist destination. The sand strip is long and sandy, but not cleaned, so after a storm it can be dirty. The water is clear, but the bottom is stony and muddy here and there. Also there are strong tides , so couples need to carefully monitor their children, as well as understand that you have to walk a long way to get to the water. Entrance is free and there are many beggars in the area. Hotels nearby are quite expensive: the smallest daily price is $60.
Tourists get to the place from Mombasa airport by bus (but with several transfers). Most often take a cab – it's cheaper and faster.
Mambrui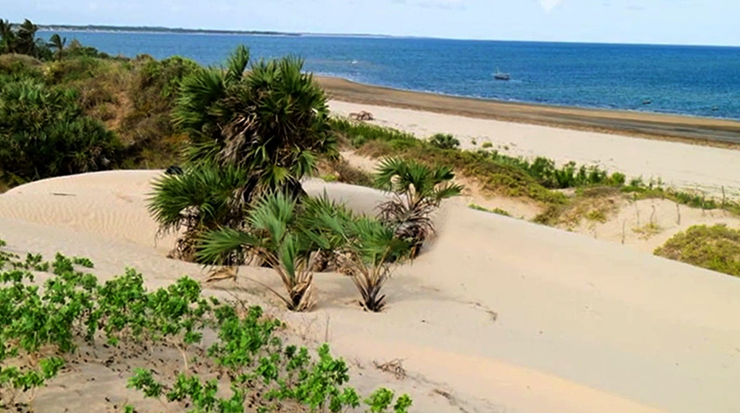 The beach is very famous in kitesurfing circles. You can swim there only at high tide. Many sand dunes, the shore is also sandy, beautiful view of the ocean. Entrance is free. Nearby are five-star hotels, the daily cost of which approaches 150 dollars a day.
Nyali.
Tourists who arrive there can admire the beautiful scenery. The entrance to the water is shallow and it is a long way to go at low tide. On the shoreline there is an alternation of sand and rock. When the traveler enters the water, he can safely walk on the sandy bottom, or may stumble on the rocks. Entrance to the site is free. Mostly there are expensive hotels, but you can find accommodation from $ 30 a day.
Bamburi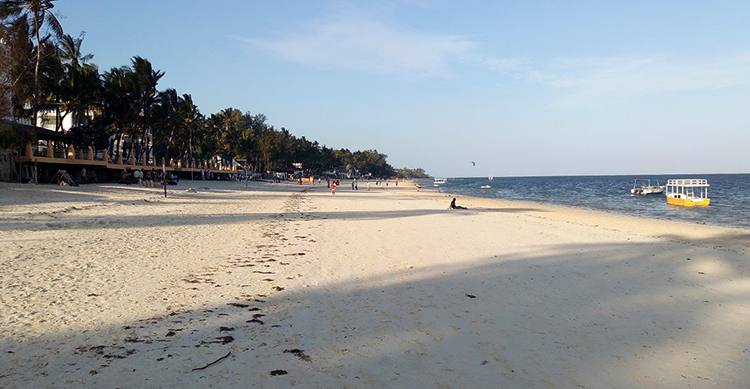 The only beach in Kenya that has a public area called Pirate Beach . Therefore, it is best visited on weekdays, when there are not so many locals. The shoreline alternates between sand and stone, the water is clear and the entrance is gentle. Entrance to the beach is paid, you can also rent a deckchair there. In addition, tourists can easily find there quite budget hotels.
Kiwayu.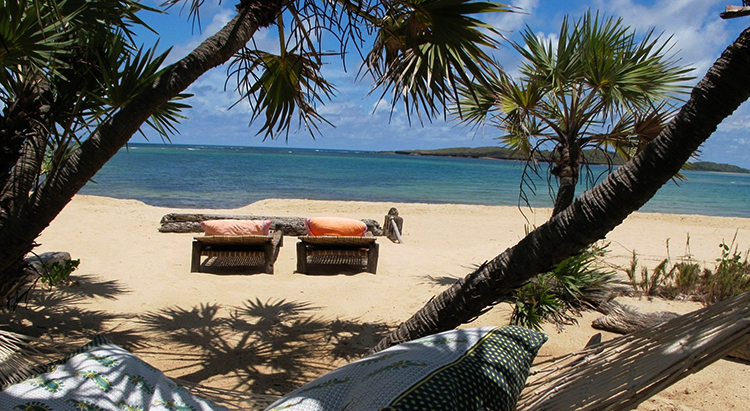 A very beautiful place for recreation. A sandy strip of beach, palm trees and clear clear water – all this attracts tourists, but there are not many of them. This is because travelers and locals often suffer from armed attacks. Therefore, the beach is more suitable for fans of extreme entertainment . Entrance is free, and the infrastructure is hotels, which are located nearby – the island of Lamu.
Kivayu is an island near Somalia. Get to it from the airport Lamu, and then take a boat or boat.
Kikambala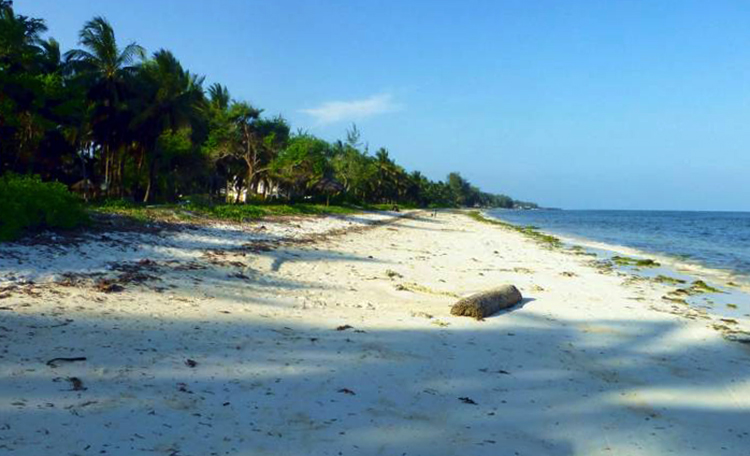 Another deserted place, which will appeal to tourists who want to spend time in solitude. The beach is sandy, has many palm trees, but at low tide is absolutely impossible to swim, because the water goes far from the shore. In addition, the beach has an abandoned area that travelers also like to stroll through. Entrance is free. You can find hotels for overnight stays for a fairly reasonable fee.
The beach is located in the northern suburbs of Mombasa. You can get there by flying to the airport and then taking a cab or a shuttle bus.
Watamu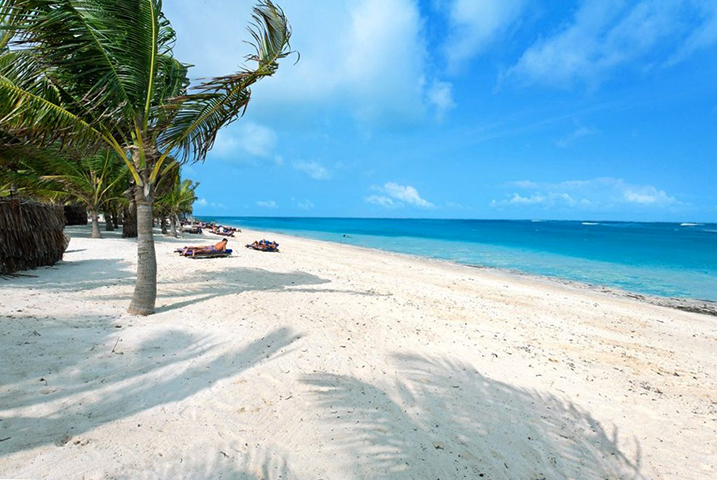 Not a beautiful beach but loved by tourists for the interesting entertainment it offers. There are sandbanks, rocks in the water, and picturesque bays that you can photograph. You can also go scuba diving there. The shoreline is a combination of white sand and rocks, the bottom is the same. Admission is free. Anyone can find accommodation to his liking: whether it's a luxury hotel or a small house on the ocean.
Watumu is a popular resort in Kenya. It is reached from the airport in Malindi by cab or minibus.
Kipini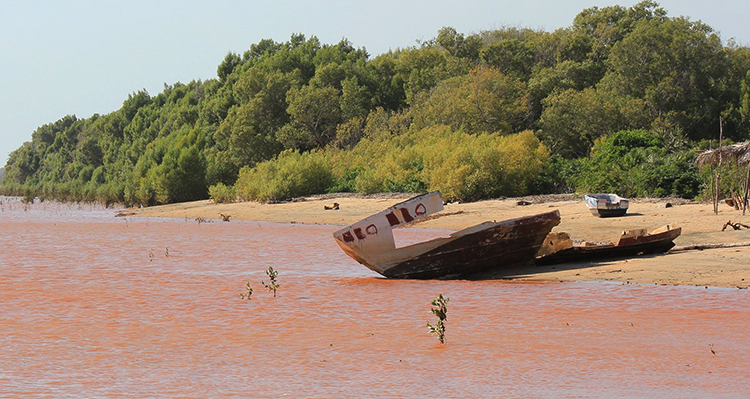 A deserted beach, which will appeal to people who prefer solitude. The water is murky and the shoreline, as well as the bottom, alternates between sand and stones. Entrance there is free, there is no infrastructure and hotels, too. But you can negotiate with the locals for a certain fee to stay overnight.
Kipini is a fishing village located at the mouth of the Tana River. You can get there from the Lamu airport by renting a cab.