Madeira: what you need to know before your trip
Madeira is an archipelago in the Atlantic Ocean and an autonomous region of Portugal.
One does not come to Madeira to lie on the beach, but to walk in the mountains, admire waterfalls and swim in the ocean pools. In general, the main attraction of the island is nature.
Before you a short article, which is convenient to navigate on a trip around the island. If you want to know more about Madeira, read the full version.
What you'll learn.
Introductions.
Where is it located : in the Atlantic Ocean, 1000 km from Portugal and 660 km from Morocco. When is the season : April to October. Average temperature : all year round +17-24 °C. How long will it take to fly: 7 hours on average from Moscow. Currency : EURO (€) Time difference with Moscow : 2 – 3 hours. Language : Portuguese
The way
There are no direct flights from Russia to Madeira. You will have to fly with one or even two transfers. The cost of a round trip flight from Moscow or St. Petersburg is 30 000 R . A flight from Europe may be cheaper. For example, the flight Helsinki – Madeira with a connection in Amsterdam costs 8600 R .
⛰️ What to see in Madeira
The main attraction in Madeira is the viewing platforms and levadas. Levadas are irrigation systems that run along the slopes of the mountains. They look like regular ditches with paths for pedestrians next to them. Admission is free everywhere. The views are spectacular.
Levada The Caldeirao Verde Levada can be walked in 5 hours. There are beautiful views of the mountains along the way. The levada ends with a waterfall. Levada "25 Fountains" – the road lies along a steep cliff, from which waterfalls flow. A picturesque and peaceful place – if there are not dozens of tourists nearby. The Ribeiro Frio Levada is in a laurel forest where the birds sing. At the end of the levada is the Balcois observation deck.
Viewpoints Balcoishe overlooks the rugged valley and the blue ocean. Eiro do Serrado is located between the mountains at an altitude of 1,095 meters. From it you can see the picturesque village of Curral das Freiras, which is lost among the mountains. Cabo Girao is at an altitude of 580 meters. Beneath the feet of the tourists is a glass floor. From the height you have a view of the ocean, Madeira's capital city of Funchal and the village of Camara di Lobos.
Money
It's best to buy euros before your trip: some guesthouses and stores only accept payment in cash. You can't get far on buses and cabs with a card either.
Accommodation.
Hostels have clean rooms, but not always showers. Larger hotels have a pool, sauna, and buffet.
There are tent cities near the town of Porto Moniche and the Montado do Pereiro Park. Tents are booked at Madeira-camping.com.
Transportation.
Buses Of the public transport on the island, only buses. There are enough of them to get to most of the attractions. To check the schedule, find out the location of stops and ticket prices, you can download the apps of the bus companies: SAM Madeira Bus and HF Bus Horários do Funchal.
⚽ Where to go in Madeira
Ocean Pools. The ocean is cold to swim in, so tourists swim in ocean pools, the name given to the small part of the ocean that is bounded by land. On sunny days, such pools are well heated.
The entrance to the swimming pool costs 1,5 € (112,5 P ). The price includes a changing room and toilet. There are no facilities in the free ocean pools.
Soccer. Madeira is the birthplace of Cristiano Ronaldo, so soccer is loved there. Tourists love going to soccer matches. The Estadio Da Madeira stadium is on the outskirts of Funchal. It is better to go there because you have to walk 4 km uphill.
Fado, Portuguese national singing, is performed on Rua Santa Maria in Funchal. On Friday and Saturday it's played in all the restaurants: you order food and listen to the songs. The entertainment is for aficionados, the songs are sad.
What to bring.
If something happens.
There is a Russian embassy only on the Portuguese mainland. Sometimes its staff travels to Madeira.
Address of the Russian Embassy in Lisbon: Rua Visconde de Santarém, 57, 1000-286 Lisboa.
Phones of ambassador reception: +351 21 846-24-23, +351 21 846-24-24.
We are looking for people who travel independently. If you have organized a vacation in Russia, near abroad, popular resorts or more exotic places – share your experience with us.
Madeira beaches – where you can swim on the island
The beaches of Madeira are a great place to relax and recharge. A total of about 25 of them on the island, most of them covered with a large pebble, but there are also unique areas covered with volcanic black or our usual golden sand.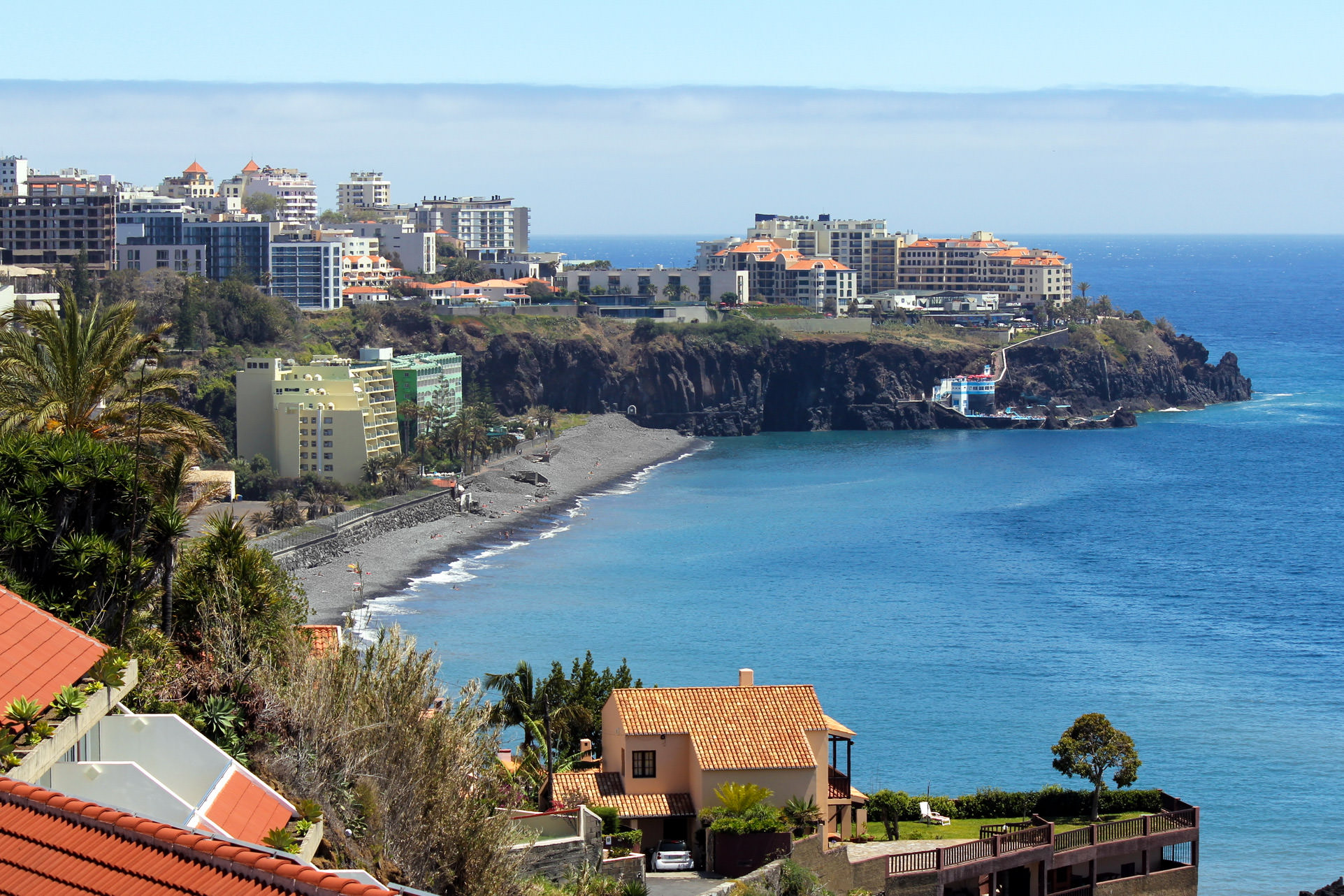 It should be noted at once that the beach holiday in Madeira is different from other parts of the world. The local beaches often do not have sun beds with umbrellas, but only here you can enjoy the natural heat of solidified lava or large stones surrounded by water. Whether or not you should travel over 1000 km from the Portuguese capital for these beaches is up to you.
There is no such thing as a swimmer's season on Madeira as the weather is fine all year round. However, most tourists prefer to visit the archipelago in the summer, when the temperature rises to +26°C, or on New Year holidays, when the island warms up to +20°C. The average temperature of the Atlantic Ocean around Madeira is +22°C, the minimum – +16°C in February, the maximum – +25°C in August.
Where are the sandy beaches in Madeira? Where can you go with children and where are the most beautiful views? Find out in this article.
Madeira's Best Beaches
Prainha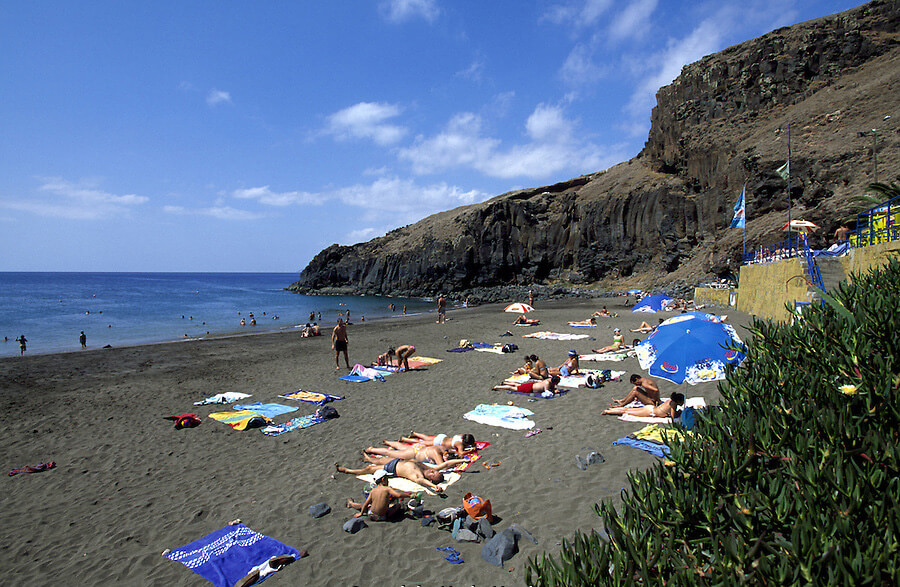 A small natural beach with all the necessary amenities is located in the eastern part of Madeira. Nearby there is parking and a bar where, in addition to refreshing drinks and a few meals, you can get a sun lounger or an umbrella. There is also an outdoor shower, changing room and toilet on the beach.
Among the best Prainho is ranked because it is the sandy beach of Maidera. There is a gradual approach to the sea, clear water and no stones at all, which can not but please families with children.
Pay attention! Swimming at Prainche in windy conditions can be dangerous because of the strong waves.
Porto do Seixal
Another of Madeira's best sandy beaches. Black Coast attracts tourists with its beauty and exoticism, because it does not have many other advantages. There is absolutely no infrastructure, no showers, toilets and sun loungers. The island is located on the north coast of Madeira, the Atlantic Ocean here is crystal clear and calm most of the time. The beach is surrounded by high cliffs covered in green plants – this view is mesmerizing.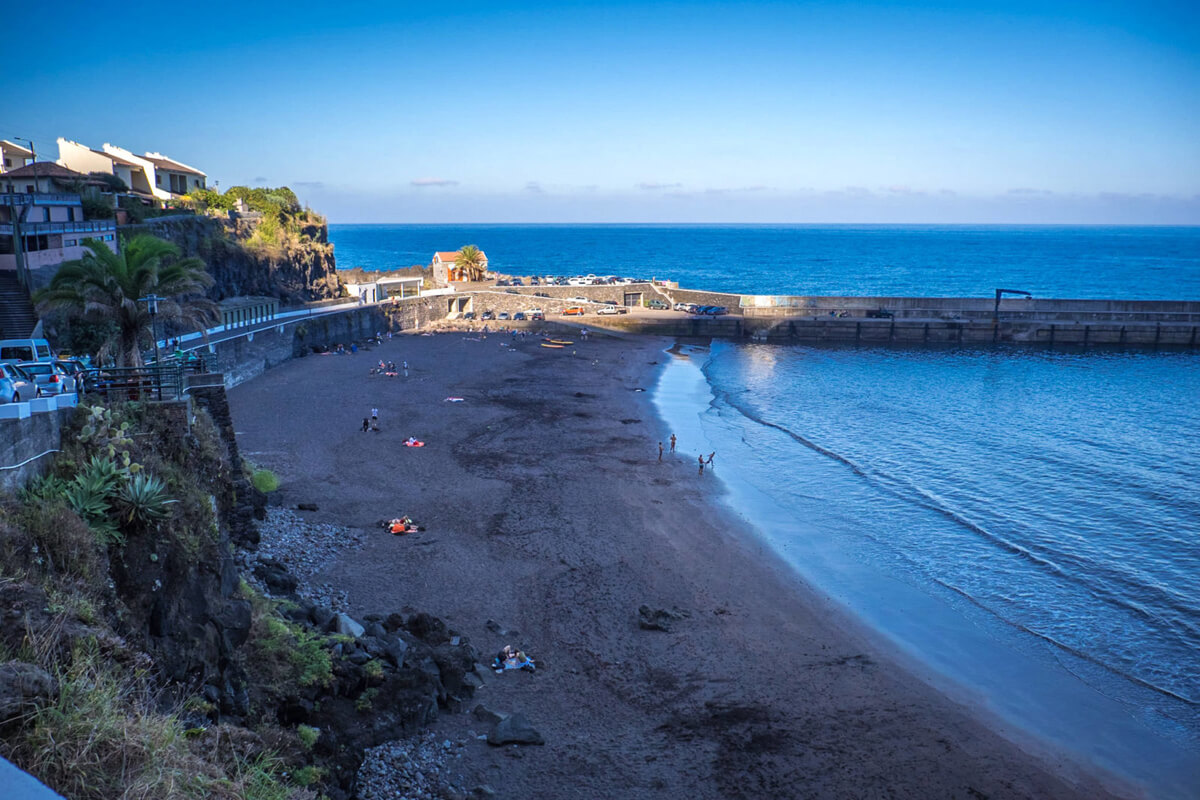 Porto do Seixal is the ideal place for those who want to take a beautiful photo on Madeira's beach or for romantics who can spend hours observing the natural beauty of nature. For tourists accustomed to relaxing in comfort, this place is not suitable.
Machico
Machico is the best man-made beach in Maidera. Covered with golden sand, wide, surrounded by majestic rocks, it can not but attract the attention of tourists. Here is a well-developed infrastructure: besides the standard cafes and restaurants there is a shopping and sports center where you can visit the entertainment or devote time to active recreation.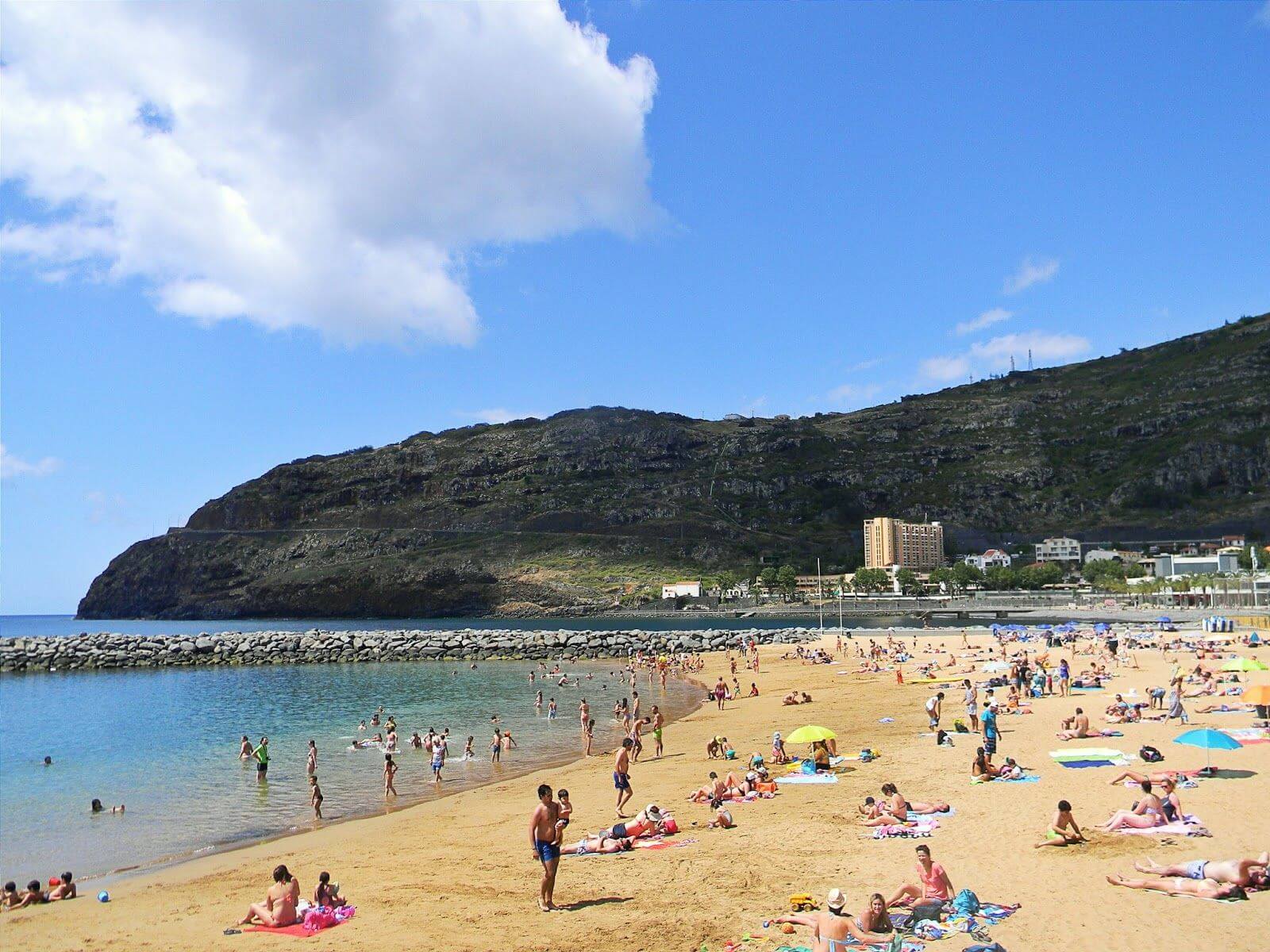 This sandy beach has a nice gradual entrance to the water. Unfortunately, there is no separate area for children, but it still attracts many tourists with young travelers.
Calheta .
One of the quietest sandy beaches is on the west coast of Madeira. Big waves are rare here and the golden sand is always warm and clean.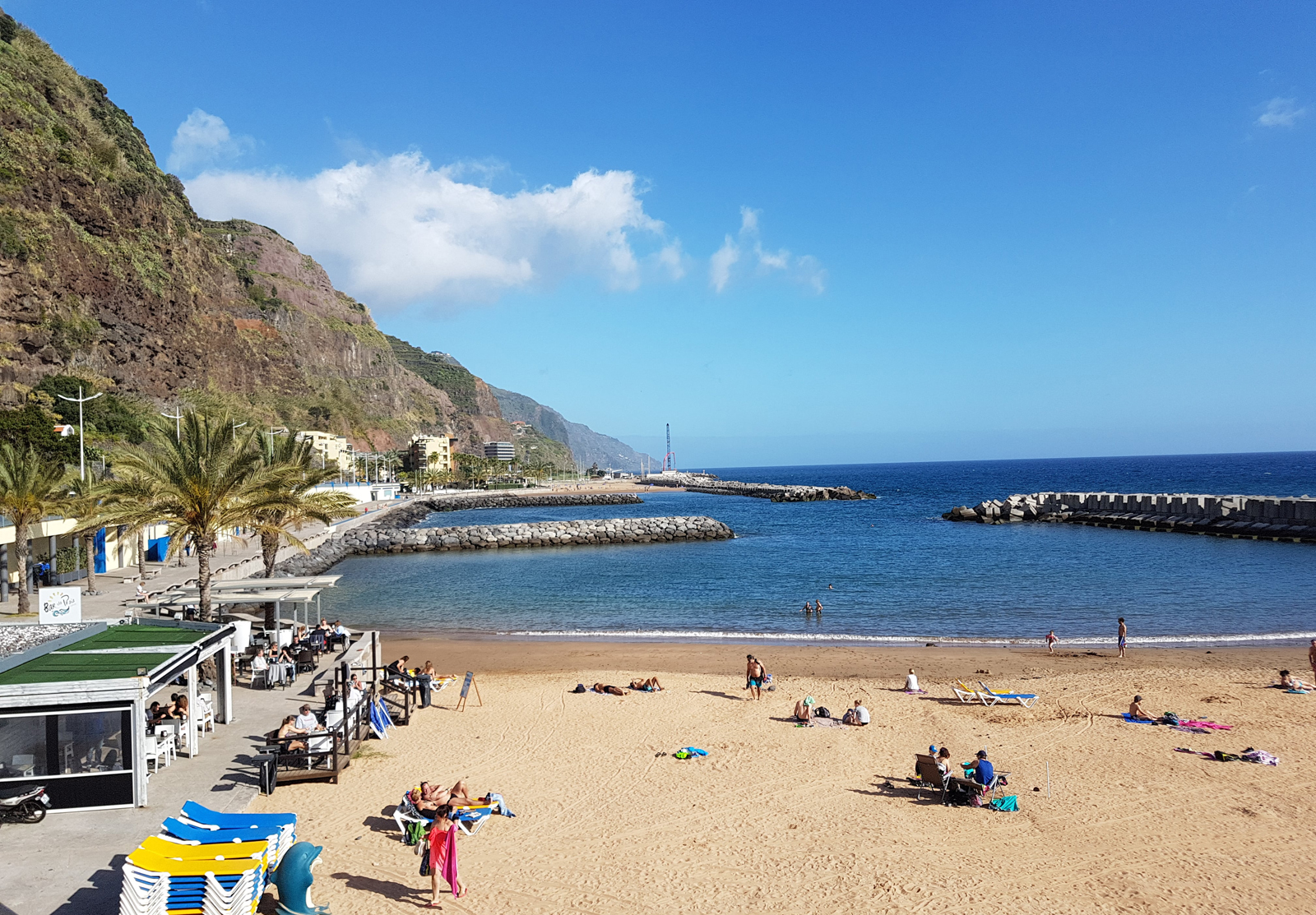 Calheta has no problems with comfort: for a small fee here you can rent a deck chair and an umbrella, enjoy a session of hiromassage, eat in a cafe or restaurant. Of the disadvantages – no showers and toilets (only paid in facilities nearby). You can stay with children.
Ponto da Cruz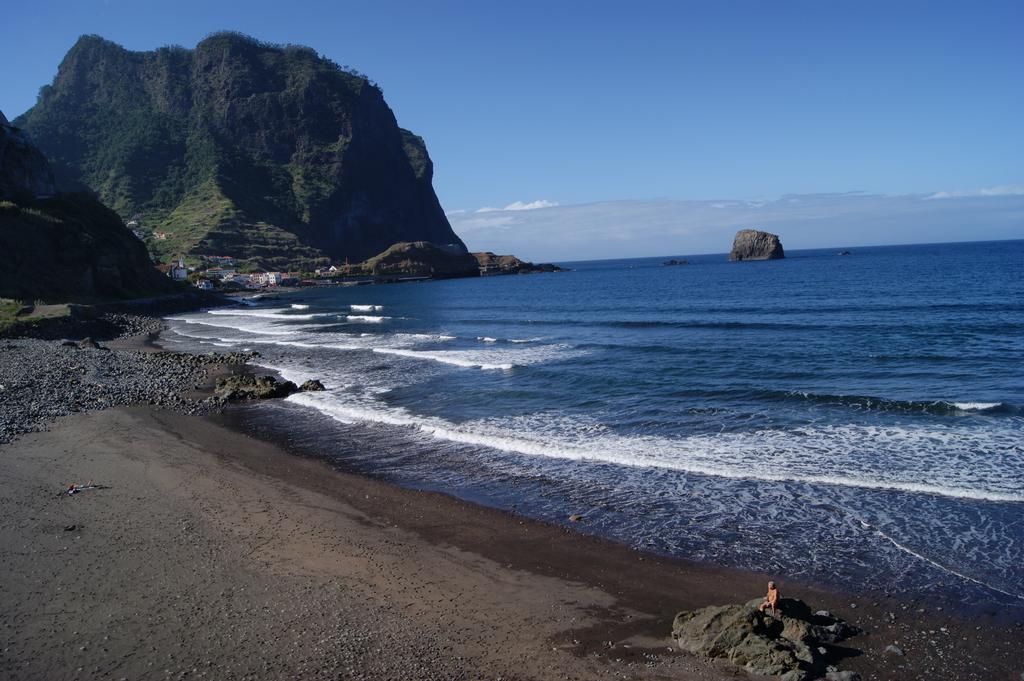 All travelers, once visited this beach of Madeira, advise others to come here. There is absolutely no infrastructure. It is difficult to get here, as there are only rocks and dense bushes around, and the roads are exclusively unpaved. But all these shortcomings pales in comparison with the unique scenery – what is just a view of black sand on the background of overgrown rocks.
Come to this beach should only be well prepared. Be sure to take food, water and sunscreen, as you can't walk to the nearest store. Ponto da Cruz is not very suitable for holidays with children, but here there is a comfortable entrance to the ocean and there are almost no rocks.
Important: You can go surfing on this beach.
Formoza
Formosa is located in the small town of Funchal. It is awarded not only the title of one of the best beaches in Madeira, but also the largest on the entire island, the length of the coast in this area is almost a kilometer.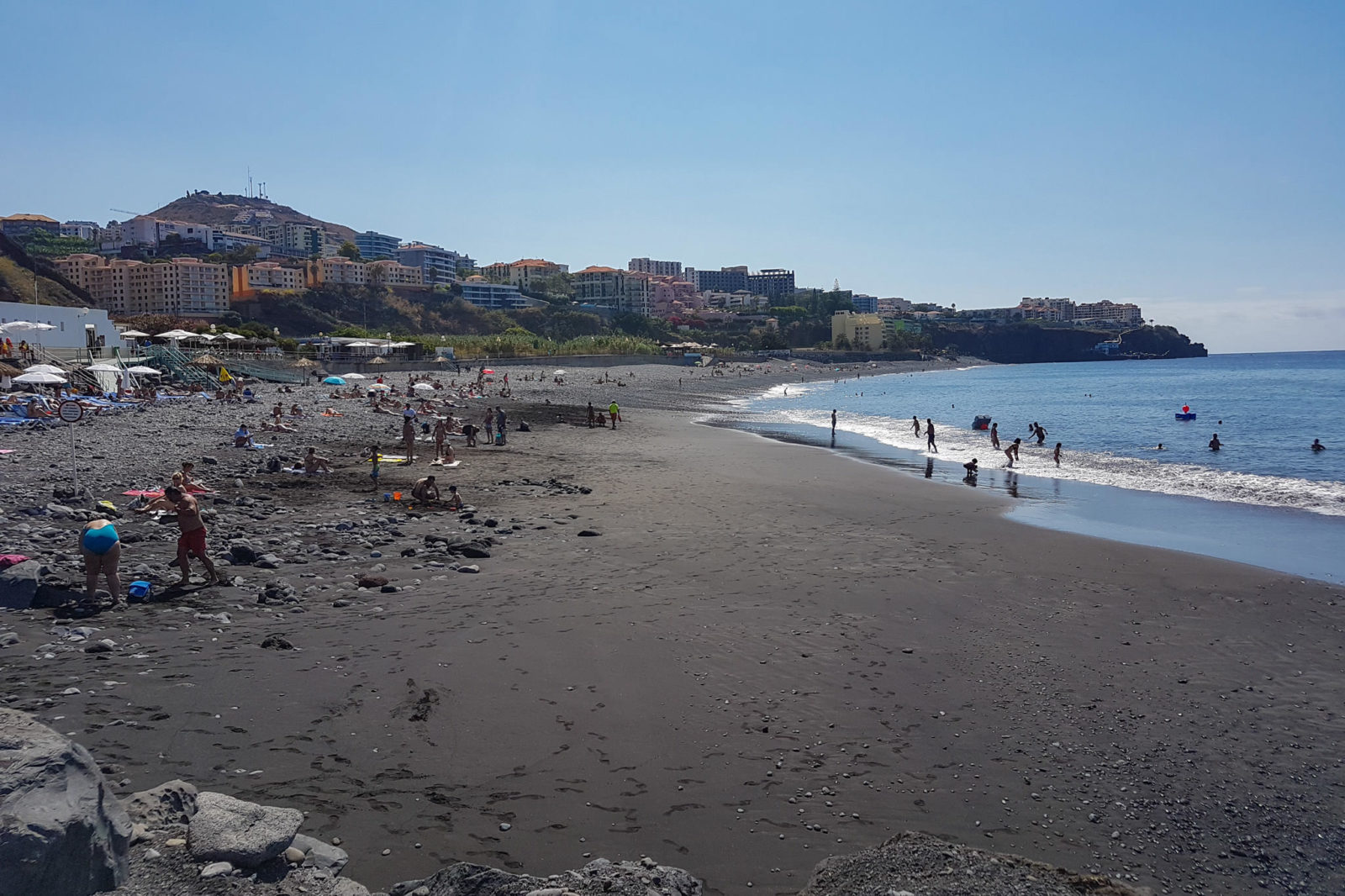 The coverage of the beach is varied. Near the water, it is black, sandy, a little further – pebble, and by the road, the coast is completely covered with stones. For easy walking, there are concrete walkways. On Formosa there are some facilities: parking, columns with drinking water, a cafe. Sun loungers, showers and changing booths on the beach is not available, as well as a toilet, but here to the rescue comes the nearby catering establishments. There is a large hypermarket 10 minutes away.
Be warned! Some parts of Formosa are officially recognized as wild (marked by signs), it is forbidden to swim there, as the bottom can be sharp stones.
The beaches of Madeira are an unusual but very beautiful place to relax. Have a nice trip to this exotic part of Portugal!
Video: overview of the island of Madeira, its beaches and attractions, aerial views, restaurants and prices. Check it out for sure!
Author: Elena Lunina
Updated: 24 Jan, 2022 The island of Madeira is part of archipelago with the same name…
Updated: 6 July, 2021When traveling to Turkey every traveler try to find his …
Updated: 12 Jul, 2021 The city of Split is a popular resort in Croatia, which…
Updated: 30 Mar, 2019 The beaches of Tel Aviv are clean sand, clear water and…